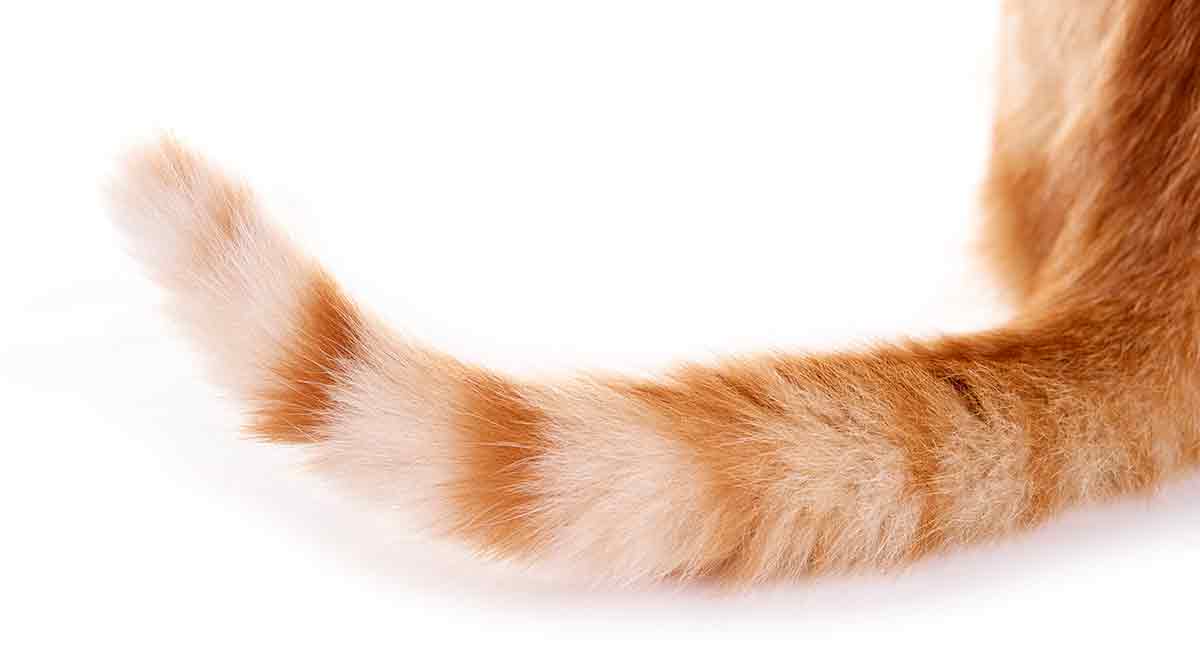 When I think about cat body language, I'm reminded of a quote by comedian Paula Poundstone:
"The problem with cats is that they get the same exact look whether they see a moth or an axe murderer."
On the face of it (no pun intended) this sums up how many people view cats. They are enigmatic and inscrutable creatures who can both charm us and confuse us in equal measure.
But what are they trying to tell us?
Cat Communication
The truth is, cats aren't great at communicating in the same way as more social species such as dogs.
They evolved as solitary hunters with very little need for social communication skills.
For this reason Mother Nature decided not to give them all the facial muscles that we have, which enable us to show emotion. So even if cats wanted pull a face, they wouldn't be able to.
And just to make things more confusing, not all cat faces are made equal. Think about how pointed the Siamese cat face is and how flat the faces of Persian cats are.
Of course, cats do have a repertoire of body language. But some of it can be so subtle that we humans are likely to miss it.
For example, do you notice:
when your cat is showing tension in his face and/or body?
whether his pupils are constricted or dilated?
if he's shifting his weight one way or the other?
if he's blinking, squinting, yawning, licking his lips, flicking an ear or twitching his tail?
All of these, whether alone or together, can be indicators of cat communication.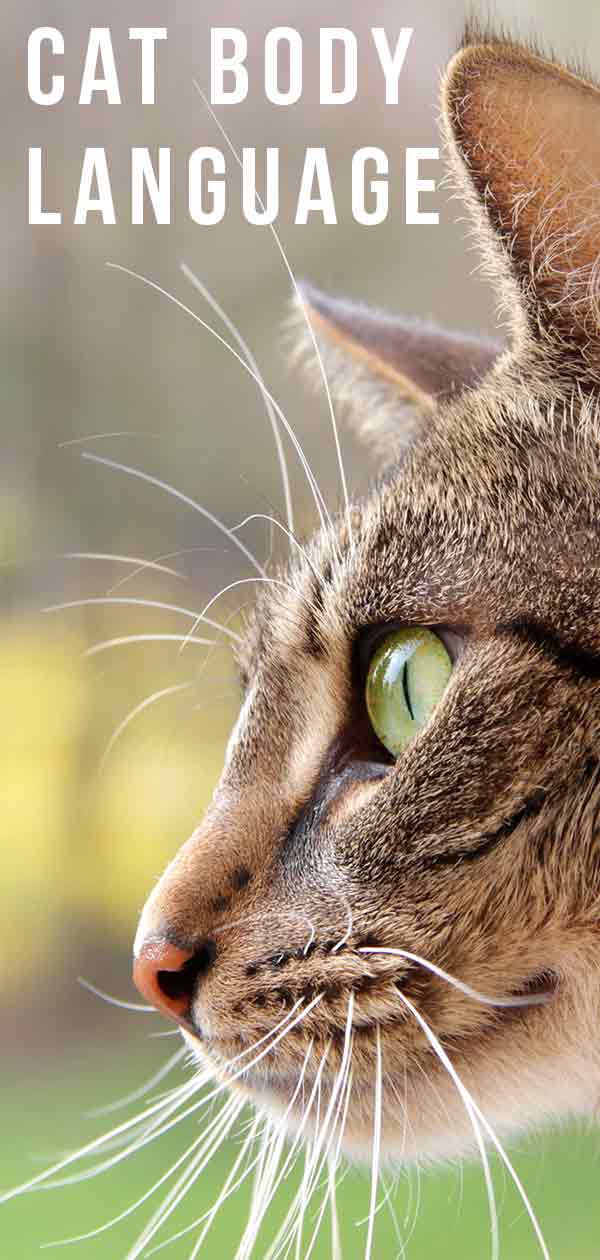 Cat Eyes – Pupil Size
The size of a cat's pupils can be a strong indicator of how he's feeling.
Have you ever noticed your cat's eyes widen and go 'black'? This happens when his pupils are fully dilated.
This usually means anger, fright, or even excitement in anticipation of something nice such as food or play.
When the pupils are narrow, this is a sign that he is relaxed. Usually. Under certain circumstances, such as a stand-off with the neighborhood tomcat, it can also be a sign of aggression.
It's also important to remember that cats' pupils widen and narrow depending on the light conditions. So always remember to view a cat's body language in context.
Cat's Eyes – Stare Downs!
Pupils aside, the way a cat uses its eyes is also significant.
A wide-eyed, unblinking stare focused on a specific target indicates a serious challenge.
If the target happens to be you, never stare back!
Either remove yourself from the vicinity or try breaking the stare by slowly blinking at the cat. Cats find this gesture reassuring.
When cats find themselves in stressful situations, they will sometimes shut their eyes tightly in an attempt to block out the world.
Although this might look like they're sleeping, in reality they're very far from relaxed.
However, if a cat is truly relaxed, so are his eyes. When his eyes look soft and squinted, this may even be a sign that he wants to connect socially with you.
If a cat is particularly shy or uncomfortable with you, he might look away with his head lowered and body hunched. If he does this in the presence of another cat, it's likely that he's trying to avoid conflict.
Ears
Cats are capable of rotating their ears independently through 180 degrees. Because of this there are several different ear positions they can adopt to show how they're feeling.
Upright ears with a 'u' shape in-between them indicate that the cat is relaxed.
However, upright ears that are positioned slightly forwards can signify excitement.
If ears are pulled down flat against the head, this is a defensive signal of a frightened cat.
But if you ever see the cat ears back and in a flattened position, this means he is on the offensive and about to attack.
As with other cat body language, ear positions can change rapidly during aggressive encounters with other cats.
Whiskers
Cat whiskers can also move in various directions.
When cats are relaxed, their whiskers will point slightly forwards and down.
If they are feeling frightened by another cat, they will flatten their whiskers against their cheeks.
It should be noted that Persian cats can't do this because of the shape of their face.
When cats point their whiskers forward this signals aggression or curiosity. Try placing a toy or other object in front of your cat's nose and watch his whiskers move forward!
Cat Tail Language
For many of us, cat tail movement is the most obvious form of cat body language.
The position, speed of movement, and fur smoothness all give clues to how a cat is feeling.
You're probably familiar with the cat tail up position which indicates that a cat is pleased to see you or another cat.
However, a cat wagging his tail from side to side can indicate frustration.
Speaking of aggression, the cat tail down position, where the base of the tail has an upside-down arch, is a sign of a very angry cat. On the other hand, if a cat is afraid, his tail will be puffed up and tucked low towards his body.
Although the function of the cat tail quiver is still being researched, some believe it indicates mild irritation.
Cat Body Posture
Someone recently described their cat sitting like a loaf of bread. You might know exactly what she means!
This is where cats sit with their paws tucked under them and rotated upwards so that the pads aren't touching the ground. Putting their 'tools' away like this is a sign that they're relaxed.
However, if a cat looks hunched, with his tail wrapped around his feet and paws visible in front of him, with all pads on the ground, this is a sign of tenseness.
This position allows him to move quickly if required.
These are just two examples of open and closed postures. Closed postures signal that a cat wants to be left alone, while open postures indicate that he's at ease.
Size Matters
Cats also use body language to make themselves bigger or smaller, depending on the circumstances.
To achieve a larger, more intimidating look, cats will sit upright and stand tall, but the most obvious way to make themselves look bigger is through piloerection.
Piloerection is when their fur stands upright. It is often used as a defense strategy, especially if the cat's weight is shifted back.
If the fur is upright and the cat's weight is forward this can be seen as an offensive threat. In either case, the higher the fur, the more intensely emotional a cat is feeling.
Cats will make themselves appear smaller to avoid conflict. Typical signs are:
averting their eyes
crouching
hunching
lowering their heads and bodies
shifting their weight away from the threat.
As well as cats using their body posture, whiskers, eyes, ears and tail and to tell us how they're feeling, they will use other behaviors that we might not have noticed.
Yawning, for example, is not necessarily a sign of tiredness or boredom, but can indicate anxiety in a stressful situation. The same is true of lip-licking, another typical indicator of stress.
So now we've looked the individual components used to perform cat body language, let's see how cats use these in combination with each other in different contexts.
Confrontation
When cats confront each other, they will use their ears, eyes, tail and body position to show either defensive or offensive aggression.
For example, a cat showing offensive aggression will approach his target sideways-on, with his back arched and fur standing up.
His head will be lowered, his eyes narrowed and unblinking, ears rotated back. His tail will be held towards the ground, but the base will have the upside-down arch.
Meanwhile, the victim will adopt a defensive position by either shifting his weight back, crouching low to the ground or lying on his side in readiness to perform a counter attack using all four sets of claws to rake at the aggressor's belly.
His ears will usually be flattened, and his eyes will be wide with dilated pupils.
If he can escape, he will hold his body low to the ground with tail tucked in and make no eye contact whilst he very slowly creeps away. If not, a fight may well occur. (Please turn down the video if your cat is near!)
Frustration
A frustrated cat may slightly flatten his body and/or ears and turn his head away from you.
His pupils may become enlarged, he might have a flicking tail and his muscles may become tense. He might also display a displacement behavior such as grooming or scratching an object or himself.
Curiosity
A cat that is alert and interested will prick his ears, have open wide eyes, an upright neck, and whiskers positioned forwards.
Contentment
A relaxed cat will have his eyes closed or half-closed.
If you're lucky he may even show just how much he trusts you by giving you the cat slow blink.
His ears will be upright, his tail will hang loosely, and his breathing will be slow and rhythmical.
If lying down he may reveal his belly (a cat's most vulnerable area), have one or more paws off the ground, and splay his toes.
Seeking Social Contact
If a cat wants to interact with you, he will approach you with soft eyes and an upright tail. He might then drop his shoulder and lean into you while head rubbing.
However, no matter how much you think a cat is drawing you in, try not to abuse his trust. The signals he's giving aren't usually an invitation to give him an all-over body rub.
Instead, keep physical contact brief and focused on his forehead, cheeks, under his chin and around his neck. He will love you just as much for it, if not more!
And don't forget the golden rule – never stare at a cat!
Illness
It's very important to mention this, because cats often hide the signs of pain and injury. Quite often we only discover them when they're advanced.
As a general guide, signs of illness can include:
a hunched posture (especially during sleep)
rough looking fur
the appearance of the third eyelid
overgrooming in one particular spot (this can be a sign of pain in that area)
a sudden reluctance to be handled
limping
lethargy
reduced appetite
rapid shallow breathing
weight loss
sudden inability to jump up or down
vomiting
a change in urination or defecation habits.
Communicating With Your Cat
Cat body language is often subtle, ambiguous and can be open to misinterpretation.
However, as cat owners we all have a duty to learn how to interpret our cat's body language.
Doing so will help us understand how they're feeling and identify conflict, illness, frustration and unhappiness at an early stage.
Very simply put, it helps us to communicate with them in a way they're more likely to understand, and that can only be a good thing.
Is your cat a good communicator? Tell us about it in the comments!
References
"Facial Correlates of Emotional Behaviour In The Domestic Cat (Felis catus)," Bennett, Valerie, Gourkow, Nadine, Mills, Daniel S. 2017
"The Domestic Cat – The Biology of its Behaviour," Dennis C Turner and Patrick Bateson. 2000.
"From the Cat's Perspective – How to Readjust Your Thinking," Rachel Casey, BVMS Dipl(AS), CABC, Dipl ECVBM-CA MRCVS. ESFM Conference 2007.
"Positive Cattitude," Jacqueline Munera, BA, IAABC. The Secret Life of Your Cat. Vicky Halls RVN, MBACP. 2010.
"Feline Development, Social Behavior & Communication Behavior," Debbie Martin BS RVT CPDT. 2017
International Cat Care – "Recognizing Signs of Pain in Cats"