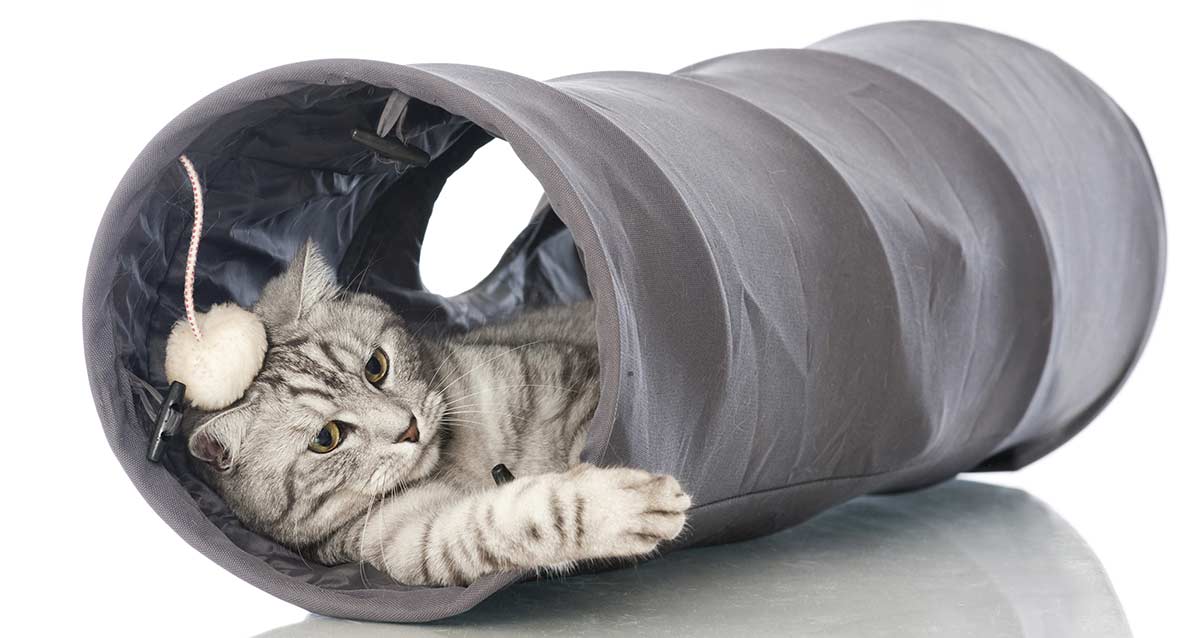 It isn't just kids that like play tunnels, a cat tunnel is a firm favorite with many of our feline friends.
A cardboard box turned upside down with holes cut in the sides will serve a similar purpose. But if you fancy splashing out on something a little more permanent and, easier on the eye – a cat play tunnel might be just the thing.
Cat tunnels, of a different kind, can also help indoor cats experience the outdoors, so we'll be looking at those types of tunnel too.
The appeal of a cat play tunnel
It can't have escaped your notice that most cats are obsessed with investigating anywhere dark or confined. Our cat's rule is "If I can fit in it, I must get in it." And he applies this rule rigorously to anything new.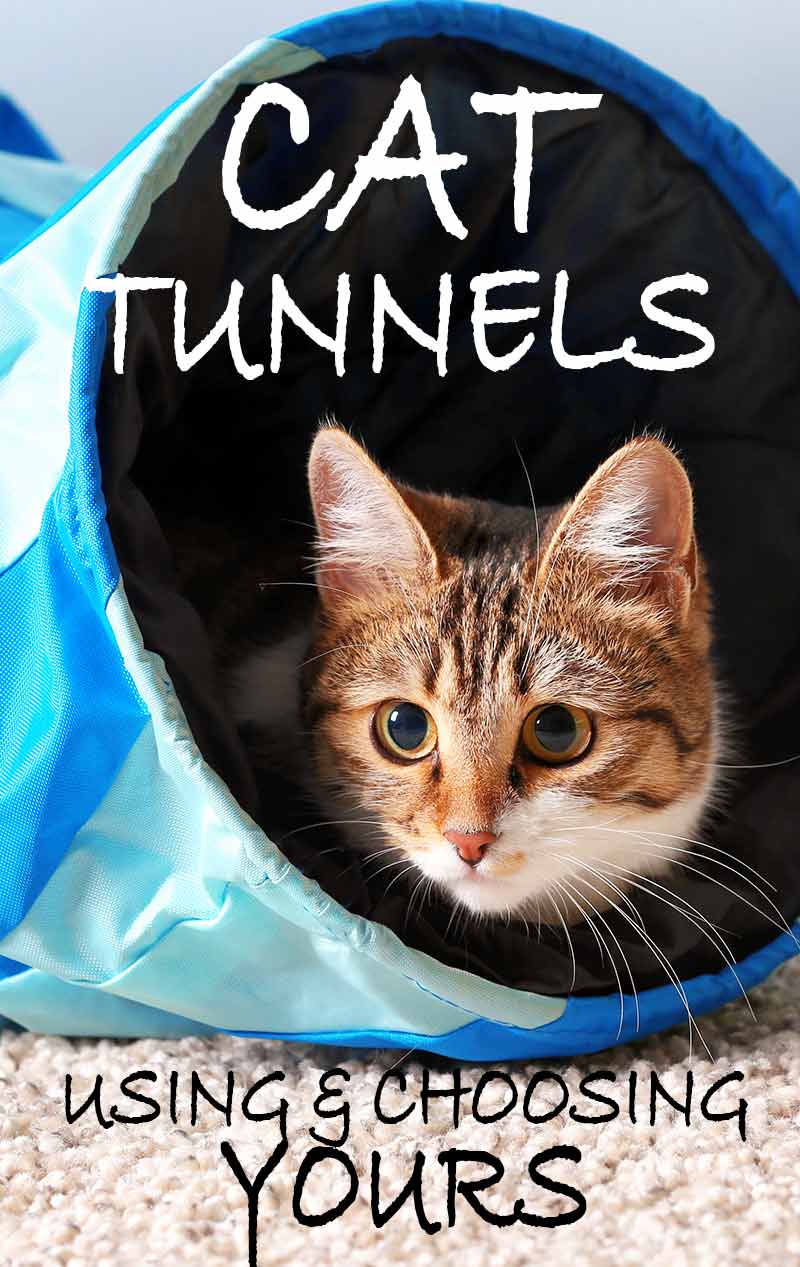 The appeal of a tunnel designed especially for cats is that your cat's enthusiasm for small and preferably dark spaces has been taken into account. Though if you have a seriously large cat, the tunnels designed for toddlers may be a better bet!
Outdoor cat tunnels
While many cat tunnels are open ended and intended for play purposes, we'll look at those in a moment, you can also buy see-through cat tunnels that have another purpose.
Outdoor cat tunnels are intended to enable indoor cats to enjoy a glimpse of the outside and get some fresh air, without being able to leave the safety of the tunnel.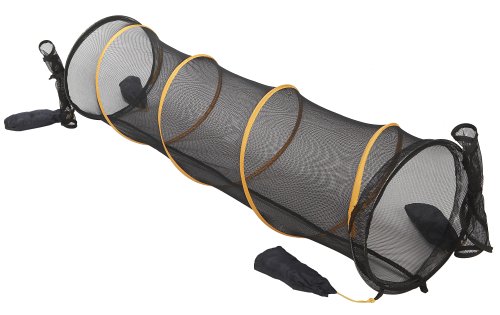 If you are intending getting a tunnel for outdoors, then choose one designed for the purpose, and check that it can be secured at both ends if necessary.
You may be able to attach one end of the cat tunnel into a small open window with the other end closed, so that your cat can go in and out as he pleases.
We like the ABO Gear Fun Run Tunnel which has a zipper at each end and folds away neatly into a small bag when not in use.
Choosing a cat play tunnel
Most cat tunnels are quite reasonably priced but you'll pay a bit more if you go for the plush fabric ones, or for tunnels with beds attached.
Many cat tunnels are quite small in diameter.  About 9 inches across the widest part of the opening.  This means that you need to be especially careful when choosing a tunnel for a bigger cat.
If your cat is a large breed or overweight, then go for a 12 inch tunnel.  There is less choice in this size range, but it's better than your cat getting stuck! Check the actual dimensions carefully as some tunnels that claim to be 'large' most certainly are not.
Cat tunnels are not indestructible, but many are fairly tough and will cope with a certain amount of rough behavior from your cat – for a while.
Cat play tunnels
Cat play tunnels tend to come as a single tube or as a three way tunnel with a pop hole in the center like this Prosper Cat Tunnel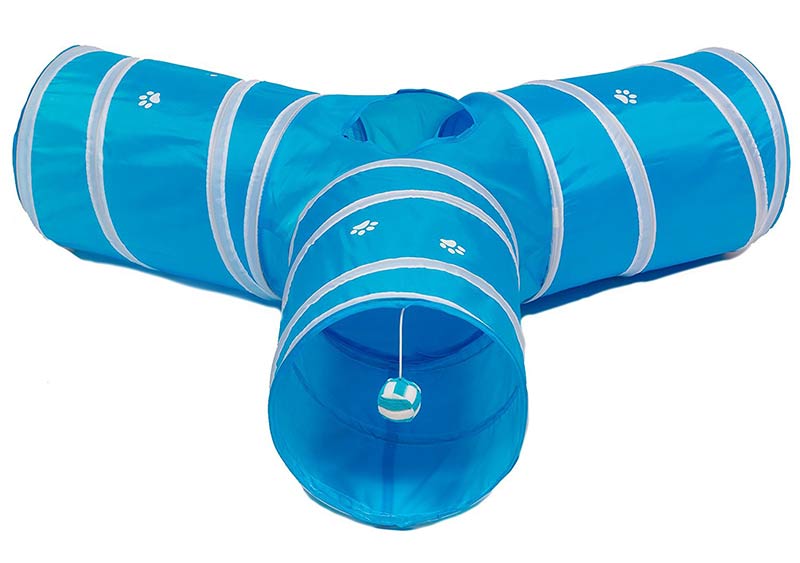 The Prosper tunnel has over two thousand fantastic reviews on Amazon and comes in a wide range of different colors to suit your decor!
It makes a satisfying crinkly sound that most cats seem to really enjoy and the tunnel includes a bell toy for added fun.
The Pawz Road Cat Toy is another very popular tunnel.  It has more of an 'earthy' vibe and wouldn't look out of place in an outdoor cat's playground.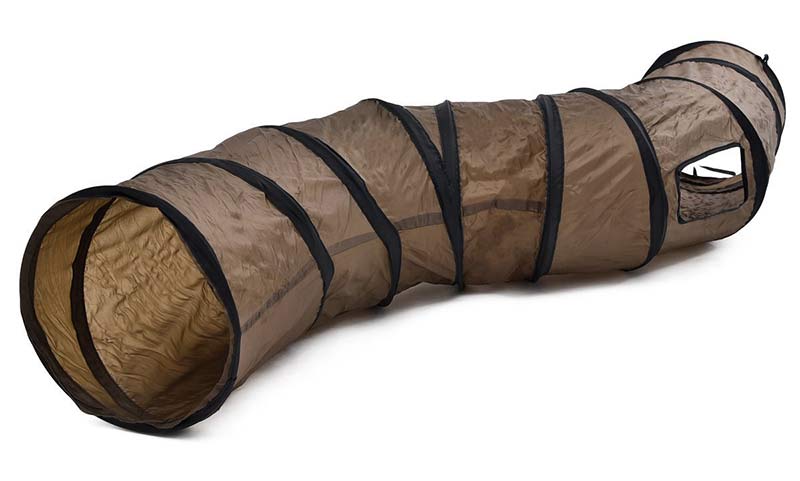 Like the Prosper tunnel this is a strongly constructed toy that will withstand a certain amount of rough play and scratching.
It's ideal for an average sized or smaller cat and isn't suitable for giant breeds.
If your cat is a bit of a snuggle cat, and likes to burrow under cushions and blankets, the Favorite Collapsible Tunnel may appeal to you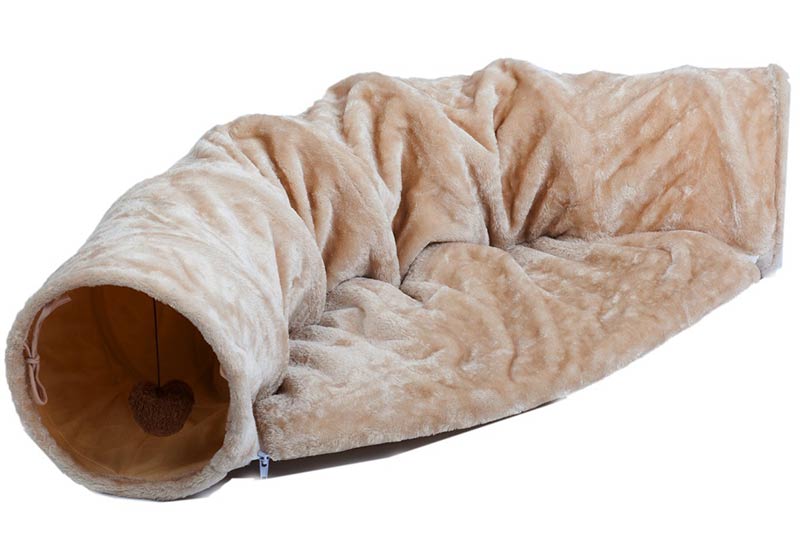 This tunnel is made of soft, velvety fabric and includes a removable bed cushion – and of course a dangly toy – what cat could resist!
You can get a similar plush tunnel in an unusual pale turquoise – if that's your thing – from Ciao Chow.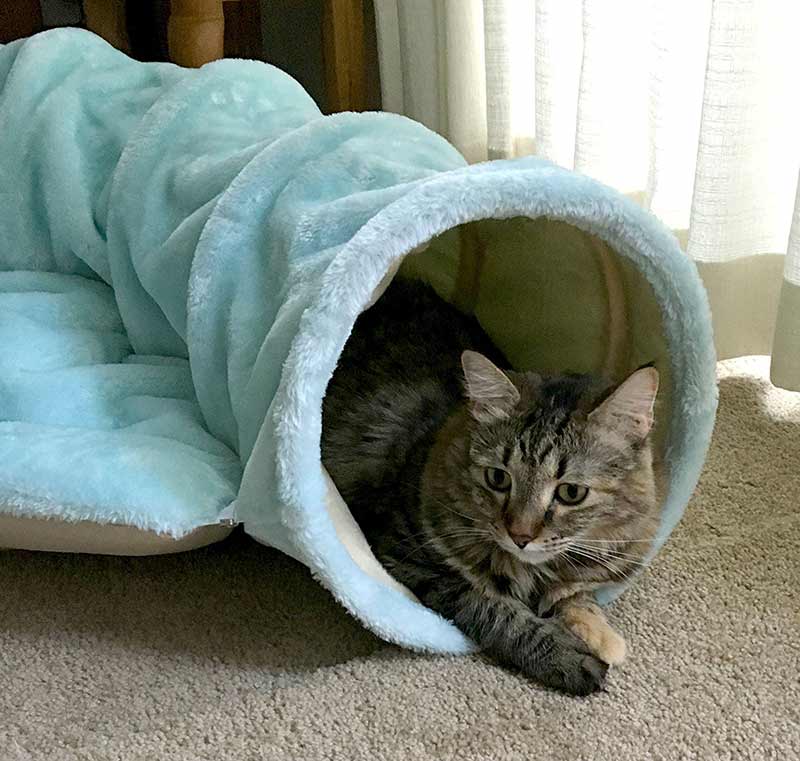 Both these plush tunnels collapse and fold up for storage, though they do take up more space than the crinkly fabric tunnels above.
For those cold winter nights, Petories do an ultra cozy self-warming pet house and tunnel combo!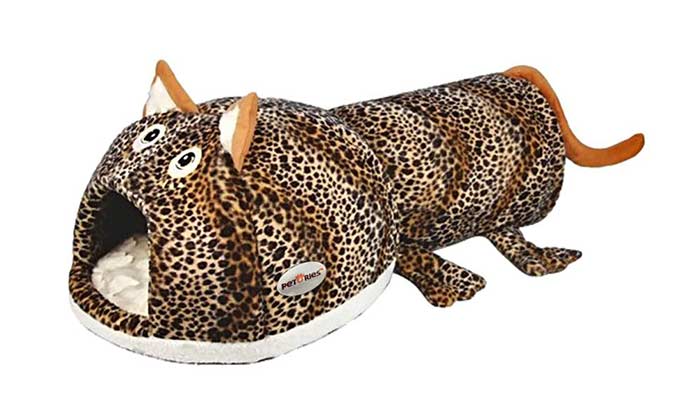 The tunnel and the bed can be taken apart and used separately if preferred.  And if you are into animal prints, there are plenty of alternatives for you to choose from.
ABO Gear make a faux fur leopard print tunnel with the crinkly lining that cat's love so much!
And Paws do an animal print three way tunnel too.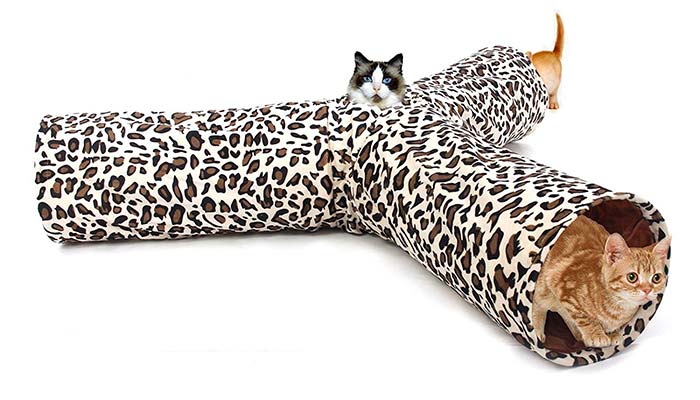 If your cat is on the large size, you'll need to choose your tunnel size carefully
Cat tunnels for large cats
The Krinkle Collapsible Cat Tunnel by Weebo Pets comes in three sizes.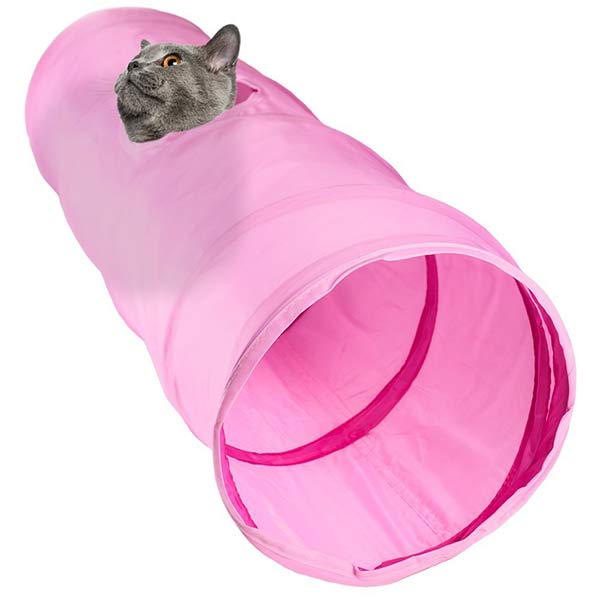 The 52 inch tunnel has a diameter of 12 inches, which should be sufficient for most larger cats.  The tunnel collapses down neatly when not in use and weighs just nine ounces.
It comes in a vibrant blue or a hot pink!
Pawz also sell a 12 inch diameter tunnel for the larger or overweight cat.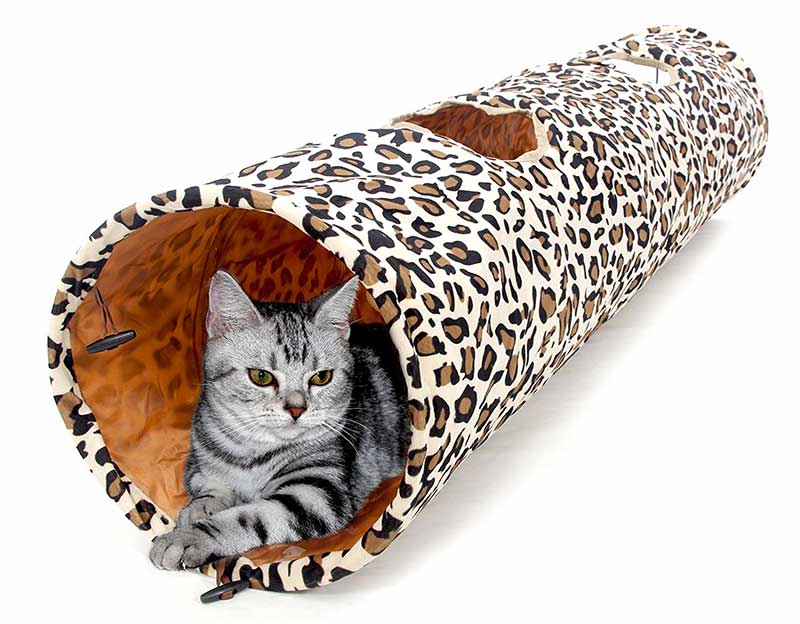 It's made from faux fur and lined with crinkly fabric
Cat tunnel beds
Some cat tunnels are designed more for relaxation than for play.  The Nacoco cat tube is a fleecy nest of a tunnel designed to fit your cat snuggly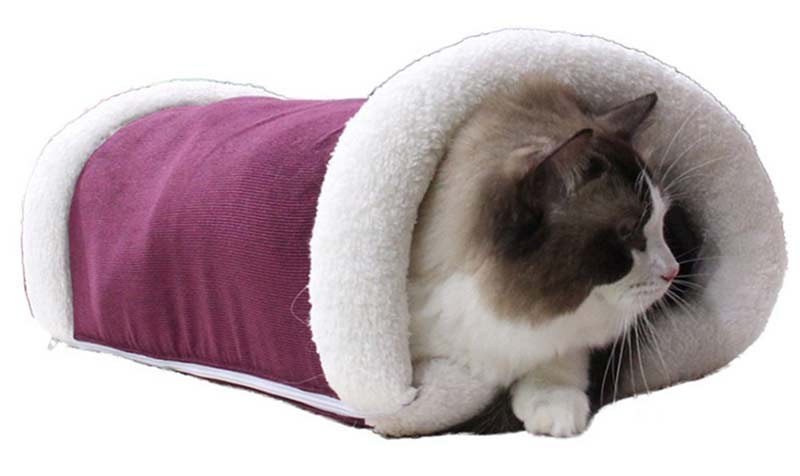 The tunnel comes in two sizes and in two colors.  The smaller tube is just 20 inches long, and if your cat gets bored with tunneling, both colors unzip to make a soft fleecy mat.
Our favorite cat tube is the Kitty Shack from Allstar.  The Kitty Shack also converts to a mat using a zipper and it stand upright even when the cat has left.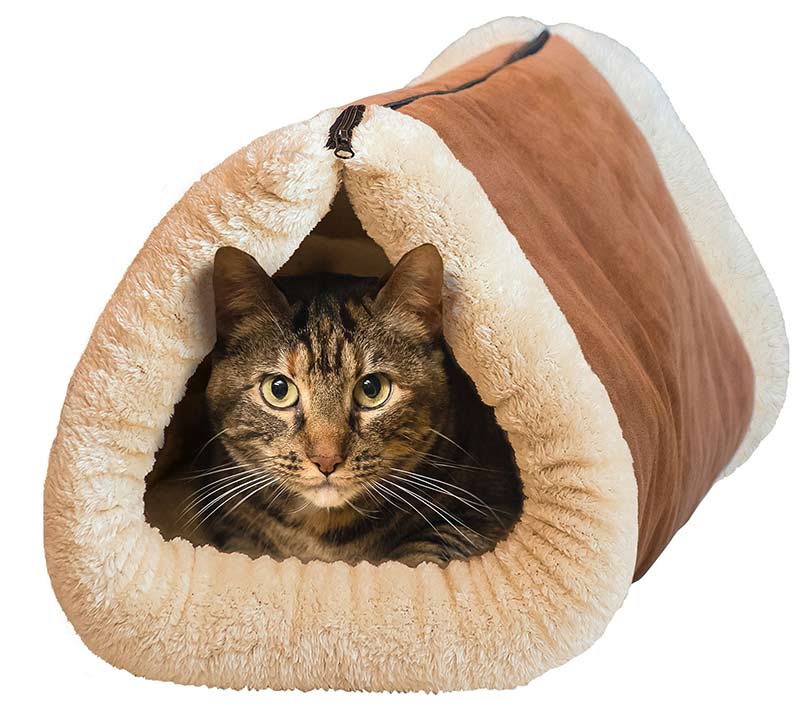 The fleecy lining is thermal for the ultimate in snoozing potential.
If your cat likes to be enclosed almost all the way around, a cat cave may be a better option than a cat tube.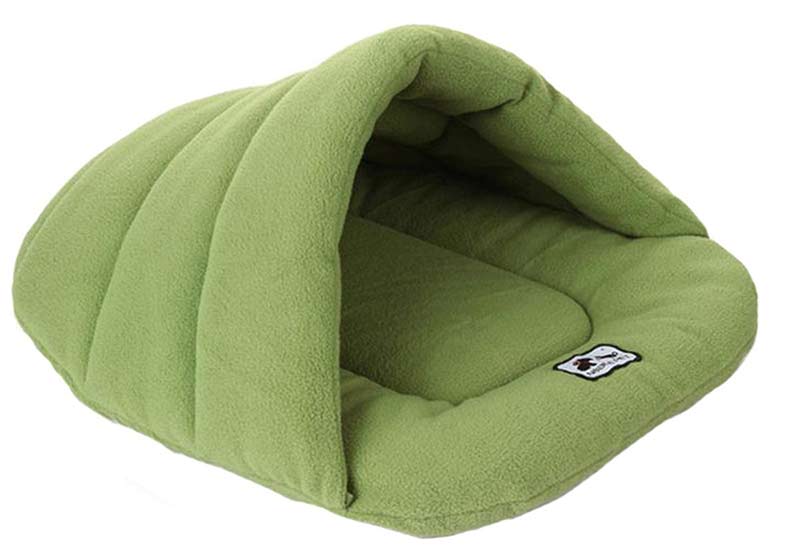 This is Billy's.  They come in lots of colors, he had a red one when he was really tiny.
This one's made of really soft fleece type fabric and has a wire hoop buried inside which helps to keep the entrance open.
Here's Billy demonstrating how to relax cat-cave style.

Cat furniture with tunnels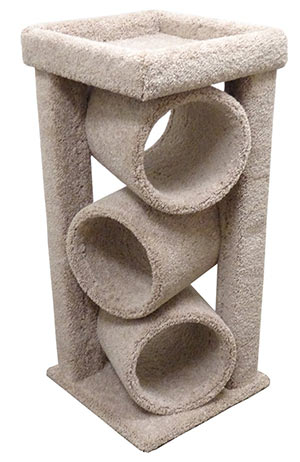 You can of course get cat tunnels incorporated into cat furniture
And there are some interesting free standing options like this triple stacked tunnel from New Cat Condos.
These are a more substantial purchase and we'll be looking at some of the best ranges of cat furniture more closely in another article.
Cat tunnel – Summary
A cat tunnel can be a very entertaining toy, and some of the snugger versions make great beds too.
If you have a large cat, look for a larger diameter tunnel as many tunnels are quite narrow.
Have fun choosing your tunnel, and let us know if your cat enjoys playing in his.
In the meantime, we'll leave you with a picture of Billy tunneling into his cat favorite cat cave at just eight weeks old