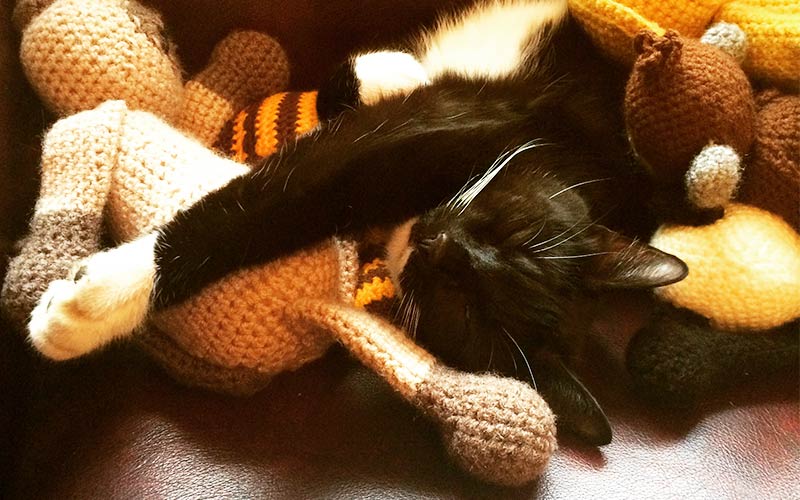 Welcome to your very special crochet catnip mouse tutorial! Helping you to make your very own super fun kitty toy using a simple catnip mouse pattern.
Whether you are a crochet master or completely new to the craft, you'll have no trouble following along.
And your cat will be very happy with the end result.
Before we begin, let's take a quick look at catnip toys in general and why I've been crocheting them for my cat.
Catnip Mouse Toys
Is your kitty a fan of catnip? Most cats are, and my little boy is no exception.
Catnip is a herd which triggers a happy response in our feline friends.
Some cats like to lick it, sniff it and chew it. Others will turn lively or energetic around it.
And it's all because the smell triggers a chemical reaction in their brains.
But don't worry, it's not harmful and although it doesn't have any health benefits it doesn't do any damage either.
And it's very fun for the 75% of cats who enjoy it.
Oscar's Injury
Oscar is my five year old tuxedo cat. His favourite things are hunting, food, hugs and catnip. Probably in that order!
But he's not been having the most fun time recently, because he managed to get himself injured.
Here's the lovely lad looking particular sorry for himself.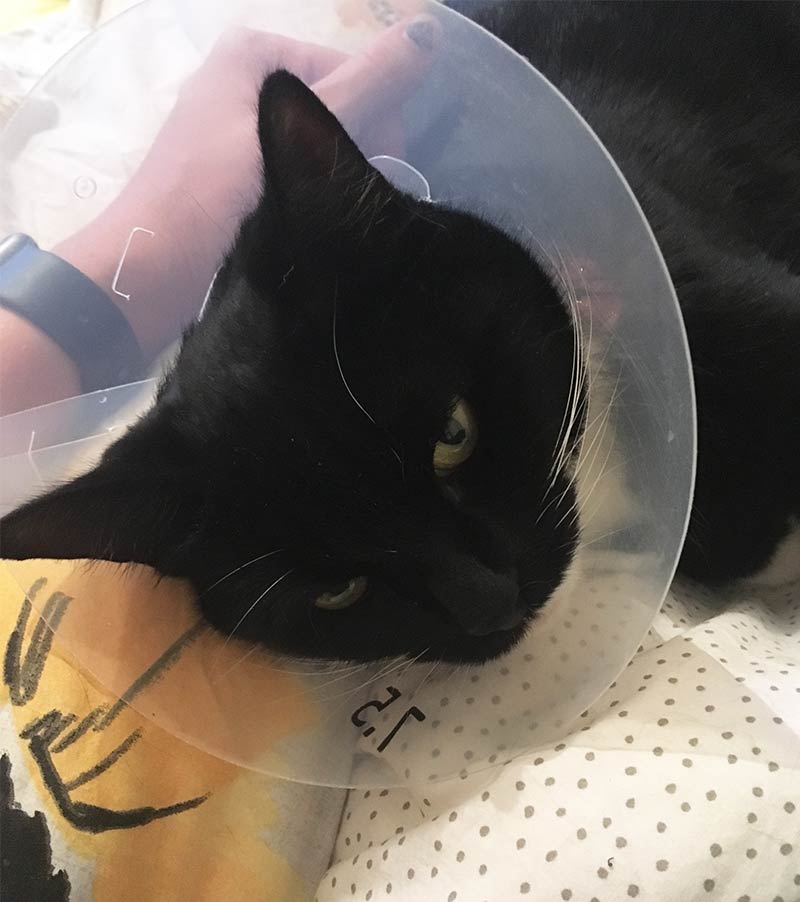 Cat cones are no fun, especially not for kitties who like Oscar are lucky enough to normally spend a lot of their time outdoors.
Indoor Cats and Outdoor Cats Toys
Here in the UK it's a lot more common to let your cats outdoors than it is to keep them in. But in the US indoor cats are much more common, and those of you with purebred cats in the UK or who live in cities almost certainly keep your kitties indoors too.
There are arguments for both sides of this, and you can read them all in this article on Indoor Cats vs Outdoor Cats.
But whichever side of the fence you and your cat fall on, cat toys will always play a role in keeping your kitty happy and the bond between you strong.
Why A Crochet Catnip Mouse?
If you have an outdoor cat play is still of course a benefit. If you have an indoor cat you will probably be even more keen on having a range of indoor cat toys to keep them happy and entertained.
But a coned cat who normally prowls the neighbourhood? Well, I've discovered that's something else entirely. And was a problem that needed fixing sharpish.
When Oscar hurt himself he was miserable. His cone wouldn't fit in his favourite hiding places, the cat door was locked and he was very uncomfortable.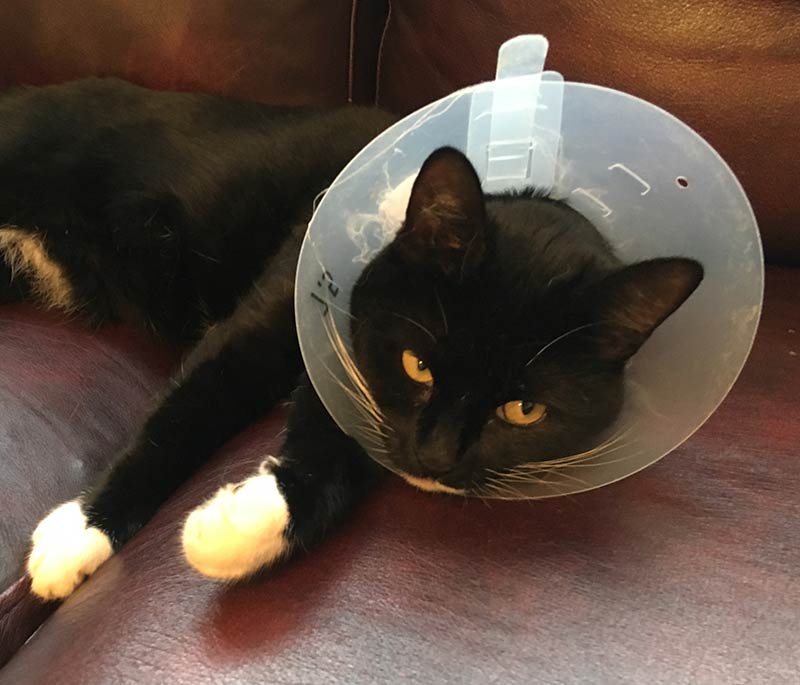 For the first couple of days he was very clingy and got by on sleep, hugs and extra snacks!
But then he started to feel better and the boredom set in.
Now he's got a fair few toys anyway, with a real preference for toy mice and balls. I started to think about how else to keep him entertained.
When I remembered a chat I'd had with The Happy Cat Site's lovely Cat Behaviorist, Clare Hemington. She'd seen my crochet site a few weeks ago and suggested I could crochet Oscar a catnip mouse!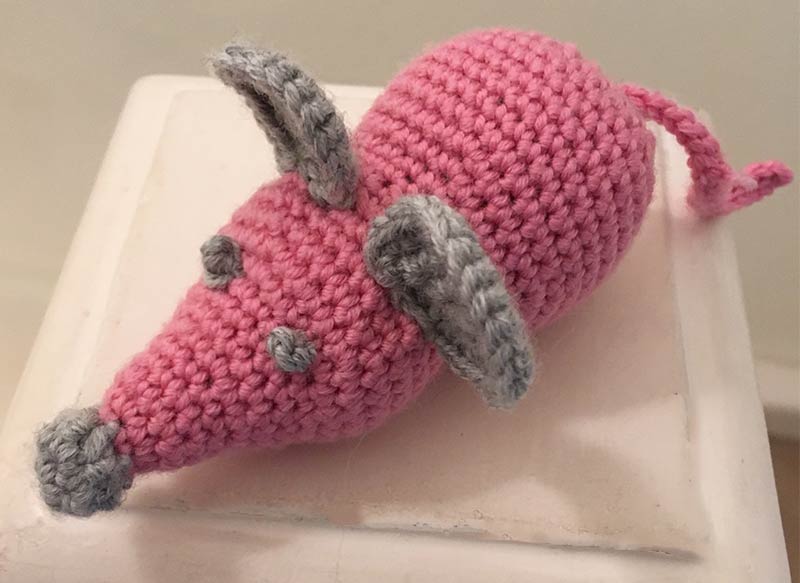 A great idea and the timing couldn't be better. So I settled down to make one for him.
And – spoiler alert – he loved it.
Learn To Crochet
The crochet catnip mouse pattern is a nice simple one, great for beginners.
If you have never crocheted before I suggest reading this basic stitches and techniques tutorial and opening this abbreviations chart in another window to help you on your way.
The trickiest skill you'll need is right at the beginning, crocheting a magic circle. You can find out how to make one nice and easily here.
Crochet Catnip Mouse Pattern Instructions
Despite being British, I write all of my crochet pattern in US terms. I learned using American sites and Youtube Channels, and it stuck.
If you want to convert the pattern to UK crochet terms just check this handy chart.
For the benefit of those readers who haven't crocheted before, I'll be beginning the pattern in full sentences. Introducing abbreviations individually in italics before repeating them in the main text.
Catnip Crochet Mouse Materials
Here's what you will need to crochet your own catnip mouse toy.
The exact yarn I used was Patons Merino Extrafine DK yarn. But any type of double knitting yarn will do just fine.
So you've got everything you need? Then let's get going!
Crochet Catnip Mouse Pattern
Welcome to my crochet catnip mouse pattern!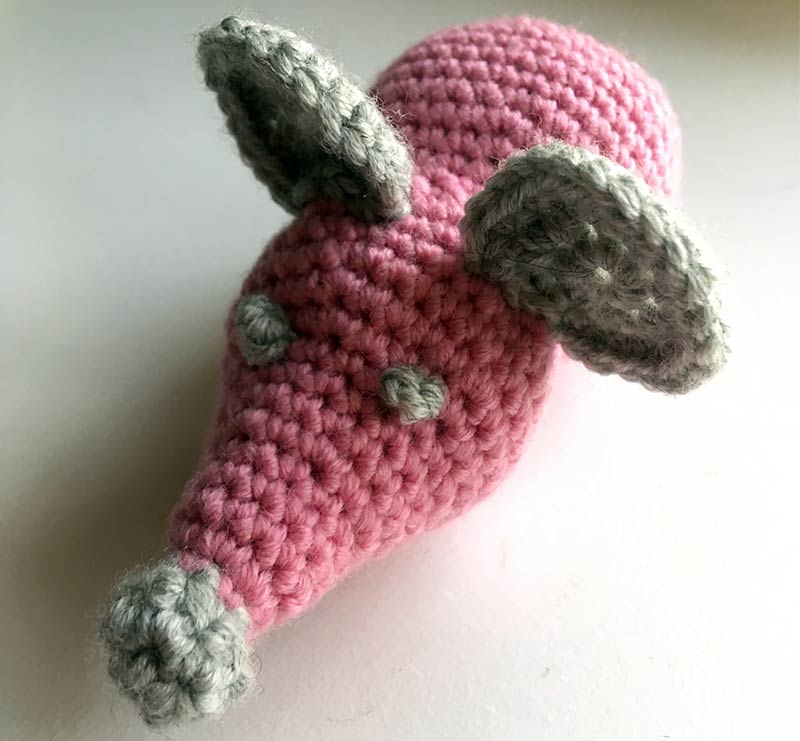 We'll be making up the head and body first, then crocheting the tail from the complete body. After that we'll move on to making the eyes and crocheting the ears.
Then we'll sew them all together, and have a wonderful finished crochet catnip mouse toy. Simple!
Crochet Mouse Head and Body
To make your crochet mouse head you will need to start in the 3.5mm crochet hook, using your grey yarn.
Round 1
Make a magic circle of six stitches (6)
Round 2
Two single crochets in each stitch 6 times (12)
2sc x 6
Round 3
Single crochet two stitches together 6 times (6)
sc2tog x 6
Color change to pink
Round 4
Sc x 6 (6)
Round 5
2sc x 6 (6)
Round 6 – 8
sc x 12 (12)
Round 9
Make 1 single crochet in the first stitch, then 2 single crochets in the next. Repeat for the length of the round. (18)
(1sc, 2sc) x 6
Round 10 – 11
1sc x 18
Round 12
(1sc x 2, 2sc) x 6 (24)
Round 13
1sc x 6, (1sc x 3, 2sc) x 4, 1sc x 2 (28)
Round 14
1sc x 6, (1sc x 4, 2sc) x 4, 1sc x 2 (32)
Round 15 – 17
1sc x 32
Reducing The Body
Note that now you will be decreasing instead of increasing.
Round 18
1sc x 6, (1sc x 4, sc2tog) x 4, 1sc x 2 (28)
Round 19
1sc x 6, (1sc x 3, sc2tog) x 4, 1sc x 2 (24)
Round 20
1sc x 24
Round 21
1sc x 6, (1sc x 3, 2sc) x 4, 1sc x 2 (28)
Round 22
1sc x 6, (1sc x 4, 2sc) x 4, 1sc x 2 (32)
Round 23
1sc x 6, (1sc x 5, 2sc) x 4, 1sc x 2 (36)
Round 24 – 30
1sc x 36
Round 31
(1sc x 4, sc2tog) (30)
Round 32
(1sc x 3, sc2tog) (24)
Now take your catnip. Pick small quantities between your fingers and insert them into the mouse.
Start filling the mouse with toy stuffing. Alternative a wad of stuffing with a pinch of catnip until it's full.
Round 33
(1sc x 2, sc2tog) (18)
Round 34
(1sc, sc2tog) (12)
Round 32
sc2tog to close
You are now ready to make your crochet mouse's tail
Round 33
Make a chain of twenty stitches. Put a single crochet into the second stitch of the row.
Repeat for the length of the row until you reach the base of the mouse at the end of the tail.
Slip stitch and knot into the back to secure.
Crochet Mouse Ears
It's time to make your crochet mouse's ears. You'll construct these separately, then sew them on when they're complete.
Do the following two times using your 3.5mm crochet hook and grey yarn.
Round One
Make a magic circle of eight stitches (8)
Round Two
2sc x 8 (16)
Round Three
(1sc, 2sc) x 8 (24)
Now make a single slip stitch into the next stitch, tie off and leave a long thread of yarn.
Crochet Mouse eyes
To make your crochet mouse eyes you will need to cut a length of grey yarn around 11 inches long.
Tie three consecutive knots in the end of the yarn. Thread your needle and insert it through the crochet mouse's face.
Weave it through near the tail, tie off and leave the end inside the mouse.
Repeat at the other side of the face.
Crochet Catnip Mouse Construction
To join your mouse together take your yarn needle and thread first one ear using the tail of yarn. Attach it to the top right hand side of your mouse's head. Then do the same with the other ear at the other side.
The bottom of your mouse is flat to help you tell where to place the ears and eyes.
Put your catnip mouse's eyes a few rows in front of each ear.
And that's it! You're done!
Oscar's Crochet Catnip Mouse
I gave Oscar his new mouse toy at a distance. To let him notice it.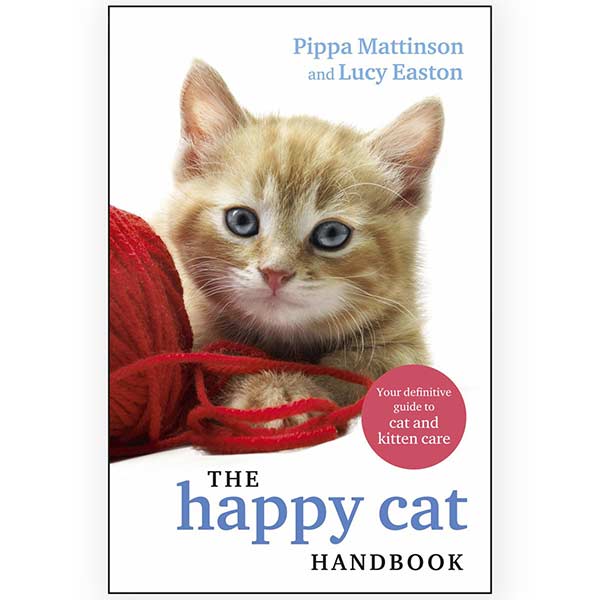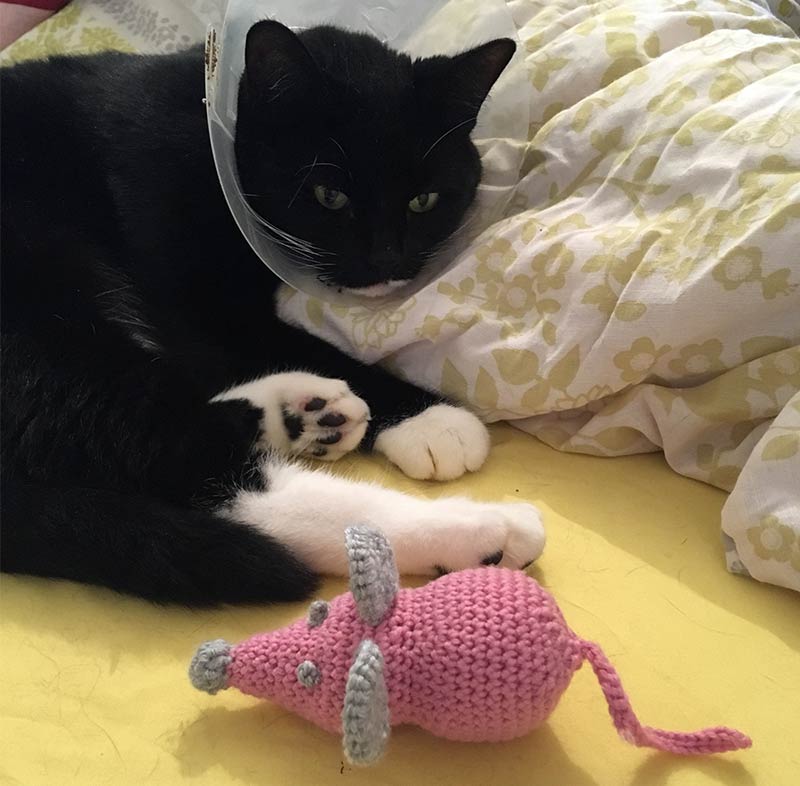 At first he eyed it up suspiciously, but moments later he pounced.
(You can see how long he'd be in that one place still from the pile-up of fur on the bed!)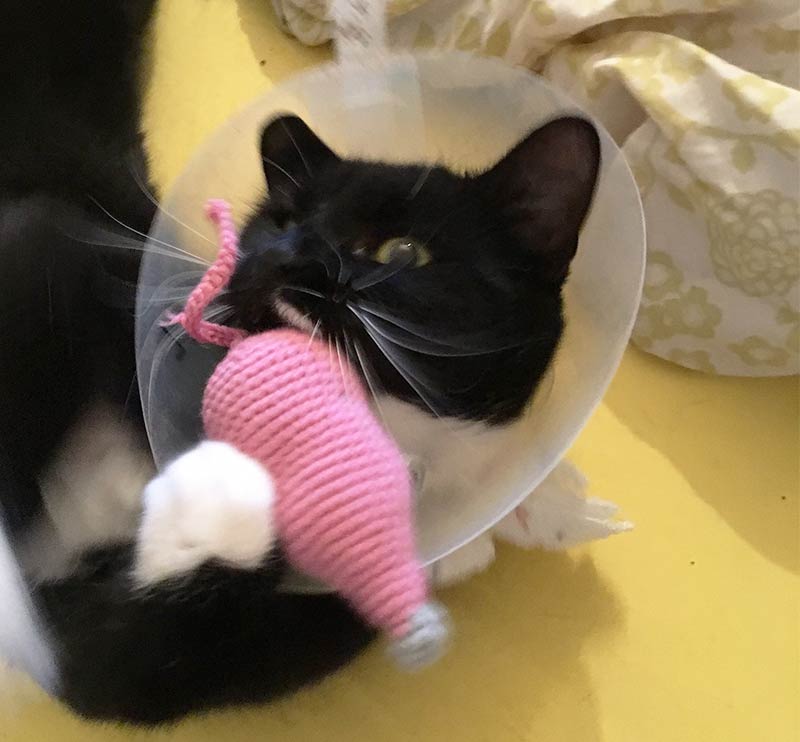 I've got to say, the photo quality rapidly went downhill due to the speed he was moving at.
He played and played.
In fact, he played so much that the cone came off and I had to replace it!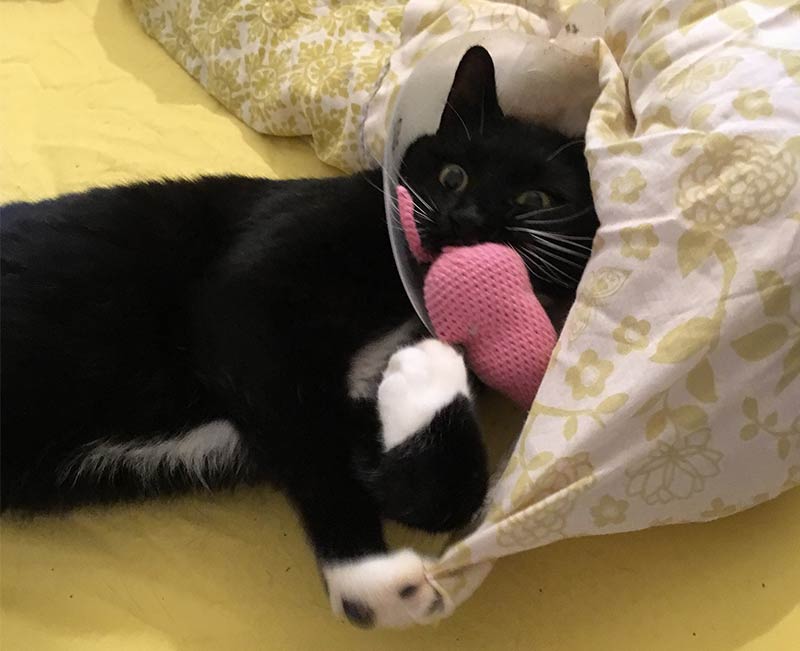 Crochet Catnip Toys
My crochet catnip mouse came to life when my cat needed an extra boost. But any kitty at any time can benefit from having some new to play and have fun with.
I'm pleased to report that since I started writing this and made the pattern up, Oscar has made a full recovery.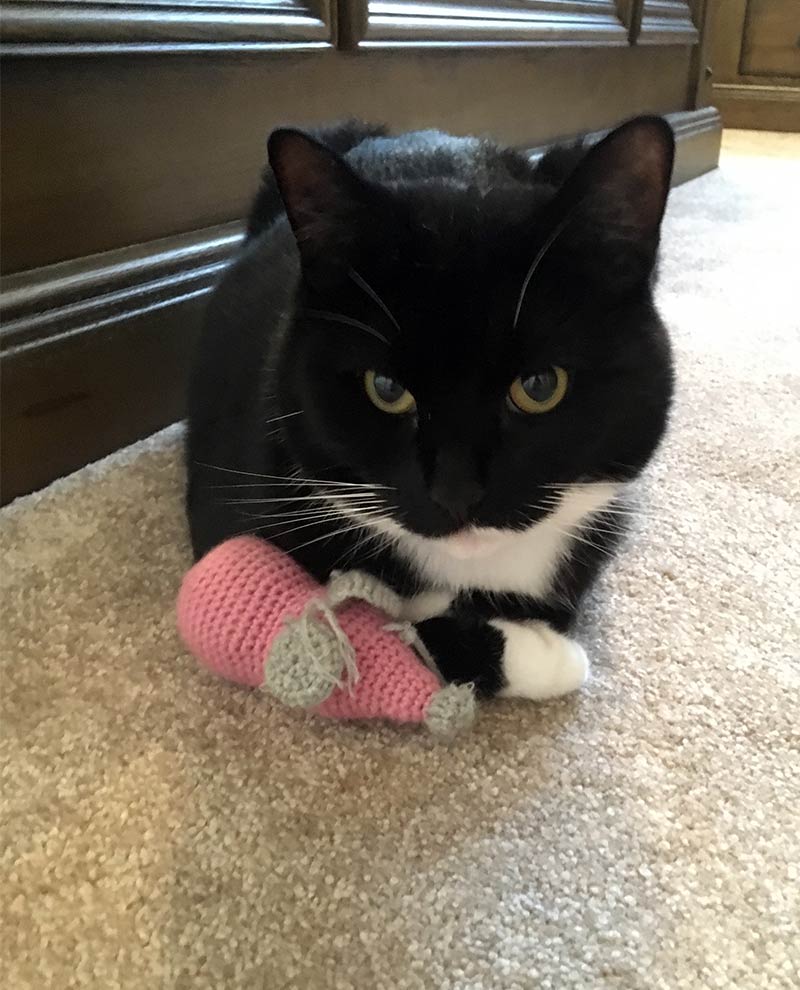 And what's more, he still totally loves his catnip mouse.
It's looking slightly sorry for itself now, but the catnip has stayed inside and so has the stuffing. So I'm happy it will stand up to some seriously tough play.
Thanks Clare for the excellent idea – I can't wait to make more crochet catnip toys for him in future.
Free Updates For Cat Lovers!
Our cat care articles, tips and fun facts, delivered to your inbox
Your Amazing Cat!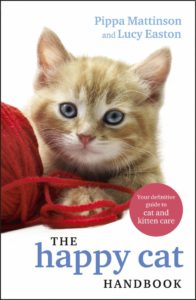 We are so excited to share our new book with you!
If you have enjoyed your visit to The Happy Cat Site we think you'll love The Happy Cat Handbook.
Written by the founders of this website including the author of the hugely successful Happy Puppy Handbook, it's packed with cat care information and fascinating cat facts.
Grab your copy today!
Free Updates For Cat Lovers!
Our cat care articles, tips and fun facts, delivered to your inbox