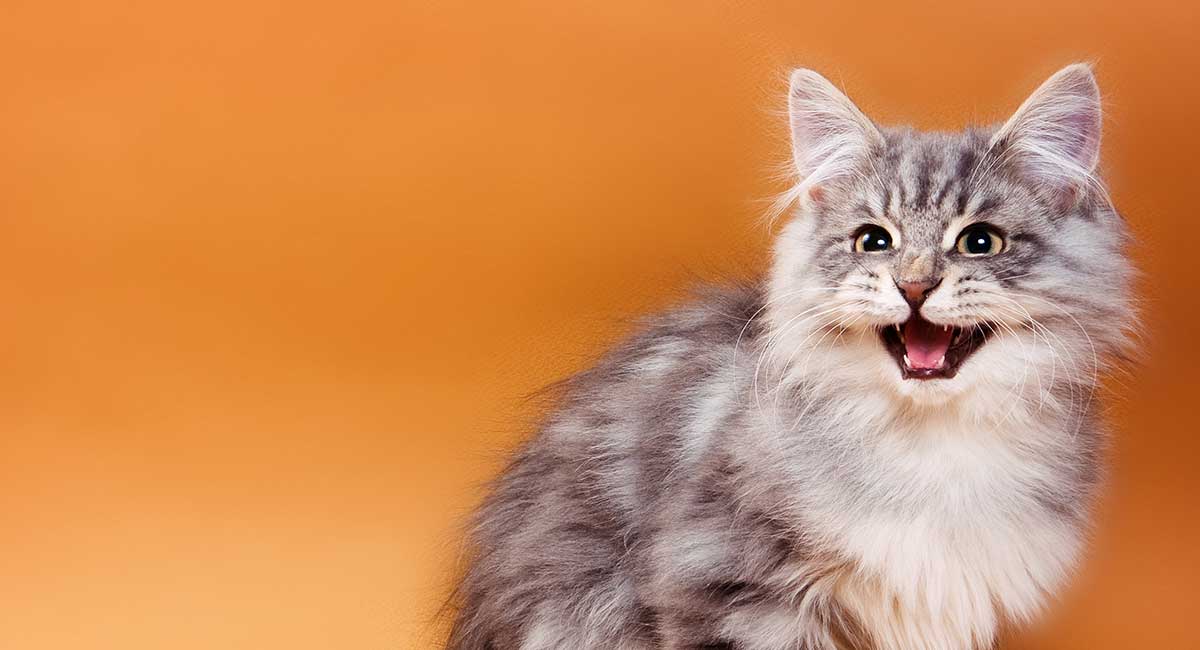 Are you wondering, "why does my cat meow so much?"
Your cat is vocalizing all the time, but why?
This meowing is cute – at first. Then it gets annoying. You like cats in general because they are quiet. Or so you thought.
But this is getting a bit out of hand. It seems like your cat keeps meowing for no reason.
How can you stop your cat constantly meowing?
Read on if you're still asking, "Why does my cat meow so much?"
Why Do Cats Meow?
Cat have lots of different sounds at their disposal. What does it mean when a cat meows?
Meowing is the most highly varied call that cats make, and takes many different forms.
Scientists have even refined an exact definition of meowing.
Generally, (get ready) they consider it
a noise that cats make with an open mouth progressing to a closed mouth, utilizing a mean frequency of 400-1200 Hz, a modulating pitch profile, and a duration of up to 3 seconds or more
Which is exactly how you would describe it too, I'm sure.
Types Of Cat Meow Noise
Some cats may add clicks or trills to their meow sounds!
Normally, cats meow for a number of reasons.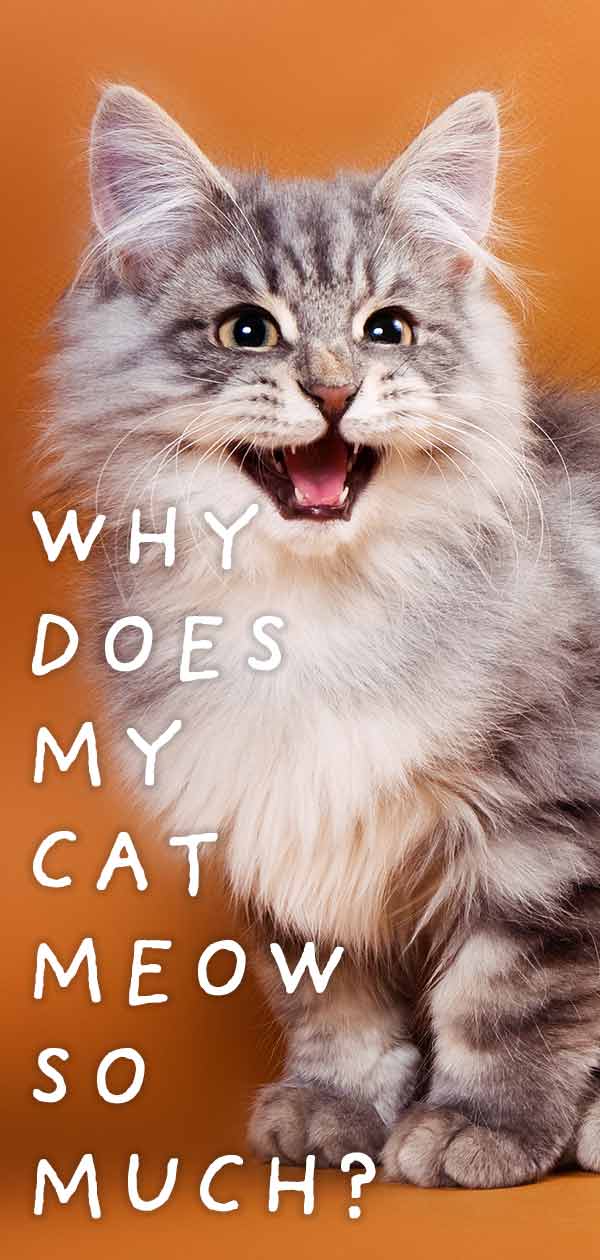 They do it to greet people, to get attention, to ask for food, or to be let in or out of the house.
Older cats may meow a lot if they become disoriented or if they're suffering from mental dysfunction.
Intact cats might meow (loudly) to find a mate. This might progress to yowling.
Basically, meowing is how cats communicate with humans. So if you want to know "Why does my cat meow at me?" that's why.
How Cats Use Meow Sounds
Interestingly, adult cats do not meow at other cats – just at humans.
As kittens, they use meowing to communicate with their moms, but they stop that eventually.
Since humans respond to meowing, cats do it when they want something.
But meow meaning can vary, and some owners can even tell the difference between different meows!
Research shows that humans can learn the meaning of the the sounds their cat makes over time, but it's still not perfect.
One woman in a study from 2003 was able to accurately deduce the meaning of a strange cat's meowing about 41 percent of the time.
Meowing, also called mewing or miaowing, is the most common cat-to-human vocalization.
Scientists believe that many different types of "meows" developed because humans are good at distinguishing sounds with the same wave frequency but different level of intensity.
And when the frequency is below 5 kHz, humans can also distinguish sounds with the same intensity but different frequency.
Why Does My Cat Keep Meowing?
So meowing in a variety of ways is how your cat tells you different things.
Research has shown that feral cats vocalize differently than ones that are used to human contact, which means that the meow emphasizes the human-cat bond.
Cats can be quite demanding with their meows, as we're sure you know!
And some breeds are simply louder than others, so there may be a genetic component. Did you know that Siamese cats and other Oriental breeds can be pretty chatty?
But there is such a thing as excessive meowing. And finding out why your cat is meowing will require sleuthing on your part.
Why Does My Cat Meow So Much?
"My cat won't stop meowing!"
If this is a problem you're experiencing, your cat may be trying to tell you something.
In order to curb that cat meow noise, you're going to have to figure out why she's doing it.
First, you'll have to pay attention to when she's doing it. Ask these questions:
Does she greet you with meowing?
Does your cat want food? Attention?
Does she want to be let out?
Is there an obvious reason for the meowing?
Does your cat have a clean box the way he likes it?
Does he have water?
Is he locked in (or out of) a room?
Is your cat intact (as in, not neutered or spayed)?
Is he an older cat?
Has there been a change of routine recently?
What To Do If Your Cat Meows All The Time
"Why does my cat keep meowing?" you wonder. If your cat is meowing a lot, what do you do?
First of all, don't ignore your cat, unless you know without a doubt that she's trying to get you to give her something she wants (food, or attention).
Assume there's something wrong. Often the answer to "Why does my cat meow so much?" is medical.
Your first step should be to figure out what the problem is. Don't assume your cat is just misbehaving because she's spoiled or demanding.
And don't discipline your cat for meowing too much. This is just going to make him scared of you, so redirect the behavior instead and reward quiet behavior.
Why Does My Cat Meow At Me? Spotting Clues To The Answer
Look for contextual clues along with the excessive meowing. If your cat is sitting by the food dish meowing, perhaps he's hungry.
If she's walking between your legs with her back arched and meowing, perhaps she would like to be petted.
If you don't see her, she might be trapped. The last time my cat woke me up with meowing, she was stuck in a drawer.
Is there a cat outside? Ah, that might be the issue – my male cat always vocalizes when he sees other felines in the neighborhood.
Is your cat meowing when she's in the litterbox, and having accidents where she never did before? My girl cat does this when she had a urinary tract infection.
If your older cat is meowing a lot in the evening, this might be the result of cognitive confusion due to aging.
Cat Constantly Meowing – When To Visit A Vet
If you can't figure out exactly what is causing your cat's meowing, and if your cat keeps meowing for no reason, it may be time to visit the vet.
Your cat is trying to communicate something to you, and if the cause is not obvious, it might be related to a medical condition.
For example, cats with ear infections or deafness often don't know how loud they are being.
How To Stop A Cat From Meowing
If your cat won't stop meowing but you've figured out the reason, you can work to solve it.
Different causes will require different solutions.
For example, if your cat always greets you with meowing, you might be out of luck. He might just love talking to you, and wants you to know he's happy to see you.
If your cat needs attention, you can give it to her! If you think she is feeling lonely because you're gone too much, take steps to remedy that.
Have a pet sitter or friend stop by during the day for extra play time.
You can also stave off kitty boredom by making sure your pet has plenty of toys, access to windows, and other types of stimulation around the house.
If you think she wants attention, avoid giving it to her when she's meowing – whether it's negative or positive attention. Wait for a moment of silence, then pet her.
If your cat wants food or attention, you'll have to be a bit more conscious of your behavior.
My Cat Won't Stop Meowing For Food
Do not feed her if she's meowing. Feed her at regular times, and don't feed her outside of that.
That way, your cat isn't rewarded for her vocalizations.
If your kitty is on a diet, you can talk with your vet about ways to make her feel full and not so dissatisfied.
Solving Excessive Cat Meow Noise
Once you have an idea of why your cat meows, and a strategy to reduce it, if you are consistent with your behavior, your cat will figure it out eventually.
If your cat wishes to go outside, consider a cat door. If he's an indoor cat, however, and you can't do that, you'll just have to wait till he adjusts.
In the meantime, you can find plenty of cat enclosures that will allow your indoor cat outside time without the dangers of free roaming.
If your cat is making noise because he or she is intact, your cat may be either in heat or reacting to females that are in heat.
The meowing should be temporary and restricted to the breeding season.
The best way to stop cats constantly meowing, in this case, is to neuter or spay.
If the issue is a medical condition, your vet can advise you on ways to treat the underlying cause.
Medication can help with feline stress or issues of age.
Why Does My Cat Meow So Much? – A Summary
If you're one of those people thinking, "my cat meows a lot," we hope we've given you some food for thought.
Meowing is basically your cat trying to communicate with you.
So, the answer to "Why does my cat meow so much?" often depends upon what she's trying to say.
You know your cat best, so you may be attuned to what types of meow she's using to get your attention.
If your cat meows all the time, there's something she wants or needs. It could be a medical issue.
Assume there's something wrong, and go from there.
Does Your Cat Meow A Lot?
Do you know why it is?
Have you successfully managed to reduce your cat's meowing?
What worked for you, and what didn't?
We'd love you to share your experiences, in the comments box.
Resources and Further Reading
ASPCA, Common Cat Behavior Issues: Meowing and Yowling, 2009.
Brown, S. L. and Bradshaw, J. W. S. The Domestic Cat: The Biology of its Behaviour. Third Edition, eds. Turner, D. C. and Bateson, P., Cambridge University Press, 2013.
Crowell-Davis, S. L. Cat Behavior: Social Organization, Communication, and Development in The Welfare of Cats, ed. Rochlitz, I., Springer, 2007.
Nicastro, N. and Owren, M. J. Classification of domestic cat (Felis catus) vocalizations by naive and experienced human listeners. Journal of Comparative Psychology, 2003.
Shreve, V. K. R. and Udell, M. A. R. What's inside your cat's head? A review of cat (Felis silvestris catus) cognition research past, present and future. Animal Cognition, 2015.