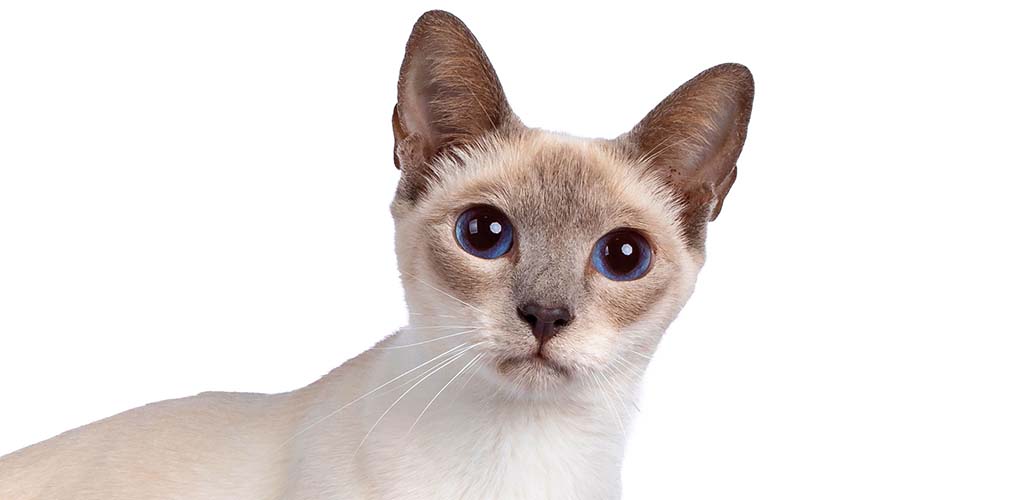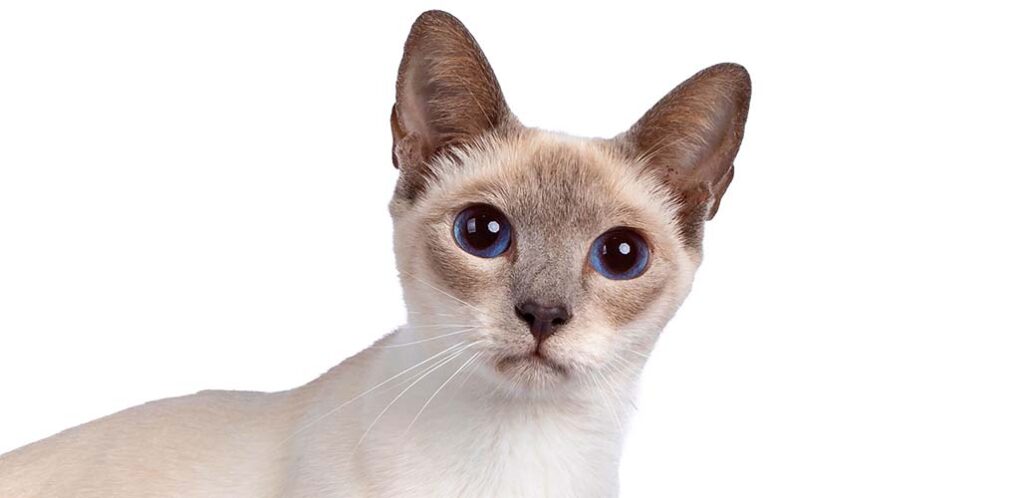 A Siamese lilac point cat is also known as a lavender point Siamese. They have warm gray fur on their ears, nose, tail and feet, and the rest of their body is white. Their appearance is very chic, but their personality can be larger than life, so they're not suited to everyone. Today I'll share their breed traits, characteristics and the best way to care for this unusual pet.
Contents
In this complete guide to the lilac pointed Siamese, we cover everything you need to know about one of the most unusual standard Siamese cat colors. And if it leaves you convinced that a lilac Siamese cat is the perfect pet for you, then we'll look at how to find kittens too!
What is a Lilac Pointed Siamese?
The four standard Siamese cat colors accepted by cat breed registries are:
Blue point and lilac point Siamese cats are dilute versions of the seal and chocolate colors, respectively. So, lilac cats have pale brown fur on their points. In fact though, the color tends to read more as a soft warm gray, which is why it's officially known as lilac, rather than 'light brown' or something else equally mundane.
Important lilac pointed Siamese cat characteristics are:
Glacial white fur over the body, with no shading.
Frosty gray fur with a pinkish tone on the ears, muzzle, feet and tail (their points)
Lavender pink nose leather.
Lavender pink paw pads.
Deep vivid blue eyes.
Like all Siameses, according to their breed standard a lilac point cat ought to be long and elegant in stature, and have a wedge-shaped head with big ears and slanting eyes that follow the shape of the wedge. But you can also get an applehead lilac point Siamese, which has softer, rounder features. Applehead Siameses are thought to more closer resemble the 'original' Siamese cats, before generations of human selection for individuals with very svelte bodies and angular faces.
Unlike some other colorpoint cat breeds which can have tabby, tortoiseshell, or white markings on their points, Siamese cats always have solid points. So you'll never see a purebred lilac lynx point Siamese for example, with light and dark stripes of soft brown on their points.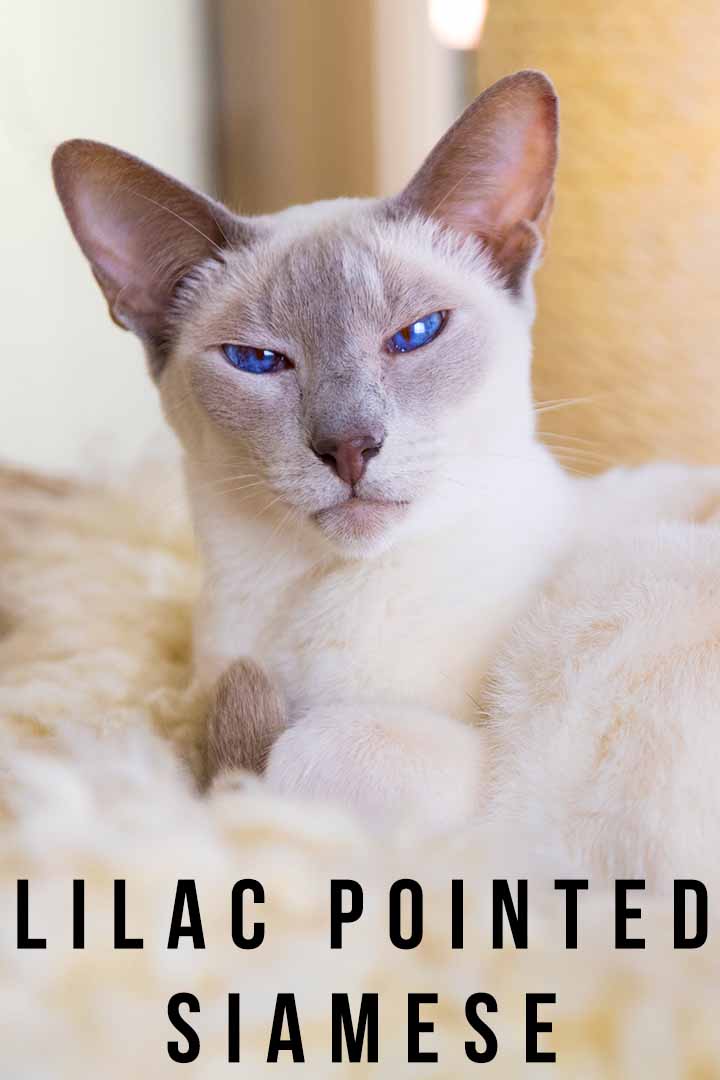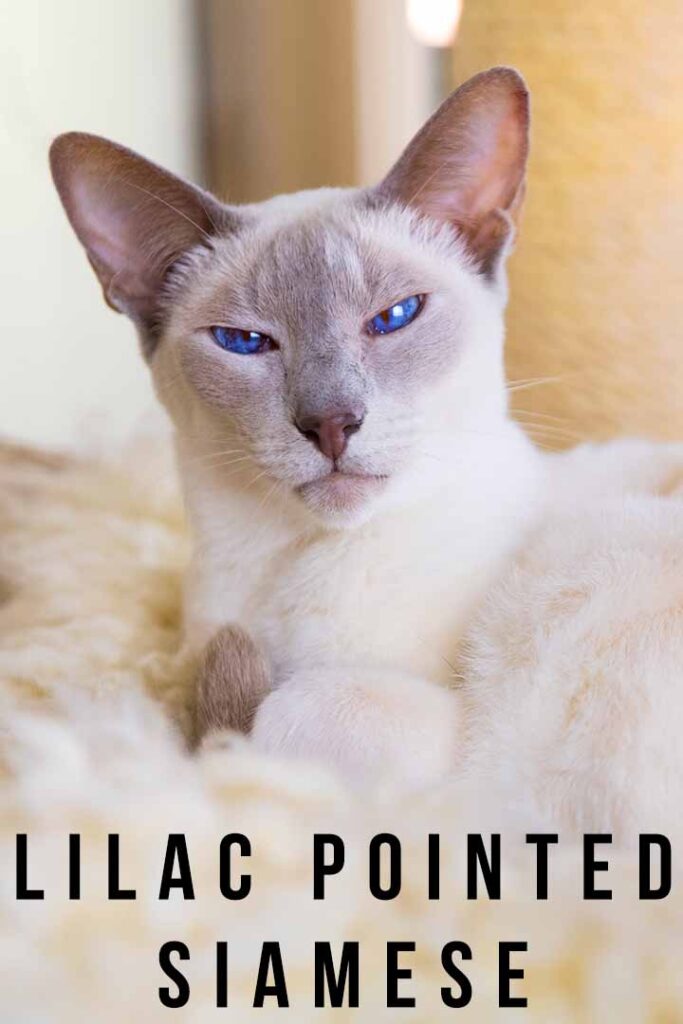 Lilac Pointed Siamese Genetics
Only two types of pigment are made in cats: eumelanin, which is black, and pheomelanin, which is red. The Siamese breed doesn't carry the gene for pheomelanin, so all four of the standard colors are based on the black pigment eumelanin. Seal points are the closest to true black. Chocolate points are caused by a modified form of eumelanin, which looks brown. And blue point and lilac point Siamese cats are caused by a gene called the color dilution gene, which suppresses how much pigment is made in the points. Lilac points are the dilute form of chocolate points.
Siamese cats owe their iconic color points to a single genetic mutation, which causes temperature sensitive albinism. Cats with this gene only produce pigment in their fur where the surface temperature of their skin is coolest, because heat is lost fastest.
Lilac Pointed Siamese behavior and temperament
Siamese cats are famous for being affectionate and chatty. They are the outspoken extroverts of the cat world! They are also very intelligent, and like to seek out sources of mental and physical enrichment. If they are kept in an insufficiently stimulating environment, or they don't get enough company, they can resort to destructive or distressing coping behaviors such as scratching, continuous vocalizing, or pulling their own fur out. However, they make excellent companions for owners who are around for most of the day. This clever cat can even be taught to respond to simple cues.
Siamese cats bond especially closely to one favorite person, and they are very sensitive to changes. They don't like new things in their environment, or the absence of a person. Siamese cats are one of the breeds most recorded as displaying obsessive compulsive behaviors, such as wool sucking. So far, no evidence has been found which links any aspects of Siamese cats' personality to the color of their fur.
Lilac Pointed Siamese health
There's no evidence at the time of writing that lilac cats have any health problems as a result of their color. But they are equally prone to the health problems affecting the better known Siamese colors. These include:
Dental and oral disease. As many as 2 in 5 Siamese cats are estimated to be treated for dental problems. This could be a result of the pronounced wedge shape of their head, which has forced their teeth to occupy an abnormally small jaw space.
Injuries. Siamese cats have a long and slender frame which makes them more vulnerable to traumatic injuries than stockier cats. They are also more prone to cuts, because they have very little coat protecting their skin.
Cancers. Siamese cats have a higher rate of cancers than most other cat breeds. It is ultimately the most common cause of death in the breed.
On the other hand, Siamese cats have an unusually low rate of urinary tract infections. But overall, they are among the cats most frequently in need of veterinary treatment. In fact, data from one study revealed that they account for more pet insurance claims than any other cat breed. Most lilac pointed Siamese cats ultimately live for 11 to 19 years, and their average lifespan is 14 years. However, all types of cats, including Siamese, are increasingly living into their early twenties.
Finding and raising a lilac point Siamese kitten
A fun and fascinating fact about lilac point Siamese kittens is that they are actually born completely white! Their color points don't start to accumulate pigment until they are about a month old, and the depth of color can keep developing all the way until their third birthday. To find your own lilac kitten, you can rely on word of mouth, or an online search. Better still, you can contact a breeder via a breed registry or club, and ask to join their waiting list for a litter.
Are They More Expensive?
Genetically, lilac cat coloring is recessive to the other three colors. In other words, the DNA for it are masked by the DNA for any of the other colors, if it is present. If Siamese cats bred completely at random, this would make lilac kittens rare. But since their breeding choices are usually made for them by their owners, and color inheritance works in a well understood and predictable way, it's quite straightforward to plan a lilac litter.
A lilac Siamese kitten should cost the same as kittens in the other three colors – anything from $400 to $1,200 at the time of writing. The kittens at the top of that range have several show-winning ancestors in their pedigree, and an early appearance which suggests they're likely to be successful on the show bench themselves.