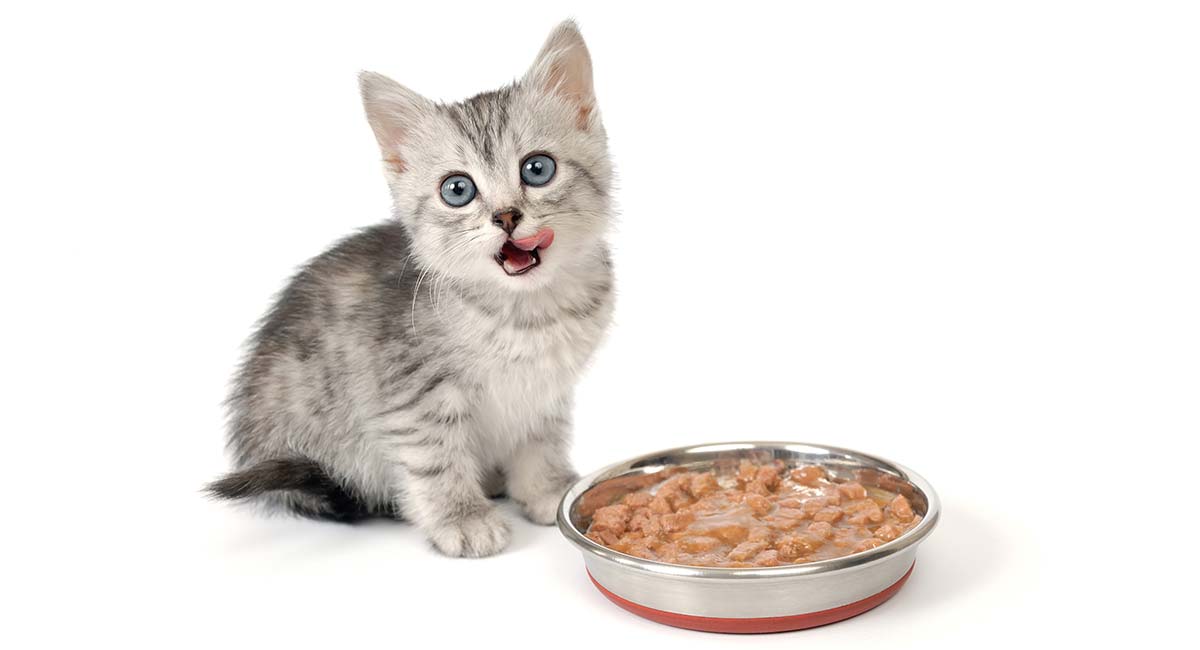 When it comes to feeding your new kitten the best wet kitten food, you want to do it right.
Wet kitten food, next to her mother's milk, is the foundation of your kitten's nutritional development.
So what's it going to be? Cost effective, specialty, grain free, natural or homemade kitten food?
Let us help you decide.
All of these products were carefully and independently selected by the Happy Cat Site team. If you decide to make a purchase from one of the links marked by an asterisk, we may earn a small commission on that sale. This is at no extra cost to you.
Why You Need the Best Wet Kitten Food
It is recommended that you start your kitten on wet food, not dry food.
Wet cat food is easier on your kitten's digestive system because it transitions from milk to meat.
Your kitten should consumer primarily the best wet kitten food brands until she reaches four months of age, at which time you may start introducing dry food.
Veterinarian recommended brands of wet cat food vary by feline maturity.
The best brand of wet cat food for kittens may also vary by kittens' breeds.
Remember that every kitten is different, so don't be discouraged if what works for one kitten isn't working for yours.
Just try another route.
Kitten Structure and Development
Your kitten will be weaned from her mother's milk between six and eight weeks of age.
In most cases, kittens will leave their mothers to go to new homes as soon as they are weaned.
Kittens are physically able to eat wet cat food for kittens as early as three weeks old.
The development of your kitten's oral/dental and digestive health will need to be taken into consideration when deciding on the best brand of wet kitten food to feed your kitten.
You may also decide to make your own healthy wet kitten food.
Wet or Dry Food for Kittens
Which type of food is better for kittens, wet or dry?
It is best to start your kitten's relationship with food with only wet cat food for kittens.
As your kitten matures, you can work your way up to a combination of both dry and wet kitten food.
Dry food will play an essential role in developing your cat's dental structure as she reaches maturity.
But wet food is easier on your kitten's digestive system initially.
It is recommended that kittens consume primarily wet food until they reach four months of age.
At this time, their digestive system will be sufficiently developed to absorb and benefit from all of the nutrients in a dry kitten food or cat food approved for kittens.
Feeding your growing kitten wet food will also aid in better hydration and a higher rate of nutrient absorption.
The best wet cat food for kittens contains a high proportion of water, which will keep your pet hydrated.
The nutrients in wet kitten food are easier for kittens to absorb than dry food because they have been broken down or "partially digested" in advance.
After four months, you can begin to incorporate dry food into your kitten's diet alongside her wet food.
You may do this sooner if you moisten the dry food to make it soft like wet kitten food, although it is likely easier to continue to serve premade wet kitten food until the four-month mark.
Check out our recommendations for the best dry kitten foods across the board here.
Wet Food is Good for Growing Kittens
Good kitten wet food is ideal for helping your kitten grow. Good wet food for kittens allows for a smoother and more subtle transition from milk.
Even kitten owners that go directly to dry food will often add water to their kitten's food to make it softer, more moist and more palatable.
As kittens mature, wet food may be phased out and becomes a treat or start used in conjunction with a dry kitten or cat food.
As your kitten grows into a cat, she will need eat at least some dry food in order to properly develop her dental structure.
So you may be wondering how much wet food to feed a kitten. Does it matter if it's high quality kitten wet food?
The truth is that mature kittens who are fed too much wet food may experience trouble digesting and an early decline in dental health.
How Much Wet Food is Too Much?
How much wet food should you feed your kitten?
The amount of food you feed your kitten should be congruent with her appetite level.
Veterinarians have found that, unlike adult cats, kittens are self-regulating when it comes to diet.
While obesity is a problem often found in adult cats, kittens will eat only when they are hungry—until they are full.
To test the waters with your kitten, start with a small portion of wet food and continually offer more until your kitten loses interest.
Use this as a reference point for the next feeding.
It's OK to cover leftovers and store in the fridge for two or three days, retrieving for use as needed.
Kittens should be fed to satiation four times per day until they reach 12 weeks old.
This graduates to three times per day from 12 to 16 weeks old.
From 16 weeks to 6 months old, try to graduate your kitten to twice daily feedings, adding a third supplemental daily feeding only if necessary.
Best Brands of Wet Kitten Food
Forget Iams and Purina.
The best brands of wet kitten food are lesser known but highly recommended with excellent reviews.
Hill's Science Diet wet kitten food* is a smooth savory salmon entrée that promotes the healthy development of your kitten with key nutrients and proteins.
Hill's, the healthiest wet kitten food, is kitten tested and veterinarian approved.
Meow Mix* offers an entire seafood collection of wet kitten food, including tuna, salmon, whitefish, crab and shrimp for a fantastic variety.
This is the most cost-effective option for a consistently satisfied kitten.
Meow Mix, the healthiest kitten wet food, is also loved by mature cats as an occasional treat.
You won't have to worry about your stock of wet food becoming obsolete as your kitten ages.
Essential Nutrients for Wet Kitten Food
All breeds of cats require a carnivorous diet.
This means that their food must be rich in animal proteins with a moderate amount of animal fats and a small amount of carbohydrates.
The best wet kitten foods report being high in amino acids and antioxidants, as well as moderate amounts of fiber and prebiotics.
These key nutrients contribute to better digestion and are especially essential if your kitten has a sensitive stomach.
In addition, canned wet kitten food has a moisture content of 75 percent, making it an excellent source of water for your kitten's hydration.
Specialized Diets
If you are looking for specialized, high quality options of wet food such as natural or grain free kitten wet food, consider the best kitten wet food brands we've discovered.
Blue Basics, WholeHearted and Earthborn all offer excellent grain food with raving reviews.
Most of these wet food options come with gravy for added nutrition and flavor.
WholeHearted* tends to be the most highly recommended for kitten breeds, but all three of the above products have excellent reviews.
Remember that every kitten is different with a unique set of dietary needs.
The Blue brand is recommended for kittens with troubled digestion.
Blue Basics* incorporates simple naturally grain free sources of carbohydrates, potatoes and peas.
Earthborn* offers a vast selection of natural flavors for picky kittens.
Our favorite brand of natural wet kitten food is Instinct*.
Instinct brand wet cat food is reported to be so powerful that it makes feline coats "glitter" with health.
Note that there may be a small adjustment period if this is not the first food your kitten has tried.
Expect to see a noticeable change in energy and appearance within a few weeks.
You can purchase any of these brands directly by simply clicking the links above. We appreciate the referral.
Homemade Wet Kitten Food
Some cat owners opt to make their own homemade kitten food instead of purchasing in store or online.
When concocting your own wet kitten food, make sure to incorporate enough (but not too much) of the essential nutrients from your chosen ingredients.
A good source of nutritional tips and information is your veterinarian.
Any kitten food you make should be mega rich in proteins from animals.
Remember that cats are carnivorous, and will thrive only on a diet of meat and animal byproducts.
Dr. Clare Middle suggests yogurt, soft cheese, ground raw meat and ground raw bone as easy, excellent, nutrient-rich wet food sources for kittens.
A vegan diet is not appropriate for felines of any age.
An important nutrient to watch out for when making homemade kitten food is carbohydrates.
Kittens can only tolerate a small amount of carbohydrates before their digestion, energy levels and development are hindered.
If you are unsure how to ration the carbohydrate proportions appropriately, consider making grain-free kitten food instead.
Lastly, ensure the fatty sources are distributed in moderation throughout the food.
If you decide on homemade food on a long-term basis, we recommended sourcing a veterinarian-approved recipe or requesting one directly from your vet.
This will ensure that your homemade cat food is correctly balanced nutritionally for your kitten's ongoing development.
Recommended Ingredients
Whether you are buying commercial wet kitten food or making your own, here are a few ingredient combinations recommended by Dr. Middle:
ground raw chicken meat and bone with a pinch of kelp
ground raw lamb meat and bone with a pinch of complete supplement
fresh chopped raw whitebait
tinned sardines or pilchards
raw chopped chicken wing ends with a few drops of cod liver oil
raw egg yolk or scrambled egg with a few drops of fish oil
oat bran porridge (made with kitten milk substitute from vet)
roast pumpkin, cut up into small pieces
sweet potato and carrot mashed with cheese and a pinch of kelp powder
chopped lamb kidney and a pinch of fresh chopped parsley
raw chicken necks hammers and chopped into pieces.
Making Your Choice
Whether you decide to go with the most cost-effective, the best quality, the widest variety or homemade wet kitten food, the most important factor to consider is your kitten's health and development.
If you find that the recipe or brand of wet kitten food you've chosen is having a negative impact on your kitten or that your kitten simply isn't taking to it, don't hesitate to do some more research and take another route.
If a dietary problem persists or becomes severe, consult your veterinarian right away.
What works best for one kitten may not be the best for another.
Ultimately, it is your responsibility as the owner to assess and honor the dietary needs of your unique kitten as best you can.
Seek further professional guidance if needed.
Let us know in the comment section below what are your favorite foods to feed your kitten.
To read more about good food options for your kitten, check out this article!
Affiliate link disclosure: Links in this article marked with an * are affiliate links, and we may receive a small commission if you purchase these products. However, we selected them for inclusion independently, and all of the views expressed in this article are our own.
References and Further Reading:
"Feeding Your Cat," 2017, Cornell Feline Health Center
Mata, F., 2015, "The Choice of Diet Affects the Oral Health of the Domestic Cat," Newcastle University
Middle, C., 2008, "Real Food for Dogs & Cats," Freemantle Press, 1st Ed.
Shojai, A., 2010, "Complete Kitten Care," FurryMuse Publications, 3rd Ed.