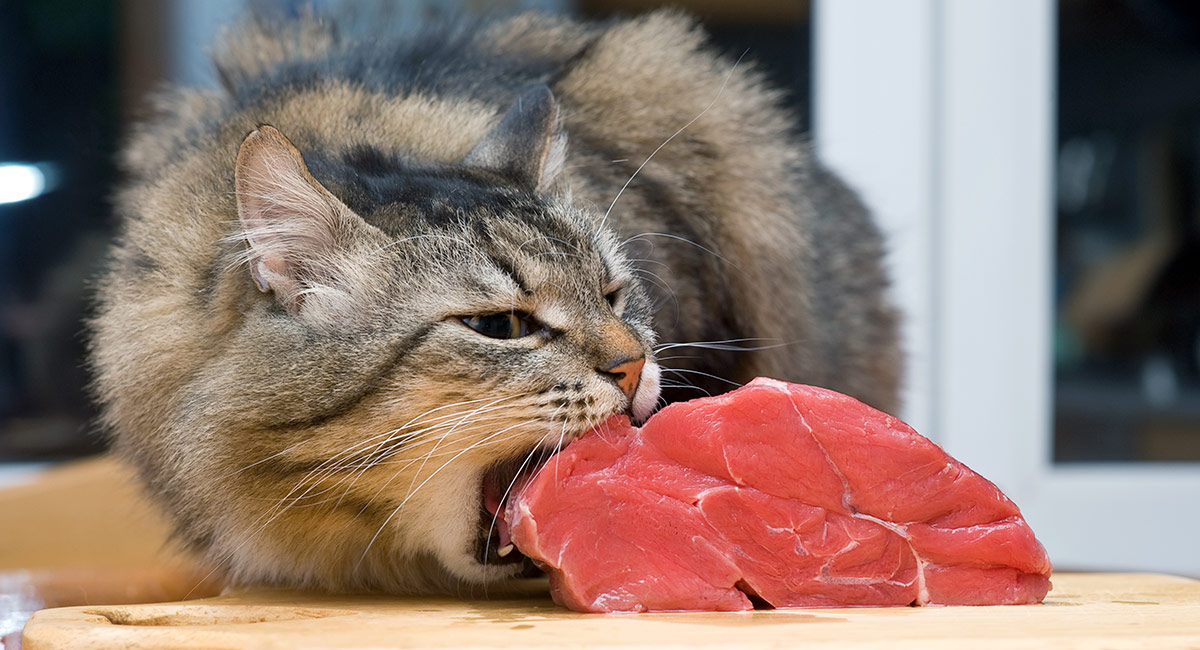 Do You Like To Live Life As Naturally As Possibly? Then You Might Be Considering A Raw Cat Food Diet For Your Kitty.
But Is Raw Cat Food As Safe Or Healthy As Store Bought Complete Meals?
And How Do You Go About Preparing It?
Let's Find Out!
More and more, pet owners are eschewing commercially made kibble in favor of raw cat food diets.
But are they really that great?
And if so, how can your cat benefit from eating raw?
And how do you give your cat the best raw diet possible?
That's what we're going to take a look at today! Read on and find out all about the raw cat food.
Why choose raw cat food?
Raw food diets help you control what ingredients your cat takes in.
You can avoid preservatives, and enhance the amount of natural enzymes and photonutrients that your cat gets.
Some potential benefits include increased immune function, better energy levels, silky coat and skin condition.
There also could be improvements to digestion, allergy resistance, and lowered incidence of metabolic diseases.
Feeding raw food may also be a way of enforcing the pet-owner bond, since time and energy is spent in creating the diet.
Cats can eat more like their natural diets.
And raw food may at least be better than the dry kibble alternative.
A raw diet is not as processed, and proponents say that cats are better adapted to digest raw diets.
This fact is documented in scientific literature.
Cats that drink raw milk and eat raw meat have good immunity resistance, excellent equilibrium, and predictable behavior.
Kitties on a raw diet function normally, in contrast to cats on a cooked diet.
Cats fed cooked meat had infant delivery issues, higher kitten mortality, and frail infants.
Kitties on cooked meats were irritable, and had more skin lesions and allergies. Their teeth and dentition began to show unhealthy conditions within 3-6 months.
Also, cats' health improved when put on raw meat diets.
Disadvantages of raw cat food
However, the current state of scientific research on raw cat food, while incomplete, is mostly negative.
Some studies on dogs show that canines fed raw diets had more health issues than other dogs, including conditions such as pansteatitis, fatal salmonellosis, and hyperthyroidism.
There is a higher risk of bacterial contamination in raw food diets, including salmonella and other pathogens.
One study reported salmonella in 80 percent of homemade raw diets for dogs and in 30 percent of fecal samples from dogs following raw diets.
But this is research on dogs, not cats. For cats there is less research available, which can make our decisions trickier.
Cats may also get injured from bones. There has been no scientific research that shows that raw bones cause less gastrointestinal obstruction or damage than cooked bones.
Current veterinary advice
No long-term supportive evidence on the benefits of raw food exists. Only anecdotal gains have been reported in published data.
However, The American Veterinary Medical Association, the American Animal Hospital Association, the Companion Animal Parasite Council, and the Centers for Disease Control and Prevention all currently recommend avoiding homemade raw cat food diets for your pets.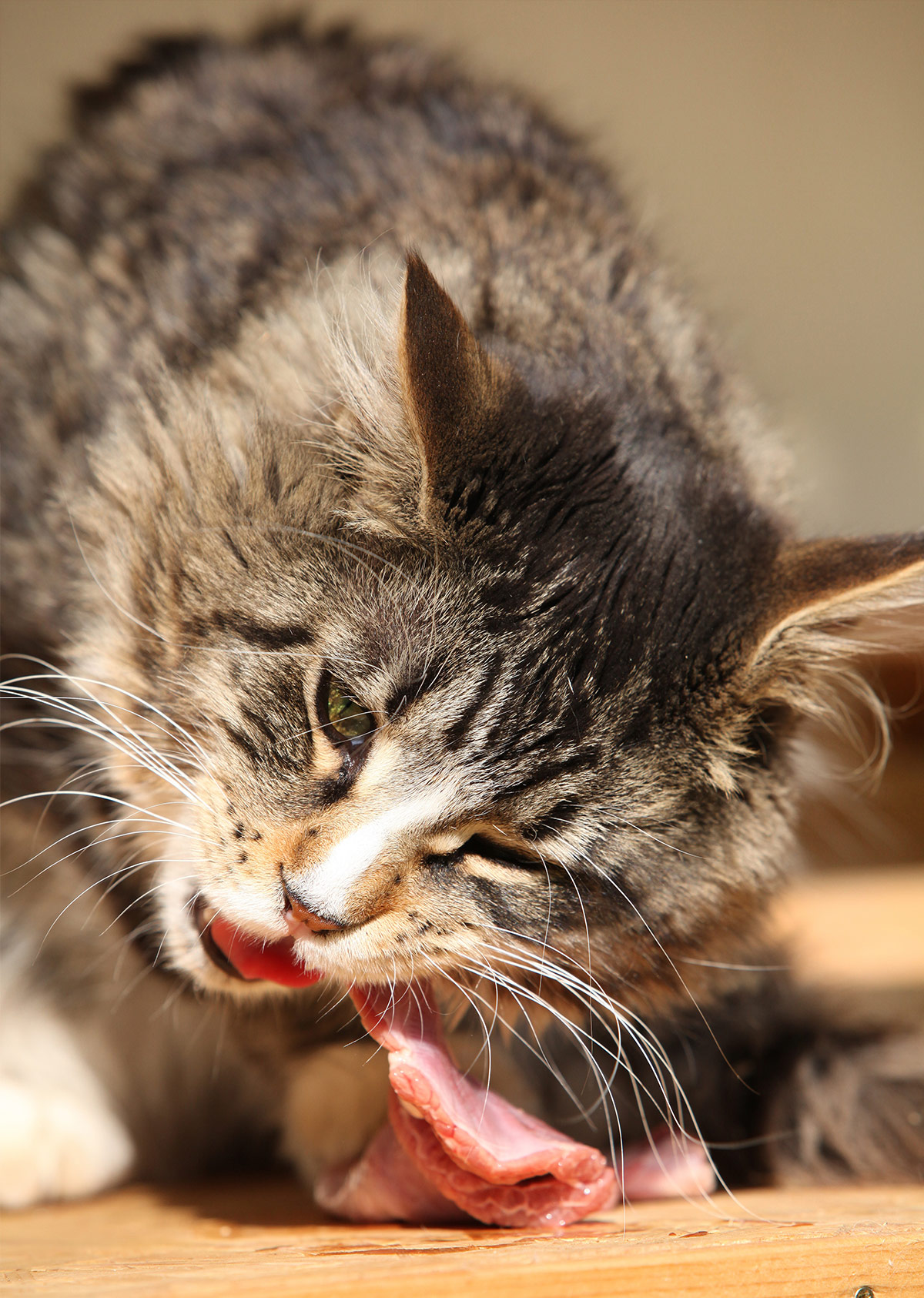 This maybe because of the lack of research to demonstrate that it's okay, or be based on the research in dogs. But we can't say for sure!
Still, many people prepare raw food for their pets and themselves without incident. And cats often eat bones with no problem.
The main issue is in creating balanced nutrition.
Experts say that in designing a raw diet for your cat, you should consult a veterinarian to make sure adequate amounts of all essential nutrients are included.
Types of raw food diet for cats
Commercially available raw food comes in several different forms for cats.
You can buy it frozen, freeze-dried, or dehydrated. If it's fresh, it may come in rolls or single-serve patties.
These different forms are described with more detail below. Each kind has its advantages and disadvantages, but all are considered to be within the spectrum of raw foods.
Thus, they require safe handling and storage in order to make sure that issues with bacteria are minimized.
Your other option is to create your own raw food for cats, buying the ingredients yourself.
You can often find recipes online, or available from experts.
If you go this route, you must make absolutely sure you are including right amount of the vitamins, minerals, nutrients, amino acids, and other substances that cats can't do without.
Raw cat food brands
A number of pet brands have become leaders in the raw cat food industry. They are known for quality products.
These raw cat food options come in a variety of forms.
Let's look at frozen raw cat food first.
Frozen raw cat food
Frozen raw cat food is just what it sounds like. Raw diets are mixed, packaged, and frozen, then sent to you.
The idea is that frozen foods are closest to fresh.
They lose fewer nutrients, and may therefore be better for your cat than many diets.
They are easy to use. You just store them in the freezer, then thaw and feed.
As always with raw food, safe handling is absolutely vital.
Amazon.com does not currently sell frozen cat food.
If you're interested in finding a source, Darwin's Natural Pet Products is one company that has a delivery program in the U.S.
Stella & Chewy's offers Frozen Patties and Frozen Morsels.
Your local pet store may have a special section for frozen raw and pasteurized foods as well.
But frozen isn't everyone's first option, and there are some great and potentially easier to store alternatives.
Freeze dried raw cat food
This convenient type of raw food is often minimally-processed in a form that remains close to their natural state.
Freeze-dried foods are quickly frozen in a vacuum. They are light and shelf-stable, and easy rehydrated with water.
Because the food remains frozen during the freeze-drying process, freeze dried food doesn't lose its texture or taste.
The food can get expensive, but a small bag goes a long way once the food is reconstituted.
Freeze drying may remove some of the enzymes along with moisture. You still have to follow safe handling instructions, as bacterial risks and contamination rates are similar to regular raw food.
Stella & Chewy's Freeze Dried Cat Food
One good option for your cat is Stella & Chewy's Freeze Dried Food.
This formula consists of 98 percent chicken, including organs and bone, along with taurine and probiotics.
It has no grain in it, and is balanced for all life stages.
Raw Boost Grain Free Recipe Natural Dry Cat Food
Another choice is Instinct Raw Boost Grain Free Recipe Natural Dry Cat Food.
This food contains high-protein dry kibble mixed with freeze dried raw pieces to create a nutritious diet for digestive health.
It includes omega-3 and omega-6 fatty acids, and works with all lifestyles.
With this type of raw food, you've got all your bases covered!
Primal Pets Foods Freeze-Dried Feline Chicken and Salmon Formula
Another food that people like is Primal Pets Foods Freeze-Dried Feline Chicken and Salmon Formula.
This complete, balanced diet for cats includes naturally derived vitamins and minerals. The chicken and fish have no antibiotics or added hormones.
Some cats prefer it to frozen options, and seem to do well on it.
Dehydrated raw cat food
Dehydration is the oldest method of food preservation.
Dehydrated foods weigh less, but also decrease in quality because high temperatures are applied during the drying process.
The texture may change, and nutrients may be lost during dehydration.
However, dehydrated foods are stable at room temperature, extremely convenient, and versatile.
They have lower costs than some processed foods and less environmental impact.
Sold? Consider Honest Kitchen Prowl Grain Free.
This human-grade, grain-free product is high in protein and other nutrients, including taurine that comes from dried raw chicken.
Just add warm water in order to rehydrate the food. It's high in moisture and cats love the taste!
Make sure to handle this food properly as well. Just because it's dehydrated does not mean it is exempt from safe handling rules!
Organic raw cat food
As with human foods, raw cat food can have organic ingredients, or be certified organic.
These foods are grown without pesticides, synthetic fertilizers, genetically modified organisms, or ionized radiation.
You should note that many of the raw cat food brands listed here, although they are not certified organic, are often free of antibiotics, preservatives, and genetically modified foods.
One certified organic brand is Rad Cat Raw Diet, formulated exclusively for domestic cats.
Rad Cat features grain and vegetable-free whole food diets, with USDA-inspected meats that are anti-biotic and hormone-free.
This food has no preservatives, no by-products, and no skin or bone for digestive upset.
Homemade raw cat food
Making raw cat food can be a less expensive, more palatable option.
You can completely control your cat's diet, too.
Purchase items from your grocery store yourself, so you know about quality and whether it's organic and natural.
You may wish to consider a feeding regimen like BARF (bones and raw food, or biologically appropriate raw food).
However, this method has not been subject to rigorous scientific review.
It is difficult to formulate a completely balanced and nutritious diet at home.
Homemade diets have been known to lack essential nutrients that cats need, and may have too much fat.
Raw recipes are available online, but you should be careful.
Homemade Raw cat food safety
One recent study found that out of 94 raw recipes evaluated, not one had enough essential nutrients.
Another found that 95 percent of recipes were deficient in at least one essential nutrient, and 84 percent had multiple deficiencies.
Nutritional deficiencies can cause major problems down the line.
So, look for raw regimens that have been developed by veterinarians, trainers, breeders, and experts.
Make sure your cat gets regular, complete health screenings, and keep track of your cat's diet.
Make sure your recipe includes fresh meat, bones, egg yolk, organ meats, water, omega fatty acids, and some nutritional supplements.
Don't forget the taurine, from chicken sources.
Raw cat food supplements
If you're worried about your cat's nutrition on a homemade diet, try raw cat foods supplements.
Cats from Know Better Pet Foods
Try Better in the Raw for Cats from Know Better Pet Foods to fortify the diet.
This product includes taurine, calcium lactate, whey protein, essential fatty acids from fish, vitamin B complex, and vitamin E succinate.
Raw Cat Food – A Premix
TCfeline also makes a Raw Cat Food – A Premix.
This powder supplement includes everything you need to create a balanced raw cat food diet.
This product has a 20-year history of success.
Storing raw cat food
If you're making your own raw cat food, you'll need to use what you've made within a couple of days, refrigerating the leftovers.
If you can't do this, you can freeze it.
Raw meat must be stored at or below 0 degrees Fahrenheit.
Consider using single-serve storage containers to reduce contamination and increase convenience.
Follow regular food safety guidelines for storage.
Raw cat food and hygiene
Be careful about handling raw food.
Pathogens from raw food can be passed to people or other animals through feces, food bowls, and dander.
Make sure your hands are washed with soap and water, and clean any spills.
Watch for cross-contamination between surfaces. Feces must be carefully handled.
If you do decide to feed a raw diet, you must handle food safely.
Food and water bowls must be properly disinfected after meals. A 10 percent bleach solution will remove bacterial cells and spores.
Raw food that is not consumed must be trashed promptly; do not let it remain in bowls.
What about raw kitten food?
Kittens can be fed a raw diet as well. They need to be fed more often than adults.
Kittens have similar nutritional requirements, but they also require carbohydrates and asparagine, an amino acid, for maximum growth after weaning.
They may also need more choline.Your kitten may be able to get this through animal organs.
What is the best raw cat food?
The best raw cat food is the one that keeps your cat healthy. You may need to experiment!
A raw diet can give your cat energy and health and remove some processed elements, but you should take precautions and be safe.
Do you feed your cat raw food? What results have you seen, and what recipes are you using?
Resources