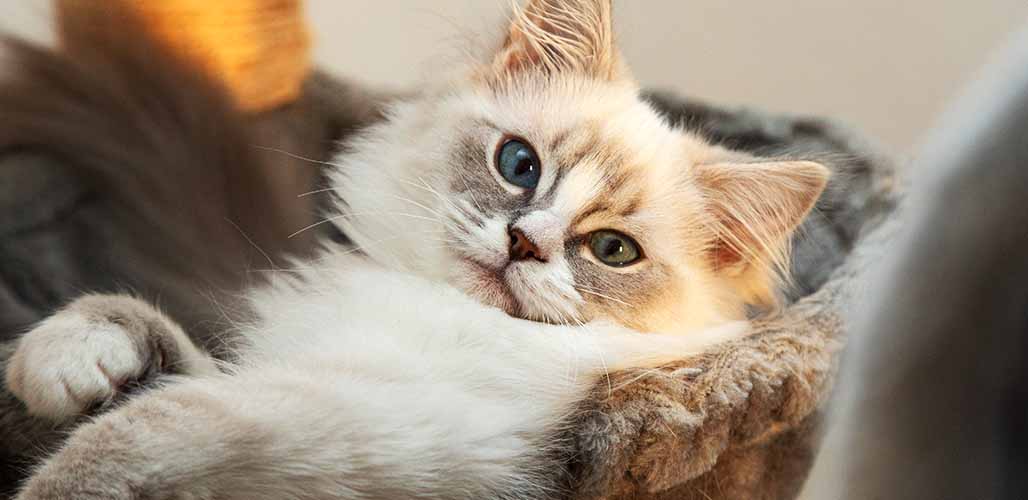 Our complete guide to blue lynx Ragdoll cats explains exactly what these terms mean. For your cat's looks, temperament, and health!
A blue lynx Ragdoll cat has a white or very pale gray body, and mid-gray muzzle, ears, legs and tail, with deep blue-gray tabby stripes inside them. Their health and temperament is likely to be very similar to the 'average' Ragdoll.
In this video of fluffy goodness, the kitten on the left is a blue lynx point Ragdoll with white mittens. Their color in their coat hasn't fully developed yet, so let's see how they're going to turn out!
What is a blue lynx Ragdoll?
Blue lynx describes one of the coat colors and patterns accepted for Ragdoll cats by their official breed standard. 'Blue' is the color, and 'lynx' is the pattern. The Ragdoll cat breed standard is very specific about how the ideal blue lynx Ragdoll should look:
The fur on their body is bluish white to platinum gray, cold in tone, and shading to a lighter color on stomach and chest.
Their points, which means their muzzle, ears, legs and tail, have deep blue gray bars, distinct and separated by lighter background color. Because of this, blue lynx markings are sometimes known as blue tabby point markings too.
Some subtle ghost striping or ticking on their body is also permitted.
The center of the inside of their ear has a 'thumbprint' of paler hairs.
The leather on their nose ought to be pink edged in slate gray, but entirely slate gray is permitted.
And their paw pads are slate gray.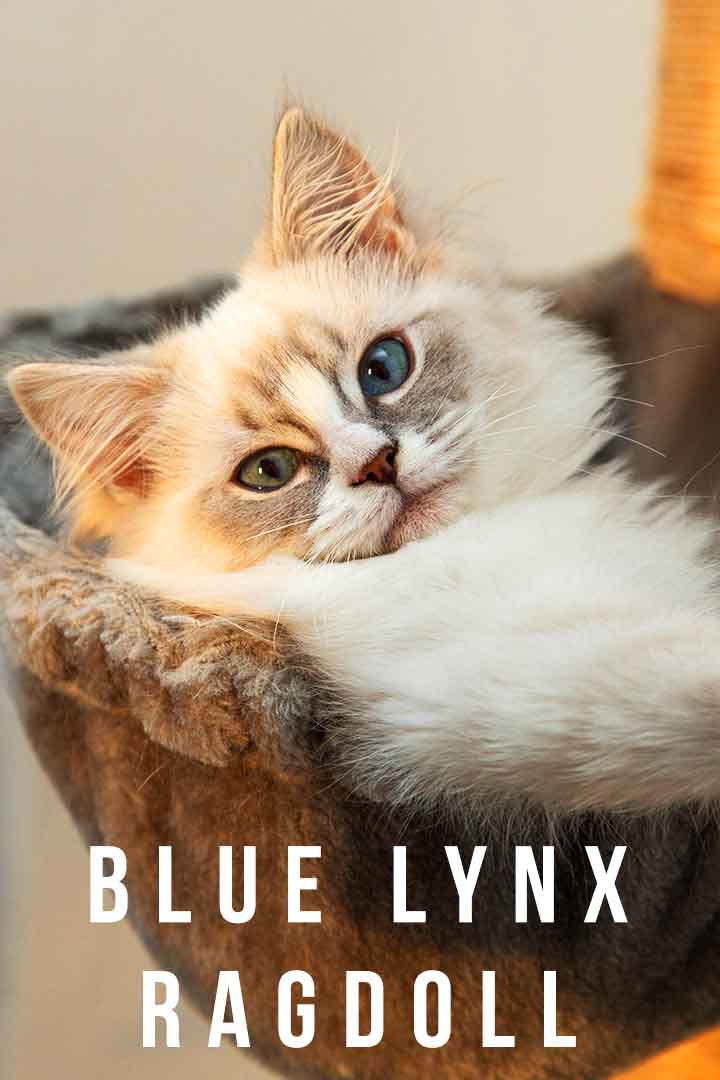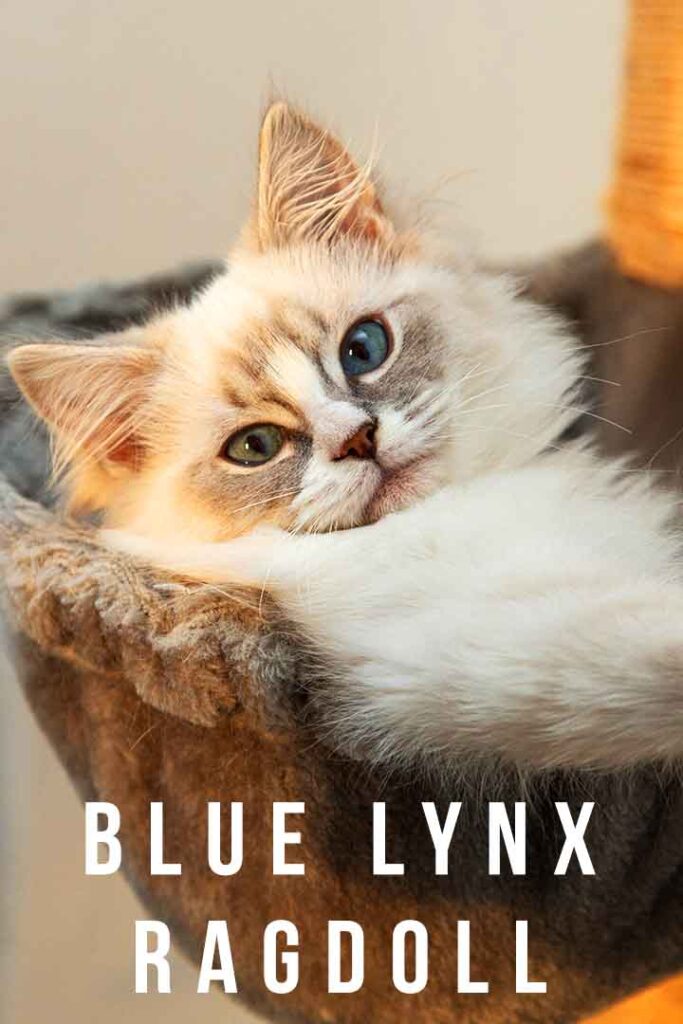 However, not all blue lynx Ragdoll kittens sold as pets will exactly meet these requirements in every respect, and that's ok! After all, cat shows couldn't operate if every single cat met the breed standard perfectly. Cats which vary from the physical ideal in some significant way are sometimes known as pet quality. Their temperament is just the same as show standard individuals', so for cat lovers outside the show community they make equally lovely and loving companions.
Blue lynx Ragdoll cat genetics
Lynx blue point cats are the result of three specific genes combining to magical effect.
1. The high-contrast temperature sensitive albinism gene
This is also sometimes known as the Siamese albinism gene, after the breed most famous for carrying it. This gene makes pigment production temperature sensitive, so that Ragdolls' fur only has pigment in it where the surface temperature of the skin is below a certain threshold. Usually this only happens on their muzzle, ears, paws and tail – their 'points'. If you live in a region with very hot summers and very cold winters, you might notice their points 'spread' in winter, and their back gets darker too.
2. The color dilution gene
All cats' coats, no matter what the breed, are based on just two pigments: eumelanin, which is black, and pheomelanin, which is red. Ragdoll cats with dense eumelanin pigment in their fur are seal colored. Seal Ragdolls with two copies of the color dilution gene produce less eumelanin and appear blue instead. The color dilution gene is special because it is recessive, which means it's only expressed when a kitten inherits it from both parents. If Ragdolls were wild cats this would make blue point Ragdoll cats much rarer than seal point cats, but in captivity they're fairly straightforward to replicate.
3. The mackerel tabby gene
The final ingredient for blue lynx markings is the mackerel tabby gene, to provide the 'lynx' stripes. If you're not sure whether you can make out stripes in the long fur on your Ragdoll's legs or tail, take a look at their forehead for the characteristic 'M' that all tabby cats share.
Variations on the blue lynx point Ragdoll
The besides the basic blue lynx point markings, blue lynx Ragdolls can also have white patches. White patches are caused by the white spotting gene series, and depending how much of a Ragdoll's body they cover they are known as either the blue lynx mitted pattern, or the blue lynx bicolor pattern.
Blue lynx mitted Ragdoll
Blue mitted Ragdoll cats have white socks or mittens which partly conceal the blue tabby markings on their paws. They also have a small white blaze on their forehead.
Blue lynx bicolor Ragdoll
A blue bicolor lynx Ragdoll cats has white markings covering most of their lower half. That is, their legs, belly, bib, and chin. They also have a white triangle on their nose, and usually a band of white fur running around the back of their neck. The cat in the photos accompanying this article is a blue bicolor lynx Ragdoll. But does their color shape their personality too?
Blue lynx Ragdoll temperament
Ragdoll cats are famous for being one of the most friendly and affectionate cat breeds. Lots of Ragdoll parents say that raising their cat has been more like having a puppy than a kitten! They tend to be very sociable and people-focused, and follow their human family members from room to room. This also means they might find being left alone for long periods more distressing – if you go out to work all day, the Ragdoll might not be the most suitable breed for you.
Ragdoll cats are also very intelligent and trainable. Ragdoll owners have taught their cats to respond to their name, sit on cue, and retrieve toys. There's no known mechanism by which blue coat color could change a cat's personality. So a blue lynx Ragdoll kitten is likely to grow up with the same winning temperament their breed is famous for.
Blue lynx Ragdoll health
So there's no evidence that blue lynx points change a Ragdoll's temperament, and the same is true of their health as well. Ragdoll cats in all colors live for 12 to 15 years on average. Factors which influence how long they live include:
genetics
whether they are allowed outdoors
diet
body condition
and whether they suffer any chronic hereditary health problems.
During their lifetime, the health problems they are most likely to encounter are:
hip dysplasia
heart disease such as hypertrophic cardiomyopathy
kidney disease
and obesity.
Hip dysplasia, heart disease and kidney disease can all have a hereditary element, so only cats without a history of these conditions should be used for breeding. Overall, Ragdoll cat health is the same regardless of their color, and a blue Ragdoll cat has the same odds of illness and life expectancy as any other color.
Buying a blue lynx Ragdoll kitten
Blue Ragdolls are popular and sought after cats. Kittens from breeding lines that include show quality ancestors can command up to $3,000. However, be wary of breeders who try to emphasize or exaggerate how rare the color of their kittens is. Whilst color dilution is recessive and easily masked, in controlled breeding conditions it is easily reproduced. Trying to make it sound elusive and scarce is usually an unethical breeder's trick to sell kittens for extra profit. A good breeder will be more interested in making sure that you are a good fit for their kittens, rather than selling their color to you.
When it's time for your kitten to come home, bear in mind the color of their coat isn't fully developed yet. In fact, it can take two or three years for their coat to finish changing. Keeping a photo diary of how their points change as they mature can be fun to look back on when they're an adult.
Caring for a blue lynx Ragdoll cat
Owing to their intelligent and sociable nature, Ragdoll cats need lots of physical and mental stimulation every day, as well as plenty of opportunities to interact with the human family. These resources can help you navigate Ragdoll ownership in the most pleasurable, least stressful way possible:
Summary
Blue lynx Ragdoll cats are defined by the color and pattern of their points. But in all other respects, they are just like the rest of their breed: sweet, affectionate and sociable. If you have a blue lynx kitten-shaped hole in your life, take time to find a breeder who breeds from healthy parents, and is realistic with you about the scale of the commitment you're making. And if you already have a blue Ragdoll with lynx points, we'd love to hear more about them in the comments section down below!
Also in our Ragdoll color series
References
Borgeat et al. The influence of clinical and genetic factors on left ventricular wall thickness in Ragdoll cats. Journal of Veterinary Cardiology. 2015.
Delgado et al. Human Perceptions of Coat Color as an Indicator of Domestic Cat Personality. Anthrozoos. 2012.
Kaelin & Barsh. Genetics of Pigmentation in Dogs and Cats. Annual Review of Animal Biosciences. 2013.
Leech et al. The effects of owner and domestic cat demographics on cat personality traits. Applied Animal Behaviour Science. 2022.
Paepe et al. Screening of Ragdoll cats for kidney disease: a retrospective evaluation. Journal of Small Animal Practice. 2012.
Ragdoll Breed Presentation. Cat Fanciers' Association. 2020.