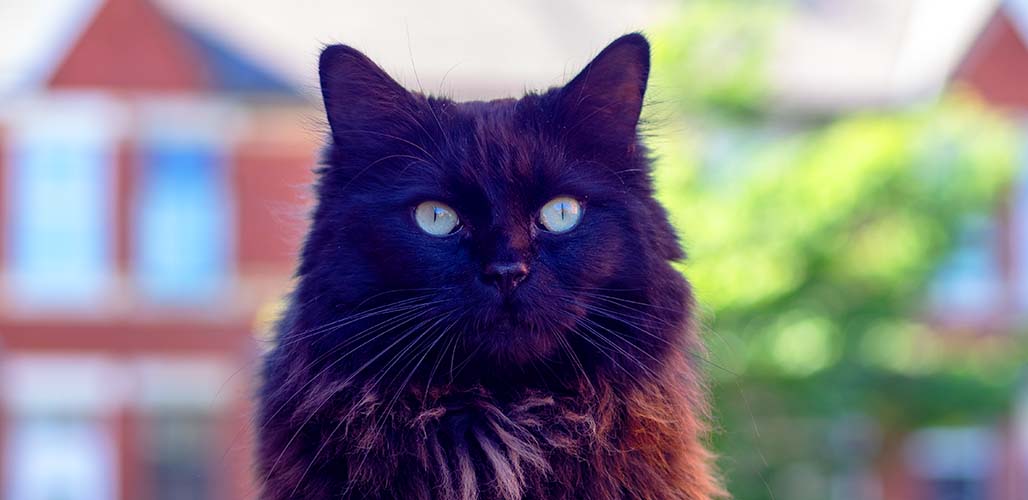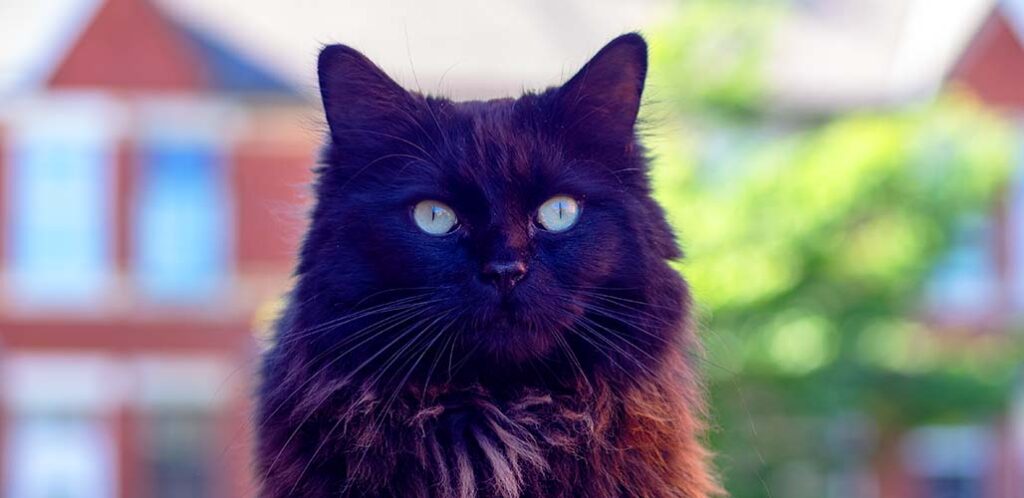 This complete guide to the black Ragdoll cat takes a closer look at whether black Ragdoll kittens exist, the genes behind this coloring, and how to find a kitten.
Black is not an accepted color for the Ragdoll cat breed, so it's very unlikely that you will find a true black Ragdoll cat. A black Ragdoll won't have many of the traditional Ragdoll traits, such as pointed coloring or blue eyes, which leads many breed enthusiasts to claim they are not true Ragdolls! However, if you're only looking for a pet, rather than a show cat, these traits may not matter so much to you.
About the Ragdoll Cat
Ragdoll cat history begins in California in the 1960s. A breeder named Ann Baker set out to breed a white longhaired cat named Josephine. The two male cats involved with the original Ragdoll ancestors were Daddy Warbucks, a seal mitted cat, and Blackie, a solid black cat. Following these initial steps, Daddy Warbucks was bred with a daughter of Josephine to create the foundation of the Ragdoll breed.
Over time, subsequent breeders broke away from Baker's program, setting out to standardise the Ragdoll breed on their own. An affectionate temperament and consistent pointed pattern were highly desirable for these breeders.
Today, the Ragdoll cat breed is popular with families and individuals alike. Ragdolls are dog-like cats, who love attention and have curious, playful natures. They aren't as active or chatty as some breeds. But they love spending time with their families, getting cuddles, or simply flopping at your feet!
Can Ragdoll Cats be Black?
According to the Ragdoll's official breed standard, a solid color (in any shade, including black) is not possible. A defining trait of the Ragdoll cat breed is its pointed coat. So, if you find a Ragdoll cat with black fur, many breed enthusiasts would suggest that you've found a mixed breed, or something being mis-sold as a purebred Ragdoll.
However, a solid black cat is recorded in many accounts of the Ragdoll breed's history, including that on TICA. Though Blackie only gets a very brief mention, his inclusion at all implies that the genes for black solid coloring are indeed involved in the Ragdoll breed.
Despite this, most Ragdolls are lighter in color, thanks to their pointed pattern. This pattern is caused by a form of temperature sensitive albinism. This form of albinism is what allows Ragdoll cats to have such striking blue eyes – a trait that is very uncommon in solid black cats. So, it's very unusual to see a black Ragdoll cat that has no influence from another breed.
Are Black Ragdoll Cats Rare?
Black is not an accepted color according to the breed standard. Instead, all color divisions are pointed. And, as we now know, pointed coloring is the result of a temperature sensitive albinism. So, most Ragdoll cats will be light in color, with slightly darker points at their extremities. Black is a very uncommon color in purebred Ragdolls.
The genes required for black coloring are dominant rather than recessive. So, it's much more likely to find a black Ragdoll if you're choosing a mixed breed. However, the exact appearance and temperament of mixed breed cats are much less predictable than that of purebreds. So, you must make sure you're happy with any possible outcome before bringing one home.
Black Ragdoll Cat Temperament
The typical Ragdoll temperament is friendly, affectionate, and gentle. These cats are popular with families, and are known for their tendency to flop at your feet or in your arms, just like a rag doll! Ragdolls are popular for their dog-like personalities. Many Ragdoll owners succeed in teaching their cats tricks, and find their kittens to be very curious about the world around them!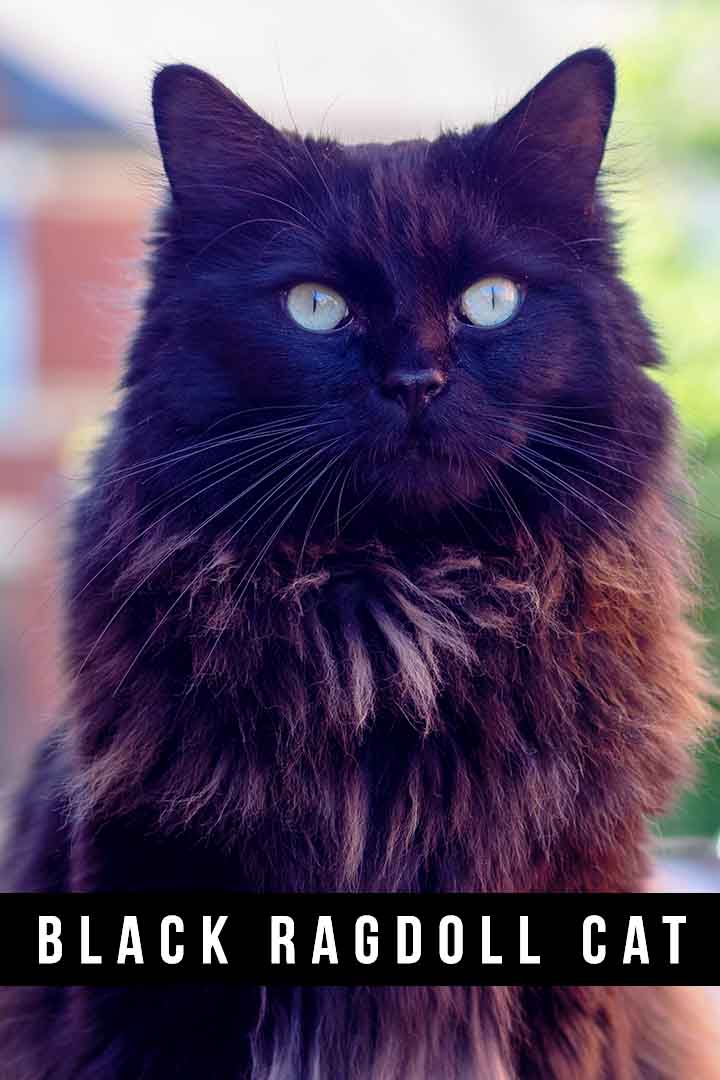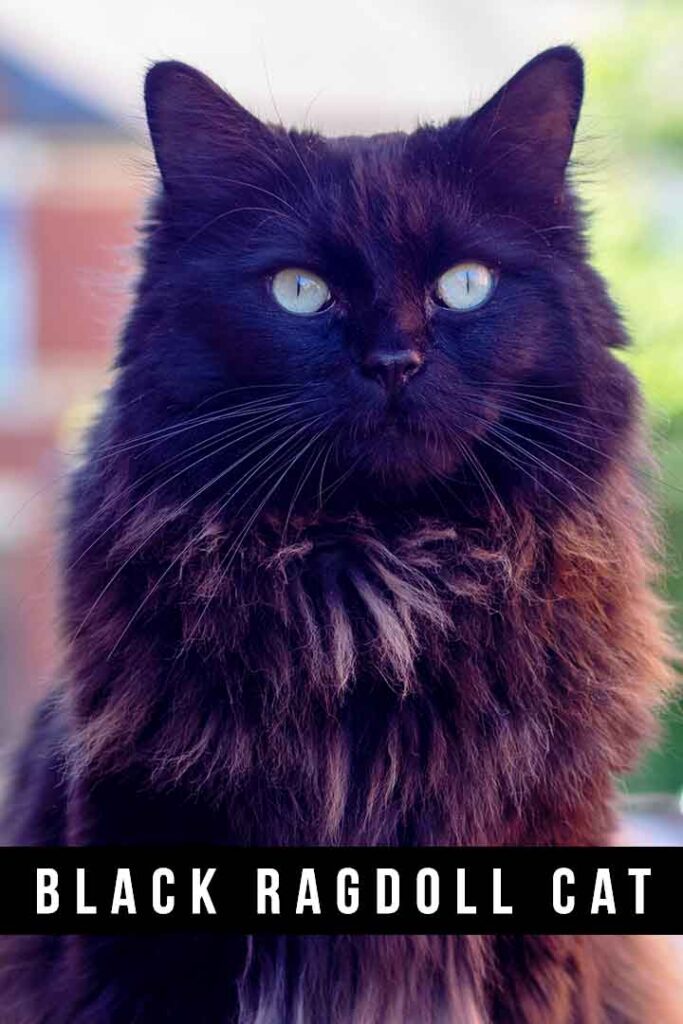 However, since a black Ragdoll cat could be a mixed breed, their temperament can differ from this standard. To get a better idea of a mixed breed's temperament, you will need to take a look at the typical personality of both parent breeds. For example, if you choose a Ragamuffin black Ragdoll cat mix, your kitten could have any combination of Ragdoll and Ragamuffin traits.
Black Ragdoll Cat Health
Like personality and appearance, a black Ragdoll cat can be prone to any health conditions commonly found in its parent breeds. So, if your black Ragdoll kitten is a mixed breed cat, you must take a closer look at both parent breeds. To get you started, here are some common health concerns in the Ragdoll breed, which owners should be aware of:
Hypertrophic Cardiomyopathy
Eye problems
Kidney disease
Some of these common problems can be screened for and avoided by choosing a good breeder. The best breeders will avoid producing kittens from any affected cats.
Finding a Black Ragdoll Kitten
It's very unlikely that you'll find a purebred black Ragdoll kitten in your search. But, if you're happy with a mixed breed, it's entirely possible to find a black cat with the Ragdoll's loving temperament and soft fur. Though you won't be able to enter a mixed breed cat for show, they can make wonderful pets.
Above all else, it's important to choose a reputable breeder. The best breeders will complete any possible, relevant health tests on their cats before breeding. They will be happy to show evidence of this, answer your questions, and will likely ask plenty of their own questions to ensure their kittens are going to a good home.
Be wary of any breeders selling purebred black Ragdoll kittens, as this is extremely unlikely. Most black Ragdolls will get their coloring as the result of mixed breeding. If a breeder is marketing their kittens as 'rare', there's a chance they're lying about your kitten's genetics to increase their profits on 'rare' or 'uncommon' kittens.
Black Ragdoll Cats – A Summary
It's unlikely to find a purebred black Ragdoll cat. But some breeders may produce mixed breed kittens with Ragdoll traits and black fur! Is your heart set on finding a black cat with a Ragdoll personality? We would love to hear from you in the comments if you have a mixed breed black Ragdoll kitten at home!
Readers Also Liked
References and Resources
The International Cat Association
Kaelin, C. & Barsch, G. 'Genetics of Pigmentation in Dogs and Cats', Annual Review of Animal Biosciences (2013)
Stelow, E. (et al), 'The Relationship Between Coat Color and Aggressive Behaviors in the Domestic Cat', Journal of Applied Animal Welfare Science (2015)
Delgado, M. (et al), 'Human Perceptions of Coat Color as an Indicator of Domestic Cat Personality', Anthrozoos (2012)
de Castro Travnik, I. (et al), 'Temperament in Domestic Cats: A Review of Proximate Mechanisms, Methods of Assessment, its Effect on Human-Cat Relationships, and One Welfare', Animals (2020)
Salonen, M. (et al), 'Breed Differences of Heritable Behavior Traits in Cats', Scientific Reports (2019)
Jajou, S. 'Uveal Amelanotic Melanoma in a Ragdoll Cat', The Canadian Veterinary Journal (2020)
Paepe, D. (et al), 'Screening of Ragdoll Cats for Kidney-Disease: A Retrospective Evaluation', Journal of Small Animal Practice (2012)