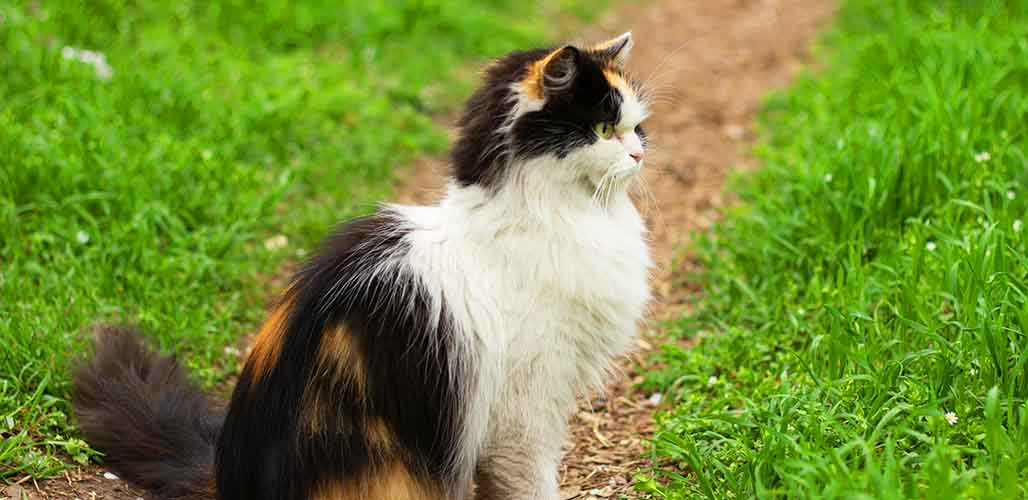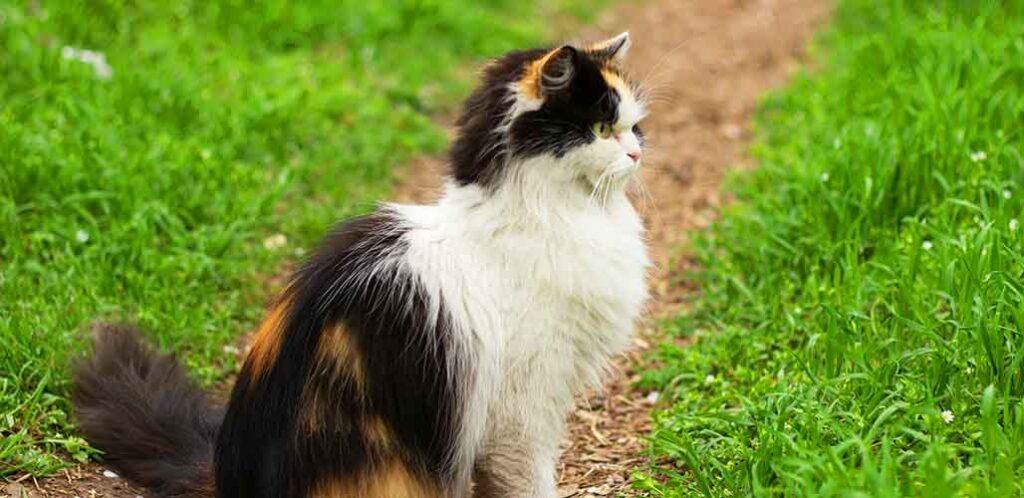 The calico Ragdoll cat is also often known as the tortie Ragdoll. These two patterns are actually different to one another, but the tortie Ragdoll is the closest official variety to a calico Ragdoll.
Ragdoll cats are a popular purebred breed with pale bodies and darker coloring at their points. Tortie points are accepted in Ragdoll breed standards, but calico points are not. Calico markings are very similar to tortie, but will have white patches interspersed amongst the darker coloring. Since Ragdolls will only have coloring at their points, those with white bodies and tortie points can look like calicos.
What is a Calico Ragdoll Cat?
The Ragdoll cat is a gentle, affectionate breed accepted by major cat associations. Their name comes from their tendency to go limp like a rag doll when picked up. Alongside their loving temperaments, Ragdolls are known for their blue eyes, long, soft fur, and pointed coloring.
The calico Ragdoll cat is not an officially accepted Ragdoll variety. But, the calico pattern is very similar to the tortie pattern. And, tortie points are accepted in the Ragdoll breed standard! Thanks to the pale fur on the rest of a Ragdoll's body, some owners may refer to their tortie point Ragdolls as calicos.
Alternatively, you could find a mixed breed Ragdoll with true calico coloring. But, their personality, health, and overall appearance may differ slightly to the purebred Ragdoll.
What Do Calico Ragdolls Look Like?
A calico Ragdoll's appearance will vary depending on whether it is pure or mixed. All Ragdolls have a type of temperature-sensitive albinism. The colder the skin at the base of a hair, the more pigment that hair has. This is what produces coloring at your Ragdoll's points (face, ears, feet, back legs, tail). These areas are cooler than the rest of the Ragdoll's body, so have more pigment.
The color and pattern at their points will depend on the other genes your Ragdoll has. We will take a closer look at the genetics behind calico and tortie coloring in a moment.
Other Traits
No matter what coloring they have, all purebred Ragdolls will share certain physical traits. They will all grow up to be quite large cats. On top of this, they all have medium to long fur which is silky soft to the touch. And, they all have striking blue eyes, which is one of the breed's most popular features.
What About a Ragdoll Calico Mix?
Some calico Ragdolls will get their calico markings from another breed. But, a mixed breed Ragdoll's appearance is much less predictable than a purebred. This is because there's no way of knowing which traits a kitten will inherit from each parent. So, to get a better idea of the options, take a closer look at the non-Ragdoll parent, and be prepared for any outcome!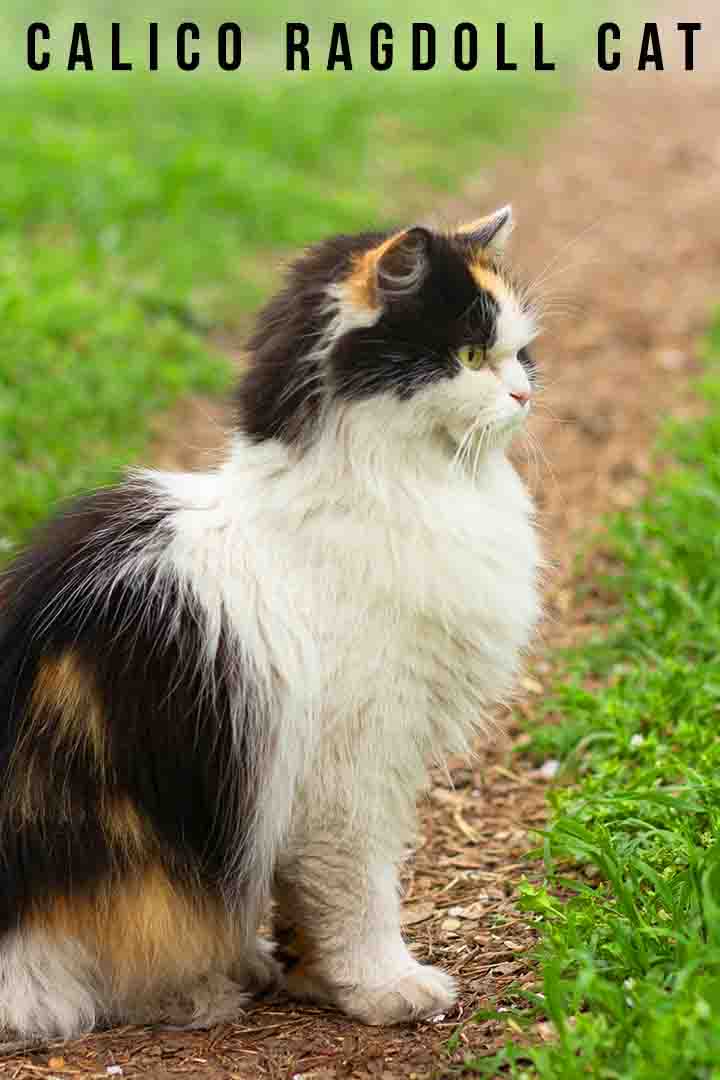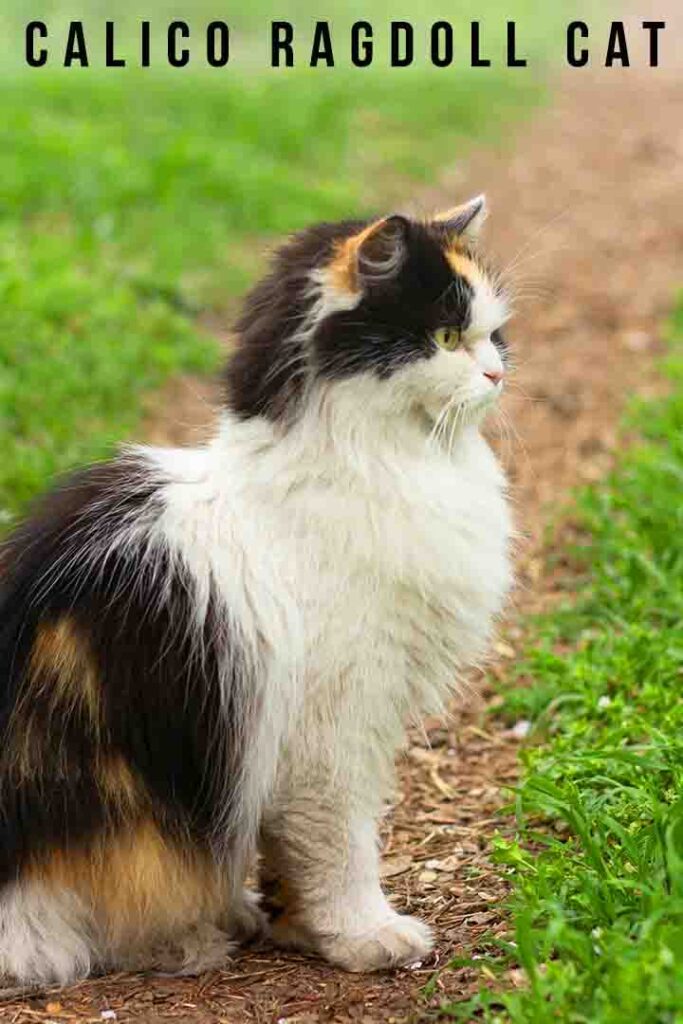 How Do Calico Ragdolls Get Their Coloring?
A tortie Ragdoll will have patches of eumelanin pigment and pheomelanin pigment at their points. But, the intensity and exact placement of color here will depend on their combination of B and D genes. So, tortie markings can range from a deep red and black, to a dilute fawn and cream.
True calico cats will have white patches amongst these colors, caused by the white spotting gene. Bicolor and mitted Ragdolls have white patches caused by this gene. So, it's technically possible to find a calico Ragdoll with white spotting over their tortie points. But, this is not yet an officially accepted variety.
And, even a colorpoint tortie Ragdoll with no truly white fur can look a bit like a calico, since their body will be so much paler than their points, thanks to their temperature-sensitive albinism!
Are Calico Ragdoll Cats Friendly?
The general Ragdoll cat temperament is affectionate, gentle, and loving. These cats are known to be family-oriented, but not clingy. They are intelligent and curious cats that need plenty of mental stimulation to keep them happy. This can involve time dedicated to games and fun each day, or even to learning tricks! Many owners report success at this, which has earned the Ragdoll a 'dog-like' reputation.
Some studies suggest that calico and tortoiseshell cats are more likely to display aggressive behaviors than other colors. However, other studies have noted that factors like sex and punishment can increase aggression levels. So, you can work to reduce aggression in your cat by avoiding any punishment and building a strong bond between you both.
Calico Ragdoll Cat Health Concerns
Like all purebred cats, there are a number of health problems that a calico Ragdoll could be prone to. In particular, hypertrophic cardiomyopathy (HCM) is a major concern. This is a common form of heart disease for cats. It involves the thickening of heart walls, impacting overall heart function. Signs of HCM are often subtle. Watch out for lethargy, open-mouth breathing, and rapid breathing.
Some Ragdolls may also develop kidney disease, and other kidney-related problems. If your cat is acting abnormally, or showing any signs of illness, it's best to take them straight to your veterinarian. This way, you can diagnose the problem early and get started on treatment.
Grooming and Daily Care
Despite their long fur, owners report that Ragdolls are a relatively low-maintenance breed when it comes to grooming. They may need weekly grooming, but are surprisingly easy to care for.
As well as grooming, your Ragdoll needs to be on a balanced, high protein diet. Dry cat foods can help to keep your cat's teeth clean, but many will also enjoy wet food. Make sure your Ragdoll stays at a healthy weight, as obesity can worsen the Ragdoll's common health issues.
Finding a Calico Ragdoll Kitten
Ragdoll kittens are born completely white. It will take several weeks before your kitten starts to develop their color. By 8 weeks, when you bring them home, they will have some coloration at their points, but this color will continue to develop for up to two years. So, a kitten may grow up to look very different than they first did. Because of this, it can be hard to find a Ragdoll with the exact calico markings you're looking for.
Some reputable breeders will be experienced in color genetics. So, if your heart is set on tortie points, speak to a breeder for more help. They may be able to put you first in line for mitted or bicolor tortie Ragdolls, which will have patches of white fur amongst their tortie markings.
The price of Ragdoll kittens will vary depending on your location, their parents, demand, and color. If tortie coloring is particularly popular near you, kittens may cost more and have longer waiting lists. But, it's still worth choosing a reputable breeder, as they will work to prioritise good health and temperament in their kittens. Alternatively, you can look in rescue centers. These places are often looking to rehome older cats, but they will still make a wonderful companion, and their markings will be less unpredictable.
Calico Ragdoll Cat – A Summary
Though the term calico is not seen in the Ragdoll's breed standard, it is used interchangeably with tortie by many Ragdoll fans. So, if you're searching for a kitten, make sure to use the term tortie in your searches!
Do you have a Ragdoll with calico coloring at home? We would love to hear about them in the comments!
Readers Also Liked
References and Resources