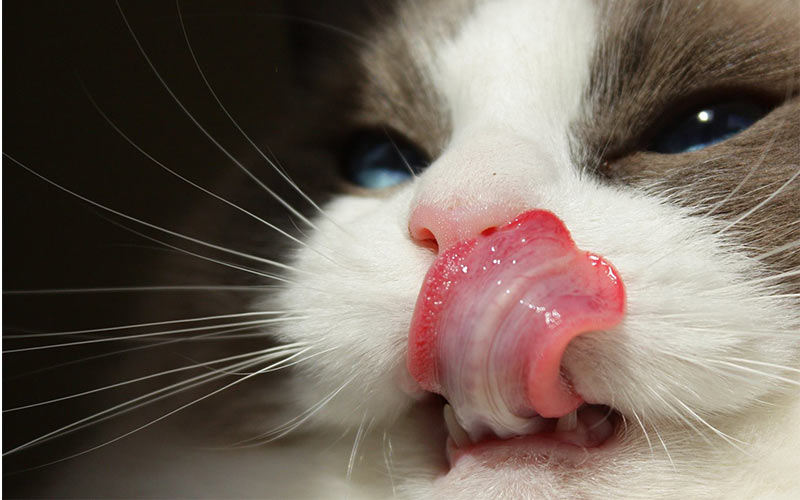 Why Do Cats Stick Their Tongue Out? If you have seen your cat with her tongue sticking out, you are probably wondering what she's doing. So let's find out!
Cats have all sorts of cute and peculiar behaviors.
I think seeing the little pink cat tongue sticking out is one of the cutest and most peculiar.
But what does it mean?
Why does she do it?
And why does it always make me laugh when she has that look?
In this article we'll answer those questions (well, maybe not that last one).
But we'll discover cat tongue facts, why do cats stick out their tongues and when you should be concerned about this behavior.
Your Cat's Tongue
First, let's take a closer look at your cat's tongue.
Your cat's tongue is the perfect tool to aid in eating, grooming and maintaining general health.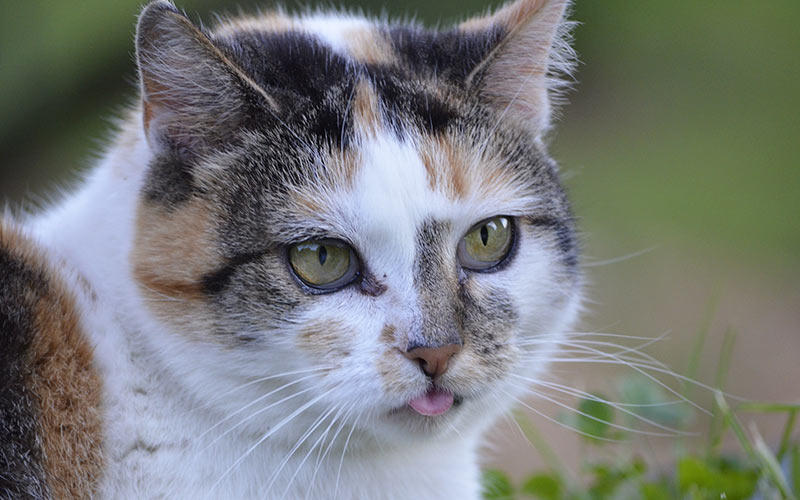 Unlike your tongue which is relatively smooth, your cat's tongue is covered with little barbs called papillae. These are stiff spines that curve backwards to snare hair and bits of food.
If you've ever been licked by your cat, you know the feeling of their rough, dry tongue.
Cats are particular about grooming because in the wild, any trace of scents from their food is an invitation to other predators.
When grooming, the papillae collect all the bits of food and loose hair.
Once something such as a bit of food or hair is snagged on the barbs, it is difficult for a cat to release it from his mouth.
Why Do Cats Stick Their Tongue Out
Think about when you get a hair in your mouth.
You can use your lips (or your hands) to remove it.
A cat's tongue is designed to pull food and hair back into the mouth.
The tongue does not allow a cat to spit out food and their paws don't help too much either.
If your cat is trying to loosen something unsavory or uncomfortable from his mouth, you may see him darting his tongue in and out.
Cat Sticking Tongue Out
Sometimes cats pause in the middle of cleaning or eating, and simply fail to retract the tongue completely.
This usually lasts just a few seconds and doesn't seem to faze the cat at all.
Kitty does not realize he's posing for an Instagram moment!
Cats are usually so dignified so that goofy tongue sticking out is especially endearing in our furry feline friends.
Cat Sleeping With Tongue Out
When your cat is completely relaxed, he may loosen his jaw just enough for a little of the tongue to stick out.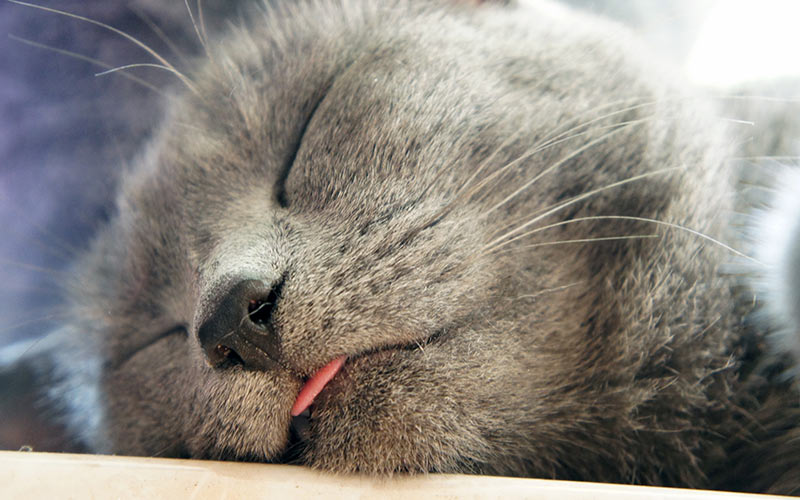 In the same way you might see involuntary twitching while your cat sleeps, you might see the little tongue fall out of his mouth while he's enjoying his shut eye.
This is nothing to worry about, being a sleeping cat with tongue out is perfectly normal for some kitties
Cat Sticking Tongue Out Repeatedly
When your cat is sticking his tongue out repeatedly, he may be trying to get a bad taste or food that doesn't agree with him out of his mouth.
While it's normal for a cat to try to get something unpleasant or hurtful out of his mouth, it is not normal for it to last more than a minute or two.
If you see that behavior, check his mouth for sores or to see if something is stuck in his teeth. If the mouth is free of any lesions or blockages, the behavior should not continue.
Particularly in older cats, repeatedly darting the tongue in and out or the inability to keep the tongue in the mouth may be a sign of dementia.
This should be addressed with your cat's veterinarian, but you can also read more about it here. 
Cat Sticking Tongue Out And Drooling
My cat's tongue is always on the go because he is a compulsive licker.
He licks our other cat, he licks my arm, he licks his toys.
And he drools.
Since he has a clean bill of health, I don't worry about his drooling.
Cats produce saliva and if they're licking a lot the saliva can run out as drool or slobber.
Some drool is not a concern but there are times you should take note of your cat's tongue hanging out and drooling.
Cat's Tongue Sticking Out From Periodontal Disease
Periodontal disease is a common cause for cats drooling and having their tongue hang out.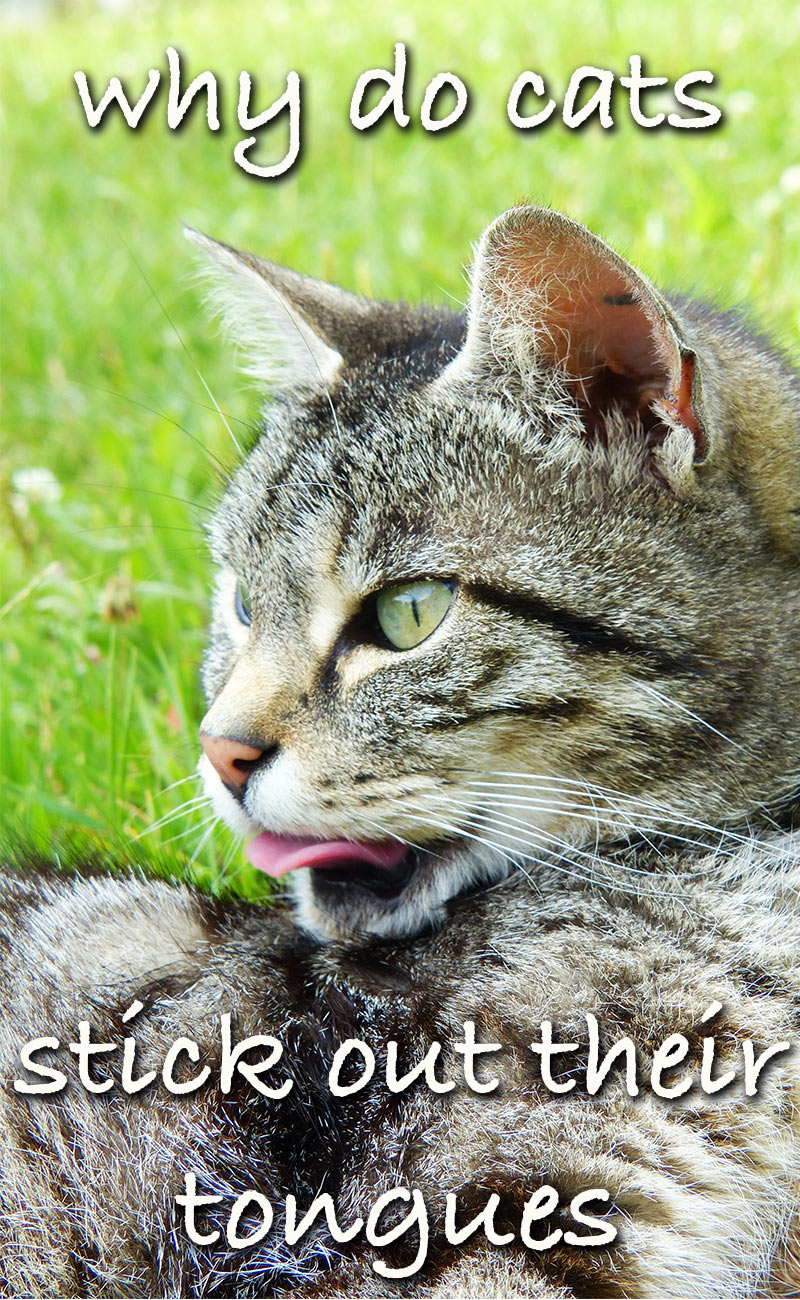 Cats, just like us, can develop gingivitis and periodontitis, which are bacterial infections from improper dental hygiene.
Likewise, cats can suffer tooth decay or may have a chipped tooth. All those conditions lead to painful inflammation in your cat's mouth.
If it is uncomfortable for your cat to close his mouth, you may see him hanging out his tongue and drooling.
Cat with tongue out – Feline Stomatitis
Left untreated, dental problems can become serious and may contribute to a condition called feline stomatitis.
In that case, painful ulcers can form in your cat with tongue out's mouth, including on his gums, throat and tongue.
Symptoms of feline stomatitis include excessive drooling, inability to clean or eat, inability to close the mouth, and panting with the tongue hanging out.
Fortunately, although feline stomatitis is a severe condition, it is somewhat uncommon. Regardless, you'll want to keep kitty's mouth healthy to avoid any periodontal disease.
To aid kitty's dental health, you can switch to a specially formulated dry food such as Hill's Science Diet Adult Oral Care, which is designed to reduce cat's plaque and tartar.
Or offer snacks of Feline Greenies Dental Cat Treats, which also serves as a breath freshener for cats!
If you see any sores or broken teeth in your cat's mouth or tongue, or if kitty's drool contains blood, consult your veterinarian.
Cats With Their Tongues Out From Heatstroke
If a cat is left in a hot car or exposed to excessive heat without access to water, he may suffer heatstroke.
Cats are homeotherms, meaning their body temperature does not fluctuate much outside the normal range.
For cats, their temperature is about 101 to102 degrees Fahrenheit.
If you're wondering why does my cat stick his tongue out, if it's a hot day he may be overheating and trying to regulate his temperature.
Kitty should always have access to shade and fresh water.
A great way to get reluctant cats to drink is with a cat water fountain.

Once overheated, panting with his cat tongue out is not an effective way for him to moderate his internal temperature.
Signs of heatstroke include cat with tongue sticking out and displaying a very red color (not the usual healthy pink), drooling, panting and lack of balance.
Note, elderly cats, obese cats and certain flat-faced long haired breeds, such as the Himalayan, are more susceptible to heatstroke. Make sure to keep a special watch on those kitties if they are let outdoors on a hot day.
If you fear your cat may be suffering from heatstroke, cool him down gradually and consult your veterinarian for next steps.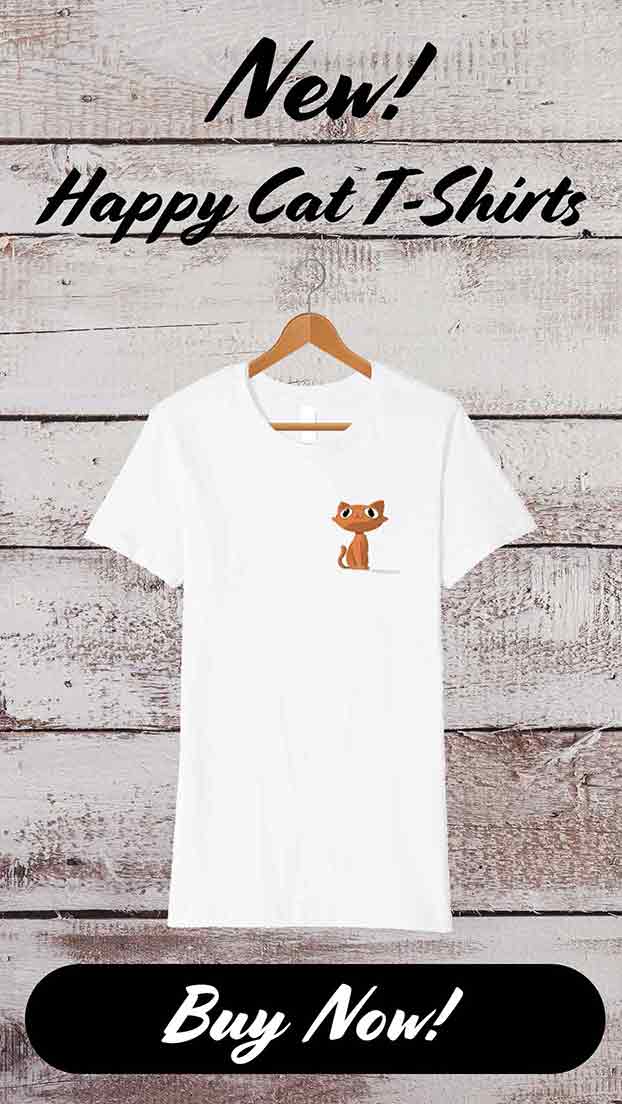 Cat Sticking Out Tongue From Motion Sickness
Just like with people, cats can experience motion sickness. If your cat is going for a car ride you might catch him sticking his tongue out, drooling and panting.
The reasons for motion sickness in cats can include fear of the unfamiliar surroundings, an inner ear imbalance which makes your cat feel dizzy when the car is in motion, or even an upsetting memory of a past bad experience.
The tongue wagging should subside once kitty is out of the vehicle and back at home.
Cat Sticking Tongue Out – Symptom Of Poisoning
Cats who come into contact with pesticides, household cleaners or poisoned prey animals are susceptible to poisoning.
There are many symptoms associated with a cat being poisoned. For instance, your cat may drool excessively and stick his tongue out to rid the mouth of the irritant.
If you know your cat has encountered a poison or if he shows other poisoning signs such as vomiting, dizziness or difficulty breathing, consult your veterinarian or the Pet Poison Hotline immediately.
Cats Sticking Their Tongue Out Due Respiratory Infection
Your cat is also susceptible to infections of the nose, throat and sinuses all of which can make him drool excessively and stick out his tongue. Particularly if he is having difficulty breathing, his tongue will wag as he tries to draw breath.
If you suspect respiratory infection, look for other signs of distress such as shortness of breath, lack of balance or lack of interest in eating and grooming.
A diagnosis of infection should be made by your veterinarian.
Why Do Cats Stick Their Tongue Out – Conclusions
Do you have a cat with tongue out?
Your cat's tongue is designed to trap food and hair which makes it very difficult for him to rid his mouth of anything unpleasant.
Cats are susceptible to dental disease, heat stroke, poisoning, motion sickness and other diseases and infections all of which may lead to excessive drooling and sticking out the tongue.
That little tip of the tongue sticking out now and then is endearing and a provides a good opportunity for a social media photo op.
Excessive drooling or the inability to retract the tongue properly should be addressed with a health care professional.
References And Further Reading
Merck Veterinary Manual, (2016)
Free Updates For Cat Lovers!
Our cat care articles, tips and fun facts, delivered to your inbox