It's the Friday 21st October: my kitten is 8 weeks and 3 days old.  Here is the previous instalment of Billy's Blog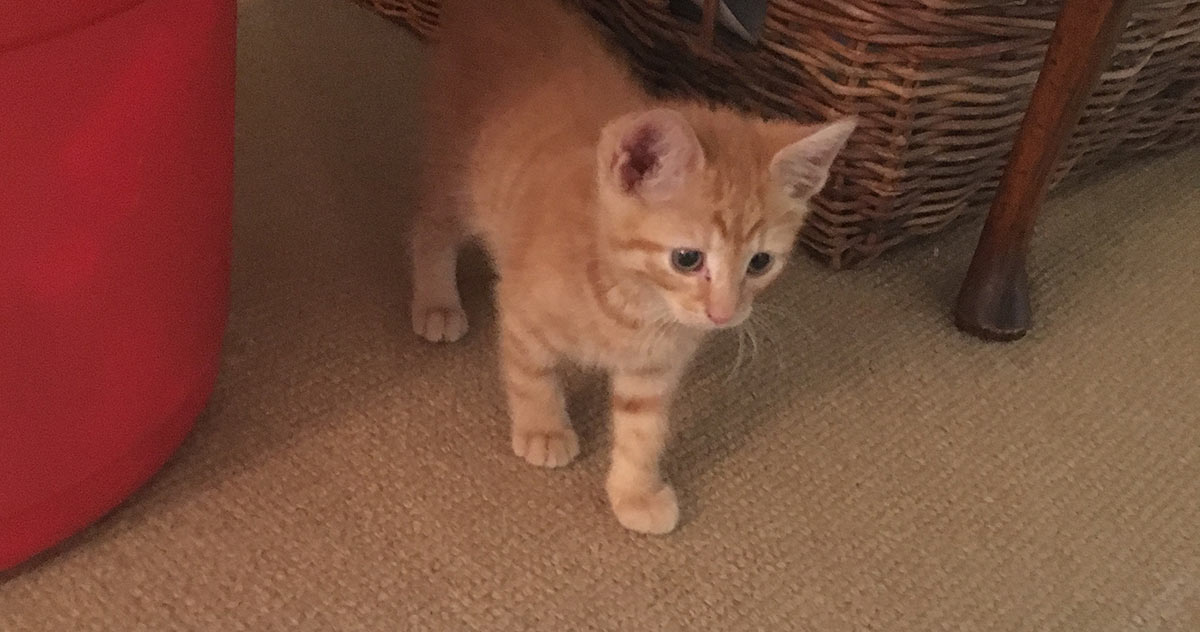 Isn't it extraordinary how quickly a small animal can feel like a part of your life? Billy is already one of the family.
Ground level kitten
One of the challenges I anticipated before bringing a kitten into my life, was Billy jumping and climbing all over the kitchen units and shelves, and possibly knocking china and pottery over.
But he has not been a problem at all in this respect.
At least – not yet.
Some kittens are very into racing up curtains and bouncing around on shelves. But Billy seems fairly content to be at ground level for now. Or almost.
His new skill today is jumping onto one of the kitchen chairs and curling up there, under the table, for a nap. It's where our old cat Gadget used to be fond of sleeping
People would pull out a chair to sit down, and there she would be, dear old thing. Fast asleep.
It's a bittersweet feeling to see him there reminding me, as it does, of her.
Our kitten meets a spaniel
Billy seems very at home now, and has made friends with our older Labrador Tess. So this morning we introduced him to our elderly spaniel, Meg who is thirteen going on three.
Meg is a very busy person, always rushing around and certainly has no time to stand and chat with kittens.
Apart from giving him a brief sniff to make sure he didn't have any food concealed about his person, she pretty much ignored him.
Billy sat on a chair, like an old hand and watched her hunting the kitchen and hall for interesting human paraphenalia – a shoe to add to her special collection – a morsel of breakfast under the table.
She then climbed up on the kitchen bench next to me and went to sleep. So he climbed onto Lucy's lap and did the same
And that was that.
Lack of sleep and antihistamines have left me feeling pretty much like climbing into someone's lap and going to sleep myself!
I did get four hours or so last night but at 2:30 am was woken once more by the most intense itching and burning sensations.
More facial swelling added to the fun, and my upper lip looked like one of those botched filler jobs that the newpapers love to report on.
At least this 'trout pout' didn't cost me any money. Though swelling around your airways is never a joyful experience.
Life on steroids
I could not wait to get my hands on the steroids the doctor had prescribed for me to take with my breakfast today.  There were four pill, all to be taken at once.
I had high hopes and I was not disappointed
I have never taken steroids before and I confess to being impressed. Their effects have been, I can report, nothing short of miraculous.
Within a couple of hours of taking them, my itching was subsiding. Two hours more and the itching was gone and the huge pink wheals all over my body were pale pink and nearly flat.
Another couple of hours later and the rash was all but gone.
A glance in the mirror also confirmed that my regular face had returned. It isn't the best face in the world, and has a bit of wear and tear, but it is my preferred face and it was a great relief to welcome it back.
And as I write this evening at 8pm the hives are still conspicuous by their absence.
Of course in just three days time when my steroids run out, the angioedema may return, and I may have to make a very tough decision .
But the (possibly temporary) respite from my symptoms is welcome
Meeting the family
This evening, my grandchildren came to visit. Billy was a charming and playful kitten. And well, just as perfect as a kitten can be.
He is astonishing us all with his calm self possession.
Billy played enthusiastically with the children (and their duplo bucket) and managed to keep his mittens on.
He takes everything in his stride, responds with purrs and pleasure to every human contact, and simply could not be a nicer addition to our family.
Even if I can't keep Billy, I just know he is going to be a great cat for someone.
Though the thought of losing him brings the biggest lump to my throat.
Saturday 22nd October
Today, Billy met the third and bounciest of our dogs.  She is VERY interested in Billy, to the point where she finds it hard to concentrate on anything else while he is there.
So I'm glad I waited until Billy was comfortable around dogs, to introduce him to her.
Billy was a star. He just sat on the kitchen chair and watched her with calm interest while she wagged her tail furiously and pushed at him with her nose.
Unlike my older dogs, Rachael is probably too young to remember much of our last family cat.   Gadget used to spend much of her time upstairs while puppies were at the bouncy stage so it's quite possible that Rachael doesn't remember her at all.
I was armed with a plateful of tiny pieces of sausage and kept Rachael on the lead as a safety precaution.
We simply spent a few minutes with me asking Rachael to complete simple (very simple) tasks ( such as 'sit', 'down', 'turn' and 'touch my hand' ) while Billy watched.
This was quite difficult for her when all she wanted was to investigate this amazing new ginger playmate. But she did pretty well.
I'll repeat this several times each day until I am happy she won't frighten Billy, or trample on him, and that she is able to respond to my voice when he is in the room.  Then I'll ditch the lead.
Allergy report
It was great to wake up this morning and discover that I have neither rashes, nor a football for a face.
I took my second dose of steroids with breakfast and spent some more time scouring the internet for information on cat allergies
I have read so many conflicting accounts now from people with allergies to cats, that my head is spinning
I have read accounts from people who claim to have got over their cat allergy by persistent exposure to their cat. 
And accounts from others who ended up in hospital attempting the same.
It's all very confusing, and it is very difficult to find accounts from people who have the skin reaction I have had, rather than the respiratory symptoms which seem to be the norm when it comes to cat allergies.
One thing is for sure, I'm not looking forward to coping without the steroids!  And I would be kidding myself if I said this hasn't affected the way I behave around Billy.
I am wary when he rubs his face on mine, or up and down my hands, which he loves to do.  And my hands are getting really dry where I keep washing them.
It feels as though I am 'letting him down' but I am trying to keep a little 'emotional' space between us.  In case I have to let him go.
Continue reading Billy's Blog…
Free Updates For Cat Lovers!
Our cat care articles, tips and fun facts, delivered to your inbox