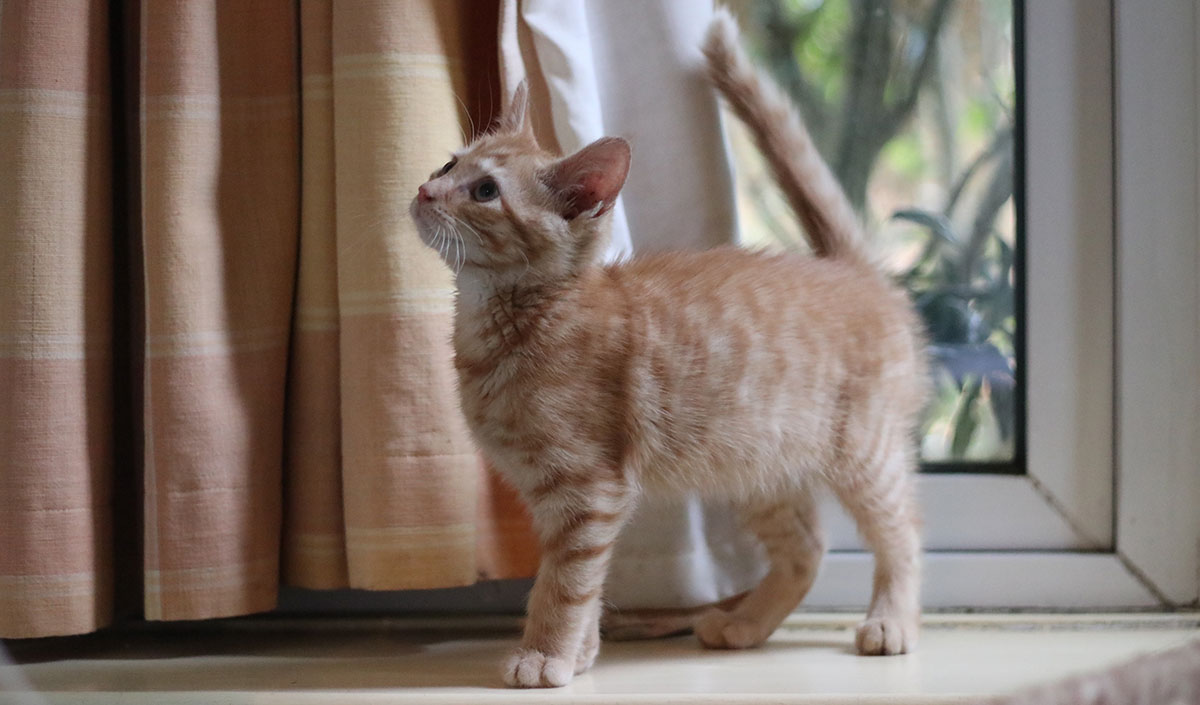 6th November – Billy is ten weeks and five days old
Sunday has come around again so quickly and as usual, Billy will get to see more of the family today
He is already so much a part of the family, it feels as though he has been here for much longer than two and a half weeks
Last night was Guy Fawkes night – or bonfire night – as we tend to call it – here in the UK.
There were huge firework displays in towns and villages up and down the country and ours was no exception.
Billy listened to the bangs with interest.
I thought he might be curious to watch the lights in the sky through the window, but he wasn't. He doesn't seem bothered by the explosions either, which was good.
Home alone kitten
We left Billy alone for a couple of hours today. It was my elder grandson's birthday and we all went to visit him.
This is the longest Billy has been left since he came to us, and I shut him in my office where he sleeps at night, and where he has a litter tray.
Rather than leaving him alone with the run of the whole house. I felt that the opportunities for mischief were reduced this way.
When we returned it was nice to see that he was fast asleep in his kitten cave on my desk. Looking very relaxed indeed

A spikey tale
One of Billy's favorite things is Tess's long tail.
And he is becoming increasingly determined to capture it, and increasingly rough
Tess is basically just a very happy person. Everything pleases her.
If I get up, she is pleased. If I sit down, that pleases her too. If I say her name she is pleased. Put the kettle on – pleased.
Someone at the door?  Also pleased.
And when Tess is pleased, her tail wags. This all adds up to a LOT of tail wagging. Over which she has absolutely no control.
Billy finds this irresistible
Billy has tried many different ways to capture Tess's tail, and puts a lot of effort into planning his moves.
Tess happily lets him pounce and grab, but draws the line at biting.
Billy always ends up getting over excited and sinking his teeth in, at which point Tess gets up and moves a few feet away, and he has to begin all over again with planning and executing his ambush and attack.
Still, it keeps him quiet for a while.
In fact, the pursuit of Tessie's tail occupies much of Billy's waking hours. Which as we established recently do not amount to much.
Because sleeping, is how Billy likes to invest the majority of his time.
The battle of the table continues
Unfortunately Billy has now decided that one of his chosen sleeping spots is in the middle of the kitchen table
As you know if you have been following along, I have decided that the kitchen table is out of bounds.
This is not going well for me.
I can control what and who is on my table while I'm in the room. And Billy now makes fewer attempts to get on the table when we are eating.
But Billy has figured out that if I leave the room, I can't see what he is doing.
So he waits patiently for me to depart and I frequently find him asleep there when I return
How to keep a kitten off the table
There are few things I could do
I could set up some kind of video system and watch the kitchen table all day from other parts of the house – then be mean to him when I catch him there. Not very appealing in several respects.  And probably not very effective either
I could keep all the kitchen doors shut. Not very convenient and might confuse Billy when he wants his litter tray as he'd have to go 'the long way around'.
I could construct some kind of alternative high cat platform for him to sleep on up high.  Sounds like quite a big deal…
I could give up trying to bar Billy from the table.
I must say, this last option is becoming more attractive. I'll let you know how it goes!  And if you have any tips, feel free to comment below.
Billy the kitten's nine names
Most cats have nine lives (allegedly) but Billy seems to have acquired nine names.
Billy Stripes
Billy boy
Mister Stripes
William Stripes! (when discovered on the table)
Tiger stripes
Billy the Kitt
Bootstripes Bill
Billy Whizz
And just plain Bill
Personally I think Billy is a fine name, but everyone else seems to enjoy experimenting. I suspect Mister Stripes is going to stick.
It suits him.
And his handsome ginger stripes are darkening and becoming more defined with each passing day. Especially on his legs
Allergy update
Today is the last day I can take antihistamines as my allergy test will be in four days time.
I am a little nervous as to what will happen when the antihistamines leave my system. But, I have been cutting down, and only took half a cetirizine tablet (5mg) yesterday and the day before.
Tonight I'll take just a quarter tablet. I'm still itchy and a bit puffy, but no worse than I was four or five days ago.
So I am really hopeful that this will go ok, and that either I am not allergic to Billy, or my body has adjusted and the allergy is mild enough for me to cope long term.
Continue reading Billy's blog..
Free Updates For Cat Lovers!
Our cat care articles, tips and fun facts, delivered to your inbox