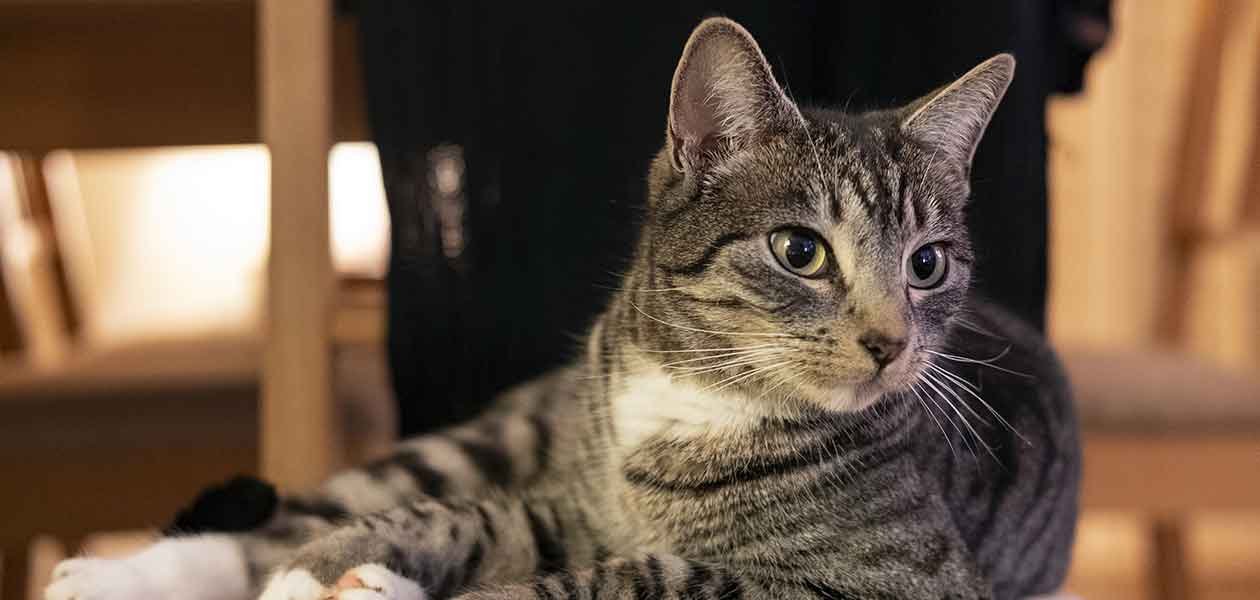 Mackerel tabby is the original cat coat pattern, and it has been around for thousands of years.
These days, mackerel tabby cats' stripes come in a wide range of colors, but they are always narrow and evenly spaced.
Cats with a mackerel tabby pattern can belong to a wide range of breeds, plus domestic shorthair and domestic longhair varieties.
What is a Mackerel Tabby?
A mackerel tabby cat has a pattern of evenly spaced light and dark vertical stripes in their coat.
The width of the stripes can vary from very narrow and densely packed, to quite broad and dramatic.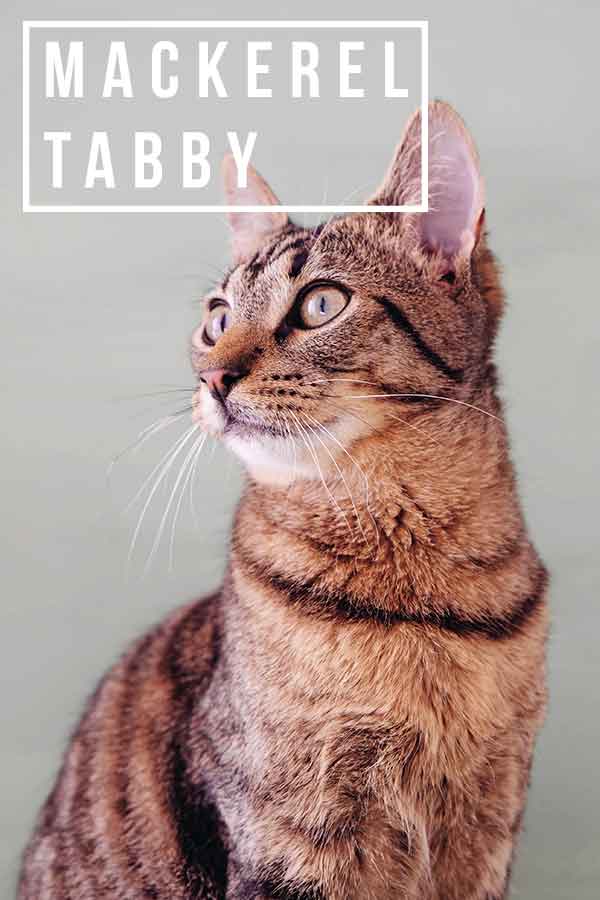 They can also present in a huge spectrum of colors.
Since mackerel tabby is a type of coat pattern, it can appear in lots of different domestic cat breeds. It is not a breed in it's own right.
Some of the cats most associated with mackerel tabby patterning are Maine Coons, Norwegian Forest Cats, American Curls, domestic shorthairs and domestic longhairs.
Mackerel Tabby Facts
The mackerel tabby pattern is so-called because it resembles the striped pattern in the scales of mackerel fish.
Mackerel tabby is the original and the oldest coat pattern on domestic cats. It is similar to patterns of the wild cats from which they descended from around ten thousand years ago.
But the modern mackerel tabby pattern is genetically unique to domestic cats – no other species also has it!
Ancient Egyptians were among the first civilisations to keep pet cats, and the paintings of their cats clearly show mackerel tabbies.
Mackerel Tabby Appearance
Tabby patterns are unique to domestic cats. So what is so special about the mackerel tabby pattern?
And how can you recognize a mackerel tabby cat when you see one?
Mackerel tabbies have even, regular stripes in their fur.
On their flanks, the stripes are vertical, with a slight curve in them – on the legs and tail they switch to horizontal bands.
Mackerel tabby cats have an 'M' pattern of stripes on their forehead, and 'eyeliner' stripes from the outer corner of their eyes to the edge of their face.
Their stripes can also be broken into dotted or dashed lines. At one time this was thought to be what happens in spotted cats like the Ocicat, but a separate spotting gene has now been identified.
Know your tabbies
The three main types of tabby pattern in cats are: ticked, mackerel and blotched (also known as classic, or marbled).
So how can you say for sure whether you're looking at a mackerel tabby, or one of these other types?
Easy!
Ticked tabbies only have stripes on their legs, tail and forehead. The fur on their body is light with dark tips, but it isn't organised into stripes.
Mackerel tabbies have narrow stripes all over, with even spaces in between them.
And blotched tabbies have wider stripes, organised into whorls, blotches, circles or spirals, with uneven gaps in between them.
Next let's see which genes are responsible for deciding whether a cat gets one pattern, or another.
Mackerel Tabby Genetics
The genetic instructions for tabby patterns are located at the tabby locus on their DNA.
A locus is a specific point or location in the genetic code, where instructions for a particular trait are held.
The genes for the three types of tabby pattern are
Ta, which produces the ticked tabby pattern
Tm, which makes the mackerel tabby pattern
and Tb, which is responsible for the blotched tabby pattern
These three genes have an order of dominance which goes Ta > Tm > Tb.
Or in other words, the gene for ticked tabby pattern masks the gene for mackerel tabby pattern, and both of them mask the gene for blotched tabby pattern.
So the Tm gene will only produce the mackerel tabby pattern in a cat's coat if they don't also carry the gene for ticked tabby patterning.
But if they carry the the Tm gene and the Tb gene, the mackerel pattern will win out over the blotched pattern.
This is of interest to cat breeders who might want to predict what patterns their litter of kittens might have.
Of course, the other thing they might like to try and guess in advance is what color they will be!
Mackerel Tabby Colors
The first mackerel tabby cats had stripes in black, browns and grays.
These are the same colors as the wild cats they descended from, and offer the best camouflage for sneaking up on prey, and also evading larger predators.
But modern mackerel tabbies come in a huge range of colors!
Most of these started out as a chance mutation, which breeders fell in love with and deliberately captured in later generations too.
Mackerel tabby colors today include:
high contrast black on silver
reds and oranges,
and whole watercolor spectrum of dilute and caramelised colors, including blues, lilacs, fawns, apricots and creams.
Mackerel tabby cats can also have white patches in their coat.
Light with dark stripes, or dark with light stripes?
Ever wondered whether the dark or light stripes on a tabby cat are the background?
Well, genetically, tabby cats are light, with dark stripes.
In the light areas, the hairs are ticked. That is, they are light, with a dark tip.
And in the dark stripes, the space below the dark tip has been filled in.
Mackerel Tabby Temperament
Feline temperament is shaped by a lot of things, including:
their breed
their parent's characters
how they are raised
and possibly their sex.
At the time of writing, there is no evidence of a genetic link between cats' coat color or pattern, and their personality.
One study published in 2015 found that people are more likely to describe orange tabby cats as friendly. But there's no proof that this is linked to their color or pattern.
So the best way to predict the personality of a mackerel tabby before you bring them home is either to meet their parents (if you're buying them as a kitten), or spend some time with them in the shelter environment (if you're rescuing them).
Mackerel Tabby Health And Care
Cats' lifetime health is also a product of many factors, such as
As far as we're aware, there's no connection between a tabby coat, and an increased risk of any diseases.
The vast majority of mackerel tabby kittens for sale are domestic shorthair or domestic longhair cats.
This means they don't belong to any specific pedigree. And healthwise it can be an advantage, because they are likely to be less vulnerable to hereditary diseases associated with some pedigrees.
How much grooming and care your tabby cat's coat needs will depend upon how long it is, how fine.
Many short-coated cats have no trouble keeping their tabby coat immaculate by themselves.
Long haired cats, overweight cats, older cats and cats who pick up lots of debris in their fur whilst roaming outdoors are more likely to need a helping hand with a brush.
Your Mackerel Tabby
The mackerel tabby is one of the most quintessential coat patterns you can get on a cat.
It dates back thousands of years, and in that time cat lovers have embraced it in all kinds of colors.
Since so many cats share the mackerel tabby pattern, it's impossible to make broad generalizations about the personality or health of all of them.
To do this, you need to research the cat breed you have in mind thoroughly, and arrange to meet them, or their parents, before you bring them home.
Do you have a mackerel tabby?
Please tell us about them in the comments down below!
If you'd like to learn more about the beautiful world of cat fur patterns, visit us here!
References and Resources
Lyons et al, The Tabby cat locus maps to feline chromosome B1, Animal Genetics, 2006.
Kaelin & Barsh, Tabby pattern genetics – a whole new breed of cat, Pigment Cell And Melanoma research, 2010.
Driscoll et al, The Taming of the Cat, Scientific American, 2009.
Kaelin et al, Specifying and Sustaining Pigmentation Patterns in Domestic and Wild Cats, Science, 2012.
Cat Identification, Maddie's Shelter Medicine Program, University of Florida College of Veterinary Medicine, accessed July 2020.
Bennett et al, Assessment of domestic cat personality, as perceived by 416 owners, suggests six dimensions, Behavioral Processes, 2017.
Delgado et al, Human Perceptions of Coat Color as an Indicator of Domestic Cat Personality, Anthrozoos, 2015.