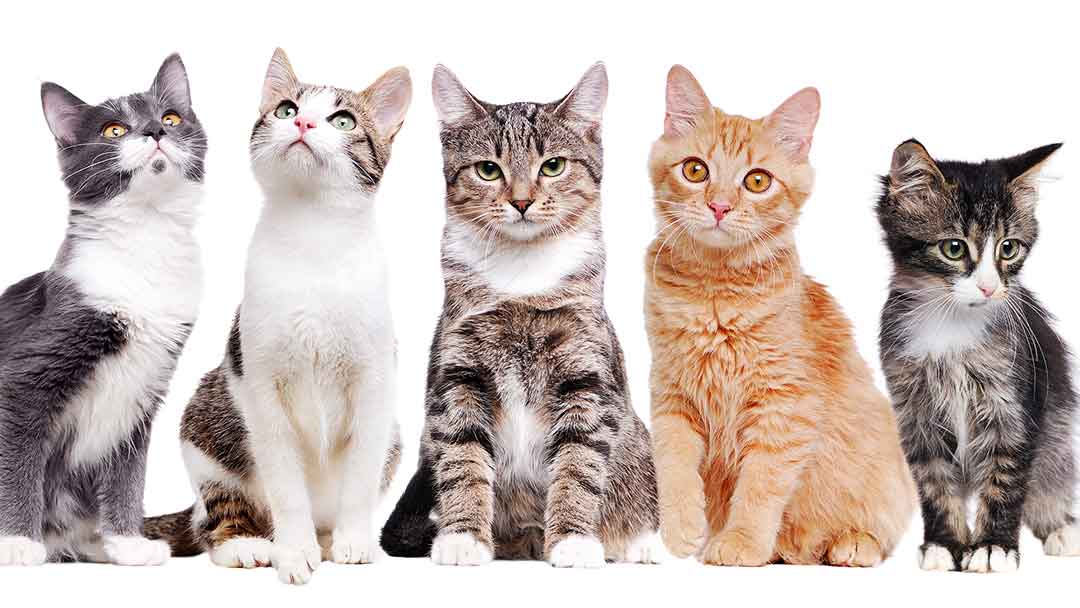 There are hundreds of possible cat colors and patterns. Some are very common, whilst others are unique to a single breed. But amazingly, they are all the result of just two colors: black, and red!
Mixing these two colors, arranging them in different ways along each hair, and distributing them in different patterns across the cat's body give us tabbies, and tuxedos, and much more!
Contents
The best known cat colors are black, red, chocolate, cinnamon, blue, cream, lilac, fawn and white. Depending on the breed, cat enthusiasts sometimes describe chocolate cats as sable, chestnut or sepia instead. And lilac cats are sometimes described as lavender, platinum or frost colored, depending on their breed.
But this whole kaleidoscope of colors, and all the patterns which can be layered on top, are achieved by the presence of just two pigments:
eumelanin, which is black
and pheomelanin, which is red.
Let's see how that's possible!
Black Cat Genetics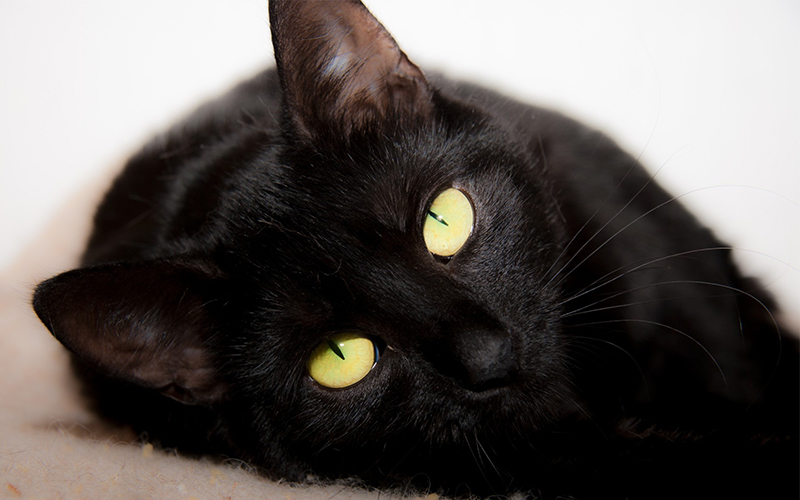 Black cats get their inky coats from a pigment called eumelanin. The cat community calls the gene responsible for production of eumelanin the 'B' gene. The B gene comes in three forms: B, b and bl. All cats carry two copies of the gene. One inherited from their mom, and the other from their dad.
The B form is dominant over b and bl. Whenever a cat carries the B gene they produce large amounts of eumelanin, and their coat is black. Lots of cat breeds come in black. Bombay cats are famously always black.
Chocolate Genes
When cats inherit two copies of b, or one copy of b and one copy of bl, they produce moderate amounts of eumelanin. This colors their coat a rich chocolate brown, sometimes described as sepia, chestnut or sable instead. Famously brown cats include the Havana Brown.
Cinnamon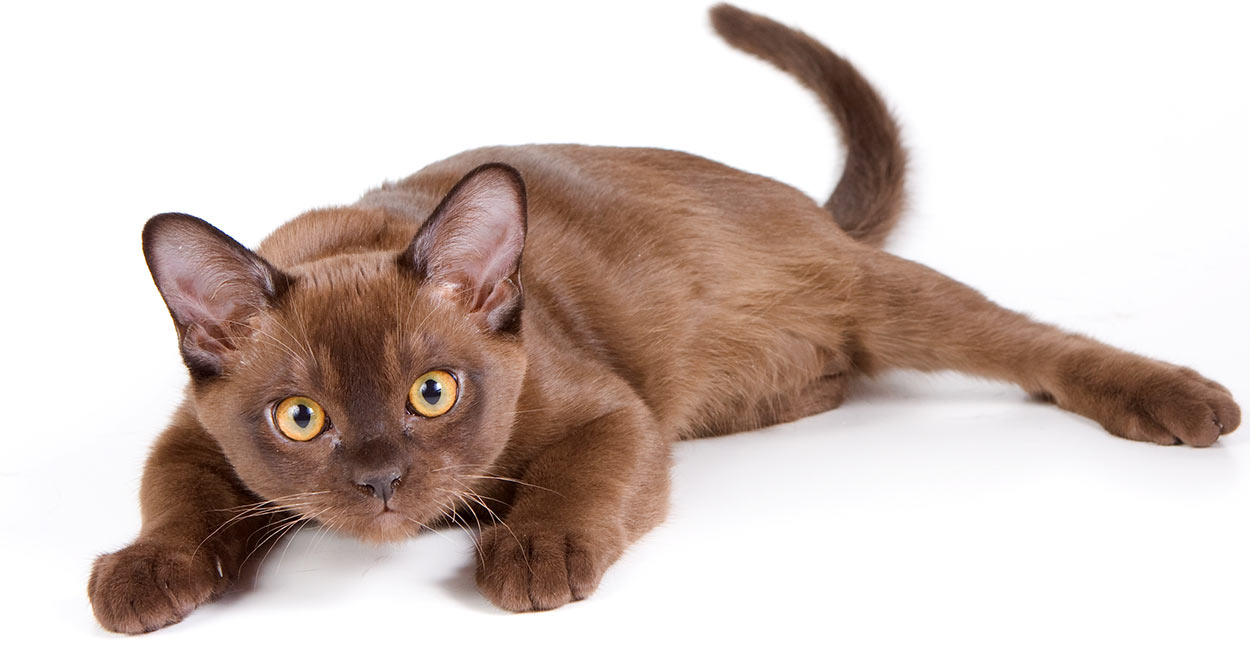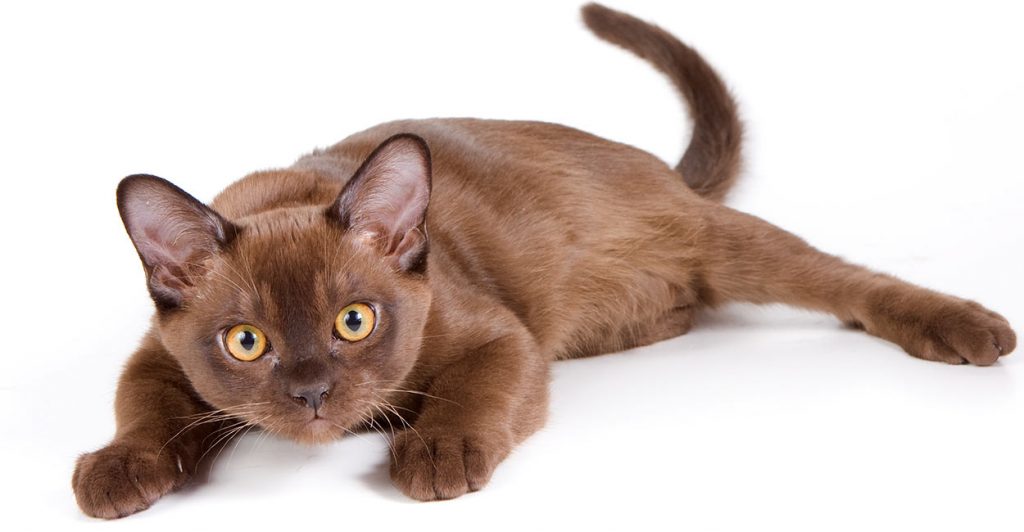 And finally, cats with two copies of the bl gene only produce small amounts of eumelanin, which gives their coat cinnamon coloring. Cinnamon is a reddish, auburn shade of brown.
Cinnamon is quite an unusual cat color, since both the B and b form of the B gene override it. This table sums up how each possible combination of B genes affects coat color: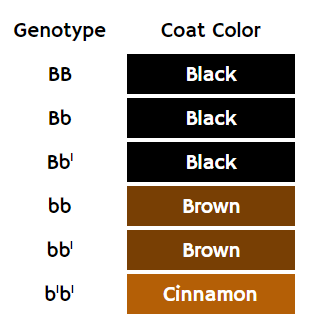 Oriental Shorthairs and Burmese cats can be cinnamon, and almost all Abyssinian cats have a cinnamon coat with darker ticking laid over the top.
Red Cat Genetics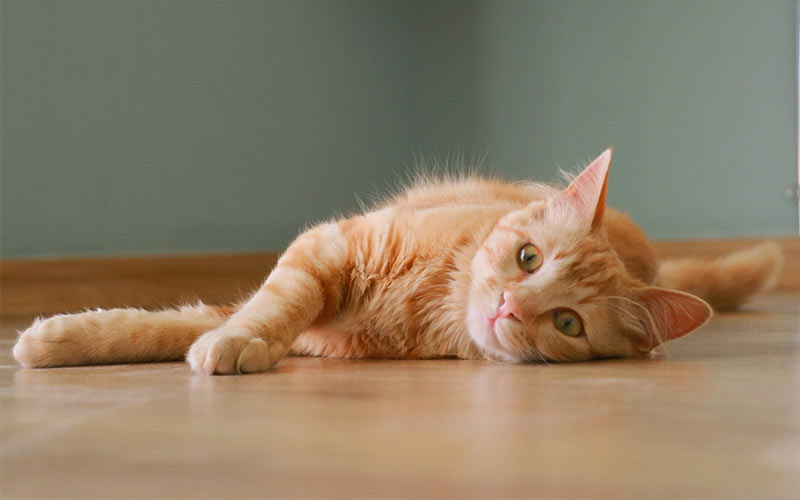 Besides eumelanin, the only other coat pigment in cats' coats is pheomelanin. Pheomelanin is red, and it gives orange and ginger cats their color. Production of pheomelanin is controlled by the O gene. The O gene comes in two forms: O and o.
The O form overrides production of eumelanin with production of pheomelanin instead, but the o form does not. To make matters slightly more complicated, the O gene is situated on the X sex chromosome. Which means female cats have two copies, but male cats have just one.
How Does It Work?
Male cats with the O form of the O gene on their X chromosome produce pheomelanin instead of eumelanin, and they are orange.
Male cats with the o form of the O gene on their X chromosome don't produce pheomelanin. They are black, brown or cinnamon, depending on the combination of B genes they carry.
And for the girls:
Female cats with OO genes are orange.
Female cats with oo genes are black, chocolate or cinnamon.
And female cats with the genotype Oo are… tortoiseshell! (Read this article to find out why!)
Dilute Solid Cat Colors
So that's a potted primer on the bright and bold cat colors. But what about the beautifully soft, pale, and ethereal tones? Blue, cream, lilac and fawn cats all owe their watercolor looks to another gene, called the dilute gene.
The dilute gene comes in two forms: D and d. All cats carry two copies – one from mom, and one from dad.
Cats who inherit the d form from both mom and dad produce dramatically less pigment in their coats. This table shows how the cat colors black, chocolate, cinnamon and orange are transformed into blue, lilac, fawn and cream by the dilute gene: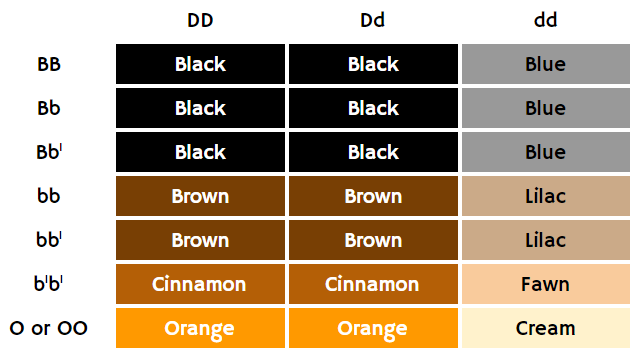 Cat Breeds With Dilute Colors
Russian Blue cats, Korats, and British Blues are all famous for preserving the BB/dd combination of genes from generation to generation. Lilac and fawn are among the rarest cat colors. But they are most often seen in Persians and Exotic Shorthairs.
White Cats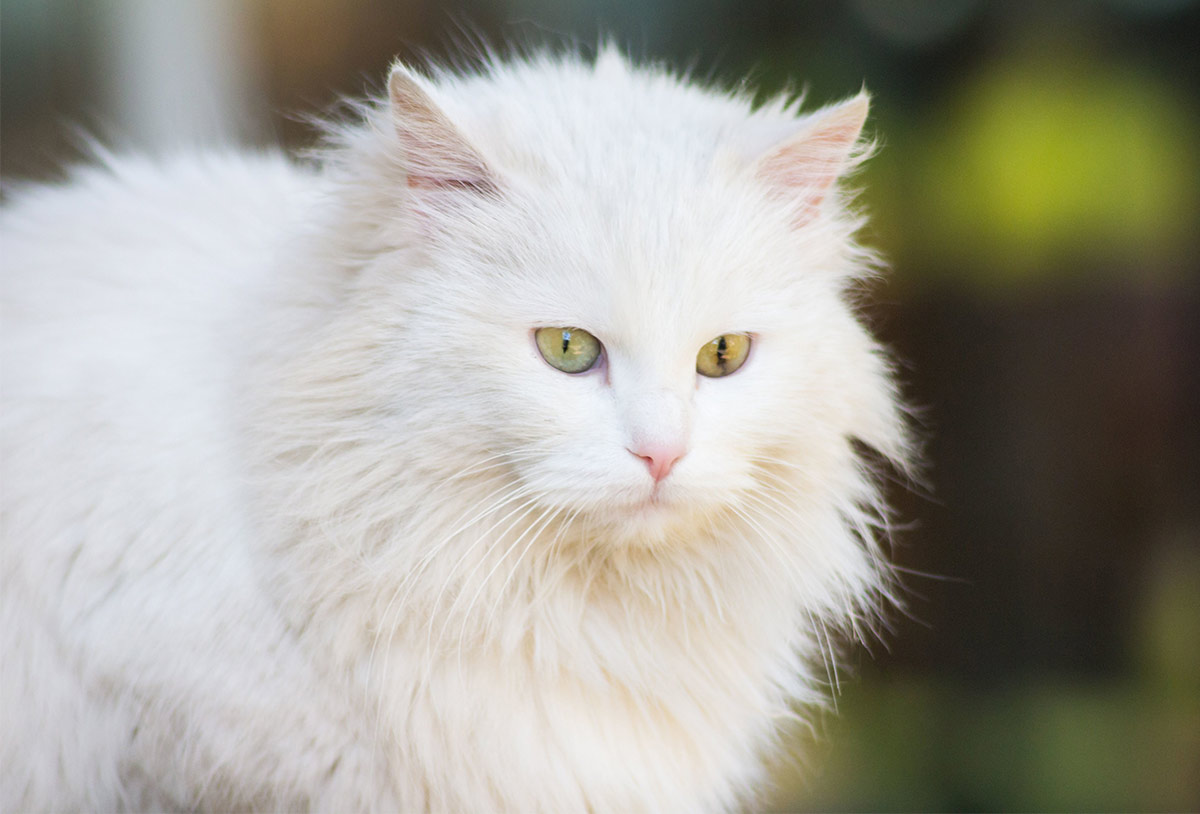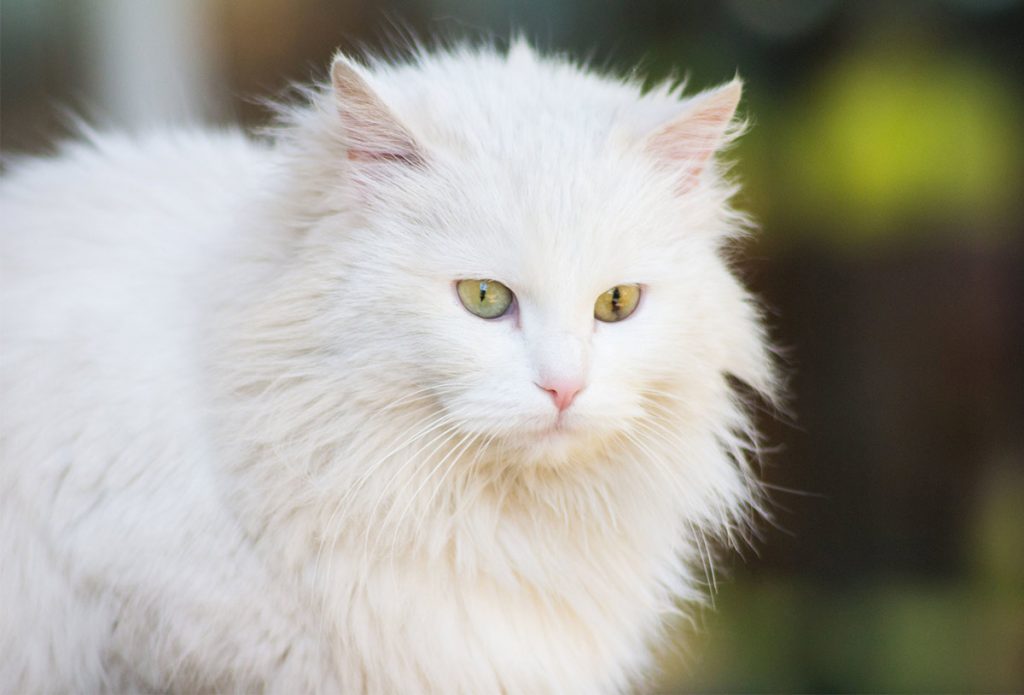 So now we're left with just one commonly seen solid cat color to discuss. The ones with no color at all – snowy white cats! We often think of animals – especially pets – with white coats as being albino. But most white cats aren't albino. Most white cats owe their coats to a masking gene called 'W'.
Whenever a cat carries the W gene, it masks the instructions from any other genes about making coat pigment. So their fur is white instead.
Albino White Cats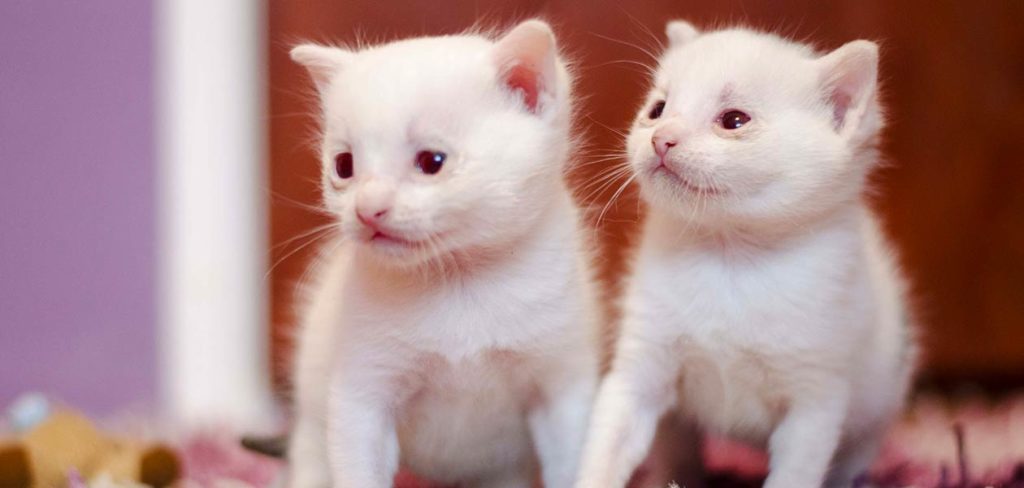 Some white cats are indeed albino. The difference is genetic, and outwardly it can be difficult to spot. Albino cats don't have any pigment in their bodies at all, so their eyes are pink, or pinkish blue.
Cats with the white masking gene still have pigment in their eyes, which can be blue, green, yellow, orange or hazel. But unlike the W gene, which overrides all other genetic instructions about color, the gene for albinism is recessive.
This means it is overridden by most other genetic instructions for cat color, and consequently true albino white cats are very rare.
Temperature-Sensitive Albinism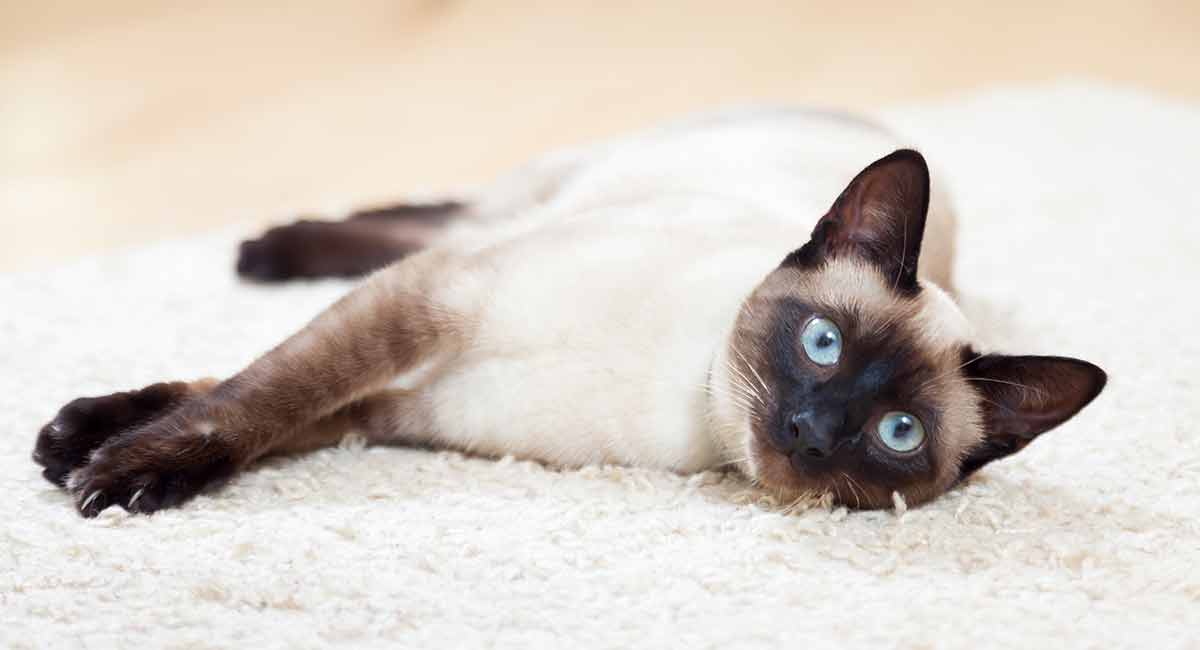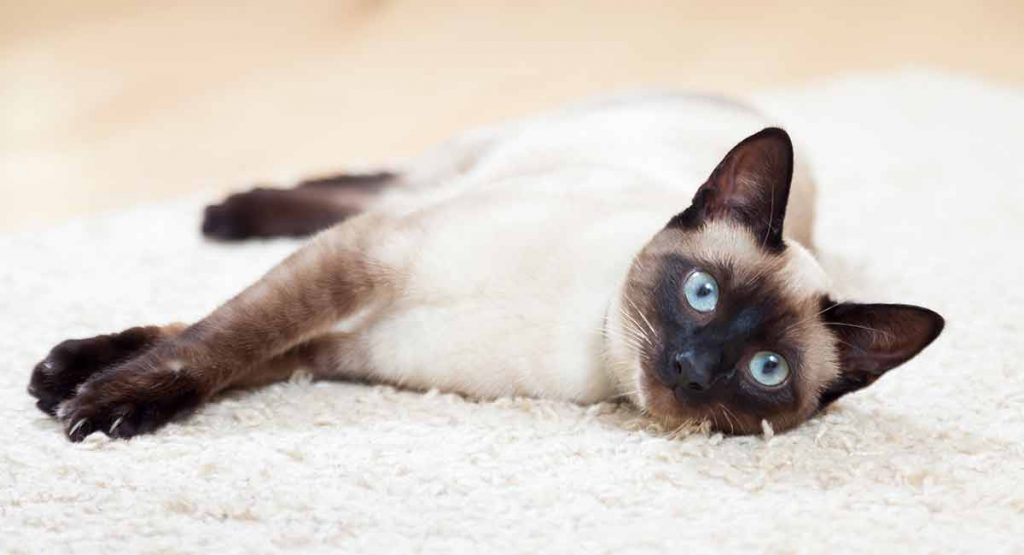 Before we leave the topic of white cats and albinism altogether, it would be wrong not to explain the mechanism behind one of the most iconic cat color patterns of all time: the famous color points of breeds like Siamese, Ragdoll and Himalayan cats!
Color points are caused by a form of albinism which is temperature-sensitive. This means the amount of pigment in each strand of fur depends upon the skin surface temperature at its root.
At the ears, nose, feet and tail, where the skin's temperature is lowest, lots of pigment is made. Everywhere else, just a little pigment is made. And incidentally, the genetic rules for deciding the color of that pigment are exactly the same as the rules for solid colors, described above.
Cat Color Patterns
And now we've started to dabble in cat coat patterns as well as colors, let's take a quick skip through the rest… We've looked at how the beautiful colors in cats' coats are made. But this only goes part of the way to describing the massive variation in their looks.
Here is a glossary of terms which cat owners and breeders also use to describe cat colors:
Smoke and Chinchilla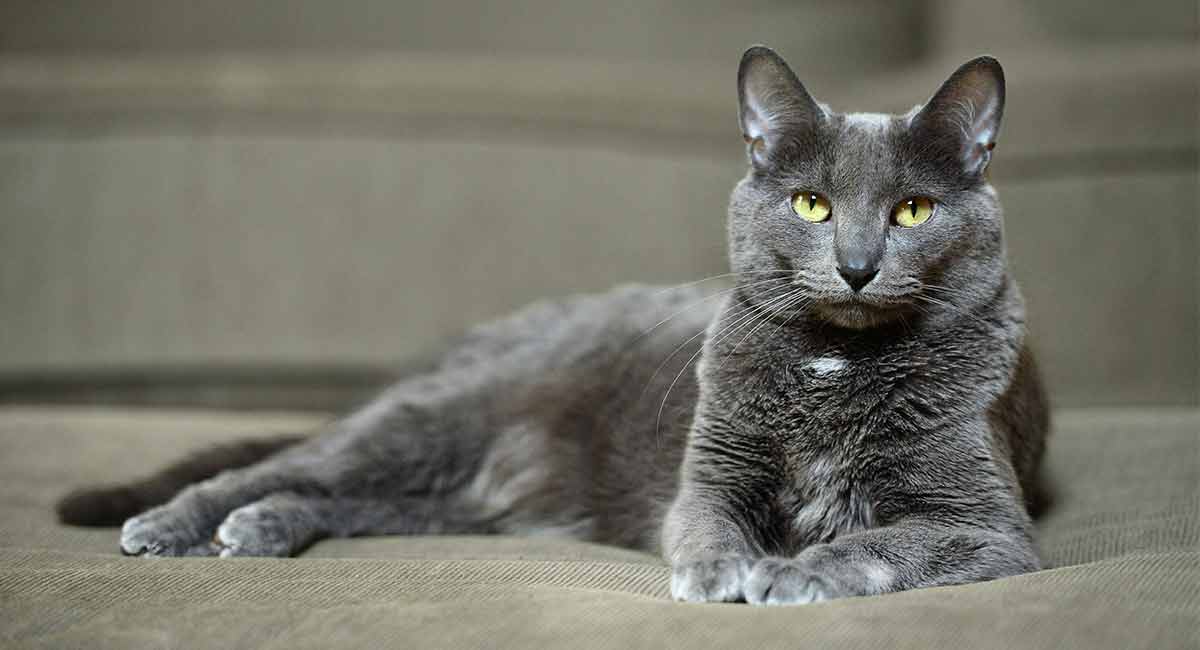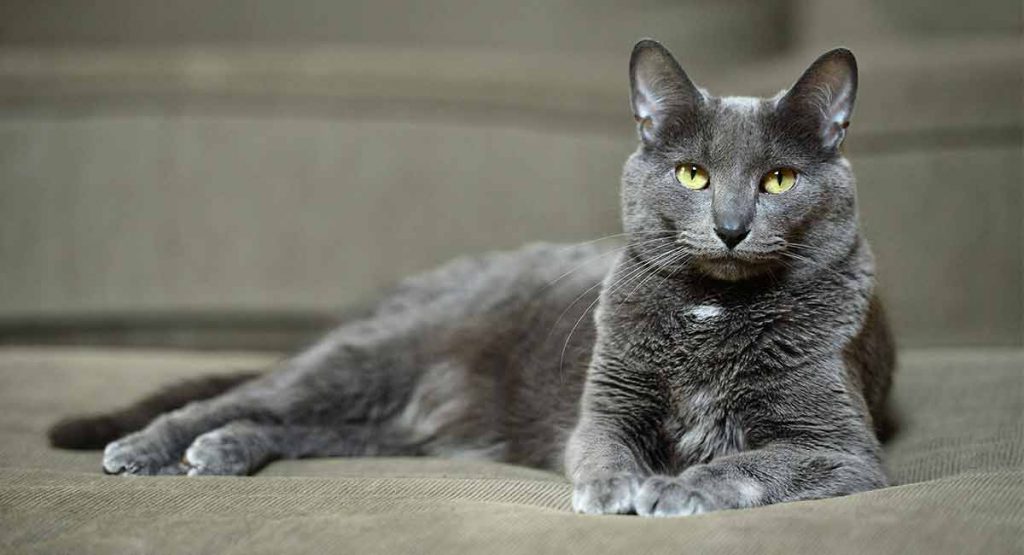 Smoke and chinchilla cat coats fall somewhere in between a color and a pattern. In these coats, all the pigment is concentrated at the tips of the hairs. At the base of each hair is a wide band with little or no pigment.
When the pigment at the tip is black, chocolate or cinnamon, the pattern is called 'smoke'. But when the pigment is blue, lilac or fawn, the pattern is called 'chinchilla'. Korat and Russian Blue cats have the reverse pattern – each of their blue hairs is silver-tipped, and all the pigment is at the base of each hair.
Tabby Cats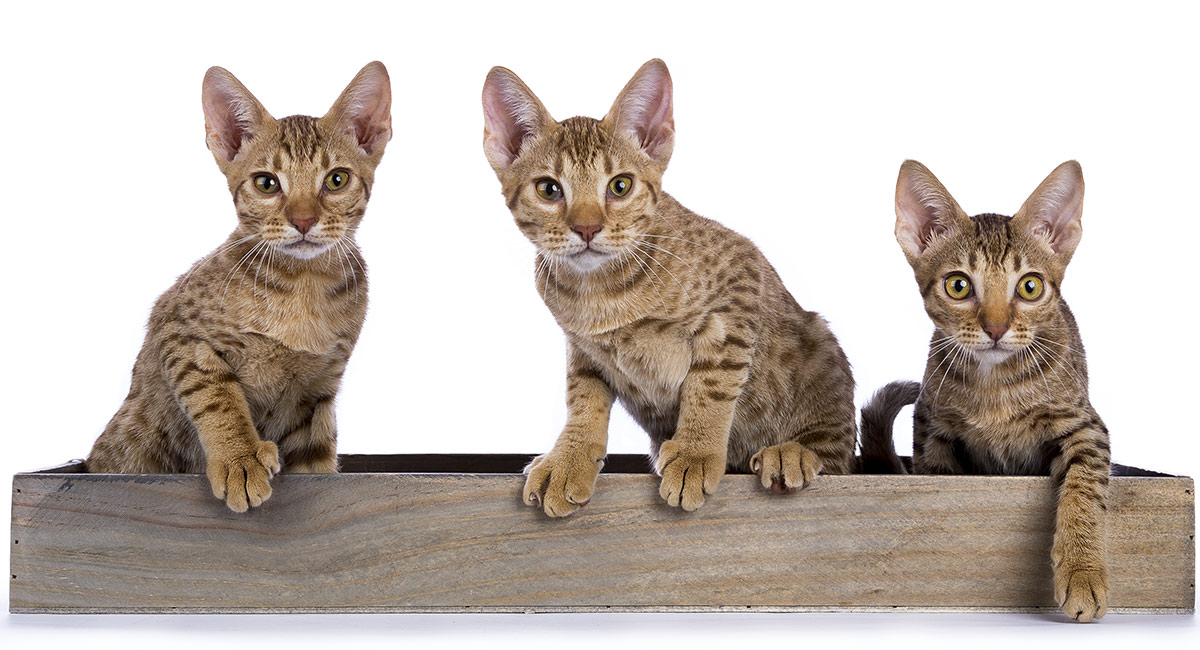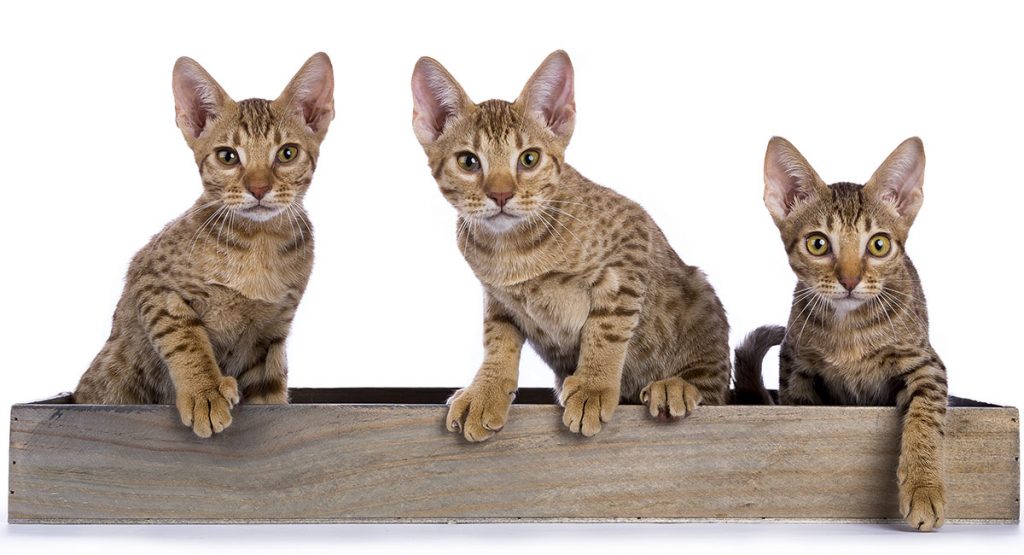 Everyone can picture the stripes and blotches of a tabby cat. But did you know that versions of the tabby gene are also responsible for an Ocicat's spots, and the ticked coat of an Abyssinian? The trademark feature which unites them all is the distinctive tabby 'M' on the forehead.
Due to the way the O gene for orange color and the T gene for tabby pattern interact, orange cats are always tabby cats. But selective breeding to reduce the contrast between the stripes has given some ginger cats the appearance of having one solid color.
Tortoiseshell Cats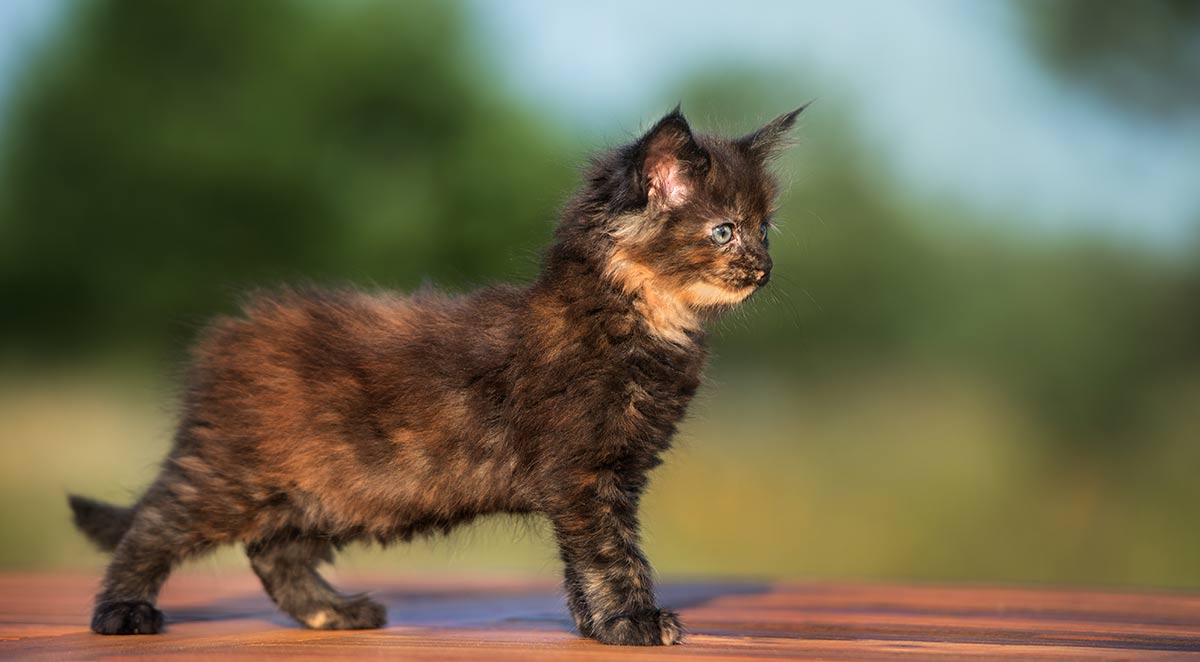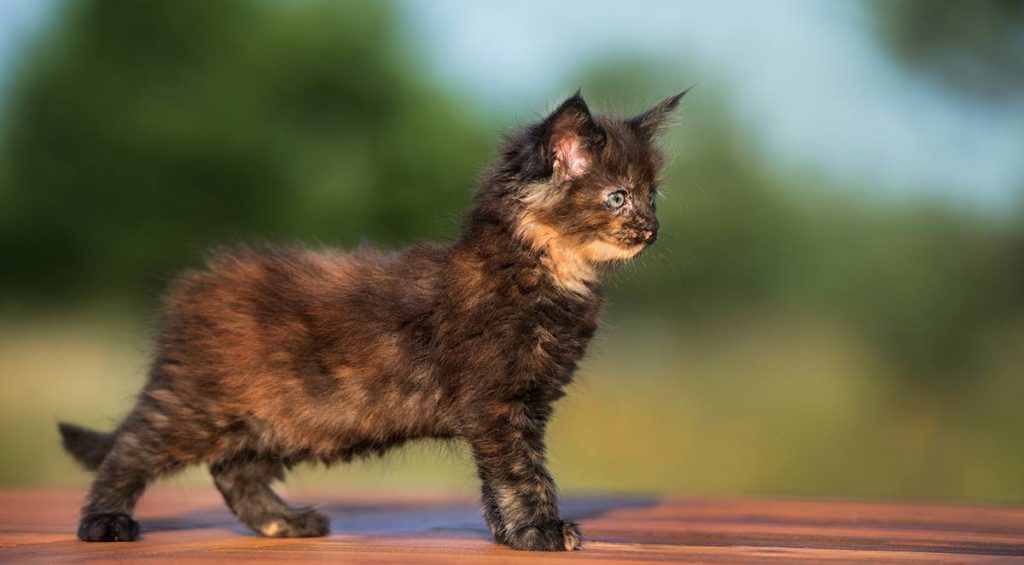 Tortoiseshell cats have patches of fur colored with eumelanin pigment, and patches of fur colored with pheomelanin pigment. Depending on the combination of B genes and D genes they have, the patches can be:
black and red
chocolate and red
cinnamon and red
blue and cream
lilac and cream
or fawn and cream.
To find out how the pigments end up arranged in a tortoiseshell pattern, visit us here.
Tortoiseshell cats with tabby stripes in their patches are called 'Torbies'.
White Spotting
The White Spotting gene is responsible for any white fur on a cat which also has patches of colored fur. Even if they are mostly white, with only a tiny patch of colored fur. This form of the White Spotting gene is called (unsurprisingly) Extreme White Spotting, or We. Different forms of the White Spotting gene also cause: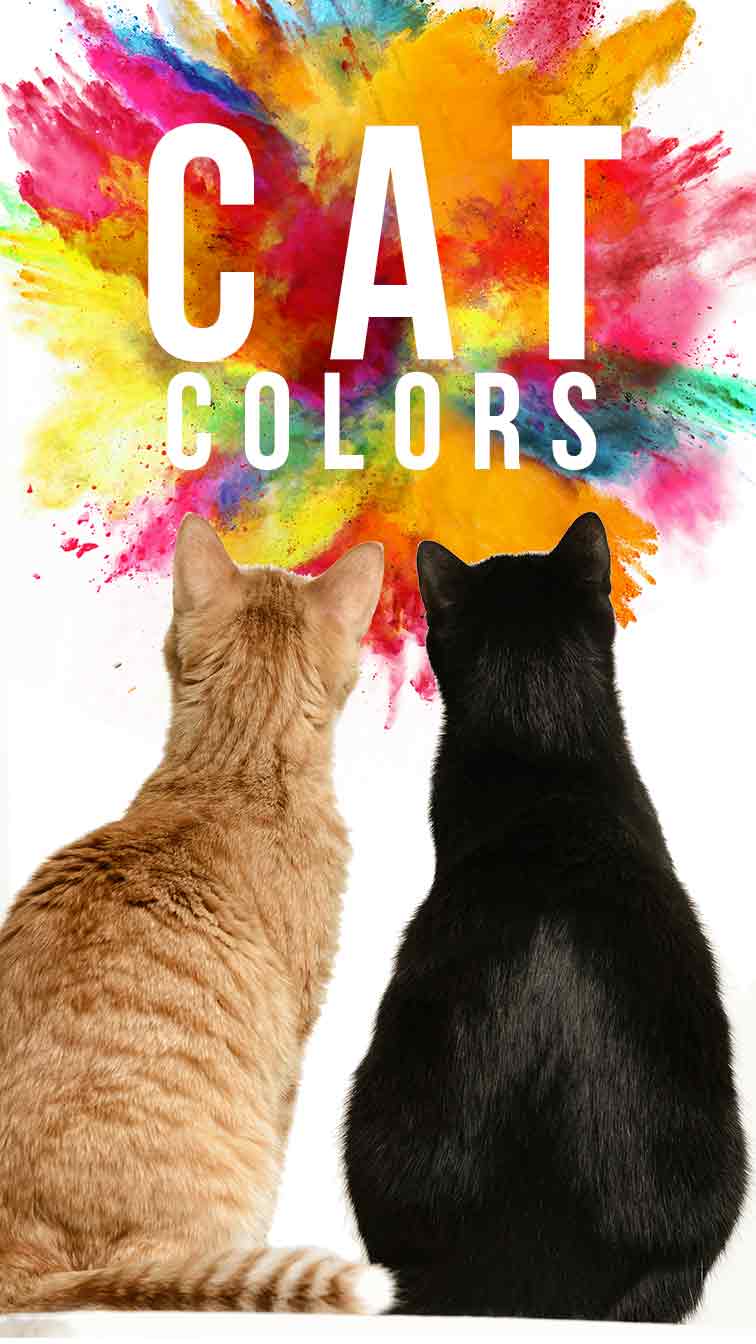 Frequently Asked Questions About Cat Colors
Which brings us nearly to the end of our primer on cat colors. Just time left for our top five most frequently asked questions about cat color:
1. What Is The Most Common Cat Color?
Black and brown tabbies are the most common cat color. The genes which code for dense black pigment and a tabby markings override almost all other colors and patterns. So unless breeders actively select against them, they tend to flourish.
And it's no coincidence that this is also the combination which offers the most camouflage whilst hunting outdoors!
2. What Is The Rarest Color Of Cat?
Of the main cat colors, fawn is the rarest, because it relies upon an unusual combination of recessive genes, which are easily masked by other colors.
Fawn coats are most commonly seen on Abyssinian andExotic Shorthair cats. But there are some cat colors which are even rarer, because they only appear in a single breed. Amber colored Norwegian Forest Cats are a great example.
3. How Many Colors Can A Cat Have?
The most types of pigment a cat can have is two: eumelanin and pheomelanin. But a calico cat with tabby stripes in their patches manages to achieve five colors (including white) from those two pigments.
And cats with points have beautiful gradients in color density which should surely count as more than one color!
4. Does Cat Color Affect Personality?
In 2015 an online survey of 1,274 cat owners conducted by the University of California found that tortoiseshells, calicos, black-and-white cats, and gray-and-white cats are more frequently aggressive toward humans.
A subsequent study in Pennsylvania found that orange cats have a higher prey drive, and cats with colored points are more prone to separation anxiety. But it's generally thought that breed is a better indication of temperament, than coat color.
5. Do Cat Colors Affect Health?
Cat colors are sometimes associated with increased risk of specific diseases. For example chocolate brown lines of Persian cats were once thought to be at greater risk of developing the eye disease progressive retinal atrophy. But that has been disproved.
And the possibility of a link between coat color or pattern and hyperthyroidism has also been tested, and disproved. But one known link between cat color and health relates to white fur and deafness. We've written more about that here.
What Color Is Your Cat?
Cat colors and patterns are fantastically diverse and nuanced, and we've barely begun to scratch the surface here. Does your cat have a color and pattern we've mentioned, or something else altogether? Or have you ever met a cat with a very unusual color? Tell us about them in the comments box down below!
References and Resources
Rah et al, Lack of genetic association among coat colors, progressive retinal atrophy and polycystic kidney disease in Persian cats, Journal of Feline Medicine and Surgery, 2006.
Stelow et al, The relationship between coat colors and aggressive behaviors in the domestic cat, Journal of Applied Animal Welfare Science, 2015.
Wilhelmy et al, Behavioral associations with breed, coat type, and eye color in single-breed cats, Journal of Veterinary Behavior, 2016.
Crossley et al, Breed, Coat Color, and Hair Length as Risk Factors for Hyperthyroidism in Cats, Journal of Veterinary Internal Medicine, 2017.
Hudson & Hamilton, Atlas of Feline Anatomy for Veterinarians, CRC Press, 2017.
Griffin, Cat Identification Cat Coat Color Chart, University of Florida College of Veterinary Medicine, 2011.
Hartwell, Colour and Pattern Charts, The Messy Beast, 2013.
Jacobberger, Coats and Color Descriptions, Cat Fanciers' Association, 2015.