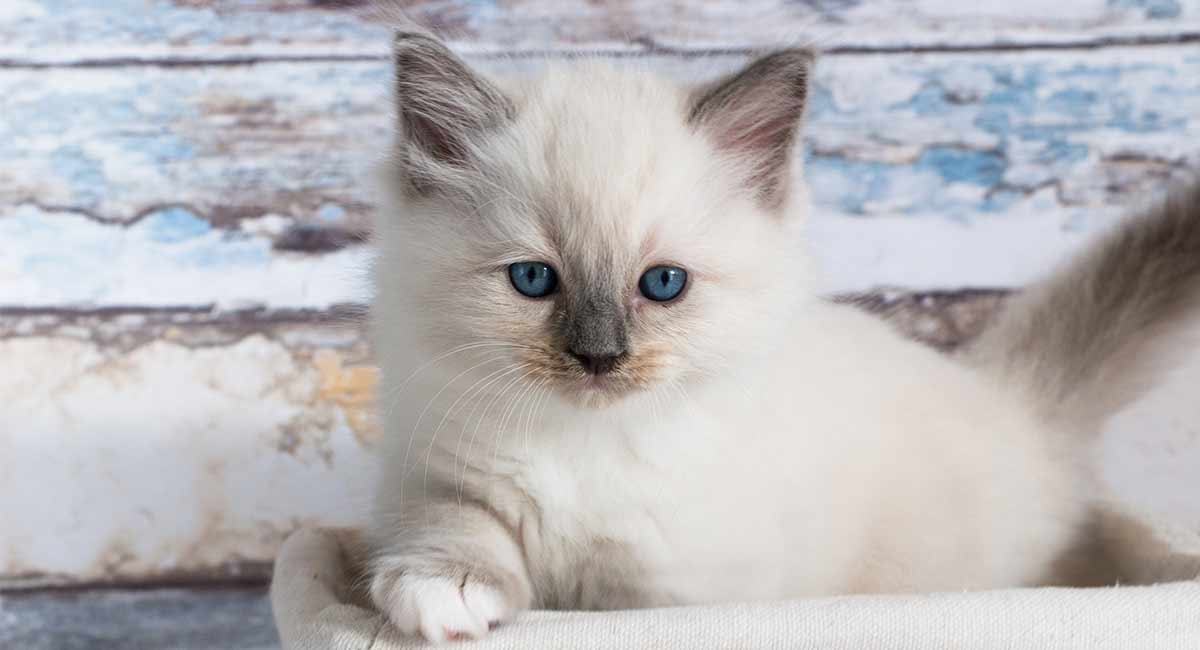 The sheer range of beautiful Ragdoll cat colors is one of the primary reasons this pedigree feline is much sought-after. Likely of Persian descent, the first Ragdolls were bred in the 1960's. The Cat Fanciers Association began registering Ragdolls in 1993, and by 2000 Ragdoll popularity had exploded, with these felines advanced to championship status in every North American cat association.
It's no surprise. The purebred Ragdoll cat is a sight to behold: a soft, alluring, fluffy coat, a mild temperament, and gorgeous blue eyes full of curiosity and love. On top of this, Ragdolls are generally well-behaved with children and pets, and love to go limp and "hug" when they are cuddled. Who wouldn't want to own such a magnificent creature?
Contents
There are an abundance of Ragdoll cat colors and patterns to admire, so let's delve into this fascinating topic without further ado.
Ragdoll Cat Colors
Ragdoll cats all have colored points. This means their body color is a lighter shade than their points or tips. The points are their ears, tail, face and legs.
No matter how light their body color though, it is not white! It is always a very pale shad of their point color. What's the significance of that?
True white fur is caused by a specific gene which completely inhibits pigment production. And for true white cats with blue eyes, that lack of pigment can have other health implications too. It's simply an interesting way that Ragdolls' unique coloring also gives us other information about them.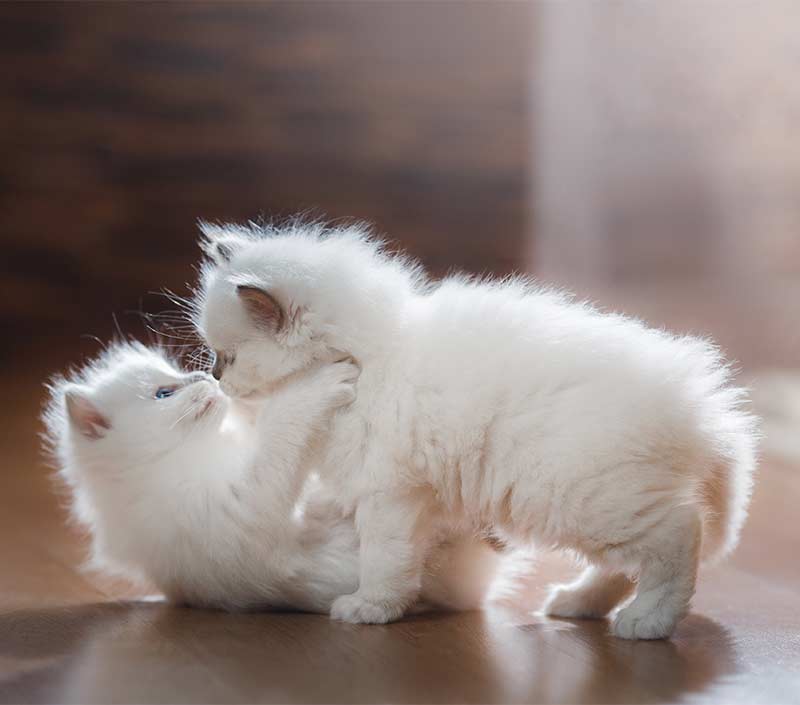 Ragdoll Point Colors and Patterns
It may surprise you to know that the fur on this medium to long haired kitty is all-white at birth! The kaleidoscope of Ragdoll cat colors that the breed is known for develop over time (2-3 years), so predicting Ragdoll kitten colors when they grow up is a popular past time.
Ragdoll cat point colors can be seal, red, cream, chocolate, blue and lilac. Patterns include mitted, bicolor and lynx. But what does all that mean?
Phew! As you can see, there are a bewildering array of permutations.
Seal Colorpoint Ragdoll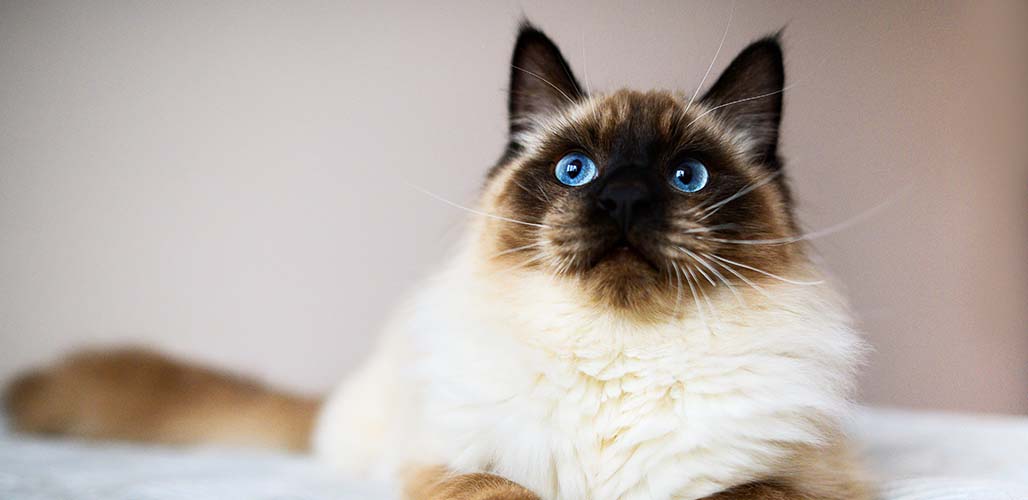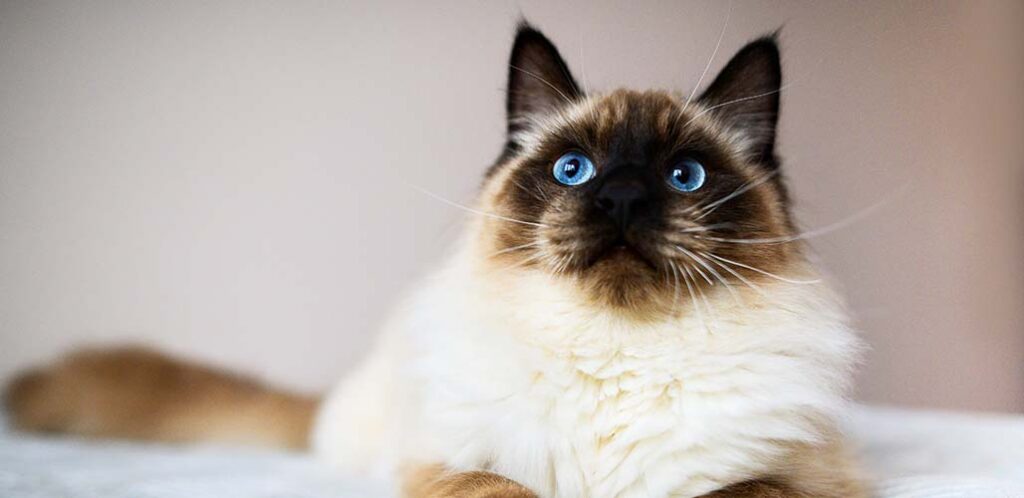 When it comes to seal Ragdoll cat colors, the striking appearance of a seal colorpoint ragdoll is one you will not soon forget. These cats have dark brown points, which means seal colorpoint Ragdolls and especially seal bicolor Ragdoll cats share a stunningly dark-and-light contrasting look.
When combined with silky blue eyes, this makes for a remarkable and gorgeous moggie. It's also the point color we most commonly associate with Siamese cats.
Have you ever wondered why cats like Ragdoll and Siamese have darker fur at their points? It's because their pigment is temperature sensitive! It is expressed more where the skin temperature is cooler, so their coat reads like a heat map of their body. This is true for Ragdolls whatever the color of their points.
Blue Bicolor Ragdoll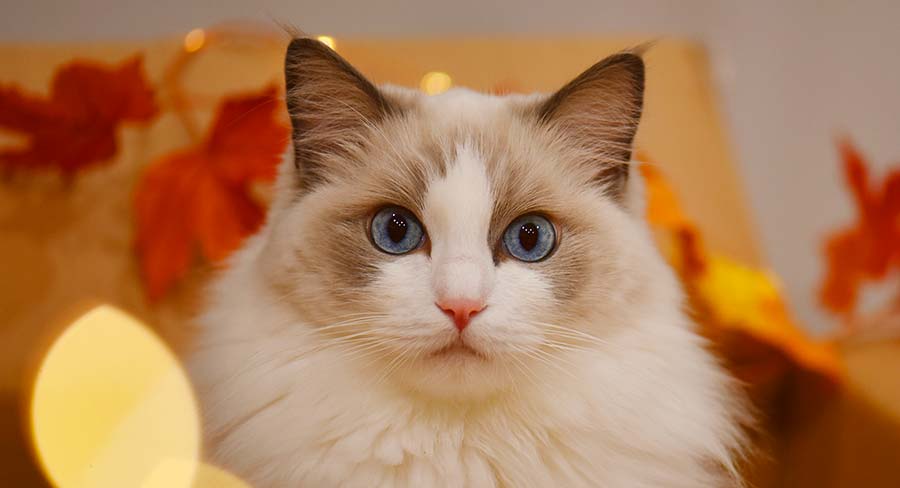 When it comes to Ragdoll cat colors, blue means gray! In fact, blue colorpoint Ragdoll cats make the same pigment as seal colorpoint Ragdoll cats. But they also have two copies of a dilution gene, which means the pigment is transported less efficiently into their fur and accumulates in smaller amounts.
So, a blue lynx bicolor Ragdoll, blue bicolor Ragdoll cat, blue colorpoint Ragdoll, blue point bicolor Ragdoll, and blue mink bicolor Ragdoll all have some fur with a lovely soft cool gray tint.
While blue is the primary color in these gorgeous moggies, there is deviation appearance-wise due to the pattern and with according to individual physical traits. For example Ragdolls cat colors can be accentuated with dark or pink noses, a bit of a mustache, and even the appearance of eyeliner!
Chocolate Bicolor Ragdoll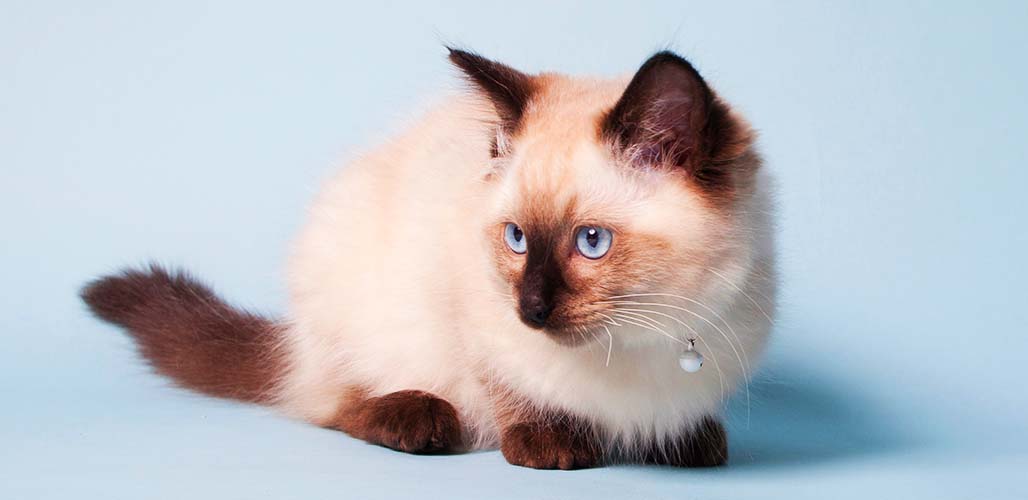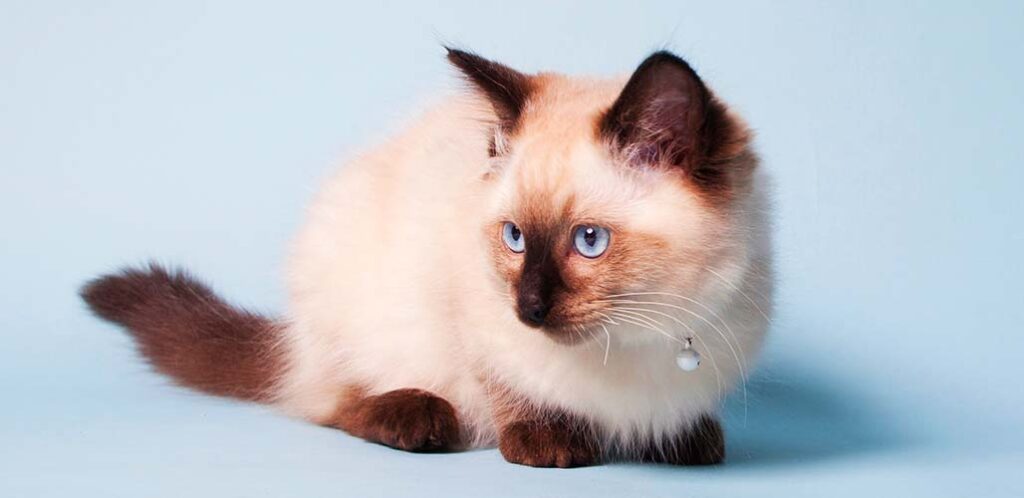 The chocolate colored Ragdoll is similar to the seal color Ragdoll in terms of richness of hue. The difference is that the chocolate coloration is a lighter brown and not quite as dramatic as the traditional seal color Ragdoll.
And just like the seal color is diluted to make blue Ragdoll cats, the chocolate color can be diluted too, giving….
Lilac Colorpoint Ragdoll Cats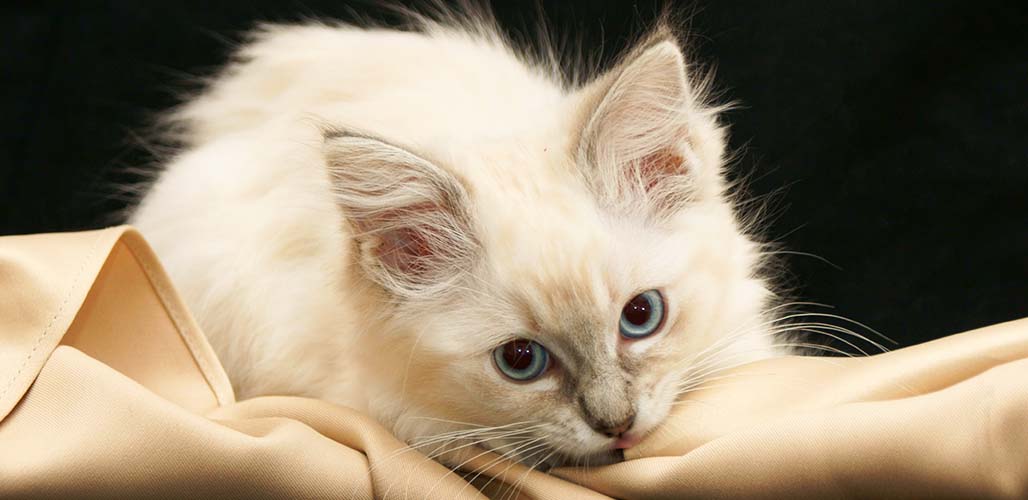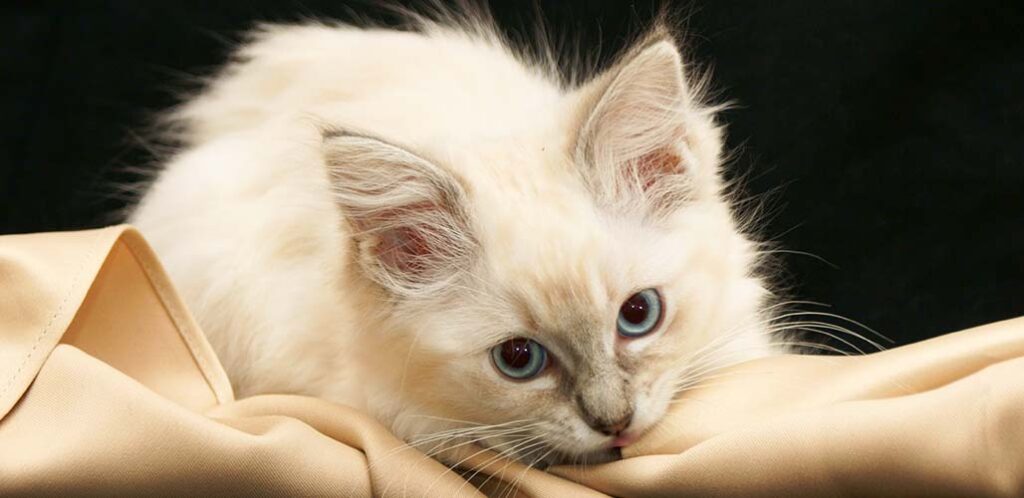 If you want a lilac bicolor Ragdoll, you are actually in the market for a cat that is a warm gray-ish brown color at its tips, fading to cream colored over the body.
The lilac colorpoint Ragdoll cat produces the same pigment as chocolate Ragdoll cats, but once again they have two copies of a dilution gene which gives it a washed-out affect.
The overall impression is that lilac Ragdoll cats are bathed in the lightest possible shade of violet.
Ragdoll Fanciers Worldwide has a section on their website that showcases this charming, elegant coloration.
Flame Bicolor Ragdoll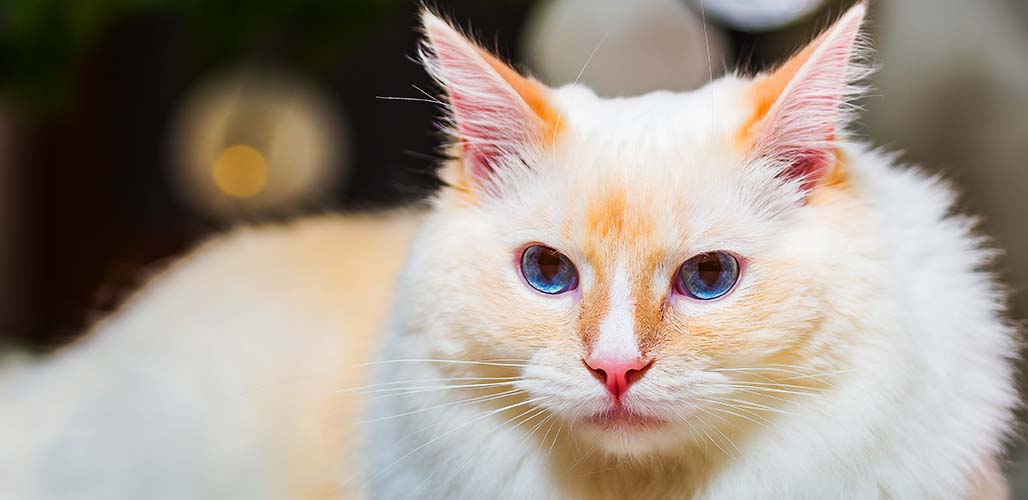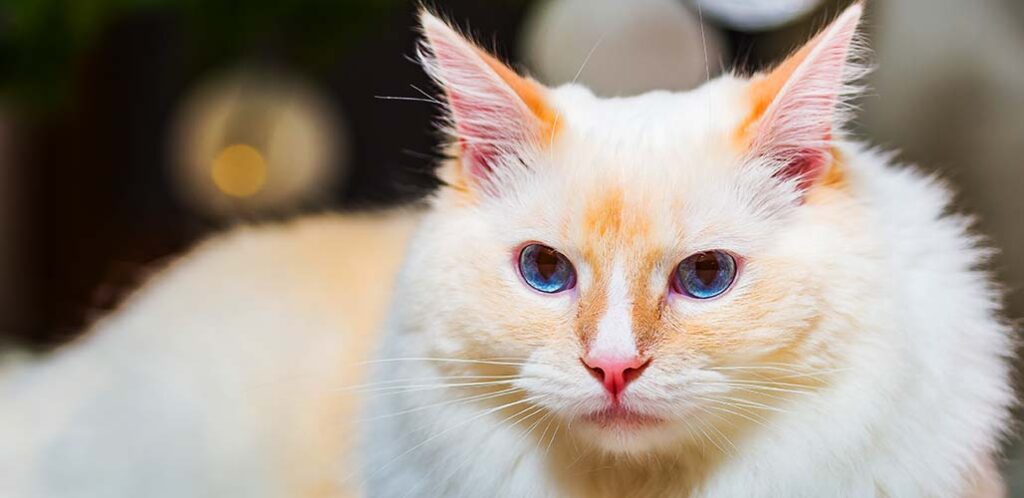 A red Ragdoll or red bicolor ragdoll appears to have red to orange points, and are also referred to as a flame point Ragdoll. This warm color scheme looks exceptionally stylish!
The flame points of a red Ragdoll are caused by the pigment pheomelanin. The gene for this pigment is unique among genes for other coat colors because it is carried on the X sex chromosome. That means that when a female red Ragdoll has kittens, her sons will always be red too.
Cream Bicolor Ragdoll
Cream colorpoint Ragdoll cats are red Ragdolls with two copies of (you've guessed it) that dilution gene. The delightfully buff-colored, cream color Ragdoll somewhat resembles a fluffy lightly toasted marshmallow!
Would you like to check out some adorable pictures of these moggies and see if you agree with this assessment? You can get started here, thanks again to the proud owners at Ragdoll Fanciers Worldwide.
Ragdoll Kitten Colors
Ragdoll kittens are born white, and fully develop their lasting colors at around two years of age. However, coloration begins to emerge early for some Ragdoll cat colors, including bicolor Ragdoll kitten colors such as blue bicolor Ragdoll kitten and seal bicolor Ragdoll kitten coloration.
If you're waiting for a litter of Ragdoll kittens to be born, or you're waiting for your tiny white kitten to grow, did you know that you can use the colors of their parents to work out the possible colors for their kittens?
You can also work roughly what proportion of the litter will have each color. But bear in mind this is based on statistical probabilities, and Mother Nature doesn't always stick to them!
Ragdoll Cat Color Chart
These Ragdoll cat color charts were prepared by Mindy Ferreira of the Ragdoll Fanciers Worldwide Club. Each table is based on one mom cat, and the colors her kittens could be if she mated with different males.
The pairs of letters (eg. BB DD, Bb Dd, bb dd) refer to the cats' genotypes. Your breeder is likely to know the genotype of the cats they breed from. The background colors of the boxes indicate the color a Ragdoll cat with that genotype will be.
As you can see, there are a lot of possible genotypes, but they all boil down to just four possible colors! And you can see there are some interesting rules too.
For example, the recipe for seal coloring is genetically very dominant. Whenever a seal colorpoint Ragdoll (male or female) has kittens, most of their litter will probably be seal colored too.
At the other end of the spectrum there's only one way to guarantee a litter of lilac colorpoint Ragdolls, and that's by mating two lilac ragdolls.
Ragdoll Cat Breeders
You should always work with a responsible breeder if you are considering bringing a purebred Ragdoll into your home.
Responsible breeders will show you health clearances for your kitten and ideally her parents. When you can, be sure to catch these adorable moggies in action to catch a glimpse of their personality, energy level, etc.
Maybe you are already the proud owner of a gracious and mild-mannered Ragdoll. We'd love to hear what you have to say on the topic of Ragdoll cat colors, and about this elegant, friendly pedigree cat in general. Let us know your thoughts about Ragdolls in the comments section below!