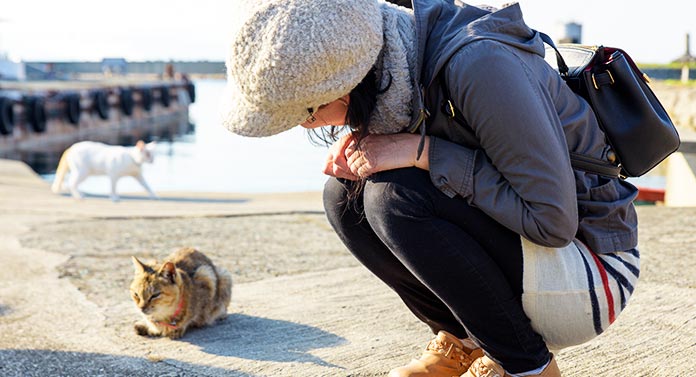 When a cute, meowing cat follows you home it's easy to assume that they have some needs that are unmet. And let's face it, those appealing feline features make their pleading calls hard to ignore. But just because a cat follows you home, doesn't mean they want help. Today I'll share some simple ways to tell whether the kitty on your doorstep needs food or shelter, or whether they are just after a bit of affection.
Contents
I live in an area that is pretty safe for outdoor cats, no predators and barely any traffic. My bold and bolshy outdoor cat follows people around our street, and is a well known fixture on the block. Begging for pets and giving elaborate head butts to everyone that greets him. Most of our neighborhood know who he is and where he lives, but occasionally he'll meet a stranger that assumes he's a stray despite his large and healthy appearance. Their well intentioned attempts to take him home have stopped by putting a tagged collar on him, but it's easy to see how so many kitties get accidentally stolen by kind hearted strangers.
You should always check that a cat is not lost or already owned before adopting it into your family, even if it follows you home.
What Does it Mean if a Cat Follows You Home?
There are a number of reasons why cats follow people home. It doesn't always mean that the cat is in danger, or in need of something. Here are some of the most common reasons why unfamiliar cats will follow someone home:
Curiosity
Hunger
Attention
Seeking shelter
Injury
It's highly unlikely that a cat who is following you down the road is injured. Animals that have been seriously hurt hide and find it hard to walk or move around. They would be very reluctant to search out a stranger for help, as it's not something a cat can conceptualise.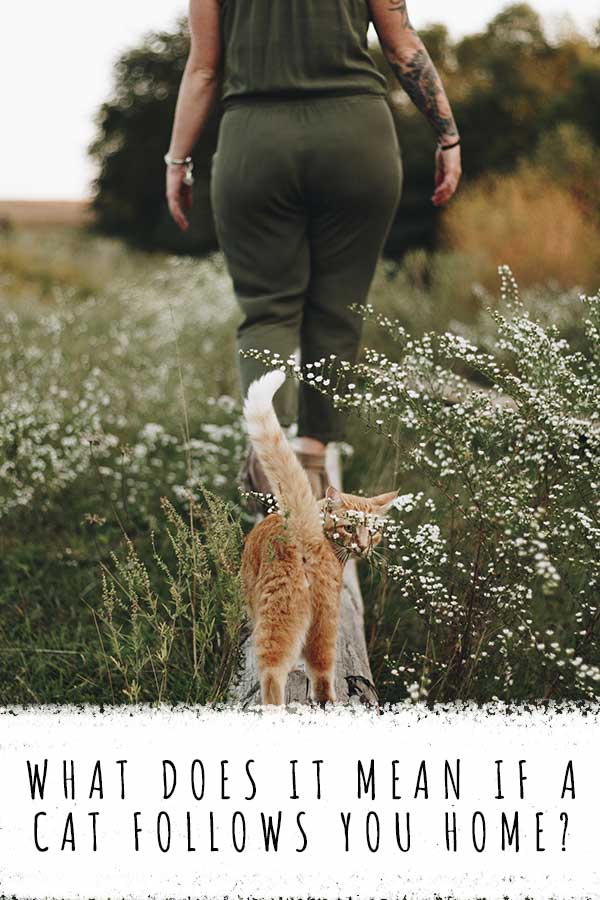 1. They're Curious About Where You're Going
Cats are naturally inquisitive. Some breeds more so than others, but all of them are known for their nosey natures. It's natural that they will want to explore what they perceive as 'their' territory.
Cats that live in your neighbourhood may follow you home to find out what you're doing and where you're going. In these instances, they likely don't need anything. They just want to see what you're up to!
A cat that follows you from a little distance back, gets distracted by other people or things usually falls into this category.
2. Hungry Cats Don't Always Need Feeding
Another reason cats might follow you is because they're hungry, or are hoping to get some food from you. If you often feed cats that follow you, they will likely return to get more food. This doesn't necessarily mean that they aren't being fed elsewhere. In fact, you can find stories online about owners whose cats were being fed by the whole neighbourhood!
If a cat looks healthy, or has a collar and tag, you shouldn't feed it when it follows you. Often these cats already have homes and regular meals. Giving them more food can lead to obesity, as owners won't know they're receiving double portions. But, you also won't know about any specific dietary needs the cat has. If they're on a certain diet for their health, feeding them different food can be quite harmful.
Unintentional Cat Theft
Food is rewarding. In fact, training using treats is now popular for dog-owners, and proven to be very effective. Likewise, if you give cats food, it's natural that they'll come back for more rewards! This can be a real headache for cat owners who discover that their cat has been begging elsewhere.
It can also be incredibly worrying and upsetting if their cat stays away from home for long periods because they're being fed regularly elsewhere. Refraining from feeding cats that follow you home is the safest way to avoid causing a loving cat parent some serious heartache.
3. They Want Some Attention
Do you like giving cats a cuddle or a pet when they follow you home? Sometimes cats will follow people home because they simply want some attention from you. Sitting around outside all day can, occasionally, get boring!
Cats that are well socialized as kittens are often very friendly, with their own family, with strangers, with anyone that will give them the time of day! And, as with curiosity, some cats are naturally more social than others. So, certain breeds will be desperate to spend time with people whenever they can.
For these cats, attention can have the same value as food. So, giving them attention will mean they keep coming back and following you when they want some more.
Cats seeking attention aren't always in need of anything else. If they look healthy, well-fed, or have a collar and tag, they likely already have a loving home. There's no harm in giving a cat some attention when they follow you. But, if they obviously already have a home, don't try to take them into yours!
4. They're Looking for Shelter
Another reason that cats might follow you home is because they're looking for shelter. Perhaps they're locked out of their own home whilst their people are away at work and the weather is bad. Or, perhaps they're a stray cat and don't have a permanent home where they can tuck themselves away.
Most stray cats know that humans lead to important things like shelter and food. So, it's natural that they'll follow you if they need one of these, especially if you give them a positive reaction.
Just because a cat is looking for shelter doesn't mean they'll want to come into your house – even if they're a stray. And, if they do try to come into your house, you shouldn't force them to stay. Especially if you think they might have a home elsewhere.
What To Do If A Cat Follows You Home?
It can be tempting to just take in and keep cats that follow you home. After all, what if they need a loving home? Try not to feed cats that follow you home if they look healthy, or they have a collar and tag. These cats most likely already have homes and can develop health issues from eating lots of extra food.
You can check local veterinarians and social media to see if the cat is being advertised as missing anywhere. If a cat looks sick, malnourished or distressed, you might choose to leave some food outside for them, or provide some shelter for them in your yard.
Most cats won't come into your home straight away, and it will take time to build some trust with them. When you have built a level of trust that allows you to hold the cat, or even get it into a cat carrier, you can take it to the vet for a general health check, and to see if it has a microchip.
If it has a microchip, you should try to reunite it with its owner. But, if not, you can look at keeping the cat.
Speak to your Veterinarian
A lost kitty may need certain injections, or even medication for health problems or parasites they've picked up.
Can You Afford To Help?
This can be pretty costly in some situations, so make sure you're fully prepared before committing to a new cat. On top of any vet bills, you'll need to ensure you have all the right products and accessories, like toys, a bed, and good quality cat food.
It's important that you don't trap cats that follow you home to try and get them to the vet. This can make them panic and cause lots of distress. Instead, take the time to build up that level of trust. If the cat won't come into your home, you can just choose to create a safe, warm shelter for them in your yard.
What Does it Mean if a Cat Follows You Home?
So, there are a number of things that can cause cats to follow you home. And, just because a cat follows you home doesn't mean that they don't already have a loving family.
If a cat generally looks healthy or has a collar, you shouldn't try to feed it or take it into your home. But, if the cat looks malnourished or distressed, you can try to work up a level of trust and take it to your local veterinarian.
Have you got any great stories about cats that like to follow you home?