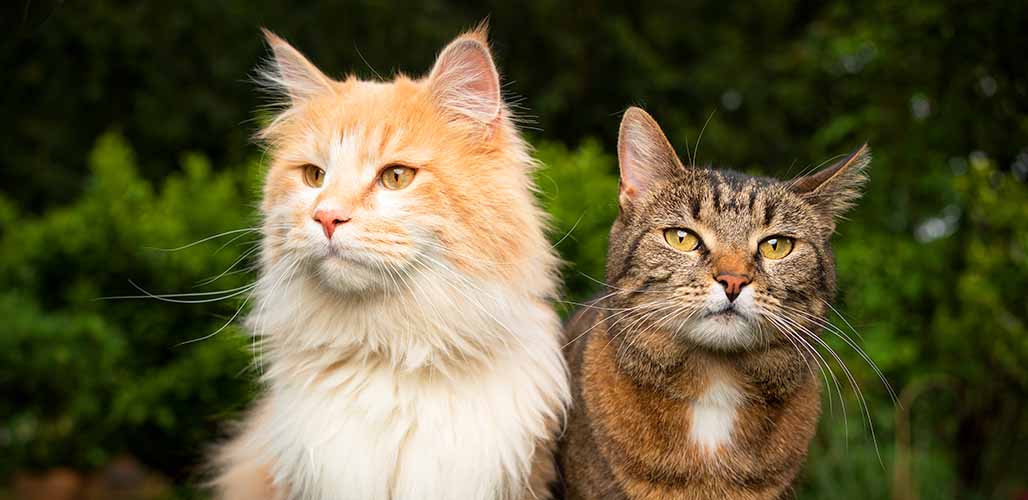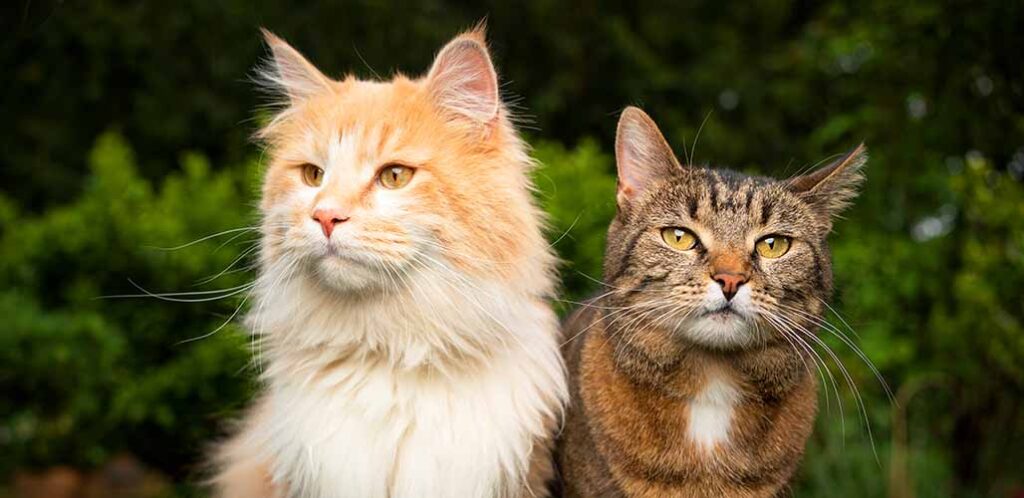 Why are Maine Coon cats so big? Is it related to survival before they were fully domesticated, or have breeders engineered their size because they like the appearance of giant cats? Well, the answer is a little bit of both. But that's not all there is to say about the size of Maine Coon cats. In this article I'll take a look at how being big helped your Maine Coon kitty's ancestors to thrive during bitter northeastern winters, and to what extent breeders have supersized them since they became popular as pets. If you're still at the research stage before committing to a Maine Coon, I'll also guide you though some practical implications of being the world's biggest pet cat too.
Contents
How big are Maine Coon cats, exactly?
The Maine Coon breed truly is a feline colossus. They are slow growing, and don't reach their full adult size until sometime between their 3rd and 5th birthday. But when they get there they can be anywhere from 10 to 16 inches tall at the shoulder when standing. And their size has a lot to do with their sex. Male Maine Coons are significantly bigger, and most tomcats weigh between 15 and 20 pounds. Females on the other hand usually weigh between 9 and 12 pounds. That's still big for a pet cat, but it represents the biggest sex difference in size for any cat breed.
Maine Coons aren't the kind of heavy that surprises you when you pick them up either (I'm looking at you, Burmese). They look imposing, from the moment you set eyes on them. Their body is broad-boned and muscular, so their bulk is invariably one of the the first things you'll notice. In fact no one can blame you for wondering how they got so big in the first place, which brings us neatly back to…
Why are Maine Coons so big?
The first thing to bear in mind here is that size is relative. Maine Coons are much bigger than, say, an Abyssinian cat. But they are only somewhat bigger than both breeds' shared wild ancestor, the African wildcat. If we regard the African wildcat as the original template for all pet cats, then Abyssinians have gotten smaller over time, and Maine Coons have gotten bigger. And the result is that Maine Coons look so much bigger than Abyssinians.
Maine Coons owe their increase in size to a combination of:
Big beginnings
Natural selection
Deliberate breeding choices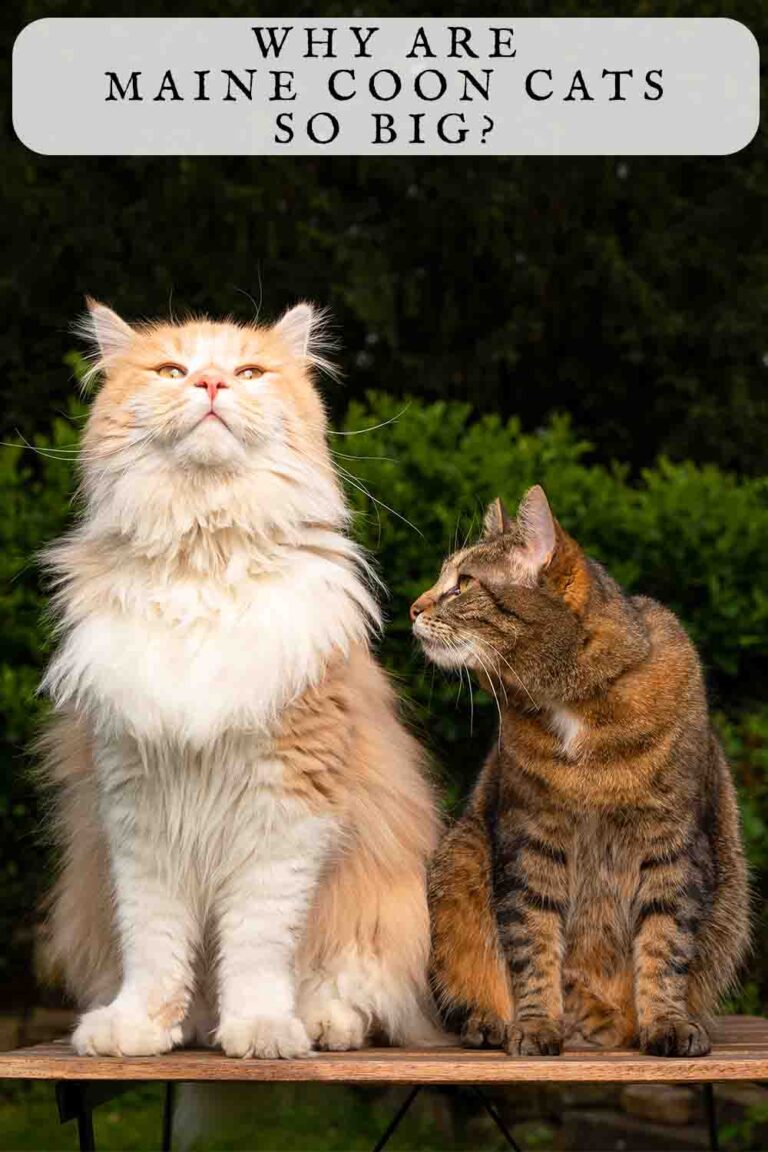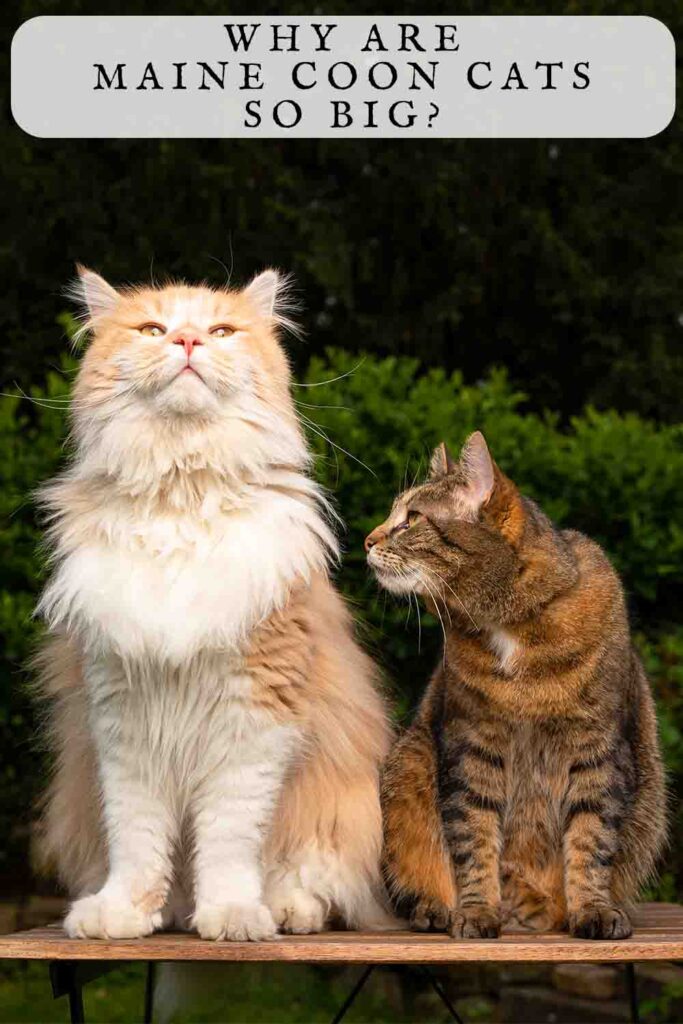 Big beginnings
The exact origins of Maine Coon cats are unknown, but they were well known in the state of Maine (for which they are named) by the mid-1800s. Most breed historians today agree that they are probably the result of crossbreeding between pre-existing American domestic shorthair cats, and longhair cats brought into Maine from overseas by visiting ships. Some of these overseas cats, for example Scandinavian cats similar to the modern Norwegian Forest cat, would have been much bigger than the existing domestic shorthairs. So the new generation of hybrids would also have been bigger than anything America had ever seen before.
Natural selection
In the 19th century it was relatively unusual to keep pet cats purely for companionship, so the early Maine Coons were a classic example of 'working cats'. Farmers would let them enjoy the sanctuary and protection of farm buildings in exchange for keeping the rat and mouse population down. Since they weren't fully domesticated at this point, some of their qualities were shaped by what the Maine Coon Cat Breed Council cheerfully call 'Mother Nature's own breeding program'.
In other words, it was survival of the fittest. Only the individuals best adapted to their environment would survive and produce a new generation of kittens, which would share their characteristics. The largest and strongest cats had a hunting advantage, and their bulk also made them better equipped to survive the bitter Maine winters. Large cats lose heat from their core more slowly than small cats, because their surface area is small relative to their overall size.
Deliberate breeding choices
By the 1860s Maine farmers were proudly showing off their giant vermin hunters at state fairs, and it wasn't long before their size, hunting prowess, and amiable nature turned them into a worldwide sensation. These days Maine Coon cats consistently appear among the top three pedigree cat breeds in America, according to registration data released by the Cat Fanciers' Association.
This means that these days breeding decisions are made by people, rather than Mother Nature and the cats themselves. Inevitably, since Maine Coon cats are famous for being big, some breeders choose which cats to breed from at least partly because they are big, and will produce large offspring. For cynical and profiteering breeders, it can even be a higher priority than producing healthy and sweet-natured kittens.
Big fluffy coats
Another reason Maine Coons look so big is because they have a long, thick, shaggy coat. Their coat contains two distinct types of fur:
A soft, dense undercoat which traps warm air next to their body, and adds to the impression of being 'bulky'.
And longer, stiffer guard hairs which protect them from rain and snow, and make their silhouette even more majestic.
Which isn't to say their size is entirely an illusion. Far from it – they are still big underneath their fur, for all the reasons you've already seen. But, their coat is undoubtedly a magnificent finishing touch!
Record breaking kitties
Maine Coon cats aren't just big, they are record-breakingly big. A Maine Coon cat in Italy called Barivel currently holds the record for being the world's longest still-living cat. He is 3 feet and 11 inches long from nose to tail tip! Before him, Ludo the Maine Coon held the title until 2018. Ludo lives in the UK and measures 3 feet and 10.5 inches from nose to tail. But neither of them can claim to be the longest cat ever, because that distinction belongs to a Maine Coon from Nevada called Stewie, who reached a gigantic 4 feet 0.5 inches long! Sadly he died back in 2013.
Interestingly, Maine Coons aren't the tallest domestic cats though. That record belongs to a Savannah from Michigan called Arcterus. When it comes to height, Savannah cats take the crown because they were originally developed by mating domestic cats to long-legged wild servals.
Are Maine Coons the heaviest cats?
This is an interesting question! They are certainly one of the heaviest cat breeds. But, these days there's no record for the world's biggest cat, according to how much their weigh. Simply because it wouldn't be ethical for a dangerously overweight cat to hold that record. And it wouldn't be straightforward to agree and implement a threshold for excluding those cats which are overweight.
Is such a large cat right for you?
It's impossible to deny that there's something thrilling about the thought of such a ginormous cat sharing your home. But before you commit to one, there are some important implications to think about.
Firstly, they're more expensive to look after than a smaller cat. They need more food, larger doses of preventative flea and worm treatments, a bigger bed to sleep in, a large-capacity litter box, and so on. All these things add up. (And speaking of their extra-large litter box, the deposits your Maine Coon leaves in it are going to be pretty monstrous too!)
And secondly, their size has been linked to an increased prevalence of hip dysplasia. Hip dysplasia is a deformity of the hip joint, which eventually leads to painful arthritis and lameness. Approximately 1 in 4 Maine Coons are affected. The bigger your Maine Coon, the more likely they are to be diagnosed, and the more severe their symptoms are likely to be.
Why are Maine Coons so big? Summary
Maine Coons are pretty huge compared to most other pet cat breeds, but only somewhat bigger than cats' original wild ancestors, the African wildcat. Their size was partly driven by natural selection before they became companion cats. Being big slowed down how quickly they lost heat from their core in cold conditions. Since they gained have popularity as pet cats, their size has also been engineered by breeders, in order to produce more desirable kittens. Choosing a kitten from a responsible breeder is important to minimize the health risks of breeding purely for size.
Is your Maine Coon a gentle giant? Tell us about them in the comments box down below!