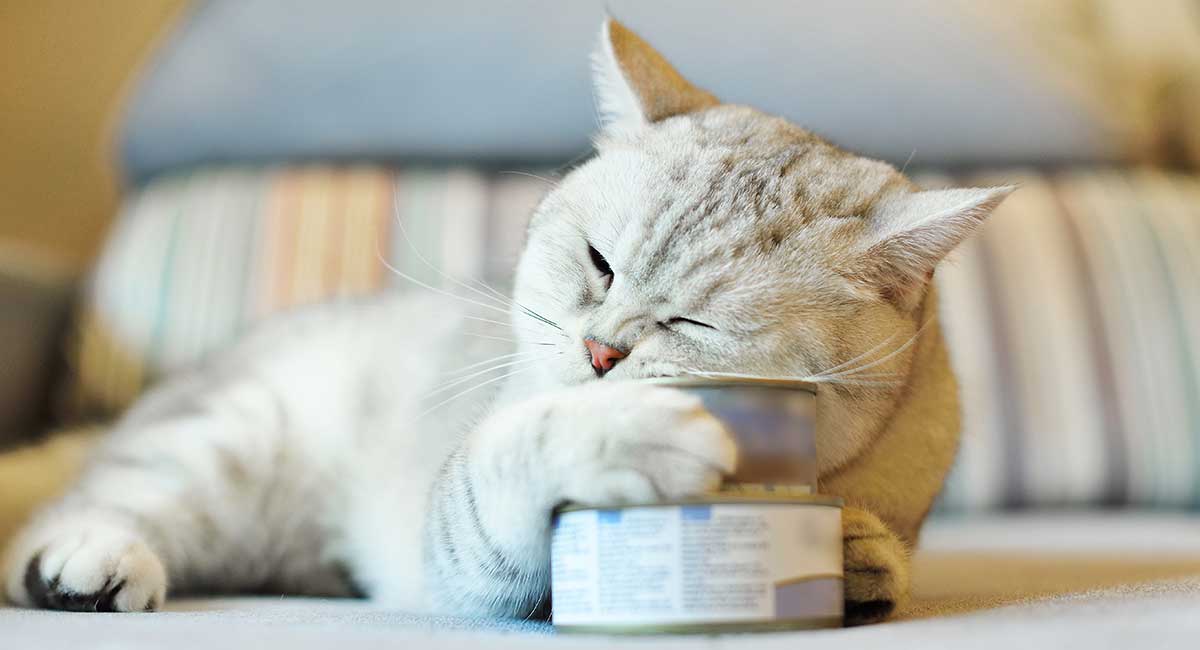 There is a huge variety of products and recipes to choose the best canned kitten food from.
Each kitten's perfect canned meal will depend upon:
their exact age and weight
whether their diet also includes dry kibble
their breed – flat faced breeds like Persians need specially shaped food which is easier for them to pick up.
So let's take a look at which canned food will be best for your new kitten.
Choosing the Best Canned Kitten Food
If you just brought an adorable fluffy kitten home for the first time – congratulations!
One of the most important choices you'll be making next is what to feed your kitten.
The amount of choice out there can be staggering. And let's be honest, a little overwhelming at times too. But that's where we come in.
Welcome to our article all about the best canned kitten food.
We'll take a look at exactly what kitten food should contain, as well as reviewing some brands which may take your fancy.
What nutrients do kittens need?
By the time you bring your kitten home at 8 weeks or older, they will be weaned off their mother's milk.
Selecting an appropriate canned food for this point in their lives is vital.
Cats needs a range of essential nutrients. Canned kitten food is formulated to provide the correct amount of each of these, for this important stage in their lives.
Let's take a quick look at some of those nutrients.
Protein
Protein helps the development of strong muscles. It also provides the building block for healthy fur, claws, tendons, ligaments, and cartilage to form correctly. Protein is also vital for the immune system, as it plays a role in the production of antibodies.
Animal protein also contains taurine, which cats need for visual and cardiovascular health.
DHA
DHA is an essential fatty acid, also known as an omega-3 fatty acid. It's required for cognitive, auditory, neural, and retinal development.
Marine fish is one of the best sources of DHA, but beware of products containing cod liver oil. This can contain high levels of Vitamin A and D, which can lead to toxicity.
Minerals & Vitamins
Minerals are vital for a wide range of body processes, including correct pH balance, and allowing your cat's body to absorb and use other nutrients.
Vitamins help your kitten grow strong and healthy. Some vitamins can be stored in your cat's body, while others pass through.
One important vitamin for cats is vitamin A, which they can't synthesise, or make, themselves.
Kittens vs Adult Cats
Kittens have different nutritional needs to adult cats, and as such, food designed for them is formulated slightly differently.
It will contain more calories, as well as higher levels of essential nutrients than is found in adult cat food.
Feeding your kitten standard adult cat food could put them at risk of developing nutritional deficiencies.
How often should you feed your kitten?
During the first 3 – 4 months of life, kittens can gain an impressive 50 – 100 grams of weight per week.
They also have high energy levels, as any of us with kittens knows only too well!
This combination means that kittens can have up to two times the energy requirements than an adult cat. This means they also need more food.
Split your kitten's food into at least four meals a day.
By doing this, you can be sure that they always have enough nutrients throughout the day to fuel both their growth, and energy!
How much should you feed your kitten?
Kittens are very good at self-regulating their food intake.
Until your kitten is 20 weeks old, you can offer your kitten as much canned kitten food as they will eat.
By 21 weeks, you can start to feed two-thirds of a can per pound body weight.
From when your kitten is 31 weeks, reduce their food intake to half a can per pound body weight.
Of course, common sense need to be applied as well. If you're feeding your kitten the recommended amount, yet they seem too fat or too thin, don't hesitate to speak to your veterinarian.
As your kitten approaches their first birthday, you can switch to a canned food designed for cats, and feed two or three times per day.
How to feed a kitten canned food
Make sure your kitten has a designated feeding zone.
Transfer your kitten's food into a bowl, and if they leave any food, remove this and either refrigerate for a short while, or throw it away.
You may decide to feed your kitten a combination of canned food, and dried kibble.
If you decide to use this approach, you can read our review of the best dry kitten foods here.
Feeding a mix of kibble and canned food can be a good idea. Kibble can help maintain oral health, as its abrasive nature can reduce the formation of plaque.
And of course, you should always provide clean drinking water for your cat.
How long should I feed canned kitten food for?
Your kitten should remain on specialty canned kitten food for the first year of their life.
Wet kitten food, which includes canned food, is gentler on a kitten's delicate digestive system.
It gives them a chance to adapt to the change as they stop being totally reliant on their mother's milk.
If you decide to start feeding dry kibble alongside canned food, you can slowly start to introduce kibble at around 4 months of age.
Advantages of canned kitten food
If you're unsure whether to feed canned food, kibble, or a combination, there are some advantages to canned kitten food.
Canned kitten food has a much higher water content than kibble. This can help to increase your kitten's water intake. And as some cats often don't drink as much as they should, many owners like feeding wet food as it helps your kitten stay hydrated.
It's also very palatable, which is good if your kitten is a fussy eater.
Choosing the best canned kitten food
What is the best canned kitten food? Unfortunately, there's never going to be a clear-cut answer to that question.
That's because like us, cats are individuals. What suits someone else's kitten may not suit yours.
It's a good idea to seek advice from your veterinarian, as well as taking some time to read about each food online before you make your choice.
For particular breeds with flat faces, such as the Persian, certain types of canned food may be easier for them to eat than others.
This is because their brachycephalic face shape means they pick up their food with their tongues in a particular way. Food with oval shaped pieces can be easier for these cats to eat. For example a canned food with meat chunks in gravy would be more suitable for them than a solid pate.
How to Decide
With any canned kitten food that makes it onto your shortlist, take a look at the can.
You'll want to see either "meets the nutritional requirements of kittens established by the American Association of Feed Control Officials (AAFCO)" or "complete and balanced nutrition". This shows that the feed has been approved by the AAFCO, who regulate quality control in pet food.
The life stage that the food is suitable for is also listed on some brands, and for kitten food, this will be the 'growth' stage.
Canned kitten food reviews
You can learn a lot about each different type of canned kitten food by reading reviews online.
Some of the best canned kitten food reviews include plenty of information from other customers, which can help inform your decision about whether to purchase it or not.
Best canned kitten food brands
There are so many different brands of canned kitten food out there, it can be hard to know where to start.
We've rounded up some of the best choices, to help you make your decision.
First, we have a range of excellent options suitable for many kittens. We've also looked at some specialty ranges, including grain free.
The Hill's brand is well known for providing a range of expertly formulated cat foods for a range of life stages and health conditions.
Hill's Science Wet Food
Hill's Science Diet Wet Kitten Food uses a blend of high quality ingredients to make sure that your kitten receives the correct levels of key proteins and nutrients.
It uses high quality protein, mixed with a tasty gravy, to help to build lean muscle. Minerals help to build strong bones and teeth, essential at this vital stage on your cat's development.
This food is available in a range of flavors, including chicken dinner, savory salmon, and turkey entrée. This means you can offer your kitten a variety of choices.
Healthy Cuisine Kitten Food
Another option from Hill's Science Diet, the Healthy Cuisine canned kitten food contains a medley of chicken and rice.
Designed to appeal to kittens who enjoy variety in their meals.
The roasted chicken and rice is combined with carrots, all mixed into a tasty sauce.
And of course, this premium kitten food doesn't contain any artificial flavors or preservatives.
The precise nutrition is designed to support the development of your growing kitten.
Healthy Gourmet Pate Food
This pate style canned kitten food uses a base of chicken to provide a high level of protein.
A combination of healthy vegetables, and antioxidant rich fruits are added to provide all the nutrients your kitten needs to grow healthy and strong.
No chicken by-products are used, meaning you can be sure of a quality source of protein. This option also doesn't contain any corn, wheat, or soy.
Purina Fancy Feast
As Amazon's Choice for kitten food, it's impossible to conduct a review without including this option by Purina.
The pate style texture of this canned kitten food is designed to be soft and palatable for little kittens, and their delicate digestive systems.
In addition to real meat, it includes a blend of essential vitamins and minerals, and a small amount of milk. All designed to perfectly meet the needs of your growing kitten.
Royan Canin Babycat Instinctive
If you're looking for a canned kitten food which is specifically designed to support your kitten from weaning up to 4 months, then the Babycat Instinctive from Royal Canin is a perfect choice.
This blend is designed to help transition kittens from their mother's milk onto solid food, while helping to support and encourage their natural defenses.
The soft, mousse-like texture helps is appealing to kittens, as well as including all the nutrients they require.
Grain free canned kitten food
This canned kitten food from Whole Earth Farms uses high-quality, all natural ingredients.
With the first listed ingredient being protein from real chicken, you can be confident that this is a quality option for your kitten.
Grain Free Kitten Food
This grain free canned kitten food uses a blend of cage-free chicken, vegetables, fruits, and nuts to provide a high level of protein.
The texture is designed to appeal to fussy eaters.
There are no ingredients in this canned kitten food which are likely to trigger food sensitivities.
It's free from grain, potato, wheat, meat by-products, artificial colors, and preservatives.
Whole Hearted Grain Free Food
This grain free canned kitten food from the brand WholeHearted contains tuna as the first ingredient.
This is combined with chicken to provide an excellent level of protein.
In addition, it doesn't contain any by-products, artificial colors, corn, soy, or wheat.
What is does contain is omega-3 fatty acids, which your kitten needs to develop a healthy skin and coat.
Wilderness Grain Free
This grain free option is inspired by the diet of the lynx, this high-protein food is designed to meet the needs of your growing kitten.
It's also an excellent alternative to feeding a raw diet, which can require supplementation in order to be nutritionally balanced.
Choosing the best canned kitten food for your kitten
Once you've done your research and selected a brand of canned kitten food, it's time for the real test. If your kitten loves it and is thriving, that's great!
In the event that they seem be leaving their food, or not putting on as much weight as you expect, it might be time for a re-think.
If you have any advice for new kitten owners out there, please let us know.
Perhaps you have a favorite food which seems to suit a range of kittens, or have advice on how to feed kittens a combination of both canned food and kibble.
We'd love to hear from you!
Other Cat Food Advice
Whether you're looking for something to feed your cat as it gets older, or need something for a kitty with a sensitive stomach, we've got more food guides that can help you.
Take a look at some of them below for more inspiration on the best food for your cat.
References and Resources
Kerby, V. Starting strong: puppy and kitten nutrition. Today's Veterinary Nurse.
Fontaine, E. (2012) Food intake and nutrition during pregnancy, lactation and weaning in the dam and offspring. Reproduction in Domestic Animals.
Sanderson, S. Nutritional requirements and related diseases of small animals. Merck Veterinary Manual.
Mata, F. (2015). The choice of diet affects the oral health of the domestic cat. Animals.
Ackerman, N. (2013). Nutritional needs: are life-stage and breed diets fact or fiction? Vet Times.