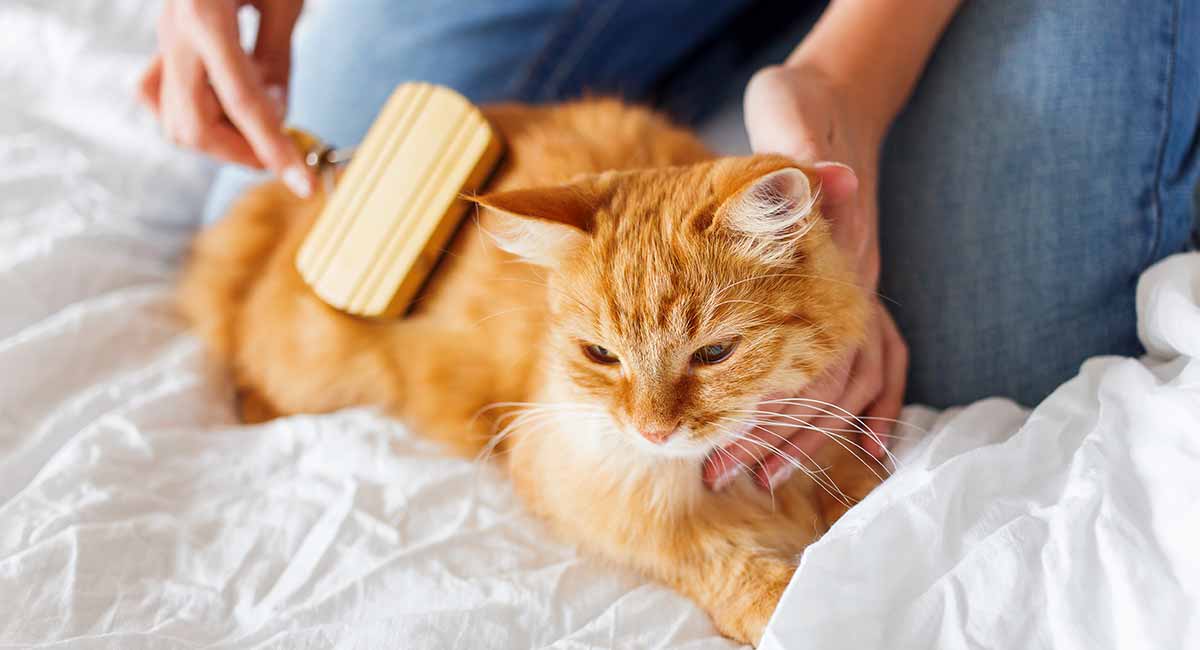 The best cat brush combines ease of use with design features that complement your cat's coat.
Cat brushes of different shapes can remove shed hair before it becomes hairballs, and give fur a glossy shine.
Telling them apart and choosing the right one makes grooming quick and easy.
Luckily, we've put together this guide to help you do that.
Choosing the Best Cat Brush
Welcome to our guide to choosing the best cat brush for your precious kitty.
Selecting just the right cat brush is critical to your cat's skin and coat health, and comfort.
If you are new to cat ownership, you may be wondering how to choose the right cat brush for your cat's breed and coat type.
Will just one cat fur brush be enough?
Are there different types of cat grooming brush tools for different issues, such as de-tangling, de-matting and smoothing?
These are all great questions. Find out those answers, plus tips about how to groom your cat with a cat brush and our top picks for the best cat brush.
Match Your Cat's Coat Type to the Right Cat Hair Brush
To successfully match your cat's unique coat type to the right cat hair brush, you need to know four basic facts:
Coat type
Length of coat
Texture of coat
Shedding frequency and quantity
Coat Type
There are four basic types of cat hair:
Awn hair
Down hair
Guard hair
Whiskers
The Difference Between Coat Types
Cats can have a hairless coat, a single-layer coat, a double-layer coat or even a triple-layer coat.
Hairless cats typically only grow very fine down hair that is often easier to feel than see.
Single-coated cats only have guard hair—they lack the insulating undercoat.
Double-coated cats are the most common feline coat type. These cats have down hair closest to the skin and guard hair that serves as a protective outer layer.
Triple-coated cats have all three coat hairs: down, awn and guard hair.
All cats have whiskers, which are really more like a sensory organ than a type of hair in how they function.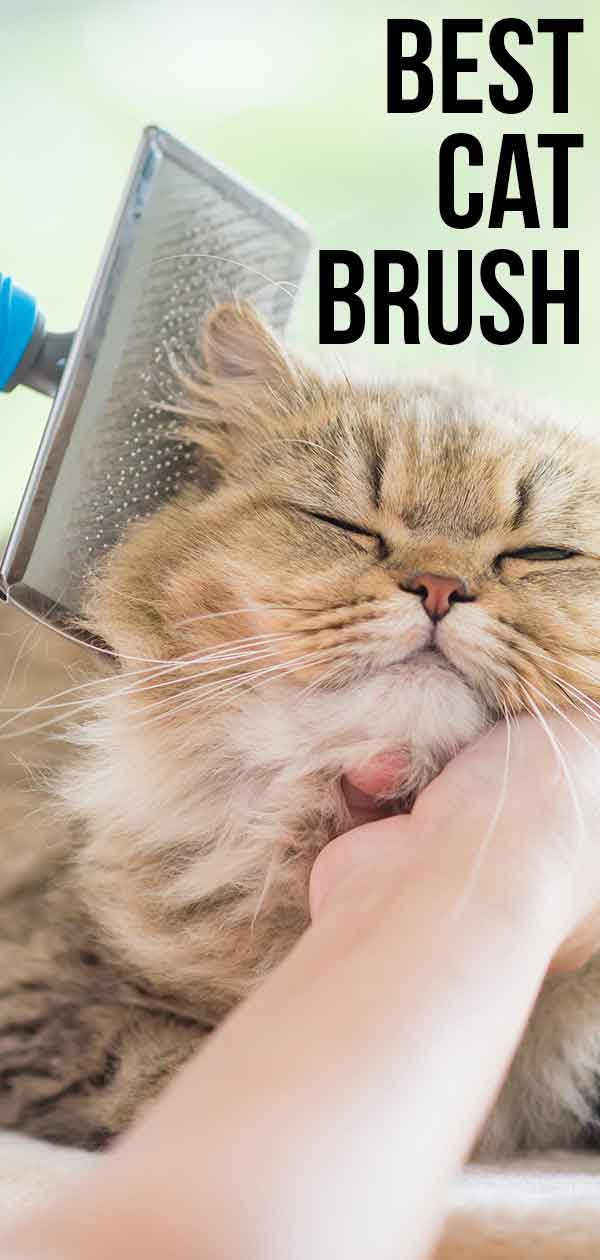 Coat Length
According to the Cat Fanciers Association (CFA), for coated cats, there are two basic coat lengths: short and long.
Short hair cats typically have hair that is 1.5 inches or shorter.
If your cat's coat is between two and five inches, this technically falls into the long-hair category.
There isn't a specific term to describe a cat with a medium-length coat, and this coat length isn't always easy to determine.
But if your cat's coat doesn't look truly short but doesn't look truly long, it is probably medium length.
Hairless Cats
There is also a third hair type, which is hairless.
These cats aren't technically hairless, but the hair they do have is thin, fine and short. It is often easier to feel than to see.
Hairless cats also have whiskers.
Coat Texture
A cat's coat texture can be fine or coarse, straight or curly.
Single-coated cats are more likely to have fine, delicate hair that is described as "hair" rather than "fur."
Double-coated and triple-coated cats are more likely to have thicker, coarser hair that is described as "fur" rather than "hair."
Curly coats in cats is determined by a genetic mutation.
These coats tend to be longer and range from wavy to curly. The hair often feels more coarse to the touch.
Shedding
Different cat breeds can shed differently.
Some cat breeds shed moderately. Others shed quite heavily at times or all year long.
Hairless cats, single-coated cats and curly-coated cats are most likely to be non-shedding or low-shedding.
Double-coated cats and triple-coated cats generally shed moderately year-round.
You may notice a seasonal heavy shed called a "coat blow" once or twice annually.
Non-Shedding Coats
While some cat breeds won't shed visibly, just because you don't see shed hair falling out doesn't mean your cat isn't shedding.
The true definition of a "non-shedding" coat means the surrounding fur catches and traps shed, dead hair to prevent it from falling out.
You always need to be on guard against tangles and mats in cats with non-shedding coats.
Special Cat Grooming Issues: Hairballs and Tangles/Mats
While selecting the best cat brush for your kitty, stay mindful of two special cat grooming issues the right cat brush can help to alleviate.
Hairballs
Even people who don't own cats are typically familiar with hairballs.
When cats lick themselves, which they do continually as a form of self-grooming, they ingest small amounts of their own hair.
And since what goes in has to come back out, this eventually results in your cat hacking and coughing until—presto. Hairball.
Your choice of cat brush can help remove this dead, shed fur before your cat ingests it.
Grooming won't ever completely prevent your cat from licking and swallowing his own fur.
However, it can greatly reduce the quantity, which is safer for your cat's health.
Tangles and Mats
If you own a hairless or short hair cat, chances are good your hands-on experience with tangles and mats is minimal.
But let's say your feline has long hair, or has a cat hair type that is more like human hair than fur.
You are probably already keen to finding the best cat hair brush to help keep tangles and mats from forming.
Once a tangle has started to develop, proceed with great care to work it out without tugging or pulling on your cat's sensitive skin.
Spritzing on some de-tangler spray helps here.
If you can't work out the tangle or mat without causing your cat discomfort, simply cut the mat out using grooming scissors or cat clippers.
Cat Grooming: A Quick Overview
Brushing your cat's coat:
stimulates the skin
helps distribute natural beneficial skin oils
aids circulation
removes shed hair
works out tangles and mats
leaves your cat looking and feeling great.
It's Not Just the Coat!
There are other essential grooming needs your cat may need your help to attend to.
Talk with your cat's veterinarian about the right frequency and method for the following:
Inspecting and cleaning ears, teeth and paws
Trimming the nails
Examining and cleaning the eyes and skin
Bathing
Don't feel comfortable doing these things yourself?
Consider bringing your cat to your veterinarian or a professional groomer to receive these important services as needed.
Best Cat Slicker Brush
The best cat slicker brush is gentle on your cat's skin and coat, easy for you to grip and use, and simple to clean after a grooming session.
Safari Slicker Brush
This popular and highly rated cat slicker brush by Safari has a concave base to follow the contours of your cat's body while you brush.
The stainless steel tines feature round-tip ends for skin comfort and safety.
Best of all, a one-button self-cleaning feature sends all that trapped hair right into the trash can.
Four Paws Slicker Brush
This slicker brush by Four Paws is gentle enough to use on a kitten and features a durable wooden handle for your comfort while you brush.
If your kitty has sensitive skin and a fine hair coat, this may be the perfect slicker brush for you.
JW Pets Round Slicker Brush
For smaller cats and kittens, this round soft slicker brush by JW Pets is a great choice to navigate even close areas easily.
The non-slip handle is ergonomic for your comfort and is a great choice to control shedding.
Best Short Hair Cat Brush
The best cat brush for short hair focuses on de-shedding and smoothing your cat's short coat.
Furminator Rake
The Furminator de-shedding rake is designed for short-hair cats with thick, dense, double or triple-layer coats.
The single-press eject button makes cleaning the rake fast and easy. There is also a long hair cat model.
Hartz De-Shedding Tool
This unusual de-shedding tool by Hartz is designed with the year-round shedding cat in mind.
It features layers of micro-combs that are softer on your cat's skin and effective at removing dead, shed hair.
CELEMOON Silicone Brush
This soft silicone grooming tool by CELEMOON has a non-slip grip for you and soft, massaging silicone bristles for your cat's comfort.
It traps shed, dead hair and debris. It also lifts them away while smoothing your cat's coat.
Best Long Hair Cat Brush
The best long hair cat brush often isn't a brush at all but a grooming comb.
You need a tool that helps to separate out long, fine individual hairs without the risk of inadvertently tugging or pulling on your cat's hair and skin.
Safari Comb
This stainless steel comb by Safari features a double-layer of tines to reach down to the skin for a soothing massage.
It also combs out tangles, mats and shed hair. The ergonomic wood handle is contoured for your comfort.
Andis Comb
This 2 Inch Steel Combo by Andis is a different version of a double-tined comb.
It features closer-set tines at one end and wider-set tines at the other end for grooming different size surface areas on your cat's body.
Combo Comb
This is yet another combing option, giving you two comb sizes to work on your cat's body and extremities with gentleness and ease.
Best Cat Brush Glove
The best cat brush glove makes it easy for you to brush and groom your cat without causing any stress.
A cat brush glove is often the best way to introduce your kitty to being brushed; the glove feels more like petting than brushing.
Upgrade Version Grooming Gloves
This pair of cat grooming gloves by Upgrade Version is designed to fit a variety of hand shapes and sizes.
It also has elastic spandex material and an adjustable Velcro wrist strap.
The glove material is breathable quick-drying mesh.
The inside of the glove is outfitted with short silicone rounded tips that collect shed, dead hair.
It gives a skin massage as you move your hands over your cat's body.
Winning Gloves
This pair of grooming gloves by Winning comes in five sizes (Junior, S, M, L, XL).
They are designed to be used for bathing as well as dry brushing and grooming.
The manufacturer provides a handy sizing guide with fit instructions.
HIG Gloves
This set of two different grooming gloves by HIG gives you two options to see what works best for your cat's bathing, brushing and de-shedding needs.
One glove is a true five-finger glove while the other is a grooming mitt (like a mitten).
Both are made from soft, quick-drying mesh and neoprene soft rounded bristles.
Best Cat Grooming Brush
The best cat grooming brush is one that can pull double duty, such as with these multi-purpose brushes and brush sets.
HaloVa Pin and Bristle Brush
This sturdy, durable, and attractive pin and bristle brush by HaloVa features a sustainable and ergonomic bamboo handle and base.
One side has a nylon bristle brush, and the other side has round-tip pins. The center is vented for use during styling.
Friends Forever Two in One Brush
This neat two-in-one kit by friends forever gives you three grooming options:
De-shedding rake for removing dead hair
Pin and bristle brush for de-matting and smoothing
Change out the brush type with a click of the button on the handle.
Poodle Plush Combo Brush
This unique rectangular brush by Poodle Plush features a two-sided head: one side has rounded pins to work out tangles, and remove debris and shed hair.
The other has soft bristles to add shine.
For cats with curly or thick coats in particular, this may be just the right brush for the job.
Best Cat Brush for Self-Grooming
Some of you may have a kitty who is particularly shy or just doesn't like to be brushed and groomed.
The perfect solution could be one of these innovative self-grooming tools.
AikoPets Grooming Brush
This cat grooming brush by AikoPets looks like a cat toy.
It is mounted on a soft, comfy carpeted base.
It is curved to let your cat arch up against it and scratch as desired to remove dead, shed hair and massage the skin.
Catit Self Grooming Toy
This creative corner-mount self-grooming toy by Catit comes with a packet of free Canadian catnip to help lure your cat to give it a try.
Mounting options include screws or self-adhesive strips.
U-Shaped Brush
This U-shaped cat grooming brush is made to fit into the entryway of your cat's litter box to provide a nice massaging brush.
As a perk, it can also help to remove clinging cat litter particles.
Breed-Specific Grooming Products
There are some great options in this article for every type of cat. But perhaps you want something that will suit your specific kitty.
Take a look at some of our guides below for even more options.
These will help you find the perfect choice for your breed!
Best Cat Brush
We hope you have enjoyed learning more about your cat's coat and grooming needs.
If you have specific questions about what cat brush to use or how often to brush your cat, be sure to reach out to your cat's veterinarian.
Or, talk to your professional groomer for guidance.
Are you caring for a hairless, short hair or long hair cat? Do you have a favorite cat brush that your kitty and you both love?
Please post your stories and favorite cat grooming tools in the comment section below.
We love to learn from our readers.
References and Further Reading:
"Cat Grooming Tips," ASPCA
Hunter, T., "Coat and Skin Appearance in the Healthy Cat," VCA Animal Hospital
"In Between—The Medium Hair," 2012, The Finical Feline Groomer
Jacobberger, P., "Coats and Colors: How Does the Description Work?," The Cat Fanciers Association
Schmitt, K.A., 2018, "There's No Such Thing as a Hypoallergenic Cat," The Smithsonian
Vanhorn, B., 2017, "Veterinary Guide to Animal Breeds," John Wiley & Sons