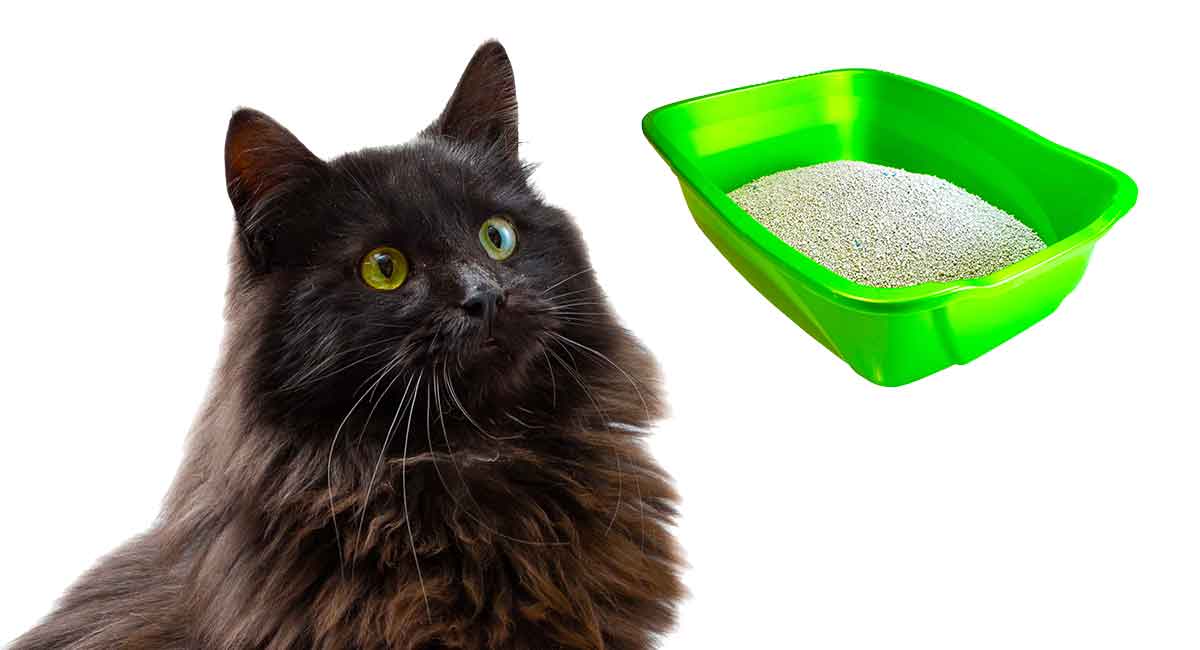 Long haired cats are totally gorgeous, but they do have their downsides. And it's not just the fur balls! If your kitty uses a litter box, then their luscious locks are at some point going to get poop stuck around their butt or back legs. However, I've found that using specially designed cat litter can really reduce this gross problem, and keep your kitty's coat fresh. The best cat litter for long haired cats is one that won't stick to their fur, but still holds in the smell of their waste and there are several that do that job.
Contents
Cats are quite fastidious by nature, and so it just makes sense that your long haired cat may be reluctant to do her business in a place where she can't avoid wearing it afterwards! Even if your cat hasn't started to avoid the litter box because of this issue, it is likely just a matter of time. The right litter can also help your cat's health.
Staying Clean Keeps Cats Healthy
While it may not seem intuitive at first, using the best cat litter for long haired cats is actually essential to keep your long haired cat healthy!
Many long haired cats can get very distressed by the lack of a suitable litter box. This chronic stress and anxiety, can quickly turn toxic. This is especially true when you then get out the shears and your cat feels punished for something she can't control.
The mats caused by trapped poop and litter can abrade and irritate your cat's skin, opening the door for bacterial infections and worse.
Fecal mats, or pseudocoprostasis, can also lead to impaction of the colon. A blockage that can prevent your long haired cat from eliminating solid waste. There are so many awful health conditions that can arise from fecal mats that all we can say is to make sure you don't let this situation get out of control!
Clipping back the hair around the perianal area is an excellent preventative strategy to keep both you and your cat from ever having to experience pseudocoprostasis. If your kitty has lots of hair on the legs, feet or around the toes, you may want to clip this hair as well to make using the litter box a safer and more all-around hygienic experience.
What Is The Best Cat Litter For Long Haired Cats?
Cats are quite fussy when it comes to where to do their business. And what might make one kitty content could cause another to do a dirty protest. There are however some good rules of thumb are that cats tend to prefer:
Clumping litter
Finer grains
Unscented litter
Thinner layers of substrate
However, your cat's favorite litter to poop and pee in might not be the best one for your needs. Smell, mess and even allergy relief all enter into an owners decision too. That's why I'll share a shortlist of my top brands with a range of different litter types.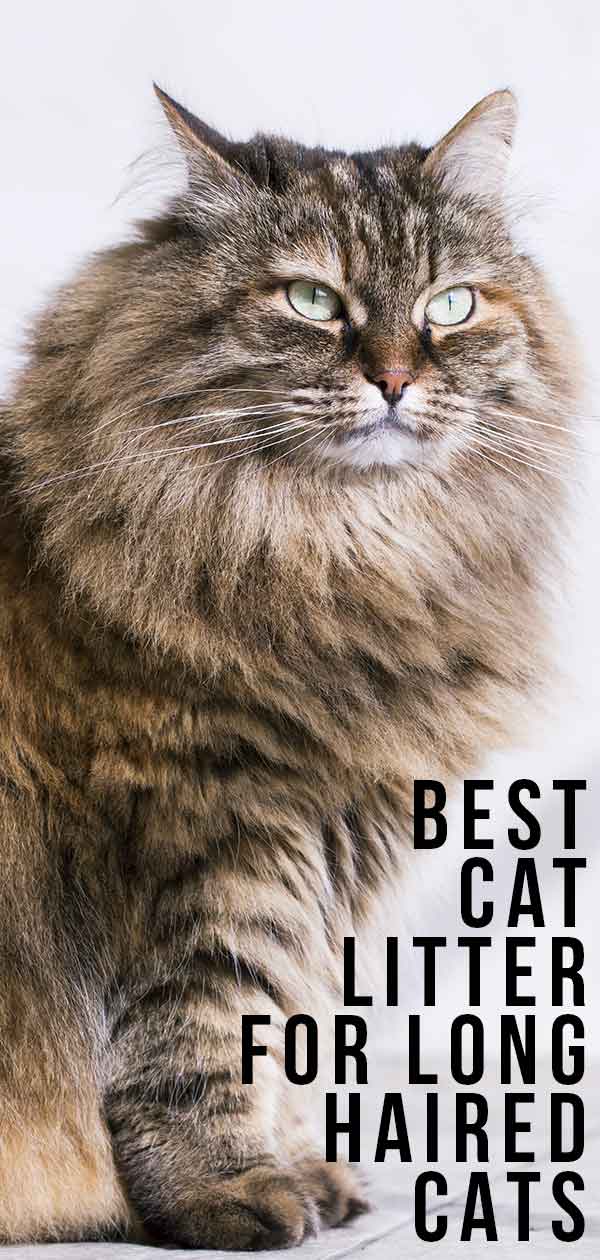 Best Non-Clumping Litter
Cat owners differ in their opinions about whether non-clumping or clumping is the best cat litter for long haired cats. For the ultimate tie-breaker, of course, you need to try out each type of cat litter with your cat! This will help you figure out in short order which type of litter your cat prefers.
Dr. Elsey's Precious Cat
This silica-based crystal non-clumping cat litter*(paid link) is infused with an herbal attractant to encourage your cat to use the litter box. The litter is biodegradable, hypoallergenic, low tracking, and low dust. It also keeps the stench at bay really well.
If your cat has respiratory issues, there is a special version you may want to try called Precious Cat Respiratory Relief Gel Cat Litter.*(paid link)
Ultrapet Ultra Micro Crystals
This non clumping crystal cat litter*(paid link) is low dust and very soft to walk across. It offers superior odor control and quickly absorbs liquid waste. There is also a Micro Beads (Pearls) option with the same benefits.
Nature's Miracle Just for Cats
This non clumping crystal litter offers strong odor control with minimal dust*(paid link) in an easy clean formula that is made to not stick to the litter box or your cat's paws. It works well for automatic (self cleaning) as well as regular litter boxes. If crystal cat litter is what you're after, we have a whole article dedicated to it!
CatSpot 100% Coconut Cat Litter
This unique non clumping cat litter*(paid link) is made from coconut husks is all-natural and lightweight. It is designed to be hypoallergenic, dust free, and fragrance free so even cats with allergies can use it safely. Best of all, it is compostable after 15 days of use!
Best Clumping Cat Litter
Clay clumping litter can be problematic for long haired cats, since it can harden to a plaster-like consistency if it dries on your cat's long hair. However, many cats prefer it.
Healthy Pet Okocat Natural Wood Litter
Okocat makes a wood-based clumping litter*(paid link) that is specifically designed for use with long haired cats. It is biodegradable and flushable (if your area permits flushing cat litter). You only need to pour in 3 inches of litter to get the 7-day odor control and 500% absorbency.
Wheat Scoop Fast-Clumping Litter
While there is no doubt this wheat-based clumping cat litter*(paid link) will not clump as well as clay-based litter, it also won't cause a grooming or pooping emergency if it gets onto your long haired cat's fur. Think of it as a win-win middle ground.
World's Best Cat Litter Clumping Formula
This clumping cat litter is made from whole kernel corn*(paid link). It is biodegradable and flushable and does a good job overall of clumping.
SmartCat All Natural Clumping Litter
SmartCat is a grass-based litter*(paid link) that offers a safer, healthier alternative to clay litters for long haired cats. An added benefit is that this litter is fragrance and dye free and offers both odor and dust control. It is very lightweight and clumps well.
Nature's Miracle Cats Corn Cob
This clumping cat litter*(paid link) can be used in self-cleaning (automatic) or regular litter boxes. It's lightweight and sticks together thoroughly.
Best Cat Litter for Long Haired Cats
The best kitty litter is one that doesn't cause your cat's feces to mat into their fur.
Are you on the hunt for the best cat litter for long haired cats? Do you have a current favorite? Why not share your thoughts!
Affiliate link disclosure: Links in this article marked with an * are affiliate links, and we may receive a small commission if you purchase these products. However, we selected them for inclusion independently, and all of the views expressed in this article are our own.