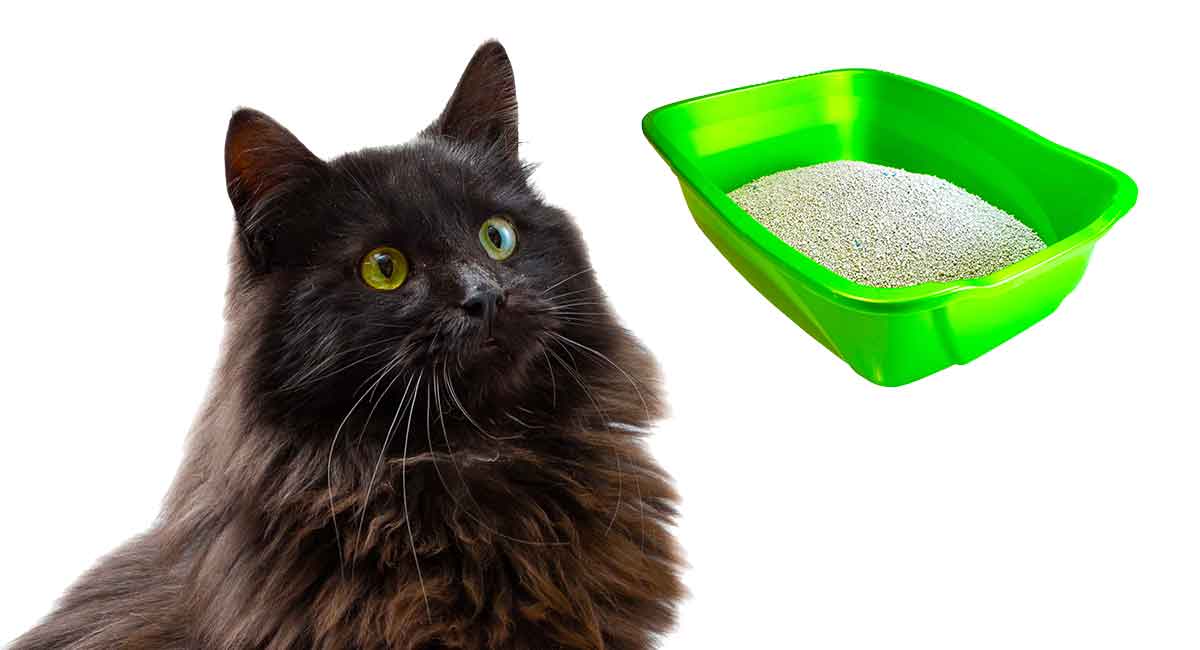 If you have arrived here because you are searching for recommendations for the best cat litter for long haired cats, we are excited to share some great products with you in this informative article!
No matter how much you love your cat, going through litter box issues can be really frustrating.
One of the most distressing and distasteful problems many cat owners face, to put it bluntly, is how to keep poop off of long haired cats' hind quarters and fur.
We are going to talk about this issue in detail and also offer specific litter recommendations that can help keep your kitty's fur clean.
Learn what feline behavior experts and veterinarians have to say about the best kitty litter for long haired cats!
All of these products were carefully and independently selected by The Happy Cat Site team. If you decide to make a purchase from one of the links marked by an asterisk, we may earn a small commission on that sale. This is at no extra cost to you.
Why do long haired cats need long hair cat litter?
All delicacy aside, one of the main reasons long haired cats need long hair cat litter is because of poop.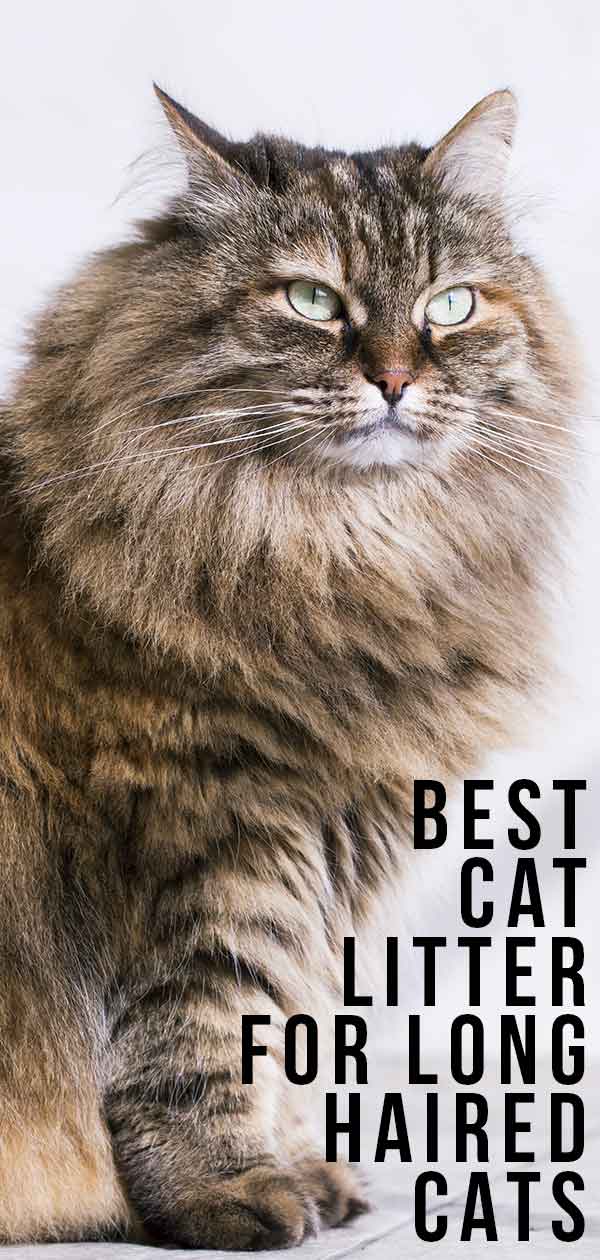 Specifically, when long haired cats poop, fur can get matted with their own poop!
Cats are quite fastidious by nature, and so it just makes sense that your long haired cat may be reluctant to do her business in a place where she can't avoid wearing it afterwards!
Even if your cat hasn't started to avoid the litter box because of this issue, it is likely just a matter of time.
There are also other health concerns at stake here that choosing the best cat litter for long haired cats can help avoid.
Cat litter and your long haired cat's health
While it may not seem intuitive at first, using the best cat litter for long haired cats is actually essential to keep your long haired cat healthy!
Eases chronic stress & anxiety
Many long haired cats can get very distressed by the lack of a suitable litter box.
This chronic stress and anxiety, compounded by your chronic stress and anxiety about the same issue, can quickly turn toxic.
This is especially true when you then get out the shears and soap (or drop your kitty off at the groomer) and your cat feels punished for something she can't control.
Prevents skin irritation & possibly death
The mats caused by trapped poop and litter can abrade and irritate your cat's skin, opening the door for bacterial infections and worse.
For severe mats, often the only option is a severe clip or shaving, which can nick or cut the skin.
Of course, if the mats are not removed, this can cause sepsis and eventually become fatal.
Avoids pseudocoprostasis
Fecal mats, or pseudocoprostasis, can lead to impaction of the colon and blockage that can prevent your long haired cat from eliminating solid waste.
There are so many awful health conditions that can arise from fecal mats that all we can say is to make sure you don't let this situation get out of control!
Clipping back the hair around the perianal area (hind quarters, under the tail, and around the private areas) is an excellent preventative strategy to keep both you and your cat from ever having to experience pseudocoprostasis.
If your kitty has lots of hair on the legs, feet or around the toes, you may want to clip this hair as well to make using the litter box a safer and more all-around hygienic experience.
It is also always wise to talk with your feline veterinarian if you have specific concerns about using cat litter with your long haired cat!
Choosing cat litter for long haired cats
Feline behaviorists continue to study cats' unique relationship to their litter box.
The more research they do, the more they learn about general cat preferences!
These preferences summarize major research findings to date.
Some findings hold true for cats regardless of hair length while others are specific to the best cat litter for long haired cats.
Cats tend to prefer clumping litter over non-clumping litter.
Cats appear to prefer finer-grained litter versus a coarse litter.
Unscented litter may be preferable to scented litter.
Cats prefer a litter box size that is at least longer and wider than their body.
Long haired cats sometimes prefer the feel of a smooth surface under their paws.
Long haired cats prefer a thinner layer of litter on the floor of the litter box.
Best cat litter for long haired cats – non-clumping
Cat owners differ in their opinions about whether non-clumping or clumping is the best cat litter for long haired cats.
For the ultimate tie-breaker, of course, you need to try out each type of cat litter with your cat! This will help you figure out in short order which type of litter your cat prefers.
Precious Cat Dr. Elsey's Long Haired Cat Litter
This silica-based crystal non-clumping cat litter* is infused with an herbal attractant to encourage your cat to use the litter box. The litter is biodegradable, hypoallergenic, low tracking, and low dust.
Long haired cat owners say their cats prefer it to other litters and that it offers remarkable odor control.
If your cat has respiratory issues, there is a special version you may want to try called Precious Cat Respiratory Relief Gel Cat Litter.*
Ultrapet Ultra Micro Crystals Cat Litter
This non clumping crystal cat litter* is low dust and very soft to walk across.
It offers superior odor control and quickly absorbs liquid waste.
There is also a Micro Beads (Pearls) option with the same benefits.
Nature's Miracle Just for Cats Easy Care Crystal Litter
This non clumping crystal litter offers strong odor control with minimal dust* in an easy clean formula that is made to not stick to the litter box or your cat's paws.
Cat owners say this litter works well for automatic (self cleaning) as well as regular litter boxes. If crystal cat litter is what you're after, we have a whole article dedicated to it!
CatSpot 100% Coconut Cat Litter
This unique non clumping cat litter* is made from coconut husks is all-natural and lightweight.
It is designed to be hypoallergenic, dust free, and fragrance free so even cats with allergies can use it safely.
Best of all, it is compostable after 15 days of use!
Best cat litter for long haired cats – clumping
Clay clumping litter can be problematic for long haired cats, since it can harden to a plaster-like consistency if it dries on your cat's long hair.
However, many cats (and many cat owners) prefer clumping cat litter.
So what to do? Try out one of these alternatives for the best cat litter for long haired cats who prefer clumping to non-clumping litter!
Healthy Pet Okocat Natural Wood Litter
Okocat makes a wood-based clumping litter* that is specifically designed for use with long haired cats.
It is biodegradable and flushable (if your area permits flushing cat litter).
You only need to pour in 3 inches of litter to get the 7-day odor control and 500% absorbency.
Wheat Scoop Fast-Clumping All-Natural Cat Litter
While there is no doubt this wheat-based clumping cat litter* will not clump as well as clay-based litter, it also won't cause a grooming or pooping emergency if it gets onto your long haired cat's fur.
Think of it as a win-win middle ground.
Cat owners give it high marks overall for safety (no dyes or perfumes added), low dust, environmentally friendly (biodegradable and flushable), and odor control.
World's Best Cat Litter Clumping Formula
This clumping cat litter is made from whole kernel corn*.
It is biodegradable and flushable and does a good job overall of clumping.
Cat owners also say it is low dust compared to clay litters and it gets high marks for odor control.
SmartCat All Natural Clumping Litter
SmartCat is a grass-based litter* that offers a safer, healthier alternative to clay litters for long haired cats.
An added benefit is that this litter is fragrance and dye free and offers both odor and dust control. Cat owners say this litter is very lightweight and clumps well.
Nature's Miracle Just for Cats Corn Cob Cat Litter
This clumping cat litter* can be used in self-cleaning (automatic) or regular litter boxes.
Owners say it clumps well and seems to have good odor control. It is also a lightweight litter.
Best cat litter for long haired cats
We hope you have found this article featuring the best cat litter for long haired cats informative and helpful as you search for the right litter for your precious fur baby!
Are you on the hunt for the best cat litter for long haired cats?
Do you have a current favorite?
Please drop us a comment to share your thoughts!
Affiliate link disclosure: Links in this article marked with an * are affiliate links, and we may receive a small commission if you purchase these products. However, we selected them for inclusion independently, and all of the views expressed in this article are our own.
References and Further Reading
Block, K., et al, "Preventing Litter Box Problems," The Humane Society of the United States, 2018.
Crowell-Davis, S., "Understanding Behavior: The Litter Box Blues," VetFolio, 2007.
Foley, J., "Litter Box Etiquette – Your Manners Impact Your Cat's," Veterinary Holistic Center, 2018.
German, D., "What is Humane?," National Cat Groomers Institute, 2012. 
Horton, J., "A Haircut Could Save a Life: Preventing Your Pet's Coat from Matting," ASPCA, 2015. 
Tams, T., "Handbook of Small Animal Gastroenterology," Elsevier Health Network, 2003. 
Neilson, J., "The latest scoop on litter," Veterinary Medicine DVM 360, 2009.