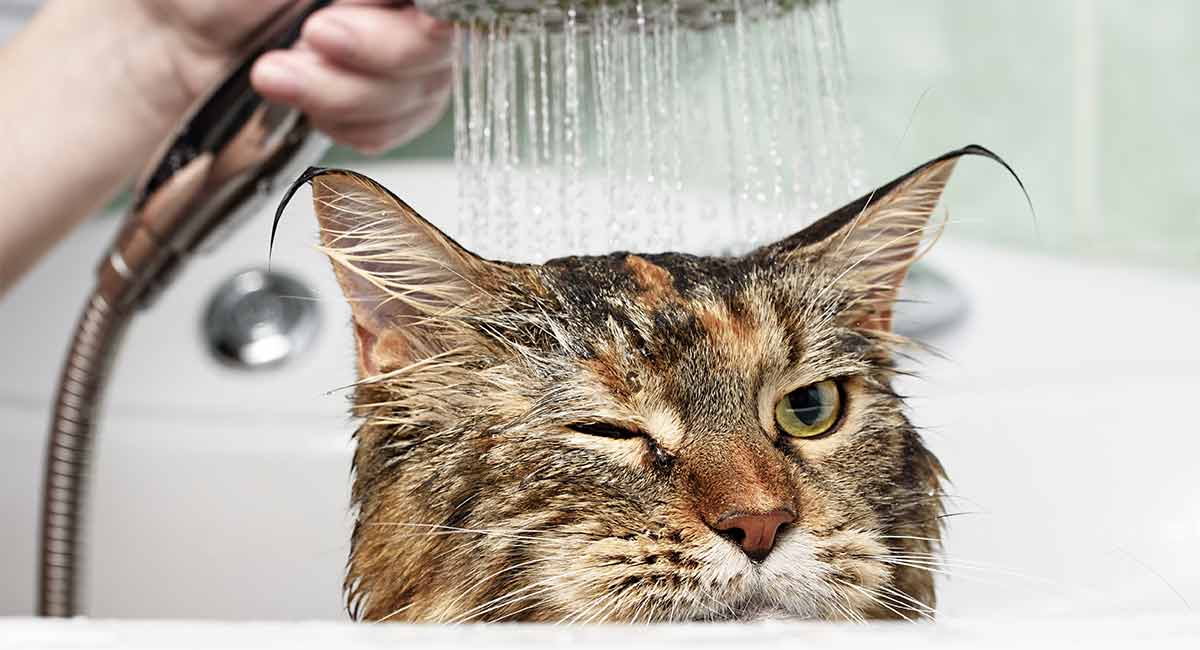 It might be something you never expected to think about, but in this article Alison Page helps you choose the best cat shampoo, and explains why you might need it…
Unless your cat is a breed that loves water, the very idea of bathing him will probably fill both you and your pet with horror!
So, do cats need bathing, and if so, what's the best cat shampoo to use?
All of these products were carefully and independently selected by The Happy Cat Site team. If you decide to make a purchase from one of the links marked by an asterisk, we may earn a small commission on that sale. This is at no extra cost to you.
When to use cat shampoo
Luckily bathing your cat is not a job you need to do often.
If your cat has gotten into something disgusting or very dirty such as oil or the soot from a chimney, then you do need to give your kitty a bath right away.
You need to get rid of any chemicals or oils that could be harmful to your cat if he licked himself and ingested the substance.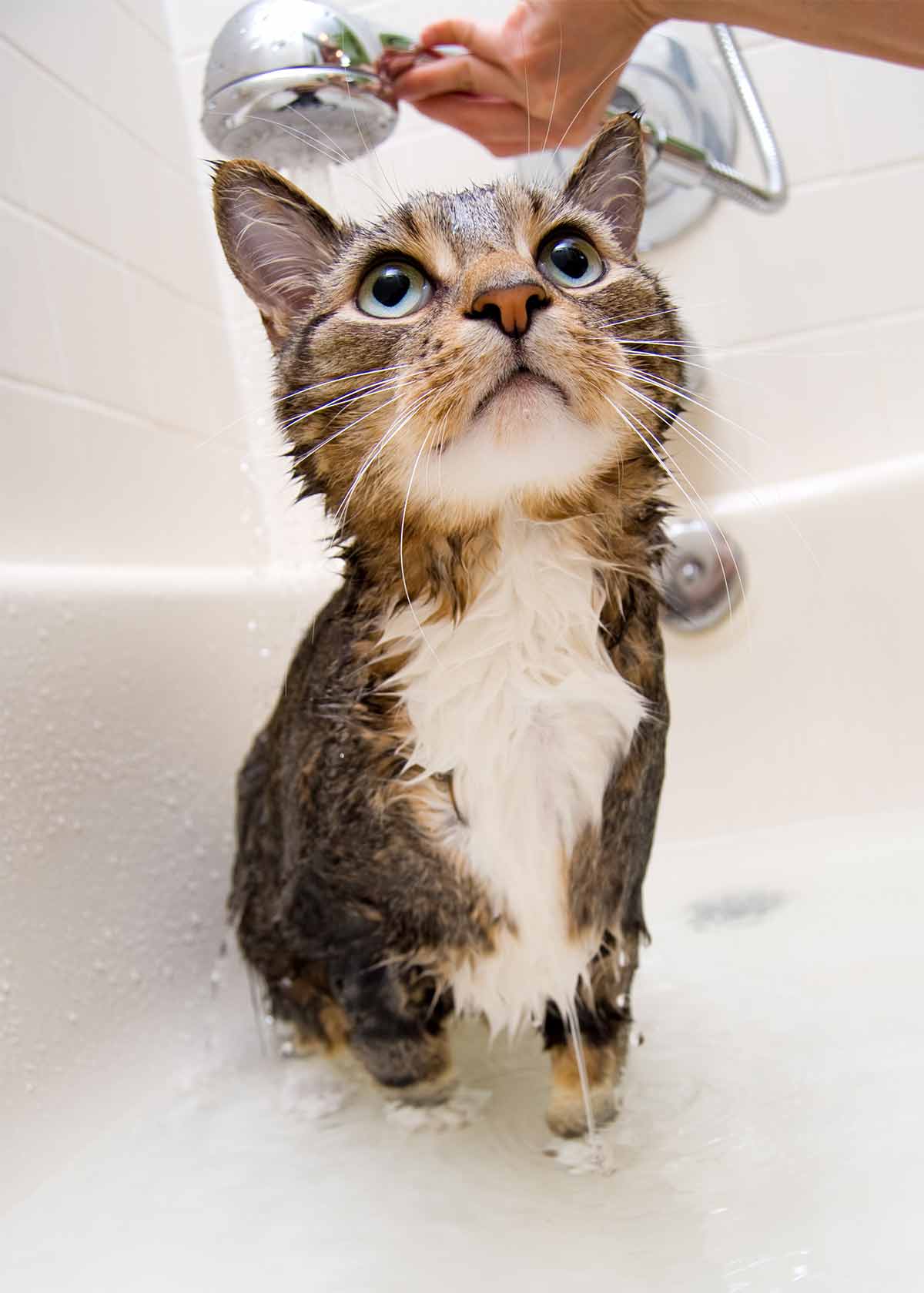 Many cats never have baths, and that's fine too.
Cats bathe themselves through grooming, but there are a few good reasons why you might want to bathe your cat once or twice a year without any sticky or smelly imperative.
We'll talk later in this article about why you might want to bathe your cat.
We will also highlight a few of the best cat shampoo products formulated to treat particular feline furry problems.
Just click on the handy links to see the full product information and place your order.
Can you use human shampoo on cats?
Even though many shampoos that are designed for kids and for adults with sensitive skin might appear to be a good choice for your cat, they're really not suitable at all.
So, why can't you use baby shampoo for cats?
Human shampoo contains ingredients that could be harmful to your cat's skin.
For example, take a look at the ingredients in Johnson's No More Tears shampoo*.
This is designed to be used on babies and children, but it contains dyes and sulfates, both of which should NOT be used on animals.
Can you use dog shampoo on cats?
If you have a dog as well as a cat, you may wonder if it's safe to use Fido's shampoo on your kitty.
Medically, cats are much different from dogs, including how they react to certain flea control products.
Lots of flea shampoos for dogs contain permethrin – fine for them but highly toxic to cats!
Therefore, if you bathe your cat using a dog shampoo for treating fleas, you could do more harm than good.
So, the bottom line is that you should always use a certified cat-safe shampoo on your kitty, rather than doubling up with your pet pooch's preferred pamper products!
What is the best cat shampoo?
The best cat shampoo is one that is specially formulated for use on animals, obviously including cats.
We've included links to a few of the best cat shampoo products in this article.
However, if your cat's skin appears irritated and you're concerned, always consult your vet before undertaking any form of home treatment for your pet.
Bathing your cat to reduce shedding and mats
Cats shed regularly, sometimes every two to three weeks, depending on the breed.
Although regular brushing is important to keep shedding under control, an occasional bath can help too.
Long-haired breeds often suffer from tangles and mats in their fur.
Excess loose fur can end up inside your cat when he grooms himself.
The loose hair eventually forms hairballs in the cat's stomach, causing vomiting and other health problems.
FURminator Hairball Control shampoo* is the best cat shampoo for reducing shedding and controlling hairballs and makes a great Persian cat shampoo.
This product is made in the US and contains no dyes or harmful parabens.
Cat dandruff shampoo
Just like people, cats can suffer from dandruff!
Cat dandruff is also called "dander".
Dander is a collection of dead skin cells that become coated with the cat's saliva when he grooms himself, and it's this that can cause harmful allergies in people.
By using the best cat shampoo for dandruff, you can keep your kitty's coat super-shiny and free from scurf.
Look for cat dander shampoo products that contain natural oils to nourish the skin and relieve itching that can lead to dandruff.
Burt's Bees for Cats Hypoallergenic Shampoo with Shea Butter and Honey* is designed specifically for cats with dry skin that could cause dandruff.
The USA-made formula is a natural cat shampoo that contains no sulfates, colors, dyes, or perfumes that could irritate your kitty's skin, and is made from 99.6% natural ingredients.
Best flea and tick shampoo for cats
At some point in his life it's highly likely that your cat will encounter fleas, ticks or both.
Did you know that house cats who never go outside can still pick up fleas?
That's because flea eggs, larvae, and even adult fleas can be transferred into your home on visitors' clothing and shoes.
Other animals visiting your home from outside, including rodents sneaking in after dark, can bring fleas and ticks with them.
Fleas can lay dormant for many months deep within your carpets or in cracks in the floorboards, until a suitable host animal passes by.
That's why moving to a new home where animals have lived can result in your indoor cat picking up fleas!
If your cat has fleas, bathing him and using a good quality flea shampoo for cats should get rid of them.
Adams Plus Flea & Tick Shampoo with Precor for Dogs and Cats* is formulated to kill adult fleas, flea eggs, flea larvae, ticks, and lice.
The shampoo contains lots of natural ingredients, including lanolin, coconut extract, oatmeal, and aloe to soothe your kitty's skin and relieve the irritation caused by the flea bites.
The treatment gives 28 days of flea control and can be used safely on cats and kittens.
If your cat hates water, you can use a dry flea shampoo for cats instead of bathing him.
Vet's Best Flea & Tick Waterless Bath for Cats* is quite effective and provides protection from disease-carrying mosquitos too.
This natural product is made in the USA from plant-based ingredients, including eugenol (from cloves), and peppermint oil.
Antifungal shampoo for cats
If your cat's skin becomes irritated, red, or scaly, it's likely that he has a skin condition called dermatitis.
Dermatitis in cats has many causes. It is commonly triggered by flea or food allergies, but can also be associated with some forms of cancer.
So, if you notice any of the signs we've mentioned, you should take your cat to the vet immediately!
Dermatitis can also caused by one of a number of common fungal organisms.
The skin may appear greasy, lesions may develop that leak a foul-smelling discharge, and your cat's hair may fall out in patches.
To beat it, your vet may prescribe topical skin medication for your kitty and also recommend the use of specially formulated medicated shampoos.
Medicated cat shampoo will remove scales from the skin and get rid of any foul smells.
Any bacterial infections that may occur at the same time will be treated with special antibacterial shampoos.
These are the kind of products they might recommend:
Pet MD Antiseptic and Antifungal Medicated Shampoo for Dogs, Cats and Horses* is a very good medicated cat shampoo.
The shampoo effectively kills the yeast and bacteria that cause skin infections in cats.
It's made in the USA in federally approved and regulated manufacturing premises so you can be assured of the safety and quality of the product.
Curaseb Antifungal & Antibacterial Chlorhexidine Shampoo for Dogs & Cats* contains ketoconazole and aloe and is effective against pyoderma, skin allergies, and ringworm.
The shampoo is designed to get rid of any unpleasant musty odor that is caused by some skin conditions and fungal infections, leaving only a pleasant melon/cucumber scent.
This USA-made shampoo is veterinary recommended, and if you're not completely satisfied the manufacturer promises a full refund, even if you've used the whole bottle!
Oatmeal shampoo for cats
Oatmeal has been around as a cultivated crop since the Bronze Age.
Many civilizations, including the Greeks, Egyptians, and the Romans recognized the soothing benefits of oatmeal for the skin.
There are a few different types of oatmeal, but it is colloidal oatmeal that's used for making shampoos and other beauty products.
So, why would you want to use oatmeal shampoo on your cat?
Oatmeal contains chemicals called avenanthramides and phenols.
Both these chemicals actively relieve skin irritation and itching.
Oatmeal also balances the pH levels in the skin, helping to relieve chronic conditions such as psoriasis eczema.
The moisturizing effects of oatmeal shampoo can relieve allergies and soothe dry, itchy skin.
When choosing the best shampoo for cats, look for a product that is also hypoallergenic or designed especially for pets with sensitive skin.
Particular Paws Oatmeal Shampoo for Dogs and Cats* contains soothing Shea butter, aloe vera, and chamomile, as well as oatmeal.
The product is all-natural with no chemicals, colors, or perfumes.
The shampoo is made in the USA in a GMP compliant plant under the supervision of vets.
The company are so confident that you and your pet will be pleased with the product that they offer a 100% money-back guarantee if you're not happy with your purchase.
Oatmeal Dry Shampoo No Rinse Waterless Foaming Cleaner* makes a perfect alternative if your cat doesn't enjoy a water bath.
The product comes as a no-rinse foam, making it perfect to use for spot cleaning if you don't need to bath the whole cat.
The shampoo is made in the USA and comes with a full money-back guarantee if you and your cat are not completely satisfied!
Dry shampoo for cats
Not every cat appreciates being bathed, even though your efforts may be for his benefit!
If your cat is not a water-baby, don't despair! You can still keep his coat in pristine condition by using a dry shampoo.
Dry shampoos come in several different formats, including mousses and foams, sprays, and powders.
Aside from not having to get your cat wet in order to use them, dry shampoos have the advantage that you can use them on a monthly basis if you want to.
This can be especially helpful if you have a show cat or if he's inclined to get dirty on a regular basis.
How to use dry shampoo for cats
Always bathe your cat outside when using dry shampoo for cats.
A large cardboard box makes a perfect "bath tub".
If your cat is a fidget, you'll need to recruit an assistant to hold him still.
Brush your cat's coat thoroughly before applying the shampoo to loosen any shed hair or dirt.
Apply the shampoo to the whole cat (except his face), following the manufacturer's instructions on the product label.
When you've finished, brush the product out of the cat's coat.
This is important, as he's likely to continue grooming himself after his bath, and you don't want him to ingest any of the shampoo.
Vet's Best No-Rinse Clean Waterless Cat Shampoo* comes in the form of a foam.
The formula contains aloe vera, oatmeal, and vitamin E to leave your cat's skin and coat moisturized and soft.
You don't need to rinse the product out of the cat's fur – simply leave it in.
The vet-approved shampoo also contains a calming fragrance to relax your pet while he has his spa session!
What is the best cat shampoo?
The best cat shampoo for your pet depends on a number of factors.
When choosing a cat shampoo, consider why you are bathing your cat. Is his bath a one-off that's necessary to get rid of grime that he's picked up during his adventures?
Does he have a medical skin condition that needs medicating via special shampoo? Does he have fleas?
You must also decide if your cat would prefer a wet or dry bath and choose a shampoo accordingly.
Remember, never try to treat a skin disorder without chatting it over with your vet first for a proper diagnosis.
Why not tell us your cat's bath-time tale?
Why do you bathe your cat and what shampoo do you find is the best for your pet?
Share your story in the comments section below!
Affiliate link disclosure: Links in this article marked with an * are affiliate links, and we may receive a small commission if you purchase these products. However, we selected them for inclusion independently, and all of the views expressed in this article are our own.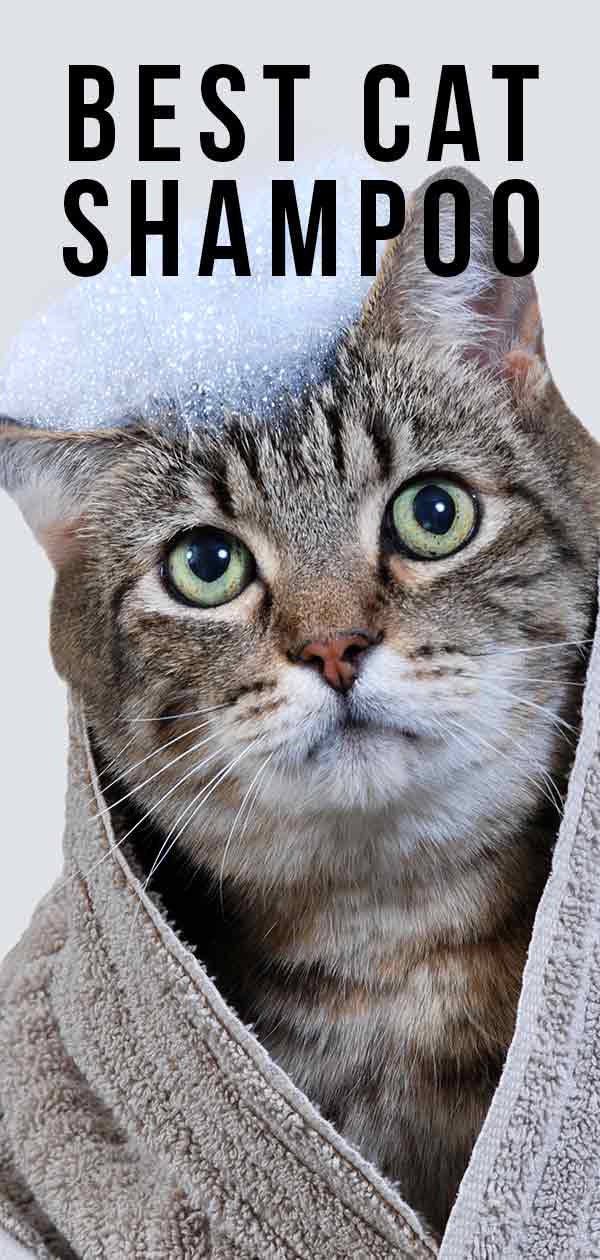 References and further reading
Cornell University Feline Health Center, "A Hairy Dilemma", 2006.
NCBI, "Colloidal Oatmeal: History, Chemistry, and Clinical Properties," 2007.