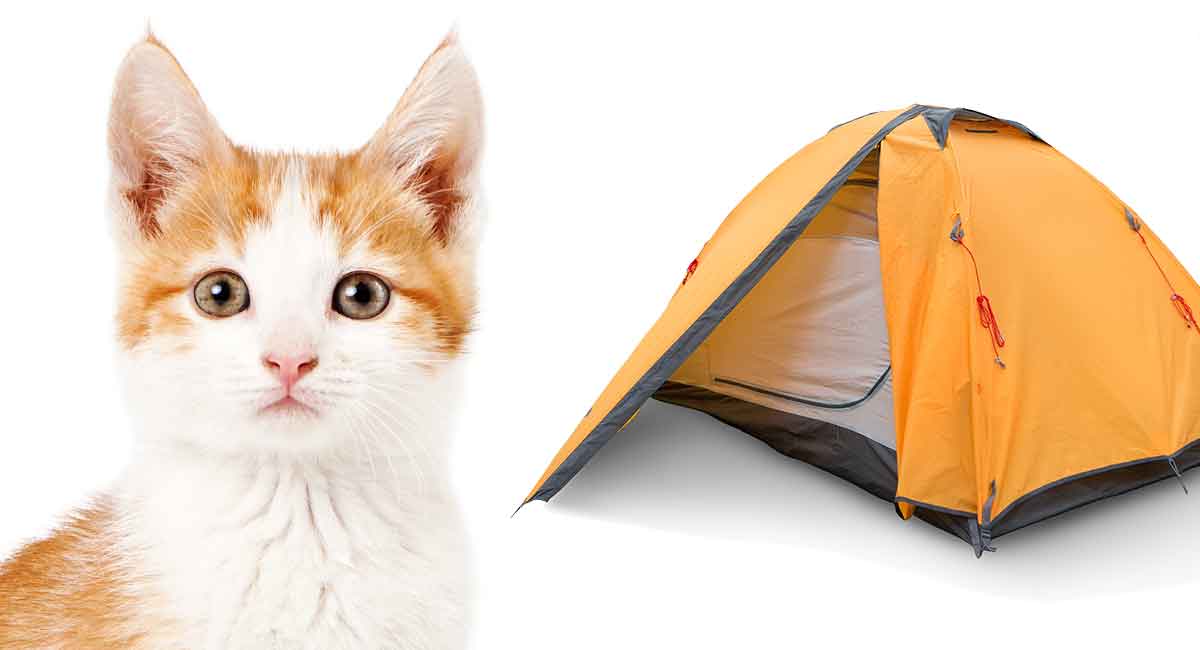 Welcome to your complete guide to choosing the best cat tent.
As many cat enthusiasts and owners know, kitties love to curl up in dark places. They often find tiny nooks, crannies or crevices for their afternoon siestas.
Some cats simply like to find a private place to groom themselves or have "me" time away from their owners.
After all, being petted and loved on is rather trying work.
With the above points in mind, we'll get to the objective of this article. Let's discuss finding the best cat tent for your favorite feline's snoozing, relaxing or exploration needs.
All of these products were carefully and independently selected by the Happy Cat Site team. If you decide to make a purchase from one of the links marked by an asterisk, we may earn a small commission on that sale. This is at no extra cost to you.
What Is A Cat Tent?
A cat tent is essentially what it sounds like. It's a tent in which a cat may curl up for sleep, hide from the world or explore the outdoors without being able to escape.
As we alluded to above, a cat tent may come in handy if your cat constantly seeks a secluded place.
During storms, my cat likes to hide in the roughly six-inch space between my refrigerator and the adjacent wall.
Cat tents, which are meant for outdoor exploration, are usually made of mesh or another lightweight material that allows air and light through.
Some have mesh bottoms, and some have solid bottoms.
Additionally, some waterproof and/or heated cat tents can even be used as semi-permanent shelters for strays or outdoor-only cats.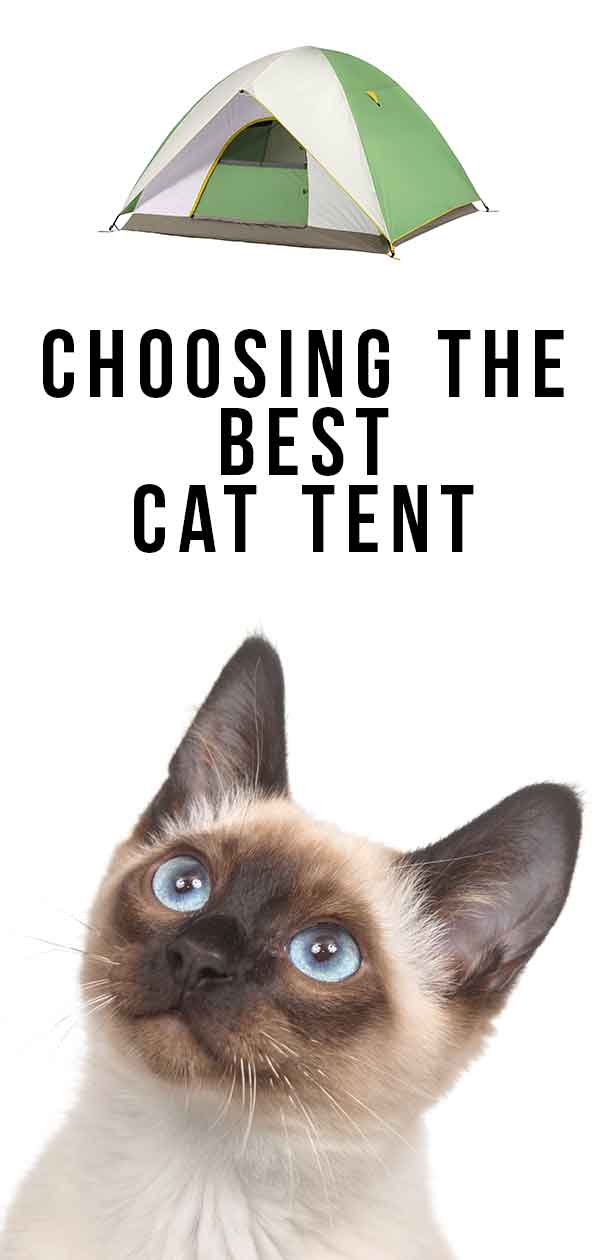 Furthermore, cat tents which are meant for indoor use only may be constructed of soft fabrics such as nylon or plush fabric. Oftentimes this cushion will give your kitty a squishy, snoozing place.
We'll provide a few examples of the cat tents that will best suit each of these needs in later sections of this article.
What Are the Best Tents for Cats?
In addition to choosing the tent that most closely matches its intended purpose, the best cat tents should also adhere to the following guidelines:
The tent is the appropriate size to accommodate the number of cats who may be using it.
The material is teeth- and claw-resistant. A roughhousing kitty (with front claws or nails intact) may easily rip a tent with soft sides or thin material.
The tent is the appropriate type for use either indoors or outdoors, as applicable.
If the tent is to be used outside, it is sturdy enough so that it will not collapse, regardless of whether the occupants use the tent for chilling out or for play.
Let's get to some examples of cat tents, shall we?
Cat Tents for Indoors
Kitty tents for your indoor cat don't need to be weather-proof.
This often means they are much more stylish than cat tents that are for outdoor use.
Not only are they cute or deco
rative. Inside cat tents are also typically smaller than mesh tents.
Here are a few of our favorite indoor-only cat tents!
Little Dove Pet Teepee and Cat Bed
This adorable small cat tent looks just like a teepee*.

Pine poles and a washable cotton canvas tent come together to make a comfy retreat for your cat.
For an extra cost, you can purchase a custom-made bed, which fits the tent perfectly.
This model is suitable for cats up to 15 pounds, so larger breeds may find it a bit too small.
Trendy Pet Cat Tent with Attached Cat Scratcher
Here is another trendy cat tent*. But is it the best cat tent for your kitty?

This model has fiber glass poles, which won't come out of place.
The tent is made of patterned blue or grey fabric.
It also includes a scratching board and a removable, super soft cushion on which your cat will want to curl up for hours on end.
SmartyKat Hideout, Tunnel, and Playmat
This nylon cat tent also looks like a teepee* and is seriously good value for money.

The crinkled nylon and feather hanging from the top will peak your cat's interest.
Eco-friendly customers will be pleased to know that the teepee's poles are made of recycled plastic.
Cat Tent Beds
Many cats prefer to sleep in a darkened or enclosed area because it makes them feel safe and secure.
My cat likes to take naps in the space between floor-length window treatments and the wall.
Here are a couple of cat tent-bed combinations, each of which includes a tent-like enclosure and a cushioned area for snoozing:
Best Pet Supplies, Inc. Tent Bed for Pets
Here is an ultra plush cat tent and bed combined*.

The manufacturer lists a variety of linen, faux suede and corduroy pet tents and caves in this listing.
Each of these create a soft place for your kitty to land when she wants a "hidey hole."
These tents come in small, medium, large and extra large sizes.
Since some of the designs are meant for dogs, the larger designs should accommodate even the largest cat breeds or multiple cats.
Additionally, the cat dome designs come apart.
If your kitty decides she just wants the bed, then you can take the dome off.
Cat Pet Bed/Igloo
Like the Best Pet Supplies tent bed, this cat tent or "igloo" is made of velvety soft fabric*.

A removable foam cushion adds to the luxurious comfort.
The soft fabric, combined with the small size, also holds your cat's body heat in.
These kitty tents come in a variety of colors: blue, orange, gray, pink or tan.
Paws & Pals 2-in-1 Cat Pet Bed
If you've got a big kitty or a couple of kittens who like to snooze or snuggle together, then this 32-inch tube could be ideal*.

It's easy to assemble the fleece-covered, heat-trapping pad.
Fold it up into a triangular tube, and zip the two ends together.
Want to make it bigger? Just buy two or more tubes.
Then zip them together to create one giant cat tent or flat bed.
Cat Tents for Outside
Outdoor cat tents are great for letting indoor kitties get nature time, without the need for a leash or worry about the cat escaping.
No fence (or tree) is too high for a determined cat. Cat tents for outdoor use are usually big enough to give one or a couple of cats space to move around, with a mesh or other thin fabric that lets light and air through.
Some cat tents for more permanent use outside are even waterproof, heated, or both.
Here are examples of each:
BestPet New Pet Cat Tent
This portable cat tent* has eight mesh panels, two zippered doors, a mesh cover and a solid floor.

Making it great for lounging outside or perhaps travel with your cats.
Four hooks along the bottom can be anchored into the ground to prevent the tent from moving or blowing away.
When you're ready to disassemble the tent, you can store it in the carrying case that comes with it.
Since this tent is completely enclosed, please remember to keep an eye on your cats while they are inside.
Outback Jack Cat Tent Enclosure
This large outdoor cat tent* gives cats more than 30 square feet of space to romp in the grass or wherever you place it.

The mesh cat tent's walls and bottom are breathable.
It also helps to keep sun and bugs out while your kitty enjoys time outdoors.
This pop-up cat tent is also compatible with Fun Run tunnels.
You have the option to create a large outdoor play and sleep area for your cats.
Again, it's important to supervise your cats while they are in a completely enclosed tent or play area.
Blue Portable Pop-Up Pet Tent Medium / Large Cats
Here is another completely enclosed large cat tent*.

When unfolded and popped up, this tent measures 31 inches long by 31 inches wide by 31 inches tall.
The panels are made of thin fabric, with mesh windows for visibility and air flow.
A zippered door can be left open for ease of access.
We recommend this only if you know your cat won't run off, or if you're using the tent indoors.
The manufacturer suggests only allowing animals that are 20 pounds or less inside this tent.
It may be cramped for huskier or multiple cats to use at once.
Choosing the Best Cat Tent: Summary
Cat tents have a variety of uses.
For starters, many cats are finicky creatures who crave privacy just as much as they crave attention. They purposefully seek a place to shield themselves from the world before they can relax or nap.
Other felines are quite literally "scaredy cats" and seek a sheltered hiding spot when something spooks them.
(Ask my cat, Bubby, who has a few hiding places when we bring out the "cat eater," as we jokingly refer to the vacuum.)
And we'd be remiss if we forgot to include the most basic principal of the cat tent: "camping" outside of course.
Outdoor cat tents give indoor cats a great way to get some air.
Or, they can serve as a more permanent shelter for cats who spend a lot of time exposed to the elements.
We hope we've helped you find the right one for your cat!
Affiliate link disclosure: Links in this article marked with an * are affiliate links, and we may receive a small commission if you purchase these products. However, we selected them for inclusion independently, and all of the views expressed in this article are our own.
References and Further Reading
Pesce, M.K., "Kitty Commodities and Stress Management," Bolton Veterinary Hospital