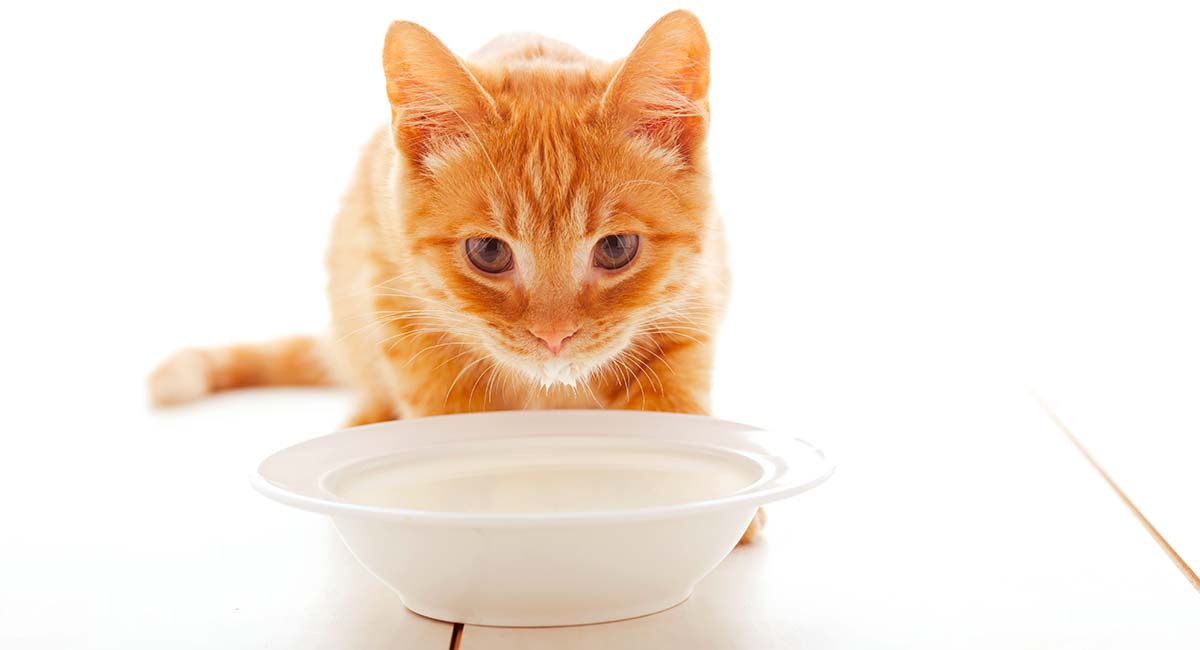 Can cats drink almond milk?
Some cats may be able to tolerate almond milk in moderation.
But, their digestive systems are not adapted to get the same nutritional benefits from it that we do.
Cats are obligate carnivores. So, their diet should be based mainly on animal fats and proteins, with fresh water to drink.
Let's look more closely at what happens when your cat drinks almond milk.
Where Does Almond Milk Come From?
Almond milk is made by soaking almonds in water and then grinding this mixture and removing any solids.
The result has a subtle yet distinctively nutty flavor and creamy texture.
Since almond milk doesn't contain any dairy products, it's a good option for those who are lactose intolerant or vegan.
In addition to being lactose free, unsweetened almond milk also has no cholesterol or saturated fat. But this doesn't mean it's automatically better for animals. So can cats drink almond milk?
Is it Healthier than Other Milks?
Plant-based drinks like almond milk are often touted as being packed with nutrients.
However, this 2017 study found cow's milk contained a higher protein content and quality than most non-dairy beverages.
In fact, almond milk contains less protein than most plant-based milks.
This is an important consideration since cats need more protein than most mammals.
What Is a Natural Cat Diet?
Can cats drink almond milk as part of a natural diet? Cats are obligate carnivores, which means their natural diet consists of animal proteins found in meat, bone, and organs.
This is because felines are unable to synthesize amino acids from plant sources the same way that people can.
Their very short digestive tract means there's not enough time to process plant foods.
Although almonds are a good source of protein, cats' digestive systems simply aren't designed to extract nutrition from them.
It's crucial that cats get amino acids from animal-based sources, as deficiencies can cause them serious health problems.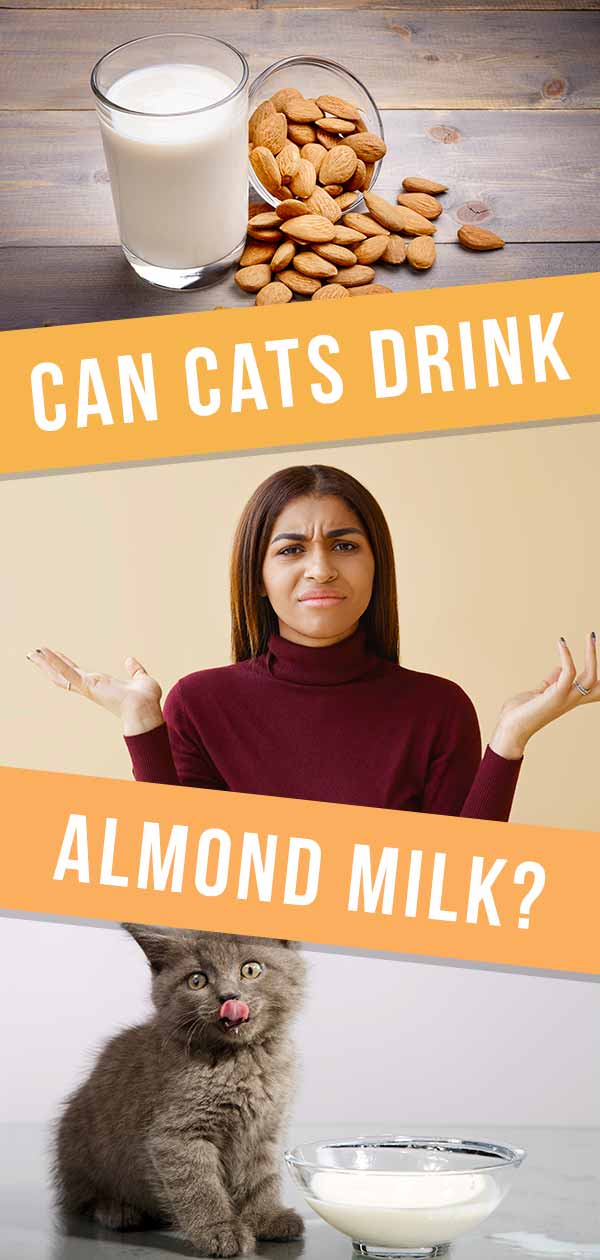 Can Cats Drink Milk?
Let's set aside the question of "can cats eat almond milk", and look at milk in general first. A happy kitty lapping up a saucer of milk is an iconic image. So you may be surprised to learn that most adult cats are lactose intolerant.
Lactose is a type of carbohydrate that cats can't digest properly.
This is because they aren't able to produce enough lactase, the enzyme that breaks down sugar and makes it digestible.
Only as kittens are they able to create the lactase enzyme.
Milk doesn't offer any essential nutrients that a cat needs and shouldn't be a regular part of their diet. This also applies to the question – can cats drink almond milk.
Water and a good quality commercial kibble or wet cat food should provide them with all of the nutrients they need.
Can Cats Eat Almonds?
We've looked at the question "can cats drink almond milk". But what about almonds in different forms? Almonds are often referred to as one of the health-boosting superfoods.
So you may be wondering if they provide your cat with any nutritional benefits.
Even though these popular nuts contain protein, fiber, vitamin E, and magnesium, your cat is unable to get much benefit from eating almonds.
Although not considered toxic to cats, they're high in fat content.
This can cause serious medical conditions, such as pancreatitis as well as weight gain.
Almonds are very difficult for cats to digest and can cause digestive issues and symptoms such as vomiting, diarrhea, and bloating.
Too Much Is Never a Good Thing
What if your cat eats an almond or two, or a food that contains a small amount of almond as one of the ingredients?
They'll probably be just fine. But these nuts do contain cyanogenic glycosides.
These are natural toxins that, if consumed in high amounts, can lead to a form of cyanide poisoning in cats.
Although almonds have been associated with seizures in dogs, they're not known to affect cats in this way.
Can Cats Eat Salted Almonds?
It's not just almonds but how they're flavored that can be problematic for felines.
High sodium levels can lead to poisoning in cats, especially if consumed without water.
Signs of sodium toxicity include vomiting, diarrhea, decreased appetite, lethargy, and seizures.
Can Cats Eat Chocolate Almonds?
Although chocolate is one of our favorite treats, it's something that should never be given to cats.
Chocolate contains a chemical known as theobromine, which is toxic for them.
And due to their small size, it doesn't take much for a cat to be seriously affected.
Problems Chocolate Causes
Caffeine is another ingredient found in chocolate that can also make cats ill.
Cats who eat chocolate can suffer from:
hyperactivity
tremors
dehydration
rapid breathing
seizures
abnormal heart rhythm
cardiac failure.
Needless to say, almonds that are covered in chocolate should never be given to a cat.
You should seek veterinary attention if your kitty has eaten any amount.
Can Cats Drink Soy Milk?
Now back to milk. We've answered "can cats drink almond milk", but what about soy milk? Soy milk is another popular plant-based drink.
In addition to wondering can cats drink almond milk, you may be wondering if soy milk is suitable for cat consumption.
Soy milk doesn't have any ingredients that are toxic to cats.
But it's still not good for them, either. So, it should only ever be given in small amounts.
Like other plant foods, they'll have a hard time digesting soy, which can potentially cause liver problems.
Thyroid Issues
Soy is a common allergen, and it's also been linked to thyroid problems in felines.
Since cats have a high incidence of hyperthyroidism, it should not be a regular part of their diet.
Soy milk is highly processed.
It contains additives such as artificial sweeteners which can lead to tooth decay, weight gain, and diabetes.
Is Almond Milk Good for Cats?
Can cats drink almond milk with any benefits? Almond milk may seem like a good alternative to dairy milk for your cat since it doesn't contain lactose.
Even though almonds are very high in protein, cats are unable to metabolize plant-based proteins.
To stay healthy, they need nutrients like arginine, taurine, niacin, vitamin A, and vitamin B12 that are found in meat.
If you give your cat almond milk, make sure it's less than ¼ cup.
See how she reacts and watch for any signs of indigestion for a day or two.
Never pour a large bowl of almond milk and leave it out.
Look into Ingredients
Choose a high-quality product that doesn't contain a lot of preservatives, artificial ingredients, or added sugar.
A small amount of almond milk shouldn't harm your cat. But it may cause digestive problems, and it really isn't good for cats to drink.
Is Almond Milk Bad for Cats?
Can cats drink almond milk, or is it actually bad for them? A small amount of almond milk probably won't affect your cat.
Still, there's no reason to add something to their diet that offers no benefits and could potentially cause them harm.
Even though it doesn't contain lactose, almond milk is high in fats and oils which can cause gastrointestinal problems.
It can also lead to weight gain, which is a major risk factor for diabetes and other health disorders.
Keeping your pet on a diet that is specifically formulated for cats is one of the best ways to ensure they live a long and healthy life.
Do Cats Like Almond Milk?
The term "sweet tooth" was coined to describe those of us who can't get enough candy, cakes, chocolate, cookies, and other sugary treats.
But do cats have the same flavor cravings as we do?
According to this study, cats lack a sweet taste receptor.
Although they're able to detect salty, sour, and bitter stimuli, they showed no response to sucrose and several other sugars.
So cats are unable to taste sweetness.
Giving them almond milk, or anything that contains sugar, isn't a treat, as they're not enjoying the flavor.
Can Cats Drink Almond Milk?
Although some cats may be able to tolerate almond milk in moderation, there really are no good reasons to give it to your cat at all.
Despite being free of lactose, many brands of almond milk contain added sugars and other preservatives that are not good for cats.
Even though almonds are a good source of protein and other vitamins, almond milk contains less of these nutrients than the actual nuts.
And since cats are unable to detect sweetness, giving them almond milk probably isn't even something they'd particularly enjoy.
Have you ever given your cat almond milk?
What was their reaction to it? Tell us about it in the comments.
Find Our More
There are plenty of other things people think about giving their kitties. But be sure to check out our guides before you try any of them!
References and Resources
Katz, AC, "Milk Nutrition and Perceptions," Johnson & Wales University, 2018
Singhal, S., et al., "A Comparison of the Nutritional Value of Cow's Milk and Nondairy Beverages," Journal of Pediatric Gastroenterology and Nutrition, 2017
Zoran, DL, et al., "The Carnivore Connection to Nutrition in Cats," Journal of the American Veterinary Medical Association, 2002
Jolitz, S., et al., "Digestive Tract Comparison," Kellogg Honors College Capstone, 2011
Craig, JM "Food intolerance in dogs and cats," Journal of Small Animal Practice, 2018
Bazelle, J., et al., "Pancreatitis in cats: Is it acute, is it chronic, is it significant?" Journal of Feline Medicine and Surgery, 2014
Ballhorn, DJ, "Chapter 14: Cyanogenic Glycosides in Nuts and Seeds," Nuts and Seeds in Health and Disease Prevention, 2011
Redmon, JM et al., "Soy isoflavone metabolism in cats compared with other species: Urinary metabolite concentrations and glucuronidation by liver microsomes," Xenobiotica, 2015
Peterson, ME, et al., "Spontaneous primary hypothyroidism in 7 adult cats," Journal of Veterinary Medicine, 2018
"Salt" Pet Poison Hotline
Cortinovis, C., et al., "Household Food Items Toxic to Dogs and Cats," Frontiers in Veterinary Science, 2016
Öhlund, M., et al., "Overweight in adult cats: a cross-sectional study," Acta Veterinaria Scandinavica, 2018
Li, X., et al., "Cats Lack a Sweet Taste Receptor," The Journal of Nutrition, 2006