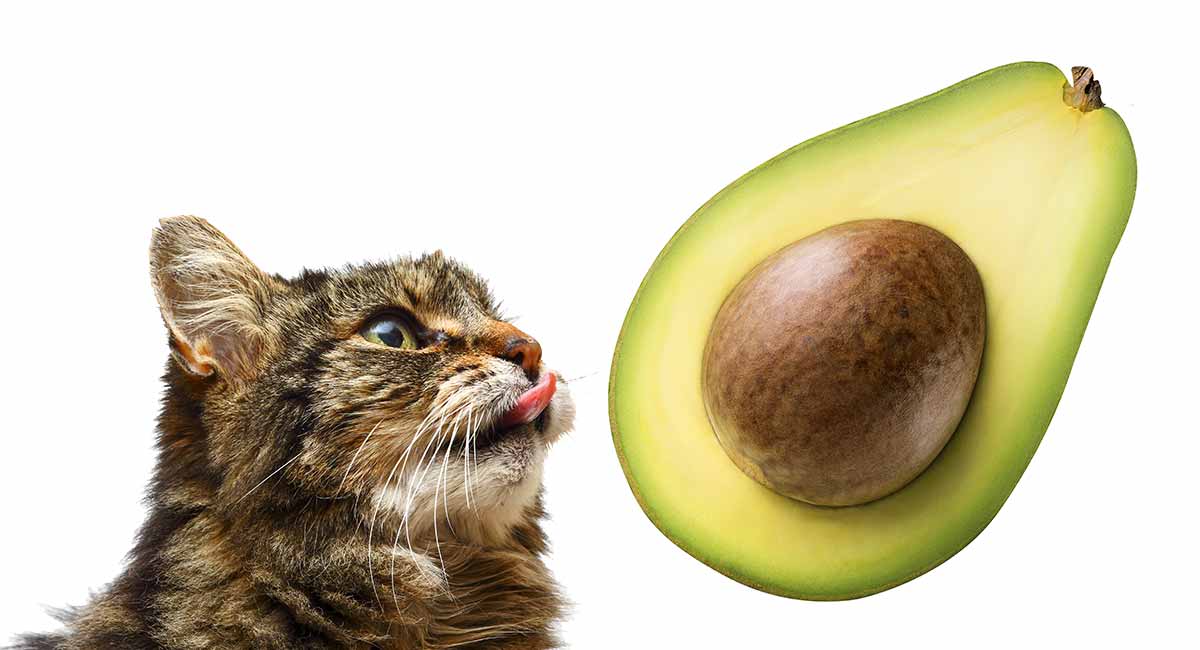 Can cats eat avocado?
No – avocados contain a compound called persin which is toxic to cats. Therefore, it is unsafe for cats to eat avocados.
All parts of the avocado plant contain persin, and if a cat accidentally ingests some avocado, seek advice from their vet straight away.
Let's find out more about what happens if cats eat avocado.
Cats and Avocados
Avocado is a delicious and popular fruit. But is it beneficial for your cat?
We know that avocados offer plenty of nutritional benefits for people.
But not all of the foods we eat are good for our four-legged friends.
Unfortunately, this is true for avocados, which can actually be toxic for cats.
Let's take a more in-depth look at cats and avocados.
Where Does Avocado Come From?
The fruit with the bumpy skin and creamy texture has a long and rich history.
It's believed that avocados originated some 10,000 years ago in Puebla, Mexico.
Believe it or not, this nutrient-dense fruit is actually considered a berry.
Although there are different varieties of avocados, the rich and buttery Hass type is by far the most popular.
While many of us think of guacamole when we're talking about avocados, they're also popular tossed in salads, sliced onto sandwiches, and mashed on toast.
Superfood
There are plenty of reasons why avocados are considered a superfood. They contain fiber, high-quality protein, and healthy omega fatty acids.
Avocados are also packed with vitamins and minerals and are rich in antioxidants.
In fact, studies have shown that phytochemicals extracted from the avocado fruit may actually help prevent cancer. So it's easy to see why we'd want to pass on these nutritional benefits to our pets.
What is a Natural Cat Diet?
Cats are obligate carnivores and they require more protein than most other animals.
This is because a cat's metabolism breaks down the amino acids in protein at a very high rate.
Although the protein in avocado contains 9 essential amino acids, they're not found in sufficient amounts for a cat's requirements.
Plant-based proteins simply don't contain the same protein profile as those found in meat.
Deficiencies of certain essential amino acids can cause serious health problems in cats.
For example, the amino acid taurine is not found in plant products.
Taurine deficiency in cats can cause retinal degeneration and dilated cardiomyopathy, a cardiac disease characterized by an enlarged heart.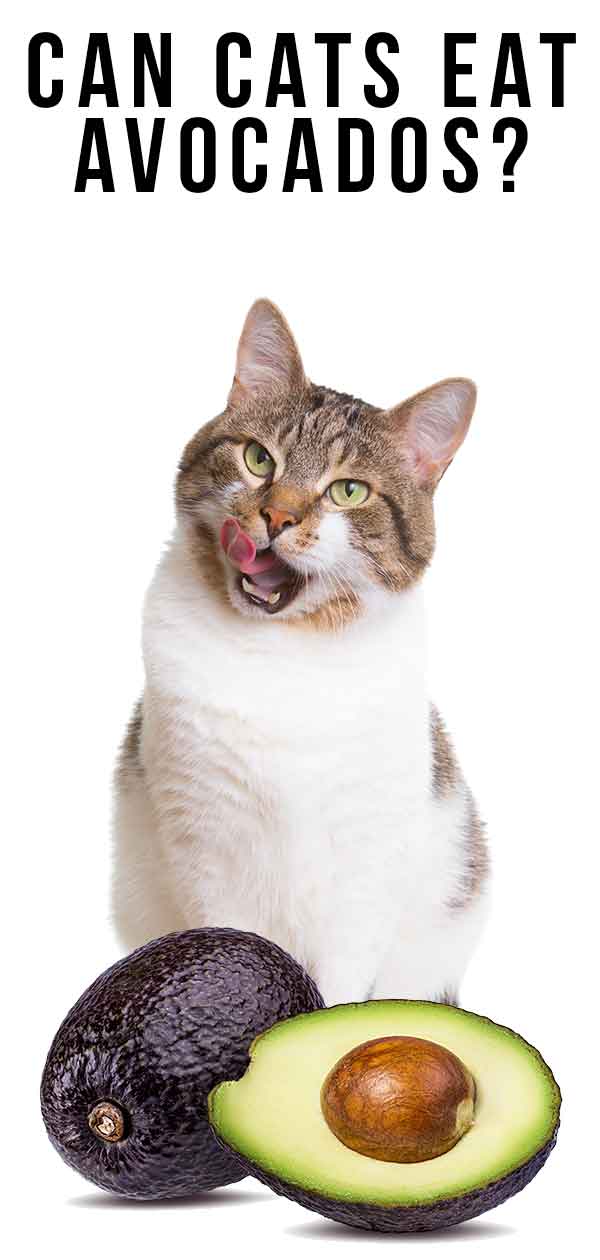 Can Cats Eat Avocado Meat?
Persin is a fungicidal toxin that's found in avocados.
It doesn't affect humans and it's recently been discovered to kill breast cancer cells, which is great news. However, avocados can cause problems for felines and some other animals.
Avocados can cause fluids to accumulate in the lungs and chest, leading to difficulty breathing and death from lack of oxygen.
Fluids can also deposit in the heart, pancreas, and abdomen.
The high fat content found in avocados can also lead to pancreatitis.
Toxicosis
It should be noted that Guatemalan avocados, in particular, have been most commonly associated with toxicosis due to a higher persin content.
Although a small amount of avocado is unlikely to cause a healthy, adult cat serious problems, they could suffer from symptoms like vomiting or diarrhea.
Avocados would be more dangerous for kittens, older cats, and those with existing health problems.
Can Cats Eat Avocado Oil?
Avocado oil is the edible oil pressed from the pulp of an avocado. It's not used only for eating.
You can find it in all kinds of skincare products, such as shampoos, moisturizers, and sunscreens.
That's because avocado oil is loaded with omega-3 fatty acids and vitamins A, D, and E, which are nourishing and moisturizing for the hair and skin.
You may even see products for cats that contain avocado oil.
This may seem strange since avocados contain an ingredient that's toxic for cats. However, persin is not found in avocado extracts.
This is because avocado oil is made from ripe avocado fruit and the concentration of persin is known to decrease during ripening.
Therefore, avocado oil is safe for cats.
Can Cats Eat Avocado Leaves?
Avocado leaves are another story. Although persin is found in the meat, seed, skin, bark, and other parts of the plant, the highest concentration of this oil-soluble compound is found in the leaves.
This makes it the most toxic part for cats.
If your kitty chews on the leaves of the avocado it can cause damage to their mammary glands.
As this study shows, lactating livestock who eat avocado leaves are subject to mammary inflammation and the inability to secrete milk.
You should contact your veterinarian immediately if your cat eats avocado leaves.
Can Cats Eat Avocado Seeds?
Each avocado has a single large, golf ball-sized seed in the center that comprises approximately 15% of the entire fruit.
It's easy to see why this golf-ball sized seed would be an attractive toy to a cat.
But under no circumstances should your cat be allowed to play with an avocado pit.
Aside from the toxic persin that it contains, this large, hard pit also poses a serious choking hazard for pets. If swallowed it could obstruct their esophagus or respiratory tract.
Chewing on the pit could be dangerous, especially if a chunk is swallowed.
It could become lodged in their stomach and intestinal tract and need to be surgically removed.
Signs that your cat has ingested an avocado seed include coughing, vomiting, diarrhea, abdominal pain, trouble breathing, and collapse.
Can Cats Eat Avocado Skin?
Avocados have bumpy skin that's bright green when not fully ripe.
It changes to a darker shade of green when ready to eat and turns almost black and mushy when overripe.
Although the skin typically isn't eaten, it's not toxic to humans unless consumed in large amounts.
However, it's thick, leathery texture has a very bitter taste that's not terribly appealing to most people.
Like the rest of the avocado, the skin contains persin and can be toxic for cats to eat.
If your cat ingests avocado skin they should see the vet immediately.
Is Avocado Good For Cats?
There's no question that avocados are packed with healthy goodness.
And we've looked at the question "can cats eat avocado?". But do avocados offer any potential benefits for cats?
Although avocado should only ever be given in small amounts with precaution, this fruit has some potential health benefits for cats.
Felines who don't get enough fat in their diet may have dry, itchy skin and a poor quality coat.
The type of fat found in avocados is rich in omega fatty acids. It could have beneficial effects like healthy skin and a glossy coat.
Although the fat in avocados is considered a healthy fat, it's still high in calories, which is another reason to feed it to your cat in moderation.
Other Benefits
Besides helping the skin and coat, there are other potential benefits.
The antioxidants, vitamins, and minerals found in avocados help strengthen the immune system.
This can prevent and even reverse cell damage resulting from injury, illness, aging, and environmental factors.
Is Avocado Bad For Cats?
Avocados contain persin, which can be toxic to cats.
Guatemalan avocados, in particular, contain more persin than other varieties.
If given in very small amounts, the meat should not affect a healthy adult cat.
But under no circumstances should a cat ever be given an entire avocado or any part of the avocado plant to eat. This includes the leaves, seeds, and skin.
The high fat content in avocados can cause diarrhea and other forms of gastrointestinal problems.
It can also lead to pancreatitis or inflammation of the pancreas.
Symptoms to Watch Out For
Here are serious symptoms to watch for:
Constipation
Difficulty breathing
Vomiting
Difficulty swallowing
Fever
Dehydration
If your cat suffers from any of these signs after eating avocado, he should be checked out by a veterinarian.
Do Cats Like Avocado?
We all like a little variety in our diet.
If your cat sees you enjoying avocado, they may be curious and want to try some for themselves.
Whether or not cats like avocados will depend on the individual cat.
Some cats can be finicky when it comes to food. Just like people, what one will devour, another will detest.
Since avocados aren't the best choice for cats, there's no reason to feed it to them.
If you want to give your cat some fruit, strawberries or apples are better options.
Can Cats Eat Avocado?
So, can cats eat avocado? Feeding your cat a small slice of avocado will probably have no ill effects.
But since they contain an ingredient that can be toxic, is it worth taking the risk?
Make sure that your cat has no way of getting a hold of the seed, skin or leaves, as these are the most toxic parts of the avocado.
If you do choose to give your cat a small amount, make sure to monitor them for any reaction.
Seniors, kittens, and cats with health issues are more sensitive and should not eat avocado.
Have you ever given your cat avocado? Tell us about your cat and avocado experiences in the comments below.
References and Resources
Bergh, B., "The Avocado and Human Nutrition. I. Some Human Health Aspects of the Avocado," Proc. of Second World Avocado Congress, 1992
Ding, H., "Chemopreventive characteristics of avocado fruit," Seminars in Cancer Biology, 2007
Chen, H., et al., "Tracing the Geographic Origins of Major Avocado Cultivars," Journal of Heredity, 2009
Zoran, DL, et al., "The Carnivore Connection to Nutrition in Cats," Journal of the American Veterinary Medical Association, 2002
Kovalkovičová, N., et al., "Some food toxic for pets," Interdisciplinary Toxicology, 2009
De Cock, HEV, et al., "Prevalence and Histopathologic Characteristics of Pancreatitis in Cats," Veterinary Pathology, 2007
Laidlaw, SA, et al., "The taurine content of common foodstuffs," Journal of Parenteral and Enteral Nutrition, 1990
Knopf, K., et al., "Taurine: An Essential Nutrient for the Cat," The Journal of Nutrition, 1978
Morris, JG, "Unique nutrient requirements of cats appear to be diet-induced evolutionary adaptations," Department of Molecular Biosciences, University of California, 2001
Gwaltney-Brant, Merck Veterinary Manual
Woolf, A., et al., "Avocado Oil," Research Gate, 2009
Oelriches, PB, et al., "Isolation and identification of a compound from avocado (Persea americana) leaves which causes necrosis of the acinar epithelium of the lactating mammary gland and the myocardium," Natural Toxins, 1995