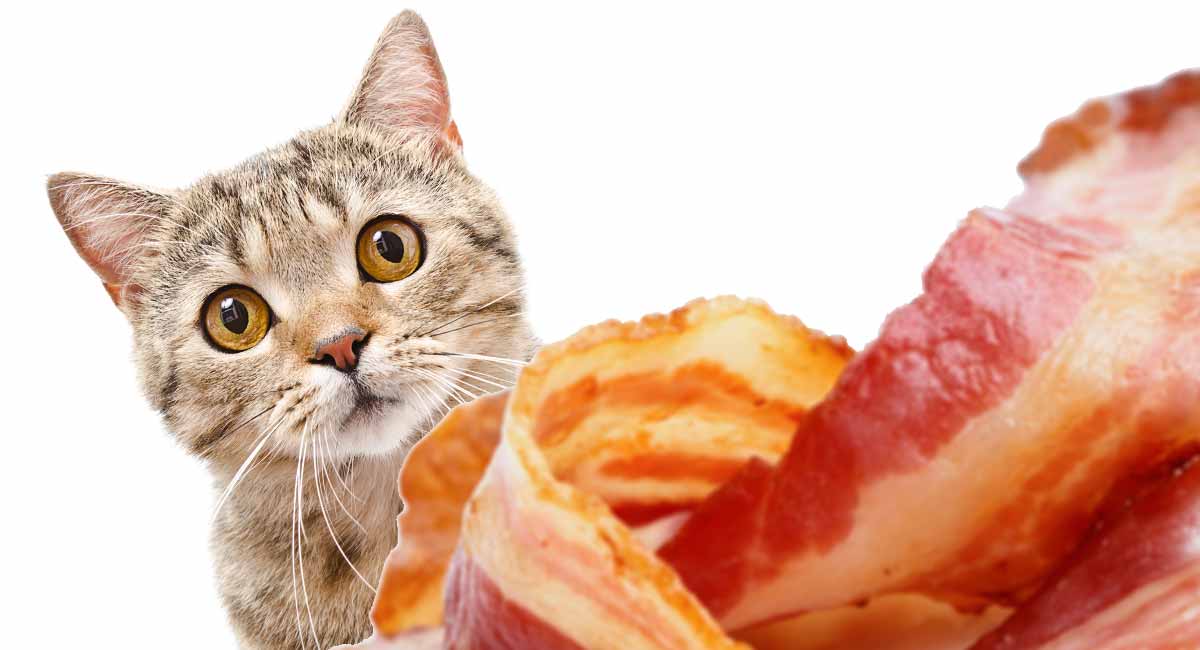 Yes, cats can eat cooked bacon in very small amounts.
Cats shouldn't eat raw bacon, though, due to the risk of food-borne illnesses. And they shouldn't overindulge on the cooked stuff due to the large amount of salt and fat it contains.
Humans love bacon and put it on nearly everything, even dessert! Will your cat want some bacon bits added to their pâté?
Not all human foods are safe for cats, so it's best to research before sharing snacks with your pet.
This article gives you more details on bacon and why it is safe for your cat to eat.
Where Does Bacon Come From?
According to the USDA, bacon is defined as salt-cured pork belly. It can be made from other parts of a pig, and even from other animals such as turkeys or cows. For this article, we will be referring to good old-fashioned pork bacon.
Bacon is prepared by soaking pork bellies are in salt and nitrite. Salt is added to prevent bacteria growth. Nitrite is added to specifically prevent botulism, or bacterial toxins. It also preserves the meat and provides some of the "cured" flavor.
In addition to the salt and nitrite, bacon may include other additives such as sugar, maple sugar, flavorings, and spices.
Once cured, the meat is cooked for mass production in a convection oven, or traditionally smoked. Smoking is a longer process, which is usually only used by artisan meat suppliers.
In the United States, bacon is prepared in long, narrow slices. There's also American-style Canadian bacon, which is prepared in round slices.
What Is A Natural Cat Diet?
Cat food brands and options are abundant. Many owners are simplifying their choices by providing a natural food diet for their household carnivore.
A natural cat diet aims to eliminate additives and preservatives, while providing a healthy source of natural vitamins and minerals. A natural diet is also beneficial for animals that have special dietary requirements.
It includes raw or cooked poultry and meat. Owners can prepare it themselves or purchase it from pet stores.
There is still some debate about the safety of natural cat diets.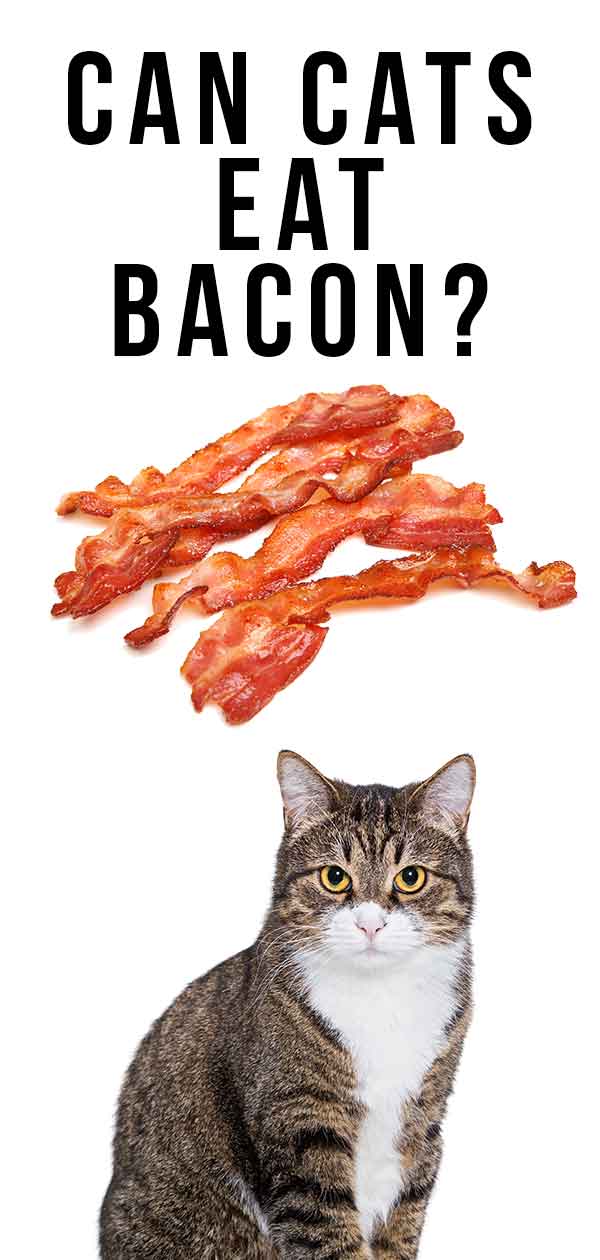 Safety Concerns
Many veterinary and health organizations do not support natural pet diets because of the risks associated with illness-causing bacteria found in uncooked food.
Our raw cat food article provides more information about the benefits and risks of a natural cat diet.
Check with your veterinarian before making any major changes to your cat's diet.
If you choose to go the natural diet route, there are some food handling safety tips from the CDC to keep in mind.
Wash your hands with soap and water after preparing your cat's meal
Disinfect surfaces and utensils that contacted the raw food
Safely store the food in your freezer
Is Bacon Good for Cats?
Bacon is also a good source of animal protein, several B vitamins, and other minerals, including iron and magnesium.
Eating small amounts of cooked bacon in moderation is generally considered a safe practice for humans.
The same is true for cats! A cat's diet requires protein and fat, which bacon will provide.
However, similar to humans, bacon should be considered a treat for cats and only be given to your feline friend in very small amounts, on occasion.
Is Bacon Bad for Cats?
Bacon is not toxic to cats.
The nutritional content of bacon is what should be considered. Even for humans, bacon is only recommended in moderation.
Bacon contains 40% saturated fat, 10% polyunsaturated fat, and a whole lot of cholesterol.
The high fat and sodium content in bacon are not ideal for a cat's diet, either.
Although some fat is good for a cat's diet, too much of it may lead to weight gain. Obesity makes cats vulnerable to other health problems, including diabetes and arthritis.
Bacon, Sodium, And Cats
The high sodium content in bacon is another concern for cats.
According to the USDA, one slice of cooked bacon has about 137 milligrams of sodium.
Sodium provides important mineral content in a cat's diet. A 2016 study in the Journal of Animal Physiology and Animal Nutrition did not find evidence to limit cats' sodium intake.
However, high sodium content might cause excess thirst and increased water intake for cats. For a healthy cat, this is not a concern. For cats with kidney, liver, or heart disease, excess sodium might be problematic.
If you are only sharing small pieces of cooked bacon with a healthy cat, they should not be greatly impacted by the fat and sodium levels.
Do Cats Like Bacon?
Do you have a picky eater on your hands? Taste preferences vary from cat to cat. And sometimes an individual cat may change its taste preferences over time, too!
Your cat may be perfectly happy without bacon in its life. With the wide array of cat treat options available, you'll find something that your feline friend enjoys as a treat! Here are some to try:
Some cats even like treats like blueberries!
If your cat does enjoy bacon, we don't recommend using it as a regular treat. Save it for special occasions.
You might be able to use your cat's love of bacon to your advantage. For example, if your cat needs to take a pill for a short period of time, you might want to try wrapping it in a small piece of bacon.
Can Cats Eat Turkey Bacon?
If you're a turkey bacon household, you can certainly share some with your cat.
Turkey bacon is made of strips of turkey that are made to look and taste like traditional bacon. Turkey is safe for a cat to eat.
As long as it is cooked and only shared in small amounts, turkey bacon is not harmful to cats.
Can Cats Eat Raw Bacon?
Cats cannot eat raw bacon, and neither should you.
Cooking bacon destroys any illness causing bacteria that may be present in the meat.
Feeding a cat raw bacon puts it at risk of contracting food-borne illnesses such as salmonella.
If your cat gets its paws on some raw bacon, monitor it for any signs of food-borne illness, such as vomiting or diarrhea. Call your veterinarian for advice as well.
Will Bacon Make My Cat Sick?
Bacon is not toxic to cats, so it will not immediately cause a serious threat to your cat's health.
In small amounts, shared occasionally, bacon should not make a healthy cat sick.
If your cat happens to steal a few slices of bacon off the breakfast table, it may experience an upset stomach from the overindulgence. It may also need more water than normal that day, due to the elevated sodium.
Can Cats Eat Bacon?
Cats can eat bacon! Feel free to share your salty, crispy slices of breakfast—or dinner, or dessert—meat with your feline friend.
Remember to share bacon with your cat sparingly. Just a small piece of a slice will be a tasty treat for a cat.
Too much bacon can cause your cat to gain weight and add unnecessary sodium to its diet.
If your cat has a taste for bacon, there is no harm in giving it a small piece every once in a while!
References and Resources
"Bacon and Food Safety." United States Department of Agriculture.
"Feeding Your Cat." Cornell Feline Health Center, 2017.
"Pet Food Safety." Centers for Disease Control and Prevention, 2017.
Gunners, Kris. "Is Bacon Bad for You, or Good? The Salty, Crunchy Truth." Healthline, 2018.
Nguyen, P. Et. al. "Sodium in feline nutrition." Journal of Animal Physiology and Animal Nutrition, 2016.
Schlesinger, Daniel P. and Daniel J. Joffe. "Raw food diets in companion animals: A critical review." The Canadian Veterinary Journal, 2011.