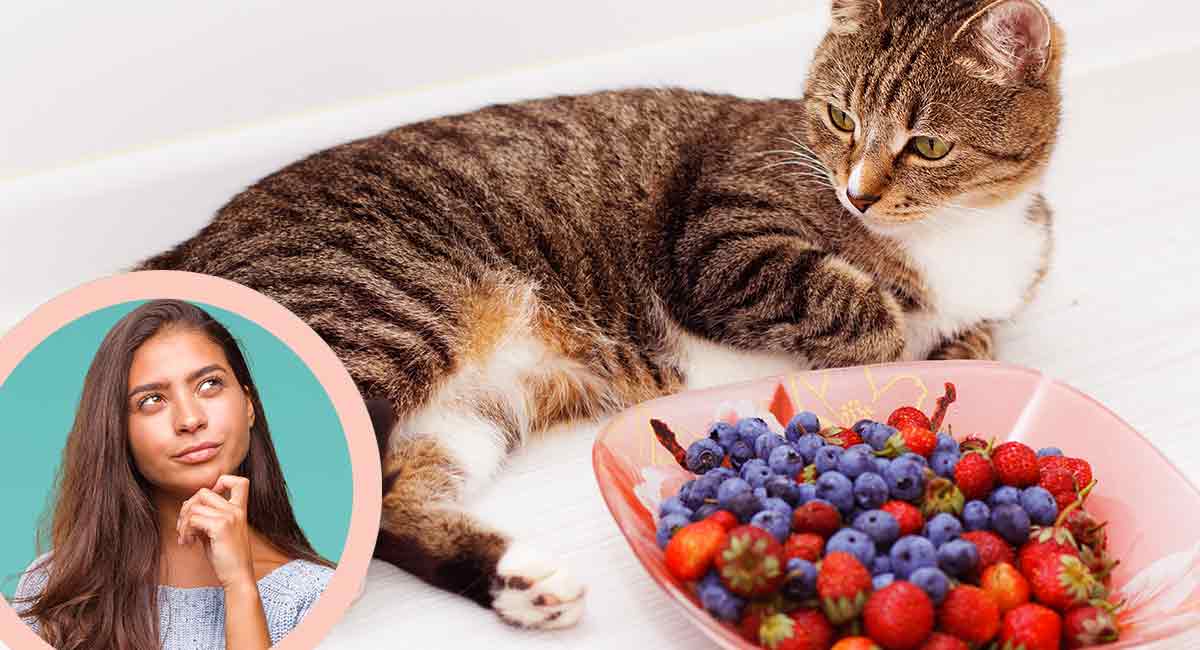 Can cats eat blueberries? Cats can eat blueberries in small quantities as an occasional treat if they like them.
However cats are highly specialized to digest animal products only. So they won't get the same nutritional benefits from blueberries that we do.
In fact many cats will be more interested in playing with blueberries than eating them!
Let's take a closer look at whether blueberries have any health benefits for cats.
Can Cats Eat Blueberries?
Wondering if you should be adding blueberries to your cat's diet? The humble little blueberry is enjoying newfound popularity as an antioxidant-rich "superfood". More people are adding blueberries to their meals.
Dog owners have also been giving their pups blueberries as treats. They are even being added to some commercial dog foods. But what about cats?
Feeding cats non-meat food items can be tricky. Not only are they finicky eaters, but more importantly, cats are true carnivores. This means they require the nutrients found in animal proteins to survive.
Blueberries are not harmful or toxic to cats. So if your cat likes them, it's OK to feed your cat a small number of blueberries every now and then.
But as a meat eater, it's likely your cat will appreciate a fish or chicken treat instead. Let's look at blueberries and whether you should feed them to your cat.
Where Do Blueberries Come From?
Blueberries are the fruit of a plant that's also related to cranberries and huckleberries. They are commonly eaten fresh, baked into sweets, and made into jam.
Blueberries are low in fat and calories. They contain fiber and important vitamins and minerals, including vitamins C and K, potassium, and magnesium.
Antioxidants
What's an antioxidant?
Antioxidants are substances that can help prevent cell damage in the body when consumed.
Besides blueberries, they are also found in many other fruits and vegetables, such as kale, beans, cabbage, and beets.
Meat and fish can also contain some antioxidants, so your cat's natural diet will contain antioxidants even if you don't feed her fruits and vegetables.
Let's talk about the feline diet next.
What is a Natural Cat Diet?
Cats are obligate carnivores. This means that they require the nutrients found in animal proteins in order to survive.
Unlike a cat's strict carnivore diet, dogs have a more flexible diet. They are often classified as omnivores.
Cats have evolved to thrive on a meat-based Their physical features (such as the structure of their teeth and gastrointestinal system) reflect this. From a nutrition standpoint, cats have difficulties processing substances like carbohydrates and sugars.
Cats require more animal protein than omnivores like dogs and humans. They need certain essential amino acids (such as taurine) to survive.
Cats are unable to process some of the vitamins and nutrients found in blueberries and other fruits and vegetables. So, while not harmful, blueberries may not be such a "superfood" for cats.
Can Cats Eat Raw Blueberries?
Eating raw blueberries is not harmful for cats.
As we mentioned, as obligate carnivores they are not able to get the same advantages from blueberries as we do. But blueberries won't hurt your cat.
If your cat likes the taste of raw blueberries, you can feed one or two as a treat.
Many cats don't like the taste of fruits and vegetables, so don't be surprised if your cat isn't a big fan of blueberries.
The benefits of blueberries for cats are mainly that they are a good source of fiber and moisture. But they aren't a feline superfood in the same way that they are for humans.
Can Cats Eat Blueberry Desserts and Preserves?
Blueberries often come in the form of sweets. They are baked into desserts and cooked as jams.
Cats don't share the same sort of sweet tooth that humans have. So many cats will not be interested in eating sweets that contain blueberries.
If your cat does enjoy taking a bite out of your blueberry muffin or licking the blueberry jam off your toast, that's fine.
A little taste of cooked blueberries is not harmful to cats. But don't let them consume large quantities at the expense of proper balances meals.
Save these treats for rare occasions.
Can Cats Have Blueberry Powder?
Blueberry powder is a popular food additive. Many people add blueberry powder to things like smoothies, yogurt, and cereal.
There are also blueberry powders that are designed to be added to pet foods.
Should you add blueberry powder to your cat's wet food?
Some pet owners add blueberry powder to dog and cat food because certain berry powders are marketed as being supportive of urinary tract health.
Cats can be prone to urinary obstructions caused by the formation of crystals in the urine. This is especially common in male cats.
You may be tempted to give berry powder to a cat who suffers from urinary blockages. But it's best to talk to your vet about your cat's health before doing so.
Cats with urinary issues are often prescribed a special veterinary diet that is designed to prevent crystal formation.
Keep in mind that a urinary blockage is a true vet emergency. So be sure to take your cat to the vet for treatment right away. You can talk to your vet about diet after the immediate danger of a blockage has passed.
Are Blueberries Good for Cats?
Blueberries are not harmful for cats. But cats don't get the same antioxidant benefits from them that we do.
Because cats are true carnivores, they don't process some of the nutrients in fruits and vegetables in the same way that humans do.
The main health benefits of blueberries for cats are added fiber and moisture in the diet. Since some cats can be prone to constipation, increasing the fiber and moisture content of your cat's diet can be helpful.
Be sure to talk to your vet about the best way to manage your cat's constipation through diet.
Adding extra water and vegetable fiber to the diet can help manage feline constipation.
Are Blueberries Bad for Cats?
Blueberries are not bad for cats in the sense that they are not toxic or poisonous to cats.
It's fine for your cat to eat a few blueberries every now and then.
Cats will not derive the same nutritional benefits from blueberries that omnivores like dogs or humans will get. But a few blueberries won't harm them.
As a true carnivore, your cat needs a diet rich in animal protein. But the addition of some plant products like blueberries or pumpkin for fiber and moisture is OK.
Talk to your vet before using blueberries or blueberry powder to treat urinary or digestive health issues, as there may be better options.
Do Cats Like Blueberries?
Cats can be picky eaters and are easily put off by food items that don't appeal to their senses of smell and taste.
Many cats will not eat any fruits or vegetables at all. But some might want a taste of your food.
You can try putting a blueberry in front of your cat to see what happens. She may give it a sniff or a lick. She might also pull back in distaste or simply bat it around with her paw for fun.
Your cat will likely prefer a meaty treat like some cooked fish or chicken instead.
Can Cats Eat Blueberries?
Let's recap the answer to "can cats eat blueberries?". Yes, cats can safely eat blueberries. It won't harm them to eat a few.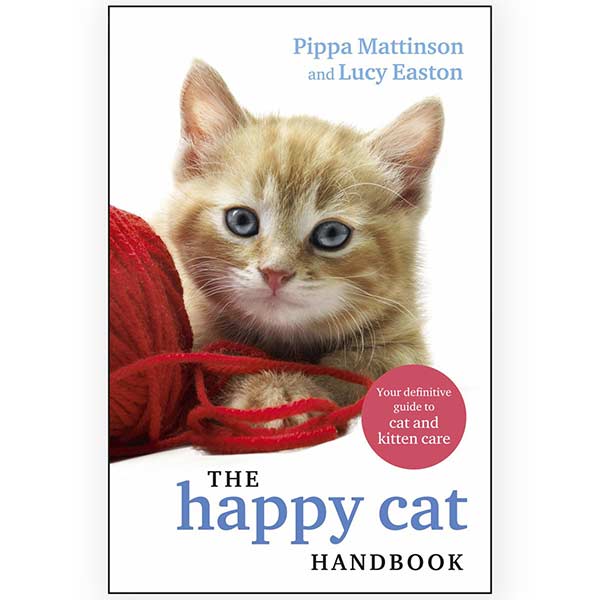 Not all cats will want to eat blueberries. So don't be surprised if your cat isn't interested.
If you are looking to add blueberries to your cat's diet because you've heard about their reputation as a superfood, remember that they are not such a superfood for cats.
As obligate carnivores, cats are designed to eat a strict animal protein diet.
Added fruits and vegetables don't provide them with the same benefits as they do for us. So don't feel bad if your cat doesn't like blueberries.
More Cat Treats
Find out about the other foods your cat can and can't eat in the guides below.
References and Resources
Basic Report: Blueberries, Raw. National Nutrient Database, United States Department of Agriculture.
Antioxidants: In Depth. National Institutes of Health, Unites States Department of Health and Human Services.
Wortinger, A. Cats: Obligate Carnivore (Proceedings). CVC in Kansas City Proceedings, 2010.
Urinary Obstruction in Male Cats. American College of Veterinary Surgeons.
Constipation. Cornell University College of Veterinary Medicine Feline Health Center.
Your Amazing Cat!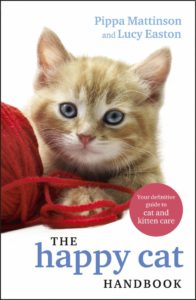 We are so excited to share our new book with you!
If you have enjoyed your visit to The Happy Cat Site we think you'll love The Happy Cat Handbook.
Written by the founders of this website including the author of the hugely successful Happy Puppy Handbook, it's packed with cat care information and fascinating cat facts.
Grab your copy today!
Free Updates For Cat Lovers!
Our cat care articles, tips and fun facts, delivered to your inbox