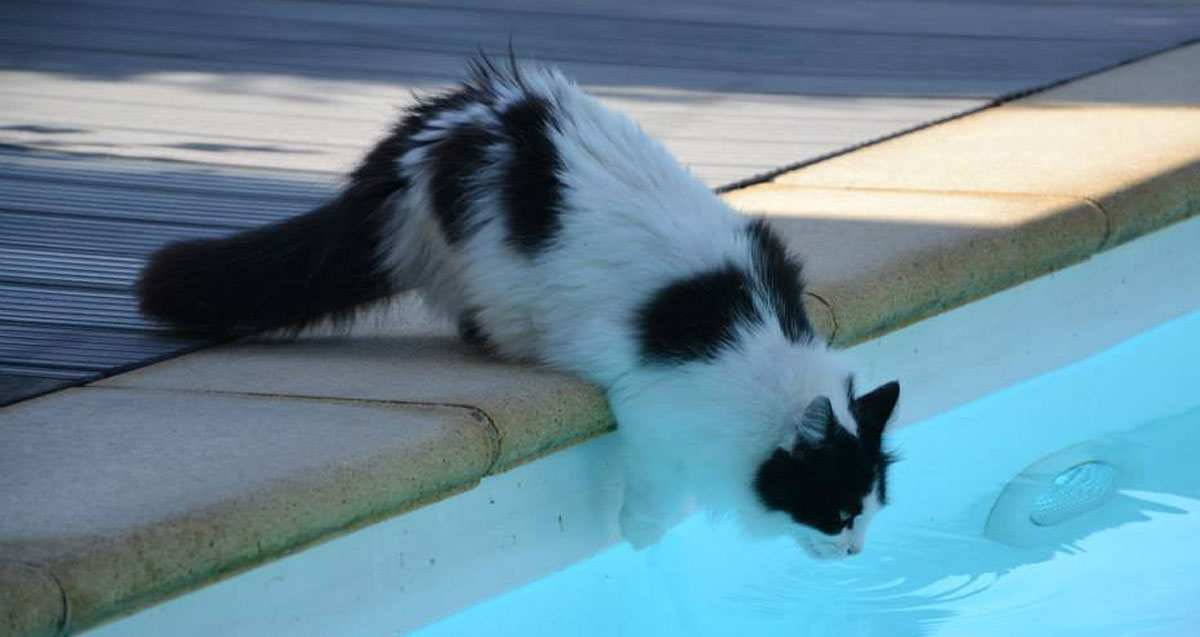 Can cats swim? All cats have the potential to enjoy playing with water, and even swimming, if they have lots of opportunities to have fun with water while they are young.
Some cat breeds that are known to love water are: Turkish Vans, Bengal Cats, and Maine Coon cats.
Read on to find out more about where the myths surrounding cats and water come from.
Can domestic cats swim?
We tend to take it for granted that our pet cats don't like water.
Looking back, I can't even remember who told me that cats don't like water. Or why the question came up.
Everybody knows they just don't… right?
And surely you can't learn to swim if you won't go in the water?
Well it turns out the reality is not so straight forward.
Like their big cat cousins, all domestic cats are born physically able to swim.
And with some innate understanding of how to do so.
Which means that yes, all cats can (in theory) swim!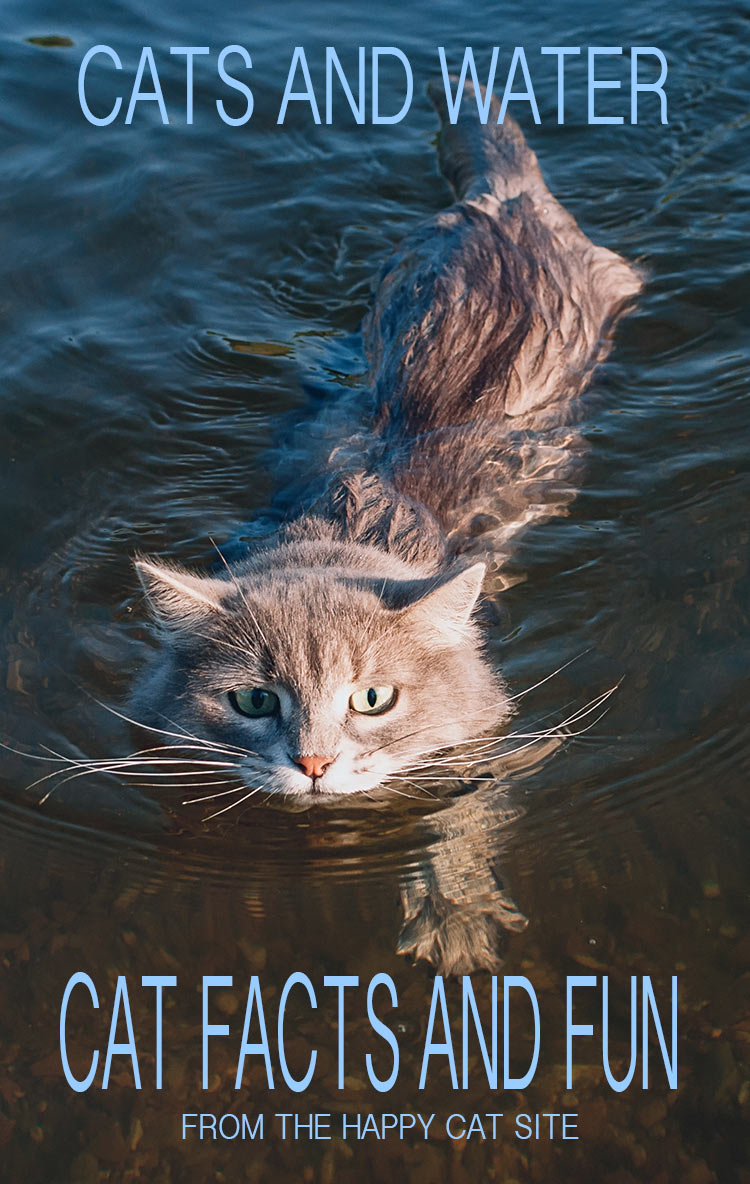 How do cats know how to swim?
How do cats swim if they've never been taught?
A lot of animals have some instinct for how to behave in water.
Especially when they're young.
When human babies are submerged in water, they automatically hold their breath.
Their heart rate slows, and circulation to their hands and feet decreases to stop them losing heat. Amazing!
All of us on land are descended from ancestors who lived in the sea.
Perhaps for some animals today the instinct for swimming has somehow been kept more "alive" since then.
But why does my cat hate water if he can swim?
Well, there are a few factors at play here.
Firstly, being born knowing how to do something doesn't necessarily mean you'll be good at it.
Cat hunting behaviors are also innate, but some cats still struggle to catch so much as a fly.
Secondly, some cats might have been bred for characteristics that make them somehow less suited to life in the water.
Such as a less muscular physique, or a particular type of coat.
Finally if a cat never has never had to go in water, they can simply lose their confidence.
I think we all know how that feels!
Swimming cats need water confidence
If your cat lives indoors, they probably haven't encountered much water.
Even if you have an outdoor cat you probably kept them indoors for the first few months of their life.
Also, because we think our cats don't like water, we keep them out of the way of the bath and the pool, etc.
Without experience of water, cats become wary of it.
This reaffirms our belief that they don't like it.
The common confusion between Van cats and Turkish Van cats is a perfect illustration of how cat swimming is often a product of our own expectations:
Van cats and Turkish Van cats: a case of mistaken identity
In east Turkey there is a lake called Lake Van.
All around Lake Van live a traditional local breed of cats called Van cats.
They are white and fluffy, and great swimmers!
In the 1950s, two British women called Laura Lushington and Sonia Halliday visited Turkey.
Over the course of a decade they took home four cats, which became the founding cats of what they called the Turkish Van breed.
The Turkish Van breed has since become noted for loving water.
The truth about Van cats
But here's the thing… none of the cats Lushington and Halliday brought back were Van cats.
They didn't even go to Lake Van.
But the two breeds have become confused, and people regularly attribute the Van cat's love of water to Turkish Van cats instead.
So what happens is that people bring home Turkish Van cats expecting them to like water.
They give them lots of enriching play experiences with water, and it becomes a self-fulfilling prophecy.
What's my point?
All cats have the potential to enjoy playing with water, and even swimming, if they have lots of opportunities to have fun with water while they are young.
Cats that like to swim: the water loving breeds
Ok, "like to swim" might be a bit of an exaggeration.
But there are certainly some breeds of cat which have temperaments or physical characteristics that make them well suited to water.
All cats have the potential to enjoy playing with water.
But these are the breeds which, anecdotally at least, get the most thrills from it:
Van cats
The original Turkish swimming cat.
Van cats swim in Lake Van to cool off in the hot Turkish summer.
Visitors describe them swimming out to meet fishing boats in the hope of some lunch.
Here's some footage of a Van cat swimming taken from a documentary made for the UK in 2013 called the Secret Life of Cats:
Turkish Vans
Plenty of Turkish Van owners report that their pet has an unusual fondness for water.
Despite the fact they're unrelated to their swimming namesake.
This is likely to be partly because they get lots of opportunities to try playing in water.
And also because of some helpful physical attributes.
Turkish Van cats have a dense, water repellent coat to keep them warm in the water.
They also have powerful hind legs ideal for swimming.
Bengal Cats
The confident and playful Bengal cat is one of the few shorthaired breeds noted for their love of water.
This affinity is often attributed to their wild cat ancestry, but this is yet another myth!
Bengal cats are descended from asian leopard cats, which prefer to hunt in trees than in water.
So I think this is actually a case of Bengals' daring temperament winning the day!
Maine Coon Cats
Like the Turkish Van, Maine Coons have a dense undercoat that makes it harder for water to penetrate all the way to the skin.
Their love of water has also been attributed to their heritage as ships' cats.
But it's hard to tell how much this has actually influenced their enthusiasm for water.
Other water loving cat breeds
Other breeds noted for their fondness of water include the American Shorthair.
Also, the American and Japanese Bobtails, the Turkish Angora and Norwegian Forest cats.
Water games for your cat
Whatever breed of cat you have, and whatever their age, it's never too late to try using water to widen their repertoire of fun games.
Especially in warm weather!
Try fashioning a cat swimming pool from a shallow tray with a small amount of water in the bottom.
Don't actually make it deep enough to swim in, just a centimeter or so to float some slippery toys on.
Let your cat approach the tray in their own time and try to catch the toys from the side.
They might love the way they bob about, and you may eventually see them climb in to try and snag their prey!
Remember to keep a close eye on your cat whenever they are playing with water, to keep them safe.
The watering can cat game
My mother has a beautiful but daft Maine Coon called Molly.
Molly's absolute favourite game is when someone fills a watering can and uses it to make sweeping, arcing patterns in the lawn.
She is obsessed with "catching" the spot where the water hits the ground, and chases it round like a loon.
It's completely, endearingly, bonkers.
(Incidentally, Molly is also one of those terrible hunters we touched on earlier, the only thing she ever captures are our camelia flowers.)
Can cats swim in a pool?
If you're lucky enough to have a pool, keeping your pet cat safe around it will be top priority when you bring them home.
Just because cats have some innate swimming ability doesn't mean that you shouldn't take precautions.
Graceful, competent swimming won't come easily to a cat who's gone their whole life without being submerged in water.
Cats and pool safety
If a cat without much water experience falls into a pool, they are more likely to panic and flail and wear themselves out before they can make it to dry land.
So, if you have a pool at home, consider investing in a pool cover before you let your cat outdoors.
If your cat does like to go for a paddle, or even a swim, make sure there are plenty of places where they can easily climb out of the water.
Can Cats Swim?
All cats are capable of swimming, but compared with dogs for example, most cats prefer not to.
That may be more to do with the way we tend to exclude cats from water based activities, rather than  any instinctive aversion to water in cats.
However, although they can swim instinctively if they fall in, cats that are unaccustomed to water may be poor swimmers.
Drowning is something you just don't want to risk.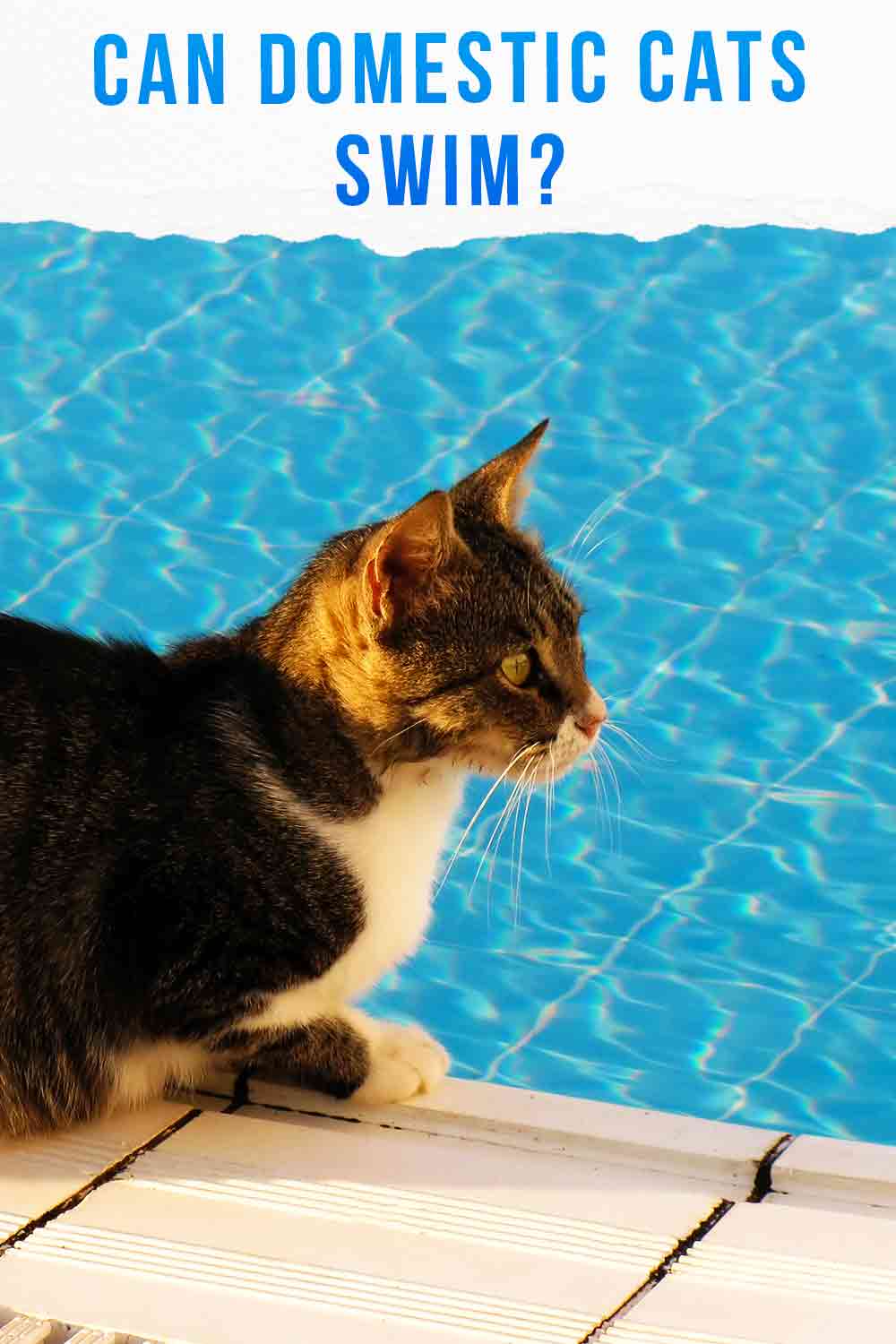 Does your cat know how to swim?
Do you have a cat that likes to swim or play with water?
What breed are they, and how do you encourage their love of water?
Please tell us about them in the comments section!
More great cat content