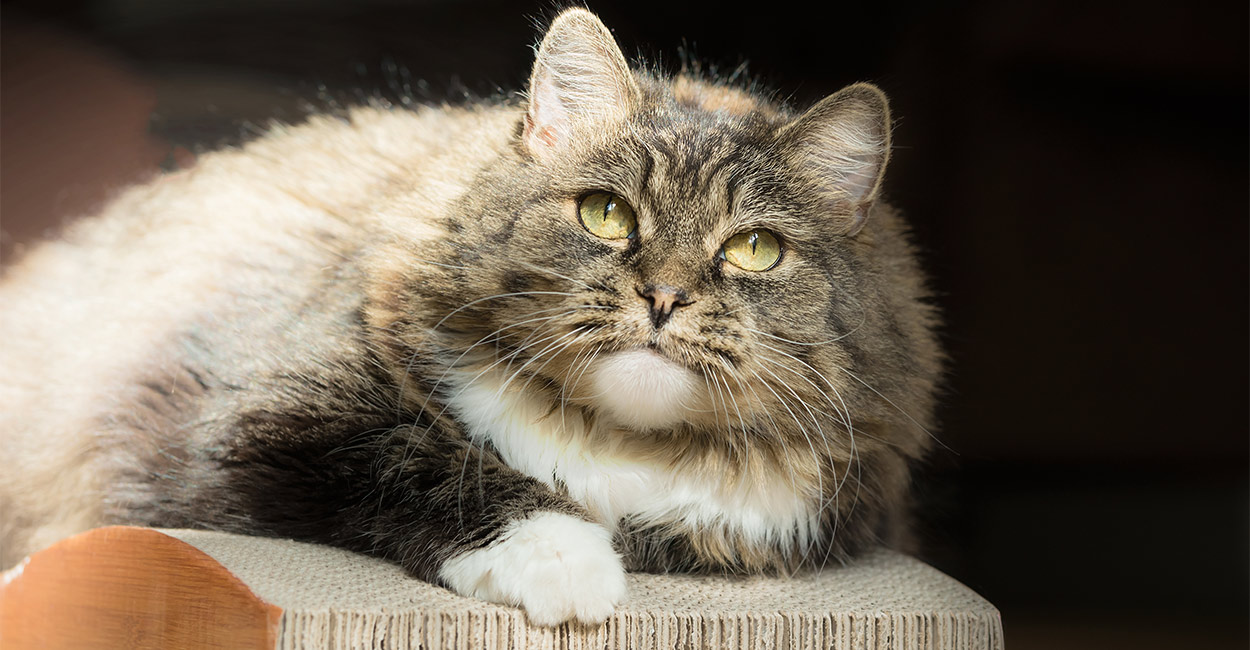 This time we've rounded up our favorite choices if you're looking for a cardboard cat scratcher to keep your cat's claws distracted from the carpets and the furniture.
While the idea of a cat that doesn't scratch is one many cat owners dream about, it is not an idea that is likely to ever become a reality.
What this means is: if you own a cat, you own a cat that scratches.
Without any hope of keeping your cat from scratching, the next best option is to provide suitable items your cat can scratch on whenever the urge arises.
So without further ado, let's take an in-depth look at cat scratch behaviors and cardboard cat toys, including a cardboard cat scratcher and cardboard cat tree that will give your cat plentiful scratching options!
Why cats scratch
If only cats could talk…..but unfortunately, thus far it has fallen to feline biologists and animal behaviorists to attempt to identify the many reasons why cats scratch.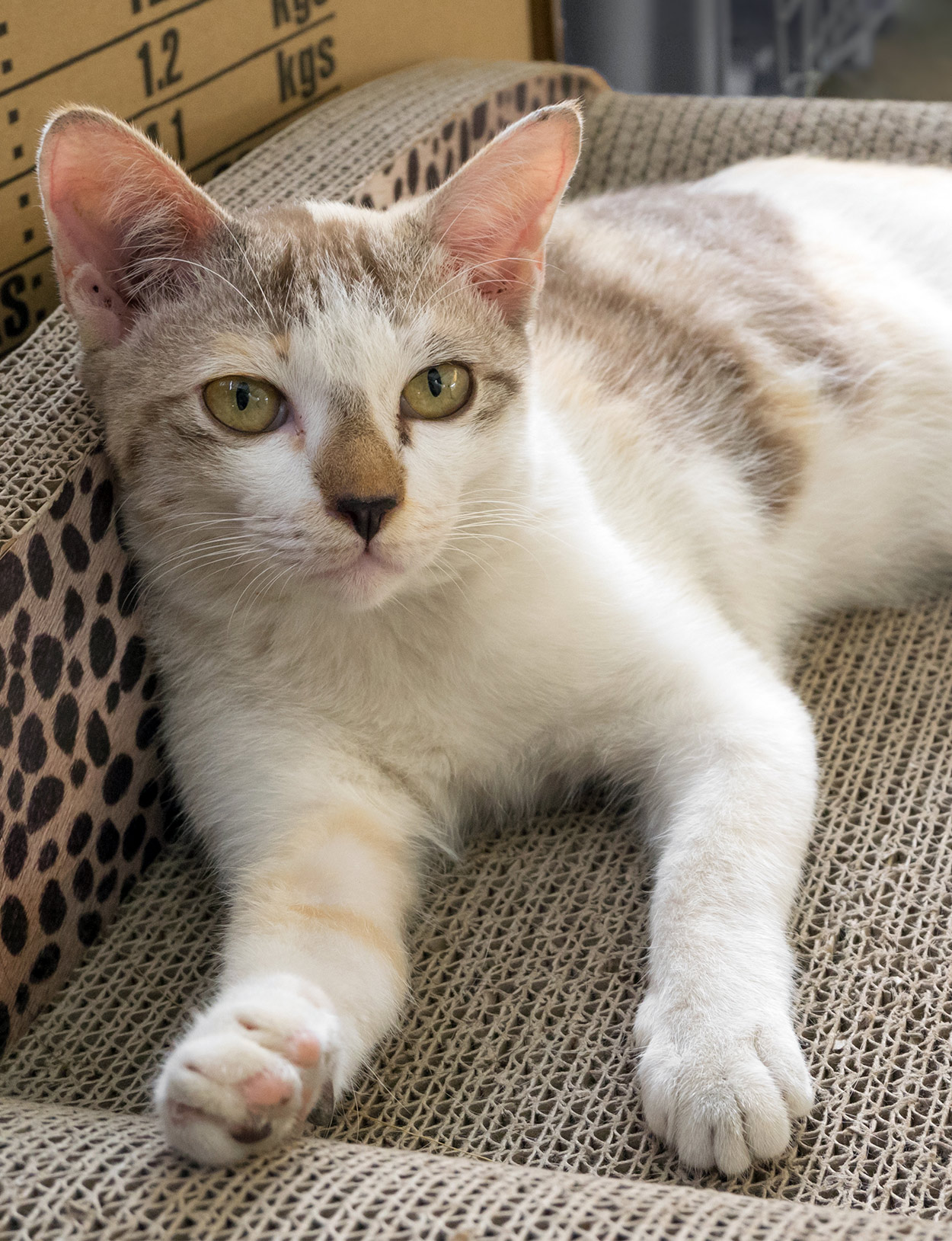 Looking at wild cat behaviors offers some helpful clues.
In the wild, cats appear to scratch to mark their territory, say "hello" (or "back off"), look for mates, maintain their claws, help shed their coats and stretch out tired or tight muscles.
Could domestic cats be scratching for some or all of the same reasons?
It seems highly likely!
How cats scratch
Paying attention to how and when your cat scratches can give you clues for how to redirect your cat's scratching to a cardboard cat scratching post.
Animal behaviorists note that cats typically scratch either horizontally or vertically as opposed to at an angle or at random.
Also, many cats seem to like to scratch right after they have woken up, perhaps to stretch and get the blood moving again.
Some cats appear to scratch as a part of a greeting process with "their" people.
And many cats seem to prefer to scratch objects that are out in plain sight in more well-used areas.
What your cat chooses to scratch
In research on cats and scratching, cats show a noticeable preference for fabrics that are looser and less tightly woven.
Not only are scratches easier to see when made across a looser fabric, but these fabrics are less likely to snag or catch the claws.
Cats also prefer very stable surfaces for scratching, which can explain why a heavy couch is preferred to a spindly kitchen chair.
Your cat doesn't want what he is scratching on to fall over on him!
Understanding your cat's scratching
To help understand your cat's scratching habits and preferences, you can make a little questionnaire for yourself to use as you study them:
Does your cat typically scratch vertical surfaces or horizontal surfaces?
Is there a particular fabric or material he can't resist?
Does he scratch more in public family rooms or in a more secluded location?
Do you see him scratching more after naps, when you get home from work or at other regular times during the day or evening?
Does he have a favorite furnishing to scratch and how heavy/sturdy is that object?
This questionnaire can help you choose the types of cardboard cat toys you offer as well as where you place them.
For instance, if your cat likes to scratch the couch arm in the family room when you are all gathered there after dinner, you can place a cardboard cat scratcher house near the couch arm so he can do his scratching there instead!
Cardboard cat tree
Cardboard has lots for a cat to love.
It is easy to scratch and shred. It makes satisfying noises when scratched. It leaves a highly visible mark.
If it is corrugated cardboard, with its denser feel and greater challenge, even better.
Cardboard certainly isn't durable, but your cat isn't looking for durability when she scratches.
She is looking to make her highly visible mark, and cardboard will definitely help her do that!
Check out these cardboard cat tower products as great examples of cardboard cat tree options cats love.
Petstages Cat Hammock Scratcher
This cat hammock cardboard cat tree mimics the way a wild cat might casually drape himself across two crisscrossing tree branches.
It is so comfy and cozy your cat can nap and then wake up for a good scratch!
It comes with free catnip for extra enticement.
Kitty City XL Corrugate Scratchers with Bubble Window
This innovative design gives your cat the full-on scratching experience – it is completely made out of corrugated cardboard with an inside scratcher board.
There is also a fun "skylight" bubble at the top to let light in and let your cat peer out.
Cardboard cat condo
A cardboard cat condo can pull double duty as a hideout/lookout and a satisfying scratch-worthy toy.
Check out these snazzy cardboard cat condo options your cat will love!
Friends Forever Cat Cardboard Scratcher House
This super-cute and unique polygon cardboard cat condo mimics the entry/exit of a cat tree.
The design provides all the security of a hidden lookout for napping as well as scratching.
It is made of high-density corrugated cardboard that is durable and satisfying to scratch.
There are two entry/exit points and ten scratch points both inside and out.
Moggiez and Doggiez Cat Toys and Playhouse
This cat condo is made of safe and non-toxic materials, including cat-safe ink and sturdy recycled cardboard.
And it looks like your kitty's very own campervan! Perfect for the nomadic feline who loves to wander.
You also get a free mouse and feather toy and a free cat training E-book.
MushroomCat Ultimate Scratcher Lounge Bed
Less of a condo and more of a tunnel, this sweet and witty design still makes our cut because of its cult following amongst cat owners, and cosy internal space to keep watch from.
It's smaller and lighter than some of our other suggestions, but an ideal choice for kittens, and adult cats who are still kittens at heart!
Cat scratch pad cardboard
Today's corrugated cardboard cat scratcher toys are so attractive and minimalist they could almost pass for home décor.
Purely functional yet also intriguing in appearance, these cat scratch pad cardboard toys won't embarrass you when your cat starts scratching during your next dinner party.
They might even make for great conversation starters – such as how they help to keep your cat away from the table legs and chair backs!
Infinity Lounge Premium Cat Scratcher by GoPets
This horizontal cat scratcher is made from recycled corrugated cardboard.
It comes with extra cardboard cat scratcher refills that are reversible and free catnip to help your cat transition to scratching on the lounge instead of the couch!
The entire lounge is also recyclable once your cat is done with it (although that may never happen).
4CLAWS Wall Mounted Scratching Post
This vertical cat scratcher is made from premium pressed cardboard and can be wall mounted for safety and stability while your cat scratches away.
It is made from recycled cardboard and is fully recyclable as well.
This scratcher is a great choice if your cat likes to scratch at doorways or areas of the house with high footfall.
These cats just want to leave a prominent message to everyone who passes by about exactly who's territory they're on!
So a vertical scratching post near their usual target is a perfect compromise.
PetFusion 3-Sided Vertical Cat Scratcher and Post
This 3-sided cardboard cat scratcher may offer the best of all worlds, since your cat can scratch vertically and horizontally as well as in numerous angles.
It is assembled with recycled cardboard and starch glue (non-toxic).
Cat owners love it so much this product won the 2014 Cat Fancy Editors Choice award for "best new product."
Cat scratch box cardboard
The name says it all – why go fancy when all your cat really wants is some sturdy cat scratch box cardboard to scratch into slivers?
With these cat scratch box cardboard toys, your cat can go to town while you watch indulgently from your comfy (scratch-free) couch!
The Original Scratch Lounge with Catnip
This is a three-sided cat scratch cardboard box that doubles as a napping box – perfect for when your cat likes to wake from a doze with a stretch and a scratch.
The honeycomb corrugated cardboard is reversible for double use and is super-satisfying for your cat to scratch.
Best of all, the whole box is fully recyclable after your cat is done with it.
Fat Cat Kitty Hoots Big Mama's Scratchy Box for Cats
This corrugated cat scratch box cardboard with tassels includes catnip to help your cat figure out the appeal ASAP.
Your cat can sit on it while she scratches away, so it won't move until she wants to let it go.
It is also reversible for double the use – one cat owner says it lasted nine months!
SmartyKat Corrugated Cat Scratchers
This angled corrugated cardboard cat scratcher box comes in a wide variety of popular styles, including a box, a chaise, a vertical and horizontal rectangular box and a square.
All come with organic catnip to entice your cat to scratch.
The cardboard is made from recycled paper pulp.

Cardboard cat scratcher
Now you have plenty of cardboard scratching options to distract your kitty from your favorite home furnishings!
For more tips and ideas to stop your cat shredding your possessions, visit our article How To Stop Cats From Scratching Furniture.
And if you haven't seen anything made of cardboard which you think can withstand your feline's talons, you can see some more scratching posts in other materials here.
If you already have a go-to cat scratcher you love to recommend, please tell us about it in the comments.
Happy scratching!
Sources
Estepp, D., et al, "Why Cats Scratch," Oshkosh Area Humane Society, 1994.
Kornreich, B., DVM, "Feline Behavior Problems: Destructive Behavior", Cornell University Feline Health Center, 2002.
Horwitz, D., DVM, DACVB, et al, "Cat Behavior Problems – Scratching Behavior", VCA Animal Hospital, 2016.
Buffington, T., DVM, "Scratching," Indoor Pet Initiative Ohio State University College of Veterinary Medicine, 2018.
Broussard, G., DVM, et al, "Cat Scratching Problems," Oak Park Veterinary Clinic, 2016. http://www.oakparkvet.net/cat-scratching-problems.html