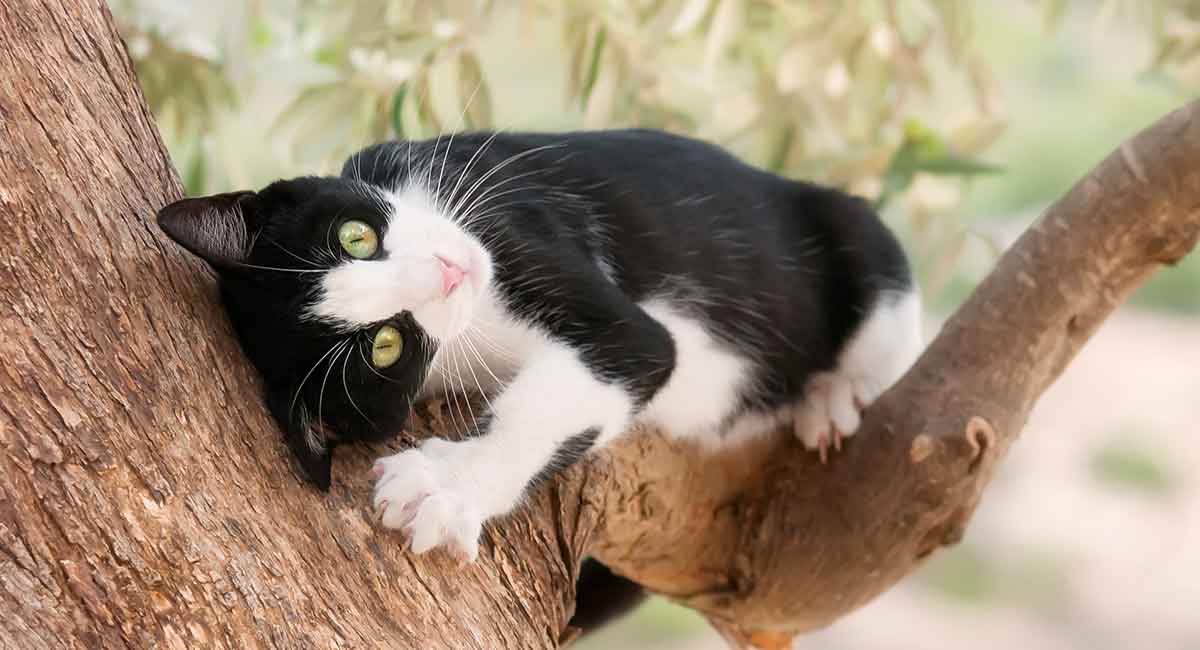 The tuxedo cat is not a breed, but instead a description of a pattern. Tuxedo cats are mostly black with a white patch on their chests that looks like a shirt peeking out from a tuxedo. They also often have white paws and a white blaze on their face. You can find these markings in a variety of cat breeds, including Domestic, British, Exotic and American Shorthairs, as well as some more unusually kitties like the Manx or Maine Coon.
Contents
1. Bicolor Cats
A tuxedo cat is known as a bicolor cat. A bicolor cat is a cat which has white spots or patches imposed on a different color background called the 'primary' color.
Tuxedo cats are bicolor cats, with white patches on black.
They separate themselves from other bicolor cats by the unique way their patches of color are arranged. One of the reasons that so many of us love tuxedo cats is the humanizing effect of their appearance, quite different from the 'wild cat' look of some of our exotic breeds.
The distinctive tuxedo cat characteristics make these cats look as though they are dressed up for an evening out. As a result they have drawn admiration from far and wide.
Make sure you take a look at this article for black cat name inspiration.
2. Piebald Cats
Some people call bicolor or tuxedo cats 'piebalds' just like we do with ponies!
The name piebald comes from the color of the Magpie – a smart looking black and white bird from the corvid family! Piebald is just another name for bicolor cats. These too, aren't a specific breed.

3. There is no tuxedo cat breed
The pattern of markings we associate with tuxedo cats can appear in many breeds of cat! And in mixed breed cats. Two tuxedo cats that have kittens together won't necessarily pass on the bicolor gene, although they often will.
4. Long haired tuxedo cat
Tuxedo cats can come in any breed, in all shapes and sizes. This includes long haired breeds like the Norwegian Forest Cat and the Persian. It's important to mention that long haired tuxedo cats are not limited to these two breeds.
So if you're looking for the best dressed ball of fur around you might prefer a long haired tuxedo cat!
5. It's all in the genes
The white spotting gene turns a solid color cat into one with patches when combined with the primary color (black in this case) .
The spotting gene is called the S gene.
Each S gene can be a little 's' or a big 'S' and they come in pairs. So, a cat has one of three possible combinations.
1. SS
2. Ss
3. ss
SS cats usually have much bigger patches of white than Ss cats
6. Your cat's tuxedo is a kind of camouflage
Cat's have a wide range of coat patterns in their repertoire, and the original reason for this was to stay hidden. We can still see it in many cats today — stripey cats who blend into long grass, for example.
The black parts of a tuxedo cat tend to be on the top of his body with the white patches on belly and chest. This makes him harder to see from above, and patching itself breaks up the outlines of his body too.
We've been protecting and feeding cats for a long time, and not needing to be hidden has meant genes for more extravagant colors can be expressed.
Although the tuxedo isn't as functional of a camouflage anymore, it stems from your cats natural need to blend in.

7. Tuxedo cats aren't that rare
Loads of cats have the genes for bicolor kittens, and a black and white bicolor kitten might be a tuxedo cat. Given that this applies to almost all breeds, that equals a lot of tuxedo cats in the world.
Though awesome and unique, there's no shortage of tuxedo cats.
8. Tuxedo cats don't need to cost more than any other cat
Since the tuxedo pattern isn't exceptionally rare and tuxedo cats aren't members of a prestigious breed, tuxedo cats don't tend to be more expensive than any other cat.
Tuxedo cat price will often depend on what breed they are.
It's quite difficult to breed cats for specific color patterns. So, often some kittens in a litter will happen to be a tuxedo kitty. Great news for us tuxedo cat lovers!
9. Tuxedo cats can have socks
No, this isn't an ad for cat clothing, it's just that some tuxedo cats genuinely look like they're wearing socks!
An already cute tuxedo cat can have adorable white paws that look like socks.
10. A tuxedo cat called Socks lived in the White House
Chelsea Clinton's owned a Tuxedo cat called Socks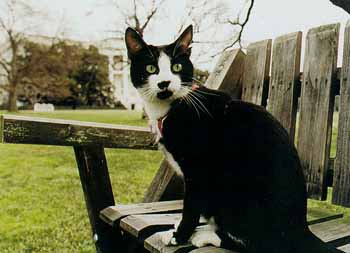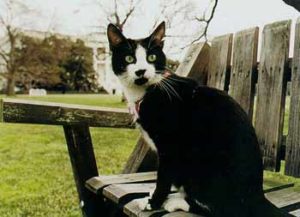 Socks lived in the White House for eight years until 2001.
11. Under the tuxedo, he's just as awesome as any other cat
There's a long held belief that you can predict a cats personality partially on it's color. Many people are convinced that a black and white cat is more friendly and affectionate.
Due to this level of interest, numerous studies have been carried out on this subject. Surprisingly these studies tend to either contradict our suspicions, or suggest no relation whatsoever.
It seems that tuxedo cat temperament is just as variable as any cat's.
So much of how a cat turns out is based on how you raise them; treat your tuxedo cat appropriately and he can be just as awesome as any other cat. The tuxedo cat personality is largely down to the person that raised them.
12. Sometimes tuxedo cats have bowties
Occasionally you'll find a tuxedo cat with a black spot on his white chest.
This adorable affectation looks just like a little bowtie!
13. There are reverse tuxedo cats
Although less common tuxedo cats can have switched colors and be mostly white with black chests and faces.
This is called a reverse tuxedo cat, and also commonly referred to as a cow cat.
14. Tuxedo cats can have mustaches
Although rare, some tuxedo cats will occasionally be born with a white patch above their mouth.
Often times it can look like just a spot, but sometimes it will look like a full-on handlebar mustache!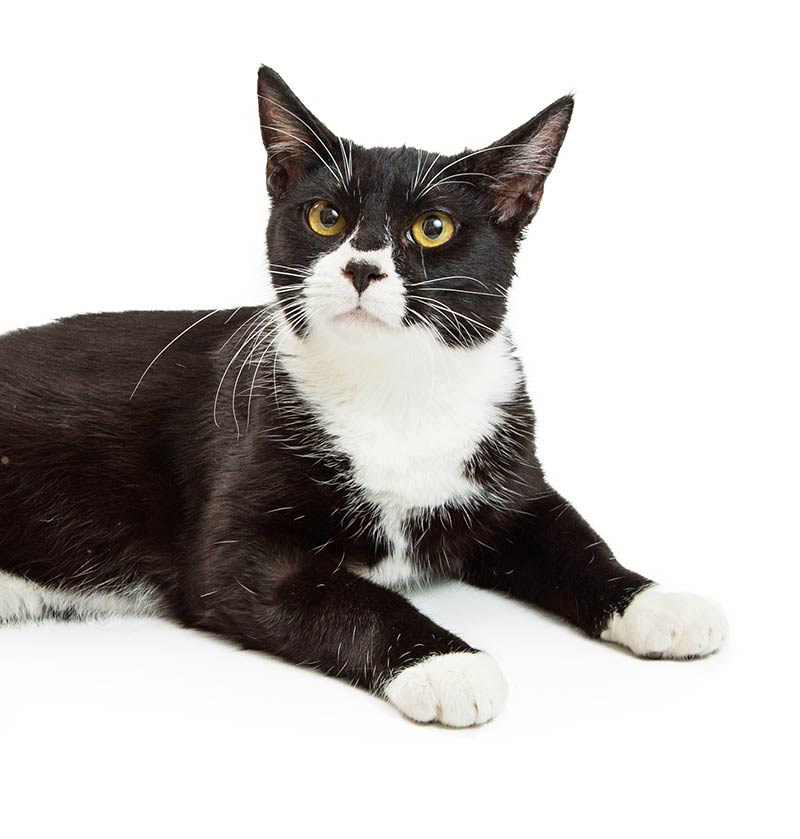 Other tuxedo cats have a black mustache on a white face. Either way it's pretty cute!
15. Tuxedo cats with white shoulders have a different name
If your Tuxedo cat has a white area over his shoulders, this is also known as a 'cap and saddle cat'
Because the black patches are concentrated on the top of his head and in a saddle shape on his back
16. They'll live as long as any other cat of their breed
Cat color doesn't seem to be a marker for their longevity, and there are too many other variables to consider.
A cats breed can impact it's lifespan due to inherited diseases, but fortunately, color doesn't appear to have any affect.
The tuxedo cat lifespan depends on the genetic cards they're dealt, the way in which they're cared for, and the environment they're raised in.
You might want to look into the longevity of the specific breed of your tuxedo cat to get a better understanding of their lifespan.
17. Felix is a tuxedo cat
Felix, the mascot for Purina's cat food, is an adorable cartoon of a tuxedo cat.
He is a bicolor black and white cat with a completely white undercarriage, and mostly white face.
The fact that tuxedo cats are used in advertising in this way is proof of their lasting appeal. This ad campaign has been so successful that people in the UK call tuxedo cats 'Felix cats'.
18. The British foreign office has a tuxedo cat
Britain's foreign office has an adorable cat called Palmerston.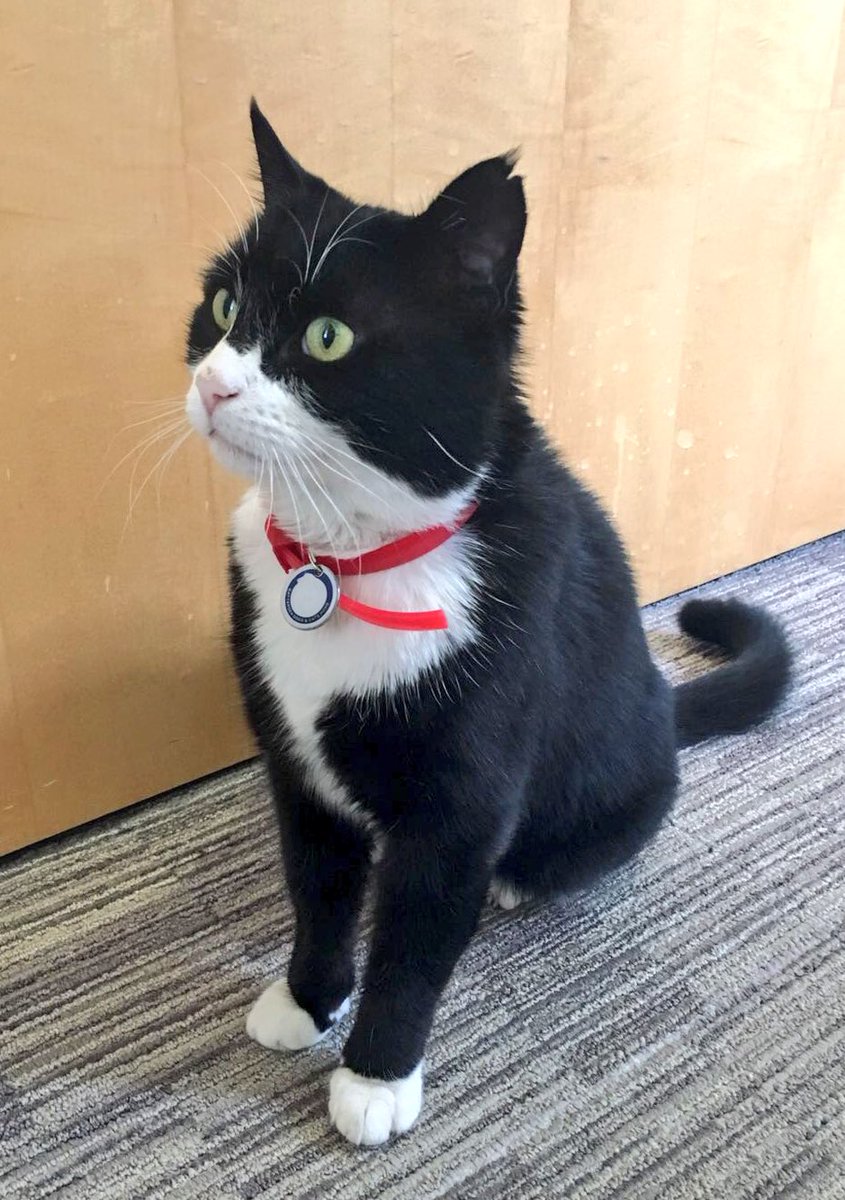 This two year old domestic shorthair cat was rescued from the streets of London, and is now a permanent residence in one of the UKs most prestigious government buildings.
19. Tuxedo cats are still wild at heart
You might not think about it when you look at him, but your tuxedo cat is much less domesticated than our other favorite pet, the dog.
Even cute domestic looking tuxedo cats exhibit naturally instinctive behavior the same way wild cats do.
20. Tuxedo cats need meat
Cats are obligate carnivores, meaning they have to eat meat to survive. For this reason, the best cat foods are high in protein
Some carnivores like dogs can generate their own taurine, an essential nutrient. However, the only place cats can get this is in the meat they eat.
21. Cats can have a grey tuxedo
The bicolor gene that contributes to the tuxedo pattern can occur in grey cats too.
So it's possible to have a grey tuxedo cat!
Some cat breeds that can have a grey tuxedo are:
22. Penelope Pussycat is a tuxedo cat
Since 1949 the Looney Tunes character Penelope Pussycat has been represented by a cartoon of a tuxedo cat.
She often finds herself the love interest of a skunk confused by her similar coloring.
23. And so is Sylvester!
Perhaps Looney Tunes' most famous cat, Sylvester, first graced the screen in 1941.
Sylvester sports the classic tuxedo black and white aesthetic.
24. These fancy cats have made their way into video games
There's no question tuxedo cats have permeated every section of society.
The popular video game Minecraft features animals you can tame, including three types of cat.
One of these cats is a tuxedo!
25. And they're in books too!
The 1993 picture book 'Kat Kong' is a parody of King Kong.
It features a giant tuxedo cat in the place of the ape.
26. Tuxedos on Broadway!
It seems like the tuxedo cat has universal appeal. You might know T.S Eliot's 'Old Possum's Book of Practical Cats' as the smash hit musical Cats!
One of Cats' main characters is Mr. Mistoffelees and, you guessed it, he's a tuxedo cat!
27.Tuxedo cats are even breaking into the music industry
The electronic artist known as deadmau5 has his own adorable tuxedo cat.
This famous cat has appeared on album covers and is affectionately known as 'Professor Meowingtons PhD'.
28. Even when only one parent is a tuxedo, many of the kittens might be black and white
The gene for tuxedo cats distinctive white spotting is dominant, so it only takes one parent with this gene to pass it on.
This does mean however that two cats with no white spotting will never have tuxedo kittens.
If the gene is present in a cat, it shows in its appearance.
TIP: If you have just brought home a gorgeous tuxedo kitten, don't miss our fabulous guide to caring for new kitties!
29. And when both of the parents are tuxedos, most of the kittens could be black and white
Due to the dominant nature of the white spotting gene, the reverse is true.
When two tuxedo cats have kittens, an average of 3/4 could be tuxedo as well!
30. Tom from 'Tom and Jerry' could be the most famous tuxedo cat ever
Tuxedo cat Tom and his arch enemy Jerry appeared in 114 short films in the 1940s, and won seven academy awards during this time.
The duo have been resurrected many times over the years with huge success and are known and loved throughout much of the world.
31. You could have a Tabby tuxedo cat
The S gene occurs in tabby cats too.
Although they might not look as tuxedo-ish, cats can have the signature white spotting together with the mackerel-like tabby coloring.
Very smart!

32. Tuxedo cats don't hang around in shelters
Tuxedo cats are generally black cats with white spotting. And it's long been held that black cats and dogs have longer stays in shelters because they're less likely to be adopted.
A recent study by the ASPCA examined statistics from animal shelters across the USA and found out something surprising: black cats and dogs are more likely to be taken in by shelters, but are equally as likely to be adopted!
33. Dark colored cats aren't less safe around roads
It might make sense to assume that a black or mostly black cat will be less visible and therefore more likely to fall victim to a traffic accident. A 2001 study indicated this was not the case, however.
Those of you with outdoor cats or thinking of letting a cat outdoors will be glad to know that the color of a cat's coat does not seem to affect how safe it is on the road at all.
In fact, the worst risks to cats in this regard were age and sex, with males being almost twice as likely to be in an accident.
34. Piebald cats have been with us for a very long time
Although the earliest indication of humans domesticating the cat comes from the ancient Egyptians, tuxedo or piebald cats might have been with us for much longer than that.
Recent evidence has pointed to the idea that cats may have been following human camps for as long as 10,000 years.
35. Tuxedo cat intelligence
The tuxedo's reputation precedes him. You may have read extravagant claims about tuxedo cat intelligence and tuxedo cat personality traits online.
Many people truly believe that they are the best!
While there may be lots of anecdotal evidence that tuxedo cats are hyper intelligent, this claim doesn't really make sense. Tuxedo cats aren't a breed of cat and so can't claim to be more intelligent than other breeds!
That aside, there doesn't seem to be much consensus in the scientific community that cat color is a reliable determinant of intelligence.
Whatever the truth of the matter, this great public image isn't going to do them any harm.
36. Tuxedo cat personality
Many people browsing a cat shelter will wonder what kind of character their tuxedo cat will have.
This is a super tricky thing to nail down. So far, scientists seem to be in agreement that coat color has no significant impact on feline aggression.
While some cats may be aloof, and others are super cuddly, there is no evidence to suggest your cat's tuxedo has anything to do with his personality.
37. Tuxedo cat names
Maybe this article has you convinced that a tuxedo cat is the one for you. What could be more important in that case than finding the perfect name!
Lucky for you, we can help! Check our our articles for great cat names.
38. Tuxedos are everywhere
A 2015 survey by The Irish Times revealed that black cats with white patches were by far the most common, and any one of these could be a tuxedo.
It's not just true in Ireland, though; this coat color has numbers on it's side across the world.
So there we have it, just some more reasons why tuxedo cats are awesome.
Even if you don't buy into the wild claims about their supposed superior intelligence and tameness; you can feel good knowing you have one of the coolest looking cats around.
Be sure to let us know why you love tuxedo cats in the comments below. And tell us all about your Tuxedo friend.
And take a look at our funny cat quotes!