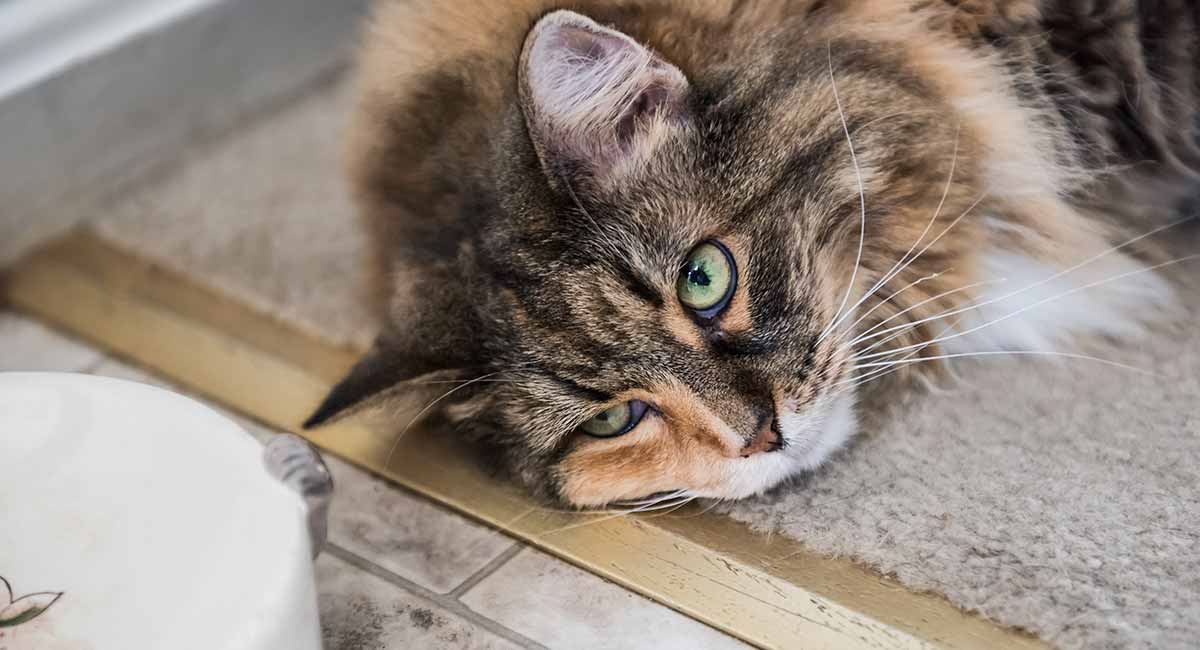 Is your cat not eating? If your cat refuses to eat you are probably feeling concerned.
Aside from wanting to find the answer to the question, "Why has my cat stopped eating?' you are also probably eager to work out how to get your cat to eat again.
There are many reasons your cat may have lost its appetite.
So, if your cat stopped eating your first step should be to take them to the vet to work out what is going on with kitty.
If your old cat stopped eating for example, the reasons behind their loss of appetite are probably quite different than the reasons a younger cat won't eat.
Why is My Cat Is Not Eating?
Depending on what your cat is suffering with, there may other symptoms that go along with a suppressed appetite.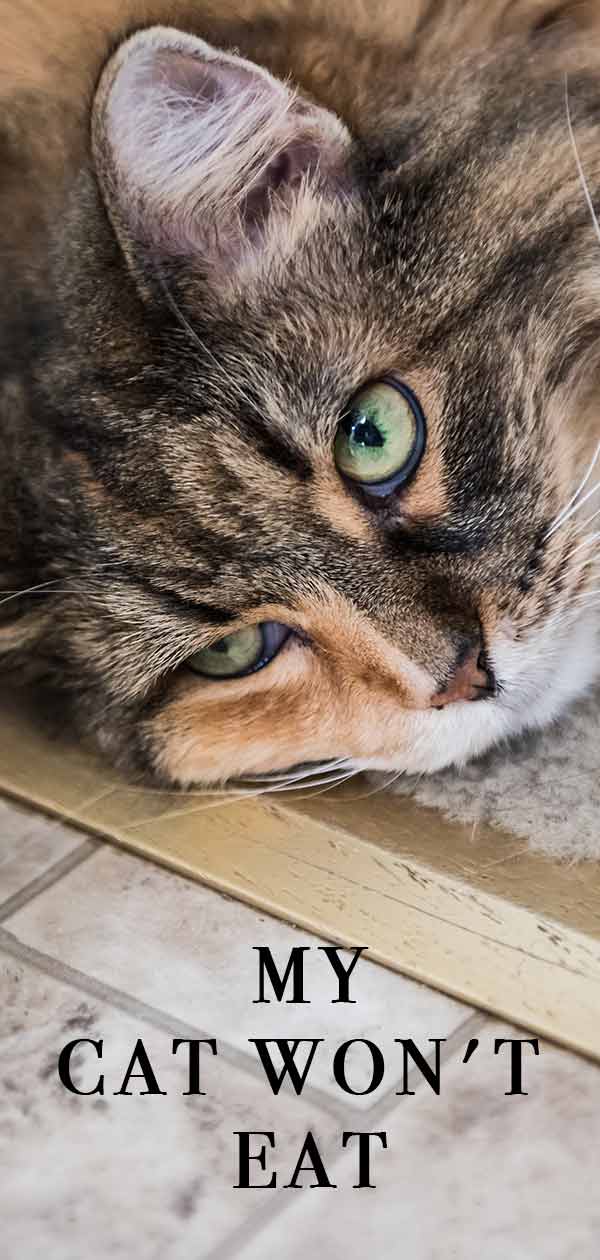 For instance, you may have a cat not eating or drinking, they may also be lethargic, or you may have a cat not eating and throwing up.
Let's have a look at some of the reasons your cat may be suffering these symptoms.
Digestive System Disorders
Your cat may have a digestive system disorder.
If your cat is suffering from one of these, not only may you notice your cat not eating, but they may also be drooling, vomiting, bleeding, bloated, or dehydrated.
They may also indicate a level of pain by whining or adopting certain postures. In some cases they may even suffer shock.
Your vet will likely ask for specifics about the symptoms your cat has been experiencing, as the symptoms themselves can indicate where the problem lies.
For instance, a cat that is having trouble biting and chewing is likely to be suffering with a disease of the mouth, whereas a cat that is vomiting may be suffering with a problem further down the digestive tract.
Dental Problems
If our mouth or teeth hurt, we don't feel inclined to eat. The same goes for cats.
So, if your cat seems hesitant to eat, it is worth checking their mouth to see if that could be at the root of the problem.
Having said that, a kitty with a sore mouth might not let you anywhere near the affected area!
The dental problems cats can experience are many and varied. Gingivitis, periodontitis, or endodontic disease are examples of just some of these issues.
There is a correlation between dental disease and diabetes in cats, particularly in some breeds such as Burmese.
So, if your cats teeth do appear to be the source of the problem, a thorough health check by the vet is not only important to clear up the dental problems, but to also make sure there is nothing else going on.
Your cat may also have suffered some kind of facial trauma. Check for signs of injury if you can. If you find anything that may suggest they have suffered an injury, be sure to mention it to your vet.
Kidney Problems
If you have a cat not eating, kidney disease could be the culprit. Some types of kidney disease are present at birth, while other types tend to develop as the cat ages.
If a cat's kidneys are not developed properly at birth, it is called a dysplasia. If your cat has this problem, the signs will usually become apparent when the cat is anywhere between 6 months and 2 years of age.
A lack of appetite is usually accompanied by vomiting and an increased thirst and a need to urinate regularly.
You will need to take your cat to the vet to diagnose this condition. Your vet will also be able to suggest the best ways to manage it.
If you have an old cat not eating, chronic kidney disease may be the problem.
This problem usually starts to become apparent when the cat is around 5 or 6 years of age. In fact, around 35% of cats will develop chronic kidney disease, and the problem does not appear to discriminate between gender or breed.
So, if you have an older cat not eating but drinking, be sure to mention your observations when you take kitty to the vet.
Liver Disease – A Danger if Your Cat's Not Eating
Feline hepatic lipidosis is another condition that is associated with a cat not eating.
This condition occurs when fats build up in the cat's liver.
As a result of this build-up the liver is not able to function properly, making kitty feel very ill indeed.
In days gone by, cats with this condition didn't fare well, and many didn't recover. These days, if the condition is picked up early, the prognosis is a lot brighter.
Treatment includes intensive tube feeding.
While the underlying cause of this condition is not fully understood, in most cases, cats that develop hepatic lipidosis are overweight.
The onset of the illness usually starts with a period of little or no appetite.
It is thought that this period of inappetence could be due to another unrelated illness, or even factors such as stress.
We will talk about these issues later in this article.
If your cat goes on to develop feline hepatic lipidosis, they will quickly become very ill. Symptoms include vomiting, lethargy, drooling, pallor and a strange arching of the neck.
To successfully treat this illness, it is very important to get your cat to the vet as soon as possible.
"My Cat is Not Eating!" – Other Factors to Consider
Cats can be mysterious creatures. So, if you have taken your cat to the vet and they have received a clean bill of health, your vet might run through some other ideas.
Here are some other factors that may have led to your cat not eating.
Have you recently changed the food you give your cat? Could it be the case that you are at the receiving end of a protest regarding this new food?
If you have just moved to a new house, or some other major change has happened which has upset your kitty's normal routine, your cat could be suffering with anxiety. This may cause them to go off their food.
In fact, one study published in 2012 found that of 60 cats admitted to an animal shelter, 49 of them (82%) lost weight within the first week of being admitted, and 25% of those cats lost equal to or more than 10% of their body weight.
So, while cats may appear cool, calm and collected, stress can greatly impact the appetite and overall health of your kitty.
Some medications may also make your cat feel a little squeamish, or if your cat has just undergone surgery or some other kind of veterinary intervention, they may not feel like eating for a while.
So, check with your vet about potential side effects of treatments.
Also, if you have just taken your cat on a car trip, your cat may not feel like eating for a short amount of time even after arriving at the destination.
If you have ever suffered with travel sickness yourself, you likely have an idea how that feels!
How to Get My Cat to Eat
Unfortunately, there is no one simple answer to this question.
A trip to the vet is crucial, as the problem needs to be diagnosed before the appropriate treatment can be started.
In some cases, it will be a simple fix such as an adjustment to the brand of cat food you give your kitty.
However, in other cases of a cat not eating there may be a serious medical condition at play which will need specialized treatment.
Conclusion
If you are tearing your hair out thinking "My cat won't eat – what can I do?", we hope that this article has given you some ideas as to what could be happening with your furry friend.
This information may also help you make observations which you can pass on to your vet.
While it can be an indication of something serious, in many cases with the appropriate treatment (or even just a change of cat food!) your cat will be feeling better soon.
Have you ever had a cat not eating? If you would like to share your experience, let us know in the comments section below.
Sources
Rand, J.S., et al, "Canine and Feline Diabetes Mellitus: Nature or Nurture?" The Journal of Nutrition, 2004.
Linda, P., et al "Feline Hepatic Lipidosis" Canine and Feline Nutrition (Third Edition), 2011.
Tanaka, A., et al, "Associations Among Weight Loss, Stress, and Upper Respiratory Tract Infection in Shelter Cats" Journal of the American Veterinary Association, 2012.
International Cat Care, Feeding Your Cat or Kitten,  2013.
International Cat Care, How to Change Your Cat's Food to a New Diet, 2013.