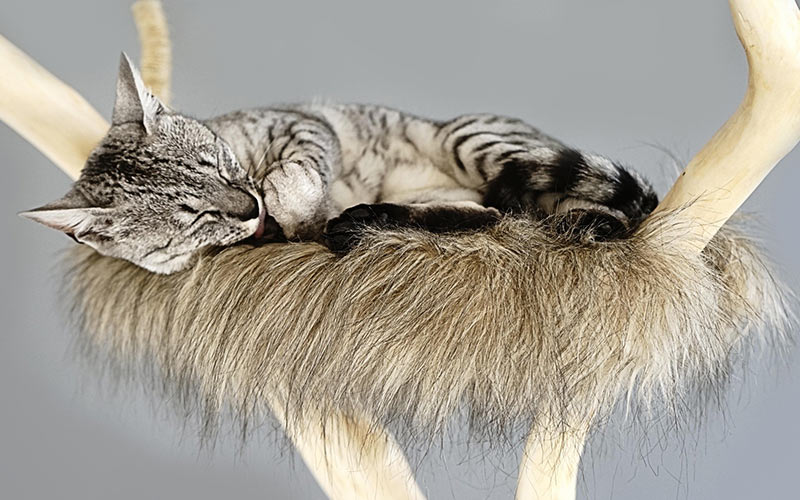 Welcome to our complete guide to cat perches for large cats! Helping you to find the best cat perch for your big kitty cat.
Pet cats need a lot of the same things people do to stay healthy and happy. For example, your kitty needs to eat a healthy diet, maintain a regular sleep schedule and get regular exercise.
Even more importantly, your pet cat needs a place to unwind and de-stress.
Researchers call this biological need in cats the drive to find a "place for concealment."
In other words, if you've ever wondered why your feline's favorite household hangouts gravitate towards hiding under your bed or on top of your fridge, this is because these places are the most naturally calming and peaceful for your cat!
Without a place to retreat to where she can relax and enjoy some privacy, your cat is likely to remain in a perpetually stressed-out state. Which can cause her to get depressed, anxious and ill.
This is the last thing you want for your precious fur baby!
So how can you make sure your cat has everything she needs to feel completely safe and at ease living with you?
One great idea is to get a tall cat perch that allows your cat to play, exercise and also hide and retreat whenever she feels the need.
Sizing your cat perch
If this is your first time owning a pet cat, or if you are caring for a kitten, you might be wondering how large your cat will be when he is fully grown.
Your cat's adult measurements can be determined by a number of factors:
His parents' breed and body size.
The diet you feed him.
How much exercise he gets.
His state of health.
For example, a fully grown Siamese cat may be very slight and weigh in at just five pounds and still be perfectly healthy.
On the other hand, a fully grown Maine Coon cat, which is the largest breed of domestic cat, may weigh in at 25 pounds and still be considered healthy.
In fact, just like people, each cat's ideal body weight can differ even within a litter based on that cat's bone structure, DNA, diet, exercise and birth position.
For this reason, it is best to consult with your veterinarian to determine what your pet cat's optimal adult weight range should be.
Your vet can also determine where your cat currently falls within (or outside) that range and how best to address any necessary weight adjustments.
Most adult cats will weigh between 7 and 9 pounds.
In this article, however, we are going to explore the best cat perches for large cats who are 10 pounds and over.
Best cat perch features
Each of the cat perches you will read about here offer different features to appeal to cats' daily habits.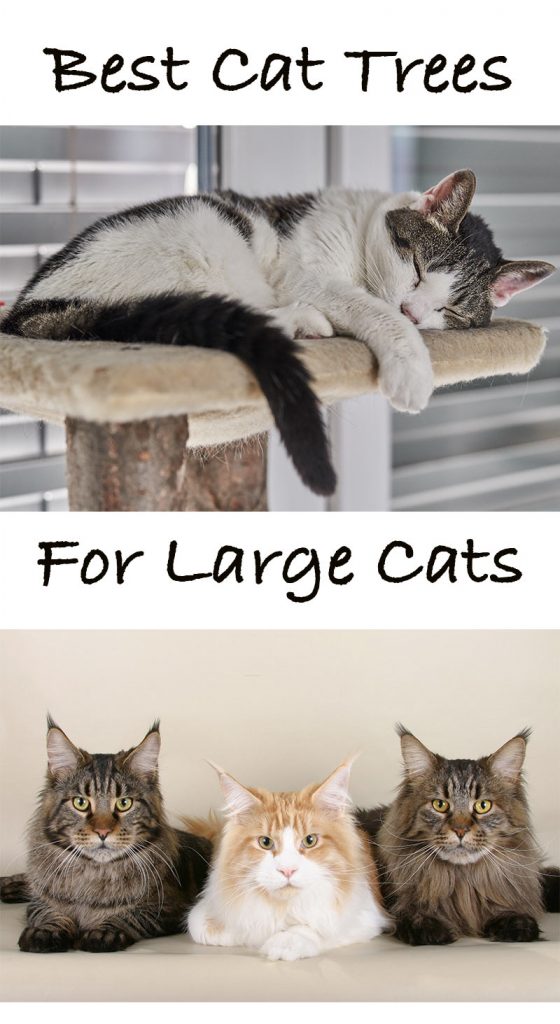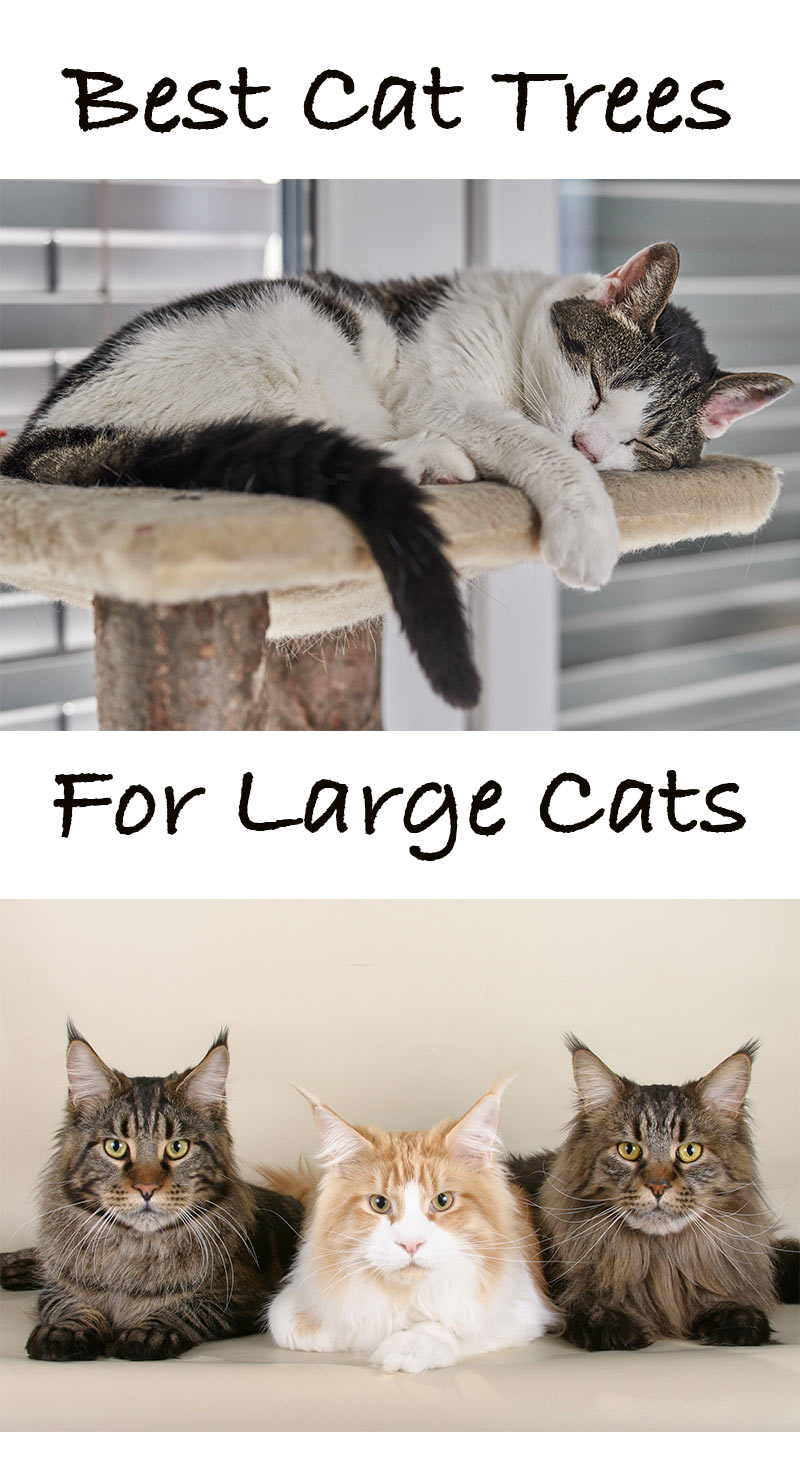 One study of 304 cat owners asked what the owners thought their indoor cats did all day for fun. Owners named 18 categories of indoor activities!
Clearly, indoor cats are eager to stay active, play, explore, observe and engage well beyond the traditional viewpoint of the indoor cat that sits in the window all day snoozing in the sun.
However, your pet cat relies on you to provide what feline veterinarians call "environmental enrichment."
Research today shows that, with greater enrichment options that most closely match normal patterns of feline behavior, pet cats are likely to exhibit fewer health or behavioral issues.
When you are picking out the best cat perch for large cats, it is important to specifically look for these key features:
Nice wide, flat ledges that allow your large cat to stretch out comfortably.
U-shaped perches that permit your cat to feel the perch underneath and at his back.
Hiding boxes or "caves" where your cat can retreat from sight fully.
A very sturdy and secure cat perch that does not wobble, which can make your cat feel uneasy and stressed (look for a very wide, stable base that is secure enough to permit your cat to leap up and down without it wobbling).
Make sure the cat perch is weight rated for your cat's weight and size.
Built-in scratching post(s) or toys.
Best cat perches for large cats
Here are our top picks for the best cat perch for large cats as well as the best large cat window perch options.
Go Pet Club Cat Tree
Check out the Go Pet Club Cat Tree.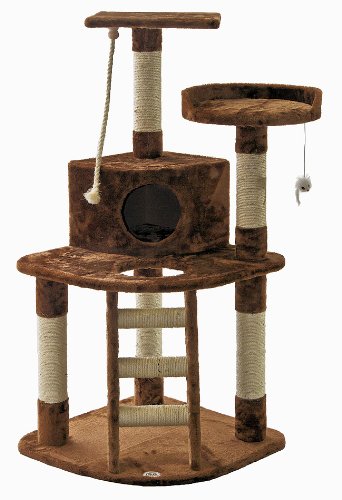 This tall cat perch stands nearly 4 feet high and rates 4.5 stars from more than 1,200 cat owners.
Reviews state it is solid and doesn't wobble even when a big Maine Coon cat jumps up and down and when multiple cats are using it at once. The brown and sisal colors make it an attractive choice for any room.
Buy your Go Pet Club Cat Tree on Amazon here.
Vidagoods 71" Big Fat Cat Tree
Another great choice is the Vidagoods 71″ Big Fat Cat Tree Condo Furniture Scratch Post Play House.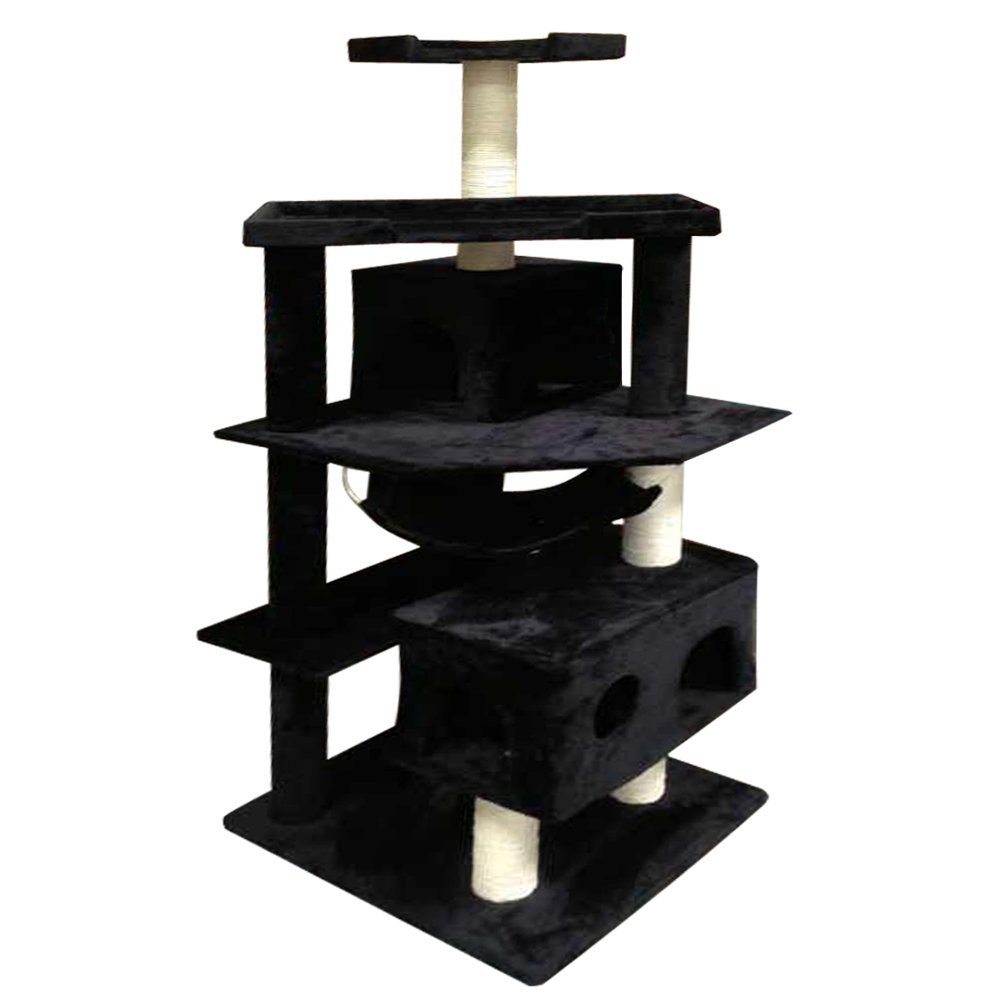 This full-featured, nearly 6-foot tall cat perch is specifically built for the needs of more robust cats.
It gets 4 star reviews and comes in two colors (beige and black). Customers state it will easily accommodate cats 18 pounds or more and is very sturdy and spacious.
Buy the Vidagoods Big Fat Cat Tree on Amazon here.
K & H Kitty Sill.
Do you like the look of the K&H Manufacturing Kitty Sill?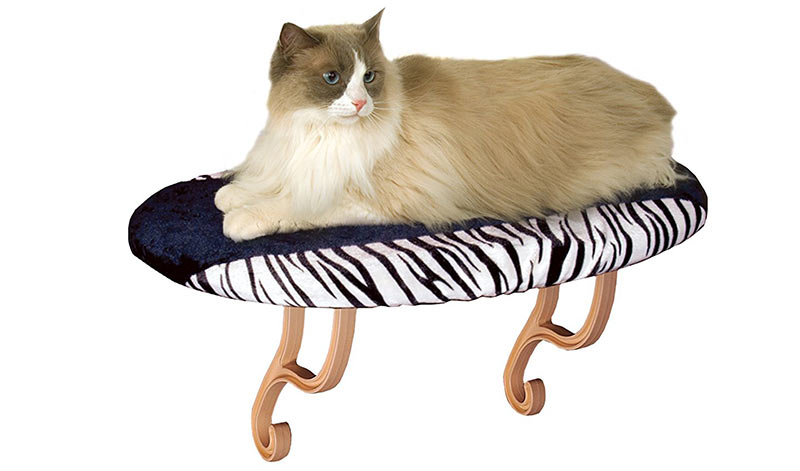 You can't go wrong with the economical price and 4.5 star reviews cat lovers give this simple, elegant and comfy kitty window perch. It is built to accommodate even "big and tall" cats and is rated for up to 40 pounds.
The cushion itself is orthopedic so senior cats can also enjoy it comfortably. It comes in two colors: zebra and faux fleece (a soft ivory color).
Buy your Kitty Sill from Amazon here.
Premier Cat Scratch and Lounge
How about the New Cat Condos Premier Cat Scratch and Lounge.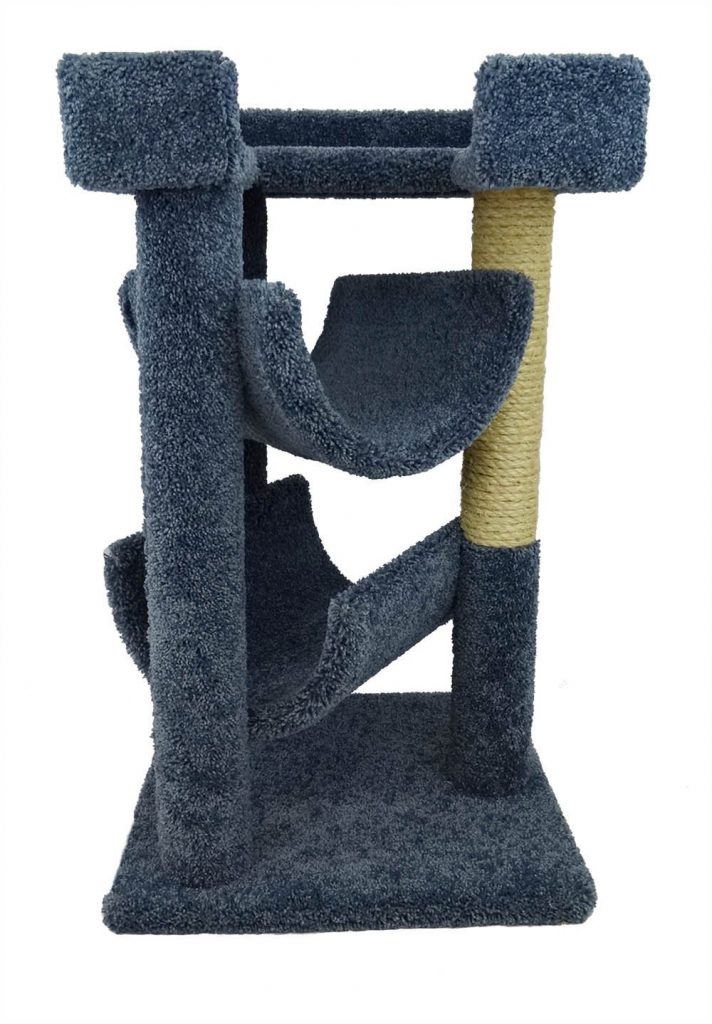 This 4.5 star-rated cat lounging tree comes in five attractive colors (beige, blue, brown, green and grey) with several lounging perches for multiple kitties.
With two U-shaped perches and one top flat perch, reviewers say it can comfortably seat cats of 24+ pounds.
Buy your Premier Cat Scratch and Lounge from Amazon here.
Sisal Big Cat Scratching Post
Next we have the Sisal Cat Scratching Post for Big Cats in Blue Wood Cat Scratcher and Bed.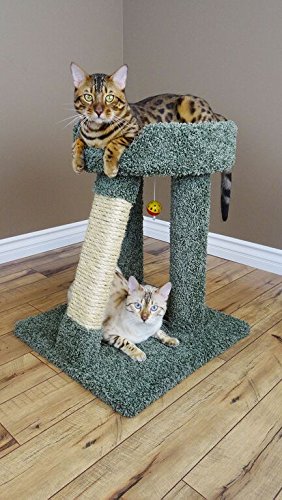 This super-simple and comfy 5-star rated sisal scratching post and bed is specifically built to accommodate big cats.
It has a wide, sturdy base and comes in five colors (beige, blue, brown, green and grey).
Buy your Big Cat Scratching Post from Amazon here.
Cozy Cat Modern Cat Tower
Or how about the Cozy Cat Modern Cat Tower Furniture for Large Cats.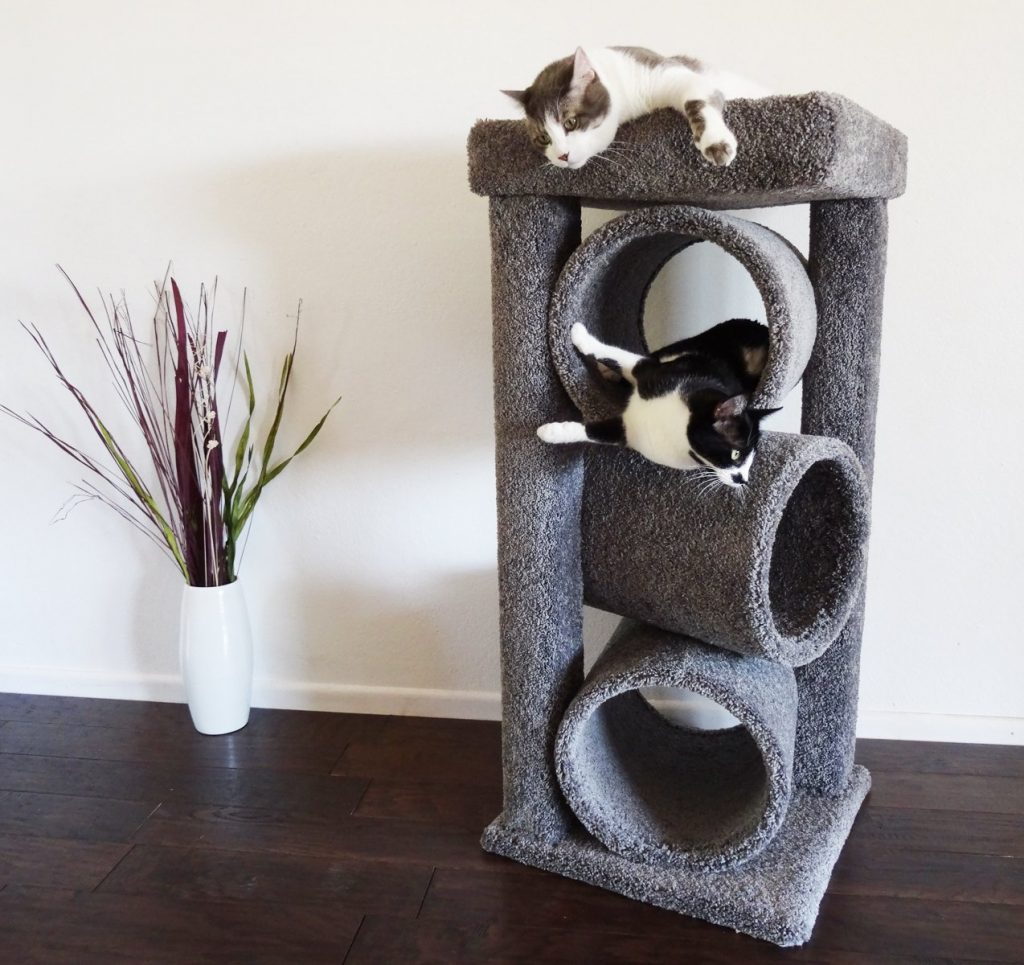 At just under 4 feet tall, this roomy tower has four perches. Three are round and hollow for extra concealment and the top is a flat spacious perch.
Users give it 4.5 stars. It comes in five colors (beige, blue, brown, green and grey).
Buy your Cozy Cat Modern Cat Tower on Amazon here.
Cradle on Top Cat Perch For Large Cats
Molly and Friends Cradle On Top Of A 27″ Sisal Wrapped Scratching Post are a great option when it comes to cat perches for large cats.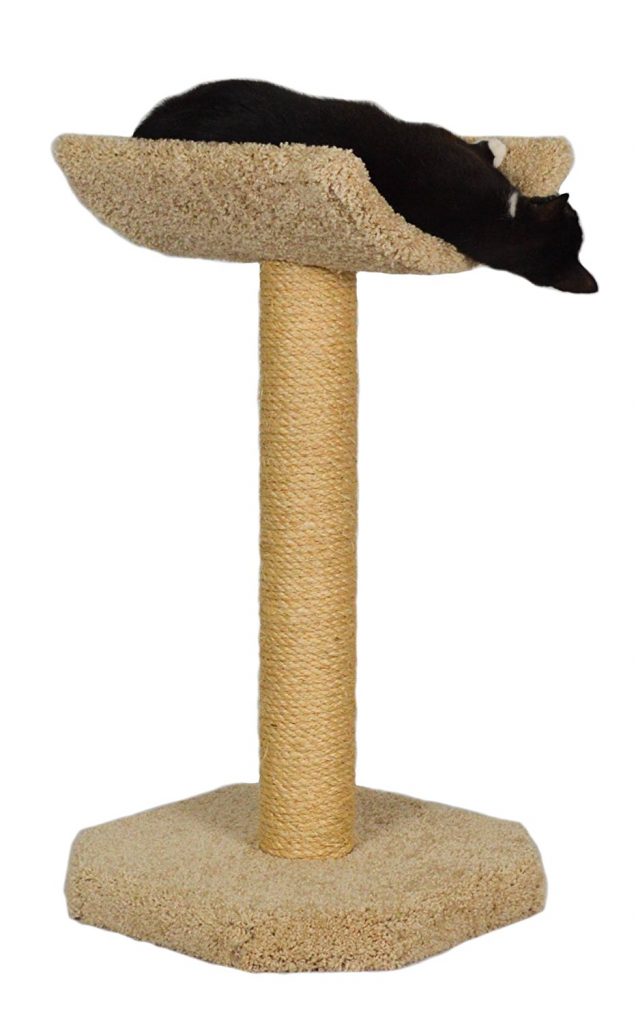 This highly rated (4.5 stars) simple cradle perch can accommodate cats of 16+ pounds (reviewers say it could hold a much larger cat as well).
It has a very sturdy base and a top cradle perch with a sisal scratching post in between. These cat perches for large cats come in four colors (green, burgundy, blue and beige).
Buy your Cradle on Top Cat Perch from Amazon here. 
Window Mounted Cat Perches For Large Cats
Omorfi Pet Supplies NEW Window Mounted Cat Perch.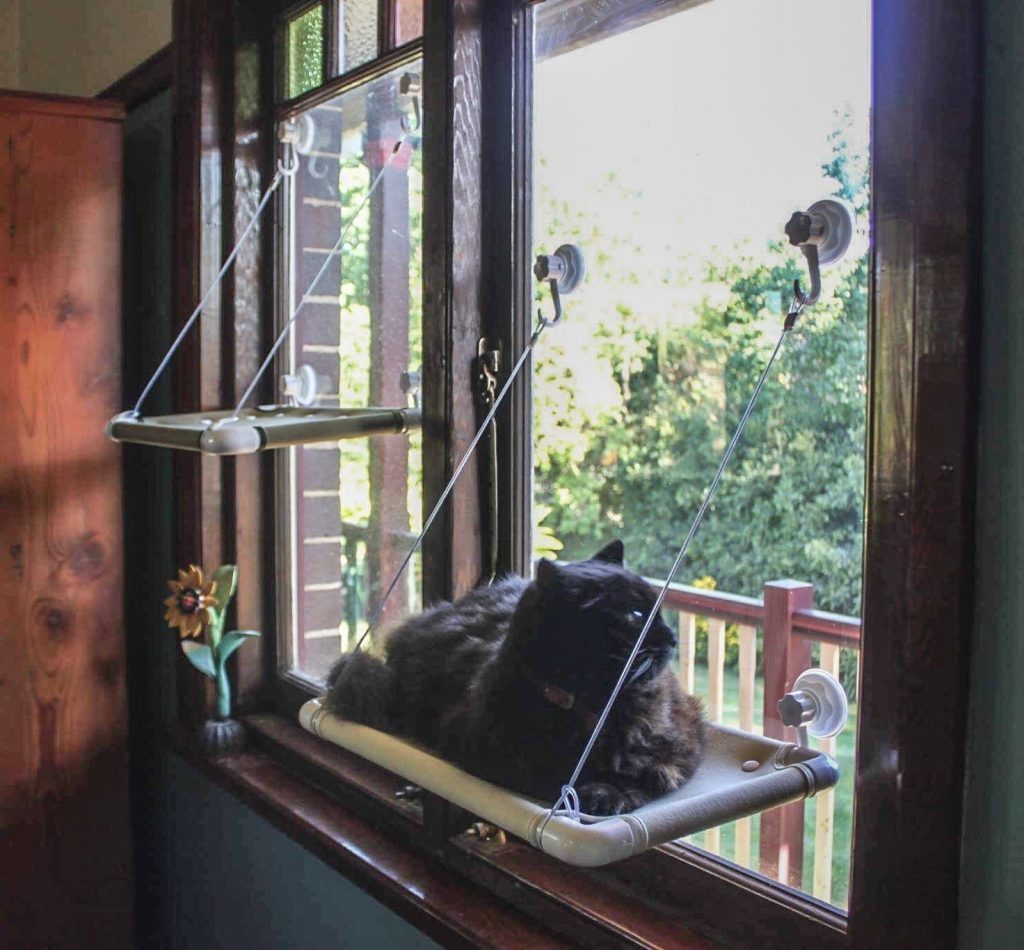 The manufacturer states that this new window cat perch is rated to hold cats up to 40 pounds.
This window perch is made of all eco-friendly materials and requires no tools for installation.
Best of all, the manufacturer offers a 100 percent money-back guarantee.
Buy your Window Mounted Cat Perch from Amazon today.
Vesper Cat Furniture
Next is the Vesper Cat Furniture V-High Base.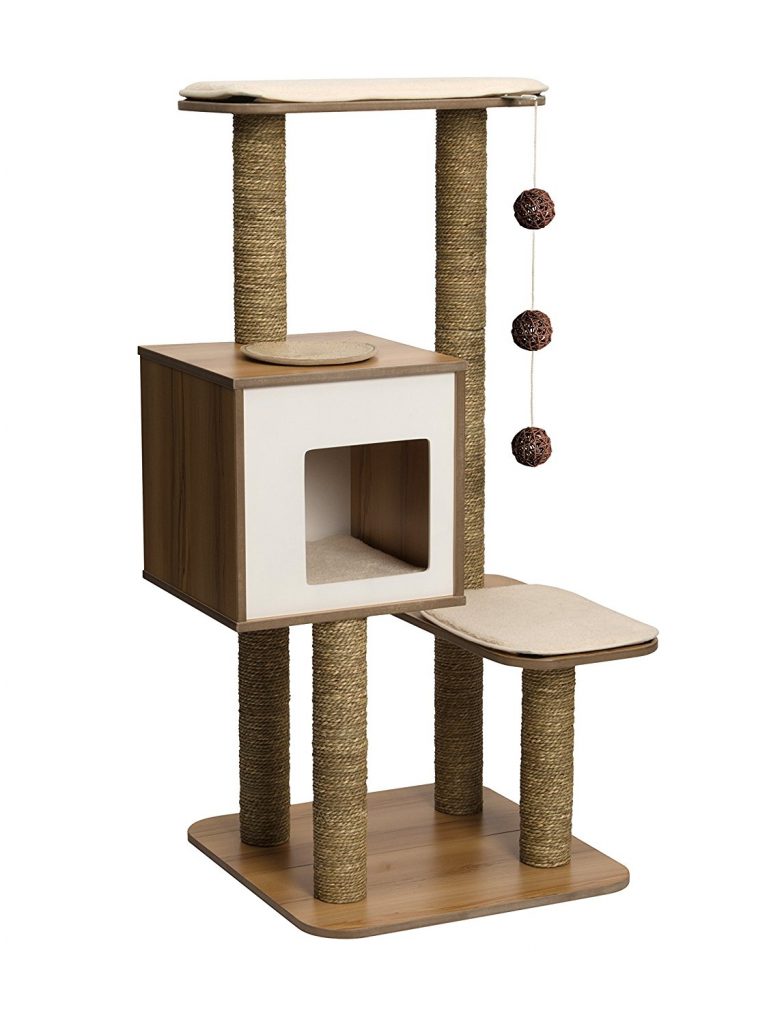 A modern and elegant minimalistic cat tree is rated 4.5 stars. It offers a sleek design of sisal with walnut that would complement any room.
There are three flat perches and one cube perch as well as several sisal scratching posts and a built-in cat toy. It stands nearly 5 feet high.
Reviewers say it should accommodate even a big Maine coon cat.
Check the Vesper Cat Furniture Cat Perch out on Amazon here
Premier Triple Cat Perch
Last but definitely not least, is the New Cat Condos Premier Triple Cat Perch.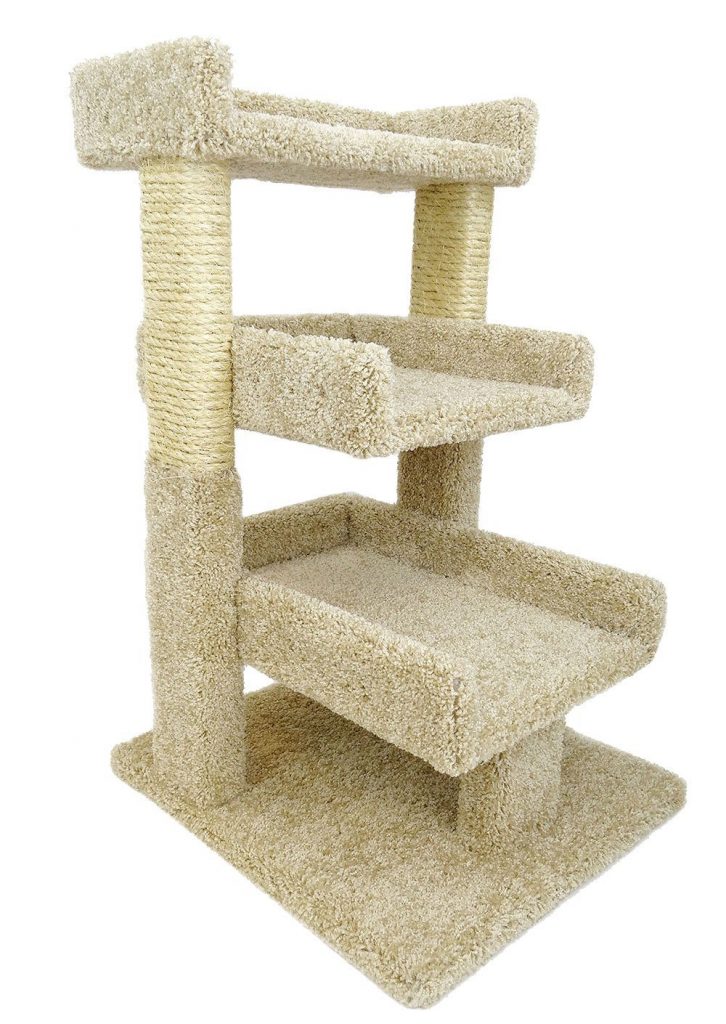 This cat perch is rated 4.5 stars and offers a tri-level stair-step perch system that makes it easy for even senior cats to make it up to the top level for some R&R.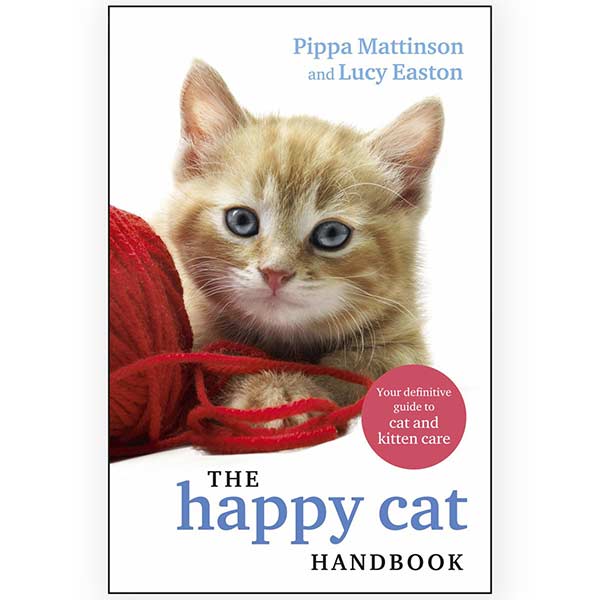 Reviewers say it will easily accommodate a cat of 20 pounds and the base is very sturdy and stable. This perch has a double sisal scratching post at the top and comes in five colors (beige, blue, brown, green and grey).
Buy your Premier Triple Cat Perch from Amazon here.
Cat Perches For Large Cats
We hope you enjoyed this list of 10 of the best cat perches for large cats and window perches on the market today.
If you have a rescue cat or a still-growing kitten who has never seen a cat tree before now, don't worry if she seems a bit shy to approach it.
Including the new big cat perch during your "together time" is a great way to help her warm up to it.
Adding a favorite blanket or toy, offering a treat reward if she steps onto it or covering the perch with something that smells like you can also give her more confidence.
Or she may just surprise you and jump right on up! Ultimately, here's hoping one of these wonderful tall cat perch options is the perfect fit for your feline's needs!
Not found what you are looking for?
Then check out our great guide to cat trees with hammocks. Lots more product ideas and reviews for you to browse through!
Free Updates For Cat Lovers!
Our cat care articles, tips and fun facts, delivered to your inbox
Resources
Carlstead, K. et al, 1993 "Behavioral and physiological correlates of stress in laboratory cats, Applied Animal Behaviour Science,
Sashin, D., "A Healthy Weight for Your Cat," WebMD: Pets, 2017.
Shyan-Norwalt, M.R., "Caregiver Perceptions of What Indoor Cats Do "For Fun," Journal of Applied Animal Welfare Science, 2010.
Ellis, S., "Environmental Enrichment: Practical Strategies for Improving Feline Welfare, Journal of Feline Medicine and Surgery, 2009.
Becker, M., "How Can I Teach My Cat to Love Her Cat Tree?," Vet Street, 2012.
Your Amazing Cat!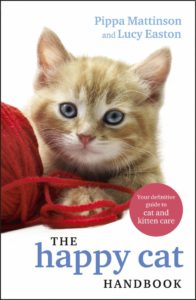 We are so excited to share our new book with you!
If you have enjoyed your visit to The Happy Cat Site we think you'll love The Happy Cat Handbook.
Written by the founders of this website including the author of the hugely successful Happy Puppy Handbook, it's packed with cat care information and fascinating cat facts.
Grab your copy today!
Free Updates For Cat Lovers!
Our cat care articles, tips and fun facts, delivered to your inbox