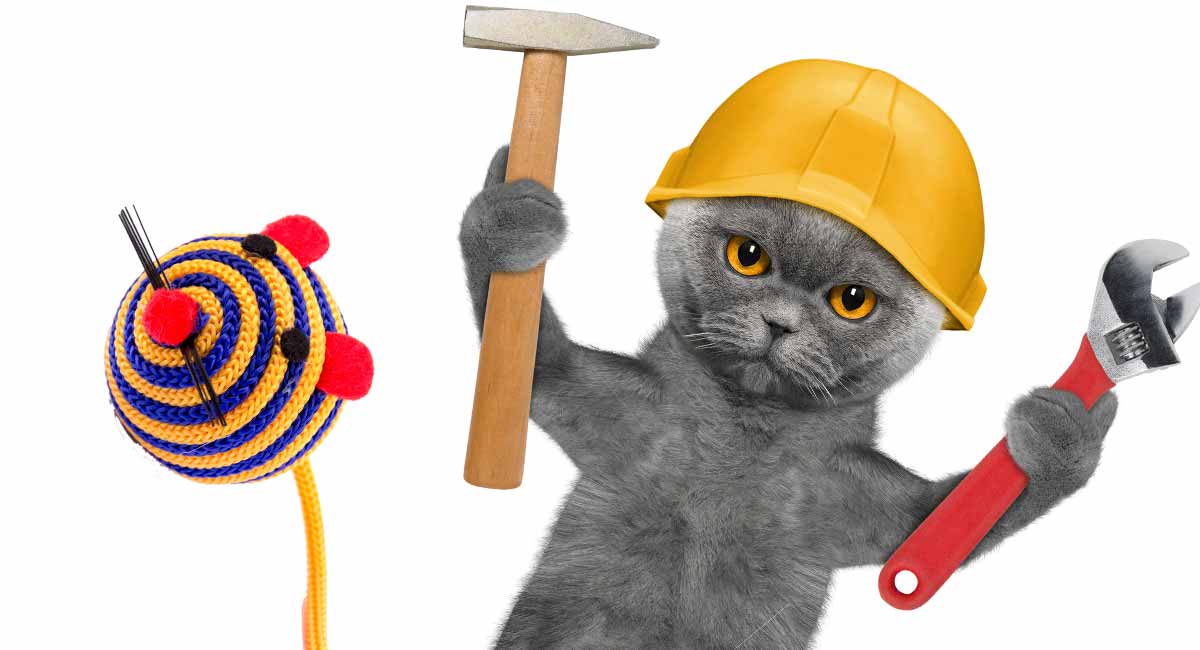 There are hundreds of reasons why DIY cat toys are the best idea if you're looking for a new way to treat your pet.
It's also the perfect way to get creative and spoil your kitten at the same time.
For some people, homemade things require a lot of imagination. This makes it tricky to know where, or even how, to start.
We will look at some great DIY cat toy ideas for you to try out and tweak for your own cats at home.
You can give them a try, and tell us what you think.
Benefits of DIY Cat Toys
Cat lovers I know love to spoil their kittens rotten.
Part of which means buying their kitties all the best cat toys they can find.
However, this makes finding something new harder each time you want to treat your cat.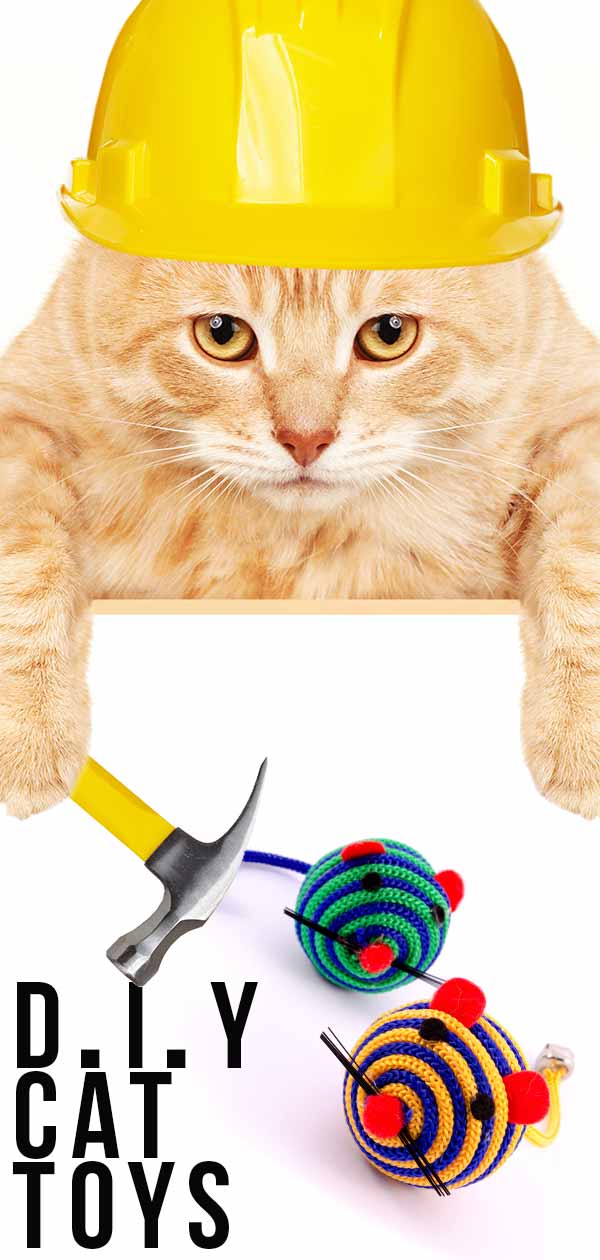 Turning to DIY cat toys is a great way to avoid this problem because everything you make will be unique.
It also gives your cat toys a more personal touch.
It's great fun and heartwarming to see your cat playing with something you've put effort into making.
Making DIY cat toys is also a really good way to save money.
If you want to treat your cat, but don't want to shell out loads of cash on expensive pet store toys that might fall apart quickly, you can make your own cat toys with things found around your house.
If your cat tends to chew and destroy the store-bought toys you give him, it's likely they will still do this to the toys you make.
However, once you find a way to make cheap DIY cat toys, you can replace them more quickly and easily than buying new ones.
And it'll be a lot kinder to your wallet!
Making DIY cat toys is also a really fun way to get kids involved in looking after your pet.
They're bound to love watching your cat play with the homemade toys they've created.
They're also likely to have the best ideas for new toys!
Making Safe DIY Cat Toys
Although there are loads of positives to making your own cat toys, here are a few things to keep in mind.
You'll need to make sure every material you make your toys from is safe for your cat.
This includes allowing for your cat to get a little rough when they're playing with their toys.
Cats playing with toys usually mimic their hunting methods.
Therefore, we can expect the toys we make to fall apart occasionally.
If there are any small parts that could be harmful to your kitten, you'll need to keep an eye on the kitten's playtime if the toys start to fall apart.
Your watchful eye can minimize the risk of choking.
Now let's look at some good examples of fun, safe, DIY cat toys!
DIY Catnip Toys
Everyone knows that cats love catnip so including this little treat in their toys is a great way to grab their attention.
A simple DIY catnip toy can be made using old teddy bears that your kids have grown out of.
To make sure they're safe, use "baby safe" designs, with embroidered features instead of plastic ones.
Simply snip these open, and replace some of the stuffing inside with catnip.
We've featured some of our favorite catnips in this article.
Then, once you seal the teddy bear up, your cat will be able to smell the treat inside, making the toy all the more interesting.
If you really want to splurge on fun, secured some yarn to the toy and use it to play interactive games with you cat.
And if you're a pro-crafter, go one further, and try crocheting your own catnip toy!
DIY Cat Food Puzzle
Perhaps you're looking for something a little more complicated to challenge your cat.
Cat puzzle toys are a great way to stimulate an intelligent cat, but the ones available online can tend to be quite expensive.
Therefore, DIY cat puzzle toys are a great middle ground.
They are cheap and easy to make, but also still give your cat a great challenge.
Some of the best puzzle toys for cats use food as an incentive for your pet to solve the puzzle.
Most of these toys are really easy to make too.
One example of an easy DIY cat puzzle uses a muffin tray, cardboard squares and food.
Muffin trays are a good tool for creating puzzle games because there are usually six to 12 compartments you can choose from to hide food in.
Simply take a small amount of food, and put it in a couple of the muffin tin holes.
Then, use a small cardboard square to cover each of the muffin holes.
This way, your cat has to use his or her instincts and senses to find which holes have food hidden inside them and uncover the correct ones.
This is a great way to stimulate your kitten's brain. Keep him or her interested in these toys.
Since the toy is also made from house items, it's an economical way to create a fun DIY cat puzzle filled with food.
Homemade Cat Toys Toilet Paper Rolls
Another popular option for making cheap and easy homemade cat toys includes toilet paper rolls.
Rather than just recycling these, use them to make fun toys for cats.
Take a piece of flat cardboard, and glue different sizes of toilet paper roll tubes to the top of it. This creates a board with different places to hide treats.
Your cat then has to dig into these different tubes to find the treats.
Toilet paper rolls can be even more versatile if you're willing to get creative with a pair of scissors.
You could do something as simple as cutting the tube into rings for your cat to roll and toss about.
You can make ring treats by inserting them with one inside the other until you can create a spherical ball shape.
This is great fun for your cat to roll around, and you could even hide treats inside that will spill out as your cat plays.
Or, you could cut the end of the tube into a frayed pattern, which your cat can play with.
Lots of fun cat toys make rattling or screeching noises to catch your cat's attention.
You can make your own version of a noisy toy with a toilet roll tube.
Simply put hard cat treats inside of a tube. Fold the ends in the tube, then seal it shut with the toys inside.
As your cat pushes this toy around, it will make a loud rattling noise.
DIY Interactive Cat Toys
Interactive cat toys involve an element that your cat can interact and play with, such as a noise or a moving part.
These don't have to be expensive and complicated. They can be some of the easiest homemade cat toys.
One example of a great homemade interactive cat toy simply uses treats and an empty water bottle.
Simply use some scissors or a sharp knife to cut holes in the water bottle.
Then fill the bottle with treats. As your cat rolls this toy around, the treats will spill out for them to nibble on.
Keep an eye on your cat's soft paws because cut plastic can have sharp edges.
Another fun, interactive cat toy can be made by creating a ball in any of the ways we've described above.
Rather than putting treats or catnip inside this time, put a little bell inside.
As your cat plays with this toy, it will jingle and ring, causing your cat to chase it.
DIY Cat Wand
Arguably the most classic cat toy is the cat wand, which dangles a soft toy from an elastic string that's attached to a wand.
These are easy to make. Plus cats love chasing and playing with them.
All you need is a stick or rod of some sorts to hold.
You will also need string, or elastic, and something to attach to the end for your cat to chase.
This could be anything from a few feathers to a cuddly kid's toy that has been abandoned by your own children.
Then you can use glue to stick all of it together, making sure the string is long enough that your cat will be able to chase it properly.
Choosing feathers or an animal-like toy is the best way to get your cat's interest.
This is because chasing wand toys is the closest to mimicking a real chase.
Playtime with wand toys is usually especially rough, so make sure to watch out for any loose parts that your cat could accidentally swallow.
Homemade Cat Toys
There are loads of different ways to make DIY cat toys. They simply require some interesting ingredients and a bit of imagination.
There are hundreds of different things you could make for your cat.
Just make sure you keep a careful watch over your cat whilst it's playing with any homemade toys. Avoid anything dangerous coming loose.
Let us know in the comments about the best toys you've made for your cat so our readers can give them a go.
We want to make sure our pets have the best time possible. Homemade toys add that extra bit of love to a new treat.
If you want even more great toy inspiration, take a look at our guide to cat chew toys!