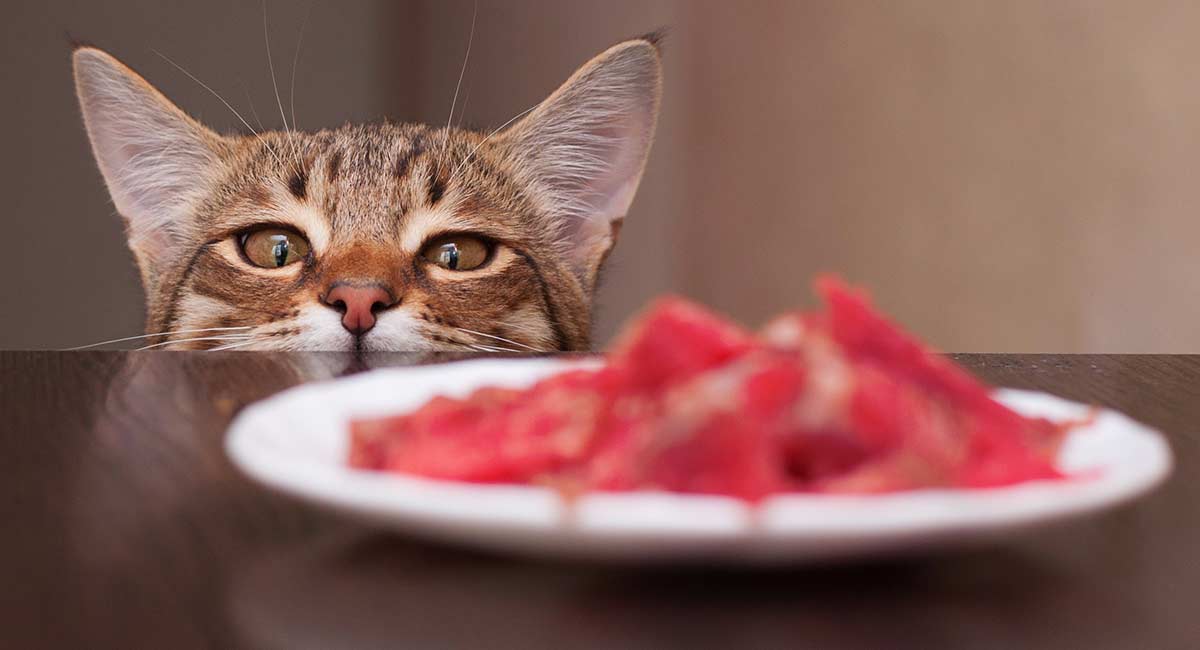 Are you wondering if a high protein dry cat food is the right food for your favorite feline?
What benefits does protein provide?
How much protein does a cat need?
Can a cat get too much protein?
In this article we'll answer these questions. We'll also take a look at how much, how often, and what to feed a cat.
On top of that, we'll examine a variety of high protein dry cat food brands so you can choose from the best options available.
Cat Diets
High protein diets are popular these days, and not just for people.
Although everyone needs protein, cats need more than many other mammals, including humans and dogs. This is because cats are true carnivores.
And like their wild relatives, they need a diet that's rich in animal proteins with a moderate amount of fat and a minimal amount of carbohydrates.
In fact, adult cats need two to three times more protein than adult omnivorous species.
While most omnivores are able to adjust their protein utilization, a cat's metabolism breaks amino acids down at a higher rate.
This is why they require more protein in their diet.
12.5 grams of crude protein and 5.5 grams of fat are the daily recommended allowances for an adult cat weighing nine pounds and consuming 250 calories a day.
However, when it comes to your cat's individual dietary requirements, it will depend on factors like the following:
size
age
breed
health status
activity level.

Importance Of Protein In Cat Diets
Dietary protein contains essential amino acids. Deficiencies can lead to some serious health problems in cats.
For example, cats who don't have enough of the amino acid taurine in their diets are subject to numerous potentially grave health problems.
blindness
cardiomyopathy
poor neonatal growth and developmental defects in kittens.
Taurine is found in fish, birds, and rodents, but is almost completely absent in plants.
Arginine is another essential amino acid that plays an important role in your cat's diet.
Most other animals are able to make arginine, but cats don't have the enzyme needed to produce it in their own bodies.
This is why they require higher amounts in their diet. Arginine is essential to remove ammonia from the body through urination.
As this study showed, when cats were fed a meal without arginine it resulted in ammonia toxicity.
The results were vomiting, drooling, spasms, loss of coordination, and labored breathing. One cat actually died from just one meal without arginine.
Pros Of Feeding A Cat Dry Food
When it comes to convenience, you can't beat dry cat food.It can be bought in large quantities and it is easy to transport and store.
Dry food has a long shelf life and you can even leave it sitting out in your cat's bowl for days.
If cost is a consideration, it's also less expensive than canned cat food.
Cat kibble can be good for their teeth. It will scrape off food residue and plaque to avoid tartar buildup.
Cons Of Feeding A Cat Dry Food
As the name suggests, dry cat food has a low moisture content. If your cat eats only dry food, it's imperative that they drink enough water.
Chronic dehydration can lead to urinary tract infections, kidney disease, and feline idiopathic cystitis.
Urinary tract disease was found to be significantly more prevalent in cats fed a dry diet compared to those fed the same product in a wet formulation.
In general, canned cat food contains more protein and fewer carbohydrates than dry food. High carb content is harder for a cat to digest and can lead to obesity and diabetes.
Many dry food formulas contain plant-based protein sources. Cats don't process these as well as they do animal proteins.
High Protein Dry Cat Food Diets
Cats can't survive solely on meat, but there's no question that protein plays a crucial role in a healthy cat's life.
Protein is important for healthy skin, hair, blood, muscles, and tendons.
It forms the basis for their body's organs and tissues.
Cats also use protein as a major energy source.
Can My Cat Have Too Much Protein?
You may be wondering if it's possible for a cat to eat too much protein.
A healthy cat should be able to process excessive protein by either expelling it through their urine or converting it into fuel.
Food that's higher in protein can also mean an increase in fat content. This can lead to a fat cat.
In this case, you may want to serve them smaller portions.
Although a good quality, high protein cat food will likely be more expensive, a cat should also be satiated with less food.
This should offset the higher cost.
However, there are some instances when too much protein can be a problem.
If your cat has kidney disease, excessive protein can further damage their kidneys.
Older cats in particular are prone to chronic kidney problems.
The Best High Protein Dry Cat Foods
As you can see, it's important to feed your cat a high quality, high protein formulation if you choose dry food.
Luckily, not all cat kibble is created equal, and we've found plenty of different options that come highly recommended.
Blue Buffalo Wilderness High Protein Grain Free, Natural Adult Dry Cat Food, Chicken has a grain-free formula that always has real meat listed as the first ingredient.
It's made with protein-rich, deboned chicken and omega 3 & 6 fatty acids to help promote a shiny coat and healthy skin.
This formula uses only the finest natural ingredients, with no chicken or poultry by-products, artificial preservatives, corn, wheat, or soy.
Real salmon is the first ingredient in CRAVE Grain-Free High Protein Dry Cat Food for a taste and texture that cats love.
The high protein formula offers essential nutrients for developing muscle, aiding in proper digestion, and supporting your cat's immune system.
Instinct Ultimate Protein Grain Free Recipe Natural Cat Food & Toppers by Nature's Variety boasts that 95% of its protein comes from chicken.
Touted as the first raw coated kibble, each piece is covered in freeze-dried raw for nutrition and taste.
This dry cat food contains no grain, potato, corn, wheat, soy, byproduct meal, artificial colors or preservatives.
Iams Proactive Health High Protein Adult Dry Cat Food with Chicken & Salmon contains a high concentration of high quality protein to help maintain muscles and a healthy heart.
This formula also features calcium for strong teeth and healthy bones.
Solid Gold – Indigo Moon – High Protein & Grain-Free – Holistic Dry Cat Food for All Life Stages has a high protein low carbohydrate recipe with 42% crude protein.
Using natural ingredients that are holistic, grain-free, and gluten-free, this dry cat food is specially crafted for all of a cat's life stages.
Responsibly sourced USA-raised chicken and whole egg provide protein and a complete source of essential amino acids for a healthy active metabolism.
If your cat is overweight, Hill's Ideal Balance Natural Cat Food features lean protein in the form of chicken as the first ingredient.
It also has omega 3 & 6 fatty acids for a healthy skin and coat and does not contain corn, wheat, soy, artificial colors, flavors, or preservatives.
How Much Should I Feed My Cat?
Although the high protein dry cat food package will give you instructions on the amount of food to give your cat, remember that these are merely guidelines.
Every cat is an individual with their own unique metabolism and other factors that determine the optimal amount they should eat each day.
Recommendations for the number of calories your adult cat should consume vary from 20 to 30 calories per pound.
So if your cat weighs ten pounds, that would be 200 to 300 calories daily.
Similarly, there's debate about the minimum amount of protein a cat requires.
Suggested daily intake varies from 26% to 40% of their daily caloric intake.
High protein diets run in the 50% to 58% range.
When it comes to deciding the proper amount of calories and protein your cat needs, it's best to consult with your veterinarian.
How A Cat's Dietary Protein Needs Change
We've put the focus on a healthy adult cat so far.
But what are the protein requirements for kittens, seniors, and nursing queens? Should they also be fed a high protein dry cat food diet? Let's take a closer look.
High Protein Diets For Kittens
Kittens grow quickly, especially during the first six months of their life.
These high energy furballs have a higher requirement for protein, amino acids, minerals, and vitamins to ensure healthy development.
This is why it's important to give your kitten food that's specifically formulated for kittens during their first year.
High Protein Food For Pregnant And Nursing Cats
Pregnant and nursing cats also need extra protein.
When a queen is nursing, her dietary needs will vary depending on the size of the litter.
A nursing cat with four kittens will require approximately 41 grams of protein as well as two to two and a half times more calories per day.
High Protein For Senior Cats
When it comes to senior cats, it gets more complicated.
Older cats lose muscle mass and also don't metabolize protein as well as younger ones.
This means they require higher levels of protein.
The problem is that many senior cats are prone to kidney disease.
If they suffer from this chronic condition, then protein can actually cause more damage.
Your best bet is to have your vet check your senior cat's kidneys to test how they're functioning.
Kidney disease cannot be reversed. Your cat should be switched to a lower protein diet even if the disease is in the early stages.
Is My Cat The Right Weight?
You don't necessarily have to put your cat on the scale to tell if they're underweight or need to slim down.
A visual check of your cat's physique will tell you a lot about their overall condition.
When viewed from the side at eye level, your standing cat's body should tuck up from the rib cage.
Looking down at your cat from directly above, you should be able to detect their waistline between their rib cage and hips.
A visible rib cage or spine are signs that your cat is underweight.
You can also do a body check by gently running your hands along their sides.
Their rib cage should be felt without having to press too firmly.
If you can't feel their ribs or waistline, they may be overweight.
Dangers Of Being Too Fat Or Too Thin
If you suspect that your cat is either underweight or overweight, it's best to have them checked out by the vet.
There could be underlying reasons that need to be addressed.
If your cat is losing weight, but has a ravenous appetite, hyperthyroidism could be the cause.
Other signs of this disease include vomiting, diarrhea, increased thirst, and a greasy coat.
Gastrointestinal illness, cancer, parasites, feline infectious peritonitis, anxiety, and depression can also be reasons for weight loss in your cat.
Diabetes is becoming increasingly common in pet cats and weight loss is a symptom.
Results of this study support the use of a high protein, low carbohydrate diet in the management of diabetes in cats.
Cats who are overweight are at risk for diabetes, high blood pressure, urinary tract disease, and liver disease.
Being overweight puts extra stress on joints and tendons, which can lead to osteoarthritis.
Other Cat Foods
If you're interested in looking at our other cat food guides, we've listed a few below!
Feeding A Cat High Protein Dry Cat Food
If you have a healthy adult cat, feeding them the proper amount of high quality protein is essential.
When cats don't get enough of the amino acids found in protein, it can lead to serious health issues.
If you're serving a high protein dry cat food, ensure that the protein source is meat-based.
For any concerns about your cat's weight or diet, it's always beneficial to speak with your veterinarian.
Are you feeding your cat a high protein diet?
Let us know about it in the comments below.
References And Resources
Zoran, DL, et al., "The Carnivore Connection to Nutrition in Cats," Journal of the American Veterinary Medical Association, 2002
"Your Cat's Nutritional Needs," National Research Council of the National Academies, 2006
Morris, JG, "Unique nutrient requirements of cats appear to be diet–induced evolutionary adaptations" Department of Molecular Biosciences, University of California, 2001
Morris JG, "Arginine: An Essential Amino Acid for the Cat," Journal of Nutrition, 1979
Markwell, PJ, et al., "The Effect of Diet on Lower Urinary Tract Diseases in Cats," The Journal of Nutrition, 1998
Greene, JP, et al., "Risk factors associated with the development of chronic kidney disease in cats evaluated at primary care veterinary hospitals," Journal of the American Veterinary Medical Association, 2014
Rand, JS, et al., "Canine and Feline Diabetes Mellitus: Nature or Nurture?" The Journal of Nutrition, 2004
Harley, L., et al., "Proteinuria in dogs and cats," The Canadian Veterinary Journal, 2012
Broussard, JD, et al., "Changes in clinical and laboratory findings in cats with hyperthyroidism from 1983 to 1993," Journal of the American Veterinary Medical Association, 1995
Addie, D., et al., "Feline infectious peritonitis. ABCD guidelines on prevention and management," Journal of Feline Medicine & Surgery, 2009
Frank G., et al. "Use of a high-protein diet in the management of feline diabetes mellitus," Veterinary Therapeutics : Research in Applied Veterinary Medicine, 2001
Lund EM, et al., "Prevalence and Risk Factors for Obesity in Adult Cats from Private US Veterinary Practices," Intern J Appl Res Vet Med, 2005