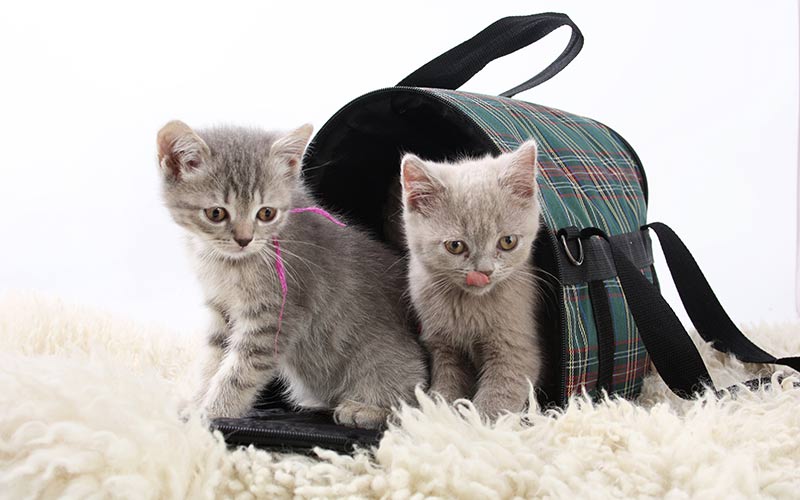 Welcome To Our Complete Guide to Choosing the Best Kitten Carrier.
We'll look at what a kitten carrier is and share tips on how to choose the best kitten carrier for your kitten.
We've also provided a guide to the best kitten carriers available online.
From the first time you take her home, to those initial vet check ups and immunizations. A kitten carrier is an essential piece of kit.
And it pays to make the right choice.
In a rush? You can check out five of our top choices here:
| | BEST KITTEN CARRIER | BENEFITS | OUR RATING |
| --- | --- | --- | --- |
| | PetMate Kitten Carrier | Plastic, Hard Sided, Two Door, Top Load Kitten Carrier | |
| | Mr Peanut's Kitten Carrier | Soft Sided, Airline Approved, Carrying Strap, Seat Belt Compatible | |
| | Pet Fit For Life Kitten Carrier | Soft Sided, Collapsible With Seat Belt, Litter Box And Bowl | |
| | Caldwell's Pet Supply Kitten Carrier | Soft Sided, Airline Approved Kitten Carrier With Handle And Straps | |
| | Favorite Small Pet Kitten Carrier | Plastic, Hard Sided, Top Load Kitten Carrier | |
You can find out more about these great kitten carriers in the article below, as well as several more excellent options.
But before we get stuck in to choosing the best kitten carrier for you, let's look at exactly what a kitten carrier is and why you are going to need one.
What is a Kitten Carrier?
A kitten carrier is a small crate or other enclosure used to transport your kitten.
These come in many styles and can be made of fabric or plastic.
Kitten carriers give your kitty a safe, comfortable place to travel.
A cozy carrier will keep your kitty out of harm's way for limited periods of time.
Why is a Kitten Carrier Necessary?
Kittens need to feel comfortable during travel. A kitten carrier case also will ensure your kitty is contained and secure when visiting the veterinary's office.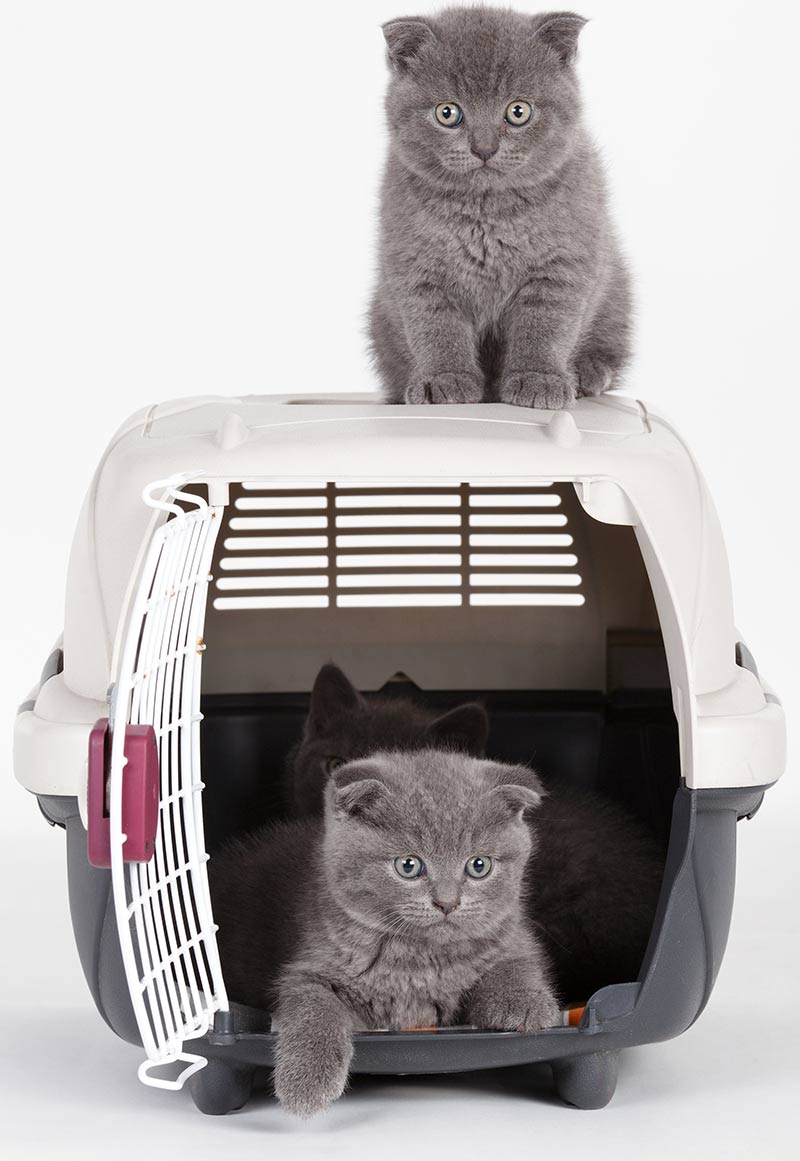 Your kitten will be safe from other animals at the vet's, and won't be able to escape and get loose outside.
If you plan to take long car trips or travel by airplane, a kitten travel carrier will be required.
In fact, airlines have strict requirements on the type of carriers, their size, etc.
Before planning air travel with your kitten, be sure to check with the airline for all kitten carrier requirements and rules regarding where your kitty can be accommodated on each flight.
Kitten Carrier Size
Kitten carrier bags need to give your kitten enough room to stand and be able to turn around. Your kitty should be able to stand and move without crouching.
And kitty needs enough length to comfortably lie down.
Some kitten carriers, typically those from hard plastic, are made with partitions. These partitions can be moved as your kitten grows, and can be later adjusted to the proper size when your kitten reaches adulthood.
Keeping the size minimal will help to discourage them from using a portion of the carrier as a toilet during their journey.
Remember that kitten travel carriers are only used to transport your kitten. They should not be used as a cage for long periods of time.
Kitten carriers should never be used as punishment or "time out" for unacceptable behavior. If you use the kitten carrier in a negative way, your kitty won't want to get inside.
You want your kitten to have a positive association with her travel carrier. She needs to feel safe, secure and cozy in her carrier.
Selecting a Kitten Carrier Bag or Crate
There is a lot to consider when selecting the right kitten carrier bag or crate. Here are some features to look for in a kitten travel carriers.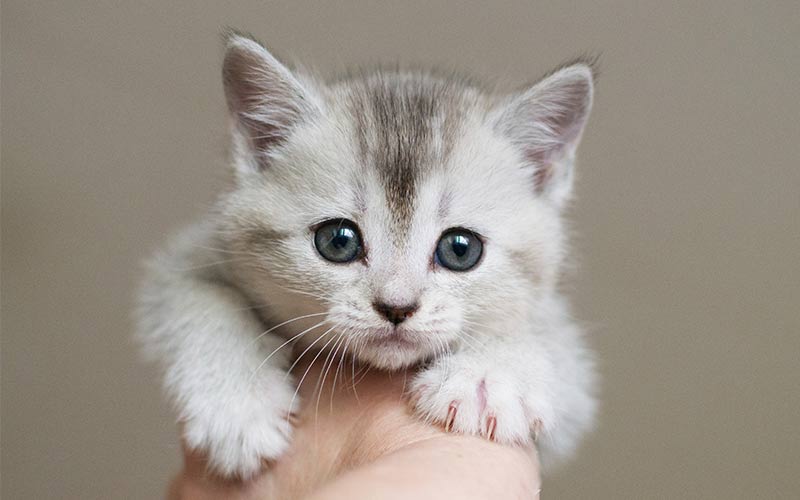 The carrier needs to have a secure latch that can't open on its own or that your kitten can open.
If you choose a hard, plastic carrier that has two parts (upper and lower), ensure that the fasteners are strong enough to hold the carrier together.
Metal fasteners are stronger than plastic. Strong fasteners are especially important if your kitten has to travel in a plane's cargo hold.
Ventilation is another important consideration when choosing a kitten travel carrier. You'll want to make sure your kitten's carrier has enough ventilation to give your kitten good air flow.
Another consideration is a top-loading carrier, which allows you to place kitty in the carrier from the top, rather than from the front.
Some kittens may balk at being placed head-first into a carrier. Loading your kitty feet-first may be less stressful for both you and your kitten.
Next, you'll need to decide if you need or want a hard-sided or soft-sided kitten carrier. The type of kitten travel carrier you choose will depend on how your kitten is traveling.
Will you carry your kitten? Or will your kitten be traveling under the seat in front of you on an airline, or traveling in the cargo hold of the plane? Will you be traveling by car with your kitten?
You'll need to determine the answers to these questions before selecting the right kitten carrier.
Now you're ready to choose the best kitten travel carrier for your kitty!
We'll take a look at some different kitten pet carrier styles, including hard-sided, soft-sided, kitten carrier bag, kitten backpack carriers and more.
Hard-sided Kitten Travel Carrier
Hard-sided kitten carriers, made from plastic, are more durable and will sustain your kitten's scratching and chewing. These carriers are also more easily cleaned than soft-sided, fabric carriers.
As noted earlier, some airlines may require your kitten to be in a hard-sided kitten carry case, especially if she will be traveling in the cargo hold of the plane.
Airlines also require hard-sided kitten carriers to have room for water and food dishes mounted in the door, and must have room to fit a litter box.
Petmate Two Door Top Load Kennel
The Petmate Two Door Top Load Kennel is the perfect size for kittens 10 lbs or under. With inner dimensions of 16.5" x 10.5" and 9", there's enough space for most kittens.

This hard-sided carrier offers enough ventilation for your kitty, and has a secure wing-nut bolt design ensuring the carrier won't come apart when jostled.
Favorite Top Load Kitten Carrier
Looking for a small hard sided kitten carrier to bring your new friend home in, and for those early vet visits? Then the Favorite Top Load Portable Carrier could be just what you are looking for.
It opens at the top as well as fully disassembling at the sides.
There is plenty of ventilation and the carrying handles are designed for balance and comfort.
This won't fit your kitten when he grows up, but if you are looking for a short term solution then this could be the best kitten carrier for you and your tiny new friend.
Soft-Sided Kitten Carrier Bag
Soft-sided kitten carrier bags are typically made from a combination of fabric and plastic.
A cozy kitten carrier with soft sides can also make your kitten feel more comfortable. When choosing a soft-sided carrier, be sure to buy one that offers enough ventilation for your kitten.
The carrier you choose should also have some form of solid support to keep the top and bottom of the carrier from sagging.
Kitten pet carriers that are soft-sided can be used for air travel; you can place kitty's carrier under the seat in front of you. Soft-sided carriers are also good for short car trips or for carrying your pet when walking.
Will you have enough room to store a hard-sided kitten case? If you don't have much storage space, then a foldable soft-sided kitten pet carrier may be a better option.
It's a good idea to look for soft-sided kitten carriers that are washable. Some can be washed in the washing machine, while others have removable pads that can be washed by hand.
Paws & Pals Cat Rolling Backpack Pet Carrier
Paws & Pals Cat Rolling Backpack Pet Carrier offers versatility and comfort for your kitten.
This soft-sided kitten backpack carrier is made of 600D polyester, which can be removed and washed.
The backpack carrier also offers mesh side panels and front door, allowing your pet to view the world.
This kitten carrier also has a telescoping handle and wheels, so you can easily pull your kitten.
Bencmate Soft Sided Pet Carrier
A great choice if you are looking for the traditional cat box style in a soft fabric is the Bencmate soft sided pet carrier.
It's airline approved for under seat use, and even comes in a variety of colors.
Designed to be sturdy and strong despite it's soft finish, this kitten crate is both safe and breathable. Keeping your kitten comfortable during their time confined.
It's in a size that will fit your kitty into adulthood, so you shouldn't need to replace it any time soon either.
Pet Fit For Life Kitten Carrier
Another great choice when it comes to soft sided is the Pet Fit For Life Collapsible Cat Carrier.
This kitten carrier is a great choice if necessity means you need to take a bit of a longer journey with your kitty. Because it comes with a handy insert litter box.
Ideal for travel, it folds away neatly when you are done and is fairly light weight too.
Made from flexible, durable material your kitten will be safe and sound. There are even seat belt straps for use in the car.
Best Kitten Carrier With Straps
Additional features to consider are straps. Seatbelt straps, on a hard- or soft-sided kitten pet carrier, can potentially help keep the kitten carrier secure in your car.
Your kitten's carrier won't become a flying missile in case of fast braking or an accident.
They can also help you to easily carry your kitten around!
Mr. Peanut's Low Profile Travel Tote
The Airline Approved Soft Sided Pet Carrier by Mr. Peanut's, has a fleece bedding lining, zippers and metal clasps.
This soft-sided kitten carrier is approved for in-cabin travel by most airlines. It's adjustable and will fit under the seat in most airplanes.
This carrier is good for kittens and cats up to 14 lbs, measures 18" x 10.5" x 11", and weighs in at 2.7 lbs. The sides are mesh, offering plenty of ventilation for your kitten.
ECBUY Portable Kitten Carrier
Wheels not your thing? Then how about the Portable Kitten Carrier by ECBUY.

This cute carrier is designed for kittens of less than 8 pounds.
It's airline approved, soft sided and has a big comfy shoulder strap. Making it easy for you to transport.
This carrier is designed to be lightweight, durable and even waterproof. Ideal if you are headed somewhere wet!
Necoichi Portable Ultra Light Cat Carrier
Do you prefer hand straps to shoulder straps? Then check out the Necoichi Portable Kitten Carrier.
This original design has double zipper closure, and is shaped to make it easy to carry single handed.
It's light weight and foldable, so very convenient to store when not in use.
The outside is predominantly mesh based, making it very breathable and giving your kitten a fabulous view.
Caldwell's Pet Supply Co
Another great soft sided kitten carrier complete with straps is Caldwell's Pet Supply Co Travel Bag.
This carrier will suit kittens to most full grown cats, and comes complete with TSA approval for under seat use on an aircraft.
The sturdy structure is so durable it's even puncture resistant, and features flexible plastic that supports it as you travel.
You also have the option of a carrying strap or handles, so you can switch to whichever suits you best.
Best Kitten Carrier
Kitten travel carriers come in a wide variety of styles and colors, with many added features. It can be difficult choosing which one is best for your kitty.
Keep in mind the mode of travel you'll be using. If you're taking kitty on a flight, always check with the airline for their specific kitten carrier requirements.
Always measure your kitten to make sure she will fit in any kitten carrier you're considering. And ensure your chosen kitten travel carrier has enough ventilation to keep kitty happy and comfortable.
We hope you'll find the perfect kitten carrier for your precious kitty!