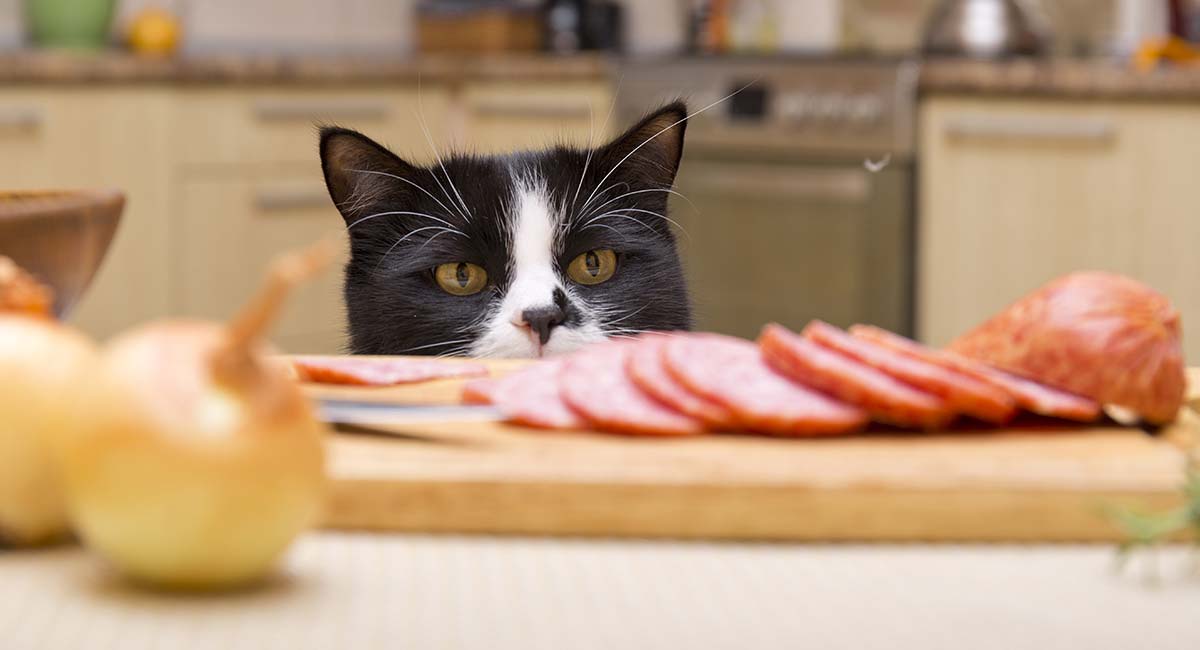 Could limited ingredient cat food stop your cat from suffering through an upset stomach?
If he does, you'll be pleased to learn that limited ingredient cat food can help solve diarrhea problems, vomiting and other food allergy symptoms.
In this article, we discuss the correct diet for cats with food allergies.
We also answer some common questions asked by cat owners whose cats are affected by allergies, including:
What is a limited ingredient cat food?
How can a limited ingredient cat food help kitties with food allergies?
How do you know if your cat is allergic to any of his food?
To help you choose the perfect food for your cat, we also review some of the best limited ingredient cat food products that are available for 2019.
All of these products were carefully and independently selected by the Happy Cat Site team. If you decide to make a purchase from one of the links marked by an asterisk, we may earn a small commission on that sale. This is at no extra cost to you.
What Should You Feed Your Cat?
Cats are carnivores. That means they need a source of animal protein in their diets to keep them healthy.
Cats will never do well on a vegetarian or vegan diet. Meat is essential in your cat's diet because he needs the nutrients it contains.
Although cats love fish, it's not an acceptable food for an exclusive daily diet.
That's because fish contains very high levels of fatty acids, and overeating can cause vitamin E deficiency in cats.
Cats also need a carbohydrate and fat in their diet. But feeding cats a saucer of milk or cream is not a good idea.
That's because many cats are lactose intolerant, and feeding them dairy products can make them sick.
Most commercially available cat foods are balanced to contain everything your cat needs to stay in good health.
However, sometimes cats can develop a sudden allergy or intolerance to something in their diet.
This is even though they may have enjoyed the same cat food for years with no ill effects.
What Foods Cause Allergies in Cats?
Several items commonly cause food allergies in cats, including:
gluten
dairy products
seafood
soy
corn
beef
lamb.
Interestingly, many of these foods cause severe allergic reactions in humans too.
And a casual glance in that cat food aisle confirms these proteins are inside.
Your cat may have eaten the same brand of cat food for years without experiencing any problems.
So, why would your cat suddenly become allergic to his favorite cat food?
All animals must typically be exposed to foods on many occasions before they develop an allergic response.
The more common that proteins are in cat foods, the more likely there will be allergic reactions among cats who are fed these products regularly.
The ingredients used in commercial cat foods are not generally considered to be harmful.
They can simply be allergy triggers in some cats.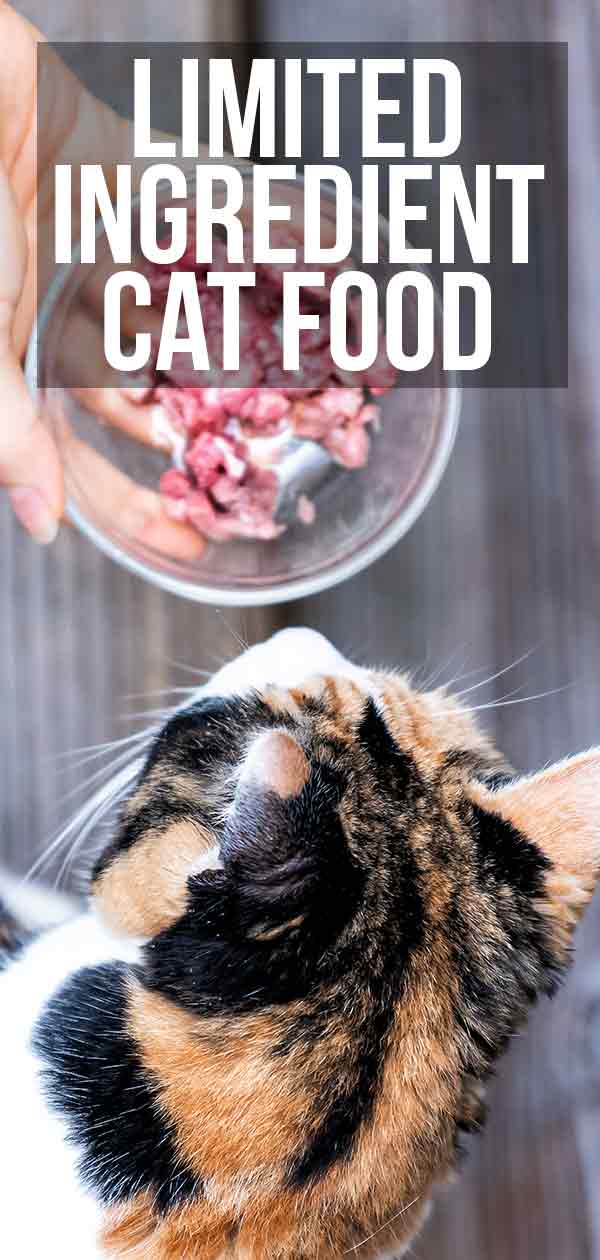 How Can You Tell If Your Cat Has a Food Allergy?
A food allergy often causes typical allergic reaction symptoms, including:
hair loss
scratching
itchy skin
Diagnosis of a food allergy can be tricky, but food allergies can emerge at any time of year.
The itchiness caused usually does not respond to steroid treatment.
For example, it's straightforward to blame fleas for a scratchy, itchy cat. It's also easier to blame fleas than cat food.
What Is a Food Intolerance?
Food intolerance is not the same condition as a food allergy. Food intolerance usually upsets the cat's digestive system.
Rather than itching, scratching and hair loss, the cat has diarrhea or vomits because something he has eaten is irritating his gastrointestinal tract.
The cat may thoroughly enjoy what he's eating; it's only as the food moves through his digestive system that problems start.
How Are Food Allergies Diagnosed?
If you suspect that something in your cat's food is causing him problems, you should consult your vet right away.
That's because other conditions such as infection, dermatitis, fleas and intestinal parasites can cause similar symptoms to food allergies.
Your vet will have the experience to make a definitive diagnosis.
Diagnosing a food intolerance or allergy is usually done through a process of elimination.
But once other causes of your cat's problems have been ruled out and a food allergy is known to be the culprit, that's just the beginning.
Why? Once you know what the problem isn't, finding out what it is can take longer.
What Is a Food Trial?
Food trials are the usual way of finding out what is triggering your cat's food allergy. This is done through an elimination diet.
For around 12 weeks, your cat will be fed a food that he has never eaten before.
This limited ingredient cat food will contain one carbohydrate and one protein.
Your vet may suggest a prescription diet or a commercially available food that meets these requirements.
Some cats develop allergies to many common foods.
In these cases, your vet may suggest using prescription food containing hydrolyzed proteins.
That means that the protein used to make the food has been deconstructed into tiny molecules.
This makes it virtually impossible for the cat's body to recognize the protein source and have an allergic reaction to it.
Alternatively, your vet may suggest using a raw diet that you can make yourself at home.
Other Tips to Remember for a Cat Food Trial
When your cat is undergoing a food trial, don't feed your cat anything other than an agreed-upon protein and carbohydrate.
At the end of the 12-week elimination diet, you can start to add one new ingredient to his food at a time.
That is, as long as your cat has not suffered an allergic reaction.
Your vet will tell you what to add to your cat's diet, but these will be ingredients that were previously in the cat's food.
If all goes well and your cat shows no signs of an allergic reaction, add a further ingredient to his ration and so on.
Continue to add new ingredients to the food until your cat has an allergic reaction.
That will enable your vet to identify the item that is causing the problem.
However, some cats are allergic to more than one thing. Continue the food trial until you've eliminated everything that was in your cat's old diet.
Once the problem ingredient is found, your vet helps you select a diet for your cat that he can eat safely without more allergy troubles.
Food Trial Dos and Don'ts
During your cat's food trial period, there are a few things to remember if the elimination diet works:
Stick to the prescribed diet and don't feed your cat anything that isn't included in it.
Do not feed your cat treats; these could contain allergens.
Do not add supplements or flavored medication to your cat's food.
Do not allow your cat to play with flavored plastic toys. Some of these contain potential triggers of food allergies.
What Is Limited Edition Cat Food?
Limited ingredient cat food for allergies is very similar to hypoallergenic cat food.
Both these types of cat food are given to cats that have food intolerances or allergies.
Limited ingredient cat food usually contains a single carbohydrate source and a single protein source, preferably something your cat doesn't typically eat.
By feeding your cat a limited ingredient diet, you're aiming to remove whatever substance is triggering the allergy or food intolerance.
Best Limited Ingredient Cat Food
Now, we're going to look at some of the most popular, high-quality limited ingredient cat foods that you can buy.
Before you give your cat a new food, always read the label and check the ingredients carefully.
Remember, the food should have a single source of protein and one carbohydrate.
Watch out for foods that contain plant proteins such as peas, which could upset your cat's digestion.
Also, some limited ingredient cat food contains added flavors, which can mean monosodium glutamate (MSG) or other additives.
If you're unsure whether the food you've chosen is right for your cat, check with your vet before you feed it to your pet.
Limited Ingredient Canned Cat Food
Many cats, especially older animals with few teeth, prefer to eat canned, limited ingredient wet cat food.
Blue Buffalo food contains whitefish for protein, together with a blend of fruits, vegetables, omega fatty acids and supplements.
The food does not contain corn, soy, wheat, artificial flavors, colors or preservatives.
Instinct Original
The Instinct Original Grain Free Recipe Natural Wet Canned Cat Food by Nature's Variety* is one of the Instinct limited ingredient cat food range.

The Instinct range is a pâté style wet cat food that contains no corn, soy, wheat, fillers or gluten, all of which are common causes of food intolerance in cats.
This particular flavor is made using salmon and pork liver as its primary protein source.
Nature's Variety limited ingredient cat food comes in many other flavors, including beef and poultry.
I and Love and You
The "I and love and you" Essentials Grain Free Can Cat Food* is made in the U.S. by this new pet food manufacturer from Boulder, Colorado.

This brand make a fantastic food for cats with allergies that they've called "Oh My Cod."
The food is all-natural and contains no fillers, grains or additives.
As you've probably guessed, the primary protein source for this food is cod.
Cod is used less often in other cat foods, so it's a really good choice if your cat has suffered allergies to other meats and fish.
The food also contains Omega-3 and Omega-6, both of which promote a shiny, healthy coat and supple skin.
Limited Ingredient Dry Cat Food
Crunching on dry "kibble" is an excellent way for your cat to keep his teeth clean and free-from plaque, which could lead to dental disease.
Feeding limited ingredient dry cat food is also more economical than feeding him canned wet food.
Natural Balance Limited Ingredient
The Natural Balance Limited Ingredient Cat Food Green Pea and Salmon Recipe Dry Food* contains a limited number of choice ingredients that help to reduce the risk of food allergies.

Many of the Natural Balance recipes use novel proteins such as salmon, duck and venison to lessen the risk of an adverse reaction.
Natural Balance LID Green Pea and Salmon Dry Food is made using a low number of digestible carbs and premium proteins to avoid adverse reactions and promote a healthy digestive system.
The food is grain-free and contains no artificial colors or additives. The food contains Omega-3 fatty acids, useful supplements and vitamins.
Halo Holistic
The Halo Holistic Natural Dry Cat Food for Adult Cats with Sensitive Stomachs* is created using whole proteins derived from whitefish, eggs, peas and salmon.

There are no starchy fillers included such as potatoes and corn that could trigger allergies.
The sensitive stomach recipe is great for cats who suffer from upset tummies.
Blue Buffalo
Blue Buffalo Basics Limited Ingredient Diet Grain-Free, Natural Indoor Adult Dry Cat Food, Fish & Potato* is a limited ingredient diet cat food.

It's made using whitefish, rather than poultry or beef that can cause allergies in some cats.
The food contains no eggs or dairy, and is a grain free limited ingredient cat food.
Pumpkin is also included in the recipe to aid digestion. The food contains no artificial additives, flavors, coloring or preservatives.
Other Cat Foods
We've got plenty of other cat food guides. Are you interested in learning more about the different types of cat food available to you and your pet?
Limited Ingredient Cat Food—Summary
Cats with food allergies or cat food intolerance can be cured of this chronic problem by changing their diet.
It will take some trial-and-error to figure out which ingredients should be excluded from his upcoming meals.
Do you have a cat with food intolerance or allergy issues? If you do, did your cat undergo a food trial? How is he now?
Tell us your story in the comment section below.
Affiliate link disclosure: Links in this article marked with an * are affiliate links, and we may receive a small commission if you purchase these products. However, we selected them for inclusion independently, and all of the views expressed in this article are our own.
References and Further Reading:
"Feline Skin Conditions," London Vet Clinic
Lewis, T., "Diagnosing Food Allergies in Dogs and Cats—Bring Your Case to Trials," DVM 360
Olivry, T., 2015, "Critically Appraised Topic on Adverse Food Reactions of Companion Animals (1): Duration of Elimination Diets," BMC Veterinary Research
Verlinden, A., 2006, "Food Allergy in Dogs and Cats: A Review," Critical Reviews in Food Science and Nutrition