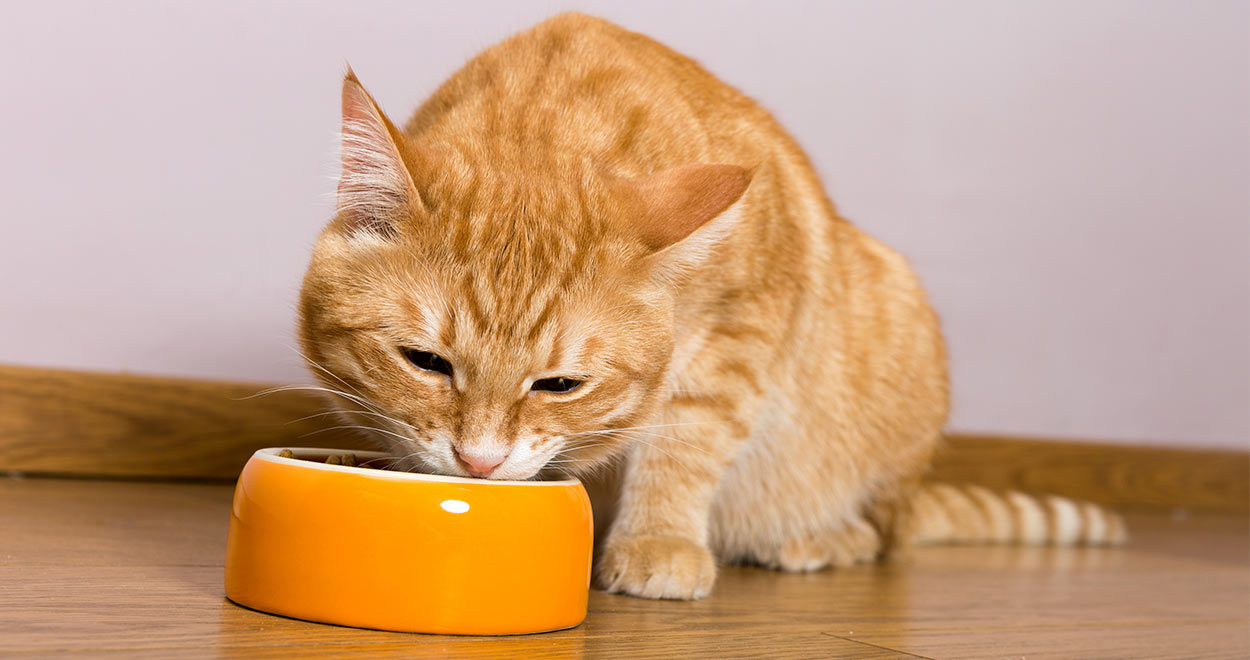 In this article, Tanya Clark weighs up the merits of organic cat food, and sets her sights on the tastiest choices out there for your cat.
Food is one of life's greatest pleasures, and also a stone cold necessity.
Happily, when it comes to eating there is no end in sight to the heavenly, tasty adventures to be had, and for many organic food is at the top of the list.
Have you considered adding some organic food options to your cat's diet?
Maybe you've wondered if switching to an organic diet would benefit your kitty's health and well-being?
Lots of pet parents have introduced organic canned cat, organic cat biscuits, and even organic senior cat food to their kitties with great success.
Organic cat
Is your moggie ready to become an organic cat?
Like a few humans I know, some fussy cats seem to eat to live, but I would swear that my teenage tabby cat lives to eat (not unlike me)!
The organic food trend isn't going away anytime soon.
If you'd like to buy organic cat food but don't know where to start, you're about to find out!
Organic cat food
In 2005 the Organic Trade Association reported that organic food represented more than 2% of all food sales, and sales of organic foods in the United States alone exceeded $13.8 billion.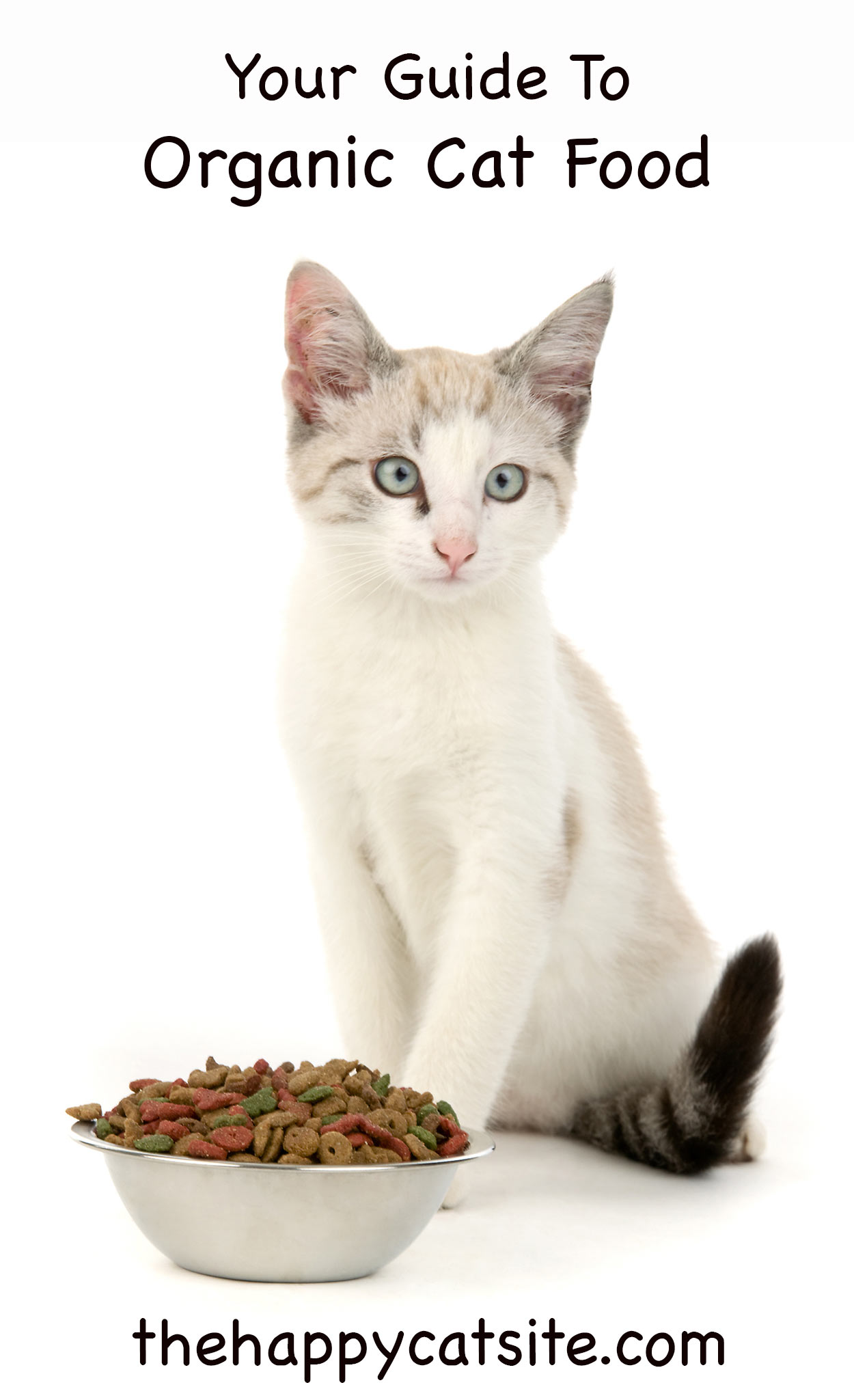 Veterinarians recommend specialized feline diets for a variety of reasons.
All natural organic cat food may be suggested if your cat has food allergies.
Or, a healthy organic cat food may be suggested to help your cat senior cat stay lean and fit.
There are many benefits to eating organic.
Best organic cat food brands
Organic dry cat food brands as well as organic wet cat food brands are abundant on store shelves and online.
The sheer volume of organic cat food brands and choices can be overwhelming: which is the best organic wet cat food, the best organic dry cat food, or the best organic cat treats?
We're going to review some of the best organic cat food choices available today in order to take some of the mystery out of the process.
But before we do let's take a look at what the term "organic" means in relation to cat food.
Choosing organic cat food
The United States Department of Agriculture, more commonly known as the USDA, employs about 80 agents whose work involves certifying nearly 35,000 global organic operations.
In order for a food to be labeled organic by the USDA, it must:
"have been produced using cultural, biological, and mechanical practices that support the cycling of on-farm resources, promote ecological balance, and conserve biodiversity…

…This means that organic operations must maintain or enhance soil and water quality, while also conserving wetlands, woodlands, and wildlife.

Synthetic fertilizers, sewage sludge, irradiation, and genetic engineering may not be used."
AAFCO oversight of organic cat food
Keep in mind that the USDA oversees food made for human consumption, while the Association of American Feed Control Officials (AAFCO) is the oversight body for the pet food industry.
AAFCO advises that pet food may be labeled organic when, "at least 95% of its ingredients by weight," meet the USDA's criteria for human-consumption organic food.
In addition, AAFCO states that pet food may be described as, "'Made with Organic' if at least 70% but less than 95% of its ingredients by weight are certified organic."
Natural organic cat food
We often see the words, "natural," and "organic," on food labels.
Organic food is certified by the USDA and must be grown according to their rules and guidelines.
The USDA does not have a formal definition for the word natural in relation to food.
There is a lack of cohesion in how the word is defined and used in the food industry and even across countries.
Defining natural cat food
Nonetheless the FDA considers the term 'natural' to mean
"that nothing artificial or synthetic (including all color additives regardless of source) has been included in, or has been added to, a food that would not normally be expected to be in that food.

However, this policy was not intended to address food production methods, such as the use of pesticides, nor did it explicitly address food processing or manufacturing methods, such as thermal technologies, pasteurization, or irradiation.

The FDA also did not consider whether the term 'natural' should describe any nutritional or other health benefit."
As you can see, when it comes to food, "natural" and "organic" are not synonymous, and may be used singly or in combination with each other to describe a food item.
Why choose organic cat food?
Organic cat food is a popular choice for pet parents who are concerned about the environmental conditions in which cat food ingredients are grown, and who want to feed their cats a food that is not produced via genetic modification, synthetic fertilizer, radiation, etc.
Research into the benefits of organic food is not conclusive.
Still, your veterinarian may recommend feeding your cat an organic diet, or you may feel that an organic diet is the right choice based on your own insights, values, and/or beliefs.
While there is no strong scientific evidence to suggest that organic cat food is superior to non-organic cat food, neither is there strong evidence to suggest that it is detrimental.
However, one large study found fewer pesticide residues on organic fruits and vegetables versus conventional fruits and vegetables.
Ultimately you, your cat, and your vet will form the decisive team in deciding what your cat should eat!
Benefits of organic cat food
By definition organic foods contain fewer pesticides, do not contain genetically modified ingredients, and are grown with sensitivity to the environment.
Studies have shown that the issue of pesticide use in particular is a major area of concern for consumers.
Several studies have shown that consumers are indeed willing to put their money where their mouth is by confirming that they would pay more for pesticide-free food.
Need another reason to choose an organic cat food?
Organic cat foods often contain limited ingredients, which is a boon for animals with digestive sensitivities or food allergies.
Now that we've looked at some of the advantages of organic food, it's time to review the best organic canned cat food, best organic wet cat food, best organic dry cat food, and best organic cat treats!
What to think about when you buy organic cat food
When choosing a cat food you should however be sure that AAFCO has endorsed it as, "complete and balanced."
This ensures that the food contains the proper and needed ingredients, in the correct ratios, for your cat's particular stage of life (kitten, adult, senior, etc).
If your vet has made specific recommendations about your cat's diet, make sure your organic cat food choice meets them – don't choose organic over advice from your vet.
Make sure you pick a food aimed a cats of your cat's age.
The food we've picked out below are all for mature cats, hop on over to our best organic kitten foods if you cat is still growing.
Organic wet cat food
Oftentimes a health-conscious cat food will contain some but not all of the criteria required to be labeled organic by the USDA.
Some of our selections below fit into this category, for example by featuring non-GMO ingredients.
The choice is huge, but we think these are the best of the best!
Organix Organic Canned Cat Food Chicken & Chicken Liver Pate
Certified Organic, this high-quality chicken recipe boasts added fiber for smooth digestion.
 The high-quality, certified organic ingredients are supplemented with omega fatty acids to support healthy fur and skin.
B.F.F. Oh My Gravy! Grain-Free Wet Cat Food Chicken and Pumpkin
The B.F.F. Oh My Gravy! chicken and pumpkin recipe is made from cage free chicken and contains zero GMOs.
It is minimally processed and made in a human food facility that follows British Retail Consortium global standards for foods.
Newman's Own Premium Canned Formulas for Cats, Chicken and Brown rice
Organic chicken is the first ingredient in this top of the line cat food from the highly-rated Paul Newman brand.
The food is made in the USA using an expert blend of protein-packed chicken and brown rice.
In addition this recipe is perfect for helping to maintain a kitty's ideal body weight, as well as providing an extended energy source.
Halo Holistic Wet Cat Food for Indoor Cats, Grain Free Salmon Pâté
Non-GMO vegetables are used in this grain free, whole salmon recipe.
The cans are free of BPA and there are absolutely no artificial colors preservatives or flavors.
Tuffy's Pet Food Natural Planet Organics Chicken Dinner
Tuffy's Organic Chicken Dinner has been Certified Organic by the USDA, and is appropriate for cats in all stages of life.
The organic chicken is supplemented with flaxseed and plenty of omega acids to support coat and skin.
Organic dry cat food
If your cat prefers dry food in their bowl, look no further than these organic dry cat food choices:
Castor & Pollux Organix Dry Cat Food
Organic, free-range chicken is the first listed ingredient in this healthy and nutritious superfood formulation.
The organic ingredients include organic cranberry, flaxseed, and coconut oil.
The food is cooked in an organically certified kitchen and includes zero artificial preservatives, added antibiotics, or growth hormones.
You can rest assured that absolutely no synthetic fertilizers or chemical pesticides have been used.
Tender & True Cat Food, Organic, Chicken & Liver Dry
This tasty cat food is 100% USDA Certified Organic and as an added bonus the recipe is completely free of grain.
The organic chicken and liver food is available in convenience sized 3 pound bags.
Natural Planet Organics All Life Stages Dry Cat Food, Chicken and Peas Formula
This premium formula boasts both free-range organic chicken as well as organic grains including oats, barley, flaxseed, and brown rice.
Additional organic items include carrots and cranberries, plus lots of healthy antioxidants.
The food is Certified Organic by Oregon Tilth.
Newman's Own Advanced Cat Dry Formula
Made in the US, this premium recipe features organic chicken and brown rice; organic chicken is the main ingredient!
The formulation is perfect for multi-cat households because the high-protein formula is optimal for kittens, active cats, and even senior cats.
In addition there are no artificial colors, preservatives, or flavors.
Organic raw cat food
If you are considering introducing raw food into your cat's diet, you should discuss the pros and cons of a raw food diet with your veterinarian.
Current research is decidedly mixed in regard to the safety of raw food diets, particularly as to the potential for animal and human disease.
You'll need to address the risks of handling raw meat, including bacteria such as salmonella, disinfection of food bowls, and correct disposal of possibly feces, etc.
Your vet can help you make sure your cat's raw food diet remains nutritionally balanced and healthy.
Instinct Freeze Dried Raw Market Nuggets
This raw recipe includes cage-free chicken, as well as organic carrots, pears and butternut squash.
The grain and gluten-free formulation is 90% chicken and liver, 10% vegetables, fruits and vitamins.
Instinct Freeze Dried Raw Boost Mixers
This kibble-topper recipe contains minimally processed ingredients including cage free chicken and non-GMO vegetables and fruits.
There is no artificial color or preservatives and it is made in the US.
Organic cat treats
Who doesn't love snacks and treats? These tasty cat treats are sure to tickle your kitty's taste buds!
Organix Chicken Cat Treats
These tempting cat treats are Certified Organic and contains 95% organic ingredients with no soy, wheat or corn.
It is an all-natural treat with organic free range chicken as the first listed ingredient.
Newman's Own Cat Food Variety Pack – 4 Flavors
These petite 3 ounce cans are the perfect snack-size for kitty.
The recipes include organic turkey and chicken and the food is dolphin and sea turtle safe.
Made in a human-food facility, the treats are both gluten and grain free.
Best organic cat food
We hope you enjoyed our reviews of organic cat food, both wet and dry as well organic kitty treats.
The market for organic food has expanded greatly in the last couple of decades and will no doubt continue to grow as individuals consider the issues of how food is grown, processed and manufactured.
Have you tried or do you currently use an organic cat food? If so we would love to hear about your experiences in the comment section below!
Sources
Finley, R., et al, Human Health Implications of Salmonella-Contaminated Natural Pet Treats and Raw Pet Food, Clinical Infectious Diseases, 2006
Lenz, J., et al, Perceptions, practices, and consequences associated with foodborne pathogens and the feeding of raw meat to dogs, The Canadian Veterinary Journal, 2009
Ott, S.L., Supermarket shoppers' pesticide concerns and willingness to purchase certified pesticide residue-free fresh produce, Agribusiness, 1990
Saba, A., Messina, F., Attitudes towards organic foods and risk/benefit perception associated with pesticides, Food Quality and Preference, 2003
Weese, J.S., et al, Bacteriological evaluation of commercial canine and feline raw diets, The Canadian Veterinary Journal, 2005
Winter, C.K., Davis, S.F., Organic Foods, Journal of Food Science, 2006