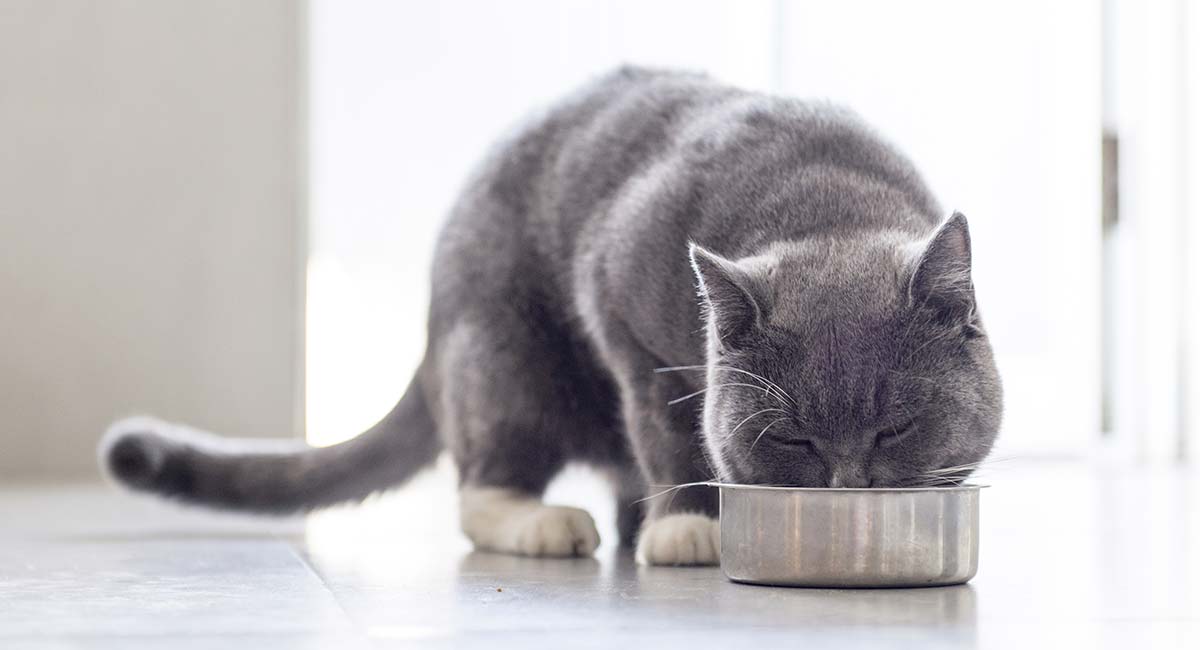 Sensitive stomach cat food is specially formulated for cats with digestive issues. These types of cats may find it difficult to digest certain ingredients. But they still have the same dietary needs that other cats have. So it's very important that the best cat food for sensitive stomachs fills those needs as well as catering to other health issues.
Cat food for cats with sensitive stomachs can come in wet food or dry kibble. There are several options to choose from, depending on your cat's individual needs.
All of these products were carefully and independently selected by the Happy Cat Site team. If you decide to make a purchase from one of the links marked by an asterisk, we may earn a small commission on that sale. This is at no extra cost to you.
Sensitive Stomach Cat Food Quick Links
Benefits Of Sensitive Stomach Food
Cat foods are formulated to address a variety of ailments, including hairballs, itchy skin, and stomach sensitivity.
With hundreds of brands and thousands of products available today, it's hard for the conscientious cat owner to choose the best cat food. And it can be even more difficult if your cat has trouble with certain ingredients.
Sensitive stomach food for cats are designed to help cut out some of the guesswork. They're made from ingredients that are typically easier for cats to digest, and less likely to trigger allergies or other sensitivities.
This can make life a lot more enjoyable for your cat, and for you as well!
Signs Of A Sensitive Stomach
Cats show signs of stomach sensitivity by refusing to eat, frequently vomiting, having bouts of diarrhea or constipation, and acting listless.
You can often correct these symptoms with a change in diet.
To choose the best food for cats with sensitive stomachs, you should first understand the reason your cat is showing those signs.
We recommend consulting with your vet if your cat throws his food up more than once in a while.
Regurgitation Vs. Vomiting
Veterinarians differentiate regurgitation from vomiting.
Regurgitation is your cat's way of ridding his body of undigested food and fluids. Regurgitation originates in the esophagus, so the resulting mass tends to have a cylindrical shape.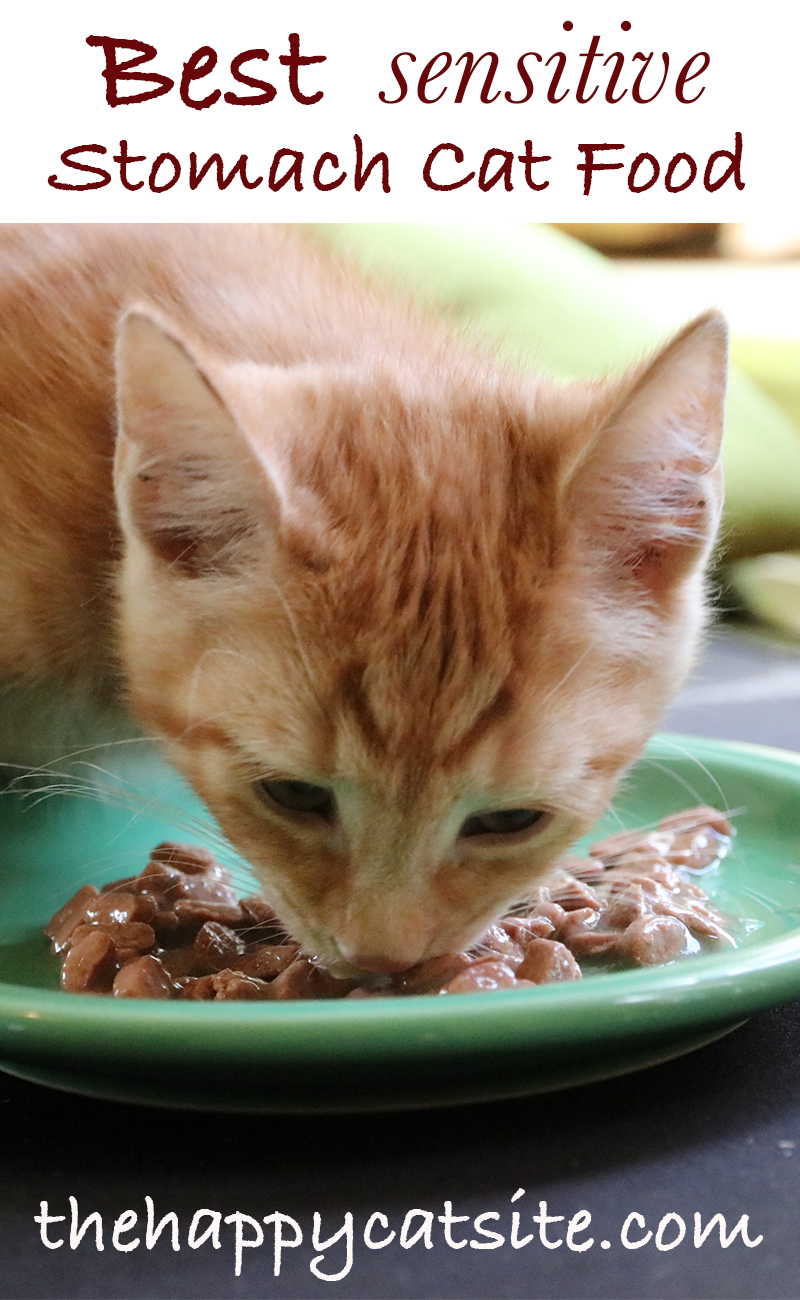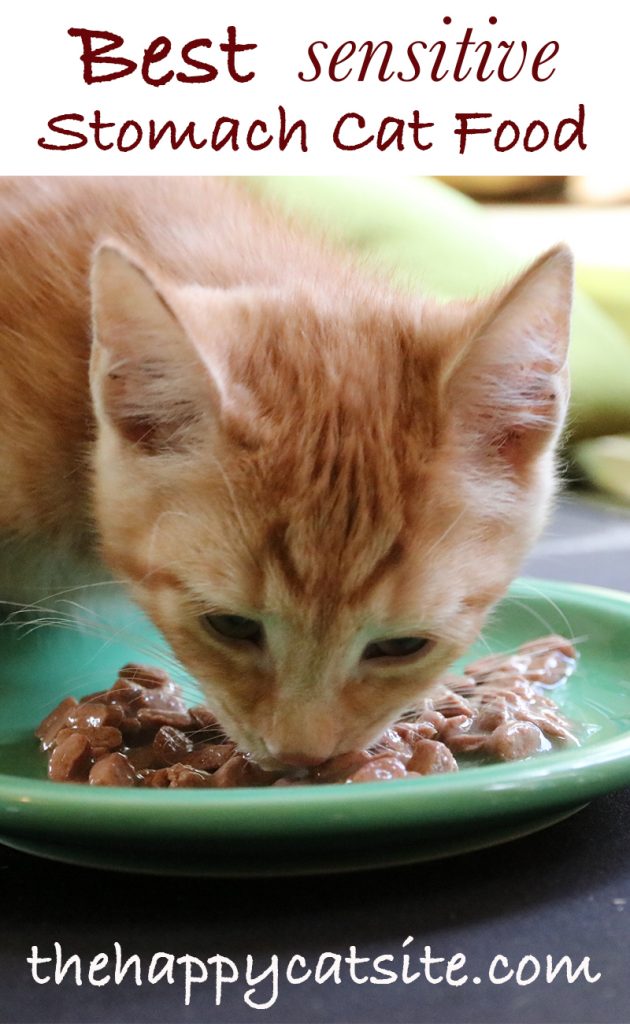 Occasional regurgitation (once or twice a month) is generally not an indicator of sickness.
By contrast, vomit originates in the stomach and upper small intestine and is forcefully ejected from the body followed by drooling and retching. Frequent vomiting can be an indicator of food sensitivity, sickness, or disease.
Please note that if blood is present in anything your cat expels, you should contact your veterinarian immediately.
Pros And Cons Of Changing Your Cat's Diet
Diagnostic tests to determine if your sensitive stomach cat has a condition such as chronic small bowel disease or inflammatory bowel disease are costly. These may include biopsies, lab work, and overnight stays at the veterinarian.
Your veterinarian can also test for food sensitivity and allergies. These may manifest as skin irritation as well as stomach upset. Some foods are formulated to simultaneously treat skin irritation and stomach upset.
In cases of food sensitivity and allergies, you can often remove the offending food or ingredient to solve the problem. The most commonly identified allergens in cats include:
Then again, sometimes an upset stomach is just an upset stomach. The lower cost alternative to medical intervention is changing your cat's diet. Unless you're seeing serious warning signs, introducing sensitive stomach cat food is a recommended course of action.
Best Cat Food For Sensitive Stomach
What is the best cat food for sensitive stomachs? Well, the real question is, "What is the best cat food for your cat?"
One suggestion to determine this is a six week food trial with a sensitive stomach cat food. Over these six weeks, take note of how much you are feeding, how much your cat is eating, and how he reacts after each feeding.
If kitty is still showing signs of sickness after four days, consult your veterinarian immediately.
What To Look For In Sensitive Stomach Cat Food
Sensitive stomach cat foods contain all the required nutrients for your cat and are intended for lifelong use.
The best sensitive stomach dry cat foods contain single source proteins, specifically, veal, venison, lamb or turkey. This is one key to making food more easily digestible.
For all around health, look for foods with natural ingredients, amino acids, antioxidants and Omega fatty acids, and stay away from artificial colors, flavors and preservatives.
Once you find a formula that works you can continue feeding that diet. It's not just for when kitty's stomach is upset.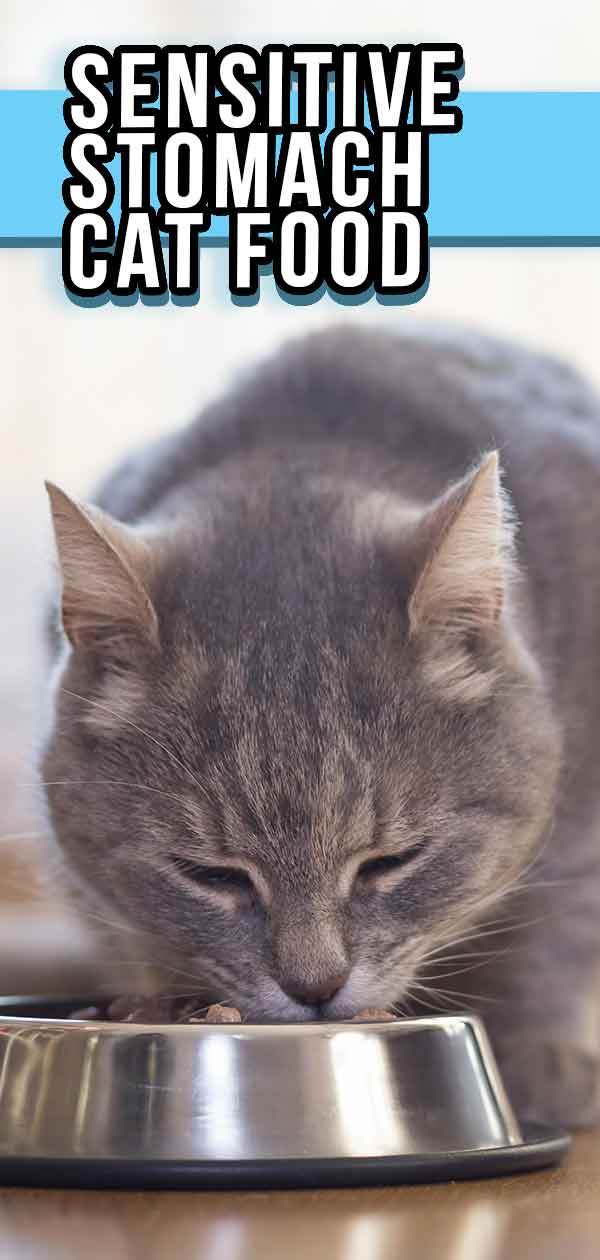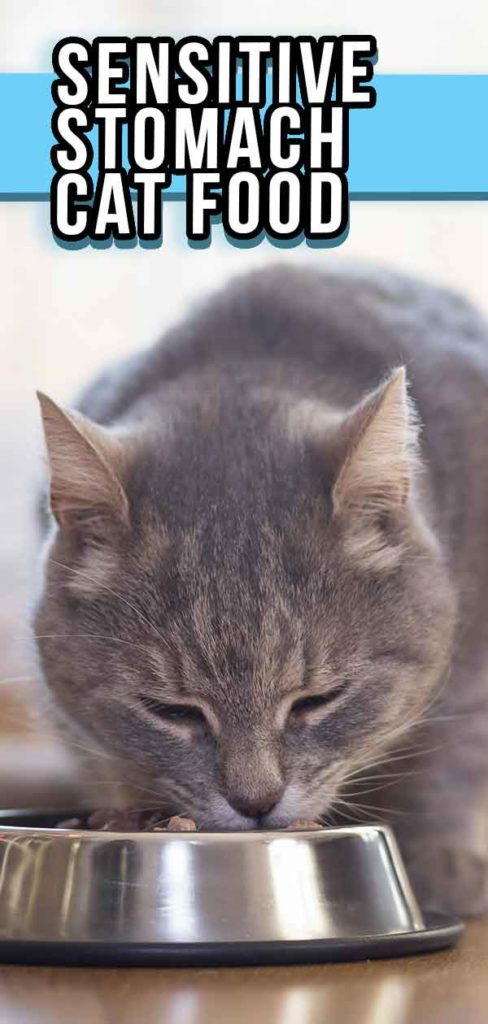 You may need to try a few different types of food before you find the best cat food for sensitive stomach in your own individual cat. But there are plenty of options out there, so let's take a look at some of them.
Sensitive Stomach Canned Cat Food
Wet cat food should contain the same easily digestible and stomach soothing ingredients as dry food. Because of the high water content, wet food can aid by providing added hydration helpful to cats with diarrhea and constipation complaints.
Let's look at some top brands and formulas in dry and wet foods. These contain ingredients specific to aiding cat's digestion and all the necessary vitamins and minerals for a complete diet.
Canned cat food can be beneficial for cats with sensitive stomachs for a number of reasons. For some cats, the wet food is actually easier to tolerate to begin with.
And if your cat has been throwing up profusely, canned food is a good way to ensure that they are getting enough hydration, as wet food is higher in liquid content.
Hill's Science Diet
Hill's Science Diet Canned Wet Cat Food for Sensitive Stomach and Skin* comes in chicken and vegetable or tuna and vegetable varieties.
These are good options to try, but if your cat does not have a good reaction to these formulae, it may be a little more complicated to isolate what exactly the problem is.
Both varieties contain multiple proteins (chicken, turkey and/or tuna) which makes selecting for a specific food allergen difficult.
Blue Buffalo
Blue Buffalo Basics Grain-Free Indoor Turkey and Potato Entree For Adult* Cats has all the best ingredients and formulation in wet cat food.
While eliminating and minimizing ingredients that cause sensitivities (multi-proteins, grains), this complete food maximizes nutritional value for your sensitive stomach cat.
Royal Canin
This formula from Royal Canin* is formulated to be easily digestible and decrease the odor of cat's stools.
This is a nutritionally balanced choice appropriate for adult cats, and is designed to be appealing and tasty to a finicky cat.
Sensitive Stomach Dry Cat Food
Dry cat food is another viable option for treating sensitive stomach in cats.
Some cats eat only dry food, some only wet food, some both. Whichever system you use, stick to it while you try sensitive stomach cat foods.
Eating dry cat food promotes dental health and teeth strengthening benefits in your cat.
Some cats may prefer kibble over wet food. And dry food tends to be easier to store and a little less expensive for the owner.
Here are some of the options for the best cat food for sensitive stomach cats, in dry form.
Blue Buffalo
This popular brand* offers healthy stomach formulas including "LifeSource bits" which are a blend of antioxidants, vitamins and minerals. Their foods also include a variety of antioxidant-rich fruits and vegetables.
This particular option is a highly-rated formula made with real chicken (not poultry by-products) and grains such as brown rice, oatmeal and barley.
Please note, however, that this food contains fish oil. So if your cat has a fish sensitivity, this might not be a good choice.
Blue Buffalo Basics
This Blue Buffalo option*, however, is a turkey-based grain-free food which contains pumpkin as an additional digestive aid.
This is a favorable combination of ingredients. Some cats have grain allergies and turkey is not considered to be among the highly allergenic protein sources for cats.
Purina Cat Chow
The Purina ONE Sensitive Systems Adult Premium Cat Food* is a turkey protein based food with antioxidants and omega fatty acids to provide a complete sensitive stomach recipe.
The ONE line of foods boasts protein as the first ingredient and no added artificial flavors or preservatives. This is a low cost, well rated sensitive stomach cat food.
Purina offers three lines of cat food each with a formula for digestive health. These are available almost anywhere cat food is sold – including Amazon.com.
This company produces popular and well-rated foods. But note that they contain a variety of protein sources and less of the "all natural" ingredients found in other (more expensive) brands.
Sensitive Stomach Grain Free Cat Food
If your cat has a grain sensitivity, grain free formulas are desirable. Rice and oatmeal are popular fillers appropriate to sensitive stomach cats.
Here are a few different types of grain free cat food that are worth a look.
Purina Cat Chow Naturals
Purina's Naturals line* provides grain free dry cat food that is made with real ingredients like chicken.
It promises high quality protein to strengthen muscles, and avoids grains in order to assist with sensitivities to those products.
CRAVE Grain Free
CRAVE's highly rated formula* provides a grain free alternative to many other high protein cat foods.
This kibble has chicken as the first ingredient, and avoids corn, wheat, and soy proteins.
Solid Gold Winged Tiger
This highly rated option* is specially crafted for adult cats with sensitive stomachs.
Unusually, it uses quail as the main ingredient and source of protein, geared to cats who need novel, exotic sources of lean protein.
High Protein Sensitive Stomach Cat Food
High protein cat food can be very beneficial for cats with sensitive stomachs, as they often have trouble keeping weight on due to vomiting.
These foods are designed to facilitate the development of lean muscle mass, which cats depend on so much.
Blue Buffalo
Another option from feline-favorite Blue Buffalo*, this is a high protein food packed with real chicken as the main ingredient.
It strictly avoids corn, wheat, soy, artificial flavoring, and preservatives to assist your sensitive stomach cat to get the most from his food.
Natural Sensitive Stomach Cat Food
While "natural" isn't always a common option for commercially made cat foods, it is possible to find manufacturers who choose to use responsibly sourced ingredients.
Manufacturers like Halo, who has two options listed below, opt for non-GMO ingredients and whole, natural sources of protein.
Halo Natural Dry Cat Food
Halo Naturals* is dedicated to sustainable, organic resources for their ingredients.
This formula uses whole wild salmon and whitefish, rather than "meal." It offers "super-digestibility" for cats with stomach issues.
Halo Impulse Grain Free
This canned cat food choice*, also from Halo, is grain free and uses novel, non-GMO greens and proteins to assist cats with sensitive stomachs.
Even the can used for this product is BPA free.
Sensitive Stomach And Skin Cat Food
Many cats with sensitive stomachs also deal with other issues, such as skin problems.
These are often tied to the cat's diet as well. So it makes sense that some foods are formulated to address both problems at the same time.
Here are a few hypoallergenic food options designed to help cats with both sensitive stomachs and sensitive skin.
Hill's Science Diet Sensitive Stomach
Hill's Science Diet* foods are the most highly rated by consumers. They provide high-quality ingredients and for the desired effect of easy digestion.
This chicken and rice recipe is formulated to provide complete nutritional value, including vitamins, minerals, amino acids and antioxidants.
This food has no artificial colors, flavors, or preservatives. It is appropriate for cats beginning at one year of age, and not recommended for kittens.
Purina Pro Plan Focus
Purina Pro Plan Focus* Adult Sensitive Skin and Stomach Lamb and Rice Formula contains lamb as the number one ingredient but also contains egg and other "animal" products.
This food also comes in herring and rice or turkey variations.
Sensitive Stomach Kitten Food
Kittens have different dietary needs than do adult cats. They need certain proteins and ingredients to help them in developing into healthy adults.
However, they still might face some stomach issues even when young.
These products ensure that kittens get the nutrition they need while also addressing digestibility issues.
Blue Basics Kitten
Another entry from Blue Buffalo*, this kitten-specific formula is grain free.
It uses turkey, potatoes, and peas, to ensure that your kitten gets the nutritional value from her food that she needs! And it is easier to digest.
Blue Buffalo Freedom
This dry food option*, on the other hand, turns to all natural chicken as the first ingredient for the protein your kitten needs.
This kitten formula is made with DHA and ARA, fatty acids found in mother's milk, to assist with the retinal and cognitive development of your kitten.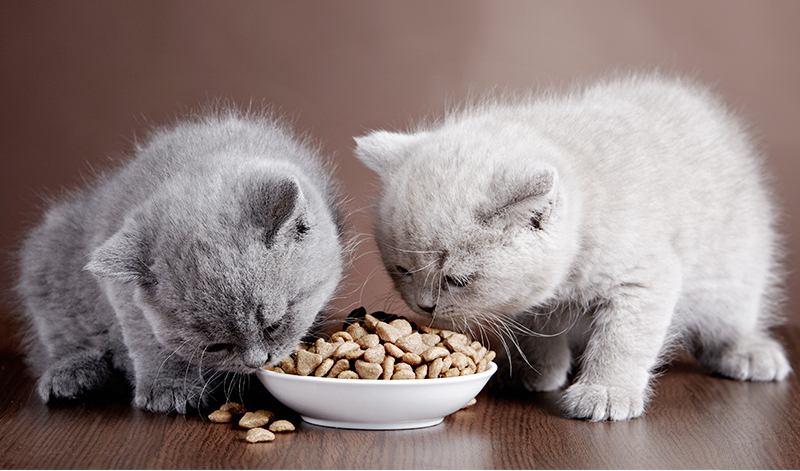 Best Cat Food For Older Cats With Sensitive Stomachs
While there are specific foods for seniors (as explored in this article) all the foods we've reviewed here are appropriate for lifelong feeding.
Once you've identified a sensitive cat food that works for your adult cat, you can feed that food throughout his life.
However, if your senior cat develops a problem with stomach sensitivity, you may want to limit the amount of food testing and go straight to the veterinarian.
Cats in their older years (11 years+) are prone to additional ailments and even a gradual change in diet without supervision might be hard on them.
How To Introduce A Sensitive Cat Food Diet
Food for cats with sensitive stomachs should be introduced gradually over a week long period.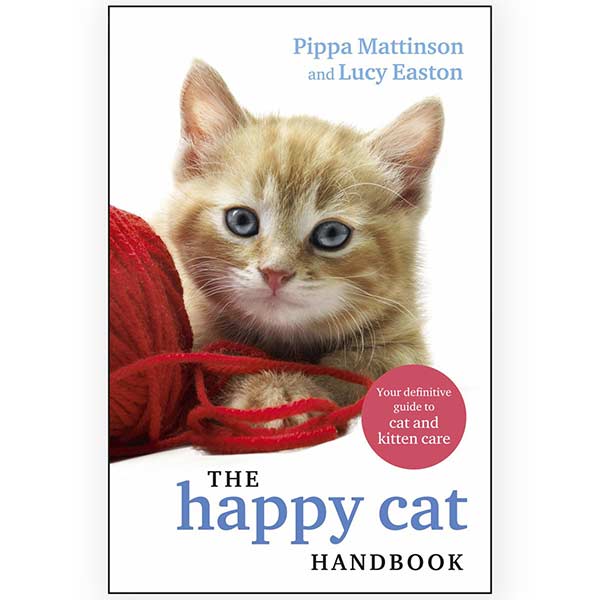 We recommend this schedule:
the first two days, make the sensitive cat food 25% of his feeding
the following two days make it 50%
fifth and sixth day, 75%
completely switch over to the new food on the seventh day and going forward.
Feed no more than the recommended amount for your cat's age and weight.
Do not feed treats such as table scraps, milk or store bought cat treats during this trial period. Once you've maintained a healthy response to the new diet for six weeks, you can slowly introduce treats.
More Top Tips For Feeding A Sensitive Stomach Cat
If you are trying a diet to eliminate a suspected food allergen, make sure to read all the ingredients. Even "single-source" protein foods may contain other proteins as oils or by-products.
Do not allow your cat to eat wet food left out for more than one hour.
Provide fresh water daily and monitor water intake.
If you have more than one cat, but only one is having stomach problems, it's okay to switch all cats to the new food. These are complete formulas that can be fed to cats with either stable or upset bellies.
Certain breeds such as Siamese cats are susceptible to bowel problems. If your Siamese is experiencing stomach problems, seek veterinary care.
Choosing The Best Sensitive Stomach Cat Food
While there are many underlying causes of sensitive stomachs in cats, resolving the problem by changing his diet to a sensitive stomach cat food is a good first step and a responsible alternative to medical intervention.
Review all the indicators and ingredients on a cat food to match the best product to your cat's sensitive stomach needs.
Consult a veterinarian when a change in diet is not getting results.
Finding the best cat food for sensitive stomachs takes some trial and error. Be patient and monitor your cat closely to promote a long life with your happy cat.
Have you found the best cat food for sensitive stomachs for your own cat? Let us know about your experience by commenting below.
Affiliate link disclosure: Links in this article marked with an * are affiliate links, and we may receive a small commission if you purchase these products. However, we selected them for inclusion independently, and all of the views expressed in this article are our own.
References And Further Reading
American Association of Feline Practitioners, (2014), "New Data on Chronic Small Bowel Disease in Cats: Don't Accept Vomiting as 'Normal'"
American Veterinary Medical Association, "Diagnosis of chronic small bowel disease in cats: 100 cases (2008–2012)"
Merck Veterinary Manual, (2016), "Congenital and Inherited Disorders of the Digestive System in Cats"
The Merck Veterinary Manual, (2016), "Introduction to Digestive Disorders of Cats"
Merck Veterinary Manual, (2016), "Vomiting in Cats"
Olson, J., DVM, et al, (2014), "Client handout: Chronic intestinal disease in cats"
This article has been extensively revised and updated for 2019.
Your Amazing Cat!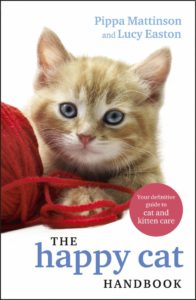 We are so excited to share our new book with you!
If you have enjoyed your visit to The Happy Cat Site we think you'll love The Happy Cat Handbook.
Written by the founders of this website including the author of the hugely successful Happy Puppy Handbook, it's packed with cat care information and fascinating cat facts.
Grab your copy today!