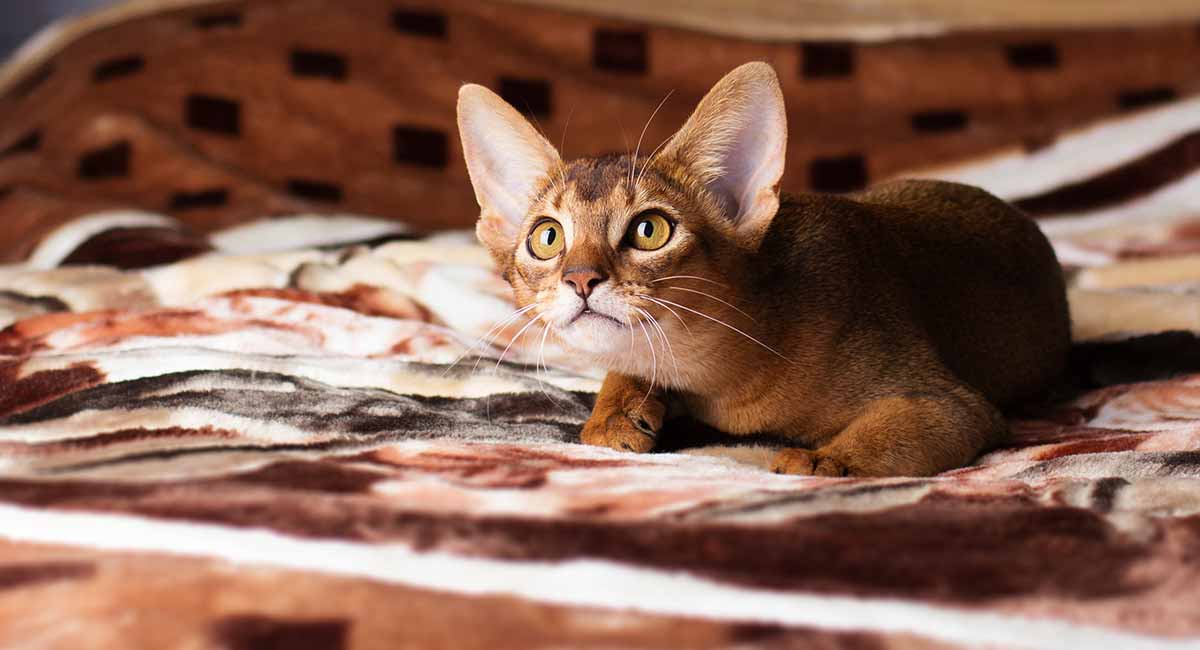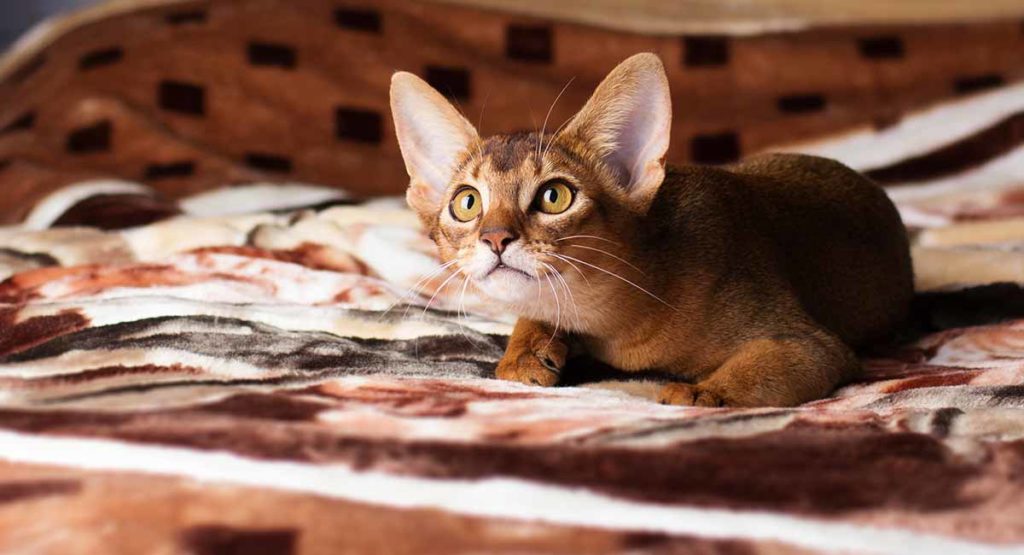 The Abyssinian cat personality is not for everyone. They are very active and almost never your classic lap cats. You'll have to have plenty of room for them to explore and plenty of time to spend playing with them. They are very affectionate and will bask in your attention. Abyssinians often do well in a household with young children or even dogs, but they are unlikely to want to share your affections with another cat.
Contents
The Abyssinian cat has almond-shaped eyes and ticked and lustrous coat. They are medium-sized cats and weigh from six to ten pounds on average. This breed is playful and curious, and generally healthy. But like most purebreds, they are prone to some health issues.
Where Did They Come From?
Abyssinian cat breeds were first noted in English cat shows. They were recorded to have come from Abyssinia (now Ethiopia) at the end of the war in the late 1800s. But interestingly, a detailed gene sequencing carried out at the University of California found that they acutally have genetic markers common to the earliest domestic breeds from Europe and Southeast Asia!
Other studies have linked this breed to the Bay of Bengal in India. However, it is believed that the breed actually descends from cats that existed in ancient Egypt. The Abyssinian cat breed resembles cats depicted in ancient Egyptian artwork.
At the moment it's a rather marvellous mystery, but what we do know for sure is the adorable Abyssinian made its way to the United States during the early 1900s. However, the breed wasn't recognized by The International Cat Association until 1979.
An Unusual Appearance
The Abyssinian has a long, strong, and streamlined body with equally long and graceful limbs. This gives the breed a jungle-cat look that is distinctively different from the typical domestic cat. They are known for their expressive almond-shaped eyes and large, wide-set ears.
Medium sized cats, male Abyssinians usually mature to 8 to 10 pounds. Females are smaller and usually mature to 6 to 7 pounds.
Colors and Coats
Most Abyssinian kittens are born with dark coats. This will gradually lighten to their permanent color as they mature. Regardless of the Abyssinian's coat color at adulthood, all Abyssinians have the breed's signature ticking. First, this means that there are bands of color in each hair. This gives them an agouti coat. Secondly, in a ticked coat, the hairs have a light base. From the base of the hair up to the tip of the hair, four to six bands of different colors can be seen. This gives the Abyssinian's coat its shimmery quality.
A ticked coat is a genetic variant of the commonly seen tabby color. Therefore, "Abyssinian tabby cat" is still an accurate description. Some Abyssinians even have the traditional tabby "M" mark on their forehead. There are four main Abyssinian cat colors, ruddy, blue, sorrel and fawn. But they also come in a variety of other pattern that aren't currently approved for shows.
Shedding and Allergies
The Abyssinian cat requires very little grooming with its thicker coat. However, they are not allergy free. All cats produce allergens found on the skin, in the fur, and in saliva.
Abyssinian Cat Personality
This kitty is no shrinking violet. I have never met one that didn't have a high activity level, and very social personality. Abyssinians are extremely curious cats that enjoy exploring their surroundings. They will leave no stone unturned when they are introduced to a new environment.
Watch out, because you will find these feline acrobats high on a shelf, on top of a wardrobe, or squeezed into a seemingly inaccessible space between your couch and the wall. In addition to their juvenile love for play, Abyssinians are also super affectionate. While they may not have the calm temperament necessary for lap-cat status, Abyssinians will occasionally seek out their human for a few moments of quiet cuddle time.
Are They Easy To Entertain?
The Abyssinian cat generally likes to keep busy, however they're usually happily entertained by activities going on around them. This is due to their curious nature and impressive intelligence. As a result, this makes them superb candidates for an active family, especially with children.
You'll want to be sure that you play and interact with your Abyssinian. They thrive on companionship and want to be involved in your day. Remember, their curiosity gets the best of them when they are bored. They may open and close cabinet doors or even flick light switches on and off if they're not being entertained!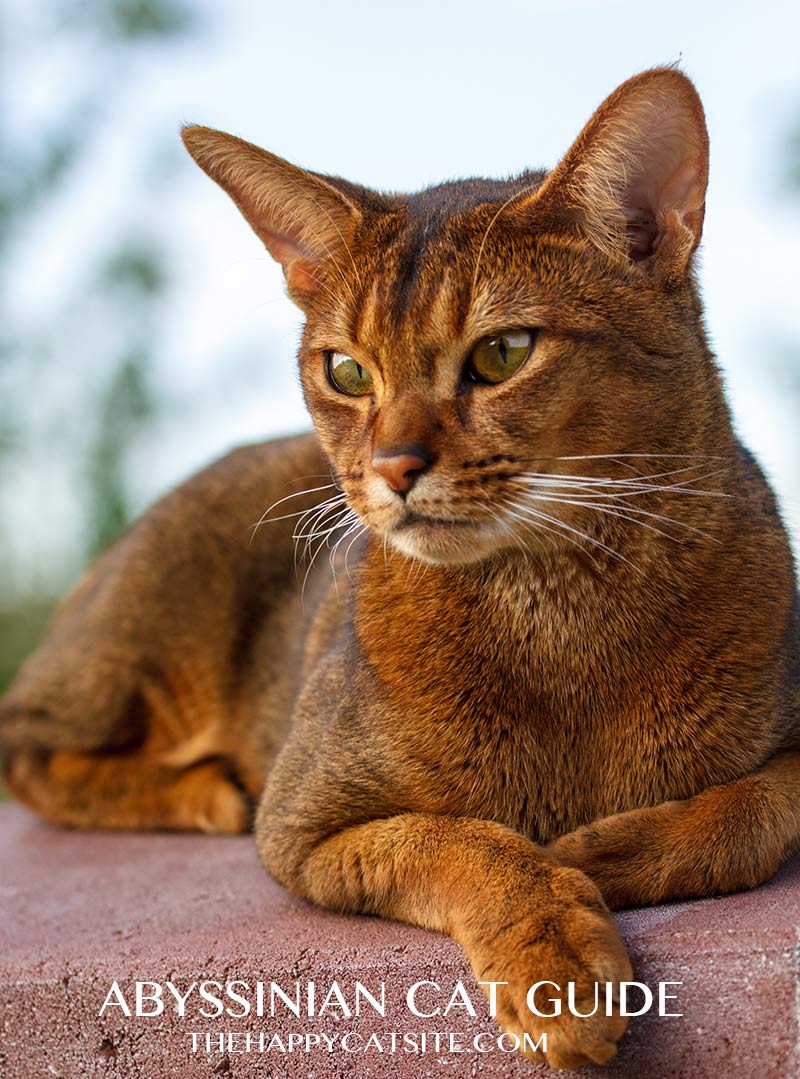 Abyssinian Cat Health Problems
Abyssinian cat breeds are prone to several health conditions. Potential issues include
Luxating patellas

Vision problems
Kidney disease
Dental issues
You can have some hereditary health conditions screened for in the parents. Therefore, it is essential that you use a responsible breeder that can provide proof of all genetic testing for their cats.
How Long Do They Live?
Abyssinians generally live to be 12 to 15 years old. This is an average lifespan and a variety of factors play into a cat's life expectancy.
Abyssinian Breeders
Due to its popularity, there are many Abyssinian breeders to choose from. Some breeders raise specifically championship-quality Abyssinians. Others raise quality stock, but they may not be championship-qualified.
When purchasing any kitten, be sure that the litter is generally healthy before selecting one. And don't forget to ask to see all the relevant health test certificates for your kitten's parents before committing to a purchase.
Caring for a kitten is a big job. This is especially true for an inquisitive and energetic kitten, like an Abyssinian. And due to its status as a purebred and because of its a sought-after pet, the price can be quite high. Kittens sold by a breeder may range from a few hundred dollars to almost $1,200 USD for a championship-quality kitten.