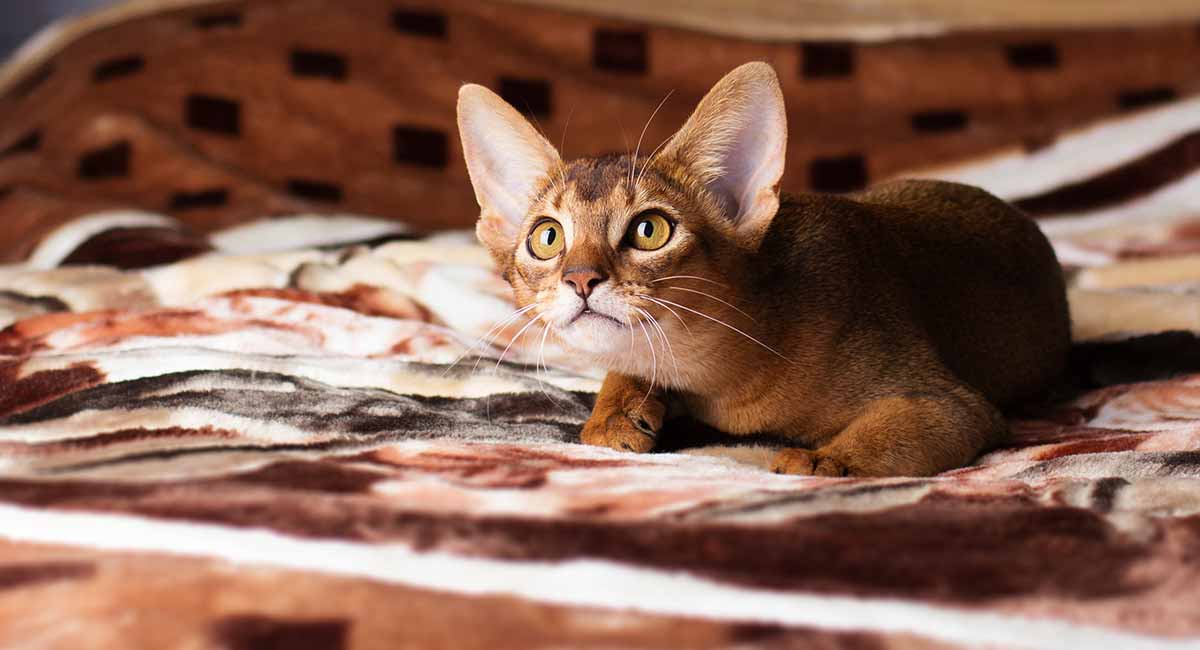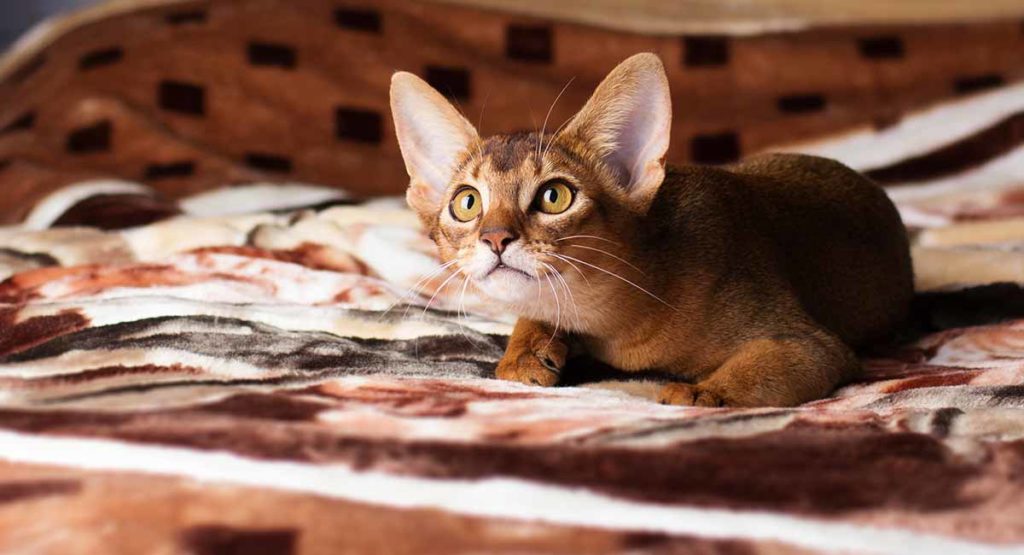 The Abyssinian cat has almond-shaped eyes and ticked and lustrous coat. They are medium-sized cats and weigh from six to ten pounds on average.
This breed is playful and curious, and generally healthy. But like most purebreds, they are prone to some health issues.
You'll want to familiarize yourself with the Abyssinian cat personality, grooming needs, and potential health issues if you're considering purchasing one of these beautiful cats.
This article will help you figure out whether or not an Abyssinian would be happy in your home.
What's In This Guide?
Abyssinian Cat FAQs
Our readers' most popular and frequently asked questions about the Abyssinian Cat:
Abyssinian Cat Breed Review: Contents

Abyssinian Cat History
Abyssinian cats are believed to be one of the oldest domesticated breeds. However, their exact origins cat are unknown. Despite their name, it is unclear whether the Abyssinian cat actually originated in its namesake.
Abyssinian cat breeds were first noted in English cat shows. They were recorded to have come from Abyssinia (now Ethiopia) at the end of the war in the late 1800s.
Conversely, a detailed gene sequencing carried out at the University of California found that Abyssinian cats have genetic markers common to the earliest domestic breeds from Europe and Southeast Asia.
Other studies have linked this breed to the Bay of Bengal in India. However, it is believed that the breed actually descends from cats that existed in ancient Egypt. The Abyssinian cat breed resembles cats depicted in ancient Egyptian artwork.
The Abyssinian made its way to the United States during the early 1900s. However, the breed wasn't recognized by The International Cat Association until 1979.
Abyssinian Cat Personality
The Abyssinian cat breed grew quickly in popularity after it was introduced to the United States. This was due to its unique appearance, high activity level, and very social personality.
Abyssinians are extremely curious cats that enjoy exploring their surroundings. They will leave no stone unturned when they are introduced to a new environment.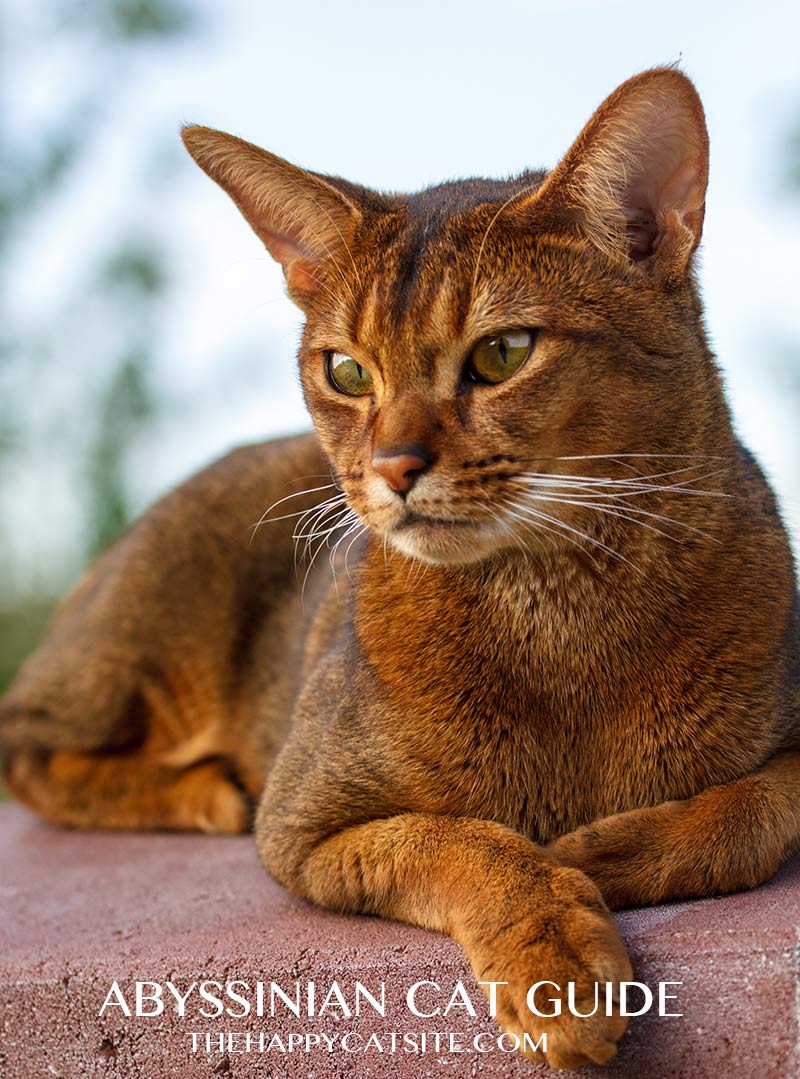 Consequently, you will find these feline acrobats high on a shelf, on top of a wardrobe, or squeezed into a seemingly inaccessible space between your couch and the wall.
In addition to their juvenile love for play, Abyssinians are also super affectionate. While they may not have the calm temperament necessary for lap-cat status, Abyssinians will occasionally seek out their human for a few moments of quiet cuddle time.
Abyssinian Cat Temperament
The Abyssinian cat has an affinity for play and generally likes to keep busy.
These cats are happily entertained by activities going on around them. This is due to their curious nature and impressive intelligence. As a result, this makes them superb candidates for an active family, especially with children.
You'll want to be sure that you play and interact with your Abyssinian. They thrive on companionship and want to be involved in your day.
Remember, their curiosity gets the best of them when they are bored. They may open and close cabinet doors or even flick light switches on and off if they're not being entertained!
Can Abyssinian Cats Go Outside?
As with any cat, but especially purebred cats, there are pros and cons to allowing them outside. The main arguments on the pro side tend to focus on a cat's natural instinct to hunt and their need for exercise.
Some believe it's cruel to deny a cat its natural desire to prowl and hunt. They also argue that cats get more exercise and mental stimulation if permitted outdoors. Thus, they tend to have less risk of weight management problems, heart problems, and diabetes.
On the con side, many vets report that cats that are allowed outside more often have a shorter lifespan than an indoor cat. This is because there are a number of hazards out there for your cat.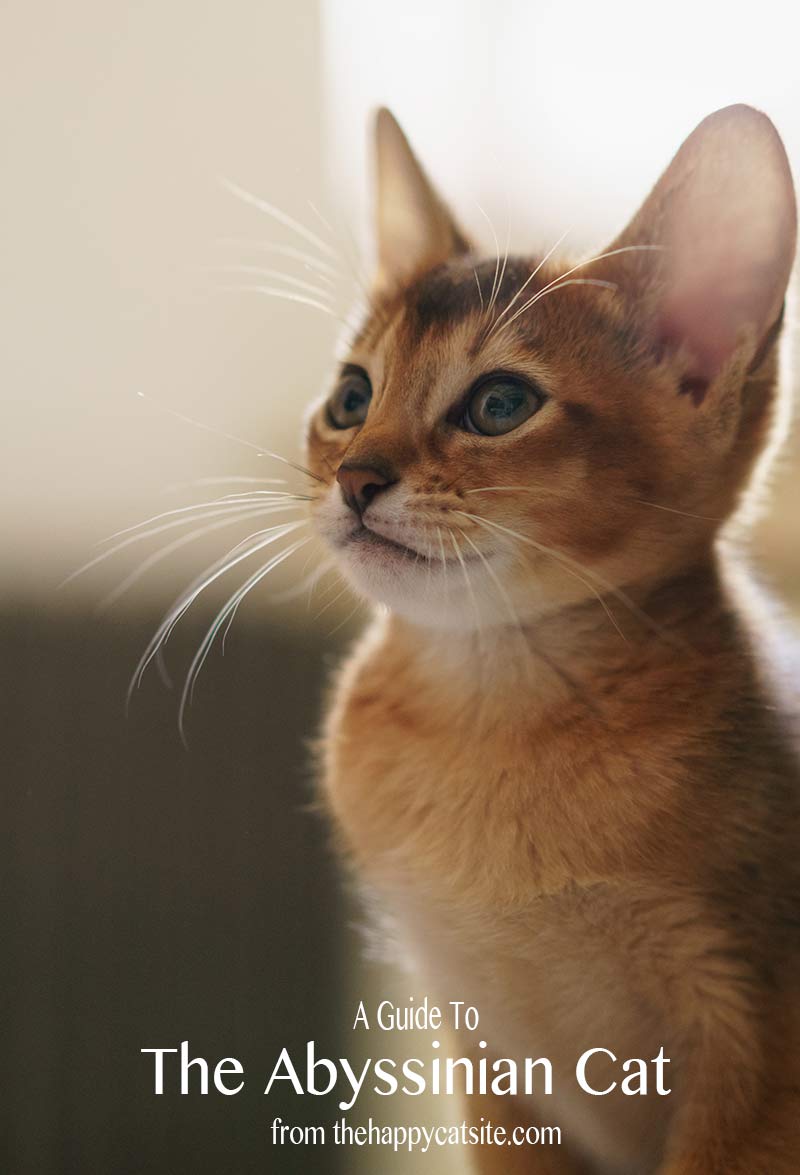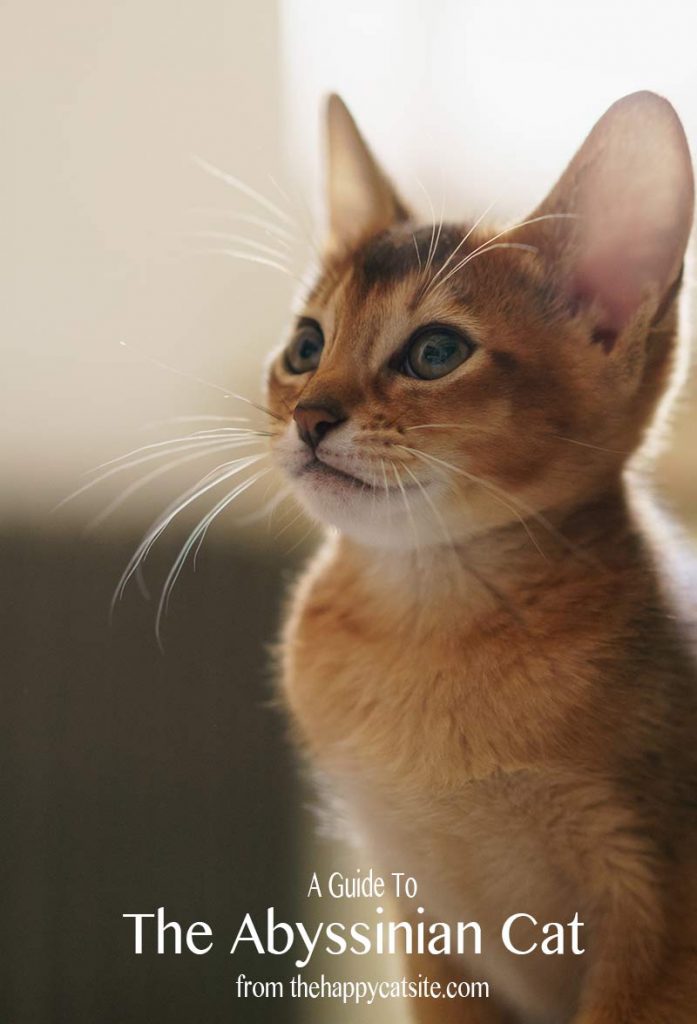 They have more interaction with other outdoor cats if you let your cat outdoors. And this can lead to the contraction of feline diseases and parasites.
Your cat can also be at risk to encounter other animals and become prey to large dogs, coyotes, and raccoons.
Additionally, if you allow your cat outdoors, you run the risk of exposing your cat to human hazards, like vehicles and poisons. Animals sometimes ingest spilled anti-freeze because it has a sweet taste.
And kidnapping (or "catnapping") is always a concern for a roaming kitty. This is especially the case for purebred cats. There is a lucrative resale market out there.
Before deciding what is best for your Abyssinian cat, check out our article Outdoor Cat Versus Indoor Cat. And consider their temperament, as discussed earlier.
Abyssinian Cat Weight
Abyssinian cats are generally in the mid-weight range. Male Abyssinians usually mature to 8 to 10 pounds. Females are smaller (as is typical in cats) and usually mature to 6 to 7 pounds.
The Abyssinian has a long, strong, and streamlined body with equally long and graceful limbs. This gives the breed a jungle-cat look that is distinctively different from the typical domestic cat.
They are known for their expressive almond-shaped eyes and large, wide-set ears.
Abyssinian Cat Colors And Coats
Most Abyssinian kittens are born with dark coats. The kittens' coats will gradually lighten to their permanent color as they mature.
Regardless of the Abyssinian's coat color at adulthood, all Abyssinians have the breed's signature ticking. First, this means that there are bands of color in each hair. This gives them an agouti coat.
Secondly, in a ticked coat, the hairs have a light base. From the base of the hair up to the tip of the hair, four to six bands of different colors can be seen. This gives the Abyssinian's coat its shimmery quality.
Finally, a ticked coat is a genetic variant of the commonly seen tabby color. Therefore, "Abyssinian tabby cat" is still an accurate description. Some Abyssinians even have the traditional tabby "M" mark on their forehead.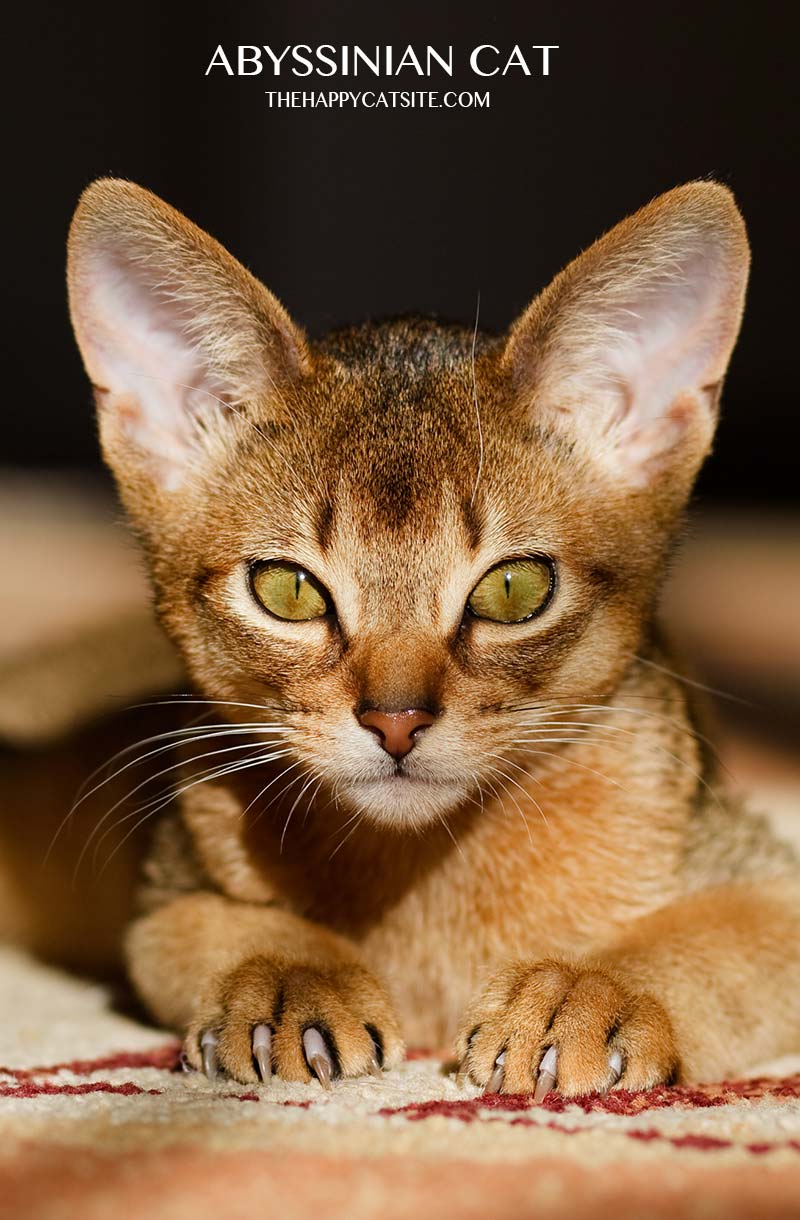 There are four Abyssinian cat colors championship-qualified by TICA:
Ruddy (also known as "Usual" in the United Kingdom, as it is the breed's most distinctive color)
Blue
Sorrel (also known as "Cinnamon" or "Red")
Fawn (also known as "Pale Tan")
However, there are other variations that have been produced. They are just not championship-qualified yet:
Torbie (a combination of a "Tortoise Shell" and "Tabby" coat)
Lilac (A "Rose-Grey")
Black (this isn't actually black, but a "Black/Dove-Grey" coat with silver tips)
Grooming Your Abyssinian Cat
The Abyssinian cat requires very little grooming with its thicker coat. Weekly brushing with a soft cat brush should be sufficient.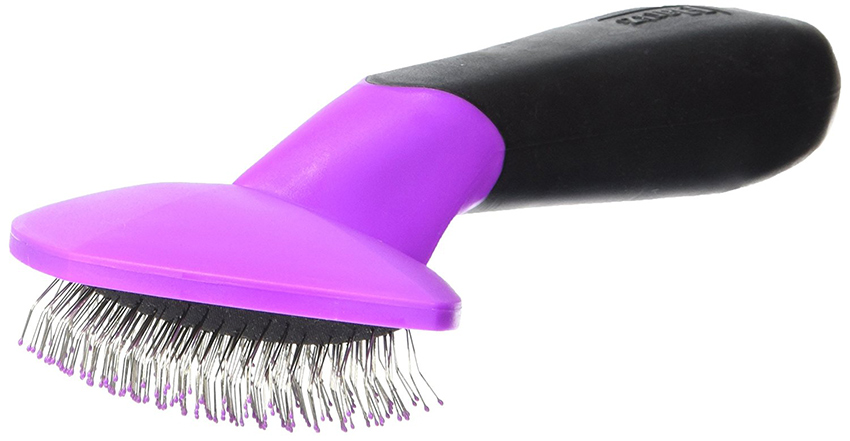 Check out our article on choosing a cat brush if you are not sure which brush is best for your short-haired cat.
Abyssinian Cat Shedding
Because Abyssinians have a short but thick coat, they do shed. But they may not shed as much as their long-haired relatives.
You may want to consider the Somali cat if you like the idea of a long-haired Abyssinian cat. This is a breed with very similar coloring and is an ancestor of the modern Abyssinian.
Are Abyssinian Cats Hypoallergenic?
So, is the Abyssinian cat hypoallergenic? The answer may surprise you.
There is no truly hypoallergenic cat breed.
According to an article posted by the American College of Allergy, Asthma, and Immunology, no studies have shown that there are hypoallergenic cat breeds.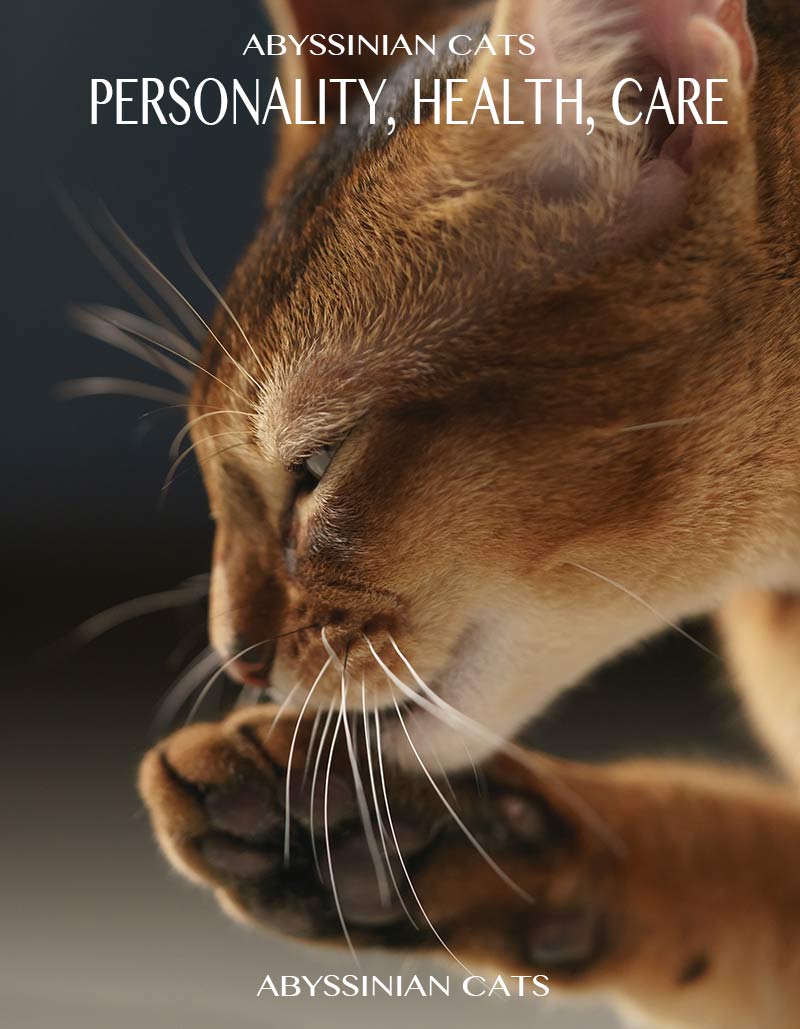 All cats produce allergens found on the skin, in the fur, and in saliva. A 2019 study on short-haired cats demonstrated that while the amount of the common allergen ("Fel d 1") found on cats' coats can vary, it was consistently present on all cats in the study.
The amount of dust and pollen in a cat's fur may also impact a person's allergic reaction to the cat. Therefore, while Abyssinian cat breeds shed less than other longer-haired counterparts, there is no guarantee that an allergy sufferer will do any better with his breed of cat.
For more in-depth information, check out our guide to hypoallergenic cat breeds.
Abyssinian Cat Health Problems
As previously mentioned, like many purebred cats, Abyssinian cat breeds are prone to several health conditions.
We'll look at the main health problems here. But remember that this isn't an exclusive list. It's important to check with your vet if you think your cat might be unwell.
You can have some hereditary health conditions screened for in the parents. Therefore, it is essential that you use a responsible breeder that can provide proof of all genetic testing for their cats.
Renal Amyloidosis
Renal amyloidosis almost always occurs in Abyssinians due to a genetic disorder. Healthy kidney tissue is displaced by abnormal amounts the protein amyloid.
The continuous buildup of amyloid causes the kidneys to become inflamed and unable to filter waste out of the blood.
An afflicted cat may present with vomiting, lower extremity edema (swelling of the legs), increased drinking and urination, a decreased appetite, and weight loss.
Renal amyloidosis is incurable. And it's not yet known if the effects can be reversed.
However, there are special cat foods and medicines that they can take that may help to slow the progression of the disease if it's caught early.
It often shows up between one and five years of age. Therefore, it's a good idea to take them for blood work yearly as a youngster and twice-yearly as they get older if you plan on getting an Abyssinian.
Blood tests can help you track their kidney health and potentially identify renal amyloidosis at an early state.
Luxating Patella
Another genetically predisposed condition of Abyssinians is luxating patella (dislocating kneecaps).
This condition is most often caused when the trochlear groove is too shallow. This is a groove in the tibia bone that the kneecap glides through when the leg is extended.
A cat may suffer from intermittent lameness if it has luxating patella. It may also have difficulty jumping and/or have a strange gait on the affected leg(s) when moving.
Some cats learn to kick the leg out to pop the kneecap back into place. But over time, this causes further joint damage, injury, or even stretching of the ligaments.
As they age, Abyssinians may be predisposed to developing arthritis in the affected knees.
Depending on the severity of the joint dislocation, an afflicted cat may not need corrective surgery. It's generally recommended that cats who experience kneecap dislocation have surgery before an injury occurs or arthritis sets in.
Progressive Retinal Atrophy (PRA)
Another inherited condition common in Abyssinians is progressive retinal atrophy (loss of vision).
Abyssinians are subject to two forms of vision degeneration:
"rdAC" is when the mutation causes photoreceptors of the retina (referred to as "rods" and "cones") to degenerate after the kitten reaches several months of age
"Rdy" is when the mutation causes lacking photoreceptor development and subsequent blindness by a few weeks of age
Get a DNA test of both parents if you're looking to purchase an Abyssinian kitten, to help determine if either are carriers of these degenerative eye diseases.
Pyruvate Kinase (PK) Enzyme Deficiency
It's also a good idea to test Abyssinians used for breeding for pyruvate kinase (PK) enzyme deficiency. This is an inherited condition that leads to chronic hemolytic anemia.
According to a study conducted in 2012, the first documented case of feline PK deficiency was in an Abyssinian. Subsequent cases were prevalent in Abyssinians and breeds were developed from the Abyssinian, such as the Somali and Ocicat.
A cat with chronic hemolytic anemia is often lethargic and demonstrates a weak appetite, weight loss, a dull or poor-quality coat, and diarrhea. In addition to anemia, PK enzyme deficiency causes muscle wasting, increased heart rate, and pale mucous membranes.
The only treatment for cats that test positive for PK enzyme deficiency is a bone marrow transplant, which is a very expensive and dangerous procedure. Therefore, it's best to conduct genetic testing in Abyssinians before breeding them to see if either carries the disorder.
Gingivitis
All cats can develop dental disease, such as gingivitis, but Abyssinians are especially prone to it. This inflammation of the gums comes from a build-up of plaque that can extend below the gum line.
Your cat's gums can become irritated, swollen, and painful. In the worst cases, teeth become loose can even fall out.
Gingivitis can also lead to serious health issues, like heart disease.
It is important to stay up to date on your kitty's oral hygiene to prevent this disease and any related health problems. Signs of dental disease include red, swollen gums, bleeding, and bad breath.
Identifying And Testing For Abyssinian Cat Health Problems
It is important to understand the potential health issues of your new feline friend so that you can recognize the signs and symptoms.
The Abyssinian, like most purebreds, is prone to some health conditions. These are just some of the most common health issues for this breed.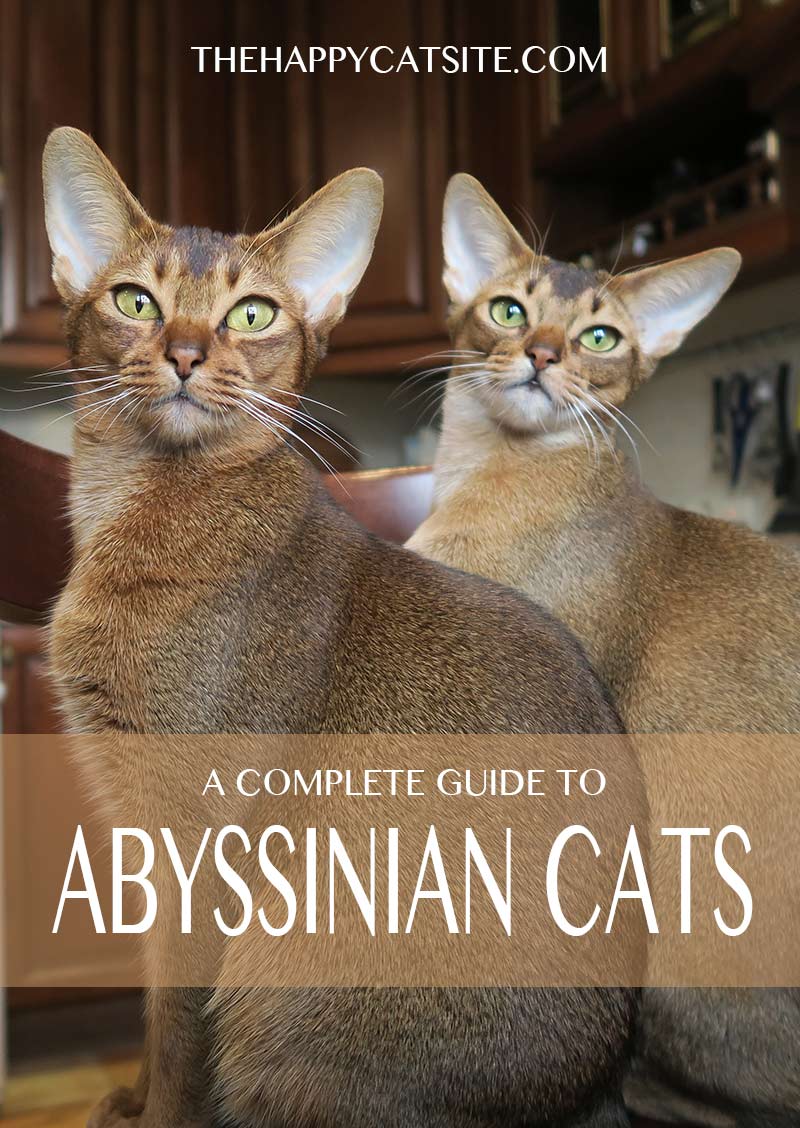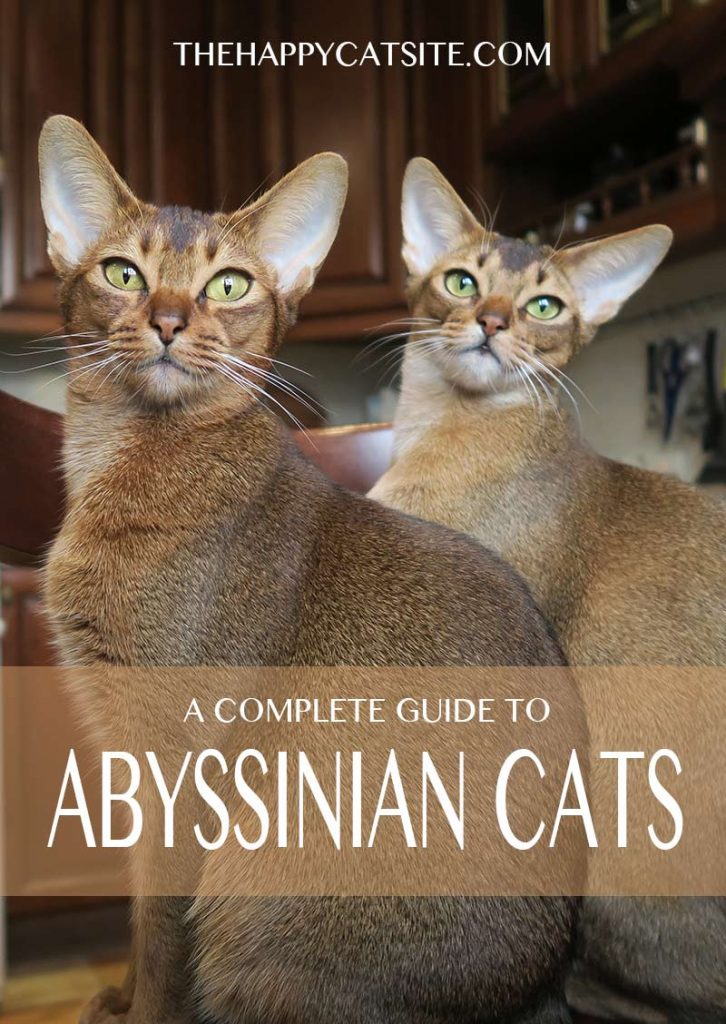 Be sure to use a reputable breeder that screens for common hereditary health issues, such as PRA and PK, can help reduce the risk of serious illness in your cat.
Abyssinian Cat Lifespan
Abyssinians generally live to be 12 to 15 years old. This is an average lifespan and a variety of factors play into a cat's life expectancy.
How long your Abyssinian cat lives will depend on a range of different factors. This includes health conditions they may have inherited, illnesses they may contract during their lifetime, their activity level and weight, and their environment.
Caring For Your Abyssinian Cat
It is important to note that while this breed is not a particularly cuddly one, they do thrive on a strong attachment with their owner.
They want to be involved in what you are doing as active cats. And they require a lot of playtime with their owner.
This cat does best with an individual or family that has the time to interact and play.
Abyssinian Cat Food
Generally, cats are obligate carnivores that require a diet of quality protein. Abyssinian cats are no different.
Whether you choose wet or dry food, homemade or commercial, your cat needs animal protein and fats for a healthy diet. To help you decide what is best for your cat, check out these articles:
Are Abyssinian Cats Good Pets?
Abyssinian cats make great family pets as they are very curious, active, and playful cats. They enjoy interacting with their people and also like to observe what is going on around them.
This breed may be a good addition for families that are often home to interact with their furry friend.
Abyssinians may get along with a dog, but generally, get jealous of other cats. They tend to be a one-cat per home kind of kitty.
Abyssinian Cat Breeders
Due to its popularity, there are many Abyssinian breeders to choose from. You can find several United States-based breeders listed on The International Cat Association (TICA) website.
Some breeders raise specifically championship-quality Abyssinians. Others raise quality stock, but they may not be championship-qualified.
Regardless of which breeder you choose, you need to be sure that they participate in genetic testing to rule out specific disorders we previously mentioned.
It's important to purchase a kitten from a responsible breeder for the health of your future kitten as well as for the health of the breed.
When purchasing any kitten, be sure that the litter is generally healthy before selecting one. And don't forget to ask to see all the relevant health test certificates for your kitten's parents before committing to a purchase.
Going to a responsible breeder is the best way to get a healthy kitty. Cats acquired from pet stores and ads have a higher prevalence of health issues.
Abyssinian Cat Cost
Due to its status as a purebred and because of its a sought-after pet, an Abyssinian cat price can be quite high
An Abyssinian cat price can vary based on whether or not you're purchasing a registered cat from a breeder. It will also depend on how much value the breeder places on their stock.
Furthermore, the cost may be based on whether or not you're purchasing a kitten or an adult cat. Kittens sold by a breeder may range from a few hundred dollars to almost $1,200 USD for a championship-quality kitten.
Abyssinian Kittens
Caring for a kitten is a big job. This is especially true for an inquisitive and energetic kitten, like an Abyssinian.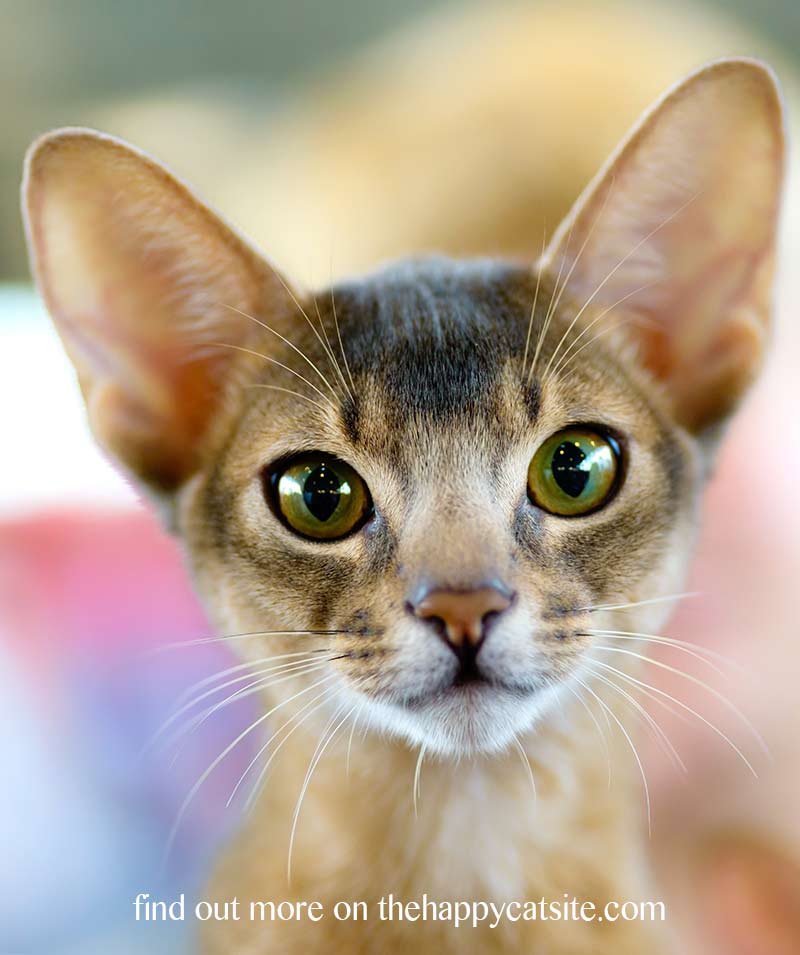 To help make that job easier, here are some articles you can look at to help you be prepared for anything: from preparing kitten meals to dealing with biting and scratching tendencies!
Rescuing an Abyssinian Cat
Abyssinian cat rescues are a wonderful way to bring a new furry family member into your home. Abyssinians for adoption may be available in cat rescues or shelters every so often.
If you are lucky enough to find one, it's likely that they will not be championship-quality. And they'll also probably be an older cat.
If these factors don't deter you, adopting an Abyssinian could be a great option for you!
Here are some Abyssinian cat rescue organizations you can look at: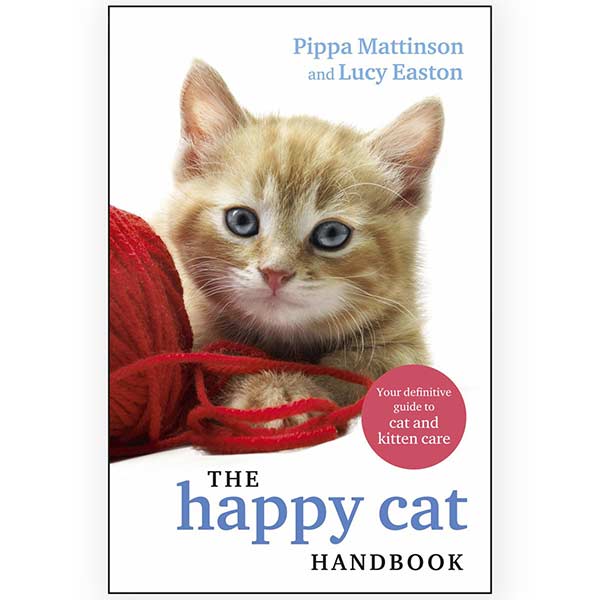 US
UK
Canada
Please let us know of any other rescues in the comments below, especially if you know of ones in Australia.
Abyssinian Cat Mixes
What if you're looking for an Abyssinian, but want one in a "non-traditional" color? Or perhaps one that TICA or the Cat Fanciers Association does not recognize as championship-quality? An Abyssinian cat mix may give you just that.
You may or may not get a kitten with the traditional Abyssinian look or personality. It will depend on the breed that the individual Abyssinian cat is mixed with.
Regardless of the parent breeds, be sure to select them responsibly. Have the sire and dam tested for breed-specific genetic disorders
Pros And Cons of Getting An Abyssinian Cat
Still trying to decide of this is the cat breed for you? Let's look at the pros and cons of having an Abyssinian cat as a companion.
Cons:
Not ideal for those that want a cuddly companion
Not suited for someone who isn't home a lot because they like interaction and attention
They have a predisposition to some serious health issues
Prefer to be solitary cats, so they are not good in homes with other cats
They are moderate shedders
Pros:
Abyssinians are social and playful cats
They can make great family pets and tend to do well with children
Low maintenance in the grooming department
They have a relatively long life expectancy of 12 to 15 years
Abyssinians are known to be easy to train
Should I Get An Abyssinian Cat?
Before purchasing an Abyssinian cat, you must take into account all of the traits and requirements of this special breed.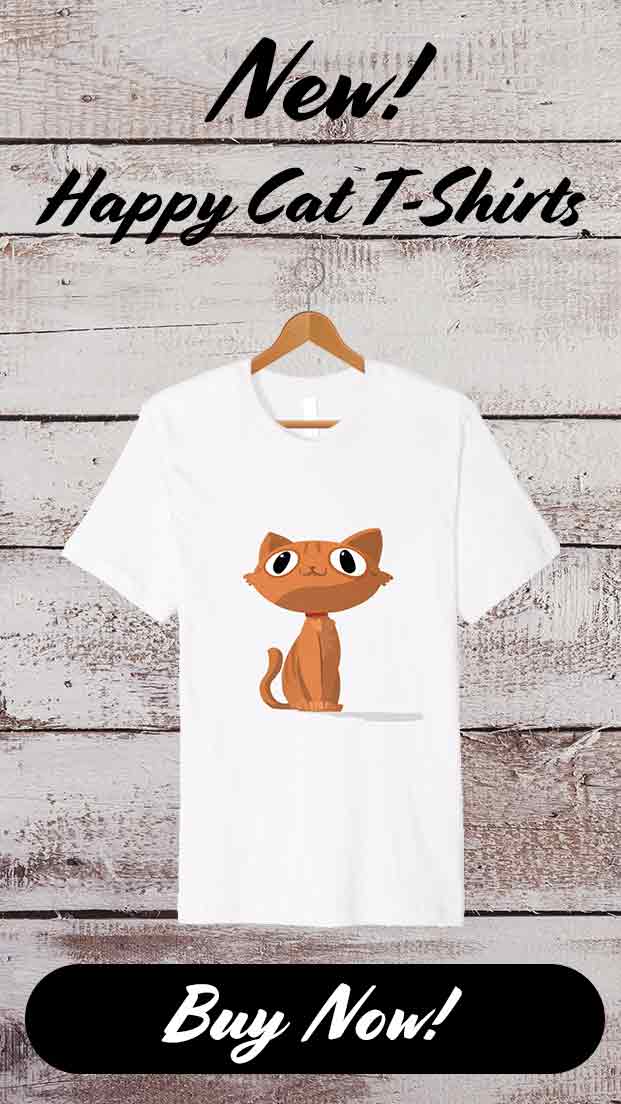 The Abyssinian cat personality is not for everyone. They are very active and are not lap cats. So, you'll have to have plenty of room for them to explore and plenty of time to spend playing with them.
Due to their love of play, Abyssinians should do well in a household with young children or even dogs.
They are very affectionate and will bask in your attention. However, they may not want to share your affections with another cat. It may be best for an Abyssinian to be in a one-cat household.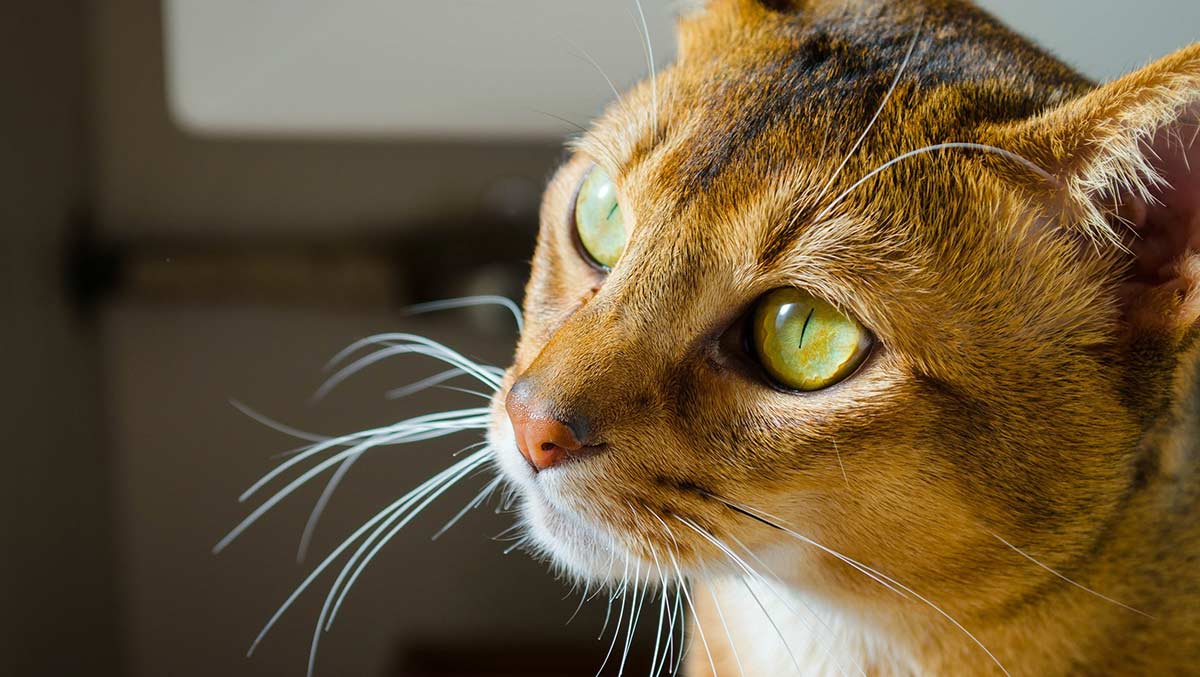 Their signature ticked coat is beautiful. But because it is thick, it will require weekly brushing. Even though cats groom themselves more than adequately, you'll help maintain their coat health with good brushing habits.
Abyssinians are subject to a number of health issues such as vision loss, reduced kidney function, and kneecap dislocation. You should select a cat that's been genetically tested and/or responsibly bred.
You'll also want to be aware of the conditions that these cats are prone to develop later in life so that you can take preventative measures early on.
In summary, an Abyssinian could make a fantastic addition to your home if you're looking for a family-friendly, easily trained, unique-looking purebred cat.
References And Resources
American Humane, (Accessed 2019), "Indoor Cats vs. Outdoor Cats."
Bastien, B.C., (2019), " Influence of time and phenotype on salivary Fel d 1 in domestic shorthair cats," Journal of Feline Medicine and Surgery.
The Cat Fancier's Association, (Accessed 2019), "About the Abyssinian."
Cornell University College of Veterinary Medicine, (Accessed 2019), "Renal Amyloidosis."
Gough, A., et al., (2018), "Breed Predispositions to Disease In Dogs and Cats," Wiley Blackwell.
Grahn, R.A., et al. (2012), "Erythrocyte Pyruvate Kinase Deficiency mutation identified in multiple breeds of domestic cats," BMC Veterinary Research.
Hawes, S. et al., (2017), "Factors Informing Outcomes for Older Cats and Dogs in Animal Shelters," Animals.
Hunter, T., (2018), "Luxating Patella in Cats," VCA Animal Hospitals.
O'Neill, D.G., et al., (2015)., "Longevity and mortality of cats attending primary care veterinary practices in England," Journal of Feline Medicine and Surgery.
PetMD, (Accessed 2019), "Abyssinian."
Your Amazing Cat!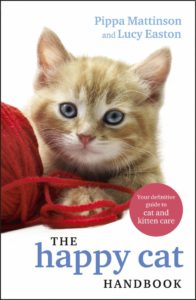 We are so excited to share our new book with you!
If you have enjoyed your visit to The Happy Cat Site we think you'll love The Happy Cat Handbook.
Written by the founders of this website including the author of the hugely successful Happy Puppy Handbook, it's packed with cat care information and fascinating cat facts.
Grab your copy today!