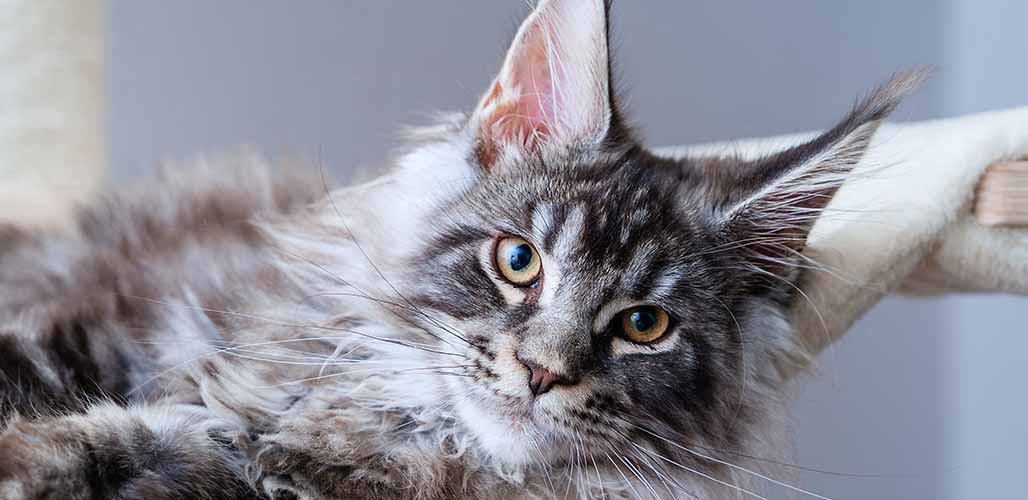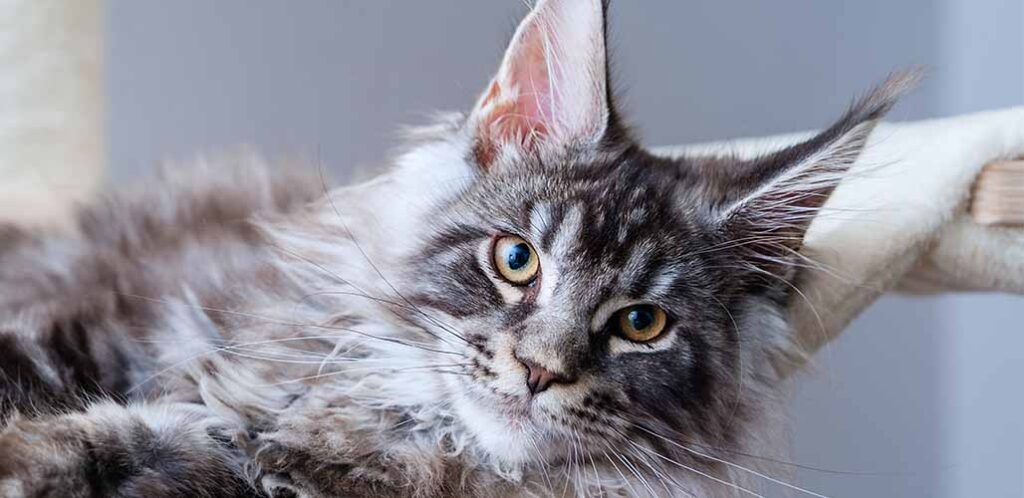 Most Maine Coons have stripes in their fur. So the chances are, if you've been lucky enough to meet one of these feline giants, it was a Maine Coon tabby cat. Tabby is the Maine Coon's 'original' pattern, and some Coon connoisseurs view stripes as a sign of a cat that's stayed true to its roots. Whilst other people take a less purist approach. Whichever camp you fall into, did you know that Maine Coon tabby cats' stripes aren't all the same? Some tabby patterns even have quite a controversial status within the Maine Coon community. So here's everything you need to know about why Maine Coons have tabby coats, and what their stripes are telling you.
Contents
What is a Maine Coon tabby cat?
Maine Coons are instantly recognizable for their enormous size, and long, shaggy coats. Males frequently grow to over 20lbs and nearly 4 feet long from nose to tail. They are majestic and rugged, and their looks leave you with the impression that if you dropped one back into the wild, they would scarcely bat an eyelid. But none of this is a coincidence. From the earliest days of their development as a pedigree breed in the mid-19th century, breeders have prioritized their wild looks. Looking as 'unspoiled' as possible is considered extremely desirable, and part of maintaining that natural look has been an ongoing debate about what coat colors and patterns are allowed.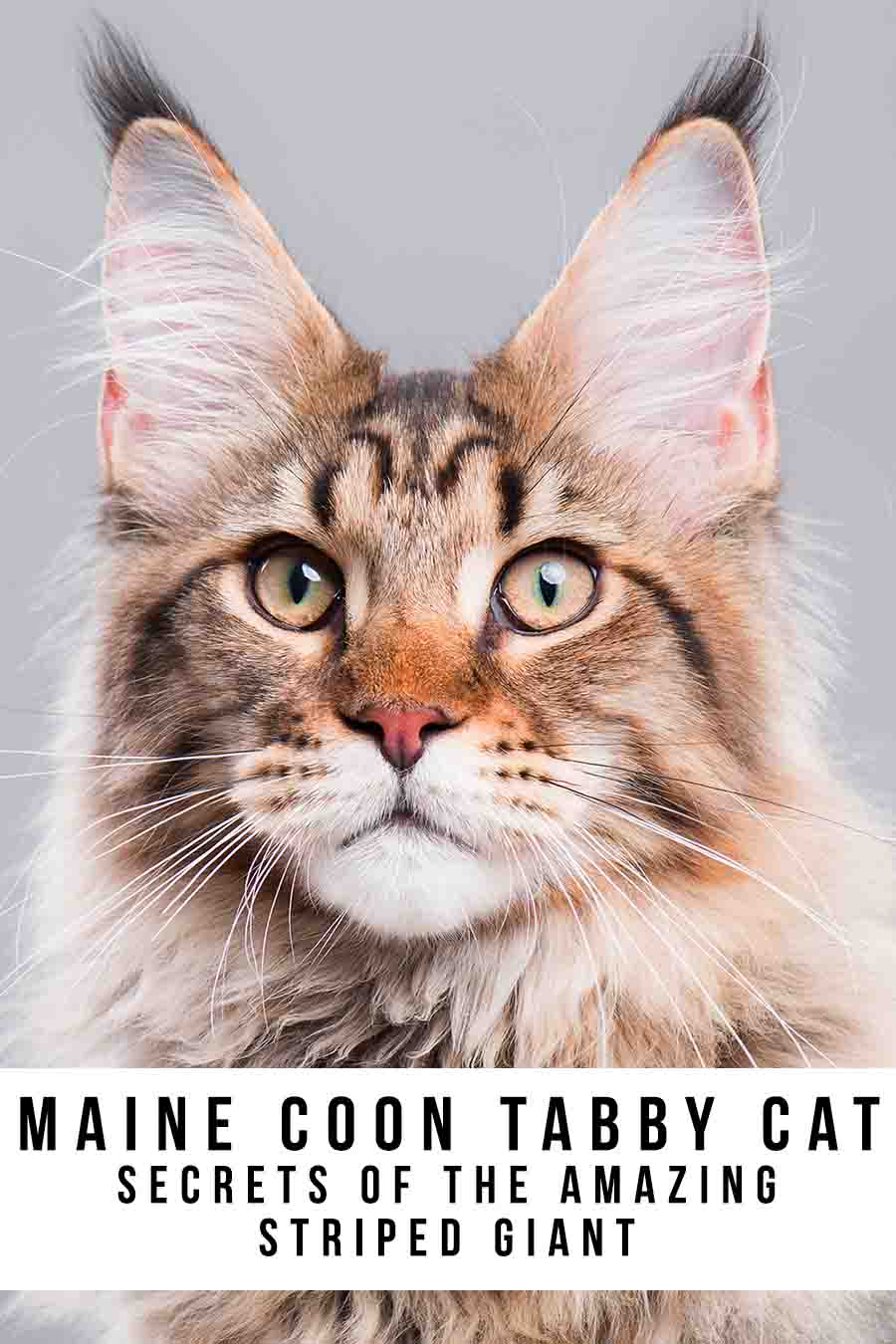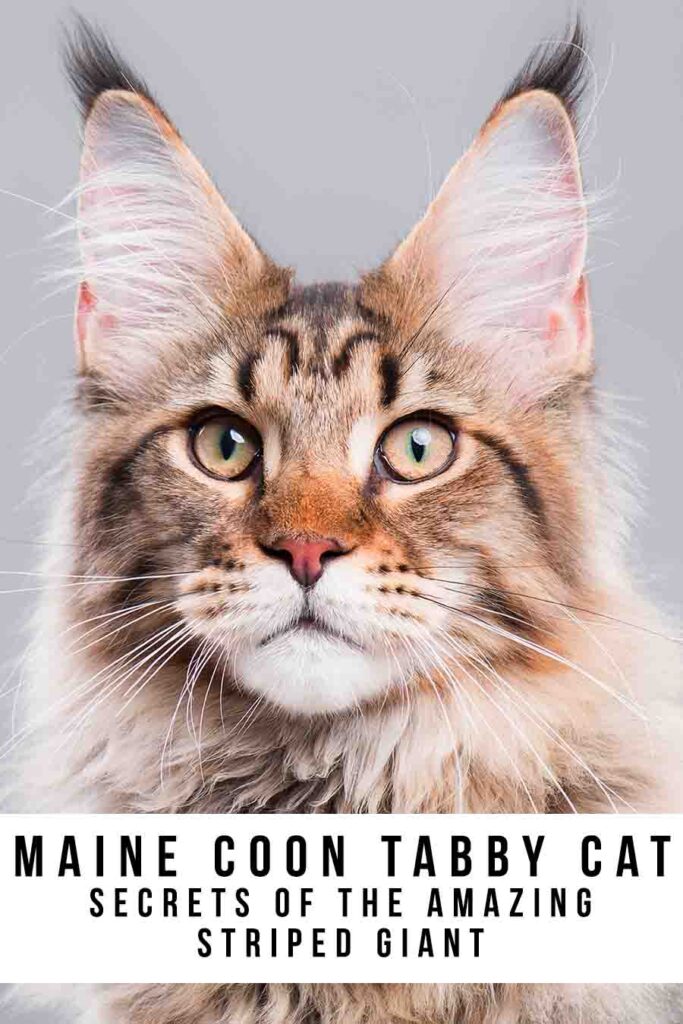 The most common Maine Coon coat is a brown tabby. In fact it's so ubiquitous that when Maine Coons first appeared, rumor had it they were a cross between a domestic cat and a raccoon! Obviously it's not the case, but it was such a popular idea at the time that Coon became part of their name forever. In reality, Maine Coons inherited their tabby stripes directly from their true wild ancestor, the African wild cat. Tabby stripes are an effective survival adaptation for African wildcats because they break up the outline of their shape and help them blend into their environment. This makes it harder for predators to spot them when they're resting, and harder for prey to spot them when they're hunting!
Characteristics of a Maine Coon tabby cat
I say tabby, you think 'stripes'. But there's so much more to tabby appearance than that. Next time you see a Maine Coon tabby kitten, take time to appreciate:
The zig zag stripes forming a signature M on their forehead.
The dark 'eyeliner' pigment around their eyelids.
Their color coordinated paws – for example brown tabbies have black or brown paw pads, blue tabbies have pink paw pads, and orange tabbies have brick red paw pads.
Their nose leather, which follows the same color rules as their paws.
The paler fur on their belly
And of course, their stripes!
Types of Maine Coon tabby cat stripes
Tabby Maine Coons are not limited to just the brown tabby stripes of their ancestors. Beside different colors, which we'll come back to in a minute, tabby coats have also differentiated into several distinct stripe arrangements over time. But there is some disagreement between breed registries about which tabby variations are desirable, and which are not. Here are the four stripe layouts for tabbies:
Mackerel
Classic
Ticked
Spotted
Mackerel
Mackerel stripes are sharp and narrow. Besides the bands on their body, legs and tail, look around for the stripes that form loops around a mackerel tabby cat's neck, chest and shoulders, so it looks like they're wearing several necklaces. Mackerel stripes are the 'original' tabby type of African wildcats too, which means you'll probably meet more mackerel Maine Coone tabbies than any of the other types.
Classic
Classic tabby stripes are also known as blotched tabby stripes. They are wider than mackerel tabby stripes, and they often merge together around the shoulder blades and along the top of the back, so that they look like a cape.
Ticked
Ticked tabby Maine Coons break the mold because they don't have stripes on most of their body. Fur which is ticked has a light band at the bottom of each hair, with a dark pigmented tip. The result is a slightly shimmery, speckled appearance. They only have a small number of stripes on their legs and face, including the tell tale M on their forehead. Historically, breed registries have been reluctant to embrace Maine Coons with ticked tabby coats. But, since this stripe type is genetically dominant to the other three, it's here to stay. And in recent years some registries have even started judging them in their own color class at breed shows – a true gesture of acceptance.
Spotted
Spotted tabby coats have broken stripes, so they appear as dots and dashes rather than solid lines. They are the most unusual stripe type, because the gene which causes them is masked by the presence of the gene for any of the stripe patterns above. Spotted Maine Coon tabby kittens happen, and they can be registered as purebred cats, but they can't be entered into cat shows at the moment.
Maine Coon tabby cat colors
The layout of tabby Maine Coons' stripes aren't the only things that have changed over the years. These days there are seven officially accepted colorways a tabby Maine Coon kitten can be registered with:
| Name | Stripe color | Background color |
| --- | --- | --- |
| Brown tabby | Black | Coppery brown |
| Silver tabby | Black | Pale gray |
| Red tabby | Dark orange | Light orange |
| Blue tabby | Slate gray | Pale gray |
| Cream tabby | Buff brown | Cream |
| Cream silver tabby | Cream | Off white |
| Cameo tabby | Red | Off white |
Tabby Maine Coon temperament
A lot of Maine Coon owners arrive for the size, and stay for the personality! They are regularly described as gentle giants, and some Maine Coons even enjoy successful careers as Pets As Therapy cats. This breed loves contact with people, and unlike the stereotype of an aloof kitty watching their family from a high perch, they prefer to be at ground level, right in the action. If your Maine Coon tabby kitten is allowed outside when they're older, you're likely to discover that they're also an ace hunter. Which is at odds with their placid demeanor and inside the home, but testament to their mousing heritage.
So far, researchers haven't found any biological evidence that a Maine Coon tabby cat's pattern changes their temperament. But in surveys, tabby cat parents are more likely to describe their pets as bold and active than other owners of cats with other patterns, and less likely to report shyness, or aggression. Only time will tell exactly what link, if any, exists between a tabby coat and feline temperament. But whatever the outcome, their Maine Coon ancestry and how you raise them as a kitten will remain important factors that determine their personality.
Caring for that coat
Whatever type of tabby coat your Maine Coon has, they will be grateful of a helping hand when it comes to grooming. Brush their fur right down to the skin at least twice a week to lift out dirt and debris, and remove tangles before they can turn into mats. Pay special attention to the following places, where friction can quickly create knots:
Under their collar
Under their armpits
Inside the tops of their back legs
And around the base of their tail
Maine Coons don't usually need their fur cutting or clipping, unless specifically recommended by a veterinarian.
Maine Coon tabby cat summary
Brown and black mackerel stripes are the archetypal coat for a Maine Coon cat. A Maine Coon tabby cat has a rough and ready appearance which reflects their history as useful hunters. Lots of people who love Maine Coons also love them with tabby coats, because they look the most unchanged over time. But, there's no tangible evidence that having a tabby coat changes a Maine Coon's personality. If you think your tabby kitten fits the mold of a bold and active feline, let us know in the comments box down below!