Calico cat names are just as sweet as the breed! Every day, someone, somewhere, falls in love with a calico kitty for the very first time. And not too long ago, that was you!
And all you can think is, "so many female Calico cat names, how will I ever choose just one?"
But not to worry – we've made a list of female Calico kitten names for you. And even if you've got your eyes out for the rare male Calico kitten names, we've got you.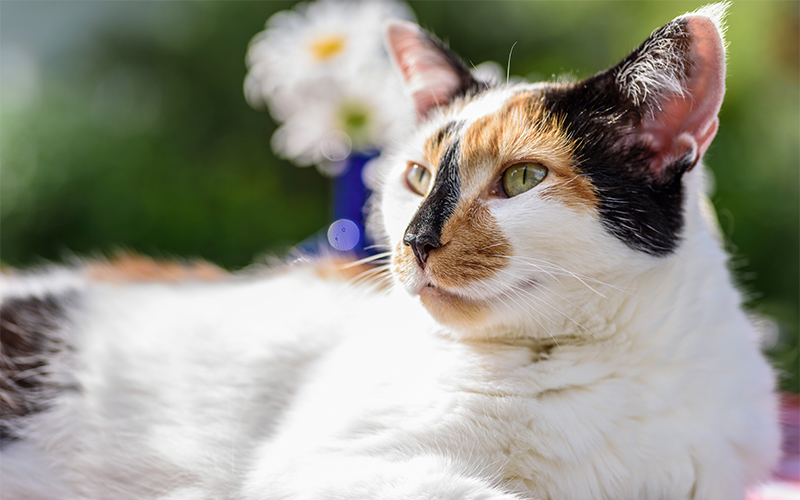 Top Calico Cat Names
Our fifty favorite Calico cat names for 2019 are:
Sophie
Catrina
Sishya
Caliente (Cali for short)
Calita
Cheddar
Rocket
Patches
Mosaic
Patchwork
Trixie
Nutmeg
Catalog
Cuddles
Felicity
Boots
Blaze
Cinnamon
Speckles
Azalea
Banjo
Bug
Butters
Butterscotch
Rusty
Bunny
Buddy
Bootsy
Calypso
Buttons
Cheeto
Chestnut
Confetti
Cosmo
Fancy
Hertie
Hemingway
Hermione
Lena
Latte
Orion
Annie
Sahara
Saturn
Dune
Rainbow
Ribbon
Snickers
Zodiac
Zoey
Why Choose a Calico Cat Name?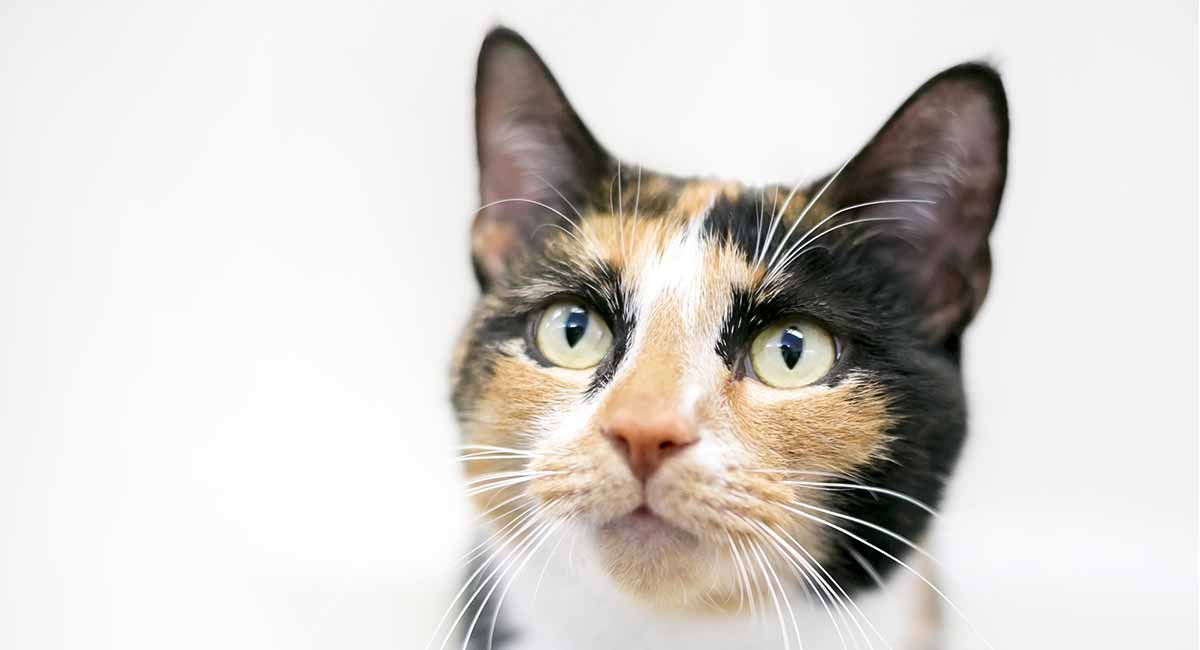 Choosing names for calico cats can be more challenging than an outsider would assume.
Reason being, this isn't just any cat you are naming. This is your baby, your soul-feline, and your furred sidekick. They will be your purring partner in life for the next decade and then some.
As luck and DNA would have it, nearly all calico cats are also female cats (for a detailed explanation of why, please visit this great article). Only 1 in 3000 Calico cats are male.
When the rare male calico cat does appear, he is usually sterile (unable to make kittens).
For this reason, the following lists of good names for calico cats predominantly feature female calico cat names. Then you have a handful of unisex name ideas thrown in for good measure…just in case.
Flowery Feminine Names for Calico Cats
These names for female calico cats focus on your new fur lady's feminine traits.
Each of these beautiful names for calico cats female reflect on a different aspect of your calico cat's elegance, grace, beauty, strength, and personality.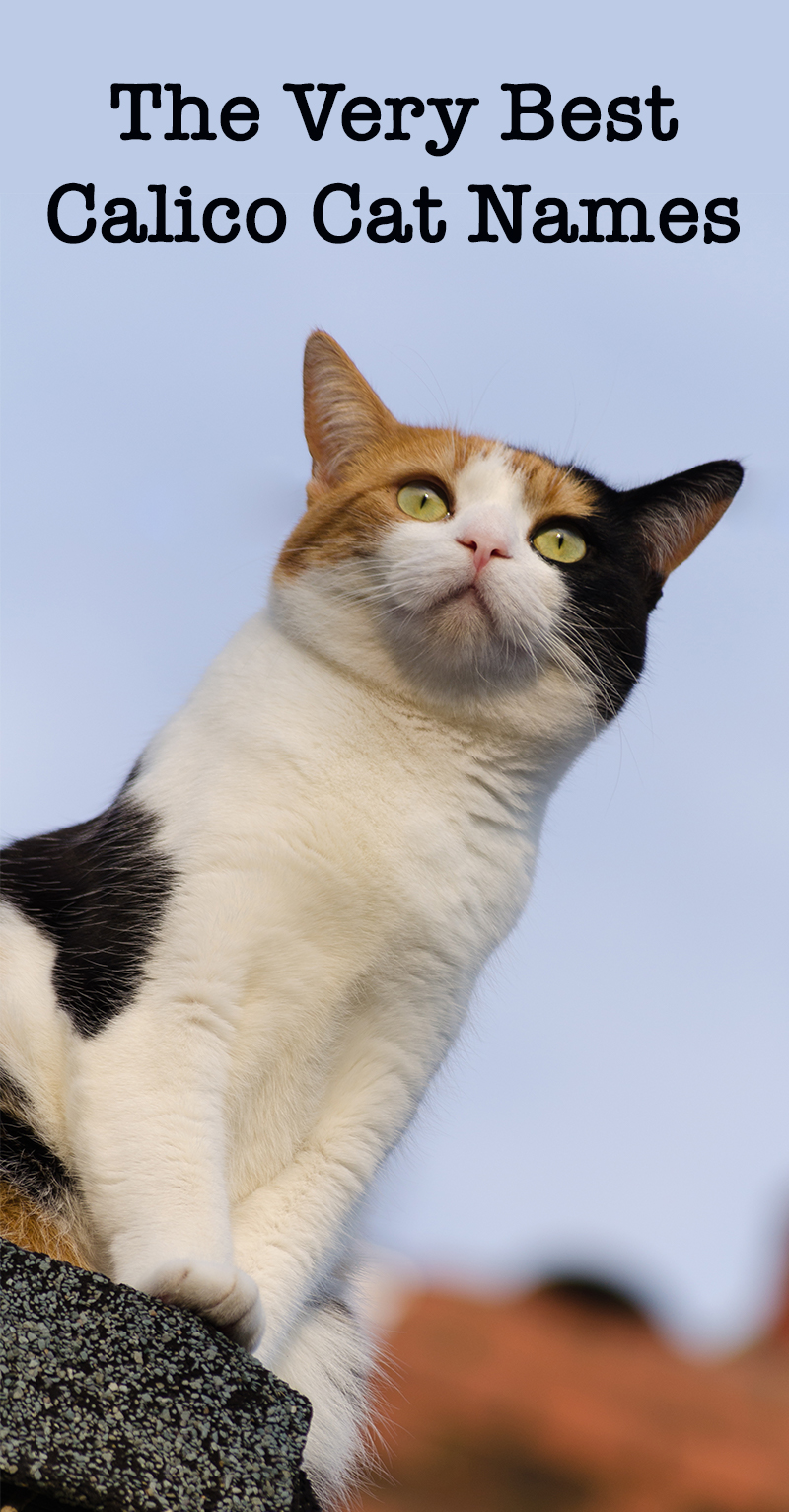 So read on to see if one of these feminine names for calico cats turns out to be a perfect fit!
Orange Flower Calico Kitten Names
Tulip
Marigold
Dahlia
Gladiola
Daisy
Poppy
Honey Rose
Tiger Lily
Mokara (a breed of orange orchid)
Cosima (a breed of orange rose)
White flower Calico Cat Names
Hyacinth
Magnolia
Lily
Snowdrop
Freesia
Peony
Gardenia
Lilac
Jasmine
Petunia
Find 100 more white cat names here.
Colorful Names for Calico Cats
As you know, your sweet calico kitty has three main coat colors: orange, black and white.
Depending on which color is dominant in your fur baby's coat, you may want to select one of these colorful calico cat names!
Orange Calico Kitten Names
Papaya
Peach
Persimmon
Pumpkin
Butternut
Coral
Ginger
Jupiter
Goldie
Apricot
Mandarin (for the fruit)
Firebrand
Russet
Rudy
Peachy
Apricot
Mango
Amber
Whiskey
Tangerine (Tangie for short)
Citrus
Marmalade
Chili
Sunny (short for sunset or sunrise)
Taco
Saffron
Carrot
Sandy
Valencia
Copper
Black Color Calico Cat Names
Licorice
Midnight
Moonbeam
Ebony
Elvira
Eclipse
Indigo
Jett
Raven
Luna
Shadow
Salem
Sooty
Spooky
Voodoo
Boo
Coal
Thunder
Moonshine
Ink
Find 250 more Black Cat Names here.
P.S. Did you know that Crayola named one of its specialty black crayons "kitty cat black" – fabulous!
White Color Calico Cat Names
Sunbeam
Carina (a white star constellation)
Zima (Russian word for "winter")
Sishya (Indian word for "clear teacher" or "wise one")
Chalkie
Blanca (Spanish word for "white")
Blanche
Snowflake
Lacey
Angel
Macademia
Icy
Misty
Chilly
Luna
Vanilla
Star
Snowball
Cotton
Marshmallow
Female Calico Cat Names
This list of female cat names calico features names that are both feminine and fanciful.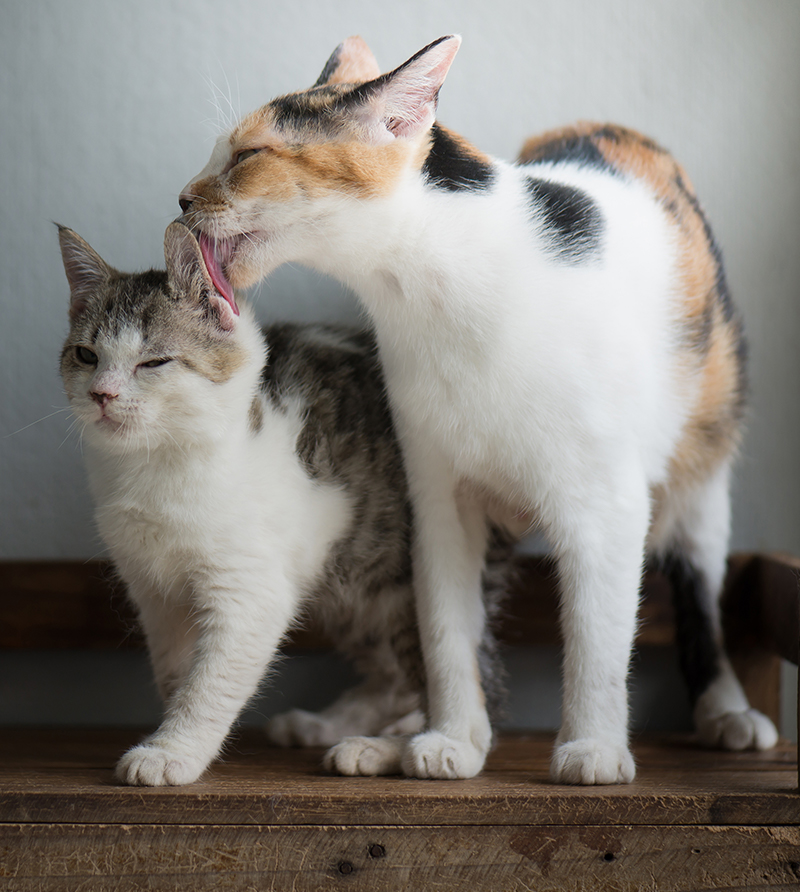 Each one of these names is a "name to grow into" as your kitten grows up into her full feminine potential!
Clementine
Aurora
Buttercup
Honey
Harmony
Taffy
Coco
Chimera
Marilyn (for when Marilyn Monroe was still a natural redhead)
Jessica (for Jessica Chastain and Jessica Rabbit, both famous gingers)
Crysanthemum
Adaline
Adele
Amy
Zanna
Pebbles
Liliana
Melody
Tae
Mila
Find 250 more Girl Cat Names here.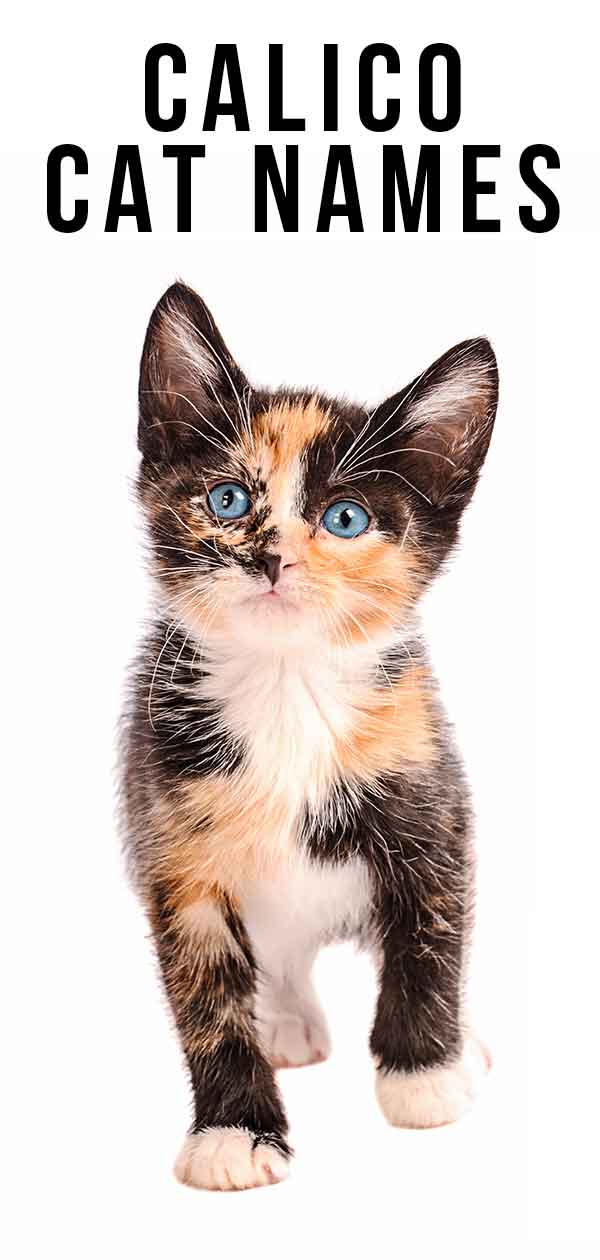 Unique Calico Cat Names
These unique calico cat names aren't names you will hear every day, but then again, your sweet calico kitty is one-of-a-kind in every way and deserves a name as unique as she is!
Perhaps one of these unique names for calico cats will suit her perfectly!
Sunset
Dawn
Ambrosia
Orange Blossom
Mimosa
Julia (after the lovely same-named orange butterfly)
Miu Miu (Thai word for "little sister")
Glinda (the ginger-haired good witch from "The Wizard of Oz")
Dorothy (the ginger-haired star of "The Wizard of Oz")
Paprika (a reddish/orange-colored spice)
Picasso
Candy
Turtle
Freckles
Dot
October
Malia
Monarch
Andromeda
Mojito
Find 140 more Unique Cat Names here.
Famous Calico Cat Names
Each of these calico cat names girl has been selected for inclusion on this list because the celebrated real life kitty in question distinguished herself in some wonderful way.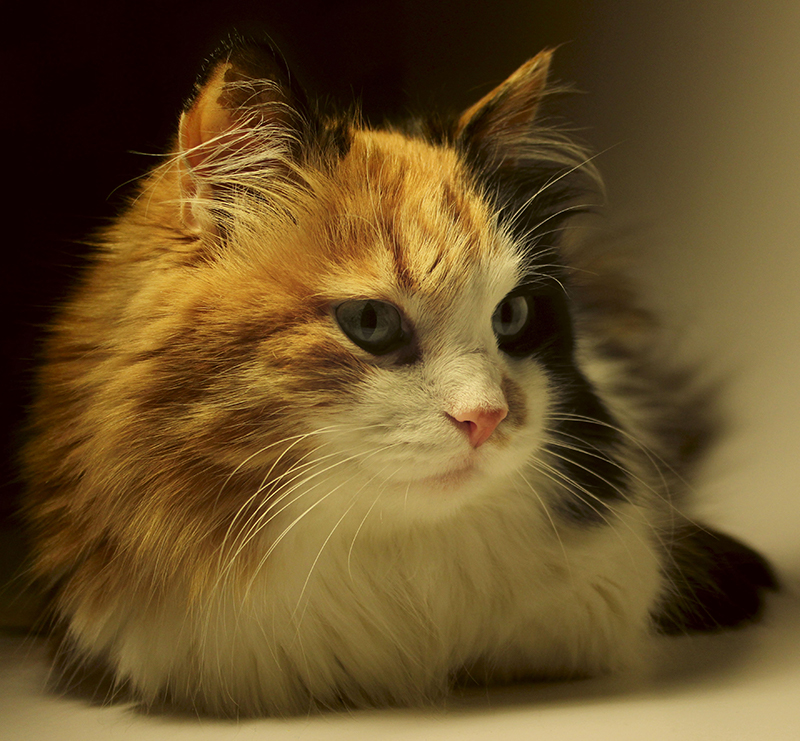 Whether the calico kitty's work was as a professional mouser, a feline mascot, a feel-good poster cat, or even a scientific feline pioneer, you can't go wrong naming your calico cat after one of these inspiring furred stars!
Inga (a famous "working cat" who moused for the Washington Observatory)
Lylah (an official product tester for the company Catastropic Creations)
London (a calico cat who is VP of Claims for Lloyd's of London)
Nyanya (a calico cat co-anchor of TV Tokyo's Weekly News Digest)
Tama (the famous calico cat mascot who was named an honorary stationmaster of western Japan Kishi Station)
Pudge (a robust calico cat who is also a rising global Instagram sensation)
Rainbow (a calico cat donor mom who helped clone CC, aka Copy Cat, the world's first feline cloned pet)
Callie (a calico cat mom to the uber-famous internet sensation Grumpy Cat)
Marzipan (the calico cat theater mascot of Melbourne, Australia's Astor Theater)
Princess Peony and Empress Tang (Martha Stewart's two cute calico kittens)
Gemstone Calico Cat Names
There is a good reason gemstones are so eternally prized. They are just so breathtakingly beautiful!
Each of these gemstone-based names can enhance some unique aspect of your calico cat's one-of-a-kind coat color and pattern.
Topaz
Diamond
Onyx
Opal
Pearl
Garnet
Amber
Crystal
Almandine (a beautiful orange-red garnet)
Agate
Cute Calico Cat Names
Each name on this list of cute calico cat names is hand-picked to reflect both your calico kitty's coloration and also her cute antics and even cuter feline face!
So now read on to find out if the perfect name for your kitty is on this list of cute female calico cat names!
Twinkie
Penny (after the copper-colored coin)
Maizie (after the autumn orange/red/gold corn)
Pixel
Bambi
Waffles
Robin (after the American robin bird with the orange/red breast)
Magpie (after the black bird with the yellow-orange bill)
Honeybee
KitKat
Trick
Toast
Tootsie
Moxie
Muffin
Twix
Bubbles
Crumpet
Bella
Twixie
Find 200 more Cute Cat Names here.
Funny Calico Cat Names
The names on this list of calico kitty names have been chosen to highlight different aspects of a calico cat's inner comic.
There is no doubt that calico kittens and cats can turn even the most determined frowns upside down, and these names can even intensify the sunshine and good cheer your calico kitty shares with you and this world!
Clawdia
Ms. Purrfect
Here Kitty Kitty
Catnippa
Mila Whiskova
Pawlina Katiscova
Empurress
Lady Marmalade
Miss Twixie
Tootsie Twinkletoes
Strong Calico Cat Names
It is very common to pick out a calico cat names girl that is reflective of coat color, playfulness, personality or sheer kitten cuteness.
But sometimes you can just see your calico goddess's strength and regal nature shining through so clearly, and as you are pondering what to name a calico cat, you realize only a strong and equally regal name will do!
Kali (the Indian goddess of demise and renewal)
Venus (the planet, the goddess of love, and the famous bi-colored calico cat)
Mystique (the shape-shifting movie character from the movie series "X-Men")
Amber (the ancient and enduring prized gemstone made of fossilized tree resin)
Velma. (the science gal from "Scooby Doo" who always wore an orange sweater and frequently solved the gang's cases)
Scarlet O'Hara
Sassy
Georgia (after the state and the famous song)
Autumn
Fiona (Gaelic word meaning "fair" or "white")
Tiger
Cheetah
Xena
Mulan
Pocahontas
Shuri
Katniss
Serena
Atlas
Olympia
Calico Cat Names Summary
We hope you have thoroughly enjoyed browsing through this curated list of the best calico cat names! Maybe you were reading through the lists and suddenly a single calico cat name just jumped out and said, "Pick me! Pick me!"
Or perhaps you read through a particular category's list of cat names and that gave you inspiration to discover your calico kitten's own perfect name!
Maybe you are still pondering the perfect name, narrowing down your choices to a handful of top contenders that you and your kitty can explore further together.
Still can't decide – we've got more!
Not sure which name to choose yet, then why not widen the net and check out some of our other awesome lists of cat names.
What Did You Choose?
When you find that single perfect name, we'd love to know what you selected! Please share your calico kitten or cat's new name with all of us here so we can be inspired and celebrate with you!
What's your cat called? We'd love to hear your own ideas for cat names. Let us know in the comments below!
Take a look at these black cat names for more fun ideas!
References and Further Reading
Eveleth, R., "Crayola Has At Least 16 Different Names For What Most of Us Would Call 'Orange'," The Smithsonian, 2013.
Pinder, E., "A Purr-fect Storm: The Mount Washington Weather Cats," Life at the Top, 2016.
Rogak, L., "Cats on the Job," St. Martin's Press, 2015.
Yamaguchi, M., "Tama, the cat that became a railway stationmaster in Japan, elevated as goddess at funeral," U.S. News & World Report, 2015.
Fecht, S., "The 11 Most Important Cats of Science," Popular Science, 2014.
VetStreet. Becker, M. DVM. Are There Male Calico Cats?
Calico Cat Names has been revised for 2019.