A black and orange cat is often called a tortoiseshell cat.
This color combination is not restricted to any single breed, but is simply a case of having the right genetics.
Because of this, black and orange cats can have really different personalities from one another.
The exact patterns on their fur can also be very unique.
Keep reading to find out more about whether a black and orange cat is right for you.
Tortoiseshell Cats
As we now know, black and orange cats also go by the label tortoiseshell, or tortie.
Torties are popular for their unique and striking fur patterns and shades.
Orange and black is just two of many colors that tortoiseshell cats can come in.
Tortoiseshell cats have random patches of two colors over their coats. These two colors are based on the pigments eumelanin (black) and pheomelanin (red).
Depending on the genes these pigments interact with, the shades of tortie cats can really vary. You can even find blue tortoiseshell cats!
Tortoiseshell orange and black cats are not all part of one breed. This label just refers to the pattern of their coat.
If you want to find out more about tortoiseshell cats, take a look at our fun facts guide.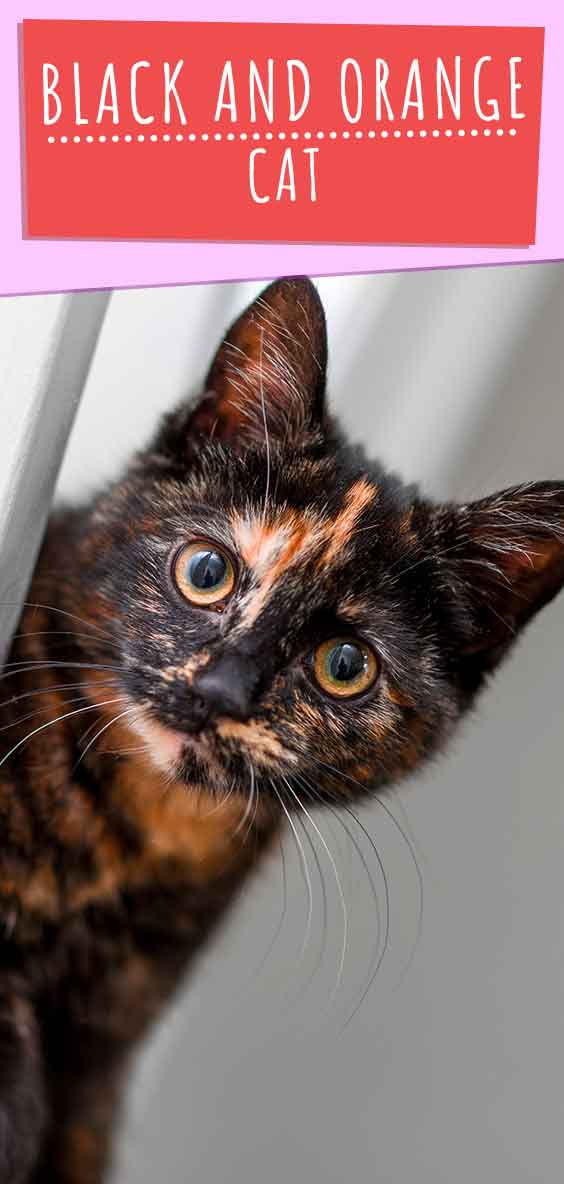 Black and Orange Cat Genetics
We have a complete guide to cat color genetics that looks at fur genetics in a little more detail. But, let's take a brief look here too.
Tortoiseshell black and white cats have patches of eumelanin pigmented fur interspersed with patches of pheomelanin pigmented fur.
In black and orange cats, these pigments don't change much from their default shades.
Black and orange cats can also have tabby stripes in their fur. These kitties are most often known by the term "torbie".
The exact shades and patterns black and orange kittens have will depend on the genes they inherit from their parents.
Black and Orange Cat Breeds
Because tortoiseshell is not a specific breed, there are quite a lot of actual cat breeds that can have the beautiful black and orange coloring.
This is great for potential new owners, because they have more scope to choose a cat whose temperament and care needs match what they're looking for.
Here are just a few breeds that can have the tortie black and orange cat markings.
And more! This coloring is also found in mixed breed cats. So, you don't have to try as hard as possible to find a purebred kitten if you aren't fussed about owning a mixed breed.
Orange, Black and White Cat
If you love the standard tortie orange and black cat, you've probably also heard of orange, black, and white cats.
These cats will be either tortoiseshell with white patches on their stomachs, chest, and paws.
Alternatively, black and orange cats can have random patches of white on their bodies. These cats are known as calico.
Many people accidentally confuse these two types of patterns. But, the main difference is that white patches on calico cats are just as random as the other patches of color.
White patches on tortoiseshell cats are neatly organised and caused by very specific genes.
Black and Orange Tabby Cats
Black and orange tortoiseshell cats become torbies when they have tabby patterning on their fur.
This pattern can make the orange in your cat's fur a little harder to see. In fact, some look more like standard tabby cats, with black and silver stripes on their fur.
But, that red will be on their fur somewhere. It could even be on their feet!
Just like standard tortoiseshell cats, torbies don't belong to any single breed. This label just refers to the coat pattern and colors they have.
So, you may have to look around a little before you stumble across a torbie kitten, unless you are choosing a breeder who specializes in the pattern.
Choosing a Black and Orange Cat
Because black and orange coloring doesn't belong to any one single cat breed, choosing a black and orange cat can leave you with a lot of options.
The breeds that can have tortoiseshell coloring vary quite a lot from one another in their general appearance and personality.
For instance, a Persian cat has long, fluffy fur and a flattened face, but the Cornish Rex breed has oversized ears and curly fur! Both of these breeds can have the tortie pattern.
If you're looking for a cat with a certain appearance or personality, you should look into that specific breed.
If you care less about a cat's temperament, and more about getting that beautiful coloring, you may be able to find breeders who specialize in tortie mixed breeds.
Either way, make sure you are choosing a reputable breeder.
Black and Orange Cat Health
As tortoiseshell cats are not a breed of their own, the health issues that affect each individual tortie can really vary.
If your black and orange cat comes from a specific breed, you should look at the potential health problems that can affect that breed.
But the tortoiseshell pattern itself is not connected to any health problems.
A Finnish study that looked into the general health of cats and found that the most common health issues would affect the mouth, kidneys, and skin.
Keep your Tortie a healthy weight through exercise and a balanced diet, and keep them mentally stimulated to ensure the longest life possible. And don't forget regular vet check ups.
Choosing a responsible breeder can also help your kitten have the best, healthiest life possible.
Is a Black and Orange Cat Right for Me?
The difficulty with knowing is that a black and orange cat is right for you is that they can all be so different from one another.
If you are choosing a purebred cat with black and orange coloring, make sure to research the breed well.
This will help you find out about their personality and care needs.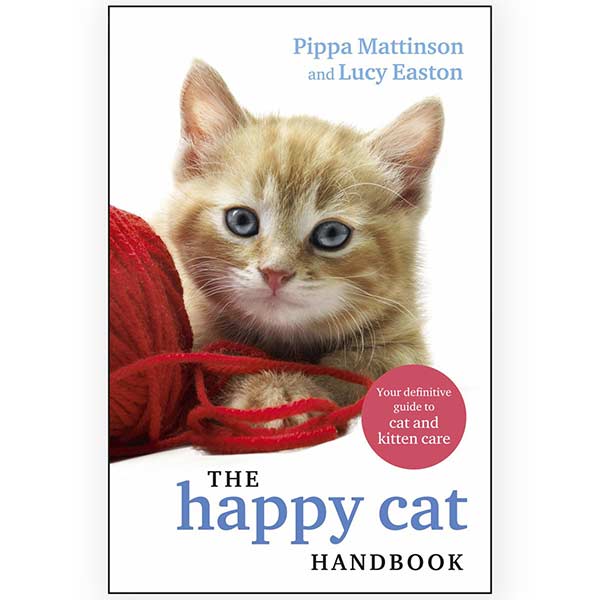 Alternatively, you can speak to rescue centers to see if they have any tortoiseshell cats that match what you are looking for.
This is a great way to offer a slightly older cat a second chance at a loving home, and you will know a little more about what they're like before bringing them home.
Black and orange Cat Summary
Black and orange cats have beautiful coloring and are each very unique from the next. So, they can make wonderful pets and talking points.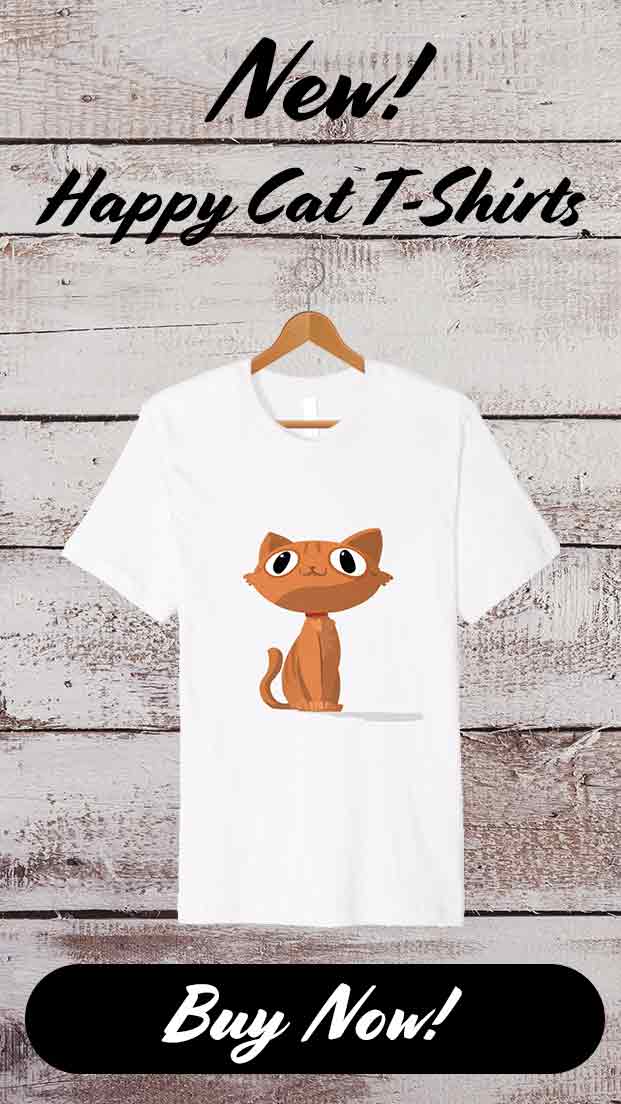 Do you have a black and orange cat at home? Make sure to let us know what breed yours is in the comments.
Readers Also Liked
References and Further Reading
Your Amazing Cat!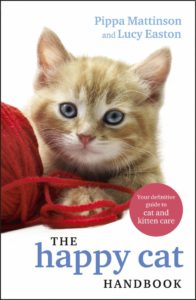 We are so excited to share our new book with you!
If you have enjoyed your visit to The Happy Cat Site we think you'll love The Happy Cat Handbook.
Written by the founders of this website including the author of the hugely successful Happy Puppy Handbook, it's packed with cat care information and fascinating cat facts.
Grab your copy today!