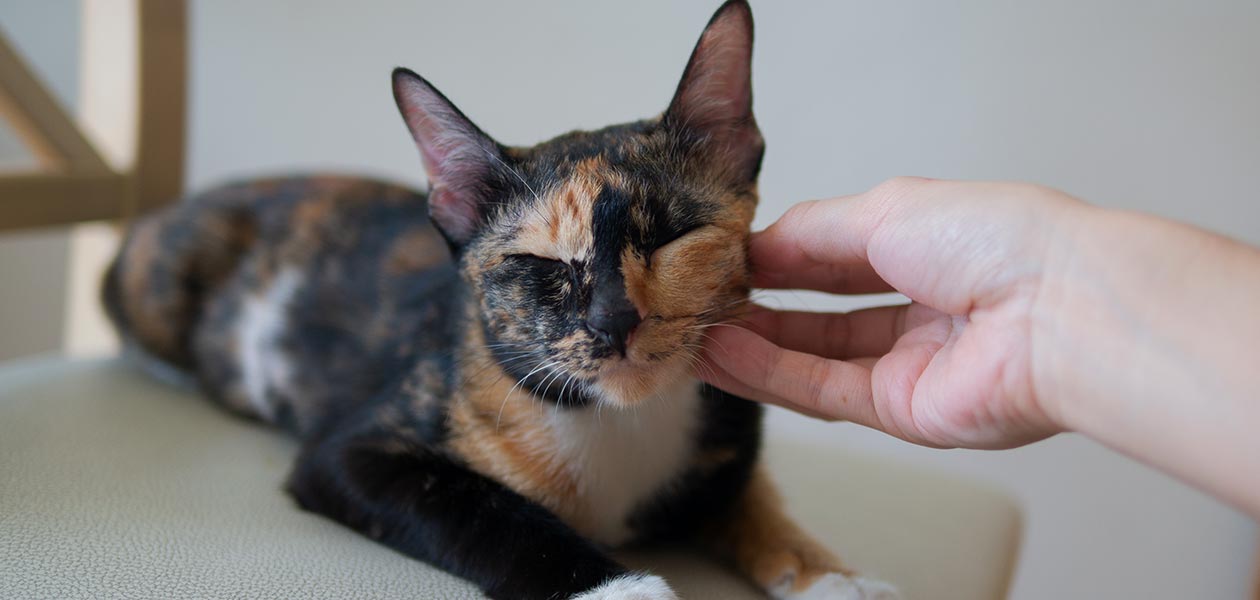 The term tortoiseshell calico cat usually refers to a tricolor female cat with patches of black, red and white fur. However, it's a rather clumsy descriptive term. In fact, most tortoiseshell calico cats can be more accurately described as "tortoiseshell and white" or simply just "calico". But due the dazzling number of coat pattern possibilities, it's not surprising that people get confused about how to use all their names correctly! Today I'll break down the distinction between a tortoiseshell cat and calico cat, so that you never have to be confused by the difference again!
Contents
What Are Tortoiseshell Calico Cats?
Due partly to chance, and partly to the hard work of dedicated cat breeders, it's now possible to find cats in a large number of different patterns. Many of them have wonderfully evocative names, like mackerel, smoked, tortoiseshell and calico. But the sheer variety of patterns, and the huge vocabulary which has been created to describe them all, can be pretty overwhelming at first!
Know Your Lingo!
So let's start with a simple glossary of terms. This will help you understand what cat breeders and fanciers mean when they use certain words to describe a cat.
Tortoiseshell Patterns
Tortoiseshell is a pattern of red and black patches on a cat's coat. In a plain tortoiseshell cat, the patches or red and black are usually small and poorly defined at the edges, so that the overall pattern appears speckled or brindled.
Tortoiseshell and White Cats
Tortoiseshell cats with small or modest areas of white fur are usually known as tortoiseshell and white cats. Small areas of white usually appear on the chin, chest, and paws. But they can spread down the belly and up the legs too.
The inclusion of more white fur is also linked to the red and black patches getting larger, and more distinct. That's because they're both the result of the same change in how quickly pigment producing cells spread through a developing kitten in the womb.
Calico Colors
Calico cats have large, randomly arranged patches of red, black and white fur. The white patches appear all over their body.
Torbies, Calibies and Calibos?
Torbies are tortoiseshell cats with tabby stripes in their patches. In fact, their orange patches always have stripes, but sometimes the contrast between them is low – you can see them quite clearly in the cat in the photo at the top of this article though!
Caliby and calibo are both words to describe calico cats with tabby markings in their red and black patches. If you ever see a "tortoiseshell tabby calico cat" listed for sale or adoption, it probably means a feline with a caliby/calibo coat.
And finally, dilute cats
Color dilution occurs when the presence of a very specific gene inhibits how much pigment cats produce in their coat. So black fur fades out to grey, blue, or silver. And red fur softens to cream.
A dilute tortoiseshell calico cat has patches of grey and cream fur, with small or large white white patches too.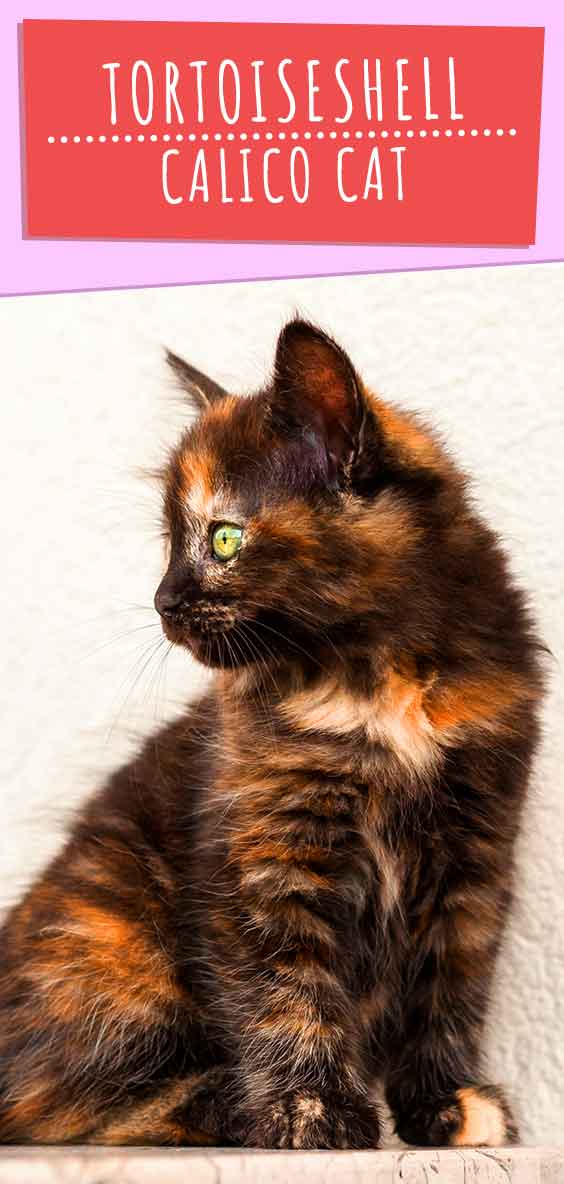 Tortoiseshell Calico Cat Genetics
The finer genetic details of a tortoiseshell calico kitty might not sound like the most interesting thing about them. But these pretty kitties have some fascinating genetic quirks as well!
For a start, they're almost always female. That's because the genes for black or red pigment both occupy the same spot on the X sex chromosome.
Male cats only have one copy of the X chromosome, so they can only carry a gene for black pigment, or a gene for red pigment. Whereas female cats have two copies of the X chromosome, which means they can carry the gene for black pigment on one, and the gene for red pigment on the other.
The real magic then happens while the female kitten is developing in the womb. In every cell of her body, one X chromosome at random is "switched off", to prevent potentially confusing doubling up of genetic instructions. This leaves her with a mix of cells carrying the black pigment gene, and cells carrying the red pigment gene – the recipe for a tortoiseshell pattern!
Adding white
White patches in a cat's coat are the result of a gene called the White Spotting gene. Cats can carry one or two copies of the White Spotting gene, depending upon whether they inherited it from one or both parents.
Cats with two copies of the gene have more white in their coats than cats with one copy. So, cats with one copy are more likely to match the description of a tortoiseshell and white cat. And cats with two copies are more likely to meet the description of a calico cat.
Which Breeds Can Be Tortoiseshell Calico Cats?
Tortoiseshell calico isn't a breed of cat itself. It's a pattern which can appear in several cat breeds. Including:
Exotic Shorthair
Domestic Shorthair and Longhair.
Each of these cat types has their own distinct body type, personality, typical lifespan, and health prospects.
Is This A Healthy Pattern?
Before bring home a tortoiseshell calico kitten, it's wise to think ahead about any health problems they might encounter. Hereditary diseases aren't just physically harmful to cats – they are often heartbreaking and expensive for cats' human families too.
Purebred tortie calico cats are prone to the same health problems as the rest of their breed. So, calico Persians are vulnerable to brachycephalic syndrome and kidney disease. And Tortoiseshell and calico Manx cats are at risk of Manx Syndrome, which you can read about here.
Tortoiseshell calico cats of all types are also more at risk of hereditary deafness, if they have a large amount of white fur. This is because white spotting gene which produces white fur also affects cells in cats' inner ears which are important for hearing.
Tortoiseshell calico cats are more likely to be deaf if they have blue eyes.