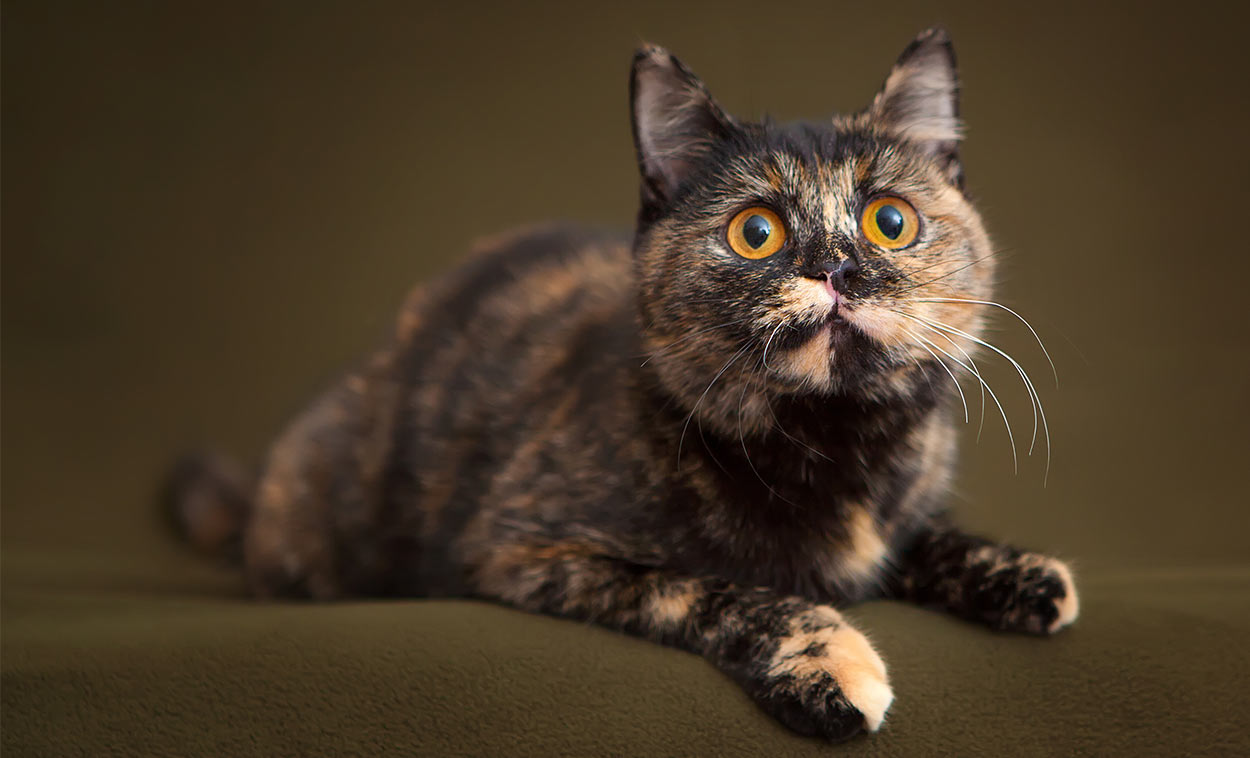 There is something amazing about a tortoiseshell cat. That dark yet varied coat, with a range of beautiful tones and patterns. It's no wonder that you are looking for a seriously impressive name to match. Are you looking for the very best tortoiseshell cat names? Do you want your new tortoiseshell kitten to be called something unique, adorable or just plain cool? Then you've come to the right place! We have over 200 brilliant ideas for naming your tortoiseshell cat.
Contents
Tortoiseshell kitten names come in many forms. And with so many people keen to share their opinions with you, making the right decision can seem like a bit of a minefield. But don't despair! I've got all the inspiration you need just around the corner. Or down the page, as the case may be.
From cute names to unique names, color based ideas and some with a more traditional feel. We've got something for everyone in these lists. So what are you waiting for? Let's find the perfect tortoiseshell cat name for your new kitty.
Female Tortoiseshell Cat Names
Did you know that nearly all tortoiseshell cats are female? It's all down to their genetics. There are oodles of gorgeous girl cat names tortoiseshell owners will love, so how do you pick just one? Tortoiseshell kitten names female cats will grow into, or names for a female tortoiseshell cat that is already full grown can be traditional, modern or unusual in their themes.
Annie
Arielle
Bella
Beth
Carla
Celine
Chloe
Connie
Delia
Emery
Emily
Emma
Eunice
Florence
Frankie
Georgie
Harper
Heather
Hollie
Isla
Iris
Isabel
Jennie
Judy
Kimmie
Kirsty
Laurie
Lily
Lola
Lottie
Mabel
Maddie
Mia
Mollie
Nora
Olivia
Opal
Polly
Quinn
Robyn
Sage
Sarah
Sophie
Tessa
Trinnie
Trixie
Vickie
Wilma
Zinnie
Zoe
You can find 250 more great Female Cat Names here. But now let's look at names that specifically suit tortoiseshell cats. There are two main types of tortoiseshell cats. Black or orange. And you could choose their name based on those colorings.
Orange Tortie Names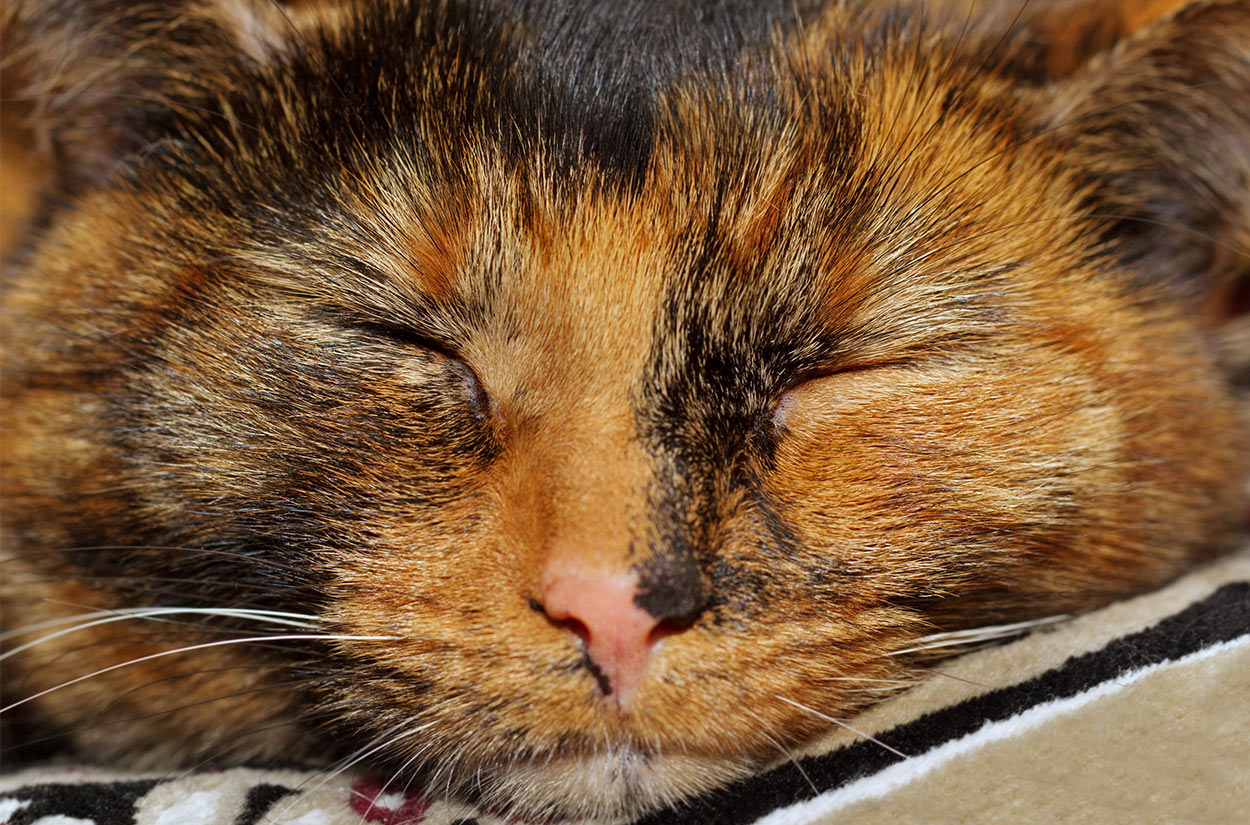 Finding original orange inspired cat names for your ginger speckled friend is great fun. Because there are so many sources of inspiration. Ideas from the world of nature always sound lovely, as do those inspired by ginger things we love. Here are some of our favorite cat names for tortoiseshell cats with a predominantly ginger coat.
Aloe
Amber
Canna
Cider
Clay
Copper
Coral
Cosmos
Crown
Dahlia
Ember
Fire
Flame
Flare
Ginger
Honey
Iris
Leo
Marigold
Marmalade
Peaches
Rosa
Russell
Rusty
Spark
Spice
Sunset
Tangelo
Tango
Tigger
You can find 135 more great ideas for naming orange cats here.
Black Tortoiseshell Cat Names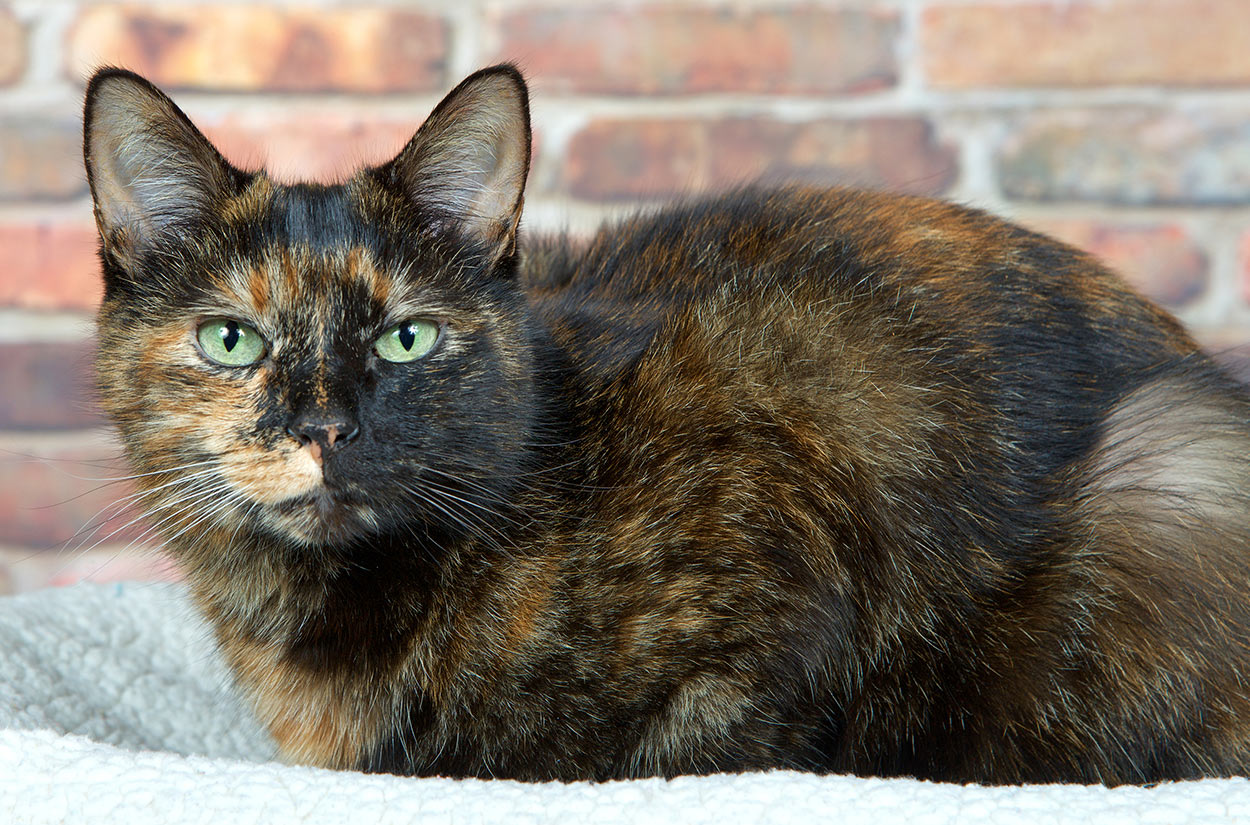 Black tortoiseshell cats are very distinctive. With their dark coloration with brighter splashes. Space, night time and darkness are all popular themes for black tortoiseshell cat names. Cat names for tortoiseshell cats with a deep base coat sound seriously cool when they reflect their brilliant black fur.
Bear
Char
Coal
Dusky
Ebony
Guiness
Ink
Jet
Liquorice
Luna
Magic
Mars
Midnight
Moonshine
Neptune
Noon
Onyx
Pepper
Pitch
Pluto
Raven
Rorschach
Sable
Saturn
Shadow
Shady
Sooty
Twiglet
Twilight
Venus
Torbie Names
The final type of tortoiseshell coloring comes in either the black or orange blend, but includes a tabby stripe. These kitties are known as torbies! They can sound totally adorable with tortoiseshell cat names that reflect their additional tabby markings, or that give a head nod to the cute tabby stripe.
Beach
Blaze
Checkers
Dash
Dotty
Flake
Fleck
Flicker
Forest
Freckles
Marbles
Maze
Mocha
Mottle
Muddle
Notches
Patches
Pebbles
Pepper
Powder puff
Ribbon
Snickers
Speckle
Specky
Spotty
Sprinkle
Streak
Stripes
Ticks
Woody
Unique and Creative
We all want to be different. Amusingly, it's something that is fairly universal among us cat owners. But where can you get inspiration for cat names that haven't already been done to death? Media can be a great source of inspiration.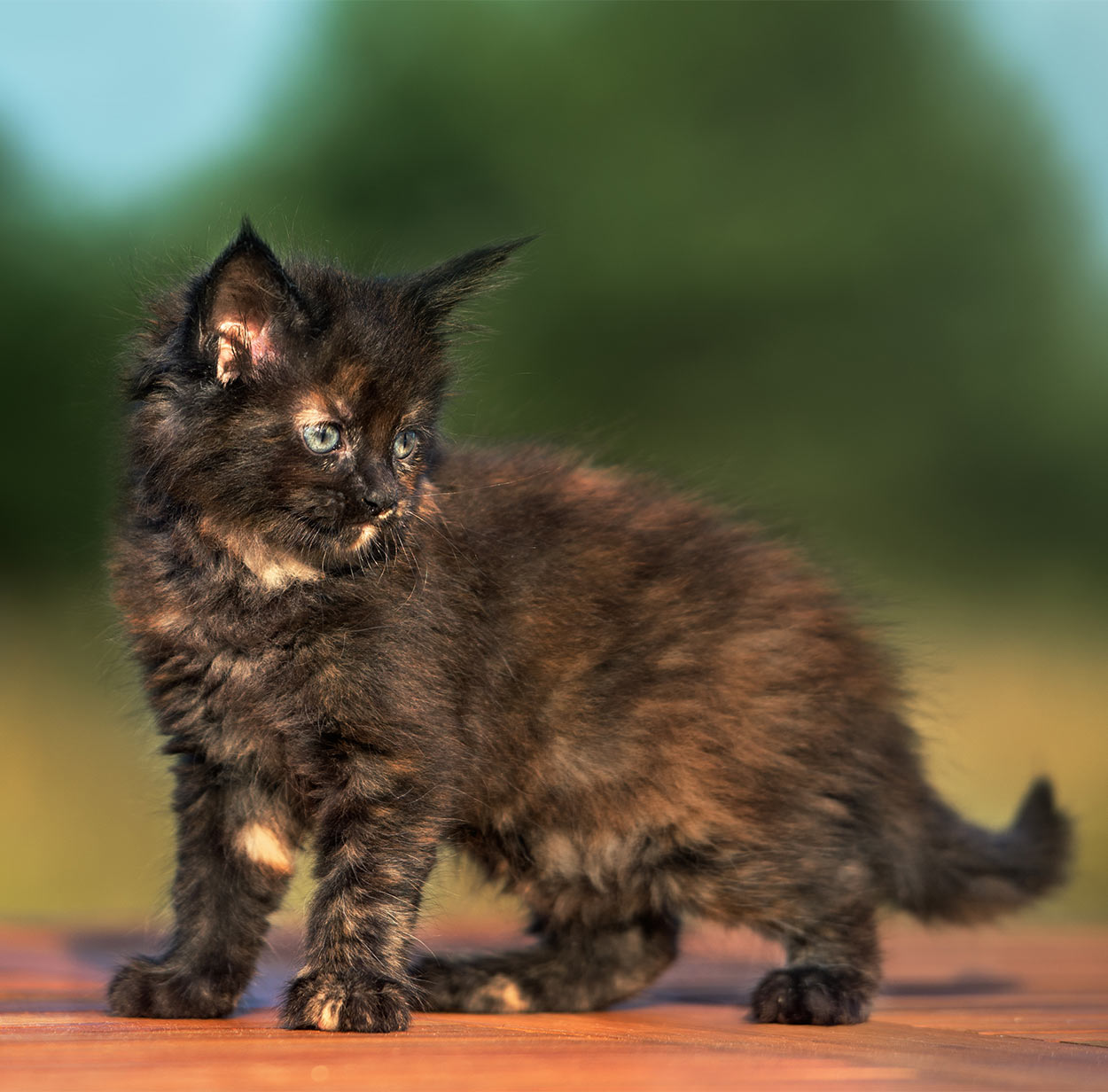 Disney princess names, video game characters or heroines in books, movies or television are all good points to work from. My Little Pony names are seriously popular in my house at the moment, so I've added some of those in for you too. They may be well known, but when applied to kittens not so much!
I have also given you some ideas for girls names that are currently under used and can therefore provide a more unusual twist. Let's see if this list of random ideas for tortoiseshell names sparks your imagination:
Ariel (The Little Mermaid)
Arya (Game of Thrones)
Aspen
Aurora (Sleeping Beauty)
Ayla
Bella (The Twilight Series)
Cadence (My Little Pony)
Cassidy
Cersei (Game of Thrones)
Daenerys (Game of Thrones)
Elaina
Elektra (Daredevil)
Evangeline
Harley Quinn (Batman)
Harlow
Hermione (The Harry Potter Series)
Jasmine (Aladdin)
Journey
Katniss (The Hunger Games)
Lena
Maci
Megara (Hercules)
Myla
Nia
Paisley
Primrose (The Hunger Games)
Raegan
Rarity (My Little Pony)
Rogue (X-men)
Rosalie
Rue (The Hunger Games)
Ruth
Sloane
Storm (X-Men)
Sunset Shimmer (My Little Pony)
Trinity (The Matrix series)
Twilight Sparkle (My Little Pony)
Vera
Zatanna (Batman)
Zelda (The Legend of Zelda)
Another unique way to come up with tortoiseshell cat names is to think about the time of year your new kitty was born. Christmas, Easter, Halloween? Thinking of themes around that occasion can be a great way to make a unique name that applies directly to your cat. You can find even more Unique Kitty Naming Ideas here.
Cute Names for Tortoiseshell Cats
Cute female cat names tortoiseshell kitties will suit can be inspired by cute things, especially those in nature. Flower names for cats can be wonderful choices, and I have included a selection of those here. But there are also cute nicknames and sickly-sweet words from our general lexicon that sound pretty darn adorable as names for cute kitties too.
Angel
Aster
Autumn
Baby
Blossom
Bluebell
Booties
Buttercup
Camellia
Cherry
Clover
Daisy
Dahlia
Echo
Faith
Honey
Jewel
Kitty (on the nose, but it works!)
Luna
Mitten
Peaches
Peony
Pickles
Rosalie
Sky
Sunflower
Sweetie-belle
Tansy
Tiptoe
Tulip
Best Tortie Names
Finding the best Tortoiseshell cat names can be a challenge, but hopefully one that you will find enjoyable. Your kitty will be walking around with her new name for years to come, so finding the right one matters.
But fortunately, there are lots of brilliant options out there. And if you haven't found your favorite amongst these tortoiseshell cat names, then there are lots more categories you might like to choose from. Including Awesome Cat Names, Clever Cat Names, Funny Cat Names and even Disney Cat Names!
Let us know what you decide to call your Tortoiseshell cat, and we might be able to add it to the lists for you.