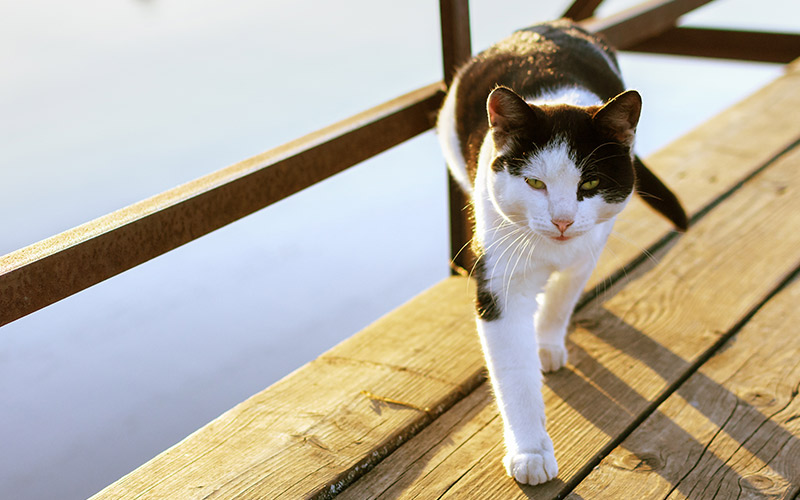 Looking For Some Fascinating Black And White Cat Facts? Then You've Come To The Right Place!
From Sylvester to Felix, and the Cat in the Hat to Socks (the White House cat during the Clinton administration), cute black and white cats are everywhere.
These striking felines are some of the most common, and popular, cats around.
But did you know that they can also be more sociable than other colors?
Or that a black and white kitty may be more likely to be adopted than a black cat?
Read on to find out some fascinating and little-known facts about black and white cat breeds.
If you're looking for fun info on black and white kittens, or black and white cats' personality traits, you've come to the right place.
30 awesome black and white cat facts
So let's get started with our fascinating black and white cat facts.
Beginning with the weird world of genetics! Where your cat got his coat.
One
Black and white cats have a faulty gene to thank for their unique coloring. And studying them may help scientists treat a range of health defects!
A 2006 study showed that the bicolor fur forms when pigment cells fail to develop normally in the womb.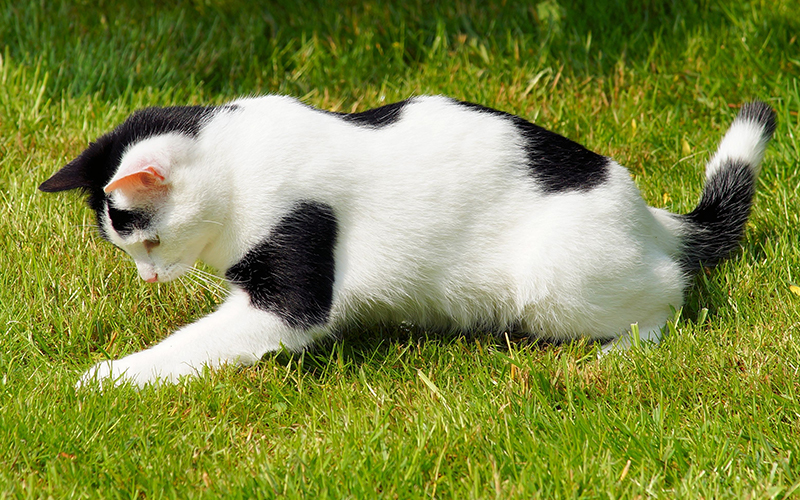 The cells respond too slowly to biological triggers and move randomly, leading to dispersed patches of color.
The research doesn't just change our understanding of cats and their coats.
It could also help shed light on human health defects that occur because of faulty cell development!
Two
Cats that are black all over except for white patches around the chest and throat and white paws are known as 'tuxedo cats'.
The name comes from the distinctive markings that resemble formal dinner wear.
These adorable felines are one of the most sought-after types of black and white cats.
Famous examples include Sylvester the Cat from Loony Tunes and Dr Seuss' legendary The Cat in the Hat.
Now how's that for a fun black and white cat fact!
Three
Given that tuxedo cats are always dressed for a night on the town, these felines have been granted a special honor.
They are the only cats admitted into the Metropolitan opera, in recognition of their formal attire.
Four
There's even been a tuxedo cat in the White House.
When Bill Clinton took office in 1993, Chelsea Clinton's tuxedo cat, Socks, moved in and became America's 'First Cat'.
Socks even had his own newsletter and fan club!
Five
On the other side of the pond, another black and white cat has been at the centre of government.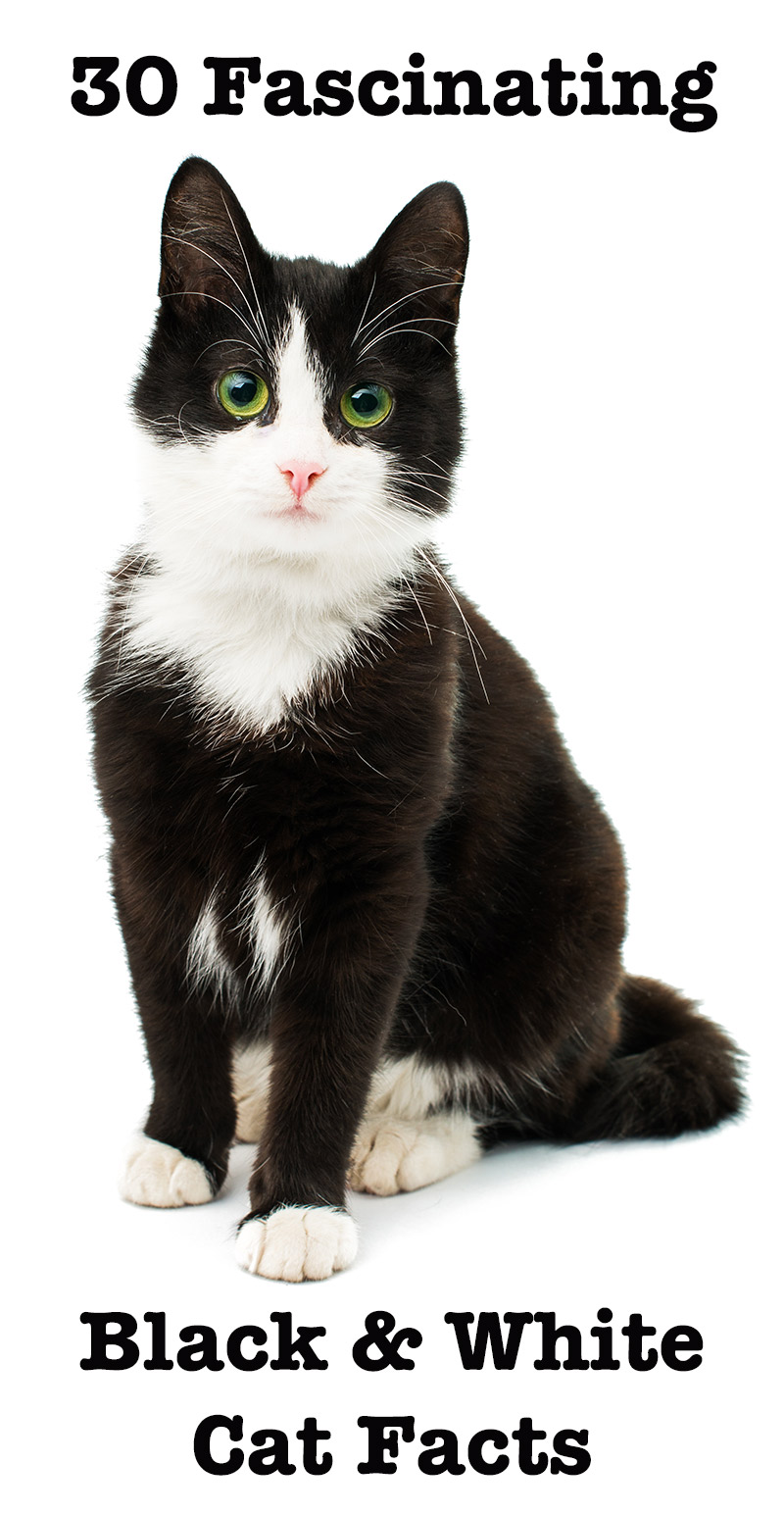 Humphrey, also known as 'Chief Mouser', moved into 10 Downing Street in 1989.
He remained in residence until 1997. In that time he saw three Prime Ministers take office.
Six
Similar to tuxedo cats are 'moo cats' or 'cow cats'.
These are black and white cats with large patches of black over a mostly white body.
Seven
According to a 2014 study, stray 'moo cats' may stand a better chance of finding a home than tuxedo or wholly black cats.
Researchers from Keuka College, New York found that the lighter the cat, the more likely it is to be adopted.
Eight
A black and white striped cat is known as a silver classic tabby or a black and white tabby.
These unique looking cats have dense black stripes in varying patterns against a white/grey backdrop.
Nine
Another name for a black and white spotted cat is a silver spotted tabby.
The small black spots give this beautiful pet a leopard-like appearance.
Ten
All black and white kittens are born with blue eyes.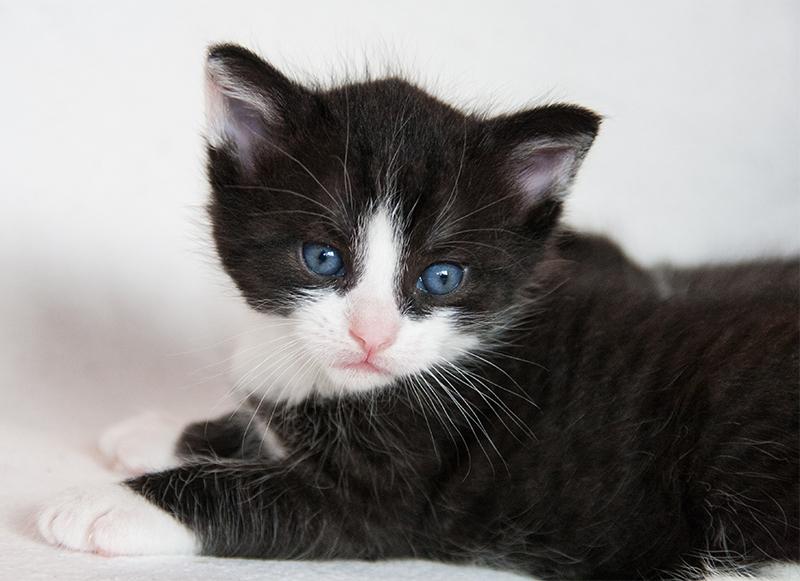 In most cases, when the kitten is a month old its eyes will change color.
However, some cats hang onto this trait into adulthood and the kitten will grow into a black and white cat with blue eyes.
Eleven
Popular names for black and white cats include Mittens (for those with white paws), Penguin, Panda, Felix, Sylvester, Oreo, Patches and Domino.
Twelve
Former Prime Minister Winston Churchill was the proud owner of a black and white cat called Bob.
In 1942 Churchill, who loved and owned many cats, met President Roosevelt aboard HMS Prince of Wales. Before stepping onto the ship he bent down to greet its mascot, a black and white cat named Blackie.
The moment was caught in a now-famous photograph.
Thirteen
Vice President Mike Pence owned a black and white cat called Oreo.
Oreo sadly passed away last summer after making the move to Washington DC with the rest of the family.
Fourteen
In 1939 TS Eliot wrote about urban black and white cats in Old Possum's Book of Practical Cats.
He describes them as a street smart gang known as the 'jellicle cats'.
In the musical, Cats, Old Deuteronomy is the ancient and wise leader of the Jellicles.
Fifteen
In 2012, a fluffy black and white cat known as 'Tuxedo Stan' showed that cats can enter politics, when he ran for mayor of Halifax, Canada.
3 year old Stan ran as a representative of the Tuxedo Party and was an advocate for the city's stray cat population.
Sixteen
The world's loudest purr belongs to a British black and white cat called Merlin.
In 2015, Merlin broke the world record by delivering a 67.8 decibel hum.
Seventeen
ASPCA Cat of the Year 2012, Scooter, visits a nursing home and rehabilitation hospital every week.
On one memorable visit, the black and white kitty snuggled up to a stroke victim doctors said would never communicate again.
Within seconds, the patient opened her eyes and began chatting with her new friend.
Eighteen
In October 1963, France sent a female tuxedo cat into space. Felicette spent 15 minutes in sub-orbital space and survived the trip.
Black and white cats personality
Nineteen
If you've encountered a grumpy black and white cat, you're not alone.
A very surprising 2016 survey of cat owners discovered that black and white cats were more likely to be aggressive than tabby, grey, black or white cats!
Twenty
However, it may depend on the cat's environment. Another study suggests that black and white cats are more sociable and easy-going in an urban setting.
Twenty-one
While the science remains unsettled, people can (and do) judge a cat by its colors.
Black cats are traditionally seen as mysterious and ill-omened. White cats are often thought of as lazy and snobby.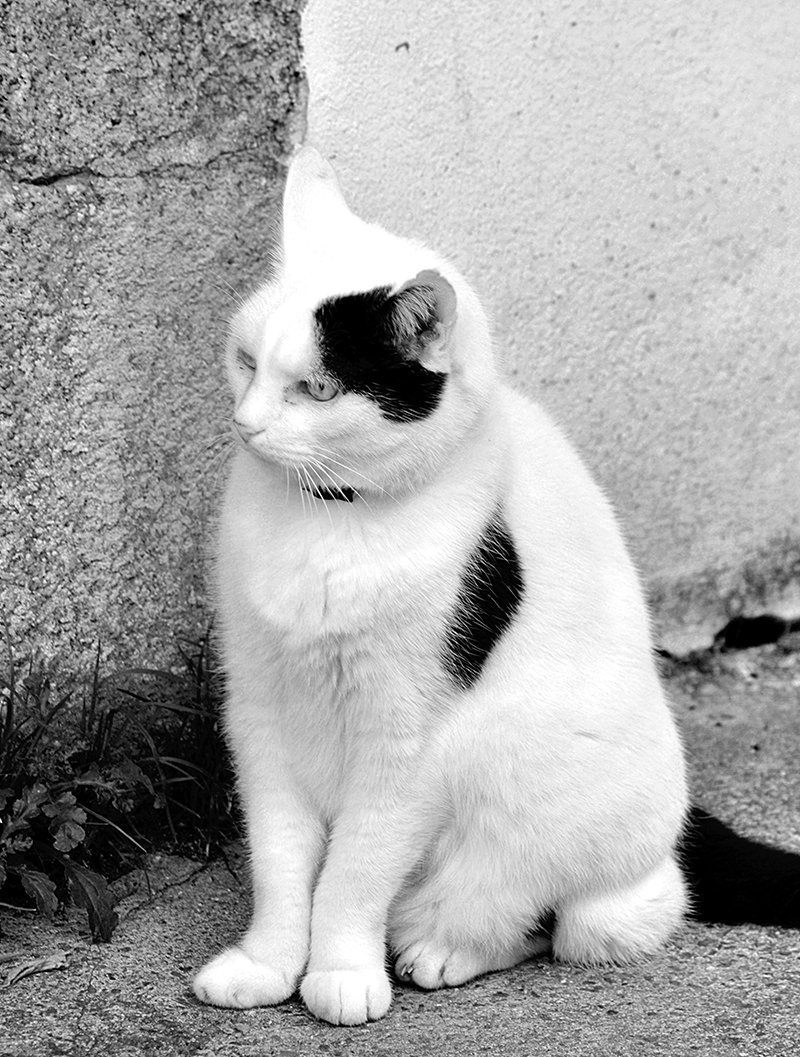 Black and white cats seem to be viewed as having the best of both worlds.
They combine the alluring mystery of black cats, combined with the delicate rarity of white breeds.
Twenty-two
In World War II, a black and white cat named Simon showed that bicolor cats are capable of showing great loyalty to their humans.
Simon, a mascot aboard the HMS Amethyst, was awarded the Dickin medal in 1949 for protecting the sailor's dwindling food supply from rats.
Twenty-three
Another special black and white cat scooped a National Cat Award in the UK last year.
Rescue cat Genie won for the support and love she gave her 12 yr old owner, who was battling bone cancer.
Twenty-four
A quick-thinking black and white feline made headlines in the UK in 2012 for saving her owner's life.
Charley's owner suffered a diabetic attack in the middle of the night and collapsed.
Sensing something was wrong, Charley alerted Susan's husband, waking him up by licking and pawing him.
Now, those are some of our favorite black and white cat facts.
Twenty-five
A black and white cat in Scotland was recently given the title of Honorary Purrfessor of Gartnavel Hospital in Glasgow.
Kyle is a frequent visitor to the hospital, comforting patients and amusing the staff. He also patrols the nearby Hyndland Station.
Types of black and white cats
When searching for black and white cat facts, a lot of people want to know about the different types, breeds or varieties of black and white cats.
Twenty-six
Like many cats, black and white felines can be either longhaired or shorthaired, depending on the breed.
A black and white Maine Coon cat has a thick, soft coat.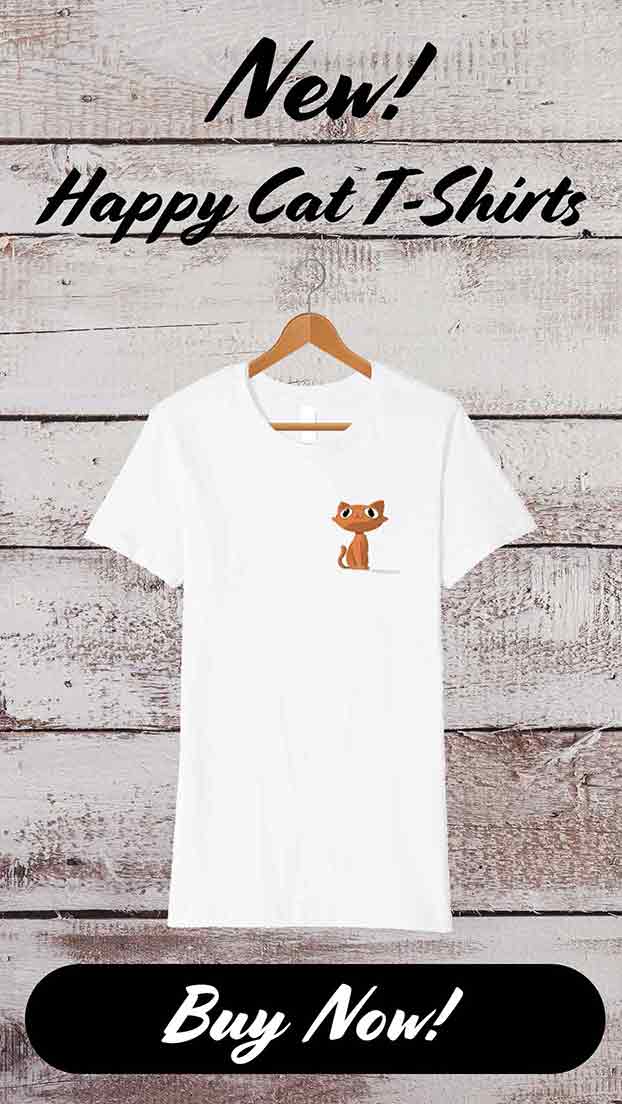 The black and white Persian cat is also longhaired and are often tuxedo cats – with the telltale white bib and paws.
Twenty-seven
In general, a black and white longhaired cat will be are more expensive than the shorthaired variety, especially when buying a kitten.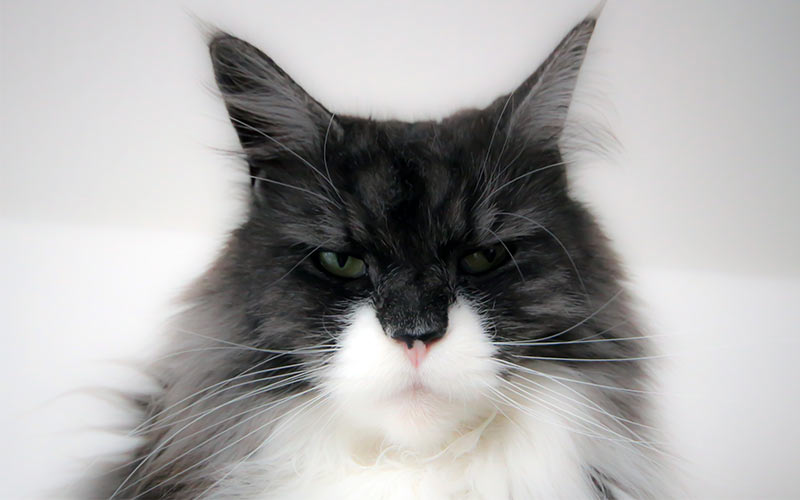 Longhaired black and white kittens are rarer, and should ideally be found from a licensed breeder or shelter.
Twenty-eight
The typical black and white shorthair cat is an American shorthair.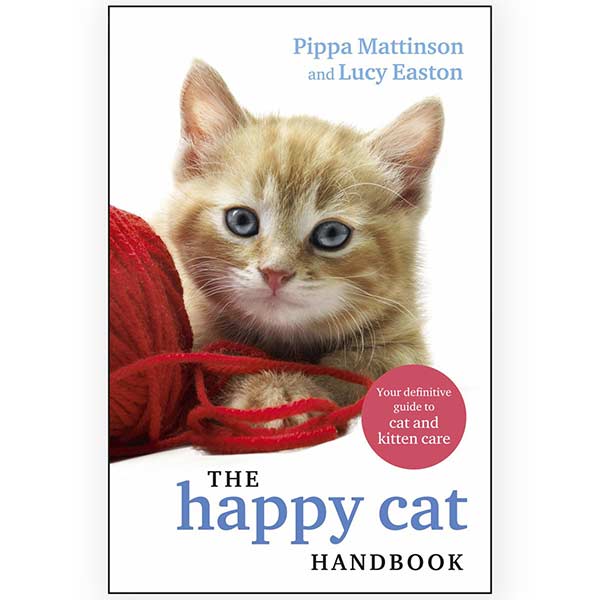 This domestic cat was the United State's seventh most popular breed of cat in 2012, according to the Cat Fanciers Association.
Twenty-nine
Another popular black and white domestic cat is the Siamese.
Although what most people would consider a black and white Siamese cat is not actually accurate.
The classic Siamese markings are technically white/cream and chocolate (or seal) colored.
Thirty
August 17 is National Black Cat Appreciation Day in the United States. According to the ASPCA it can also be extended to include black and white cats.
And, judging from the above, there are plenty of reasons to celebrate our furry black and white friends!
Black and White Cat Facts
We hope you've enjoyed those fun black and white cat facts!
If you are bringing home a new kitten, then you'll want to find the perfect name for him or her.
So don't forget to check out our awesome list of the best black and white cat names here.
Free Updates For Cat Lovers!
Our cat care articles, tips and fun facts, delivered to your inbox
References and Further Reading
Mort, R.L, et al, "Reconciling Diverse Mammalian Pigmentation Patterns with a Fundamental Mathematical Model", Nature Communications, 2016.
Brown, W.P, Morgan, K.T, "Age, Breed Designation, Coat Color, and Coat Pattern Influenced the Length of Stay of Cats at a No-Kill Shelter", Journal of Applied Animal Welfare Science, 2014.
Stelow, E.A, Bain, M.J, Kass, P.H, " The Relationship between Coat Color and Aggressive Behaviours in the Domestic Cat", Journal of Applied Animal Welfare Science, 2016.
Beaver, B, "Fractious Cats and Feline Aggression", Journal of Feline Medicine & Surgery, 2004.
"Black and White Cat Saves Diabetic Owner', Daily Mail, 2012
Your Amazing Cat!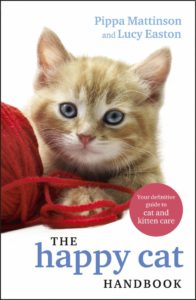 We are so excited to share our new book with you!
If you have enjoyed your visit to The Happy Cat Site we think you'll love The Happy Cat Handbook.
Written by the founders of this website including the author of the hugely successful Happy Puppy Handbook, it's packed with cat care information and fascinating cat facts.
Grab your copy today!
Free Updates For Cat Lovers!
Our cat care articles, tips and fun facts, delivered to your inbox