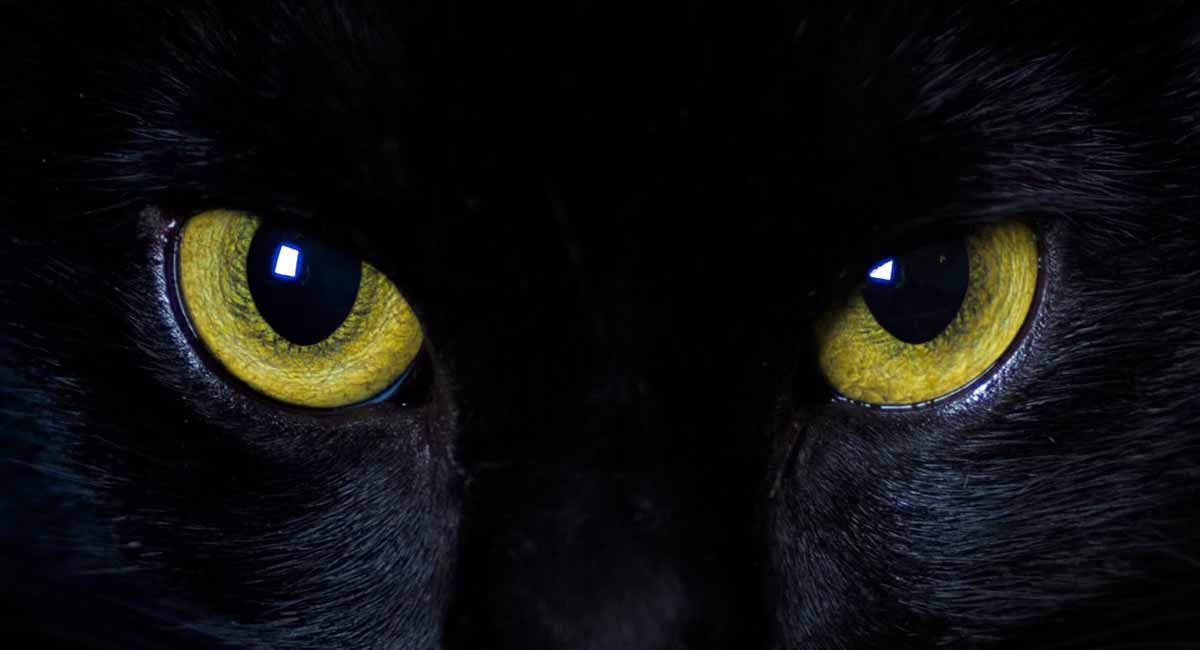 Can cats see in the dark? What a strange question to ask when everyone knows it's true. Well, that's what many people think, but it actually isn't true. Cats have great night vision, but this doesn't mean that they can see in complete darkness.
In this article, Sarah Holloway investigates why people think that cats can see in the dark. She also stops to look at the fascinating structure of cats' eyes, before explaining how they help our feline friends see at night.
Well, where did the idea that cats can see in the dark come from? Maybe it's because of the way cat's eyes glow in the darkness.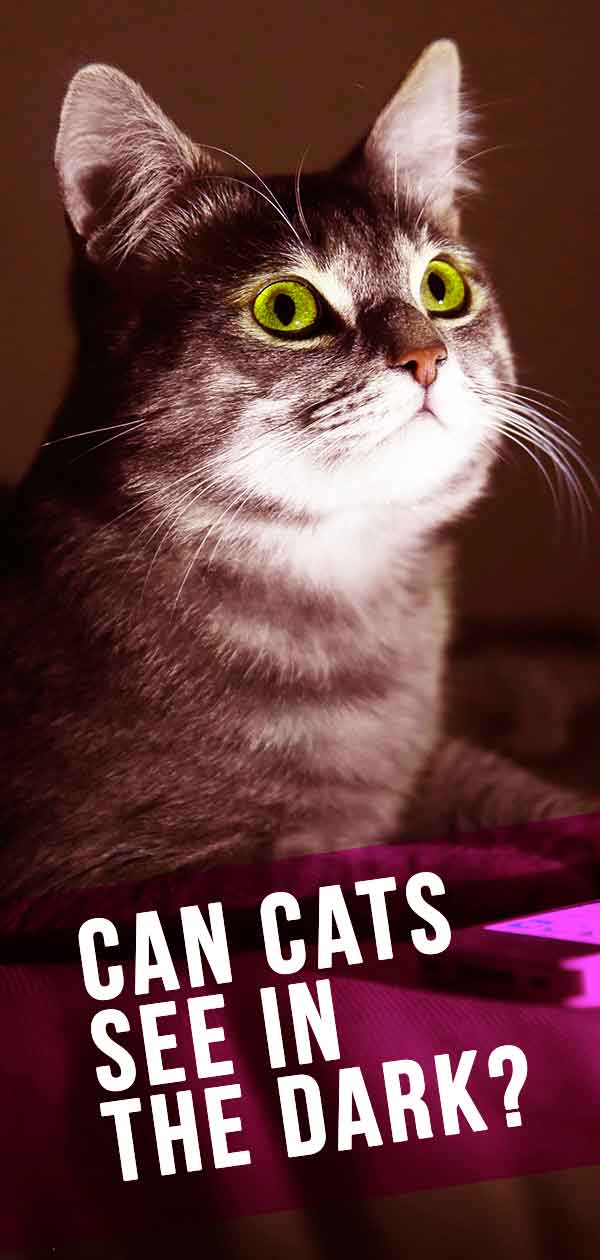 Cats' Eyes – Glowing In The Darkness
We all know what a cat's eyes look like when you shine a torch at night. The light reflects back as a greenish glow, giving even the cuddliest of moggies an unearthly appearance.
While we are on the subject, here are some great facts about cats' glowing eyes
Did you know that, in the United Kingdom, Botts' dots are even called cats eyes, because they mimic the appearance of a cat's eyes at night?
In the Middle Ages, cats were associated with witches and evil because many believed their glowing eyes meant they were supernatural and demonic!
The Ancient Egyptians believed that cats captured the setting sun's glow in their eyes. Here, it was safe until the morning. This is why Egyptians punished anyone who killed a cat.
So, the glow of a cat's eyes fascinated people for thousands of years. They are one of the reasons why we give cats mystical qualities.
The bright, iridescent glow of cat's eyes is so distinctive, it's easy to assume that cats must be able to see clearly in the dark.
How much truth is there in that? Do cats see in the dark? Do they have night vision? Let's find out, but we might have to take a short biology lesson first.
Understanding Cat Vision
It is impossible to explain how cat vision compares to human sight without describing the anatomy of the eyeball. Don't worry – we don't have to go into too much detail!
So, sit back and absorb a short biology lesson!
In both cats and humans, the eyeball is a sphere filled with clear gel.
At the back of this sphere, the inside surface is called the retina. The retina contains thousands of rod cells and cone cells.
These rods and cones are highly sensitive to the light which enters our eyes, and they turn it into a picture for our brains to interpret.
The Difference Between Rods and Cones
Rod cells are more sensitive than cones, and they are help us see when light levels are low.
We use them to distinguish outlines in gloomy conditions, and to differentiate between different shades of gray.
Cone cells are more sensitive in bright conditions, and we use them to see color and focus on complex shapes.
Remember this for later, because we'll come back to it!
Now, what is the difference between cats' eyes and human eyes?
How Cats' Eyes And Human Eyes Differ
Cats' eyes and human eyes differ mainly due to our lifestyles. We are daytime creatures who used to gather wild berries to eat. Therefore, we need great color vision, but seeing at night was less important.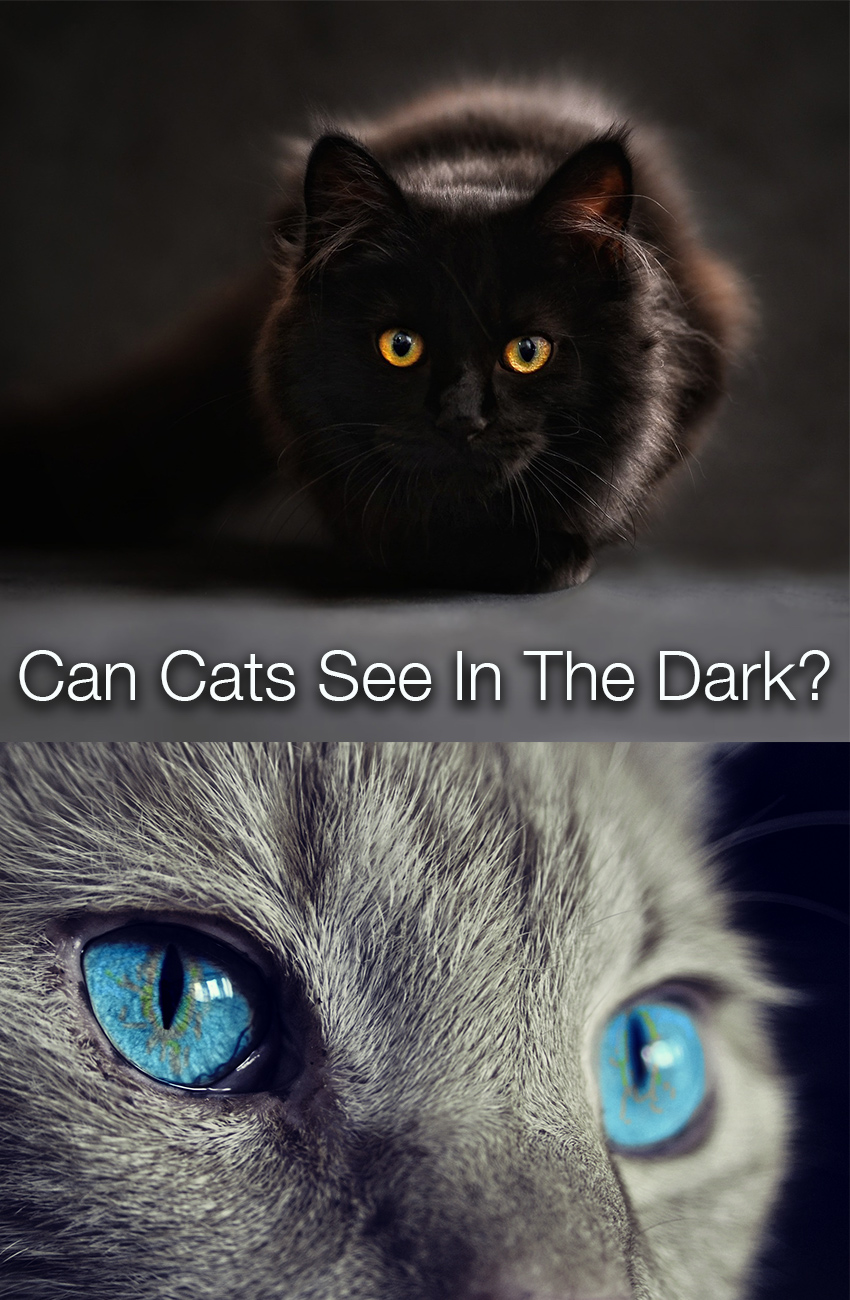 Cats hunt at dawn and dusk, and sometimes at night. They need eyes that are sensitive in low light levels. Seeing in color isn't as important to cats because everything is a different shade of gray when they are active anyway!
These different lifestyles mean that cats and humans have very different proportions of rod cells and cone cells. That makes a big difference to our vision.
Cats' eyes have six to eight times more rod cells than human eyes, which means they can see in black and white at much lower light levels than us humans.
They also have a phenomenal ability to dilate the pupils of their eyes, until almost the entire visible surface of the eye appears black.
This allows the maximum amount of light possible to enter the eye and trigger signals from those rod cells.
A Cat's Bright Tapestry
Cat's have another very clever trick going on inside their eyes. It's a useful adaptation that makes their eyes even more sensitive at dawn and dust.
Now, it might sound like a spell from the Harry Potter series, but cats have a tapetum lucidum. It sounds weird, but it's just a fancy Latin name for a thin layer of reflective tissue that lies behind the retina.
In Latin, the words tapetum lucidum mean "bright tapestry." Although there is nothing magical about them, they are really interesting.
After light has passed through the retina, the tapetum lucidum reflects it back. After it passes through the retina a second time, this gives the rod cells another chance to take in information.
This gives cats another big advantage in low light conditions, which is why they are such deadly hunters at dawn and dusk.
By the way, the tapetum lucidum gives your pet's eyes a bright appearance when you take their photo with a flash, or shine a torch at night.
Did you know that the color of the tapetum lucidum in photos is as unique to your cat as the color of it's irises! We're throwing loads of fun facts at you today!
The tapetum lucidum is associated with nocturnal animals. While cats are not, strictly speaking, 'nocturnal' they are much better adapted to seeing at night than we are. So, can cats see at night?
So, What's The Answer: Can Cats See In The Dark?
Cats have some highly specific adaptations within their eyes. These enhance their vision in low light conditions. However, this does not mean that they can see in the dark.
You see, their sight still depends upon receiving some light into the eye, so they can't see in total darkness. Really, the confusion arises because, somehow, people mixed up seeing at night with seeing in the dark.
Cat's can see something even with just a sprinkling of starlight. However, they can see nothing when it is pitch black.
One thing they can do is make out gray scale outlines in light levels six or seven times lower than we can. That's pretty amazing in itself.
Indeed, since the invention of streetlights, security lights, and illuminated advertising, there are few places these days where domestic cats are truly unable to see. Can cats see at night? It's fair to say yes, they can most of the time.
With their wonderful adaptations, can cats see in pitch black? No, they can't.
We are not finished yet, because we were also asked if kittens can see in the dark.
Can Kittens See In The Dark?
Let's start off by saying no, kittens cannot see in the dark for the same reason as adult cats. So, why don't we change the question to, can kittens see at night?
Kittens have all the same adaptations as adult cats to see in low light but, like human babies, their eyesight is generally poor to begin with.
From the time a kitten first opens its eyes, at around nine to fourteen days, it will take about ten weeks for their vision to become clear and focused.
Don't expect them to see too well at day or at night until then.
We said that cats have specialized eyes perfect for seeing at night. If that's the case, do they need to see in color.
Do Cats See In Color?
If you remember, I said earlier that the cone cells in our eyes are responsible for detecting color. We also know that cats have loads of rod cells, and fewer cones. That leaves an interesting question: can cats see in color.
For a long time, many people, including experts, believed that cats only see in black and white. Is this true?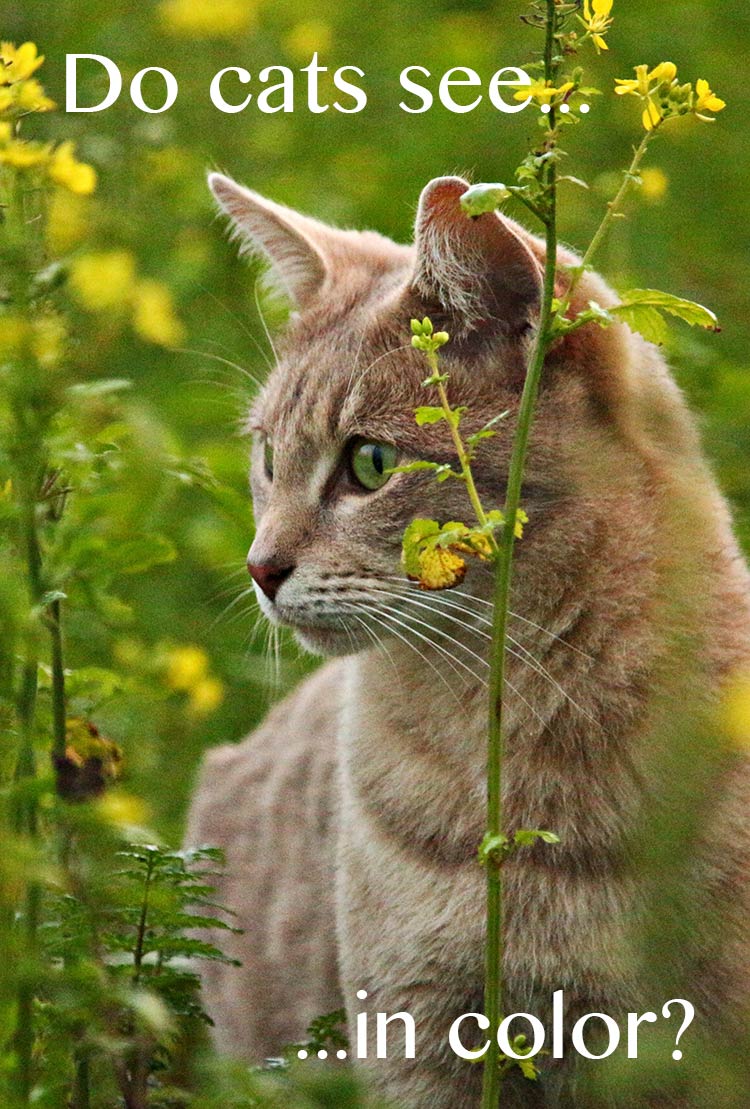 To accommodate a large number of rod cells in their retinas, cats compromised on the number of cone cells. In fact, they have ten times fewer cone cells than humans.
Whilst cats have very few of the specialized cone cells needed for perceiving color, veterinarians have recently started to believe that cats do have some limited color vision.
However, the shortage of cone cells means that cats' color vision is not as bright or detailed as ours.
Of course, that leads us to yet another question. What colors can they actually see?
What Colors Can Cats See?
It seems that cats are better able to distinguish colors at the blue end of the spectrum, such as blues, purples, and violets.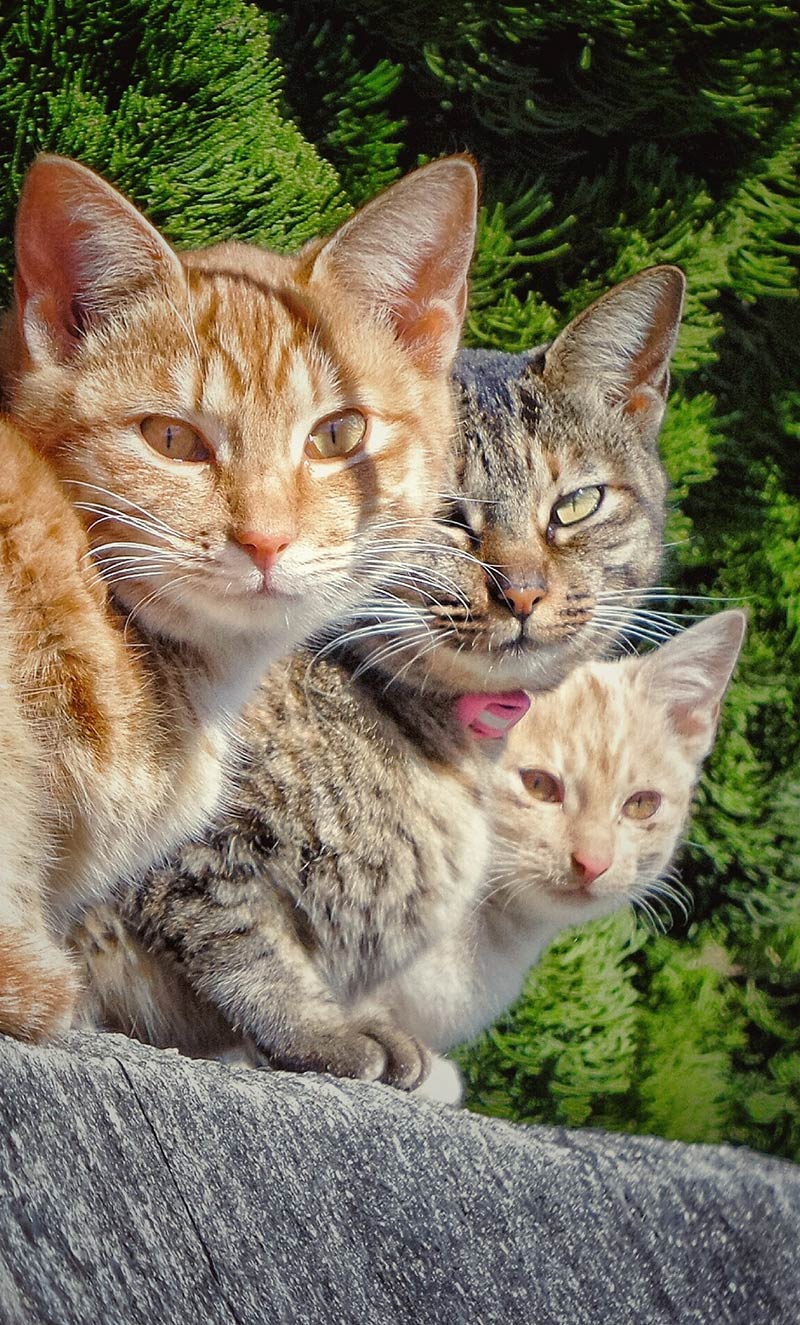 They are less likely to be able to distinguish between reds, yellows, and greens at the other end of the spectrum.
That makes a lot of sense because, at dawn and dusk, shades at the blue end of the spectrum are more visible. This possibly includes ultraviolet light.
Cat's Eyes And Ultraviolet
In 2014, Professor Ron Douglas and Professor Glen Jeffery, in the United Kingdom, uncovered fascinating evidence that cats might also be able to see in ultraviolet.
This isn't uncommon in other animals, and serves all kinds of purposes for survival and communication.
But we don't know yet if cats really have it, or how cats would use this ability in any special way.
It's definitely a fascinating area of research.
Can Cats See In Total Darkness?
In conclusion, cats do not have perfect night vision, and they cannot see in total darkness. But they do have remarkable adaptations which allow them to see in much lower light conditions than you or me. Let's go over them again:
Cats wide pupils can dilate to let in a lot of light
They have lots of cone cells that work well in low light conditions
Cats have a reflective membrane behind the retina to reflect light back onto the cones.
These adaptations allowed their ancestors to hunt nocturnal prey at dawn and dusk. However, to achieve these advantages in low light, the trade-off was a reduction in color vision.
So, now you know the answer to our question: Do cats see in the dark? No, they don't.
Can cats see at night? Yes, they can!
What about your cats? Do they prefer to hunt after dark and put their remarkable eyesight to good use?
Or, can they distinguish between different colors? If so, we'd love to hear about it in the comments section below!
"Today's article is by Sarah Holloway. Sarah holds a bachelors degree in Zoology and has a special interest in animal behavior and communication"
This article was updated in July 2019
References
"How cats see the world", (2013), Business Insider Science.
Meyer, D.R. et al, (1954), "Absence of color vision in cat", Journal of Neurophysiology, Vol 17, 289-293.
H. Douglas, G. Jeffery, (2014), "The spectral transmission of ocular media suggests ultraviolet sensitivity is widespread among mammals", Proceedings of the Royal Society, Vol 281, Issue 7180.
Weale, Robert Alexander. "The spectral reflectivity of the cat's tapetum measured in situ." The Journal of physiology 119, no. 1 (1953): 30-42.
Kuffler, S. W., R. Fitzhugh, and H. B. Barlow. "Maintained activity in the cat's retina in light and darkness." The Journal of general physiology 40, no. 5 (1957): 683-702.