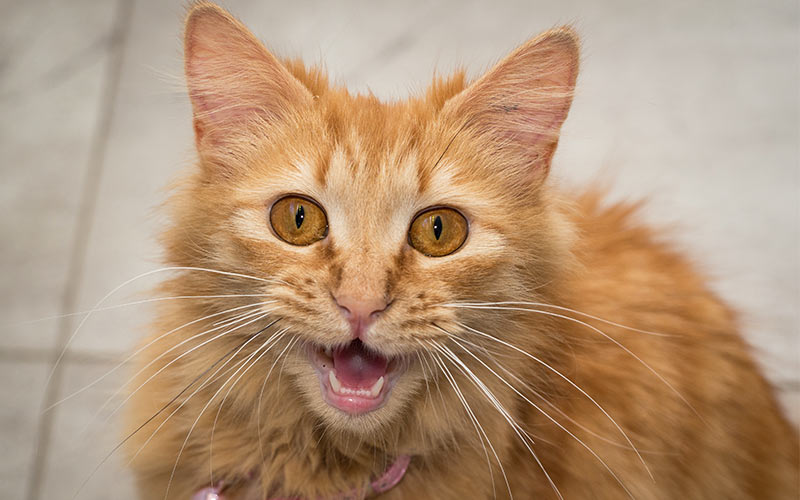 Vibrating, chirruping, growling, meowing, purring and much more – cats have a big repertoire of noises. We'll look at what all those different cat noises mean, including lots of cat sound bite videos, to help you understand which noise your kitty is making. 
If you have a kitty, then you know that cats are extremely unique creatures. The mere fact that a cat can survive, and sometimes remain completely uninjured, after falling upwards of 32 stories is enough to make you wonder if felines are truly magical.
If that is not enough to make you wonder, then try listening to all of the mesmerizing cat sounds your feline makes throughout the day.
You should know that most of the "magical" and amazing attributes attributed to cats can be explained by science. Just like the parachuting affect that cats use to reduce the impact of a fall, those crazy sounds can be explained as well.
In this article, we investigate cat sounds so you can understand exactly what your feline may be trying to communicate.
What Sound Does A Cat Make?
Cat sounds are unique to each feline and there are a wide variety of noises that cats can make. However, there are a few facts we know about the sounds.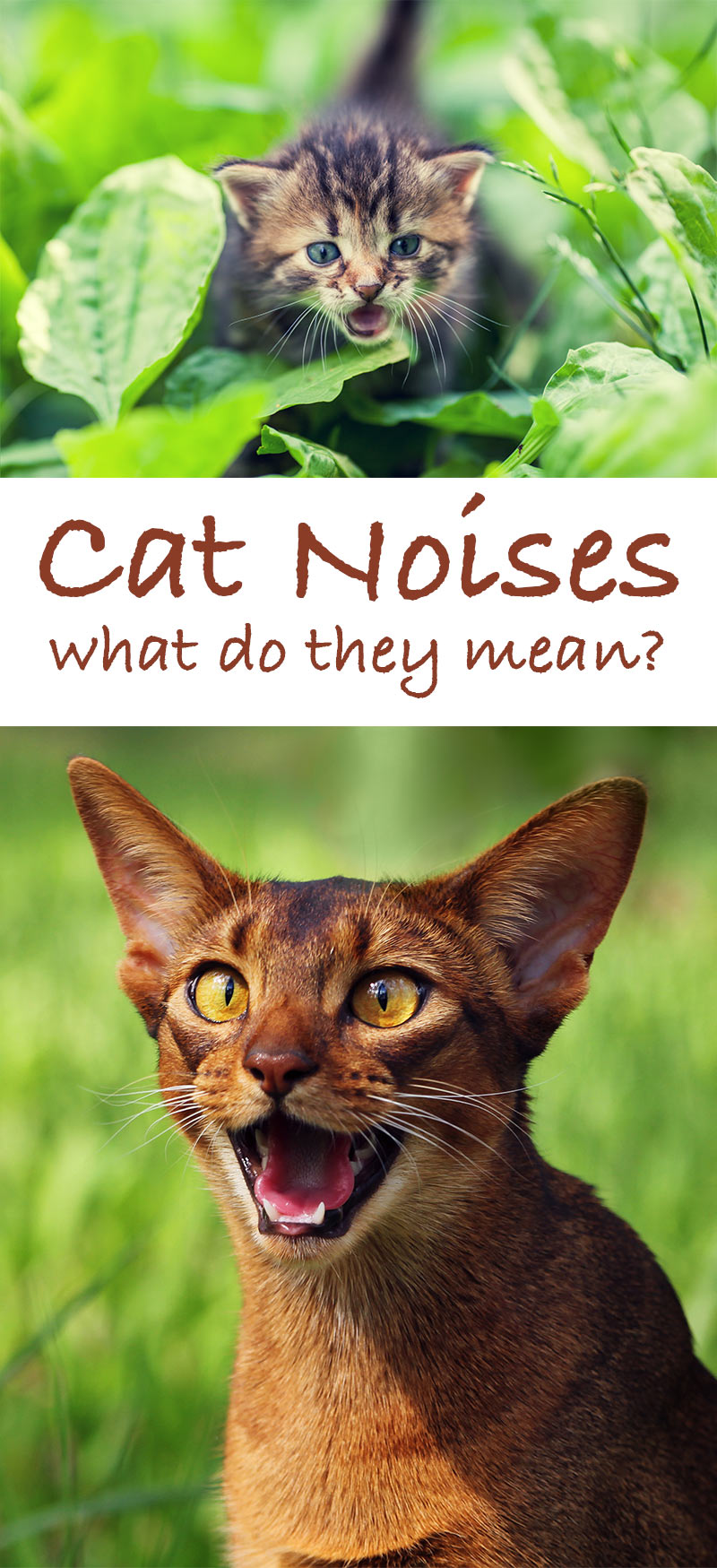 Kittens are far more vocal than older cats due to their need to communicate with their mothers, and domestic cats "talk" more than feral ones do.
Some cat breeds even tend to make more noises than others. Siamese, Sphynx, Oriental, Peterbald, Japanese bobtail, and Bengal cats top the kitty sounds volume list.
Many pet owners say that Bengal cats are by far the most vocal, with the felines communicating almost constantly. If you have one of these cats, then you may not be too surprised by this.
If you do not have an especially vocal feline, your cat probably does meow at you on occasion.
In fact, your cat may only meow when you are present, since the vocalization is typically a signal that your cat needs something or wants something.
What Is A Cat Meow?
As previously mentioned, even cats that are not particularly vocal will meow.
It is by far the most common of cat sounds and it is used as a signal to humans.
Cats do not signal to other felines by meowing; they instead use their tails to communicate.
Since humans do not have tails and do not respond to this sort of communication, cats vocalize instead.
After all, humans are quite vocal themselves!
Meows can vary from cat to cat. However, the vast majority of felines meow in a tonal way where the vocalization rises and falls.
If your feline has a meow that rises at the end, then it may seem as though he is asking you a question. In, fact, he just might be (in cat speak).
Meows are so varied between cats and are used for so many different purposes that researchers have had a hard time actually studying the vocalizations and figuring out the true "language" of cats expressed through meowing.
Cat Meow Variations
There are a few things that research has revealed about meows, like the fact that domestic cats have much more pleasant sounding varieties than wild cats.
They are also shorter in duration and higher pitched.
Your cat does not simply create a nicer sounding meow just for your benefit.
Cats sound the way they do because the more pleasant sounding felines were chosen as pets in the past.
These pets were then able to have kittens who also had more pleasant sounding vocalizations. So, basically, cats have been bred to sound appealing to their owners.
Also, cats seem to have a dialect based on where they live, according to research being conducted by Lund University in Sweden. So, the meow your cat makes may be different than his feline counterpart living in France or Spain.
How Do Cats Meow?
Cats are physically able to meow for the same reason that other mammals can make vocalizations; they have vocal cords. Interestingly enough, cats have much more complex vocal cords than humans.
Cats have two different sets of cords so different types of kitty sounds can be created. The larger cords, which are similar to the ones that humans have, are used for meowing. The smaller ones are utilized when your cat purrs.
Cats meow by forcing air through the vocal cords until they vibrate. The vibration occurs when your feline exhales. The muscles that line the throat are then moved to stretch the cords and also to move them closer and farther apart. All of these movements help to create the different vocalizations.
If cats have such complex vocal cords as compared to humans, then you may wonder why felines cannot speak like humans. Well, this has a lot to do with human anatomy. Specifically, humans have a hyoid bone (small horseshoe-shaped bone) that sits at the top of the neck. This bone is in the exact position to allow the hyoid, larynx, tongue, vocal cords, and the large skull to work in conjunction with one another to create so many different vocal sounds.
Why Do Cats Meow?
In its simplest form, kitty sounds are used as a signal. Meowing is the way that your cat alerts you to both non-serious and serious issues.
Cats meow for a variety of reasons, but they will most often vocalize when they want food, water, or attention.
Cats also meow to signal distress and this can lead to excessive vocalization. There is no exact "amount" that can help you to determine whether or not your cat is meowing excessively. However, you can use your cat's breed, age, personality and normal behavior to determine this.
Excessive Mewing Causes
Some common ailments that can cause excessive meowing include:
Cognitive dysfunction – Like humans, the brain of your cat can deteriorate with age. This can create confusion and disorientation, especially at night.
Kidney disease – Felines with this long term disorder will often meow due to an increase in thirst and the need for a constant supply of fresh water.
Overactive thyroid – An overactive thyroid can lead to hyperactivity which can cause your cat to pace and meow.
Other disorders – any condition, like cancer, congestive heart failure, organ failure, or broken bones can lead to meowing if they cause discomfort. This is one reason why it is so important to have your cat evaluated by an animal doctor if excessive vocalization is detected. While this is true, meowing caused by pain is usually quite distinctive and lower in tone than a typical vocalization.
Don't click on this video if you think it might upset you – the cat is in pain
If you hear your cat making a noise like this, you need to get him to your vet straight away. Or any kitty sounds that are not normal for your cat, for that matter.
Of course, cats may also meow because they are bored, so try switching up your feline's toys to see if this helps to reduce the vocalizations a bit, especially if your veterinarian provides your cat with a clean bill of health.
Why Is My Cat Vibrating! Purring Explained
Cat purring is the second most common feline sound that you are likely familiar with.
Purring is unique, because only a few animal species have the ability to purr. While some people think that only cats can create the distinctive noise, lemurs, rabbits, raccoons, guinea pigs, and squirrels can as well.
Cats purr by using the smaller set of vocal cords. They are called the false or superior cords that sit just inside the larger or true vocal cords. Purring begins in the brain where a signal is sent to the throat muscles. The signal tells the tissues to vibrate at an exceptional speed of up to 150 pulsations per minute. This creates the vibration and the purring sounds as your feline breathes in an out.
Cats purr for a wide variety of reasons and they will usually do so when happy. Purring is also a self soothing tactic to assist with pain. For example, cats will often purr heavily when they are about to give birth.
Purring is also used to manipulate you into acting in a certain manner. Research completed by the University of Sussex tells us that cats create a special purr when they want to solicit food or head rubs from you.
The purr contains a high pitched call embedded in it. This relates the message of urgency in a pleasant way that releases your inner kitty nurturer who then reaches for that can of food or dutifully scratches your kitty's chin.
Kitten Sounds
Purring is not only a vocalization used by adult cats, but it is used by kittens as a means of communication.
Kittens are blind and deaf when they are born. At birth, kittens are drawn to the vibrating purr of their mother so they can nurse and retain warmth. At two days old, the kittens can start to purr as well, and they do so to communicate with their mother.
Kittens also create what is referred to as the "silent meow." However, it is anything but silent. These vocalizations are actually high-pitched and only the momma cat can hear them. If you see a kitten opening and closing his mouth, but you hear nothing coming out, then the sound is probably high above your hearing range, much like a dog whistle.
Kittens will often meow as soon as they are born as a way to call their mother, even though they cannot hear themselves. This is similar to the way a baby cries, and as kittens age, they start to hiss, howl, chirp, and create all of the wonderful noises that an adult cat makes.
Happy Cat Sounds
While purring and meowing sounds are typically used by cats to vocalize happiness, felines do create other sounds to show the emotion. After all, cats are capable of creating over 100 different distinctive sounds.
One common sound is the chirrup that sounds like a cross between a short meow and a purring sound. The chirrup is a greeting and used as a way to grab your attention or to simply say hello.
Sometimes the chirrup turns into a trill, where your cat seems to be making several chirrup sounds in quick succession. Trills are often used as an alternative to a meow to communicate a need, like the desire to be fed.
Another happy sounds that is comical to pet owners is the cat chatter which can be heard as your cat stares longingly at a flock of birds out the window.
While some cat experts say that the chattering is a sound made in elated anticipation of catching prey, a recent study sheds a bit more light on this subject.
The study, conducted in the Amazon, revealed the fact that leopards mimic the calls of their prey to draw them in. This allows the animals to retain their energy reserves while hunting. The successful approach is likely the reason why your feline chatters at birds through the window.
Next time you hear your cat chattering, listen closely for bird chirping noises first. If you hear the sounds and then notice your cat mimicking them, then he is trying to persuade the bird to come closer so it can be caught.
Angry Cat Sounds
If you have an especially mellow cat, then you may rarely hear angry cat noises. However, even the happiest feline has been known to become a bit annoyed.
The most common angry cat noises include growling and hissing. Both of these noises, along with yowls, snarls, and shrieks are created in a similar manner as a meow with the larger or true vocal cords. However, unlike happy noises, the angry ones are formed with the mouth kept just slightly open. This amplifies the sound and the movement of the throat muscles can quickly turn a deep growl into a high-pitched screech.
Cat Growling
Cats growl as a warning and the sound may be created as either a defensive or offensive sound. The growl is basically used when there is a perceived threat nearby. While the growl is typically created as a warning to stay away, it may be used in conjunction with hissing and snarling to scare off the threat.
Depending on the threat, your cat will use body language as a strong communication signal. If your cat is scared and feeling defensive, then he will flatten his body against the ground and lean away in an attempt to look smaller.
If your cat is on the offensive, then he will make himself look larger with a hunched back, raised tail hairs, elevated rear, and stiff and straight legs.
Cat Fight Sounds
If you have ever witnessed a fight between two cats, then you know that fight sounds are loud, intense, and unpleasant. Fighting sounds are unmistakeable and they are created for a variety or reasons.
The first fighting sounds are formed to try to scare, intimidate, warn, or threaten the animal or person in the hope that it will retreat. Cats will try to avoid fights if they possibly can. This is one reason why you will hear some of the most frightening hissing, growling, and snarling just before and at the beginning of a fight.
If a fight does progress, then snarls and hisses can turn into screams.
Screams are loud and drawn out meows that indicate your feline is in pain or he is swatting, clawing, or biting in a grand show of aggression.
While most cat fights are more verbal than physical, it is best to seek out emergency veterinary care if your cat gets into a fight due to possible bite and scratch infections risks.
Cat Translator – Cat Sounds Meaning
You probably understand by now that cats make a wide variety of sounds. It is only natural to try to understand what your feline is trying to say, and this is one reason why many companies have produced handheld cat translators and smartphone apps.
Unfortunately, cat translators are not effective communication tools. There simply are too many sounds and variations to construct a comprehensive "cat language." After all, animal researchers have been trying to do just this for years without a great deal of success.
If you want to know what your cat is saying, then use your observation skills and learn your feline's unique personality and desires. If you pay attention, you furry friend will give you all the clues you need.
What kitty sounds does your cat make?
Do you have a chatty cat or does your feline have his own unique meow? Let use know in the comments below.
References
Vnuk D1, Pirkić B, Maticić D, Radisić B, Stejskal M, Babić T, Kreszinger M, Lemo N. Feline high-rise syndrome: 119 cases (1998-2001). J Feline Med Surg. 2004 Oct;6(5):305-12.
Nicastro N1, Owren MJ. Classification of domestic cat (Felis catus) vocalizations by naive and experienced human listeners. J Comp Psychol. 2003 Mar;117(1):44-52.
"The cry embedded within the purr', Current Biology, (Cell Press, 14 July 2009), K McComb, A M Taylor, C Wilson & B D Charlton.
Fabiano de Oliveira Calleia, Fabio Rohe, Marcelo Gordo. Hunting Strategy of the Margay (Leopardus wiedii) to Attract the Wild Pied Tamarin (Saguinus bicolor). Neotropical Primates 16(1):32-34. 2009
Schötz, S et al 2016 Melody in Human–Cat Communication (Meowsic): Origins, Past, Present and Future. Lund University.