Welcome To Our Complete Guide To The Exotic Shorthair Cat Breed.
If you are thinking of bringing home a cat, then we will help you to decide whether the Exotic Shorthair is the right breed for you.
Looking at their distinctive appearance, and loving temperament. As well as their gorgeous coat, sweet personality and potential health problems.
What exactly is this cat with the intriguing name?
Well, we explore just this question, and many others now!
What Is An Exotic Shorthair Cat?
The name of the Exotic Shorthair implies a unique set of features. Like the hairlessness of the Sphynx, or the slim and lanky body of an Oriental Shorthair.
However, the Exotic Shorthair does not have an exotic appearance.
Its name refers to its uniqueness in relation to its longhaired relative, the Persian.
Specifically, the Exotic Shorthair is the shorthair version of the Persian.
Cats are noble and elegant creatures, and no cat is more elegant than the traditional Persian.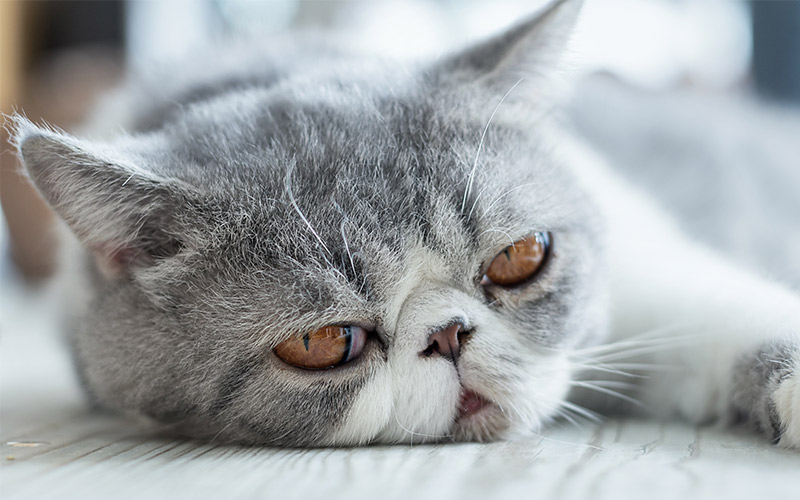 The old breed cat can be traced back to Mesopotamia, and the feline has long grabbed the attention of travellers, like Pietro Della Valle, who brought the elegant feline to Europe in the early 1600s.
While Persians are extremely popular and the epitome of feline elegance, they do have one distinct drawback. Their long, luxurious coats can be a nightmare to groom.
If grooming is not something you want to spend an entire Saturday on, then an Exotic Shorthair may be more your speed.
While the Persian is an old breed, the exotic shorthair is a much newer one.
In fact, the breed is less than 50 years old with recognition by the Cat Fanciers' Association in 1987 as an outcross breed.
Outcross breeding is when a breeder introduces new genetic material into a breed to help reduce genetic abnormalities and diseases caused by close familial lineages.
When it comes to the Exotic Shorthair, the Persian and the American Shorthair have been mixed to create the breed.
Exotic Shorthair Temperament
Exotic Shorthair felines are extremely similar to their Persian ancestors in a lot of ways, and this includes temperament. If you do not know a lot about Persians, then you are in for a treat.
The cats are loving creatures that adore their human companions.
Many of them become lap cats that like nothing more than to take a snooze on their owner's lap.
As sweet and easygoing as your Exotic Shorthair may be, you should remember their American Shorthair genes. The genes add a bit of spunk.
While you can expect a Persian to laze all day, an Exotic Shorthair may have spurts of energy and show his or her playful side.
For this reason, make sure to keep some toys around the house so your feline does not become bored.
Exotic Shorthair Personality
As previously mentioned, Exotic Shorthairs are gentle and kind. They also tend to be a bit needy when it comes to attention.
Their gentle nature makes them ideal cats for seniors and others who have quiet households. However, the cats do tend to become lonely when left alone for long periods of time.
If you do have an Exotic and need to leave your cat alone, then the good news is that you can play music to help your cat feel content. Do not make the mistake of playing classical tunes though.
According to a research study conducted by the University of Wisconsin, cats prefer their own music and respond positively to tunes arranged in higher frequencies.
So, skip the Mozart, and splurge for that music for cats CD you keep seeing on Amazon.
Exotic Shorthair Colors
When Exotic Shorthairs were originally bred and created as an outcross breed, Persians were mixed with felines like Russian Blues and Burmese cats.
This created a distinctive silver tone, and shorthair breeders originally intended to retain the unique silver color.
Some Exotic Shorthair cats do have a silver color, but they also seem to run the gambit of coloration from solid black, red, cream, chocolate, or white, or you may notice an Exotic with a tabby or tortoiseshell appearance.
The color variation has a lot to do with the variations commonly seen in both Persian and American Shorthair felines.
Is The Exotic Shorthair Cat Hypoallergenic?
The main difference between an Exotic Shorthair and a Persian is the length of the hair. Persians have long hair, and Exotics have short or medium length hair.
Some people believe that the difference in the hair length helps to reduce allergy concerns. Unfortunately, this is not the case and these cats are not considered hypoallergenic.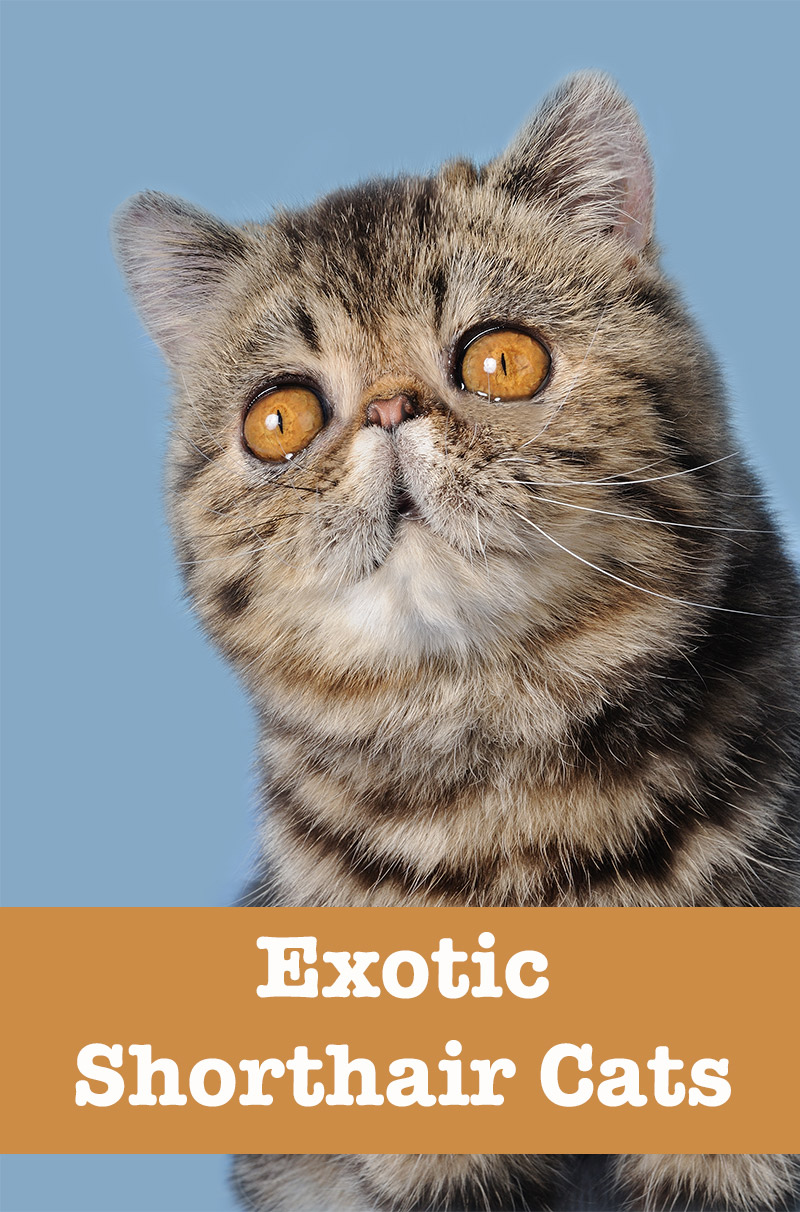 Cat allergies are caused by a specific protein that is produced in a cat's saliva and in its sebaceous glands (oil secretion glands in the skin).
Allergens are most likely present on the small flakes of skin, called dander, that fall from your cat's body.
If you are concerned about allergies, then speak with your veterinarian about a good cleaning and grooming routine that can help to reduce the allergens in your home.
Exotic Shorthair Cat Health Problems
Since the Exotic is an outcross breed, your feline is likely to be healthier than a Persian feline.
However, the breed does have some common health issues you need to be aware of.
Brachycephalic Respiratory Syndrome
Exotics have the most adorable flat and round faces with big eyes and a short nose.
While the telltale physical features are what make the cats so appealing, they are the cause of most of the health issues that plague the cat.
The size and shape of the head and the appearance of the pushed in face is referred to as brachycephalic. Brachycephalic airway syndrome (BAS) is the most common issue to plague Exotics.
BAS is a chronic upper airway disease that produces resistance while breathing, airway inflammation, and difficulty catching breath during and after physical activity.
BAS can be assisted in a number of ways. If your feline is obese, then a weight loss regimen should be started immediately.
Keeping your cat in cool and dry conditions can help too. Sometimes, something as simple as installing an air conditioner in your home can help.
If your cat has a severe case of BAS, then surgery may be necessary.
A simple operation that involves the widening of the nasal cavities may be all that is needed. In some cases though, the soft palette may need to be shortened and the larynx may require an adjustment.
Calcium Oxalate Urolithiasis
Calcium Oxalate Urolithiasis is a urinary disorder that can occur in dogs, cats, and even humans. Certain animal breeds are predisposed to the condition and include both Persians and Exotic Shorthairs.
The condition involves the crystallization of dissolved salts in your cat's bladder. Both calcium oxalate and magnesium ammonium phosphate congest in the urine.
When the calcium oxalate crystalizes, stones called uroliths congest and accumulate in the bladder.
Uroliths can lead to dangerous and painful urethra blockages. If the blockage is not removed quickly, then your cat can die.
The good news is that uroliths can be easily prevented with the assistance of a feline urinary health diet. This diet is typically made up of canned food that has a high water content, elevated potassium citrate, and a large amount of protein.
Feline Polycystic Kidney Disease
Polycystic kidney disease or PKD is an inherited kidney illness that has long been reported as an ailment that affects Persians and cats that are Persian-cross breeds.
This means that cats like Exotic Shorthairs and Himalayans are likely to develop the disease.
PKD is an irreversible disease where cysts develop inside the kidneys. The disease leads to kidney failure as the cysts multiply and take up all of the space in the organs.
Basically, the disease ends with kidneys that no longer have any healthy tissue and that cannot function to filter the wastes from the blood.
PKD can be successfully treated with a kidney transplant. However, there are many risks associated with the surgical treatment, as explained by veterinarian Lillian R. Aronson.
Also, many individuals do not have the $10,000 to $15,000 to pay for the surgery, especially if there is a good possibility of failure and short survivals after the procedure.
One alternative to the surgery is medication. Several medications, like ones to control blood pressure, anemia, vitamin deficiencies, and kidney degradation may be needed.
Exotic Shorthair Cat Life Expectancy
Exotic shorthairs have an average life expectancy that is similar to that of both American Shorthairs and Persians.
Both of these cats have lifespans that are 15 years or longer, and so does the Exotic.
You should know that lifespans can reduce significantly if your feline has one of the common predisposed or genetic conditions.
This is one reason why it is so important to inquire about the parents when you purchase an Exotic Shorthair.
Exotic Shorthair Breeders
If you decide to go with a breeder for your Exotic, then you should ask about the health of the mother and father. If possible, ask to see medical records that show that the Persian parent does not have a genetic marker for PKD.
Even if the feline does not have the disease, at least 50% of kittens can develop the ailment if the gene is passed down. This is one reason why you cannot simply ask to see basic medical records.
If you are concerned about breathing difficulties, you can also inquire about the Persian's cephalic index.
This might sound complicated, but it is really just the ratio of head width to length.
You want this ratio to be closer to 80 than to 100 to minimize the chances of future breathing issues in the cat you choose.
Exotic Shorthair Kittens
Now comes the fun part. If both parents check out health wise, then you will have the opportunity to pick out your kitten.
Look for kitten with a more traditional "cat" appearance with a bit of a longer nose and fuller face.
You probably have figured out by now that a flatter face might look awfully cute, but it can lead to upper respiratory problems down the road, even if the parents are healthy.
Exotic Shorthair Price
If you have been doing your homework, then you may already know that purebred cats are expensive. Exotics are somewhat on the inexpensive side, as far as purebreds go.
You can find some breeders that sell their felines for $1,500 or more, but you can typically find kittens for under $700.
Some breeders charge as little as $500.
Exotic Shorthair Adoption
There are some Exotic Shorthair rescue organizations within the United States. Consider looking for a purebred rescue organization. Rescues will not always have kittens, but if they do, you may be able to find one for less than $400.
Keep in mind that some individuals will surrender their cats, like Exotics, after they are diagnosed with an expensive and life-threatening ailment.
Do not be surprised if a sick feline is available for adoption.
Keep in mind that a chronically ill cat can provide the love and companionship that you are looking for, so do not count the cat out just yet. Some rescues will provide information as well as discount medication if you are willing to go the extra mile to care for an ill cat.
Exotic Shorthair Mix
If you do not want to pay a lot for your feline or if you want a cat that is unlikely to carry a gene for a debilitating disorder, then you can opt for a shorthair mix.
This may seem confusing, since Exotics are mixes to begin with.
However, a mix would be something like an Exotic bred with an American Shorthair. This would result in a feline with two-thirds of its genes coming from an American Shorthair and one-third from a Persian.
There are, of course, mixes with a multitude of different genes. The more variety, the healthier your feline is likely to be.
If you are set on buying an Exotic Shorthair then a mix is a healthier problem, as long as it's combined with a non-brachycephalic breed.
Should I Buy an Exotic Shorthair?
Exotic Shorthair cats can make wonderful pets, especially if you are looking for that special lap kitty to fill your heart.
However, you should be well aware of the potential upper respiratory issues and possible genetic problems that may arise.
Make sure that you investigate the health of the parents when buying a kitten and also schedule regular examinations with your veterinarian.
Your vet is also the perfect professional to provide you with insight into the best environment, diet, and exercise plan to keep your cat in great health.
However, only you can decide whether you are happy to support a breed that has been selected to be less healthy than their longer faced kitty friends.
References
Monika J. Lipinski. The Ascent of Cat Breeds: Genetic Evaluations of Breeds and Worldwide Random Bred Populations. Genomics. 2008 Jan; 91(1): 12–21.
Charles T. Snowdon, David Teie, Megan Savage. Cats Prefer Species-Appropriate Music. Applied Animal Behaviour Science, 2015; DOI: 10.1016/j.applanim.2015.02.012
University of Wisconsin-Madison. "Move over Mozart: Study shows cats prefer their own beat." ScienceDaily. ScienceDaily, 10 March 2015.