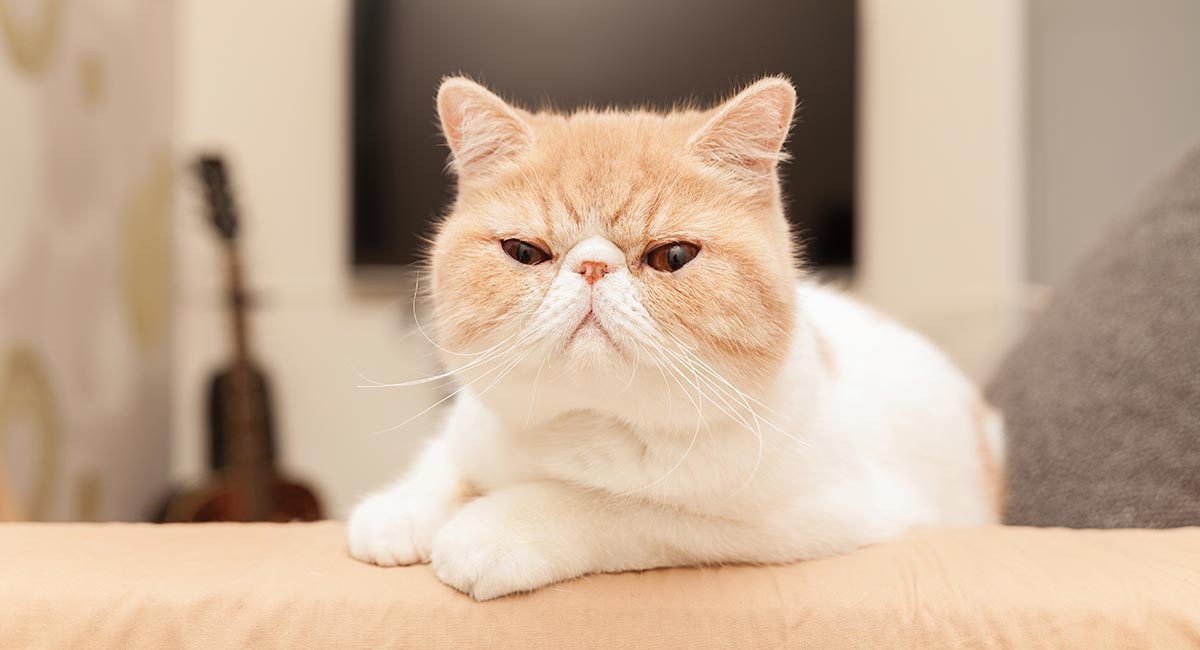 The Exotic Shorthair cat has descended from the American Shorthair and Persian breeds, and has a short, plush coat. Frequently displaying a Persian-like personality, these cats love their humans and can be great lap cats, weighing up to 15 pounds. However, they also are easier to take care of and groom, as they have shorter hair.
A relatively newer breed, the Exotic Shorthair cat has a lot to offer to a potential owner who is looking for an affectionate feline companion.
What's In This Guide
Exotic Shorthair FAQs
Our readers' most popular and frequently asked questions about the Exotic Shorthair.
Exotic Shorthair Breed Review: Contents
What Is An Exotic Shorthair?
The name of the Exotic Shorthair implies a unique set of features. However, the Exotic Shorthair does not really have an exotic appearance.
Its name refers to its uniqueness in relation to its longhaired relative, the Persian. Specifically, the Exotic Shorthair is the shorthair version of the Persian.
The old breed cat known now as the Persian can be traced back to Mesopotamia. The feline has long grabbed the attention of travellers, like Pietro Della Valle, who brought the elegant breed to Europe in the early 1600s.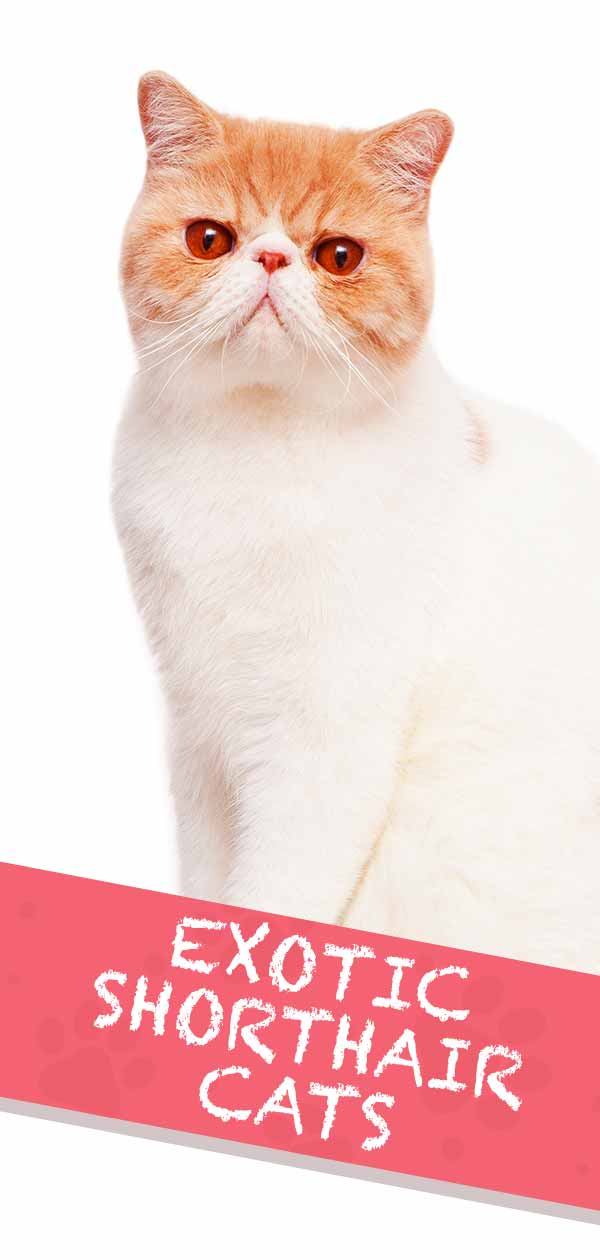 While Persians are extremely popular and the epitome of feline elegance, they do have one distinct drawback. Their long, luxurious coats can be a nightmare to groom.
If grooming is not something you want to spend an entire Saturday on, then an Exotic Shorthair may be more your speed.
Exotic Shorthair History
While the Persian is an old breed, the Exotic Shorthair is a much newer one. When it comes to the Exotic Shorthair, the Persian and the American Shorthair have been mixed to create the breed.
In fact, the breed as it is today is less than 50 years old. Originally created in the 1950s, the cross was intended to improve the body type of the American Shorthair.
It wasn't until later, after some wrangling with American Shorthair breeders, that the Exotic Shorthair achieved recognition as a new breed, in 1966.
Later, in 1987, the Cat Fanciers' Association closed outcrossing to other shorthair breeds, only allowing outcrossing to Persians. Outcross breeding is when a breeder introduces new genetic material into a breed to help reduce genetic abnormalities and diseases caused by close familial lineages.
With that closure, the Exotic Shorthair was brought to the status it is in today: a separate breed with clearly distinguishable lineage.
Exotic Shorthair Personality
Exotic Shorthair felines are extremely similar to their Persian ancestors in a lot of ways, and this includes temperament. If you do not know a lot about Persians, then you are in for a treat.
The cats are loving creatures that adore their human companions. Many of them become lap cats that like nothing more than to take a snooze on their owner's lap. They also tend to be a bit needy when it comes to attention.
As sweet and easygoing as your Exotic Shorthair may be, you should remember their American Shorthair genes. That heritage adds a bit of spunk.
While you can expect a Persian to laze all day, an Exotic Shorthair may have spurts of energy and show his or her playful side.
For this reason, make sure to keep some toys around the house so your feline does not become bored.
Exotic Shorthair Temperament
Typically, Exotic Shorthair cats are happy to be taken care of and loved.
But with the more alert, dynamic lineage of the American Shorthair, it should be noted that Exotics can be quite capable hunters of mice and other vermin.
However, these cats should not be overly aggressive or given to biting.
Can Exotic Shorthairs Go Outside?
There is some debate on whether cats in general should be outdoor, indoor, or a mix of both.
Several factors are at play here, so we can't be dogmatic on this issue. Each owner should decide for themselves what is best for their individual cat.
Factors like proximity to traffic, wild animals, and even neighborhood dogs all play a part in this decision.
Since Exotic Shorthairs are generally home-loving and not necessarily very active, they will likely adapt very well to being largely an indoor cat.
However, for more in-depth discussion on this to help you decide, check out this article for the pros and cons of each choice.
Exotic Shorthair Weight
The Exotic Shorthair is a cat that may look and feel like a large cat, while really only being about a medium size.
These cats look somewhat thick, due to large bone structure and dense, plush fur.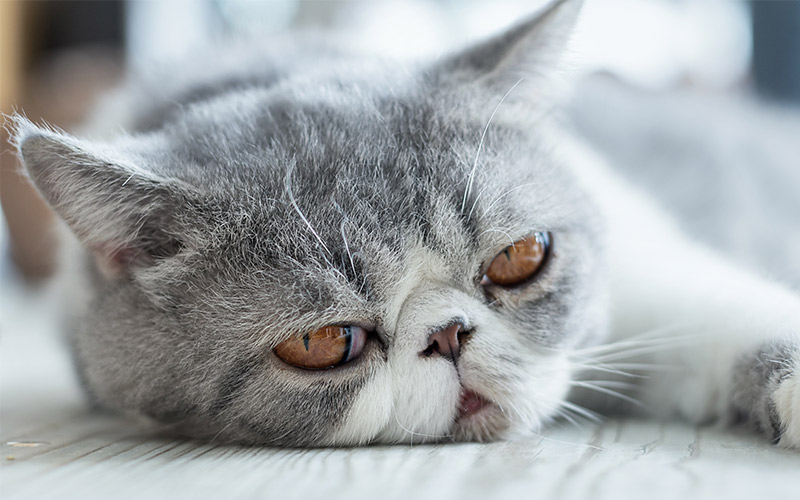 They are fairly low to the ground, with shorter legs and a compact frame. Weight-wise, they can reach up to about 15 pounds, but most of this is due to the density of their bones.
Because of their heritage, Exotic Shorthairs follow the same basic breed standard as Persians, with the one exception being the length of the coat.
Exotic Shorthair Colors And Coats
When Exotic Shorthairs were originally bred and created as an outcross breed, Persians were mixed with felines like Russian Blues and Burmese cats.
This created a distinctive silver tone, and shorthair breeders originally intended to retain the unique silver color.
Some Exotic Shorthair cats do have a silver color, but they also seem to run the gambit of coloration:

Solid black
Red
Cream
Chocolate
White
Tabby
Tortoiseshell
Exotics can also carry a recessive longhair gene, thanks to their Persian heritage. If two Exotics carrying the gene have offspring, there's a one in four chance that their kittens will be longhaired.
Some establishments, such as the American Cat Fanciers Association, actually register these types of Exotics as a separate breed, the Exotic Longhair.
Grooming Your Exotic Shorthair
The thick, short fur of the Exotic Shorthair is extremely soft, and even if you don't feel the need to groom your cat frequently, you may just want another excuse to pet her!
That being said, Exotic Shorthair cats are much more low-maintenance than their longhaired Persian cousins.
Still, it's always a good idea to accustom kittens to regular grooming, such as once a week.
This will help your cat's fur to be kept in good shape, as well as giving you more bonding time with your furry friend.
Exotic Shorthair Shedding
Exotics are frequently touted as a very low-shedding breed. But they do shed, as do all furred animals.
Regular combing, at least once a week, will help to control shed hair. It will also do a lot to keep potential hairballs to a minimum.
Are Exotic Shorthairs Hypoallergenic?
The main difference between an Exotic Shorthair and a Persian is the length of the hair. Persians have long hair, and Exotics have short or medium length hair.
Some people believe that the difference in the hair length helps to reduce allergy concerns. Unfortunately, this is not the case, and these cats are not considered hypoallergenic.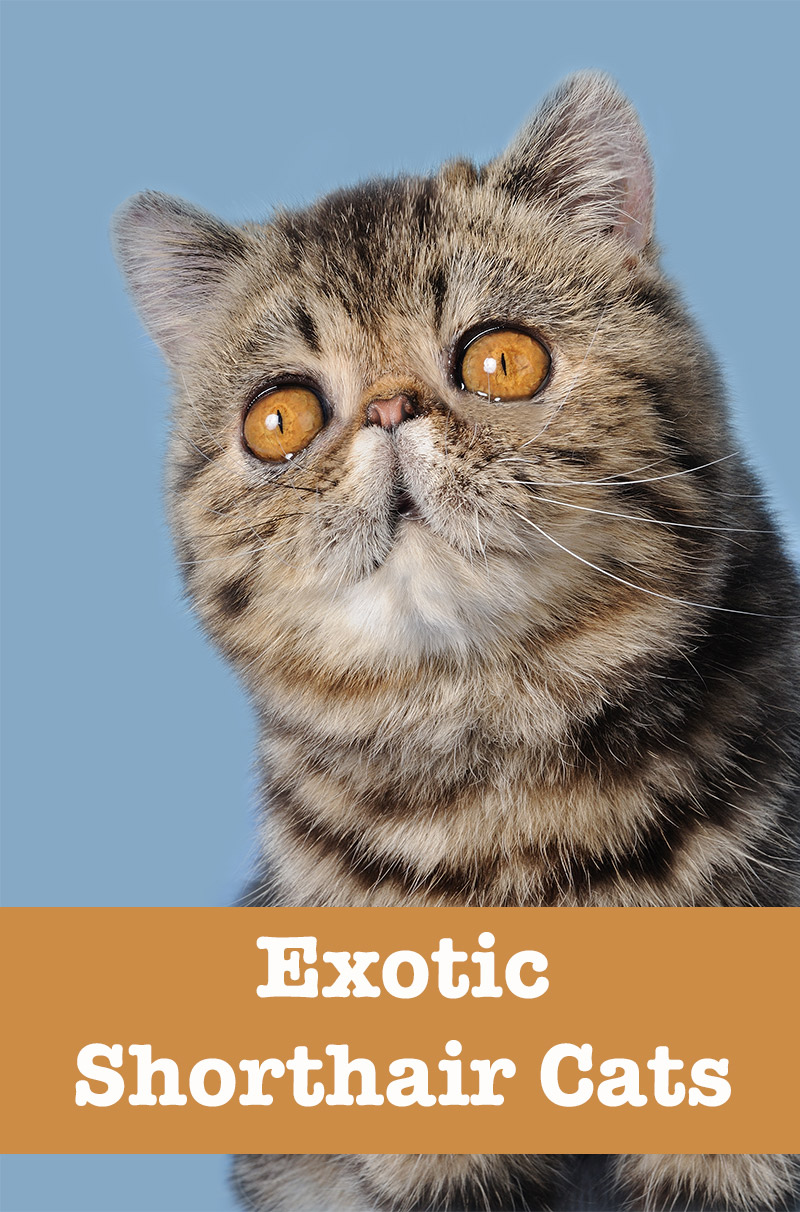 Cat allergies are caused by a specific protein that is produced in a cat's saliva and in its sebaceous glands (oil secretion glands in the skin). Allergens are most likely present on the small flakes of skin, called dander, that fall from your cat's body.
If you are concerned about allergies, then speak with your veterinarian about a good cleaning and grooming routine that can help to reduce the allergens in your home.
For more information on which breeds are most helpful to allergy sufferers, take a look at this article.
Exotic Shorthair Health Problems
Since the Exotic is an outcross breed, your feline is likely to be healthier than a purebred Persian feline.
However, the breed does have some common health issues you need to be aware of.
Whenever possible, parent cats should be health tested for any potential issues that could be passed down to the kittens.
Some more minor, manageable common issues that may be faced by an Exotic include separation anxiety and weight problems.
But there are some larger problems that may be faced as well.
Brachycephalic Respiratory Syndrome
Exotics have flat, round faces with big eyes and a short nose. While the telltale physical features are what make the cats so appealing, they are the cause of most of the health issues that plague the breed.
The size and shape of the head and the appearance of the pushed in face is referred to as brachycephalic. Brachycephalic airway syndrome (BAS) is the most common issue for Exotics.
BAS is a chronic upper airway disease that produces resistance while breathing, airway inflammation, and difficulty catching breath during and after physical activity. BAS can be dealt with in a number of ways. If your feline is obese, then a weight loss regimen should be started immediately.
Keeping your cat in cool and dry conditions can help too. Sometimes, something as simple as installing an air conditioner in your home can help.
If your cat has a severe case of BAS, then surgery may be necessary. A simple operation that involves the widening of the nasal cavities may be all that is needed. In some cases though, the soft palette may need to be shortened and the larynx may require an adjustment.
Calcium Oxalate Urolithiasis
Calcium Oxalate Urolithiasis is a urinary disorder that can occur in dogs, cats, and even humans. Certain animal breeds are predisposed to the condition. This includes both Persians and Exotic Shorthairs.
The condition involves the crystallization of dissolved salts in your cat's bladder. Both calcium oxalate and magnesium ammonium phosphate congest in the urine.
When the calcium oxalate crystalizes, stones called uroliths congest and accumulate in the bladder.
Uroliths can lead to dangerous and painful urethra blockages. If the blockage is not removed quickly, then your cat could die.
The good news is that uroliths can be easily prevented with the assistance of a feline urinary health diet. This diet is typically made up of canned food that has a high water content, elevated potassium citrate, and a large amount of protein.
Feline Polycystic Kidney Disease
Polycystic kidney disease, or PKD, is an inherited kidney illness that has long been reported as an ailment that affects Persians and cats that are Persian-cross breeds. This means that cats like Exotic Shorthairs and Himalayans are likely to develop the disease.
PKD is an irreversible disease wherein cysts develop inside the kidneys. The disease leads to kidney failure as the cysts multiply and take up all of the space in the organs. Basically, the disease ends with kidneys that no longer have any healthy tissue and that cannot function to filter wastes from the blood.
PKD can be successfully treated with a kidney transplant. However, there are many risks associated with the surgical treatment, as explained by veterinarian Lillian R. Aronson.
Also, many individuals do not have the $10,000 to $15,000 to pay for the surgery, especially if there is a good possibility of failure or only short-term survival after the procedure.
One alternative to the surgery is medication. Several medications, like some to control blood pressure, anemia, vitamin deficiencies, and kidney degradation, may be needed.
Exotic Shorthair Lifespan
Exotic shorthairs have an average life expectancy that is similar to that of both American Shorthairs and Persians.
Both of these cats have lifespans that are 15 years or longer, and so does the Exotic.
You should know, however, that lifespans can reduce significantly if your feline has one of the common predisposed or genetic conditions.
This is one reason why it is so important to inquire about the parents when you purchase an Exotic Shorthair.
Caring For Your Exotic Shorthair
Exotics have very large, soulful eyes. While these are an appealing feature, adding to the general adorability of the breed, they also may need a little extra care and caution.
The eyes of Exotic Shorthairs may tend to be easily irritated. This can lead to noticeable tear-staining, especially in lighter-colored cats.
Make sure to carefully wipe her face with a warm, damp cloth, regularly, to prevent this from happening.
Exotic Shorthair Food
The dietary needs of Exotics are basically identical to the dietary needs of any other cat breed. But there may be some differences in how best to feed an Exotic Shorthair cat.
We go in depth on that issue in this article, as ensuring that brachycephalic breeds get the nutrition they need can be a complicated issue.
Typically, wet food is easier for cats to chew and swallow, making it a good choice for cats with flat faces like the Exotic.
Wet food is also helpful for some of the other health issues that face these cats, such as kidney problems. This is because wet food, naturally, has a higher moisture content.
Are Exotic Shorthairs Good Pets?
Apart from the potential health issues such as brachycephaly, Exotics can make excellent pets.
Their gentle nature makes them ideal cats for seniors and others who have quiet households. However, the cats do tend to become lonely when left alone for long periods of time.
If you do have an Exotic and need to leave your cat alone, then the good news is that you can play music to help your cat feel content. According to a research study conducted by the University of Wisconsin, cats prefer their own music and respond positively to tunes arranged in higher frequencies.
But, overall, it's recommended that these cats be brought into calmer households, with owners who have plenty of time for them.
Exotic Shorthair Breeders
If you decide to go with a breeder for your Exotic, then you should ask about the health of the mother and father. If possible, ask to see medical records that show that the Persian parent does not have a genetic marker for PKD.
Even if the feline does not have the disease, at least 50% of kittens can develop the ailment if the gene is passed down. This is one reason why you cannot simply ask to see basic medical records.
If you are concerned about breathing difficulties, you can also inquire about the Persian's cephalic index. This might sound complicated, but it is really just the ratio of head width to length.
You want this ratio to be closer to 80 than to 100 to minimize the chances of future breathing issues in the cat you choose.
Make sure to avoid pet stores and irresponsible breeders who cannot provide adequate information on the health and socialization of the cats.
Exotic Shorthair Price
If you have been doing your homework, then you may already know that purebred cats are expensive. Exotics are somewhat on the inexpensive side, as far as purebreds go.
You can find some breeders that sell their felines for $1,500 or more, but you can typically find kittens for under $700.
Some breeders charge as little as $500.
Regardless of the Exotic Shorthair price that you personally find, remember that the important thing is to ensure the health of the kittens and the ethical breeding practices of the breeder.
Exotic Shorthair Kittens
Now comes the fun part. If both parents check out health wise, then you will have the opportunity to pick out your kitten.
Look for Exotic Shorthair kittens with a more traditional "cat" appearance, with a bit of a longer nose and fuller face.
You probably have figured out by now that a flatter face might look awfully cute, but it can lead to upper respiratory problems down the road, even if the parents are healthy.
Caring for a kitten involves more than just cuddling and cuteness, of course. For guides on specific aspects of kitten care and raising, take a look at our articles on how to stop your kitten from biting, socializing your cat, and litter box training.
We also recommend The Happy Cat Handbook, for even more in-depth guides to everything you need to know about raising a cat.
Rescuing An Exotic Shorthair
If you are unable to find a breeder in your area, or if you're unable to pay the price that is asked, we heartily recommend checking into Exotic Shorthair cat adoption.
Rescuing a cat or a kitten is generally far less expensive than purchasing from a reputable breeder.
And it often gives a second chance to a cat who badly needs it.
For more information on rescues, jump down here.
Exotic Shorthair Mixes
Following the trend that is seen in the dog world, mixed breed cats are becoming increasingly popular. Of course, since this particular breed is already a newer one, Exotic Shorthair cat breeds are still finding their way.
Currently, the breed standard allows for outcrossing with Persians. But you may find "unofficial" Exotic Shorthair cat breeds mixed with any other breed, as well.
If you do not want to pay a lot for your feline or if you want a cat that is unlikely to carry a gene for a debilitating disorder, then you can opt for a shorthair mix. This may seem confusing, since Exotics are mixes to begin with.
However, a mix would be something like an Exotic bred with an American Shorthair. This would result in a feline with two-thirds of its genes coming from an American Shorthair and one-third from a Persian.
There are, of course, mixes with a multitude of different genes. The more variety, the healthier your feline is likely to be. If you are set on buying an Exotic Shorthair, then a mix is a healthier option, as long as it's combined with a non-brachycephalic breed.
Pros And Cons Of Getting An Exotic Shorthair
Cons:
Possibility of kidney disease
Health issues from brachycephaly
Likely needs to be an inside cat
Can suffer from separation anxiety
May need extra care due to health
Pros:
Very loving to family members
Quiet-voiced
Loves to be with her people
Generally fairly healthy and long-lived
Increasingly popular
Should I Get An Exotic Shorthair?
Exotic Shorthair cats can make wonderful pets, especially if you are looking for that special lap kitty to fill your heart.
However, you should be well aware of the potential upper respiratory issues and possible genetic problems that may arise.
Make sure that you investigate the health of the parents when buying a kitten and also schedule regular examinations with your veterinarian.
Your vet is also the perfect professional to provide you with insight into the best environment, diet, and exercise plan to keep your cat in great health.
However, only you can decide whether you are happy to support a breed that is likely to be less healthy than some others.
Exotic Shorthair Rescues
There aren't many rescue operations solely for Exotic Shorthair cats. However, we found some which focus on Persians, but which also try to help Exotics and some other closely related breeds.
If you come across any others, please leave us a comment and let us know!
References And Resources
Gough A, Thomas A, O'Neill D. 2018 Breed Predispositions to Disease In Dogs and Cats. Wiley Blackwell
Hawes et al. Factors Informing Outcomes for Older Cats and Dogs in Animal Shelters
O'Neill et al. Longevity and mortality of cats attending primary care veterinary practices in England
Monika J. Lipinski. The Ascent of Cat Breeds: Genetic Evaluations of Breeds and Worldwide Random Bred Populations. Genomics. 2008 Jan; 91(1): 12–21.
Charles T. Snowdon, David Teie, Megan Savage. Cats Prefer Species-Appropriate Music. Applied Animal Behaviour Science, 2015
University of Wisconsin-Madison. "Move over Mozart: Study shows cats prefer their own beat." ScienceDaily. ScienceDaily, 10 March 2015.
This article has been extensively revised and updated for 2019.