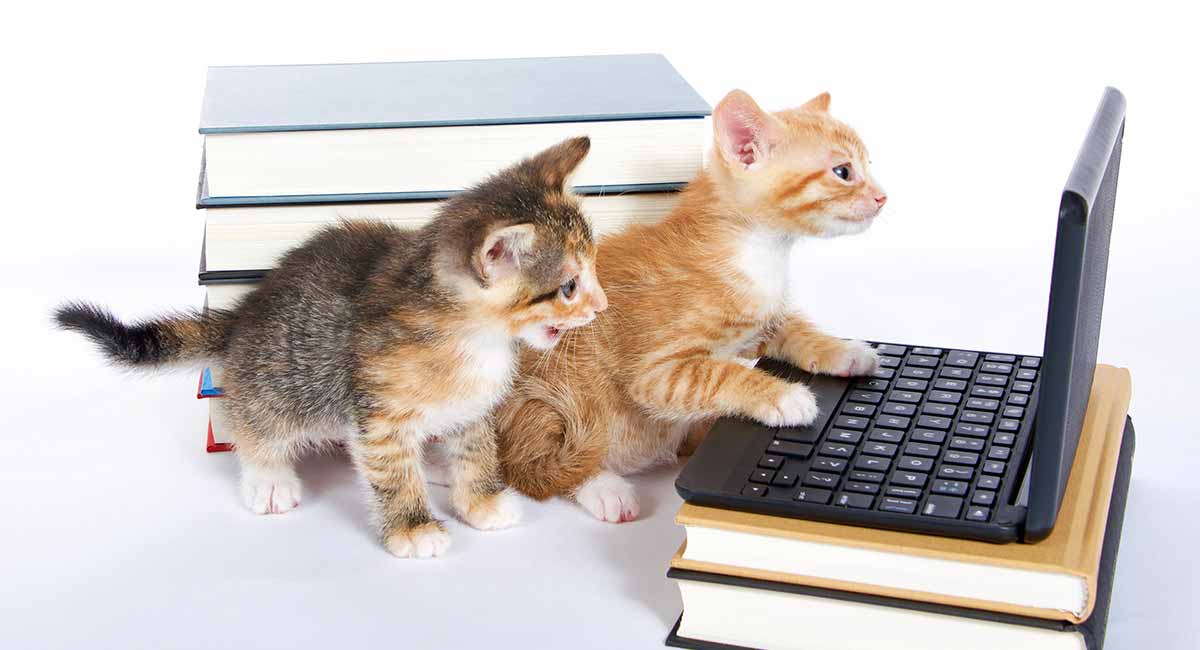 Funny cat quotes have the power to take the world by storm, or just raise a smile on your loved one's face.
They're great for any cat lover. You may find that your thoughts and cat-opinions are perfectly summed up by these quotes!
Let's take a look at a few of our favorites to get started:
Our Favorite Quotes
"Cat: a pygmy lion who loves mice, hates dogs, and patronizes human beings." – Oliver Herford
"I have a cat, the pet that ranks just above a throw pillow in terms of required responsibility." – Anna Quindlen
"Cats will amusingly tolerate humans only until someone comes up with a tin opener that can be operated with a paw." – Terry Pratchett
"People who hate cats will come back as mice in their next life." – Faith Resnick
"Dogs come when they're called; cats take a message and get back to you later." – Mary Bly
And we've got still more coming up!
The Joy of a Funny Cat Quote
It doesn't matter if you are a dog person or a cat person, we can all agree that there is something special and unique about our feline counterparts.
Perhaps it is that they are so indifferent to the wants and needs of us measly humans. They cuddle when they want to cuddle, eat when they want to eat, and knock glasses off the countertop because, why not?
Cats are funny little creatures, aren't they? With very little effort they have been able to wrap millions of us around their tiny paws by just being their unique, interesting selves.
So, with the spirit of cats in the air and our undying quest for all things funny, let's talk about cat quotes.
But not just any cat quotes. The best kind of cat quotes. Let's talk about funny cat quotes!
Why Are Funny Cat Quotes So Popular?
Cat quotes have infiltrated the internet. Memes, sayings, videos, social media posts – cats are everywhere!
Funny cat quotes are especially easy to come by considering cats are just so naturally funny. They do silly, albeit annoying and frustrating things, and they are as entertaining as they are apathetic.
Still, the more they drive us crazy and the less they need us, the more obsessed we become with these little miniature gods.
Admit it. You can't get enough of funny cats and that's totally why you're here.
Well, your wish is our command! Keep reading to get your daily dose of funny cat sayings, starting with the best of the best!
Best Funny Cat Quotes and Sayings
The below quotes are some of our most favorite funny cat quotes, which is the main reason we have added them to this first category.
What makes this list of funny cat quotes the best? Is it how relatable they are? See for yourself!
"One cat just leads to another." – Ernest Hemingway
"The way to get on with a cat is to treat it as an equal – or even better, as the superior it knows itself to be." – Elizabeth Peters
"When my cats aren't happy, I'm not happy. Not because I care about their mood but because I know they're just sitting there thinking up ways to get even." – Percy Bysshe Shelley
"In ancient times cats were worshiped as gods; they have not forgotten this." Terry Pratchett
"A cat can purr its way out of anything." – Donna McCrohan
Funny Cat Owner Quotes
Cat owners unite!
This list of funny cat quotes is hysterical for one big reason – each and every one of these quotes comes from the mind of an actual cat owner.
Look, we all know that cats have their quirks and that each one is totally unique in his or her own way. But there are a few things that all cats have in common.
Sometimes it's just nice to know you're not alone in the catdom universe. Join your fellow cat owners and get your chuckle on with these funny cat owner quotes below.
Let's Take A Look
"A cat isn't fussy – just so long as you remember he likes his milk in the shallow, rose-patterned saucer and his fish on the blue plate. From which he will take it, and eat it off the floor." – Arthur Bridges
"Cats do care. For example, they know instinctively what time we have to be at work in the morning and they wake us up twenty minutes before the alarm goes off." – Michael Nelson
"After scolding one's cat one looks into its face and is seized by the ugly suspicion that it understood every word. And has filed it for reference." – Charlotte Gray
"Cats can work out mathematically the exact place to sit that will cause most inconvenience." – Pam Brown
Here's a Few More!
"There is, incidentally, no way of talking about cats that enables one to come off as a sane person." – Dan Greenberg
"The problem with cats is that they get the same exact look whether they see a moth or an ax-murderer." – Paula Poundstone
"Every cat owner knows, nobody owns a cat." – Ellen Perry Berkeley
Funny Cat Quotes About Life
Love them or hate them, one thing is for certain – it is easy to see how cats and the realities of life go hand in hand.
Whether we are comparing a cat's personality to our own or just envying the fact at a cat's ability to lie around and do nothing all day, we all have a little feline in us. Or at least, we wish we did.
Here are the quotes to prove it.
Let's Take A Look
"It is impossible to keep a straight face in the presence of one or more kittens." – Cynthia E. Varnado
"An ordinary kitten will ask more questions than any five year old." – Carl Van Vechten
"A cat can be trusted to purr when she is pleased, which is more than can be said for human beings." – William Ralph Inge
"everything I know I learned from my cat: When you're hungry, eat. When you're tired, nap in a sunbeam. When you go to the vet's, pee on your owner." – Gary Smith
"I love them, they are so nice and selfish. Dogs are TOO good and unselfish. They make me feel uncomfortable. But cats are gloriously human." – L.M. Montgomery
Funny Cat Quotes About Dogs and Cats
While we know that many cats and dogs get along just fine, the supposed rivalry of the two opposing species dates back to the beginning of pethood!
So, it's no wonder these funny cat quotes comparing cats and dogs are so hilarious, not to mention true!
We totally relate to these quotes and sayings and think you will too.
Here They Are:
"Women and cats will do as they please, and men and dogs should relax and get used to the idea." – Robert A. Heinlein
"You can keep a dog, but it is the cat who keeps people because cats find humans useful domestic animals." -George Mikes
"Meow means woof in cat." – George Carlin
"If animals could speak, the dog would be a blundering outspoken fellow; but the cat would have the rare grace of never saying a word too much." – Mark Twain
Funny Cat Birthday Quotes
Okay, okay.
So, these are not so much funny cat birthday quotes as they are cute and funny quotes that would be perfect to send to a pal or loved one on his or her special day.
Write these quotes on a card, send them in an email, or just say them to your bud and watch that smile grow!
Besides, what greater gift in life is there than to be reminded to live life like a cat?
Let's Take A Look
"Cats choose us; we don't own them." – Kristin Cast
"Time spent with cats is never wasted." – Sigmund Freud
"Way down deep, we're all motivated by the same urges. Cats have the courage to live by them." -Jim Davis
"Cats have it all – admiration, an endless sleep, and company only when they want it." – Rod McKuen
Funny Cat Quotes for Instagram
Are you a social media guru? Do you want your cat to be instafamous?
If you have just uploaded the world's most hilarious cat photo and are looking for an appropriate caption, then this is the list of funny cat quotes for you.
Enjoy!
"Some people say that cats are sneaky, evil, and cruel. True, and they have many other fine qualities as well." – Missy Dizick
"If only cats grew into kittens." – R. Stern
"Cats' hearing apparatus is built to allow the human voice to easily go in one ear and out the other." Stephen Baker
"I explained it loud and clear. What part of "Meow" don't you understand?" – Lee Wardlaw
Looking for More Cat Quotes?
As we mentioned above, cat quotes are pretty popular and fun. We won't lie – we have totally "wasted" our time reading endless forums about cats and laughing at ridiculous cat videos on YouTube.
But is it really wasted time when you're having fun? We don't think so!
So, with that in mind, allow us to help you get through the workday with even more fun and interesting cat info! Just click here!
And don't forget to reach out. We love to hear from you!
Tell us what some of your favorite cat quotes are in the comments section below.
Make sure you also check out our guide to funny cat names!