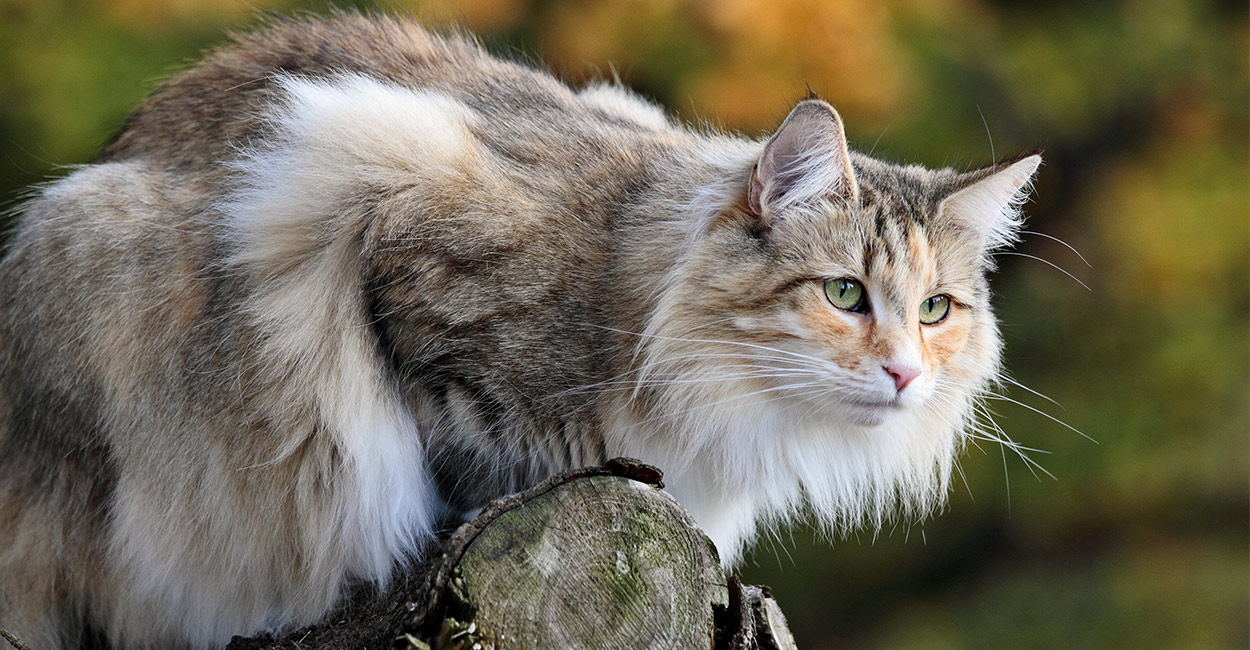 Welcome to our complete guide to the Norwegian Forest Cat!
Norwegian Forest Cats are beautiful, regal cats rumored to be descended from mythological fairy cats.
If you want to know all about these amazing creatures you have come to the right place!
What is a Norwegian Forest cat?
The Norwegian Forest Cat is an ancient cat breed originating from Norway.
It is also known as a Norsk Skogkatt, a Wegie, a Norskogkatt, Norskskaukatt or simply Skogkatt in Norway.
Depending on who you ask, the Norwegian Forest cat is anywhere between 500 and 2000 years old.
Some believe this particular feline could date back as early as 1000 AD, although the exact ancestry to support this is unknown.
In the early 1900s the breed was still thought of as a primarily wild cat breed.
What's more, it was facing possible extinction due to cross-breeding with loose domestic shorthaired cats.
The Modern Norwegian Forest Cat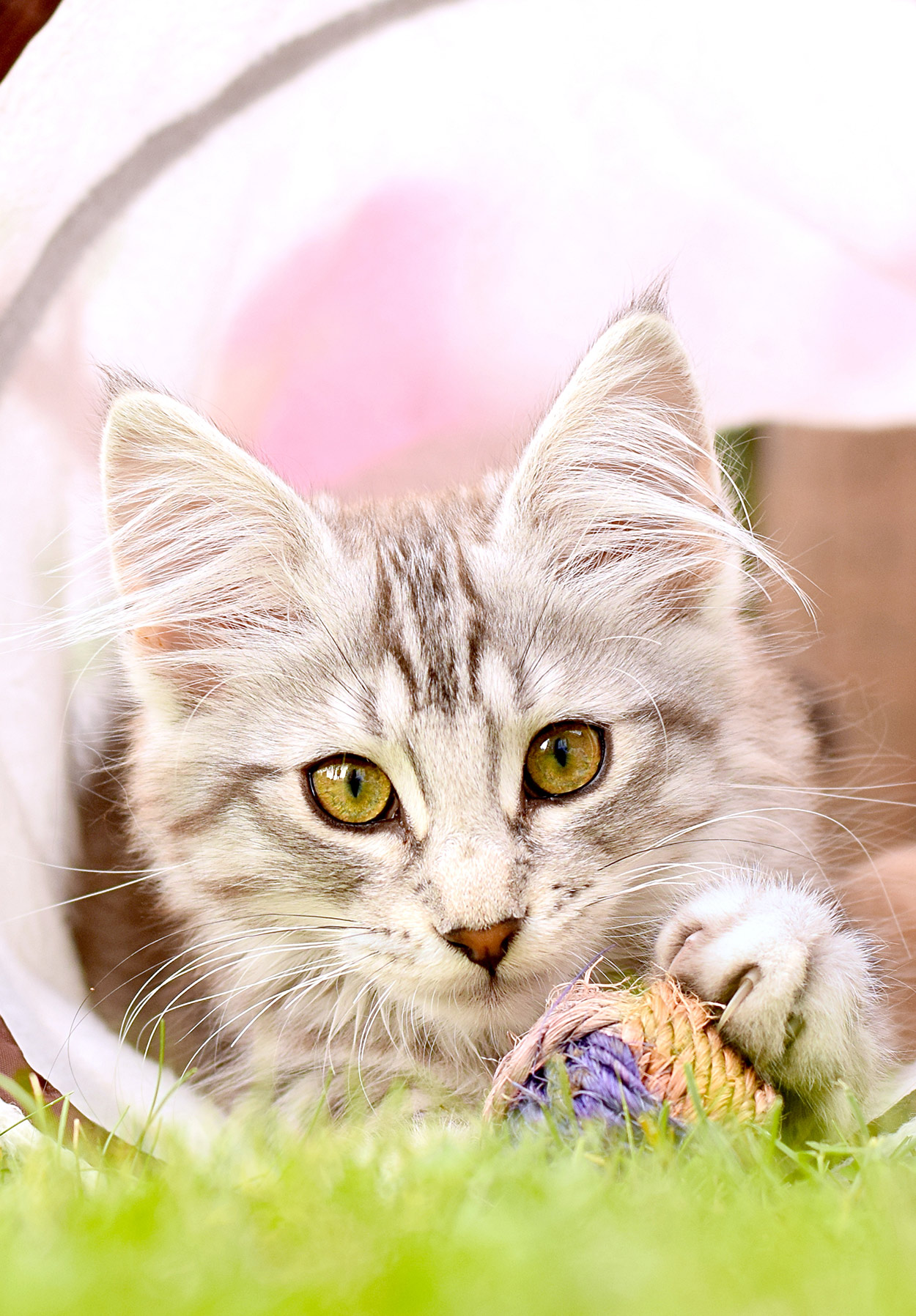 Thankfully, some enthusiasts decided to save the breed, and began to focus domesticating it.
The Norwegian Forest Cat was first shown in the Norway cat club in 1938, and the Norwegian Forest Cat Club was created in 1975.
The fledgling breed was recognized by FIFe (Fédération Internationale Féline) under the name Wegie shortly after, and soon hopped the pond into the US in November of 1979.
The Norwegian Forest cat was suggested for the Cat Fanciers' Association in the US in 1987, and was registered for full championship status in 1993.
Since then, it's status as a well-loved domestic breed has been well and truly sealed.
Norwegian Forest Cat Size
The Norwegian Forest cat is a large cat breed; it is typically larger and stronger than the average cat.
In fact, alongside the Maine Coon and the Ragdoll it is one of the three largest breeds of pedigreed cats in the world.
The Norwegian Forest cat is often compared with the Maine Coon as they have a number of similar characteristics in addition to size.
This majestic animal is considered a sturdy, well-muscled cat although it is a bit of a late developer.
The Norwegian Forest cat does not reach full maturity, or full adult size, until around 5 years old.
Norwegian Forest Cat Weight
Exactly how big do Norwegian Forest cats get?
For a male, a big Norwegian Forest cat would weigh 16 pounds or more, with the average being between 12 and 16 pounds.
An average female is slighter smaller, normally between 9 and 12 pounds when full grown.
To give some perspective, the average domestic cat weighs between 8 and 10 pounds.
Norwegian Forest Cat Appearance
The Norwegian Forest cat characteristics are stunning to the eye.
They have big, beautiful almond shaped eyes and striking features.
Whilst it's been many generations since they had to use their survival instincts in the wild, it's easy to imagine them having just walked in out of the snow.
Their impressive coat, worn over a substantial frame, makes them truly larger than life.
Norwegian Forest Cat Coat – Characteristics and Care
This kitty is considered a semi-longhaired animal, with two coats to keep it beautifully warm and waterproofed during Scandinavian winters.
The top coat is a longer, coarse guard coat.
Underneath is a denser undercoat.
And a Norwegian Forest Cat kitten can take up to six months to grow in their top coat, which means they keep that soft baby-fuzz feel for precious extra weeks!
Sporting a mane-like ruff, tufted paws and a bushy tail, the Norwegian Forest cat is made for surviving chilly temperatures.
The Norwegian Forest Cat has a lower-maintenance coat than many long-haired cats.
It only requires one to two grooming sessions per week to protect against matting.
Norwegian Forest Cat Colors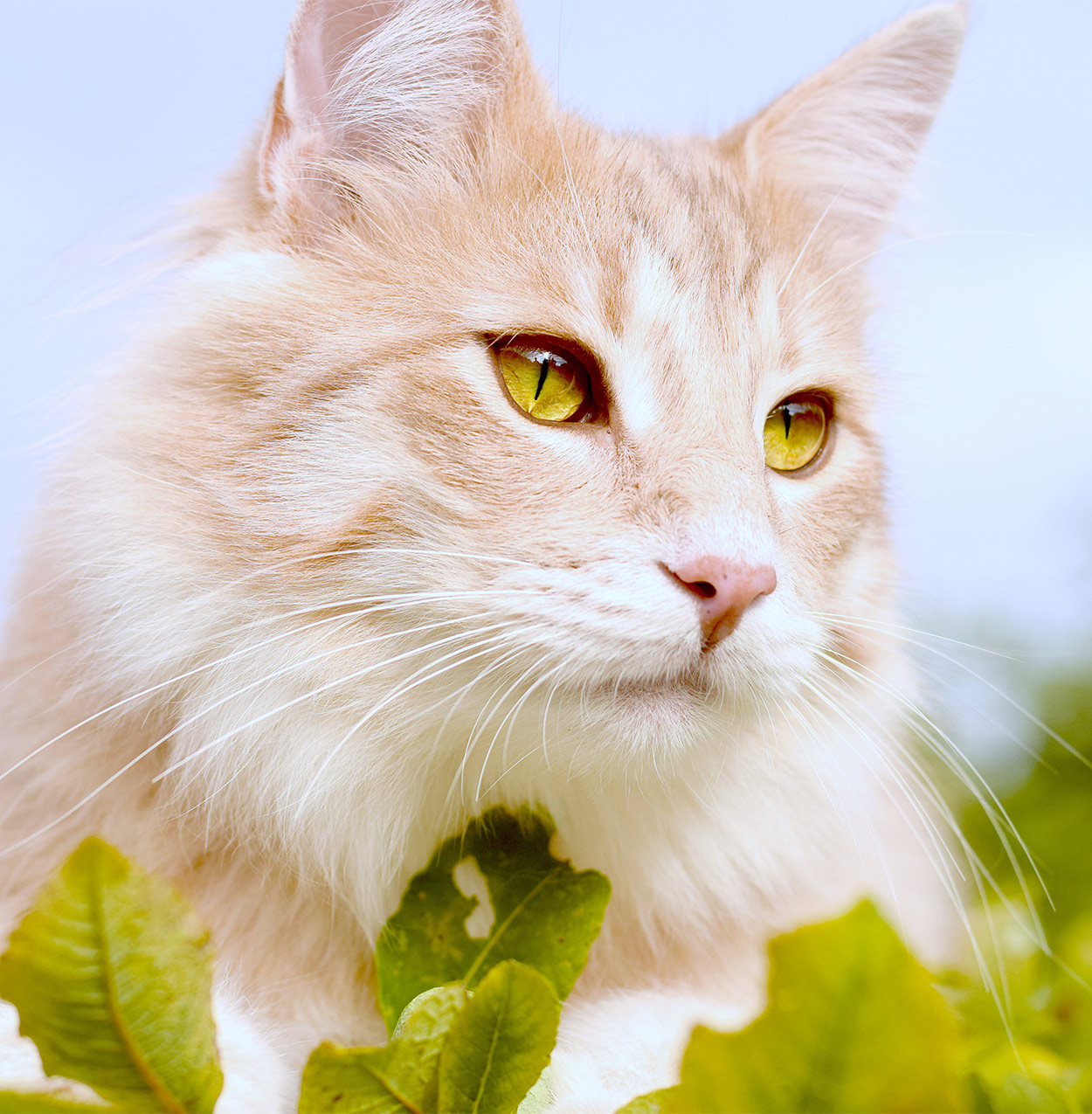 Norwegian Forest cat colors range across the board.
This cat is most commonly found dressed in a white and brown tabby coat.
However, Norwegian Forest cats also come in many different coat colors and patterns, ranging from pure white to jet black.
The only pattern you can't find on a Norwegian Forest cat is the colorpoint pattern typically associated with Siamese and other breeds.
Is the Norwegian Forest Cat Hypoallergenic?
All cats – including hairless and non-shedding breeds – produce a protein called Fel D1 in their saliva and skin.
This protein becomes airborne when cats groom themselves, and inhaling the airborne particles triggers an allergic reaction in humans who are sensitive to the Fel D1 protein.
Since all cats produce Fel D1, there is no such thing as a completely hypoallergenic cat breed.
And with its longer hair and tendency to shed, this beautiful creature is not an ideal cat for anyone who suffers from cat allergies.
(You can read more about the complex chemistry that causes cat allergies, and why some cats have a reputation for being more hypoallergenic than others here). 
Norwegian Forest Cat Personality
The Norwegian Forest cat temperament is one of royalty.
The breed is known to be a social animal, but only on its own terms.
In other words, if you have one of these majestic creatures, expect cuddles only when it wants to, and not when you want to.
If you pick your kitty up to snuggle, it may immediately jump down.
However, if you're sitting with a laptop on your lap, trying to work, and your Norwegian Forest can decides it's time for attention, it may just lay right on top of your keyboard!
Due to their thick coats and wild good looks, it's natural to wonder if this cat is happier outside.
They can be entirely happy living the sheltered life of an indoor cat, and may even prefer it thanks to their social nature and desire for company.
Norwegian Forest Cat Behavior
Norwegian Forest cats are very intelligent and moderately active.
A home with some fun toys, a tall perch or kitty tree, a sturdy scratching post and lots of loving attention (when he or she wants it) will keep this cat entertained, well adjusted and happy.
They're likely to have bursts full of playfulness and energy followed by nice long naps.
They also have a formidable reputation for climbing: your Norwegian Forest cat will enjoy access to high vantage points, and don't be surprised to find one on top of your kitchen cupboards!
Norwegian Forest Cat Health
The Norwegian Forest cat is considered a healthy breed with few genetic or hereditary diseases.
Compared to other purebred cats, the Norwegian Forest cat tends to have fewer hereditary diseases and disorders.
The most common genetic issues found in this breed are hip dysplasia, hypertrophic cardiomyopathy, and glycogen storage disease IV.
Hip dysplasia
Hip dysplasia means the ball and socket of the hip joint don't fit together properly.
This can cause painful rubbing and grinding, leading to weakness, limping or worse.
It is difficult to diagnose this condition in a cat before they reach full maturity.
Which means if you are planning to buy a Norwegian forest cat kitten it is important to have the parents health
checked for this genetic condition.
Hypertrophic cardiomyopathy
Hypertrophic cardiomyopathy (or HCM) is a heart condition found in older cats.
It is also more common in males than females.
There is a widely available DNA test for the faulty gene which makes cats vulnerable to HCM.
Only cats screened for the faulty gene should be used for breeding, and your breeder should have copies of the results for both of your kitten's parents.
Glycogen storage disease IV
Glycogen storage disease IV prevents cats from storing and transporting glycogen (sugar) appropriately around the body.
Eventually it builds up in the liver, muscle and nerve cells, causing organ failure.
It is possible for Norwegian Forest cats to carry the faulty gene which causes glycogen storage disease IV without being affected by it.
Luckily, there is a genetic test available to identify these carriers, and to protect future generations carriers should only be mated with non-carriers.
Your breeder should hold records of the carrier status of both your kittens parents.
Norwegian Forest Cat Lifespan
The Norwegian Forest cat lifespan is quite a lengthy one.
These hardy kitties have an average lifespan of over 12.5 years.
Some research even shows they live between 15 and 20 years.
Norwegian Forest Kittens
Norwegian Forest kittens are normally available for purchase or adoption between 12 and 16 weeks of age.
They should have been vaccinated at 9 weeks and 12 weeks of age, and any purebred Wegie kitten should come with proper pedigree papers.
If you find a Norwegian Forest kitten going cheap on a pet sale website without papers, it may be a cross-breed and not a true Wegie.
Norwegian Forest Cat Price
The Norwegian Forest cat price can vary across a wide range.
Factors to take into consideration are breeder, location, physical characteristics and parentage.
If you're in North America, you will likely pay a bit more for a Norwegian Forest kitten as they are hailing from
Norway, and even North American breeders may have travelled across the ocean to have them bred.
Norwegian Forest kittens are available in a wide range of colors, but some are more popular than others and therefore cost more.
The more a kitten captures the ideal show qualities of the Norwegian Forest cat breed standard, the more expensive it will likely be.
At the time of writing, typical kitten listings were between $500 and $1000 USD in North America and £400 to £600 in the UK.
Please always remember that a cheaper price isn't necessarily a better deal!
It is very important to make sure your new kitten is a healthy and well socialized cat coming from a reputable breeder.
Norwegian Forest Cat Breeders
Due to the popularity of this majestic creature, it is unlikely that you will be able to find a purebred Norwegian Forest cat rescue.
They do occasionally end up in shelters, and registering your interest with local rescue centers is a brilliant way to give a Norwegian Forest cat a second chance at a forever home.
But if you have your heart set on a Norwegian Forest cat your most reliable option will be to go with a registered, recognized breeder.
There are a number of ways to find a reputable breeder.
The Cat Fanciers' Association (CFA) in the US has a Breed Council, and a Breed Council Secretary for each breed who can help point you in the right direction.
If you're outside of the US, you can contact a member of FIFe instead.
There is also the Norwegian Forest Cat Fanciers Association of America, who keep a directory of breeder members, organised by state.
And the UK equivalent is the Norwegian Forest Cat Club, an affiliate of the Governing Council of the Cat Fancy (GCCF); the largest registration body in the UK for cats.
Choosing a Norwegian Forest Cat Kitten
As the popularity of this cat increases, more breeders seem to be popping up.
Make sure that whichever breeder you consider is open and willing to answer any and all questions you have about the kitten, parents and breeding history.
Ensure your prospective comes from a clean environment with plenty of opportunities for socialization.
Ask to meet their mum, and dad if possible – both parents should clearly be adored family pets.

Is a Norwegian Forest Cat Right for Me?
This breed tends to have a stable, calm temperament, with patience and little aggression.
With proper socialization, this makes a healthy happy Norwegian Forest cat a suitable pet for families with other pets and children.
Do you want a large, beautiful cat, that will demand attention whenever it pleases him or her, and enjoys regular play time and snuggles on its own terms?
Do you want a cat that has medium to high energy levels, loves climbing, and is very intelligent?
Can you provide it with a safe outdoor space, and plenty of love and care?
If so, the Norwegian Forest cat might just be right for you!
Do You Already Have a Norwegian Forest Cat?
We love to hear about your cats, so please share your story in the comments section below!
References and Further Reading
Egenvall, A. et al. Mortality of Life-Insured Swedish Cats during 1999–2006: Age, Breed, Sex, and Diagnosis. Journal of Veterinary Internal Medicine. 2009.
Fox, P. Feline Cardiomyopathy. WINN Symposium. 2014
Jenssen A. Breeding Traits and Hereditary Disorders of the Norwegian Forest Cat During Breed Development (A Review Of Literature). Institute Of Animal Breeding, Nutrition and Laboratory Animal Science Department For Animal Breeding And Genetics, 2012
Lyons, L. Update on Genetic Tests for Diseases & Traits in Cats: Implications for Cat Health, Breed Management, & Human Health. Tufts' Canine and Feline Breeding and Genetics Conference, 2013